Think of the best referral programs out there. What do they all have in common? For the most part, the best referral programs have three qualities: a targeted promotion, strong brand advocates, and motivating reward incentives. From the many referral programs we've seen, these qualities are the foundation for a successful campaign.
But every business is unique, which means every business needs its own unique referral program. There's no a one-size-fits-all approach – you have to build a referral program targeted specifically to your audience. Whether you're running a refer-a-friend program, a brand ambassador program, or a partner program, it needs to fit into your entire referral marketing strategy.
Thankfully, there are a lot of great referral program ideas to draw inspiration from. We've put together a top list, and grouped them according to the three qualities found in every successful referral program. No matter what area of marketing you're focused on, this article has a referral program idea for you.
Feel free to jump right to the section you are interested in most or scroll through the entire list.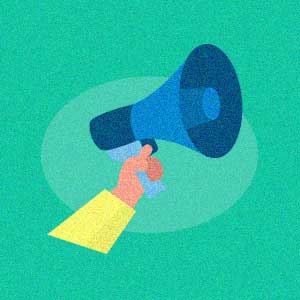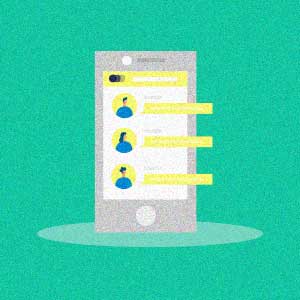 Ideas for getting advocates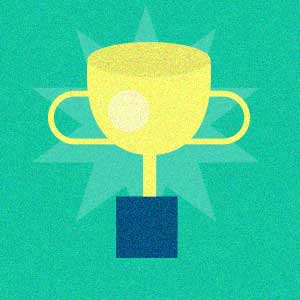 Starting a successful referral program
Your product and services are great, and customers love buying from you. But are they telling their friends, family members, and colleagues about it?
Whether you're a B2C or B2B business, offering a reward incentive can help encourage customers to spread word about the value you provide. And if you offer incentives specific to your customers, it motivates them to share even more. This amplified word of mouth is one of the many ways your business can benefit from a referral program.
Word-of-mouth marketing is proven to be one of the biggest drivers of business growth. However, it's often elusive and hard to sustain. Of course, organic word of mouth can occur naturally, but strategic word-of-mouth marketing requires some planning.
While you can't fully control who or when someone will share your brand with others, you can actively engage your happy customers to refer their friends. After all, happy customers make the best advocates. And when you recognize your happy customers, you are building loyalty and trust – which means successful referral programs ahead.
The best referral program ideas for promotion
Let's first take a look at some referral program ideas for promotion. After all, your program has to be seen by your customers before they can share it. Fortunately, there are many effective ways to promote your referral program and make sure it reaches your target customers.
1. Use a simple but catchy headline
If you can craft a strong but short sentence, and explain the program's benefits at the same time, you will definitely get your customer's attention. And when your customers are paying attention, word of mouth occurs.
Below are some examples of great headlines. Notice how they use numbers, get straight to the point, and clearly explain the benefit of joining.
Bombas: "Give 25% off and get $20" –

Simple and to the point.

Greats: "Tell your friends about GREATS and you both get 20%" – The headline covers the who, what, and why in one short sentence.
Red Coach: "Invite your friends, get up to $50 off, give a free trip!" – Customers know what to do, why they should do it, and are offered an exciting incentive at the end.
Want more? The following examples are referral headlines and slogans that you can customize and make your own.
Share With Your Friends and Get $10
Refer and You Shall Receive
Help Us Help You
Invite Your Friends and Earn a Free Ride
Give $100, Get $100 for Yourself
It's How We Say… Thanks!
Share the Love
2. Ask customers at the right time
When you ask is just as important as how you ask. The best time to ask customers for a referral is when they're most engaged with your brand – the moment you can say, "Thanks for being such a great customer! We've truly enjoyed our experience with you, and would be happy to help anyone else you think would enjoy our products, too." Some of these best moments are right after a purchase, delivery, or successful customer support chat.
As with any marketing campaign, you can also use holidays or other events to draw attention to your referral program. For instance, as Valentine's Day approaches, you can launch a "Spread the Love" campaign, where you give $20 gift card to both customers and their referred friends during the entire month of February.
There are holidays for every season – Thanksgiving, Christmas, Independence Day, etc. But don't feel confined by the Roman calendar, either. You can create a fun brand holiday (i.e., IHOP's National Pancake Day, 7-Eleven Day), or celebrate the day your business was founded.
Or why not set a date for a special customer appreciation campaign? After all, having a loyal customer base is all the reason you need to celebrate.
Your customers already love your business – help them tell more friends, more often.
3. Create a great landing page (with FAQ)
The best-performing landing pages are clean and uncrowded. (We share some more tips on referral landing page designs here). Avoid bombarding your customers with blocks and blocks of text. Chances are, they're more interested in the reward and won't get to read it all anyway.
So how do you cover all your referral program facts? Add an FAQ section. This allows you to give a thorough explanation of your program, without crowding the initial message and call to action. Plus, a referral program FAQ can be easily updated to include any new details or customer questions.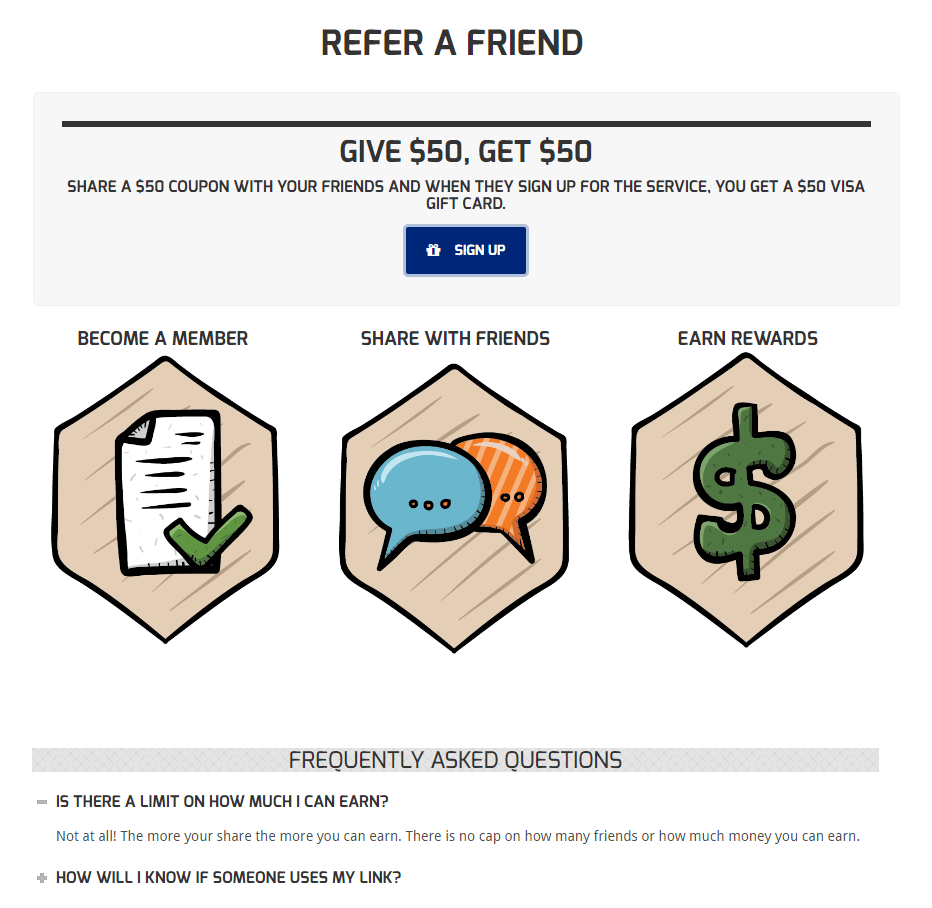 4. Include eye-catching images and visuals
The first thing that catches a customers eye – even before they start reading – are the visuals. Use images and other style elements to grab a customer's attention and visually explain more about your referral program.
Whether you're using custom graphics to guide customers through the referral process, or adding a photo to show off the actual reward, visuals are a great way to present a more intriguing program. Use images to break up any lengthy text and keep your landing page easy to read.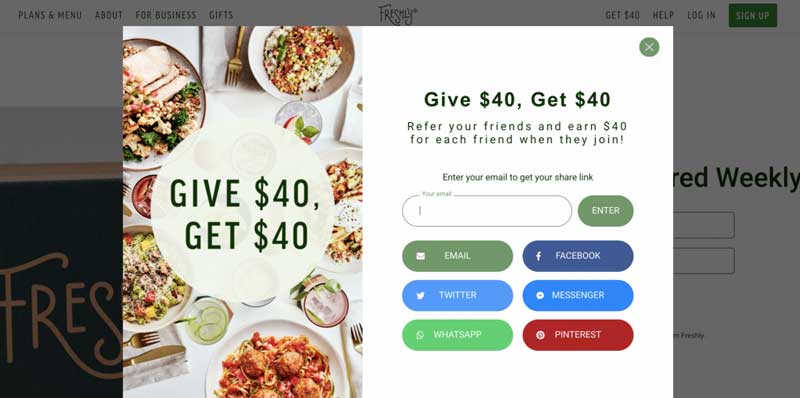 A popular way to create engagement is with a hero shot. Also referred to as a hero image or hero banner, it is the main visual that goes center stage and presents the page's most important content – which is this case, is your referral program.

5. Thank customers with an invite to your refer-a-friend program
How can you thank your customers for supporting your brand? By offering them the opportunity to earn rewards! Along with a sincere note of thanks, an invitation to join a refer-a-friend program is a great way to foster relationships with your best customers. Not only will your customers feel appreciated and recognized, they will also be more open to engaging with a brand they already know and like.

6. Make sure the program is discoverable
After adding a referral program section to your website, the next step is to make sure it's easy for customers to discover. Take a look at all the media channels your customers have access to: Are they part of an email newsletter? Are they directed to a thank you page after every purchase? Maybe you have a strong social media or blog post following?
Consider every channel of communication as an opportunity to place a referral link and share your program. Here are a few other key places to mention or link to your referral program:
Website menus or ad space
Blog posts
Email marketing campaigns (in the body or included in your signature)
Newsletter
Thank you or confirmation page
Invoices
Flyers or other printed collateral
7. Retarget customers who have already shown interest
There are some customers who are interested in your referral program, but weren't able to join right away. Maybe they were in the middle of another activity or simply forgot to sign up. Retargeting or sending a friendly reminder to these customers may be the nudge they need to move forward and join your referral program.
With the right referral software tool, you can customize when you want customer retargeting to take place. For example, you can send an email if they've left something in their cart for a few days, or after they've visited your referral program landing page. No matter what instance you think is best, it's always worth reaching out directly to customers who are already interested in your program.
Need more ideas for program promotion? Here are a few articles that may help:
Best referral program ideas for getting advocates
Brand advocates not only promote referral program campaigns, they also help expand and elevate your entire brand. With the right brand advocates proudly standing behind your business, referrals and word of mouth are bound to happen.
Plus, creating advocates is one of the simplest marketing strategies – it basically looks for customers who are already promoting your brand. Find a few of your top customers and consider creating a team of advocates for your brand. (To help you with this process, click here for different types of advocate marketing software.)
Having key members of your target market on your side can make running a successful referral program a piece of cake.

1. Look to your high-value customers
Jumpstart your referral program success by inviting your best customers to join. These are usually your biggest fans and therefore, most likely to get involved and promote your brand.
A few signs of a high potential brand advocate are if they make frequent purchases, engage with your brand on social media, or share positive customer reviews on third-party sites.
Many companies start by sending a short NPS survey, which can help verify which customers are most likely to recommend you to their friends.
Once you've made a list of your best customers, here are some tips on how to ask them for a referral.
2. Tie up with charities or non-profits
If you want something outside the traditional referral route, consider creating a community referral program. Instead of rewarding customers, you are contributing to a local business, a school, or other non-profit group.
Papa Gino's, for example, offers non-profit organizations the opportunity to organize fundraisers in their restaurant. The organization simply books a date at their desired branch, promotes the event to their network, and Papa Gino's will donate 20% of total sales back to the organization. It's a win-win!
If this type of referral program makes sense for your business, you may find it to be extremely beneficial. Many customers are already willing to refer – giving them a good reason and cause to support will only motivate them even more.

3. Motivate your employees
Your employees have the potential to be some of your biggest brand ambassadors. They know almost everything about your products and services, and are deeply engaged on a day-to-day basis. So why not create a referral program specifically for them?
(Note that an employee referral program can have two different purposes: employees recruiting other potential employees, or employees referring potential customers. In this case, we are describing the latter.)
Employee referral programs can run like a regular customer referral program, with a reward for every referral. Or they can be held as a monthly contest, where each employee gets a raffle entry for every customer they refer. You can even create a leaderboard to celebrate all the successful referrals and sales that come from your team. Adding elements of gamification help to make any referral program much more engaging.
4. Consider an affiliate or partner program
While a referral program encourages individual customers to refer their friends, an affiliate program or partner program incentivizes other businesses and resellers to promote your products.
For example, Amazon has an affiliate program called Amazon Associates, which allows participants to earn 10% in advertising fees from their referred customers. So if an author gives customers a link to buy their books from Amazon, they will get a percentage of every purchase.

Partner programs, on the other hand, are more personal. They require you to form a relationship with the partner business. And similar to referral programs, they also involve offering partner program incentives. Partner programs are perfect if you're already dealing with other businesses, which we cover in more detail in our B2B Referral Program Guide.
Whether you choose to join forces with an affiliate or partner (or both!), these programs are a smart way to expand your customer base and build your network.
Bonus idea: Gain advocates by instilling confidence in your brand
As you start looking for the right advocates, employees, affiliates, or partners, remember that your referral program will only work if others are confident in your brand.
The only way to instill this confidence is by providing a great product and great customer service. You may be surprised how many people are already willing to refer your company with just these two elements in place.
Still stumped on program ideas? Here are a few articles that may be able to help:
Best referral program incentive ideas
The best incentives are ones that fit your customers and your business. For example, if you sell more expensive items meant to last several years (i.e., mattresses, furniture, cars), a discount voucher for 10% off the next purchase won't appeal very much to an existing customer. When would they expect to avail of the discount? Probably not in the near future. For a reward incentive to work, it should be something the customer wants to use soon.
Consider how your customers interact with your business. Is if frequent or seldom? Are they spending an affordable or considerable amount? Then, decide on what would have the most value and motivate them to make a referral.
Customers are more likely to join a referral program if the incentive makes sense and is something they actually want. If your incentive meets these marks, you're on the right track to referral program success.
Let's look at some referral program ideas for the best reward incentives:
1. Do it for a cause
Sometimes, a business is unable to offer customers a monetary reward for their referrals. A strong alternative reward incentive is a charitable donation on the customer's behalf. If a customer refers a friend, you can offer to donate $50 to a particular charity, tying your referral program to social good.
This approach works particularly well if the donation is made to a relevant charity. For instance, TOMS popularized the Buy One, Give One model, which gave a pair of shoes to children in need for every purchase, and Warby Parker's Buy a Pair, Give a Pair Program is committed to providing eye care to 2.5 billion people around the world.
2. Encourage social gifting (double-sided incentives)
Who doesn't feel good after showering their friends and families with gifts? Many referral programs have a double-sided incentive structure that rewards both parties – the existing customer who made the referral and the new referred customer.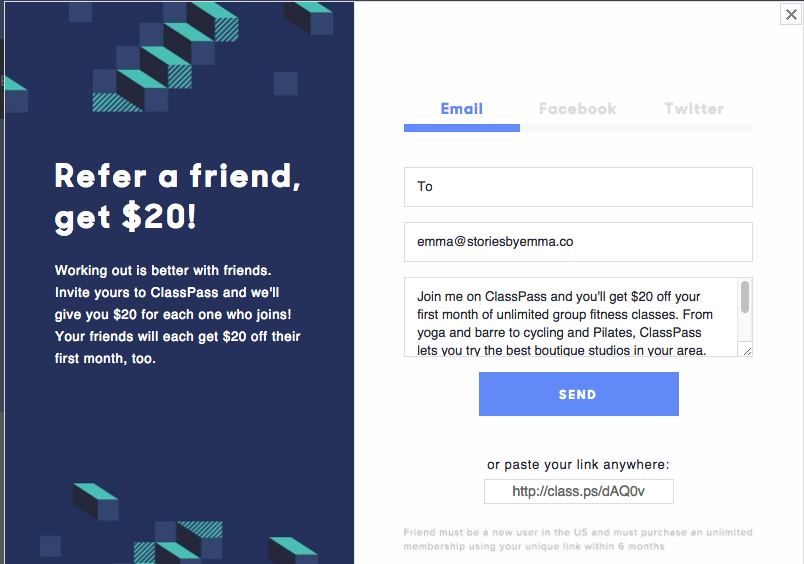 For example, subscription fitness company ClassPass offers a double-sided Refer-a-Friend program. When an existing customer shares their unique referral program link with a friend, and the friend uses this link to sign up, both parties get $20 off their next month.
Another reason the Classpass referral program works so well is that friends can participate in the fitness classes together. So if a customer gets their friend to sign up, they'll have a workout buddy in their next Pilates class – and $20 off, as well.
3. Offer tiered incentives
Your customers may be motivated with a cash back or discount reward for their first few referrals – but they will be even more motivated if the reward gets better with every additional referral. A tiered reward structure works by keeping participants motivated to move up in the referral program, and challenged to earn even greater rewards.
Plus, if someone successfully refers five or more new customers to your business, they've brought in a substantial amount of revenue and new business. Why not share a piece of the pie?
A possible tiered referral program can reward customers based on how many of their referrals result in actual customers. For example, a customer would start in the first tier and earn $25 for each referral. Then, once they successfully refer five new customers, they move on to the second tier and now earn $50 for every additional referral.
4. Give a higher reward for the first referral
Many customer referral programs offer a consistent referral reward. Uber, for example, offers both loyal and new customers the same referral discount throughout their entire program.
However, many companies are starting to offer customers a larger "signing bonus" for the first referrals they make. Rather than offering $15 off for each referral, for example, a program can offer $50 off for the first referral and $5 off for all subsequent referrals.
Starting with a higher incentive for the first referral encourages customers to join the program from the get-go. Then, once the customer has received their first rewards, odds are they'll be more likely to participate in the referral program in the future.
5. Incentivize for sales, not just prospects
For a referral campaign to be successful, customers don't just have to refer their friends, these referred friends must become new customers. The way most referral programs are set up, this is the condition before customers can actually reap their rewards. How can you help customers convert their referrals into sales?
The best way to convert the referred prospect is by showing them the benefits of making a purchase. Aside from highlighting desirable features of the product or service, consider offering a double-sided incentive to reward them for their first purchase.
Prospects will always be more inclined to try something out if they feel they are getting special treatment or value. Plus, the prospect (and hopefully, new customer) may even be so happy with the entire reward program experience, they will end up joining the referral program themselves.
For more incentive ideas that are proven to convert referrals into customers, see our other articles below:
Bonus idea: The best reward is showing customers your appreciation
In the same way you will have your best customers, you will also have your best referrers. If you see a certain customer always refers you to others, or goes out of their way to recommend your brand every chance they get, find a way to show them your appreciation. Some companies send out handwritten thank you notes, while others put together a care package full of premium products.
Many referral marketing programs offer monetary rewards, such as cash back, store credit, or discounts. But a great referral program idea would be include more unique rewards. For instance, aside from the usual monetary incentives, why not offer specialty products, an exclusive club membership, a weekend trip, or another high-value giveaway.
If your business isn't in the position to give massive rewards, then offer some company swag. You'll be surprised how many customers will refer your business for a cool t-shirt or cap.
Key takeaways
As you can see, referral programs are a great way to motivate current customers to spread the word about your business. We hope these creative customer referral program ideas inspire you to start your own referral program or take an existing one to the next level.
For more inspiration, here are several other top referral program examples and a guide to building your referral marketing strategy.
And for ideas on the right referral marketing software, check out our list of plug-and-play referral marketing software and free referral software services.