Think of the best referral programs out there – such as the iconic ones from Dropbox, Uber, Tesla, PayPal, and Airbnb.  What do they all have in common?
The best referral programs share three qualities:
Attractive reward incentives
A reliable base of brand advocates
A targeted promotion strategy
From the hundreds of referral programs we've evaluated, these qualities are the foundation for a successful campaign.
But there's no one-size-fits-all approach – you have to build a unique referral program for your business, targeted specifically to your audience. Whether you're running a tiered program, a referral contest, or a simple give-and-get program, it must fit into your entire marketing strategy.
Thankfully, there are a lot of great customer referral program ideas to draw inspiration from. We've put together a top list, based on the three qualities needed for a successful, stellar referral program. So, no matter what type of industry you're in, we have referral program ideas for you.
1. Pick incentives that fit your company
Whether you're a B2C or B2B business, and whether you're a small business or a larger company, offering an attractive reward incentive can help encourage customers to spread word about the value you provide.  This amplified word of mouth is one of the many ways your business can benefit from a referral program.
Looking for the referral incentive ideas that will drive the most sharing? The best referral program incentives are ones that truly motivate your customers and fit your business.
Customers are more likely to join a referral program if the incentive makes sense and is something they actually want. For instance, if you're a bank, cash in the customer's bank account might make the most sense, and if you're a SaaS, you might offer feature upgrades. If your incentive meets these marks, you're on the right track to referral program success.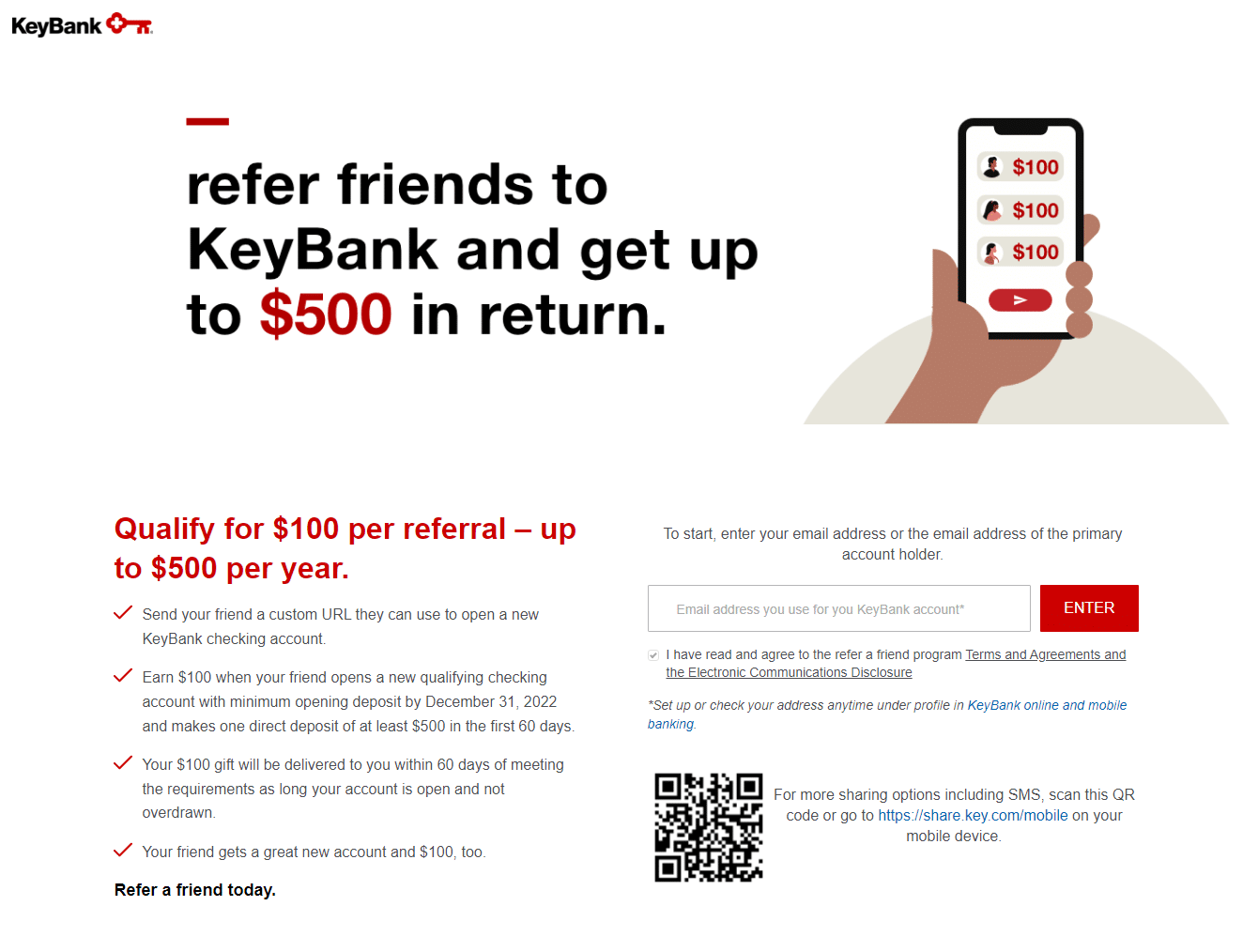 2. Choose valuable incentives based on purchasing patterns
Consider how your customers interact with your business. Is if frequent or seldom? Are they spending an affordable or considerable amount? Then, decide on what would have the most value and motivate them to make a referral.
For example, if you sell more expensive items meant to last several years (i.e., mattresses, furniture, cars), a voucher for $50 off the next purchase won't appeal very much to an existing customer. When would they expect to use the voucher? Probably not in the near future. For a reward incentive to work, it should be something the customer wants to use soon, like cash, a gift card to another business or a gift basket with useful items.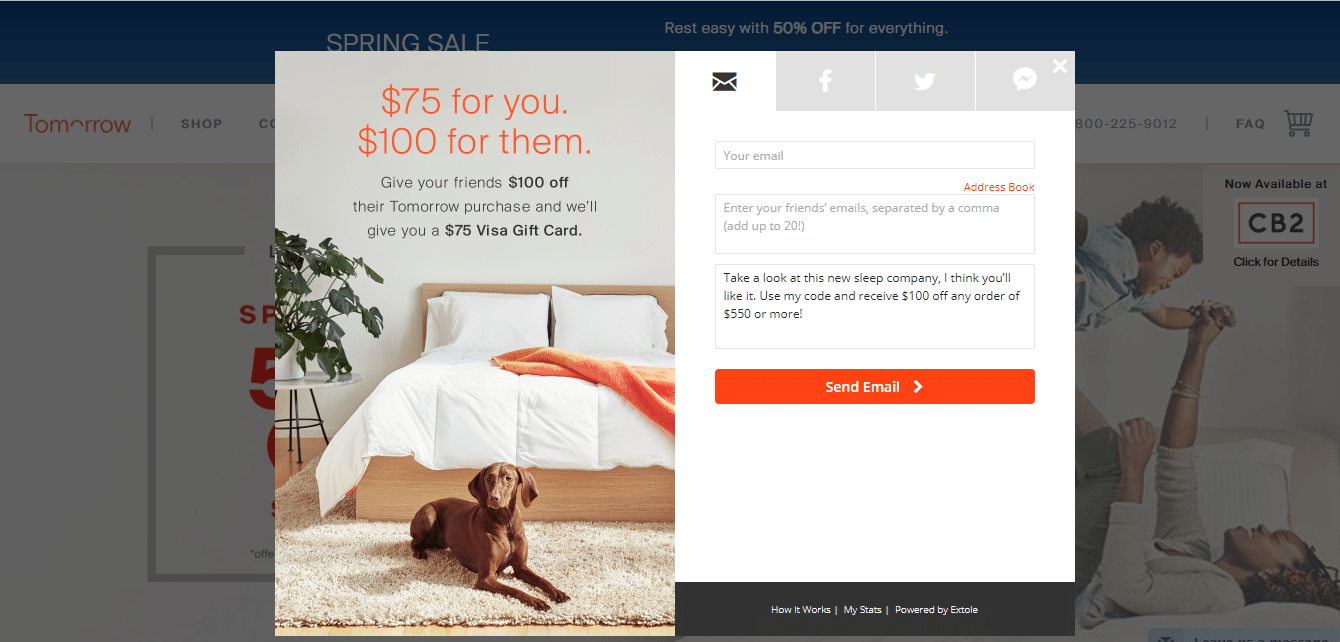 Or, if the purchases people make are frequent and relatively inexpensive, a 10% discount probably won't make sense. Store credits in a fairly generous amount, a swag item, or a coupon for a free product may be more suitable.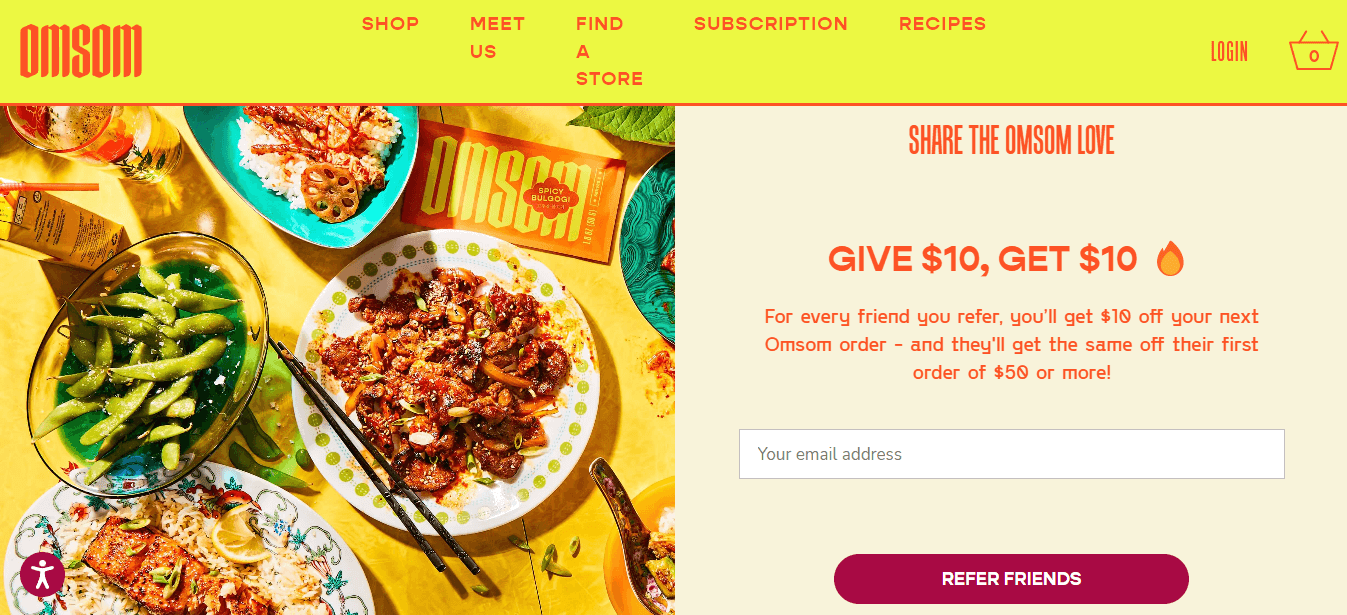 3. Use double-sided incentives
Who doesn't feel good after showering their friends and families with gifts? Many referral programs have a double-sided incentive structure that rewards both parties – the existing customer who made the referral and the new referred customer.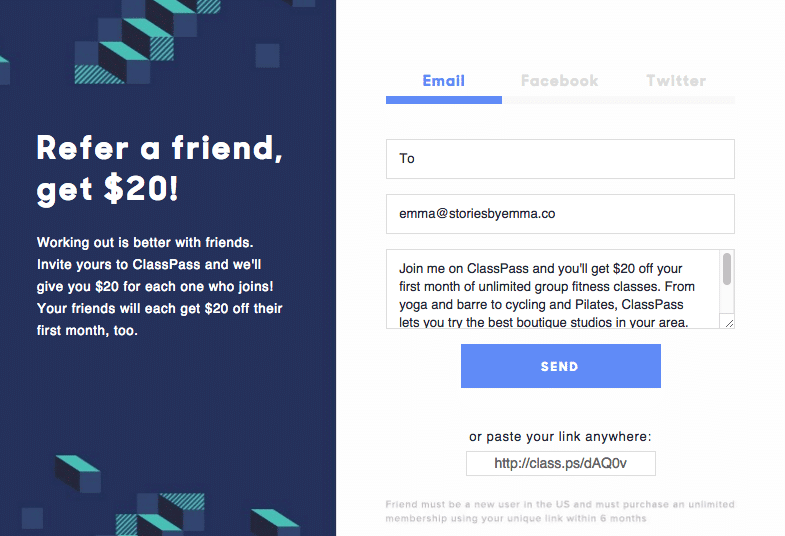 For example, subscription fitness company ClassPass offers a double-sided Refer-a-Friend program. When an existing customer shares their unique referral link with a friend, and the friend uses this link to sign up, both parties get $20 off their next month.
Another reason the ClassPass referral program works so well is that friends can participate in the fitness classes together. So if a customer gets their friend to sign up, they'll have a workout buddy in their next Pilates class – and $20 off, as well.
It's best to tie the reward for the friend back to your business – like ClassPass does – so the friend has an added incentive to purchase. That means offering store credits, free products, upgrades, or discounts, to be activatedat the time of purchase.
What not to do:
You might have heard of social gifting, where existing customers are invited to send free products to their friends. But it isn't the best idea.
The problem with this approach is that it relies on intrinsic motivation to get the existing customer to refer, since there's no incentive for the existing customer. Also, the referred friend won't necessarily make a purchase after they receive the free gift.
Double-sided referral rewards are more reliable, because they reward both parties and are activated when a purchase is made.
4. Offer tiered incentives
Your customers may be motivated with a cash back or discount reward for their first few referrals – but they will be even more motivated if the reward gets better with every additional new referral.
A tiered reward structure works by keeping participants motivated to move up in the referral program, and challenged to earn even greater rewards for a higher number of referrals.
Plus, if someone successfully refers five or more new customers to your business, they've brought in a substantial amount of revenue and new business. Why not share a piece of the pie?
A possible tiered referral program can reward customers based on how many of their referrals result in actual customers. For example, a customer would start in the first tier and earn $25 for each referral. Then, once they successfully refer five new customers, they move on to the second tier and now earn $50 for every additional referral.
Or, you could try a tiered system that offers stacking free products, like Harry's did for their viral prelaunch referral program.
In this program, advocates would earn accumulating rewards with each referral (starting at 5 referrals and progressing up to 50). If someone successfully got 50 friends to share their emails with Harry's, they would earn a year of free blades, in addition to a shave set, Truman blade and handle, and container of shave cream.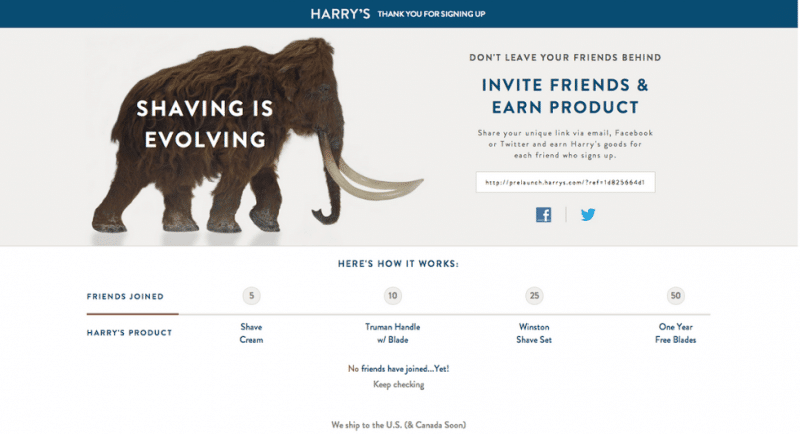 5. Do it for a cause
Maybe your business can't offer cash rewards for referrals. Or, your business might simply know that many of your customers enjoy making a difference. Why not make a charitable donation on the customer's behalf? If a customer refers a friend, you can offer to donate $50 to a charity, tying your referral program to social good.
This approach works particularly well if the donation is made to a relevant charity. Take a cue from Warby Parker's Buy a Pair, Give a Pair Program, committed to providing eye care to 2.5 billion people around the world.
Business management software company Vena provides a strong example of a charitable referral program. Whenever a client refers a business lead that converts into a successful sale, the SaaS company donates $2000 to a charity of the advocate's choice. Charities Vena has previously supported through the program include the World Wildlife Foundation and the Wounded Warrior Project.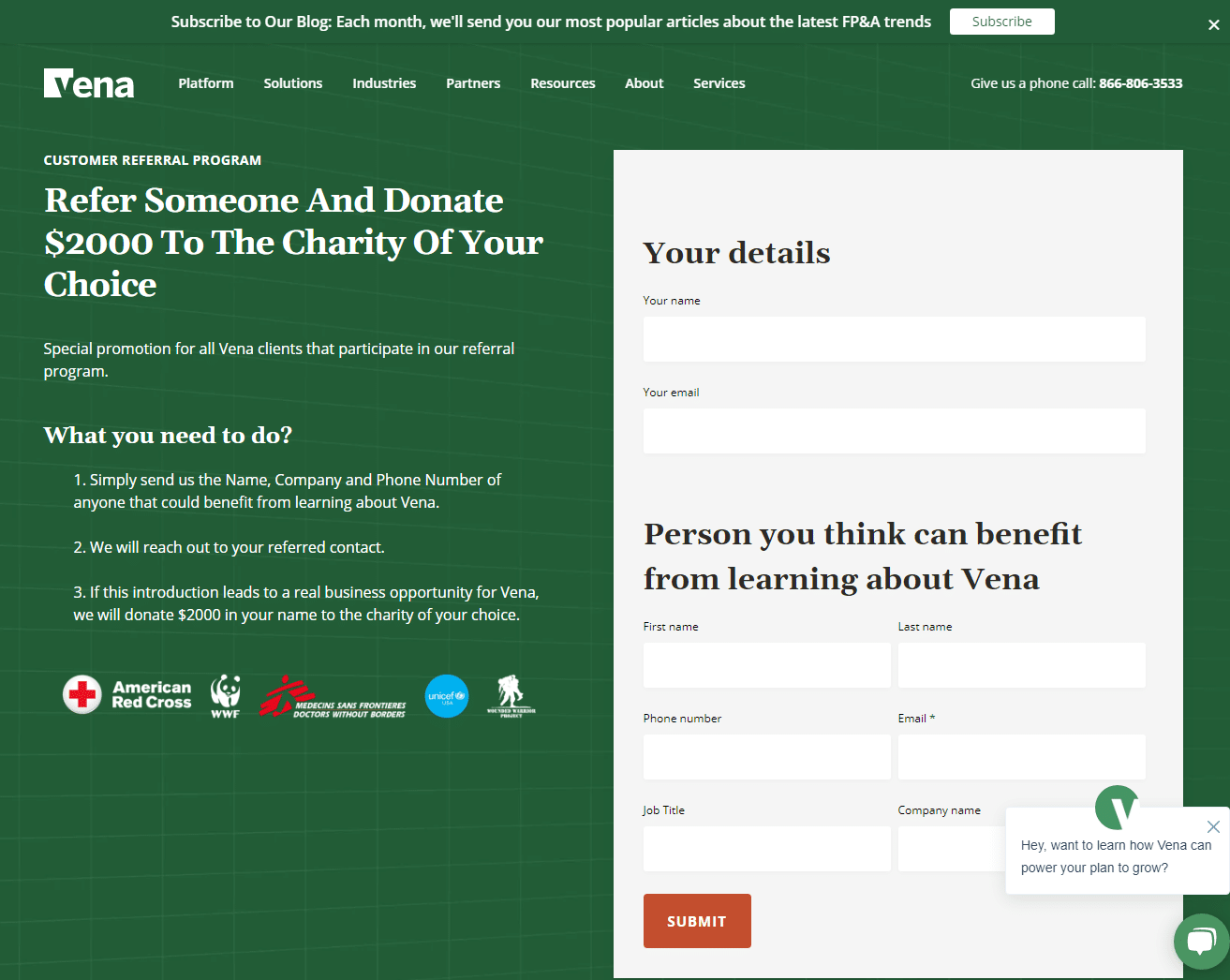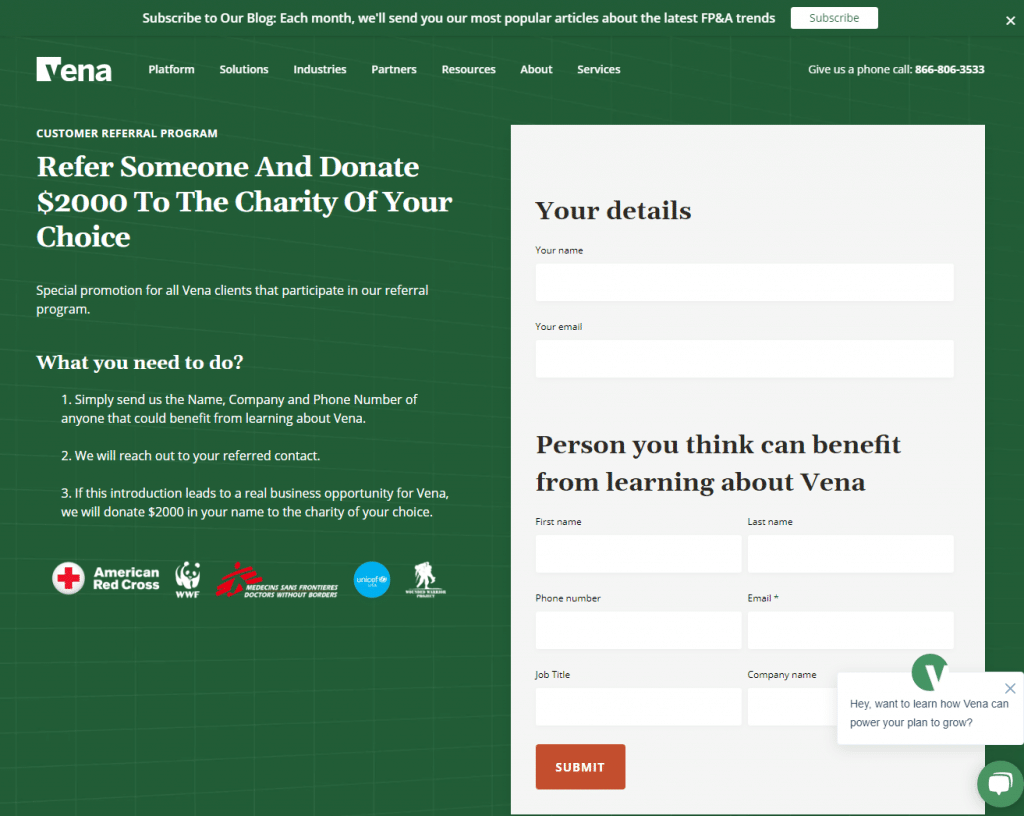 6. Give a higher reward for the first referral
Many customer referral programs offer a consistent referral reward. Uber, for example, offers both loyal and new customers the same referral discount throughout their entire program.
However, many companies are starting to offer customers a larger "signing bonus" for the first referrals they make. Rather than offering $15 off for each referral, for example, a program can offer $50 off for the first referral and $5 off for all subsequent referrals.
Starting with a higher incentive for the first referral encourages customers to join the program from the get-go. Then, once the customer has received their first rewards, odds are they'll be more likely to participate in the referral program in the future.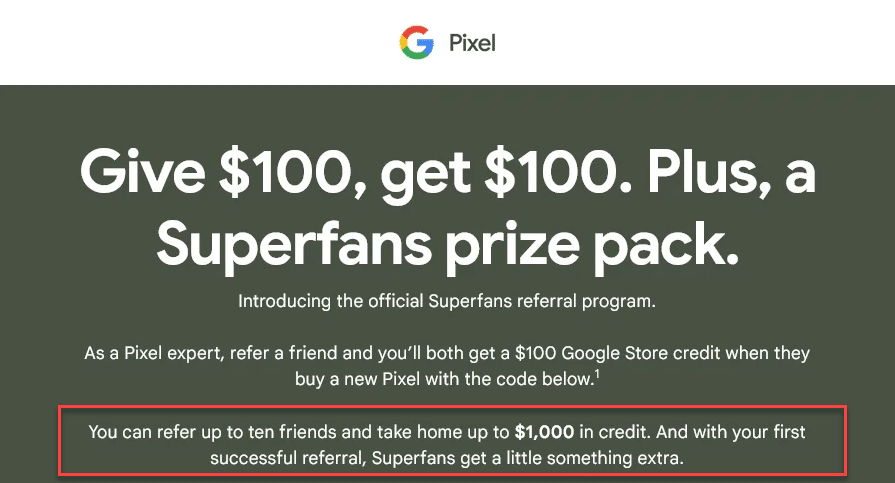 7. Incentivize for sales, not just prospects
For a referral campaign to be successful, customers don't just have to refer their friends – these referred friends must become new customers. The way most referral programs are set up, this is the condition before customers can actually reap their rewards. How can you help customers convert their referrals into sales?
The best way to convert the referred prospect is by showing them the benefits of making a purchase, like Everyplate does below with their eye-catching email. Aside from highlighting desirable features of the product or service, consider offering a double-sided incentive to reward them for their first purchase.