When does someone go from being a loyal customer to an advocate? Customer advocacy is an advanced strategy that differs for every industry. It's also one that's becoming more and more important, as customers will go out of their way to buy from companies that offer a better experience.
In today's competitive world, customer advocacy looks at what matters most to your business – satisfied customers.
A customer advocacy strategy is a high-level plan that requires in-depth knowledge and insight into what turns customers who buy into customers who actively advocate and promote your business.
To learn more about this difference, we look to a customer advocacy strategy.
What does "customer advocacy" actually mean?
Customer advocacy is the active focus and prioritization of customer needs within your business. It's closely tied to customer support, customer success, and customer experience – all which are part of an overall customer-centric mindset.
As opposed to being company- or products-centric, customer advocacy is a "put customers first" way of doing business.
It looks for new ways to elevate customer experience and satisfaction, whether that means answering all support tickets within an hour or recommending another plan (even if it brings in less profit).
As a result of this customer-centric mindset, you'll create customers who not only keep coming back to purchase from you, but also can't help but tell their friends about what you have to offer.
"You've got to start with the customer experience and work back toward the technology – not the other way around." – Steve Jobs
Why customer advocacy is important
A recent study reveals only 12% of people believe when a company says "we put the customer first."
To make matters worse, a whopping 42% of companies don't actually conduct any customer surveys or collect feedback.
What does this mean? Companies claim to put customers first, but many don't put it into practice. And customers know it.
These days, customers are more informed and empowered than ever before. They readily share their experiences online, and do research before making a purchase (especially for B2Bs).
And with so many brands competing for attention, the power shifts to the customer.
This is what makes customer advocacy so important. By focusing on your customer's needs, they're more likely to stay loyal and share your brand with others.
Plus, it ensures all your future initiatives, whether it's a new product, service, or campaign, are aligned with customer demand.
Neglect your customer base, however, and sales will dwindle.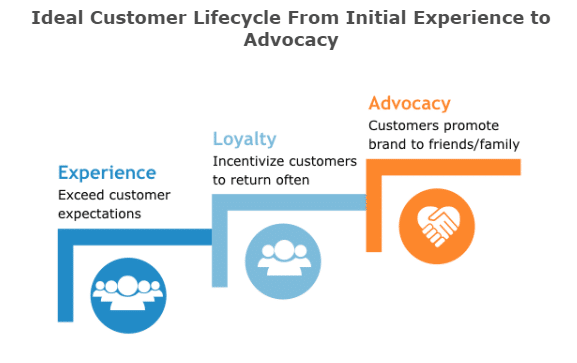 Know what your customers really think
Customer advocacy naturally comes with a deeper understanding of your audience. By taking the time to listen and actively improve your customer experience, you'll discover a wealth of insights.
What really matters to them?
How do they rate their overall experience?
What do they like best about your product?
Where do they experience any confusion or friction?
What added features would they like to see?
Are there any areas where you're falling short of expectations?
Communicate with your customers, and you'll get a much clearer picture of what your market wants and where you need to invest more resources.
Generate better customer relationships and reviews
In time, you'll find that engaging with your customers leads to long-term, trusted relationships. You'll experience higher customer retention rates and increased customer lifetime value.
Even beyond your business, you'll see a growth in brand awareness, online reputation, and positive customer reviews.
Reviews are one of the best ways to gauge how your business is doing – both now and in the future.
As you can see, positive reviews and recommendations play a major role in driving customers to your business.
And the difference between getting a positive or negative review? A customer advocacy strategy.
Building a customer advocacy strategy
In a perfect world, customers would instantly love your brand and customer advocacy would just happen.
In reality, you need to put a strategy in place to see customer advocacy success. With so many things going on with a business (product development, operations, marketing, etc.), checking on your customers can easily fall to the wayside. Customer advocacy strategies prevent this from happening.
A customer advocacy strategy is a plan of action to focus on customer needs and satisfaction within a company. It looks at every touchpoint, from first customer contact to after-sales support, and uses these insights to help achieve business goals and growth.
Here are a few popular ways to measure customer advocacy:
Net promoter score (NPS) survey
Customer feedback surveys
Third-party review sites (e.g., Yelp, TrustRadius, Foursquare)
Brand mentions on social media
Referrals and word of mouth (whether organic or as a channel)
Measuring customer retention rates
Measuring customer lifetime value (CLV)
You're already communicating in various ways. But by integrating customer feedback into your overall strategy, you get direct insight into what the market thinks about your business. You know exactly what to do to create happy customers, which leads to better relationships and brand reputation.
Step 1: Determine a goal for your customer advocacy strategy
As with all business strategies, it's important to have a goal. What does customer advocacy success look like for your business? It could be increasing the number of positive reviews, getting more referrals, or receiving higher NPS scores. Whatever you're hoping to achieve with your customer advocacy strategy, it's best if you have a way to measure success.
How about a goal for your advocates? You may get a better idea after some initial feedback, but a few examples could be more available access to customer communities, better self-service options, or more referral program channels.
Remember: This is a customer advocacy strategy. So it's important to put your advocates' goals before your own company's goals.
Step 2: Appoint a customer advocate
Customer advocates are the individuals or team assigned to prioritize your customer needs within the company. They're in charge of ringing all customer data under one customer advocacy strategy, and represent the "voice of customer." In other words, they are your customer's advocate.
Customer advocacy vs. brand advocacy: Customer advocates are often confused with brand advocates. Brand advocates are your biggest fans, and actively use and promote your product to others. Read our in-depth article covering brand advocates.
What do customer advocates do? This depends on your industry and company. But generally speaking, customer advocates:
Study points of contact between the company and its customers
Conduct customer satisfaction surveys and collect feedback
Analyze and empathize with customer needs, concerns, and views of success
Identify all areas of improvement throughout customer experience
Routinely track and measure customer satisfaction levels
Tie together all customer advocacy efforts, including loyalty programs, referral programs, or affiliate programs
Plan and execute customer advocacy strategy in alignment with the company's greater goals
While advocacy should be infused into every part of your company (or else it will seem inauthentic), having an appointed customer advocate will help streamline and standardize your entire customer advocacy strategy.
How do you find customer advocates?
Successful customer advocates require a wide skill set. They need to have a firm grasp of your company's strategy and vision, but are also public-facing. The need to empathize with customers, but track all the touch points and create actionable insights.
Whether you decide to hire someone specifically to manage your customer advocacy strategy, or transition an existing team member, here are a few things to look for in a customer advocate:
Understanding of your business goals and vision
Comfortable working with cross-functional teams
Empathetic and trustworthy
Skilled at handling difficult situations
Can read the data and form actionable strategies
Able to manage programs and campaigns
Able to pinpoint any problem areas and spearhead new initiatives to fix them
Step 3: Create a customer experience they won't forget
Think of your last great experience as a customer. Odds are, it didn't involve anything monetary.
Great customer experiences go beyond the expected transactions. They're about connection and emotion. Below, we go over four proven ways to build a positive experience for customers:
Creating online communities
Actively engaging customers
Look for ways to delight your customers
Empower your employees on customer service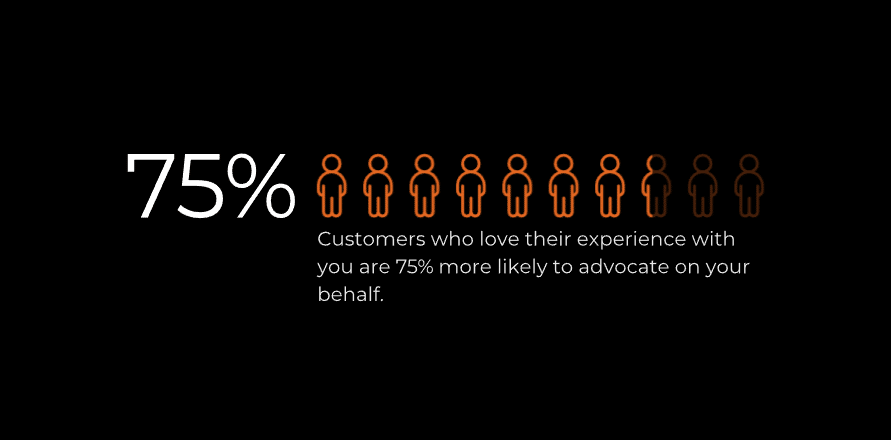 Building an online customer community
Individuals instinctively gravitate toward like-minded groups and communities: Online through forums and group platforms, offline within clubs or team activities.
Why not build a community around your customers? There are five notable benefits of a community:
Shared knowledge
Deeper connection
Creative inspiration
Pool of resources
Personalized support
Customer communities can be more general or topic-focused. They can ride on existing social media platforms (i.e., Facebook groups, Slack channels) or custom-built using online community software. Here are a few examples of successful customer communities: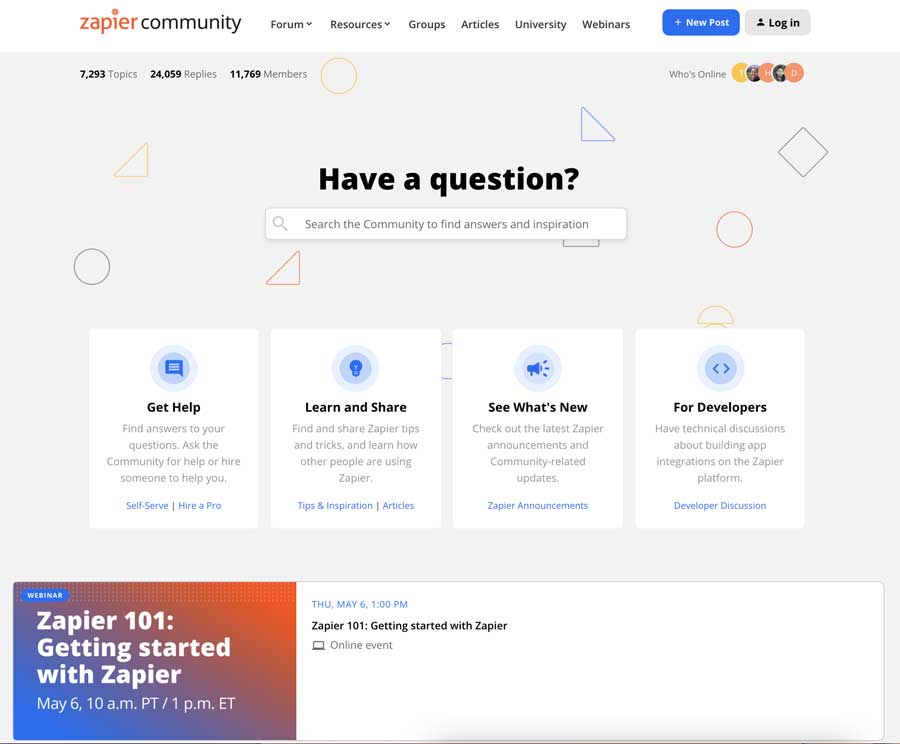 How do you build an online community of your own? If you're a SaaS or provide a tech-based service, support communities are always a welcome place for customers. They're also useful for easing the load of customer support tickets.
If you sell a product, find out what makes you unique and excites customers (this is where customer feedback can really help!). Then form a community around that.
Remember, communities are for your customers. Listen to what they have to say and learn more about the voice of your customer. These are where you'll find the gems that will take your business to the next level.
You'll find your online community can be a key differentiator in the market. Aside from being a dedicated place only for your customers, it demonstrates your commitment in a very public setting.
Actively engage your customers
Don't let customer communication turn into a one-way street. When someone asks a question, send them an answer. If someone posts about your product, like and comment with a word of thanks.
You don't have to take over the conversation. Just be present, get to know your audience, and learn the voice of the customer.
Here are effective responses that foster customer advocacy:
Don't leave questions hanging: Answer within a reasonable time, and set an autoresponder to let customers know you received their message
Publish user-generated content (UGC): Acknowledge those who take the time and effort to share you on their feed with a regram, retweet, or repost. This is a great way to show your product "in action" and being enjoyed by real customers.
Collect feedback – and take action: Keep track of anything that's frequently mentioned by customers, both good and bad. These reveal what you should double down on or work to improve.
Run contests for customers: Looking for ways to innovate your product? Let your loyal customers have a go at it. For example, post three potential flavors for your ice cream brand and have your community vote for their top pick. They'll be lining up for a pint if their favorite flavor makes it to stores.
Case study example
Lululemon is a great example of an online community running on a social media platform. The brand's Instagram account reposts pictures of customers doing all kinds of activities in Lululemon activewear.
The company mostly posts user-generated content on its social platforms. Their hashtag #thesweatlife has over 1.3 million posts on Instagram.
Showcasing real brand fans rather than airbrushed models has made Lululemon's strategy hugely successful.
The brand created a strong and powerful community of customers who encourage and support each other.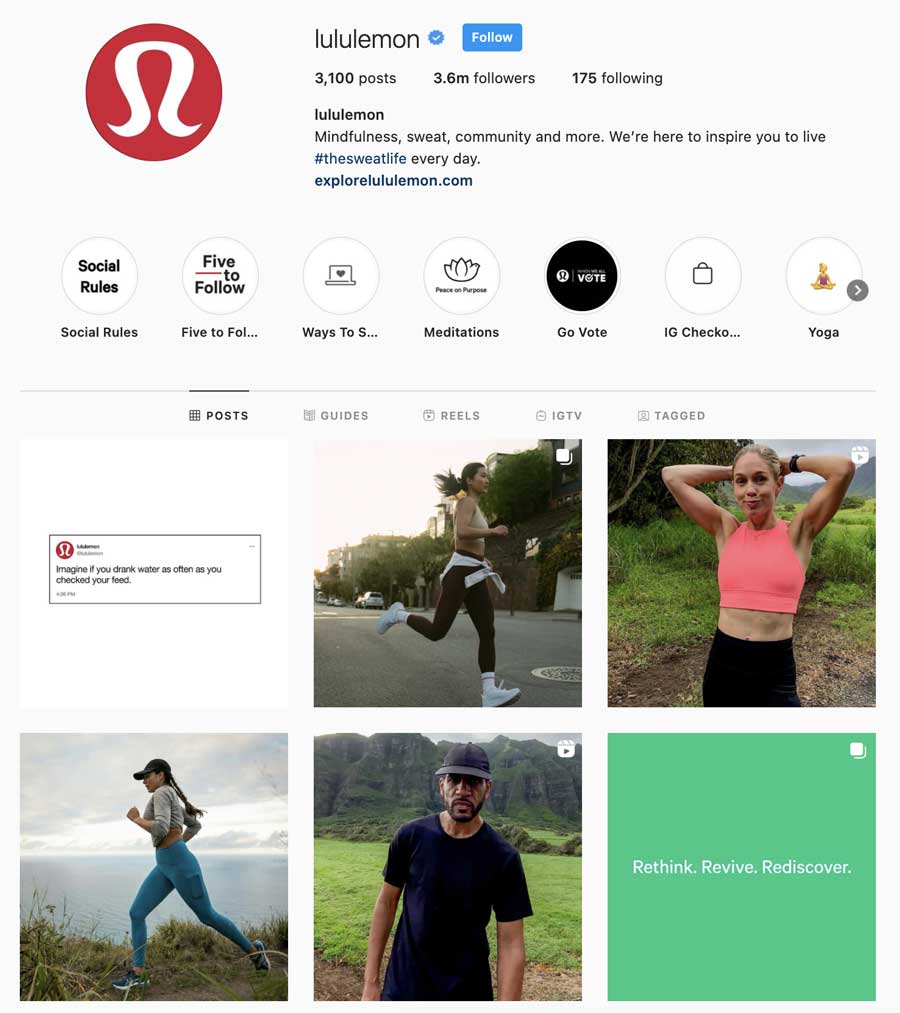 Look for ways to delight your customers
This is one of the easiest and most fool-proof ways to raise customer satisfaction. And it really doesn't take much. Let's look at a few small customer service acts that can go a long way:
Offer free shipping or a one-month upgrade to random customers (no strings attached)
Send customers a handwritten thank you note with something specific about their purchase
Include a free add-on or gift with their purchase
Go above and beyond to help customers solve their problem (an extra 10 minutes on a ticket or a few calls to other departments can really make someone's day)
If you're unable to help them, offer them an alternative to a company that can
These don't have to be done for every customer interaction. In fact, you'll want to offer these sparingly and keep the element of surprise. But the idea is to think outside the box when it comes to your customer service.
Empower your employees to deliver great customer service
Customer-centric strategies should be baked into the way you do business. If a customer gets an amazing experience with one employee, but a terse response with the next, which one do you think they'll remember?
Customer service is something your entire company should know how to do – at least to a certain degree.
Make sure they're updated about insights from your customer advocacy strategy. Hold regular talks and training on how to sharpen their customer service skills. And empower them with what they can do (within their department) to provide the best customer experience possible.
Step 4: Take an adaptive approach to customer advocacy
The whole idea of customer advocacy is to let customers take the lead. You'll be surprised by what you'll discover!
Start by providing an environment where customers can speak freely and share their experience. Here are some ways you can set the stage:
Send an initial survey to get a feel for what customers would like from a customer advocacy program
Invite your most loyal customers to "test run" any customer advocacy efforts
Find different ways to connect with customers, where it's convenient for them
Customize the experience (e.g., only send surveys they opt in for, or the community channels they're interested in)
Get the conversation started in your online communities with ice-breakers, weekly polls, etc.
Be active and engage in customer conversations (more about this in the next section
Make it beneficial for customers by celebrating milestones ("It's your one year anniversary with us!"), awarding badges for engagement, or hosting fun contests and events.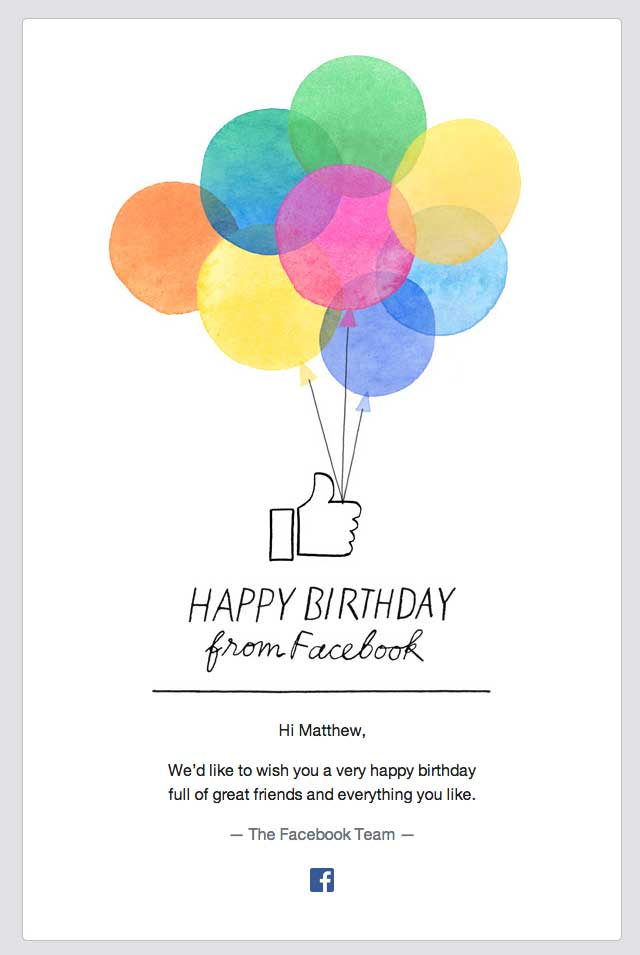 Some of these will work, some won't. That's normal. You're still writing your customer advocacy playbook. The important thing is to keep track of how customers respond, and adapt your customer advocacy strategy accordingly.
Customer advocacy is a long-term strategy. Your customers are always changing, and your strategy should evolve too.
Step 5: Find ways to prove ROI and scale
How do you know your customer advocacy efforts are bearing fruit? Aside from listening to what customers say, look at their actions.
Check for an increase in referrals, social shares, brand mentions, positive reviews, active brand advocates, and the like. These tie customer advocacy back to your business, and prove its importance as a strategy.
Keeping tabs on all these customer advocacy metrics can quickly become overwhelming. Customer advocacy software can help automate routine tasks:
Create a new account for each customer
Track every interaction and referral
Share information and customized messages
Send rewards or gifts to your customers
Organize data in a way that's easy to understand and draw insights
Generate reports to show how much customer engagement you're getting
There are many types of software that can be used in your customer advocacy strategy. Look for one that fits the type of program you want to create, but is flexible enough to adapt to future changes.
See our other article that covers advocacy marketing software for more information.
Boost your customer advocacy strategy with a customer advocacy program
With a customer advocacy strategy (advocacy marketing strategy) in place, you'll notice cus