As a marketer, you have a lot on your plate so you might be thinking: "Customer advocacy? I can't add another thing to my to-do list!" But customer advocacy is necessary and will help you tick off a few more things off your to-do list in a shorter amount of time.
And let's face it, businesses don't really have a choice anymore. About 60% of consumers have higher expectations for customer service now than they did just one year ago.
In today's intensely competitive world, there's no room for anything less than amazing customer service and experience, and more and more companies opt for a customer advocacy strategy that rewards their commitment to their customers.
Customer advocacy explained
A customer advocacy strategy is a marketing strategy that prioritizes customers within a business in order to leverage customers as part of the overall marketing strategy. By constantly focusing on customers' needs, you can be sure that future company initiatives, whether they be new products, new services, or a new way of delivering a product, is done with customers in mind and will be praised accordingly.
A well-implemented customer advocacy program should learn from every point of customer contact, and utilize that feedback when making business decisions in the future. By listening to your customer, you're also building up your brand image and your reputation as a brand that values customers.
When approaching a customer advocacy strategy, you need to think of how you can best engage with your customers, be transparent, and, eventually, leverage these customers to be your advocates. The two most important steps to consider are:
Building an online community
Collecting the voice of the customer.
Here is how you can get started.
Building an online community
Social media channels, like Facebook and Twitter, have been part of mainstream internet use for a decade. The ways in which brands use them have changed dramatically in the past couple of years.
Today's companies use social platforms as brand awareness tools. They're also used to build and enhance the customer experience by routing customer complaints and feedback to the right departments, demonstrating a commitment to the customer in a very public setting.
User-generated content is essential
Companies also need to pay attention to positive feedback and highlight that content. Part of a successful brand community is paying attention to the user-generated content (UGC) in social feeds and rewarding your most active community members.
Transform followers into stars, make them feel important and listened to. Regram, retweet, reblog, like what they post — it's all about interacting with customers in an authentic way. User-generated content campaigns (UGC campaigns) are transforming marketing and advertising. A majority 58% of brand advocates are sharing on social media today.
To differentiate themselves, businesses are becoming more and more lifestyle-focused. They are promoting ideas rather than products. Successful customer advocacy strategies easily integrate into lifestyle marketing by involving fans who share photos, videos, and thoughts.
To help boost top-of-mind awareness, Coca-Cola created the "Share a Coke" campaign. The company produced Coke bottles with names on the labels in order to boost the brand's exposure on social media platforms, with the #shareacoke hashtag.

Lululemon is another great example of online communities. The yoga wear brand's Instagram account reposts pictures of customers in Lululemon's activewear and impressive yoga poses.
The company practically only uses user-generated content on its social platforms. Their hashtag #thesweatlife  has over 500K posts on Instagram. The pictures Lululemon decides to share show normal people pushing the limits and getting their sweat on.
Customers are looking for authentic adverts, with people they can actually relate to. Showcasing "real," authentic people rather than photoshopped models has made the business's strategy hugely successful by not creating unrealistic expectations.
That's how Lululemon created a strong and powerful community of customers who encourage and support each other.
Collecting the voice of the customer
In order to really turn customers into advocates, you need to have a strategy to collect and share what your customers are saying. By having your customers share their stories, you're helping them connect with your brand and with other customers too.
But why has it become so important?
Today, 84% of consumers do not trust advertisements. People are actively looking for third-party validation when making an online purchase. Letting customers promote your brand or products for you can have a serious impact on your online reputation.
Collecting customer feedback through online reviews will give your business all sorts of insights into what customers want and expect from you: whether it's fast delivery, improved communications, or a good customer experience.
This will help you get a much clearer picture of what needs improvement. Improve your user experience and customer service, highlight the right opportunities, and understand where you need to invest more resources.
Engaging with your customers in this way will also help you build trusted relationships. Not only that, it will improve customer retention rate and make your customers feel appreciated and cared for. Focusing on building a good online reputation, positive reviews, and great customer success stories are key to promoting your business via customers.
Leveraging online reviews is one of the best ways to collect your customer's feedback.  About 76% of consumers say they view customer service as the true test of how much a company values them. You could be missing out by not taking into account what your customers think of your company.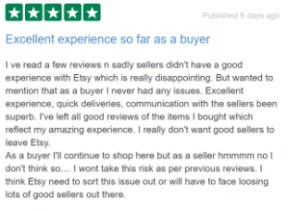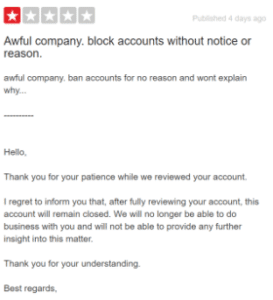 Making referrals out of advocates
Once you've slowly started building your customer advocacy strategy, it's time to think about referral marketing. Referral marketing is all about encouraging your happy customers to tell their friends about you and spread the word about your product or service.
Referral marketing is all about great customer service and making it easy for customers to share their thoughts. Then finally, rewarding those who do.
In today's internet-driven world, customers have more power than ever and it's your responsibility to take advantage of that power. As many as 92% of consumers trust a peer recommendation more than traditional advertising and referred customers are less likely to leave.
Examples of great referral programs
Deliveroo
Deliveroo lets customers recommend their service to their friends with an easy Share button, or with a personalized link that they can copy and paste, and send to anyone they want.
To thank its customers, the British food delivery company gives £2.50 (about $3.34) to program participants to use on their next order.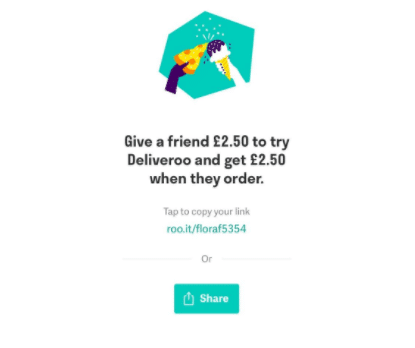 Uber
Everyone with an Uber account has noticed the personalized invite codes to invite friends to ride with Uber. When a new customer signs up with an invite code, they will receive a free first ride, and so will existing customers. Uber's made it extremely easy for customers to refer friends, with just one share button to click on.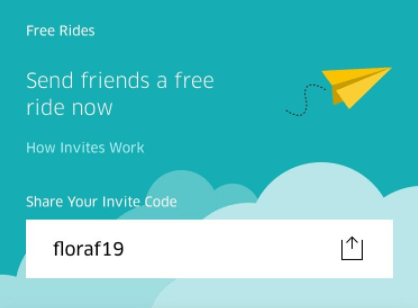 Simplifying the referral process as much as possible helps customers spread the word. Think email templates, hashtags, share buttons. Don't over-complicate it.
Although it's recommended to reward your customers or referring, don't expect to win customers over with great incentives only. The secret behind every referral remains a quality service.
If you already have a customer advocacy strategy in place, you know where to start with your referral marketing initiatives. Target your most active and popular customer advocates. You can get their thoughts on what form of incentives might work best. Then you can launch a referral marketing campaign through your best customer advocates to jumpstart your success.
To conclude
Your customers represent a huge opportunity for your business. With customer advocates, your brand is more likely to engage with new customers and build trusted long-lasting relationships. Customer advocacy is a helpful step towards building a brand community where your customers can exchange freely.
It's vital to keep your customers involved in a community where they feel engaged. This way they are more likely to take part in your customer feedback and referral strategies. In today's landscape, people don't believe in traditional advertising anymore. Customer advocacy is the new competitive difference in marketing and a good first step towards building a referral marketing campaign.
As consumers actively look for third-party validation when making online purchases, they're much more likely to listen to past customers and trust their word. If you have a customer advocacy or referral marketing strategy in place, you're ahead of most competitors. You are already leveraging a high-performing channel.
Why wait? Get started today, and leverage your best marketers – your customers.
About the Contributor
Flora is a Content Strategist at Trustpilot specializing in Content Marketing and SEO. Flora is known affectionately by her colleagues at Trustpilot as 'Flora the Explorer' which you'll understand if you've been lucky enough to hear about her Anglo-French upbringing in Dubai or read her witty travel blog.