Looking for a proven way to get more email newsletter subscribers? A newsletter referral program can help quickly grow your list. By motivating your existing subscribers to share the newsletter with others, you can easily tap into an effective promotion strategy.
Today, we'll cover the benefits of starting a referral program for your email newsletter, best practices for newsletter referral programs, and some examples of the most successful newsletter referral programs today.
Why referral programs work for email newsletters
Thanks to word-of-mouth marketing, referral programs help businesses in all industries acquire new customers. In the case of email newsletters, rather than promoting with your own marketing message, a referral program motivates your existing subscribers to spread the word to their friends and family.
And these recommendations are trusted: A study by Nielsen revealed 84% of people think word-of-mouth recommendations are the most trusted form of advertising.
Need more proof that newsletter referral programs work? Check out these stats from successful email newsletters:
You might not experience growth that exponential from your own referral program. But when done right, newsletter referral programs are a powerful way to gain more subscribers, with the help of people who already know and love your content.
Benefits of newsletter referral programs
Why are newsletter referral programs so powerful? Below, we break down some of the top benefits of newsletter referral programs:
Boost brand awareness: A referral program motivates subscribers to spread the word about your newsletter. This also serves to quickly and effectively increase brand awareness. Especially when it comes to digital media, such as an email newsletter, exposure is invaluable!
Effectively acquire new subscribers: Referral programs work because your subscriber's peers trust what they say more than they trust promotions directly from your company. When it's a friend or family member referring them to your newsletter, they are much more likely to hit subscribe.
Empower subscribers as advocates: By offering valued rewards for referring others, a newsletter referral program empowers subscribers to spread the word about you as often as possible.
Increase subscriber loyalty: Since referrals trust the people who shared your newsletter with them, referral programs bring in subscribers who are more likely to keep reading for longer periods of time. Plus, by rewarding your subscriber-advocates, you're encouraging them to stay loyal, as well.
Create a viral loop: Even if you don't experience exponential growth like Morning Brew or The Hustle, newsletter referral programs can help create a viral loop of sharing. In a viral loop, people refer their friends, who then refer their own friends – the cycle keeps going and going to create a powerful growth engine.
Reduced subscriber acquisition costs: When it comes to growing your newsletter, it's all about acquiring quality subscribers without breaking the bank. Referral programs encourage existing subscribers to generate promotion for free, so you'll only spend money to set up your program and reward your subscribers. This is usually much less than you would spend on traditional ads and other promotion methods.
Let you harness word of mouth as a channel: A referral program lets you track the word of mouth your subscribers generate in an actionable way, and use the data to improve your success. Your satisfied subscribers are already talking about you, so why not harness that free publicity in a way that you can measure?
Before you start a newsletter referral program
Before you start an email newsletter referral program, be sure you've taken these actions to set your program up for success.
Build up a strong, satisfied core base of subscribers. 

Your subscribers are the ones who will drive your referral engine, so you'll need to make sure you have plenty of subscribers who will willingly recommend you.

Know these existing subscribers well.

What are their demographics and interests?
What rewards will motivate them to refer?
What platforms do they usually use to share exciting things with their friends (email, social media, texting, etc.)?

Know the types of subscribers you aim to attract. 

What motivates them to sign up, and what motivates them to stick with you?
Keep these subscribers in mind when creating relevant content and copywriting to keep your audience engaged.
Creating a stellar newsletter experience for your target audience is key to creating loyal, referring subscribers.
Newsletter referral program best practices
There are a few key things to keep in mind when setting up and running a successful program: How you design your email newsletter referral program, how you promote it inside and outside of your newsletter, and the types and structure of rewards you offer.
Follow these best practices, taken from top newsletter referral programs. (For general referral program best practices, please be sure to read this article.)
1. Design a cost-efficient rewards structure
Referral rewards are key to motivating subscribers to share. But as a newsletter, you need to strategically structure your rewards. All your marketing techniques are about minimizing the cost of gaining new subscribers (especially if your newsletter is free, and most of your revenue relies on ads). Your referral program should be no different.
What's the best rewards strategy for a newsletter? All the best newsletter referral programs use tiered, cumulative referral rewards. This means subscribers have multiple rewards available to them as they refer, and they earn bigger rewards the more referrals they make. They also use reward trackers to show subscribers how many referrals they need to earn their next reward.
The real key, though, is the rewards a company picks for the lower referral tiers, as it's important to keep costs per subscriber low. As Tyler Denk, senior product lead at Morning Brew, explained to Digiday, Morning Brew "strategically placed [their] awards where they are." Says Denk, "The first award at three referrals is our premium newsletter, [which] costs $0 for us to produce outside of human capital. It's free on our end, but it still encourages people to share." As a result, while their average cost to gain a subscriber is $2 to $5, the cost of gaining a subscriber through the program is sharply lower.
To reduce subscriber acquisition costs, your first rewards need to be motivating and valuable, but extremely cost-efficient for your newsletter to provide. It also helps if the subscriber needs to make multiple referrals before they earn their first reward.
Solid early referral rewards include access to exclusive content from your newsletter, access to private networking communities, fridge magnets, stickers, and phone wallpapers. These rewards cost less than a dollar per piece to prepare and distribute (or cost nothing, if they're digital).
For the next tier, you can then offer branded swag (t-shirts, mugs, notebooks, tote bags) that cost relatively little to order in bulk, but still offer high quality to the subscriber. As an added bonus, swag serves as another promotional tool for your newsletter, potentially reducing your subscriber acquisition costs even further.
Finally, offer your best rewards for the rare subscribers who make high amounts of referrals. For example, many subscribers offer a free trip to the newsletter's headquarters, with the flight and lodging costs covered, for super-advocates who refer 1,000 new subscribers.
2. Focus on promoting your program within your newsletter itself
Your program won't gain any traction if your subscribers don't know about your program. So, be sure to promote your program well.
Yes, promoting your program on social media and in dedicated referral emails can be effective. But the number one way to reach your subscriber base is to promote your program right within the newsletter itself – in every issue.
Why not dedicate a section of the newsletter to showing your program? Here are a few options:
Regularly spotlight the program and its rewards at the end, like Morning Brew and The Hustle.
Add a small banner in the middle of your newsletter.
Every now and then, dedicate a sentence or two to promoting your program in your newsletter intro.
Place an "invite friends" call-to-action button at the top, which takes readers to your website's referral program page.
You don't have to use the same promotional approach or the same wording in every newsletter. In fact, switching up your wording helps grab the reader's attention. But whichever way you choose, promoting your program in every newsletter issue is key to keeping it top-of-mind.
We've included how the best newsletters promote their programs in the "examples" section below.
3. Make sharing easy
If your program is easy to access and share, people will share. Make sure your readers can easily find your referral program and share your newsletter with their friends, using as few steps as possible, from access to reward.
The best way to make sharing easy is by letting subscribers share right from your newsletter. Include your subscriber's unique referral link in each issue (make sure it's easy to find!). This allows subscribers to instantly copy the link and share it in any way that works for them.
Another way to facilitate sharing is to create a referral program landing page with some information about the referral:
The program's instructions and terms must be simple, with a clear referral call to action.
Make it easy for subscribers to share on multiple channels, including email, SMS, and popular social media sites. This way, they have the option to share on platforms they normally use to communicate with their friends
Include the subscriber's referral link on this page for even easier sharing.
4. Automate the process with referral software
With the right referral software, the hassle of manually managing newsletter referrals will be a thing of the past. Referral software tools allow you to track the amount of referrals your subscribers generate, track which subscribers your referrals are coming from, and quickly distribute rewards. You'll also have plenty of data about your referral program, which you can use to track success and refine your program structure.
Plus, referral software generates unique referral links for each subscriber to easily share your newsletter anywhere they want. Since referral software streamlines program design, tracking, rewarding, and promotion, it's an essential tool for any newsletter that wants to run a successful referral program.
Learn more about why referral software is easier than doing it yourself, and learn how Referral Rock software can help you kick-start your word of mouth. 
Newsletter referral program examples
Need inspiration for your newsletter referral program design? We've handpicked four of the best newsletter referral programs below, and included our thoughts on why they're so successful.
1. Morning Brew
Morning Brew, a business newsletter for young business professionals, has easily developed the most successful newsletter referral program. Thanks in part to their program, Morning Brew grew its revenue by $10 million in one year. The newsletter also grew from 100,000 to 1.5 million subscribers in just 18 months, with around 30% of those new subscriptions coming from referrals.
What factors made the Morning Brew referral program so successful? Morning Brew places most of its referral promotions within the newsletter itself, as a way to remind its existing subscriber base. At the end of every daily edition, they dedicate a section to explain how sharing with friends will earn subscribers branded rewards, such as a Morning Brew mug or t-shirt. Instead of using the same blurb every day, Morning Brew varies the wording of the section, so it's more engaging to readers.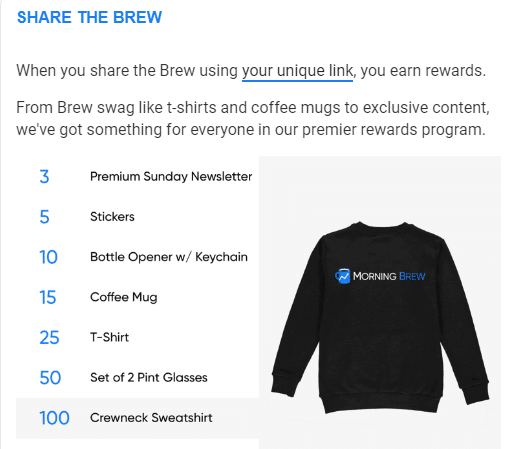 But several important elements always stay the same. Every email includes the subscriber's unique referral link in this section multiple times – and makes the link easy to find – for quick sharing on any platform of the subscriber's choice. Morning Brew also includes a call-to-action button that takes subscribers to their personal referral hub, where they can share via email, social media, and (again) directly via referral link. The referral link ensures every new sign up will be permanently tied (and credited) to the referring subscriber's account.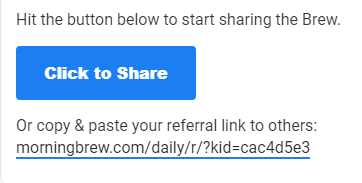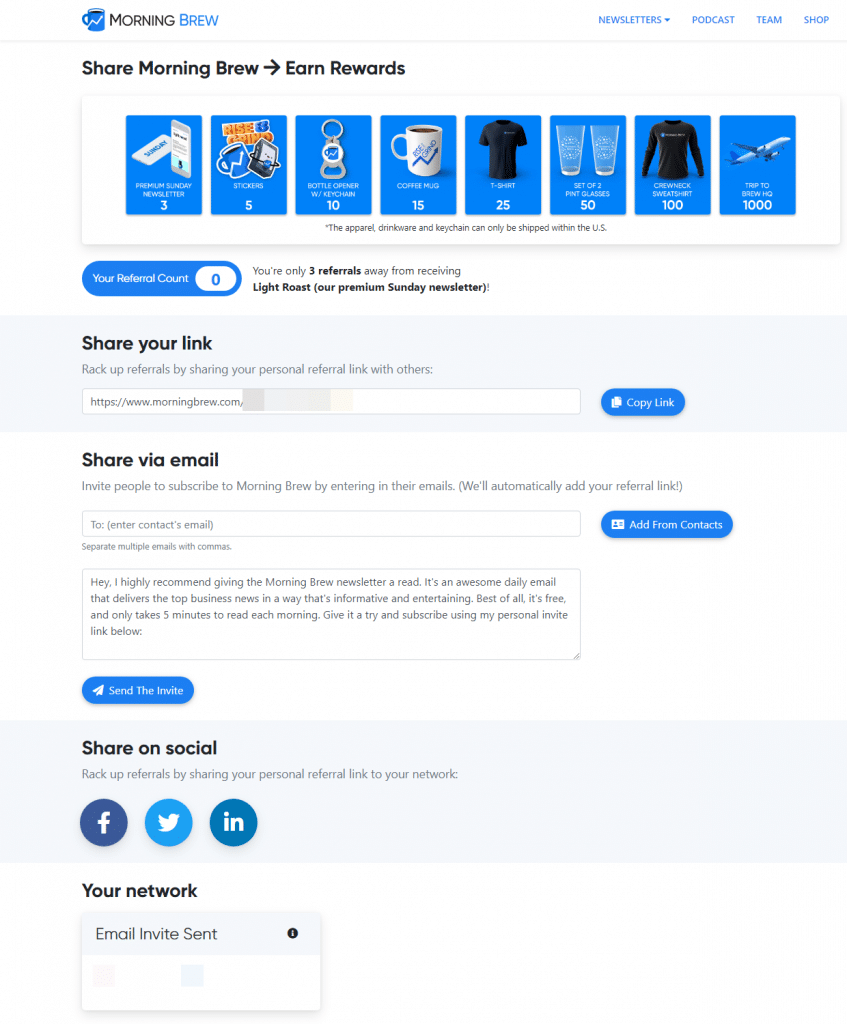 The Morning Brew rewards structure is tiered. Subscribers earn bigger and better rewards as they refer more friends – a great way to keep up motivation. The newsletter often features a subscriber's personal referral count, and encourages subscribers by letting them know how many referrals they need to earn the next reward. (Subscribers can also find this tracker in their referral hub).
And since the top reward, for 1,000 total lifetime referrals, is a visit to Morning Brew HQ, even the most prolific referrers have a VIP incentive to work toward.
In addition to their regular referral program rewards, Morning Brew often runs flash contests, where referring friends within a certain time period enters the referrer and friend into a drawing for a MacBook Pro.
These contests run several times a year, giving subscribers even more incentive to refer others.  When the contest runs, Morning Brew promotes it in the start and middle of their newsletter. (Every now and then, Morning Brew will change things up and place other referral program promotions at the start and middle of the newsletter, in a similar fashion to the laptop promotion.)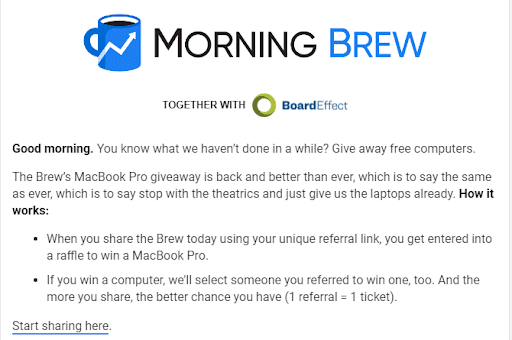 2. The Hustle
The Hustle is also a business newsletter, shining with its creative copy, informative, slightly humorous tone, and top-notch content that distills the news of the day. But that's not the only reason the newsletter gained its first 300,000 subscribers in a matter of months – its referral program played a huge part in its growth.
The Hustle's referral program offers tiered, branded rewards in a similar fashion to Morning Brew. At the bottom of every newsletter, they invite subscribers to share the program, with a personal referral link and call-to-action button leading to a referral hub.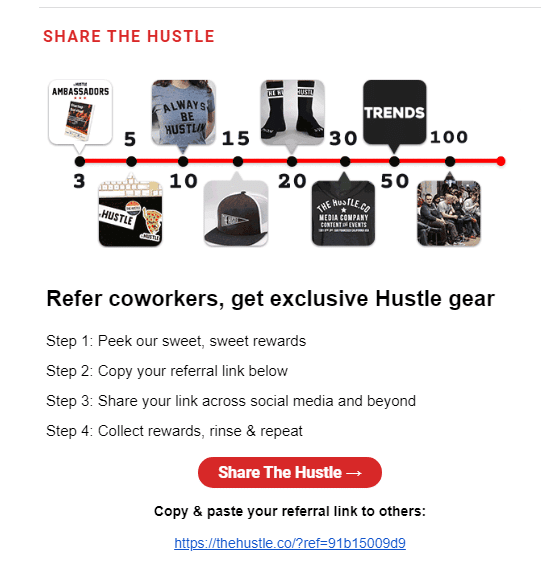 The hub lets subscribers refer friends via link and social media sharing buttons, making referrals easy no matter which platform they choose. It also lets them track the successful referrals they've made, and see how close they are to earning their next reward – an effective motivator.
Subscribers can even see the status of someone they referred, so they can check in personally with someone who may have trouble signing up.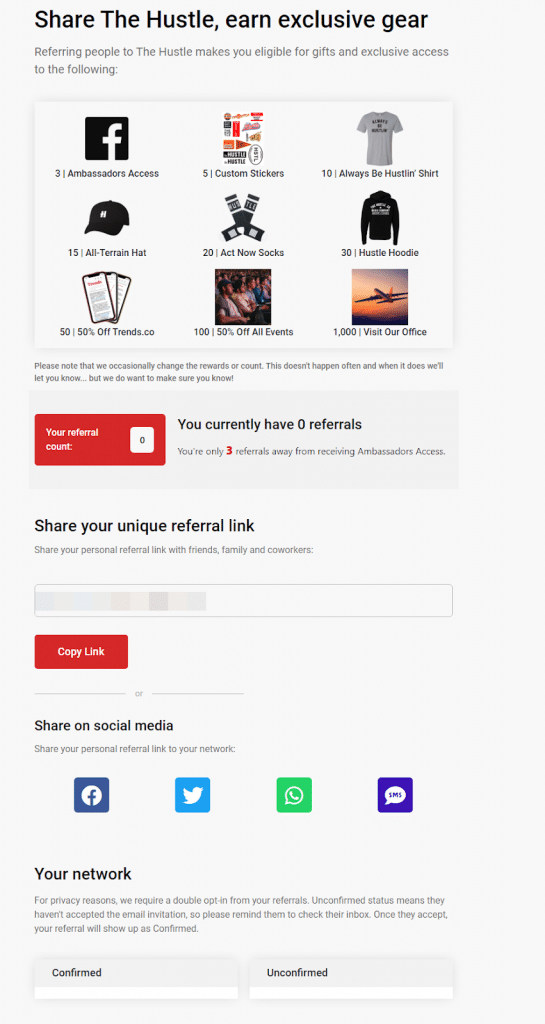 But some unique touches make The Hustle's referral program really stand out from the pack.
After a subscriber successfully gets three friends to subscribe, they're invited to become a "Hustle Ambassador." Ambassadors get access to an exclusive Facebook group for networking, as well as ambassador-only content.
The more referrals, the more rewards: 50 referrals grant subscribers 50% off of the brand's Trends subscription news channel, 100 gets them 50% off registration for any of the popular Hustle events, and 1,000 earns them a VIP trip to the Hustle office. The exclusive rewards make subscribers feel like true insiders, the "ambassador" title keeps them invested in The Hustle's success, and the reward tiers provide even greater motivation.
For a personalized touch, loyal subscribers get an invitation right from the newsletter's CEO when they're invited to become an ambassador. Then, every time they meet a referral milestone, they receive another email from the CEO, thanking and congratulating them on hitting the milestone. This further empowers subscribers and makes them feel integral to The Hustle's success – which they are whenever they refer a new subscriber.
Thanks to their referral program, The Hustle has enjoyed smashing success. According to Digiday, The Hustle's referral program "accounts for at least 10% of the free newsletter list's growth," and they've recruited over 10,000 ambassadors through the program.
3. TheSkimm
As one of the first email newsletters to start a referral program, TheSkimm knows a thing or two about driving word of mouth. Their Daily Skimm newsletter's content and tone, perfectly aimed at distilling hot topics for young women, already got their subscribers talking, and a referral program was the perfect way to accelerate all the sharing.
Today, TheSkimm's referral program acts as a feeder for its perk-filled brand ambassador program. Subscribers gain access to a personal referral link from the moment they get their first newsletter. In fact, part of the welcome email is dedicated to introducing the referral program, and concisely tells subscribers everything they need to know to start sharing.
Subscribers can then share the referral link any way they please, including directly through email, Facebook, and Twitter. This is a great example of how to ask for a referral in an email outside of the newsletter!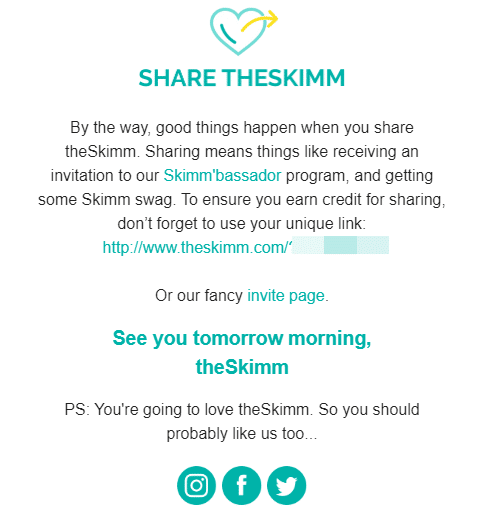 The Skimm also injects their signature tone into their newsletter's "Skimm Share" referral section, included at the end of every issue. The section's basic format always remains the same (with a "share" button, referral tracker, and personal referral link for easy sharing). Every day, the company creatively changes up the wording to catch subscribers' attention, with a new "type" of friend readers should refer. Check out two examples below: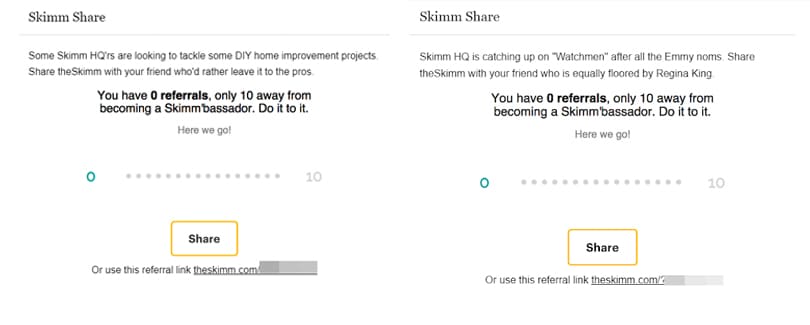 But the rewards – and magic – truly begin once a subscriber successfully refers 10 friends. At that moment, a subscriber becomes a "Skimm'bassador" and gains access to a whole host of incentives. These include exclusive content, early access to Skimm content and products, membership in ambassador-only groups to help them network and reach their goals, the chance to earn branded swag for more referrals, and access to exclusive events and opportunities. Skimm'bassadors also get to provide direct feedback to the newsletter's team, making them even more invested in The Skimm's success. This ensures that The Skimm will continue to wow its most invested subscribers.
Even though access to rewards and perks is fairly gated, it hasn't deterred subscribers from referring others. Today, the program boasts over 30,000 Skimm'bassadors, subscribers who have made 10 or more referrals–and referrals account for around 20% of Daily Skimm subscribers.
Honorable Mention: The Daily PNut
The Daily PNut newsletter referral program  follows the same tiered referral reward pattern of some of its competitors, but it stands out from them in three ways.
First, at the top of every newsletter, the PNut includes an "invite friends" button, with a link to their referral landing page. This way, subscribers don't need to scroll down to find out about the referral program. A simple yet effective promotion.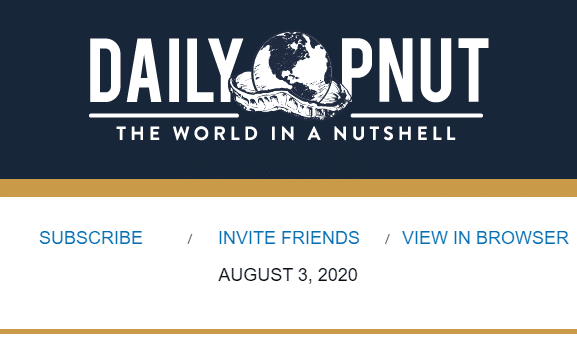 Second, some of the PNut's rewards are especially unique and valuable to their audience. This includes membership in an exclusive Slack discussion group (for 10 referrals), and year-long subscriptions to several top news outlets, such as the New York Times (250 referrals).
Third is the way the PNut displays the rewards.

The incentives are creatively described on the PNut's referral landing page, to make them even more enticing.
The page layout stays clean, as it starts with simple pictures of each reward, and you need to click or tap on each reward for its description.
The "PNut Power" and "Brainiac Pack" rewards especially entice you to click and learn more, since they require the most referrals but aren't explained outright.
The PNut uses a referral tracker and message about a subscriber's next available reward, like most other top newsletter referral programs. But they've paired the tracker with an animated arrow that points to the next referral reward a subscriber can earn.

Wrapping things up
A referral program is a powerful way for your newsletter to gain subscribers at a low cost. Be sure to select enticing but cost-effective rewards; promote the program well in your newsletter itself; make the program easy to share; and have a plan to track referrals. These are key to designing a stellar newsletter referral program.
Of course, referral software can also make the process much easier. Compare over 35 referral software options in this comprehensive, sortable list.