Giving good customer service and providing all customers with a consistent and stellar experience is a surefire way to get them to recommend you to their friends. This is when a referral marketing system comes in handy.
A referral system allows you to have a structured flow of collecting, organizing, tracking, and rewarding referrals. With the correct timing and approach (and the right software tools), your business will be well primed for referrals to happen.
As it turns out, referrals are a great and inexpensive way to market your brand. Marketing can take a lot of time, and it can quickly become expensive. But what makes referral marketing great is that it's cost-effective and powered by the trusted recommendations of peers.
Let's dive into why and how referral systems work.
What is referral marketing?
Chances are, you have some idea of what referral marketing is. But how exactly do we define referral marketing?
At a basic level, referral marketing occurs whenever customers (or referrers) share your business with their friends, family, and colleagues. It's a way for a business to grow by leveraging its network of customers and partners.
But without a carefully designed referral system in place (also known as a referral program), referral marketing can be difficult to track.
Some people think of referral tracking systems as incentivized word of mouth marketing. This is usually, but not always, true. Typically, there is an incentive involved in a referral system, which helps encourage customers to share. But sometimes, referral systems simply offer the intrinsic incentive of assisting a friend (without tangible rewards).
You may see the term referral marketing used interchangeably with advocate marketing, brand ambassador programs, and influencer marketing, but those terms can also have a very different meaning. So when you plan out your referral program, make sure you are clearly defining each term.
Referral marketing is like many other marketing channels, where it's vital to pay attention to the user experience.
Let's go over why and how a referral system works. And then, we'll break down the most important ways to create a solid user experience for your customers using a referral system.
How does a referral system work?
How does referral marketing work? At its core, it's driven by the power of word of mouth.
Referrals are founded on the word-of-mouth marketing strategy, which is one of the big reasons for a referral system's success. A referral marketing system works because people are more likely to be influenced by product recommendations from friends.
The main idea of a referral system is to provide happy customers with a simple way to share your business with their friends. The customer tells their friends about your business, and your business gains new customers because people trust their peer's recommendation.  A referral tracking system helps with automating many of these steps, including setting up default email messages, one-click social media sharing, and even reward fulfillment.
Marketing can be difficult, time-consuming, and not to mention expensive. As it turns out, a referral tracking system could be the solution to these marketing woes. It takes your already established customers and uses them to market your business.
Why a referral system works so well
By nature, people want to help other people. Happy customers like to help businesses, just as good friends like to help each other.
Many people who come across a business they love and believe in want to help it succeed, whether there's a tangible incentive or not. When a business taps into their greatest asset – their customers – many great things can happen. Here are some of the reasons why a referral system is so powerful:
Referral marketing aims closely at your target market
A well-liked business can produce organic referrals on its own. But when an existing customer refers a friend, they are likely to refer someone right in your target market and demographic.
Typically, loyal customers refer other people who they believe will benefit from a particular service. People know what their friends like.
Aside from mass sharing (aka, posting their referral link on social media, which is another awesome benefit that we will get to), referral clients share with specific friends who need your product or service. We all know how hard it can be to target a specific market. The benefit of a referral system is motivating customers to do this for you.
Referral systems take advantage of social proof
Social proof illustrates how people decide on their behaviors and actions based on what they see other people doing. If they see a trusted friend enjoys and buys from your business, that's powerful promotion at work.
When people directly recommend your business to their friends, those friends are far more likely to purchase from you. After all, people trust their peer's recommendations far more than they trust ads and other messaging that comes directly from a company. In fact, a global study by Nielsen found that people trust recommendations from friends and family above all other sources.
Referral programs leverage social and mobile sharing
Another reason referral marketing programs are so effective is because of social media and mobile devices. Consumers are constantly on social media, and they're constantly using smartphones to share with friends.
Using social media with a referral marketing system is a great combo to get the word out in a non-invasive manner. Social media is where people are already hanging out, so a referral marketing system can seamlessly slide into people's everyday lives.
Social media also makes the sharing process easy in just one click or one tap. This is a lot easier than calling a friend or looking for a business card to share. The best referral marketing software options will supply users with easy social sharing options. This increases your potential for referrals because the user can share – and get their rewards – with literally the touch of a button. It's a win-win situation.
Best of all, social media has made it a lot easier for people to endorse a brand in front of a wider network. Brands can get in front of a ton of new people at any given time because a customer's social media share goes out to all their friends and followers at once (and be reshared or retweeted with an even wider network).
When referral programs and social media come together, your referral sources have the potential to be seen by hundreds, or even thousands!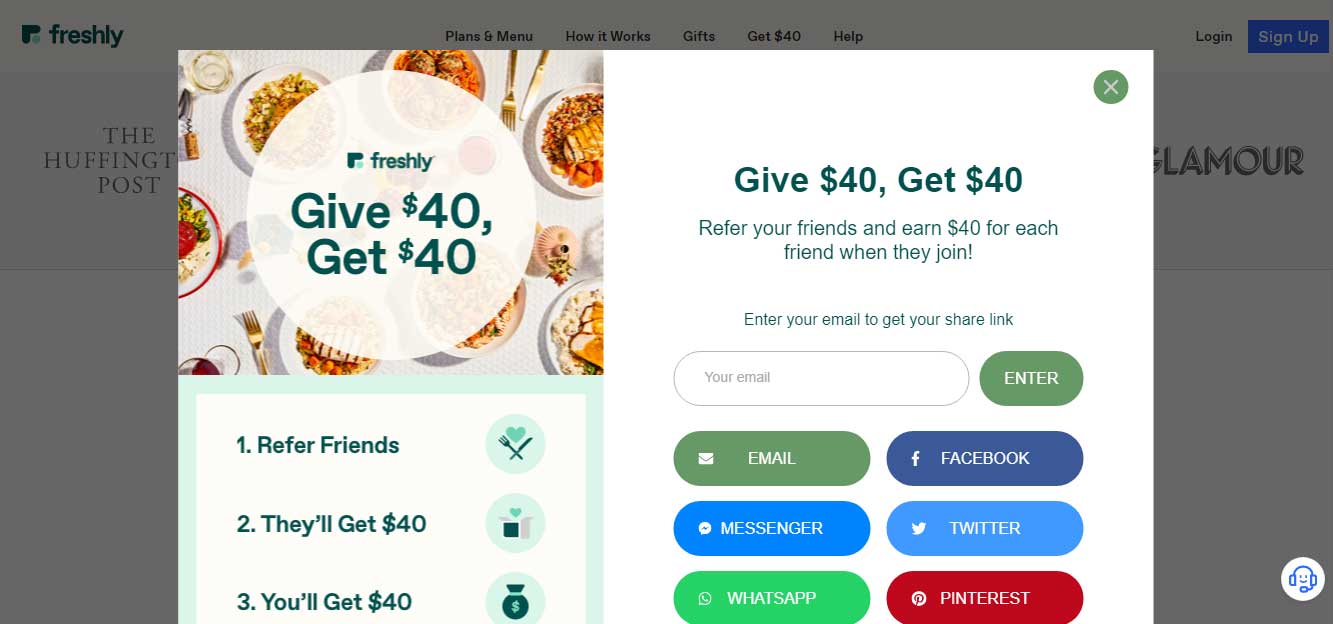 For more on these platforms, check our articles on leveraging social media and mobile sharing in your referral system.
Referral systems allow for easy email sharing
Email is highly effective for one-on-one sharing, and many referral system software will make it even easier with referral email templates. Yes, there is always impromptu sharing, like friends discussing where they got their haircut or new bag.
But if you give people the opportunity to share in an easier way, they will. Email messaging, especially on mobile devices, makes the sharing process easier than ever before. Everyone is one click or one tap away from sending someone a recommendation or promotion.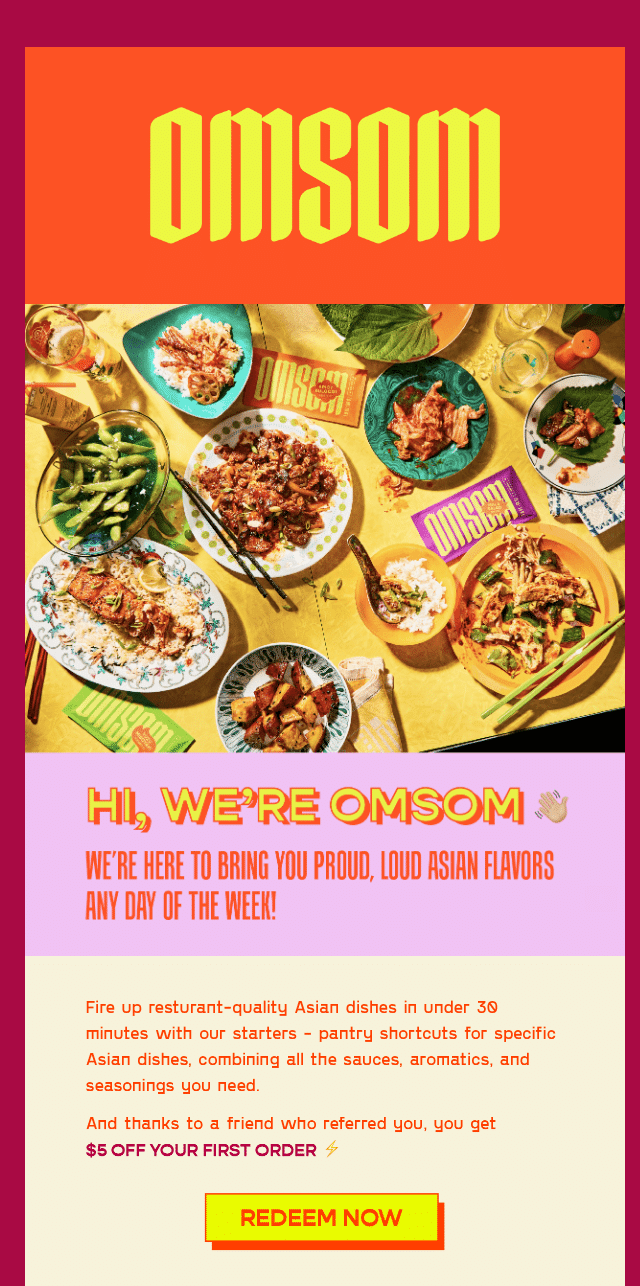 Referral marketing leads to better customers
Both referring customers and referred customers tend to have a higher retention rate in the long run. According to a study by Wharton professor Christophe Van den Bulte, successful referrals are actually better-quality customers. They have a higher customer lifetime value, are more likely to stay customers for longer periods, and typically improve your bottom line more than other types of customers.
Using software services to create the best referral system
Now that you know how and why a referral system works, how can you take full advantage?
One of the best ways to accelerate your referrals is to provide customers with a trusted way to track the referral experience. You can easily establish this trust by putting a proper referral system put in place, thanks to ready-made referral software.
Selecting the right referral software offers more security, as your customers are sharing some of their personal information and providing you with their friend's information.
The informal "fill in your friend's name" scheme, using just a card or piece of paper, can be a bit of a turn-off. Customers aren't actually sure what a business is going to do with their information or whether the information will be secure. They don't want to add their friend to a list that causes them to get called by multiple salespeople.
An established referral system using referral software is a much less invasive process. The friend's information is simply used as a way to reach out with a referral message and is sent out by the customer themselves. Then, the friend decides if they want to hear more from your business.
Between automated reward payouts, easy social sharing and tracking, your referral campaign promotion can be much easier with the right software.
Accelerate, track, and efficiently reward word-of-mouth marketing with Referral Rock's
referral program software
. We focus on the full end-to-end sharing experience to mobilize advocates of all types. Our software is flexible enough for all kinds of businesses (not just ecommerce).
Make referral marketing a part of your strategy
By now, you probably see how an effective referral program fits right in with your existing marketing processes and strategies. First, by increasing word of mouth through referrals, and then adding automation and software, you have an incredibly easy way to run a referral marketing program like a boss.
But setting up a strong referral marketing system does take a little work. Our advice is to have a strategy. Here's one case study of how putting a plan in place cal lead to referral success.
How to set up a strategy for your referral system
Referral marketing works really well, but it needs a solid start. If your program is rough around the edges, it could end up hurting your business. As you develop and refine your program template, it's important to continue testing and getting feedback.
Then, craft the perfect way to invite customers to refer. Paving the way for customers to refer is one thing. Getting them to the point of actually referring is another. It might take some encouragement. (Sometimes, it all comes down to asking for referrals from the right people, at the right times!)
An enticing referral incentive selected just for your audience often works wonders to motivate your customers to refer others. Plus, if both the referring customer and their friend have a chance to earn a reward, the motivation is doubled! (For the full details on referral incentives, don't miss our ultimate guide to referral rewards!)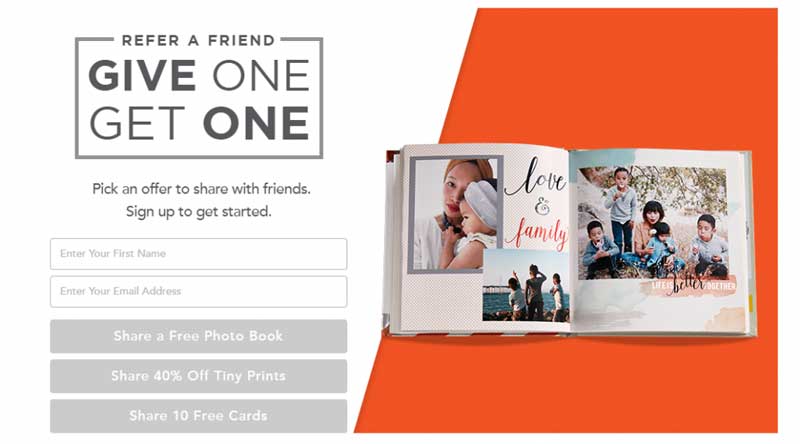 Another solid way to encourage referrals is to make sure customers have multiple ways to share. Where and how do customers usually share exciting things with friends – email? Social media? SMS? Consider those outlets and include them in your referral program for natural sharing.
Next, think of how participants will enter your program. Are you going to send out a link to a landing page? Will you use a CTA in one of your newsletters? Or are you going to just use a menu option on your website?
Then, once they land on your referral program page, make it as frictionless as possible for customers to share.
Most importantly, bake in your referral program promotion techniques. Once your referral program is ready to launch, you have to promote, promote, promote. Even if you've followed all the best practices for designing a referral system, it won't do you any good if customers have no idea you actually have a referral program. If you want referral marketing to work, you have to weave it into your existing marketing processes. Here are a few ways to do so:
Send out specialized referral program promotion emails
Promote it on your standard marketing and transaction emails (e.g., in your email signature, newsletter, follow-up emails)
Regularly post about it on your social media profiles
Make sure customers can easily find it on your website (especially right after a purchase, when they're most engaged)
Need more ideas? Our referral program promotion guide has everything you need to spread the word about your referral system.
Test the referral marketing waters
If you're not sure about plunging right into a referral process, it's okay. If your business isn't in the right position for a referral program, hold off until you're ready. There is nothing more frustrating than putting effort towards something that you feel isn't going to work.
One good way to tell if you should use a referral system is to calculate your customer's likelihood to share. Find out your Net Promoter Score (NPS), which measures how willing your customer base is to refer your business.
If your average score indicates customers are willing to recommend you, go for it. The customers who reply to your survey saying they're highly likely to recommend are the ones to invite first. This is just one indicator of referral program success.
You could also ask your customers what factors would be the most motivating, so you can craft a referral program your customers will want to participate in. And as we've covered above, while referral incentives aren't necessary, they can create a great engagement boost.
If you're ready to start, head over to Referral Rock's referral program software to read more about how you can get a referral program off the ground.