What do referral programs from Dropbox, Airtable, and Canva have in common?
They're all SaaS referral programs.
Referral programs work for all types of businesses, but they're especially effective for SaaS businesses. If you're looking for a marketing campaign that speaks to (and rewards) your best customers and creates a sharing loop, a referral program can do just that.
What is a SaaS referral program?
A SaaS referral program is a marketing tactic that software-as-a-service businesses can use to increase word-of-mouth. SaaS referral programs run like any other customer referral program: by engaging existing customers, incentivizing them to share the service with others, and rewarding them when a referral converts to a qualified lead or customer.
With SaaS products typically running entirely online and in the cloud, a SaaS user can easily join a referral program, share their unique referral code through social media or direct messaging, and redeem their rewards – all in a few clicks.
In the long run, a well-designed referral marketing campaign can save on customer acquisition costs (which can be especially high if you run a B2B SaaS company) and improve customer loyalty. And if you choose the right referral tool, a successful program is easy to set up and run automatically.
5 benefits of SaaS referral programs
SaaS referral programs (and all other referral programs) work by engaging your existing users. Instead of paying for pricey ad placements, you're rewarding every successful referral and building a stronger user base. Here are some other benefits of running a SaaS referral program:
Faster, reliable conversions: Research shows that a high-impact recommendation from someone you know "is up to 50 times more  likely to trigger a purchase than a low-impact recommendation" from companies
Increase brand awareness: By encouraging word-of-mouth marketing from those who already love your service, referral programs build positive brand awareness, social proof, and interest in your brand.
Lower customer acquisition costs (CAC): Aside from the initial setup and software costs, referral programs are a pay-for-performance marketing strategy. You only pay for rewards when a referral successfully becomes a new customer or lead. (Note: As a SaaS business, you can lower your CAC even further by offering something that's virtually no cost to you, such as a free month of service or limited-time upgrade.)
Increased conversion rates: When existing users promote your SaaS business, they generally refer like-minded leads who are ready to convert. Not only are your users already familiar with your service, they're also likely to know other businesses who will also benefit. Plus, having a personal endorsement of your brand increases the odds that others will  readily try your service.
Increased customer retention and lifetime value: SaaS companies run on subscriptions and recurring revenue. This makes referral programs even more beneficial, as referred users are 18%  more likely to stay with a brand than those who weren't referred.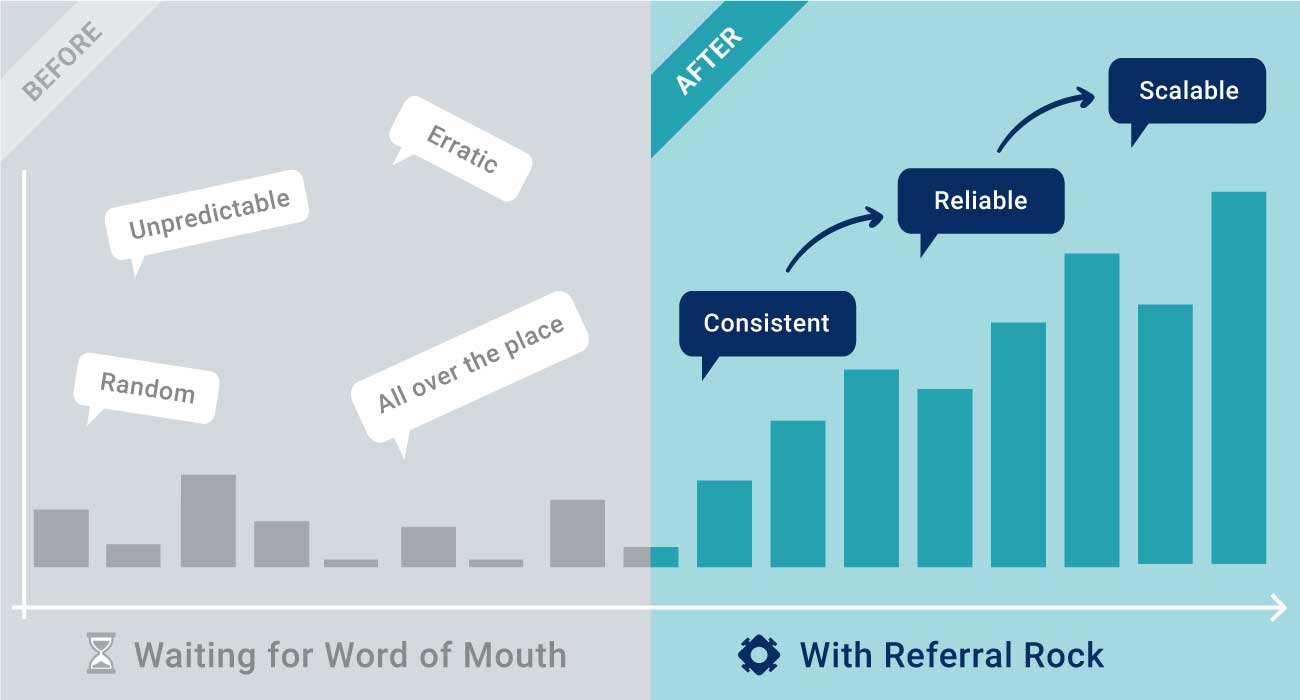 How do I create a SaaS referral program?
The beauty of SaaS referral programs is they can work with the tools and processes you already have. Here are five steps to create a SaaS referral program that brings in more customers:
1. Give customers a reason to share
To build a successful referral program, you must first have an amazing product or service. While incentives and rewards do attract users, customers won't refer their personal network unless they think your SaaS product actually provides value.
So, first thing's first: Offer a great product that fits your target audience's needs and delivers exceptional customer support. Make sure your current users are happy with your platform before creating a referral program. How? Start by reading all your online reviews and customer feedback. See if there are any obvious pain points or areas you can improve. You can also reach out directly to some of your loyal customers and ask them to fill out a survey or schedule a 1:1 feedback session (throw in a free upgrade or discount for their time!)
2. Decide what your SaaS referral program will offer
If you had to create an elevator pitch for our SaaS referral marketing program, what would it be? An elevator pitch gives you 20-30 seconds to grab someone's attention (which is arguably long for someone online). It's intended to keep your referral messaging short and to the point. Here's are real-life examples:
"Get 16 GB free space by inviting your friends to Dropbox."
"Invite friends to Evernote. When they register, install, and sign into Evernote, they'll get Premium. You'll also earn points to use for Premium or increased monthly uploads."
"Refer a friend and earn $10 in Groupon Bucks. You can earn $10 in Groupon Bucks whenever you refer a friend to Groupon and they buy their first deal."
These are the headlines and copy from some top referral programs. But when deciding what your SaaS referral program is about, don't forget to cover all bases:
How much will you reward?
Will you require more than one referral for a reward?
Are there tiered rewards, or is there a reward limit?
Think through the details of your SaaS referral program, and be sure to include all information in your landing page and referral FAQ.
If you're planning a program for B2B SaaS, we cover this more in-depth in our article on
B2B referral programs
.
3. Choose the right incentives to motivate customers
Figuring out an incentive can be tricky. You first have to understand what drives your users and what they find most beneficial. Here are some of the most common referral incentives:
Cash back: It might not surprise you that most customers are motivated by cash. Who doesn't like money? But besides appealing to customers, cash is a scalable reward. When structured properly, your customers will get the same value, whether they refer one customer or a hundred.
Discount on subscription: Discounts are great for companies looking to build customer loyalty through increased engagement. Not only are they an attractive benefit, but discounts are also put toward future purchases and help build long-term relationships.
Free month of subscription/free extension of trial: One of the hardest things is attracting new users, so why push them away? Offering a free month of service is a great way to provide your ideal customer a little more time to show them your value. (This reward is especially attractive in B2B SaaS referral programs, where swag or cash back may not be as attractive.)
Branded swag: If your SaaS has a unique brand and strong customer base, branded swag is a great incentive that will build even more brand awareness. Swag is also good for its many options. Users can start by earning a sticker, then a mug, and then a monetary reward. Keep in mind, users might not want all their rewards to be branded swag. Instead, try running a special swag giveaway promotion as a fun way to mix things up for your most loyal users.
Unlock features or upgrades: To increase the odds of users upgrading their plan, you have to pull back the curtains a little and let them have access to all of the extras in another price tier. By offering features and upgrades as a "reward," you're also positioning your offer as something of high value.
Once you've decided on an incentive, it's time to decide on your reward structure. A reward structure basically covers who will get the reward and when they will get it.
For best results, we recommend using either a dual-sided or cumulative program. Dual-sided incentives reward both parties – current customers and the referrals they bring in. Cumulative incentives give users the opportunity to earn cash, credit, or points for every referral they bring in. The draw of a big payday is a great motivator for users to share with as many people as they can.
No matter what type of reward structure you choose, make sure your users are automatically rewarded. Don't make them wait to receive their cash or upgrade. And if they've earned swag, send them a notification that their reward is on its way.
Manually sending out individual rewards can get overwhelming, especially as your SaaS referral program grows. To make things easier, try out a SaaS referral software to
automate reward management
.
4. Consider offering a SaaS referral fee
Maybe your best users will be more motivated by a referral fee than another type of reward. A SaaS referral fee is commission paid to the program participant for every new user they bring to your company.
Unlike a cash incentive, which is typically a fixed amount for every referral, a referral fee is a percentage of the total sale. SaaS referral fees can range from 5-50%, depending on the size of your business, the value of a sale, your target customer, and whether you want to offer the commission in tiers (i.e., 10% for every lead, 20% for every sale).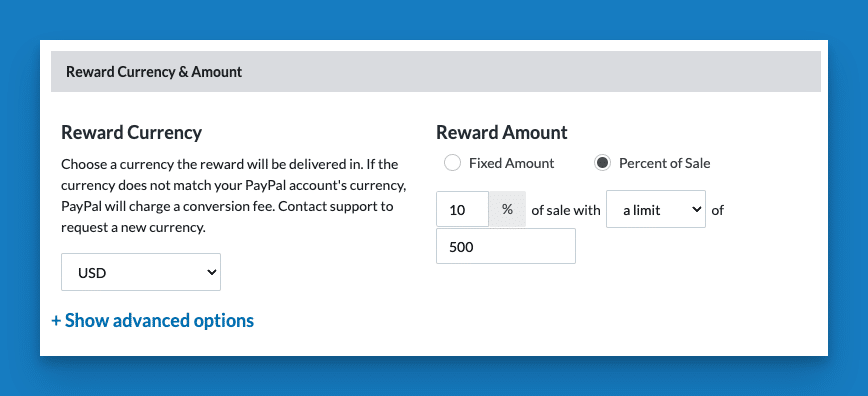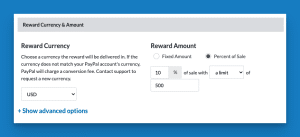 5. Make it quick and easy for users to share
A major factor in a referral program is to make the referral process as easy as possible. Provide users with multiple ways to share your offer, including email, social media channels, and SMS. You can also create a unique referral link for every user who joins your SaaS referral program so they can send it however is most convenient for them.
Remember: you're asking your customers to do you a favor by spreading the word about your SaaS. The more time and effort it takes to send a referral, the more likely they'll get frustrated and bounce. The fewer steps, the better.
Ensure that referring someone only takes one or two clicks
Create clean, concise messaging that's easy to understand
Build referral landing pages (where users sign up for your program) with all the important program information
Provide ready-to-use templates and messaging that users can send right away
One of the reasons why many popular referral programs have gone viral is because they were so easy to use. Think about Airbnb or Uber.
In those referral programs, referrers simply had to click a button, and a custom link will generate with their code with multiple options to share.
Most programs already filled in referral messaging, so users didn't have to waste time writing their own message.
6. Promote your SaaS referral program
Once you have your key pieces in place, it's time to promote your program. Your referral program should be easy to find. A great place to start is your website: you can add a referral link to your footer or navigation bar or use pop-ups to attract users depending on where they are in the customer journey. You can also promote your offer in announcement bars or use pop-ups to attract users.
Another place to promote your SaaS referral program is in-app (aka right your software). Like with most things in marketing, timing is everything. Promote your offer when a user completes a task or hits a certain milestone. You're looking for those "aha" moments when engagement is high and users see value with your service.
Another highly effective place to promote is in on your other marketing channels. Add the referral program to your email newsletter (the footer is a great spot!) and reach your entire user base in one fell swoop. Or post about it on social media to capture a wider targeted audience.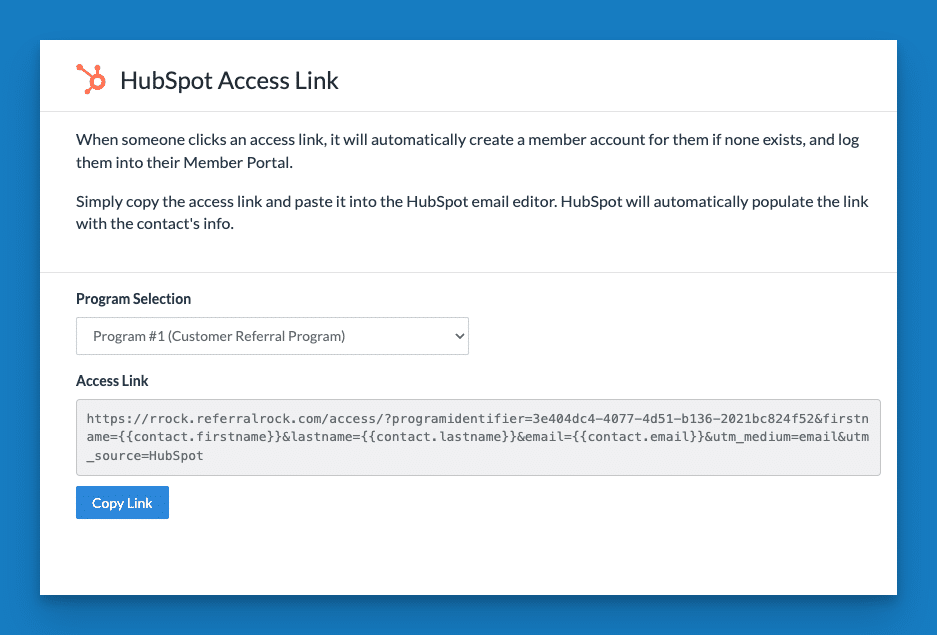 And of course, don't be afraid to reach out directly to your best customers. Send each one a personal note thanking them for their loyalty and inviting them to start referring.
7. Track ROI with SaaS referral software
Whether you build your program in-house or use a dedicated SaaS referral software, it's important to track, test, analyze, and optimize your program. How many invited users joined your SaaS referral program? What channels are most used to share with others? Marketers need to keep track of all this data to know if your referral program is working or not, what to improve, and to see if it's worth keeping. The simplest way to think about it is in terms of cost vs. revenue.
Your cost is how much you're spending on rewards, plus the cost of running the program
Your revenue is how much you're gaining in sales
If your referral revenue exceeds your customer acquisition cost (CAC), then you're getting a positive ROI on your SaaS referral program. This should guide your decision about any next steps you want to take in your referral marketing strategy.
Thankfully, there's a lot of good SaaS referral software that makes it easier than ever to create, automate, and customize your program in minutes. But it's important to note that many of these tools are targeted to e-commerce and don't account for the complexity of B2B or subscription products or sales.
Make sure to look for a platform (like Referral Rock!) that supports multi-step and recurring reward structures, automated payout options, and integration with your CRM to track referrals and trigger rewards. In-depth analytics and reporting is another must-have.
12 best SaaS referral program examples
By now, I'm sure you've thought of a few referral marketing strategies and ideas to try out. But in case you need more inspiration, here are some examples of well-executed SaaS referral programs. We dig into them in detail to explain exactly what makes them stand out.
1. Trello
Trello is a collaboration platform to help you keep all your tasks on track. At a quick glance, you can see who's working on what, what work is being done, and where someone is at in the process. Trello's referral program uses a simple cumulative structure: When you refer a friend who signs up, you get a free month of Trello Gold (their premium plan). You can refer up to twelve friends. That's a whole year of Gold for free!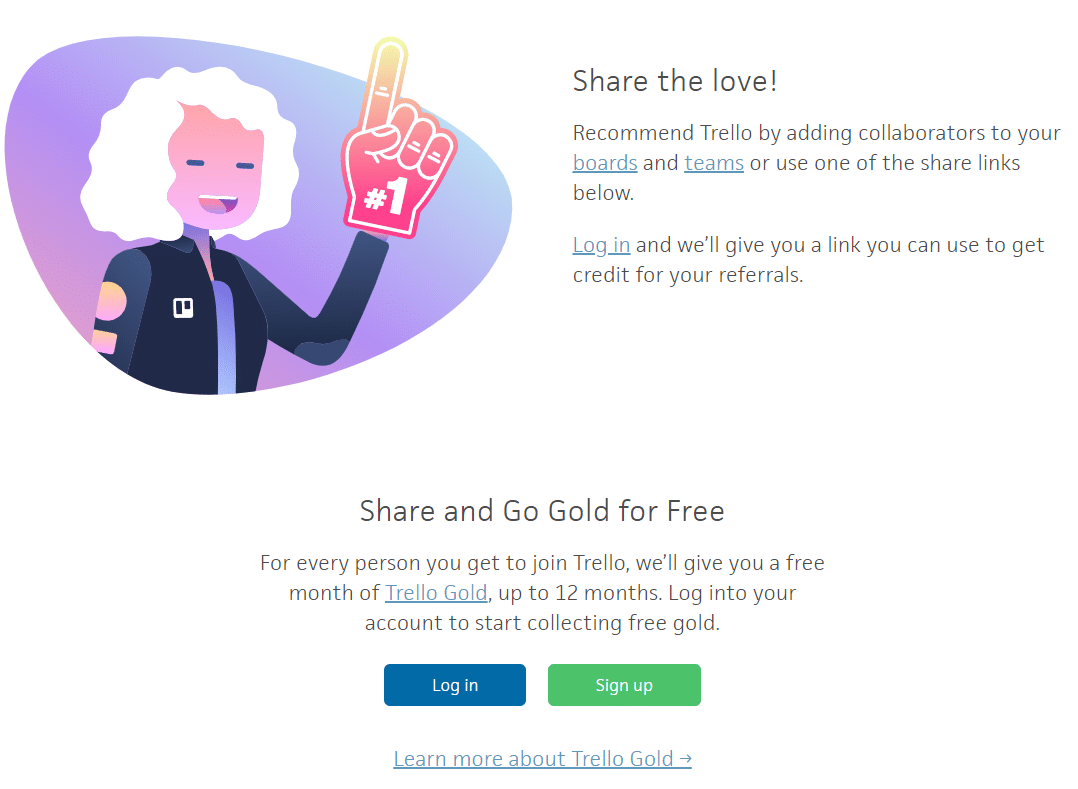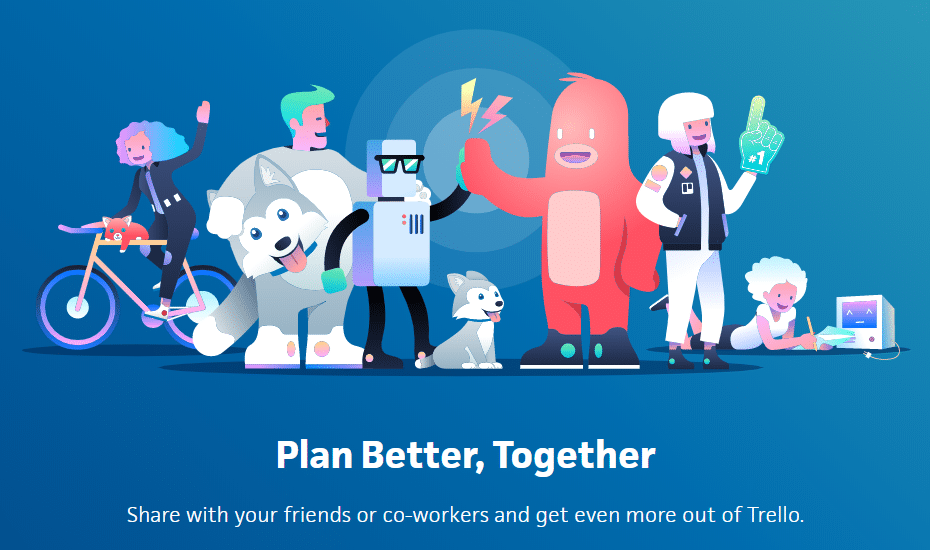 What makes Trello's referral program so effective? If you look at how they explain their program, you discover they use encouraging messages ("adding collaborators to your boards" and "start collecting free gold") that speaks the language of their users. Plus, not many users knew about Trello Gold.
The referral program and reward itself also helped promote the company's premium plan, introducing users to the additional features and further converting them into higher paying customers. As you can see in this B2B SaaS referral program example, having a good product  users already love is a good sign they'll be willing to share it with others.
2. Evernote
Evernote is a cloud-based SaaS that take notes, organizes files, and invites collaboration with others – all in one secure place. The Evernote referral program is based on a points system to help attract more referrals. Your first three referrals earns 10 points each, which is equal to three months of Premium. And if your referral converts to Premium, you earn five more points.