Driving customer referrals is a no-brainer marketing strategy for scaling your business – people are at least 4 times more likely to purchase when a friend refers them to you. 
For the most success with referral marketing, you'll need to choose the top referral software on the market. But although there are plenty of options out there, not all will meet your needs. 
How to choose the best referral software? We're making the task easier by focusing only on the top 5 referral software options on the market. Read through our ultimate guide, and you'll be ready to pick the referral marketing software that's right for you. 
Why referral software?
Since people trust their friends far more than the ads and messages that your business puts out directly, referrals consistently bring in high-quality customers who are more likely to stay loyal.  Plus, referrals are a cost-effective way to gain new customers – they're a lot less expensive to leverage than ads. 
When you create an automated customer referral program with referral software, you'll empower customers to share your business with their friends in a way you can track. In fact, existing brand fans generate 5x more referrals with referral program software vs. waiting for referrals to happen organically. 
A referral software platform will trace every referral back to the person who made it, instantly reward customers for successful referrals, and even help motivate customers to keep sharing with friends. This automation aspect is key to creating a referral engine that runs itself, and that collects valuable data needed to keep optimizing your referral program's performance. 
The best referral software for 2023: Our top 5 picks
What to look for in a referral software? We've analyzed each of our top five referral software picks based on the criteria above (and more), so it's easy for you to determine which software will fit your needs.
Business fit
What types of businesses does the referral software work well for (e.g. B2B, SaaS, ecommerce)? Which types of businesses are not a good fit for the referral marketing platform?
Many referral software choices only work for ecommerce businesses, but some are robust enough to meet the needs of B2Bs and other businesses that have longer sales processes.
Customer service/onboarding
Does the software offer expert onboarding specialists or customer success managers to guide you through the launch and management of your program? How does the support process work?
Referral marketing is distinct from other forms of marketing – not all marketers know all the pieces needed for success. You'll probably need help setting up your referral program based on best practices, as well as integrating it with existing processes and software you have in your marketing stack.
So, it's best to proceed with guidance from referral marketing experts, who have all the knowledge you need to make your program successful. The more concierge the support, the better, as it will be tailored to your unique business needs. You'll also want options to reach out to product support and get answers quickly, in case you have urgent questions.
Integrations
Is the referral software compatible with the tools you already use to manage your marketing and sales campaigns? For instance, does it offer HubSpot and/or Salesforce integrations?
Third-party integrations are key for connecting your referral software with all your other marketing and sales tools, so it passes information between all your tools smoothly and automatically. They can help automate your program, connect it with your CRM, send out email promotions to drive engagement and handle reward payouts.
Rewards
What types of referral incentives can the software handle? Is the software compatible with multi-step reward structures, or does it only handle the simple "give and get" structure?
Make sure the referral software is flexible enough to manage any reward structure you wish, especially if you want a multi-step or tiered system. There aren't many referral software programs that can manage complex rewards structures.
Customization
What features help you brand the referral program to your business and customize it according to your unique needs? 
Customization is how you make the program your own, but many referral software tools only offer basic widgets with purely visual customization options.
If you want a customizable referral program beyond a basic website widget, and want to serve your customers the program on a variety of touchpoints, make sure the referral software you choose is flexible enough to meet those needs.
Engagement
Does the software solution have automated features that encourage customers to stay engaged with your program and continue to make referrals? If so, what engagement features are available?
Customers who continue making referrals are key to growth. Automated engagement features make it much easier to motivate customers to keep sending new leads your way.
Some engagement features may include automated emails and notifications, and a dashboard where customers can keep track of the referrals they make.
Dashboards and tracking
What data does the software track, and how robust is that data? How easy is it to access the referral tracking data you need via the program's dashboards?
Like with all marketing campaigns, measuring your program's success is essential to determining your ROI.
Some referral software only tracks basic metrics like shares, conversion rates and referral revenue. But other referral software options give you detailed metrics for a fuller picture of your program's impact, such as customer engagement and brand awareness generated by the program.
Without further ado, let's dive in. 
1. Referral Rock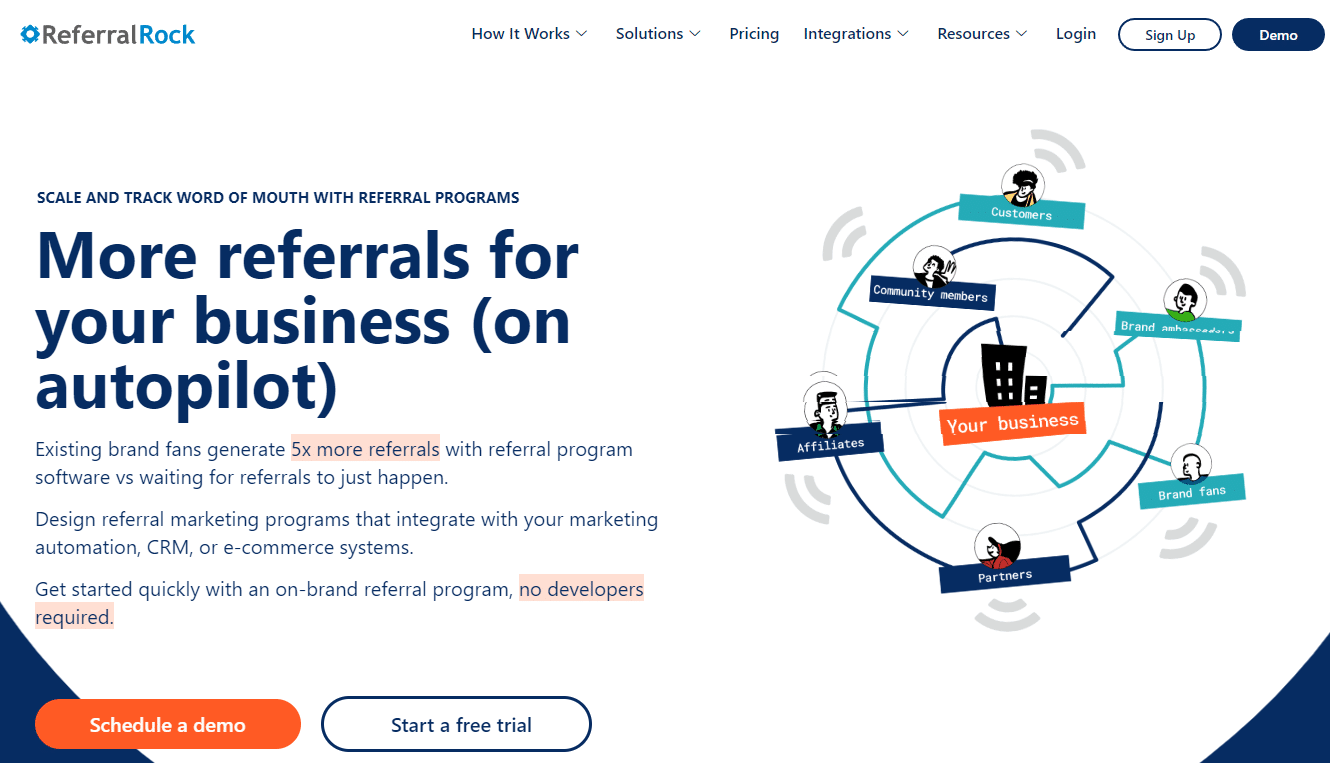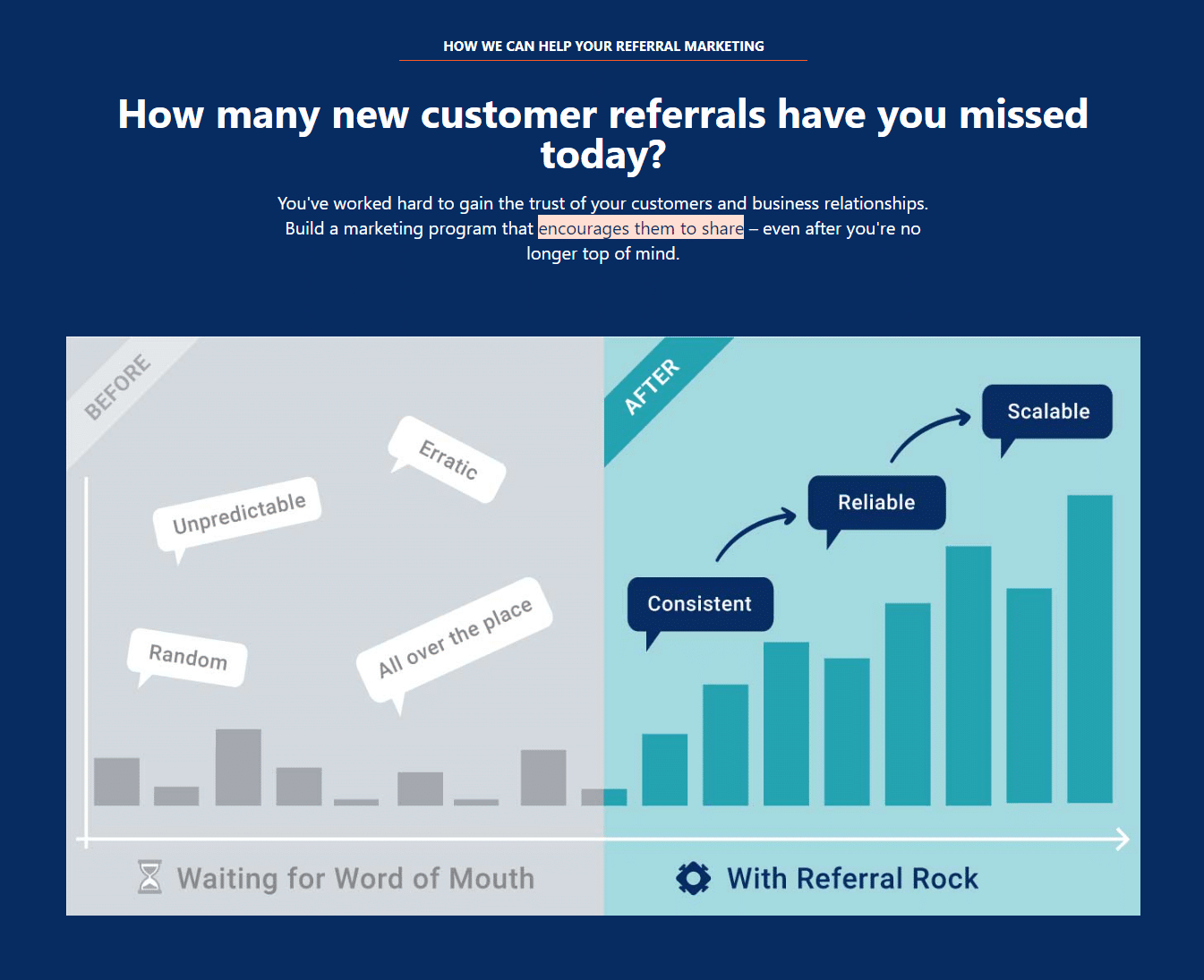 Referral Rock has everything you need to launch your referral program in days, not months. Create a custom, on-branded referral experience for any business – no matter your size or industry – then sit back and watch the referrals roll in. 
More referrals for your business – on autopilot.
Referral Rock has helped over 1,000 businesses scale through the power of referral campaigns, including SaaS companies, B2Bs, service providers, ecommerce stores, educational platforms, and more. And our software is extremely easy to use, with no developers needed. 
| | | |
| --- | --- | --- |
| Pricing | Free trial? | Review score (Capterra) |
| $200-$800/month | 30-day free trial | 4.5 (59 reviews) |
Top positive reviews:
"Our account manager was incredible in getting us fully set up and live within less than a week! Referral Rock has every feature you can need in a referral program." – Emily H.
 "The best part of the experience is how helpful our brilliant onboarding rep is. He is helpful at all hours, via phone or email, and it's made all the difference.The reporting, analytics, tracking, and customization are what make this software great." –Brittany M.
"Referral Rock's Hubspot connection is unlike anything on the market that I've seen (at this price point)." –Julia P. 
Business fit
Referral Rock is one of the few referral software options that works for any type of business – not just ecommerce. Whether you're a B2B, SaaS, ecommerce store, B2C, service business, or another type of company, Referral Rock will meet your needs thanks to its diverse customization options. 
Our software is compatible with businesses that use multi-step sales processes, so it'll work for you even if you don't use a simple transactional structure. And Referral Rock has helped businesses of all sizes track and grow their word of mouth, from small businesses to enterprises. 
Customer service/onboarding
Referral Rock's onboarding specialists and expert services will give you everything you need to set your program up for success. Our expertise from 1,000+ programs across different industries guarantees you launch faster and drive better results:
An expert onboarding specialist guides you through the process of designing, integrating, launching, and optimizing your program, with detailed 1-on-1 guidance. Get support for all the integrations you need, and learn how to create a program that follows all best practices, for maximum growth.
Rapid-response product support is included with all plans – instantly chat with our support specialists to solve immediate needs, or receive tailored async video guidance.
A dedicated success manager provides ongoing audits and detailed check-ins for Established Business and Enterprise customers, so you'll always know the actions you should take to scale.  
Enjoy our comprehensive library of self-service product education resources, including integration docs, a product support center, webinars, and video guides. 
Integrations
Referral Rock offers a robust suite of integrations for all businesses – both B2B and B2C – so it aligns with the essential tools you're already using to successfully automate your program. We integrate with the Hubspot, Salesforce, and Zoho CRMs, as well as several ecommerce platforms (Shopify, WooCommerce, Magento, BigCommerce, and more). 
Automate your processes by integrating with several marketing automation tools, instantly issue cash back and other rewards through billing and payment tools, and sync up with email marketing software to improve program engagement. 
Plus, integrate your referral capture and sales processes with Zapier to instantly add new referrals as leads to your CRM, and fully automate your referral program from start to finish.
We also offer API integration for maximum flexibility. And Referral Rock doesn't stop there – we integrate with even more software programs that we haven't mentioned. See all our integrations here.
Rewards
Referral Rock is flexible enough to work with any reward structure you wish, including multi-step structures (where customers are rewarded for their referrals at different stages of the sales process, such as when their leads are qualified, when their leads make their first purchase, and when their leads renew their subscription). 
We can also handle: 
Tiered structures (where customers earn rewards that increase in value when they hit milestone numbers of successful referrals)
Commission payouts (where advocates earn a percentage of all their referrals' purchases, paid out in cash)
Recurring structures (where rewards are paid out repeatedly if an advocate meets certain criteria)
Referral contests (where the person who makes the most referrals in a given period gets a bonus reward)
Referral drawings (where referrals earn entries into a drawing for a bigger reward, in addition to the guaranteed reward for every referral)
And if you'd like to run a simple give-and-get program for your online store (including one where both the advocate and new customer get rewards), we can easily handle that as well. 
As for reward types, choose from any reward that your customers will love, whether that's cash back, store credits, free products, gift cards, PayPal payments, ACH credits, charitable donations, or a completely custom reward. Instantly and automatically issue rewards whenever they're earned, for maximum customer satisfaction.
Customization
In addition to the reward customization, Referral Rock offers plenty of options to customize your referral program to fit your needs, and provide a consistent, on-brand experience. Build your referral program into any touchpoints across your website, email marketing, mobile apps, and more. Create a referral landing page or pop-up, or add the referral feature to your customer dashboard. 
Our visual editor lets you easily personalize your program's copy, visuals, messaging, and more to match your brand's look and feel. Plus, enjoy custom branding across all your assets, choose the channels you'd like your customers to share their referral links on, and decide whether advocates will send messages of your choice or write their own. 
Engagement
Referral Rock helps you automate program promotions, so you can keep motivating your customers to share and share often. Keep them in the loop with instant notifications, and send automated email campaigns to ensure your program stays top of mind. You can also create customer segments to personalize your messaging for maximum engagement. Plus, reach customers when they're primed to refer – email personalized, automatic invitations to share based on select events or actions taken by your brand fans, such as after a purchase, after a renewal, or after a positive review or comment. 
In addition, a dedicated portal gives advocates full visibility on the status of their referrals, so they know exactly how and when their sharing translates into rewards. When advocates know their referrals' impact, this encourages them to refer again and again. 
Plus, thanks to an "Engaged Members" metric, you'll always know which customers who have used your program are actively making referrals.
Dashboards and tracking
Referral Rock is the only referral platform to automate and track every step of the referral lifecycle, from first share to multiple conversions. So, it's easy to track your results and impact faster, and reap a positive ROI. 
Measure brand awareness and brand visits motivated by the program for every individual referral, before a referral even converts – with all visits attributed to the advocate who sent the referral. Then, get detailed data on how often referrals convert and who sent them. 
Keep track of how many current customers actively engage with your program, and how frequently they send referrals. See every detail of your advocates' sharing via a robust dashboard, find your best promoters, and get all the data you need to optimize your program. 
Plus, use A/B testing to track the success of different campaigns, messages, and channels to see what's most effective; download detailed reports; integrate Google Analytics to track, compare, and optimize for different marketing channels, and add your own Javascript snippets for advanced tracking and analytics. 
Other notable features
Referral Rock's fraud detection features flag suspicious referral activity, so it's easy to stop anyone who tries to game the system – and protect your bottom line. 
Also, Referral Rock is highly flexible. If you're interested in running any other type of advocacy program (such as an ambassador program, affiliate program, partnership program, or employee referral program) Referral Rock can run these types of programs as well. 
Our take
Referral Rock offers a robust suite of features that lets any business customize a referral marketing program for their exact needs. 
The support for multi-step sales processes and rewards means it's a great choice for businesses with longer and more detailed sales structures, like B2Bs and SaaS businesses. Plus, the customization options, integrations, and price points make it a highly competitive choice for ecommerce and B2C businesses as well. And you have the flexibility to run an affiliate marketing program as well – or switch from the referral to the affiliate model as your business grows.
 But don't just take our word for it – review sites like Capterra publish high ratings for customer service, features, and fair pricing.
2. ReferralCandy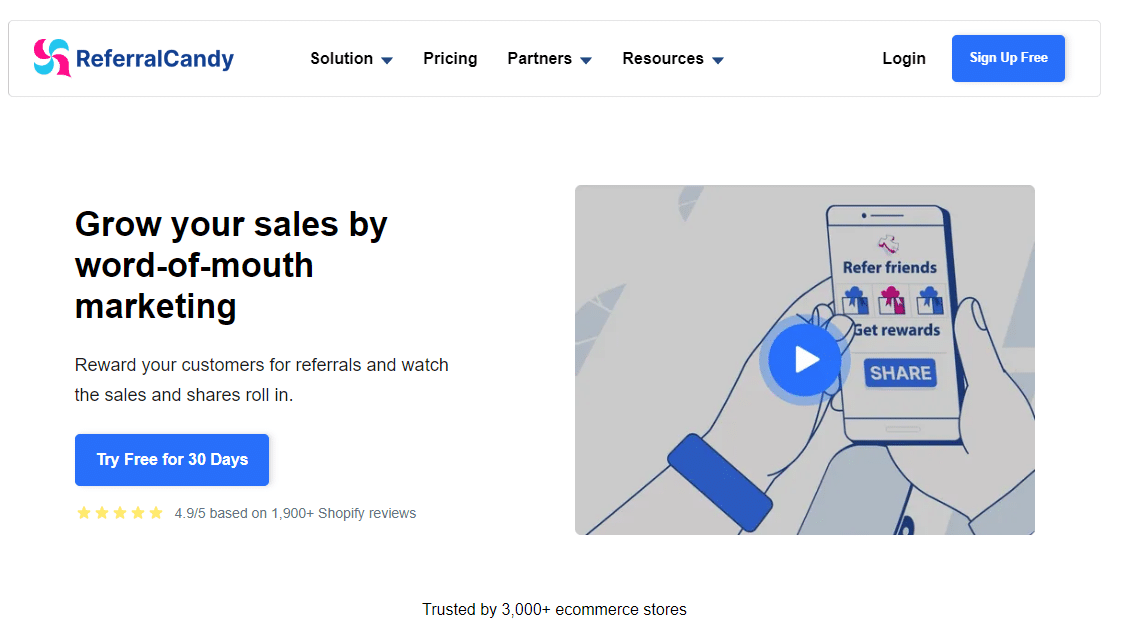 ReferralCandy is one of the veteran ecommerce referral solutions available. Design a give-and-get referral program for your online store using their referral widget, and gain new customers through your existing customers' recommendations. 
| | | |
| --- | --- | --- |
| Pricing | Free trial? | Review score (Capterra) |
| $47-$299+ month (not including commissions; enterprise plan also available) | 30-day free trial | 4.5 (279 reviews) |
Top positive reviews:
"ReferralCandy is fast to set up, easy to use and their support team – especially my account manager – is fantastic."  – Kate T. 
"We have used Referral Candy for a number of years. It is easy to install and has been a great eCommerce offering to have available." – Tyler V.
Business fit
ReferralCandy's customer referral platform is designed with medium to large ecommerce businesses in mind, and all its features and integrations are ecommerce-focused. If you're an ecommerce business, ReferralCandy may work well for you. But ReferralCandy isn't a good choice if you're a B2B, SaaS, or service business. And it can't handle multi-step sales processes.
Customer service/onboarding
ReferralCandy offers live chat support to answer any questions about your program. Premium plans enjoy an account manager and a quarterly campaign review, while Enterprise customers have access to custom analytics and a review with a consultant. ReferralCandy also offers a help center, referral program setup guide, and referral program checklist. 
It's important to note, though, that ReferralCandy isn't based in the US, so support may be limited during United States business hours. 
Integrations
ReferralCandy integrates with 14 ecommerce platforms, including Shopify, WooCommerce, Magento, and BigCommerce. It also connects with a select few other apps, such as MailChimp, Klaviyo, Google Analytics, and some recurring payment apps. 
However, integrations beyond these platforms are limited, and some users say that ReferralCandy's integrations can be confusing to implement at first. Also, due to its ecommerce focus, ReferralCandy doesn't offer integrations with CRMs – it won't integrate with HubSpot or Salesforce. 
Rewards
ReferralCandy lets you reward referring customers with any reward, including cash, store credits, and discount coupons. A custom reward option adds lots of flexibility in terms of the reward type.
ReferralCandy can handle the simple give-and-get reward structure that's popular among ecommerce stores, and can pay out basic cash commissions. But it can't implement multi-step reward structures, tiered rewards, or recurring rewards. 
Customization
ReferralCandy is focused on the standard ecommerce referral widget. Customize your program with website widget and email templates based on best practices, and offer a referral experience that works equally well across desktop and mobile. Use the templates as they are or add your branding. 
But although there are lots of options to customize the look of the referral templates, the widget itself is very basic. You can only choose from a standard widget, pop-up, and embedded form, all limited to use on your website. And as we explained above, you can't choose any reward structure you wish. 
Engagement
ReferralCandy can send automated emails immediately after customers purchase, or activate a pop-up right after customers check out, to encourage referrals when your business is top of mind. It can also send out promotional emails staggered for custom time frames. But advocates don't have a dedicated interface to track referrals on their end. 
Dashboards and tracking
ReferralCandy lets you track the standard metrics, including the number of shares advocates make and which customers are responsible for which referrals. It also shows your revenue percentage that comes from these referrals, and a list of your top advocates, at a glance.
In addition, an "industry benchmark" tracks how well your program performs relative to other referral programs in the ecommerce space (we're guessing this is only based on programs that ReferralCandy runs, but it's hard to tell). 
Tracking of each referred customer only starts at the conversion, though, so data on your program's full impact is a bit limited. 
Other notable features
ReferralCandy is Shopify Plus certified, so if you're a Shopify Plus partner, that may be worth noting. 
Our take
ReferralCandy is very much tailored to the ecommerce space, so it might work for you if you have an online store. If you're a B2B, SaaS business, or service business, though, ReferralCandy is definitely not the right fit.
Another big thing to note with ReferralCandy is their unique pricing structure. If you choose one of their lower-priced plans, you won't just pay a flat monthly fee. ReferralCandy will also take a percentage commission on the first three sales you generate through every referral – and this can get expensive quickly. (You won't have to pay an added commission if you choose the Enterprise plan, but sources indicate it'll set you back nearly $48,000 per year.)
3. Extole
Extole offers highly customizable referral software for the biggest businesses. You can tailor every single aspect of this turn-key solution to your business, and generate more engagement and sales as a result – that is, if you're able to afford the significant upfront cost. 
| | | |
| --- | --- | --- |
| Pricing | Free trial? | Review score (Capterra) |
| Extole doesn't publish their pricing, but sources indicate it's upwards of $3500/month | No | 4.7 (21 reviews) |
Top positive reviews:
"Our account team ensures that this software basically runs itself. There is very little that we need to do on a daily basis to ensure success, and we've seen great results through our referral program." – Lindsey S. 
"The best part of Extole is the support you receive through every stage of the program. Someone is always there to answer your questions and help you make the most of their services/ platform." – Julia S. 
Business fit
Based on its high pricing, it's clear that Extole is only meant for enterprise-level businesses. Extole doesn't publish its pricing, but our sources indicate that it will cost you over $42,000 per year to use the solution. Steer clear of Extole if you're a small, emerging, or medium-sized business. 
Customer service/onboarding
As a turn-key solution, Extole offers dedicated account managers to help you design and launch your program, as well as maintain your program once it's live to improve conversions. But if you need quicker customer support at any point after launch, it appears that this is only available via email, not live chat. 
Integrations
Extole integrates with select SMS marketing tools, data platforms, and user-generated content tools, including Segment, Attentive, and Optimove. 
However, we couldn't find any information about whether it integrates with HubSpot, so HubSpot likely isn't supported. And while Extole does support Salesforce Commerce Cloud, it's unknown whether Extole integrates with Marketing Cloud, Pardot, or other Salesforce offerings. Some reviewers also report that the integrations Extole does offer can be frustrating to implement. 
Rewards
Extole lets you offer any rewards you desire, including points, discounts, free products, store credits, gift cards, and custom rewards. International currencies are also supported. And if you have multiple campaigns in place, you can use different rewards for each to see which ones work best for motivating referrals.
We're unsure how well Extole can handle rewards for multi-step sales processes, though. 
Customization
Extole offers plenty of ways to customize an enterprise referral program. Automatic audience discovery and real-time targeting help you find, and tailor the program to, your ideal customers. Plus, easily customize all aspects of the program's templates to fit your brand's visual identity and voice, and feed the program to customers at any touchpoint you wish. 
Engagement
Extole offers a "burst" feature where you can temporarily increase rewards to drive more engagement, along with strategic messaging features. And we imagine that the targeting features play a role in engagement as well, since targeting the right people at the right time increases the odds that they will refer. But it's hard to tell how much visibility advocates have on the status of their referrals. 
Dashboards and tracking
Extole offers plenty of data on advocates, including detailed segmentation and referral reporting, so you'll know exactly who your top advocates are. It also appears to pull data from social platforms for more information on how top advocates share. 
Despite the largely detailed tracking, data on referred customers is limited, especially prior to a conversion. Also, some reviewers have shared that reporting can be a bit tedious. 
Other notable features
Extole allows customers to share specific products with their friends via referral links if they choose.
Our take
Extole has the customization features you'd expect from an enterprise, turn-key referral solution. But other customer referral platforms, such as Referral Rock, offer most of the same features as Extole for a fraction of the price. 
Plus, there's no way to test out Extole's features or ease of use before you buy, since Extole doesn't offer a free trial. There's also no real division of paid plans (they don't offer an entry-level plan, and only have a single option at a very steep cost). 
4. Referral Factory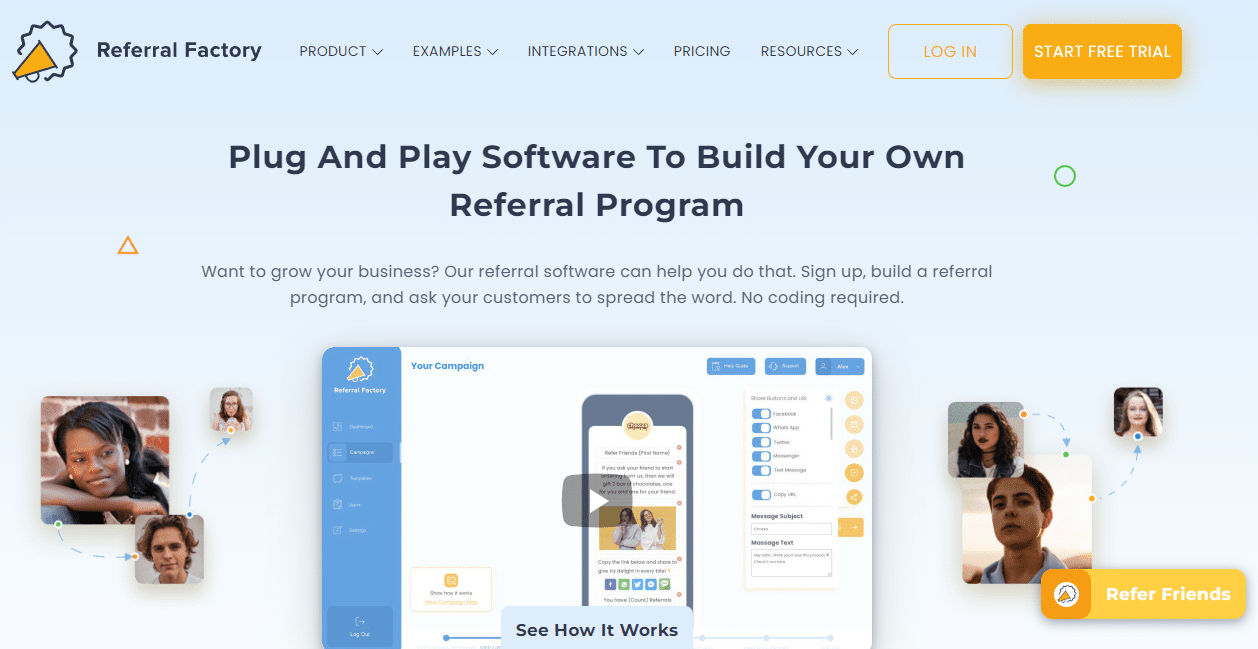 Referral Factory is a straightforward referral software based around templates – but you can also use it to build a simple referral program from the ground up. It's easy to use, as long as you're willing to sacrifice many of the advanced features that other software offers.
| | | |
| --- | --- | --- |
| Pricing | Free trial? | Review score (Capterra) |
| $95-$200+ / month | 15-day free trial |  4.7 (7 reviews) |
Top positive reviews:
"Referral Factory allows me to easily run a referral program for my ecommerce store without needing to hire a developer to add any code… I found a template for ecommerce which made it even easier to launch a referral program." – Chris S. 
"Referral Factory makes it so simple to implement a referral program, especially for those of us who aren't that tech-savvy." – Stacey V. 
Business fit
With its basic structure and limited capabilities, Referral Factory is meant for businesses that want to design the simplest give-and-get referral program. It's accessible for small businesses and startups, although somewhat larger ecommerce businesses might do okay with it as well if they're planning to keep things extremely simple.
Referral Factory can't handle multi-step sales processes, so rule it out if your business is structured that way. It also doesn't have enough features to work well for enterprises. 
Customer service/onboarding
Referral Factory offers chat support and a self-service help center, with priority support available for higher plans. The company also hosts some webinars. But they don't offer an option to have a dedicated expert guide you through your program setup, launch, or management. Overall, their support and onboarding offerings seem limited. 
Integrations
Referral Factory offers about a dozen simple integrations, including Intercom and Pipedrive. But these integrations seem very limited in scope. And although HubSpot and Salesforce integrations are available, these are very basic and might not be able to handle the processes you have in place. Plus, it looks like the only ecommerce platform it integrates with is WooCommerce (and not Shopify, Magento, or BigCommerce). 
Rewards
Referral Factory lets you give out Amazon gift cards, PayPal payments, and digital Visa or Mastercard rewards. You can also configure discount, store credit, or free product rewards tied back to your own store.
However, the reward structures are very limited. You won't be able to use any complex reward structures with Referral Factory. So, if you're planning on using a multi-step or tiered reward system – or anything beyond the most basic give-and-get structure – you'll need to choose a different referral software.
Customization
Referral Factory is based around templates that you can customize. Start with the template, then add your brand's visuals, colors, and text to your liking. You can also offer any of over 10 sharing options for customers to use to refer friends. 
But even though there are over a thousand templates available, you still might not find one that works for your business needs. These templates are all very basic. And sometimes, the templates can be difficult to customize. 
Engagement
Referral Factory offers reminder email and notification features to drive engagement with the program. But it's unclear what automation options are connected to these features. And Referral Factory lacks a dedicated member portal, so customers are left in the dark about the status of their referrals. 
Dashboards and tracking
Referral Factory offers a fairly easy-to-use tracking dashboard. But it only tracks the simplest elements, like referrals' status, conversion rates, and who sent which referral. For more robust tracking, you should choose a different solution. 
Other notable features
Some of the Referral Factory templates are meant to closely mimic the features that made top referral programs, like the Dropbox and Uber referral programs, successful.
Our take
Referral Factory's fast setup and low price point may seem attractive, especially to small businesses and startups. But its features, integrations, and support are all very limited. Other solutions (like Referral Rock) offer plenty more features, can handle complex sales processes, have a robust suite of full integrations, and are overall a much better choice for established businesses. 
5. Friendbuy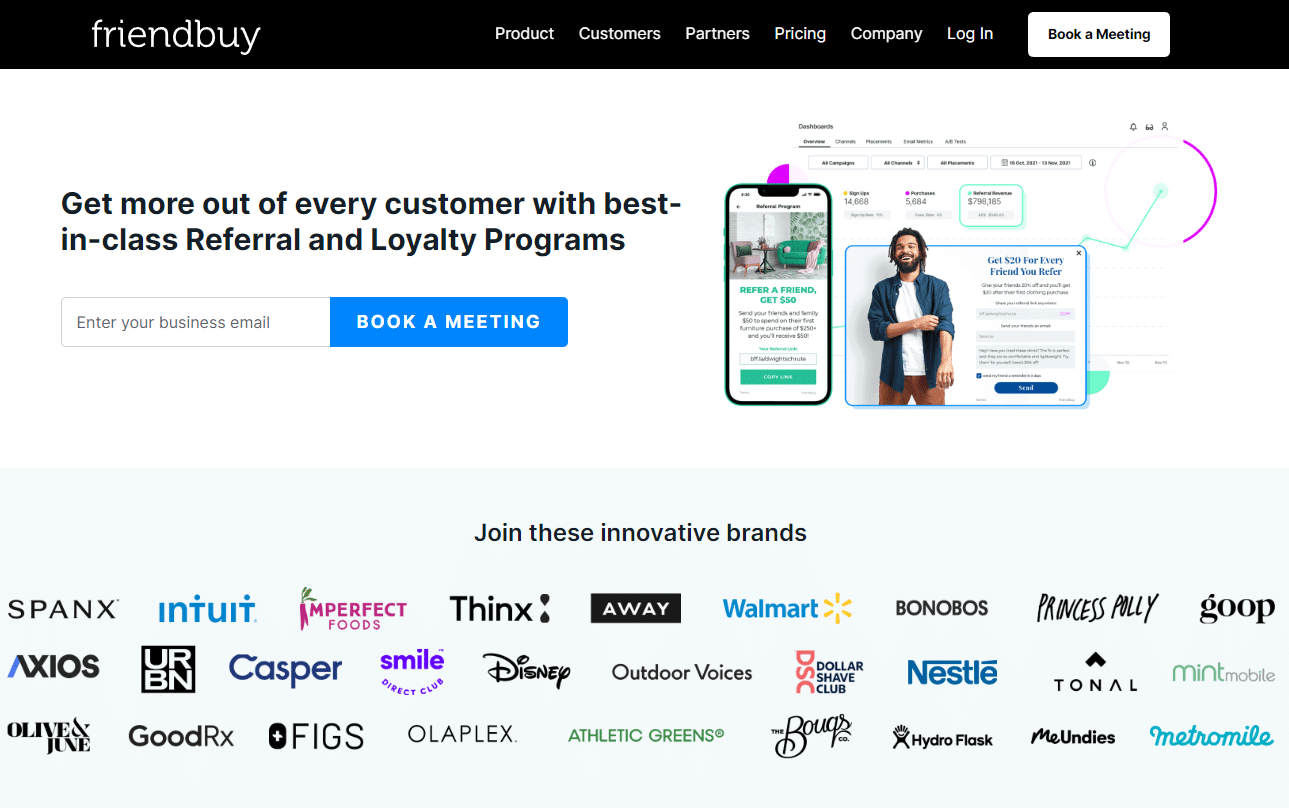 Friendbuy offers a referral program widget tailored for ecommerce businesses, designed for placing a simple give-and-get program on your website to gain new customers through friends' shares. Its functionality is relatively similar to ReferralCandy's, although you won't have to pay extra commission fees.
| | | |
| --- | --- | --- |
| Pricing | Free trial? | Review score (Capterra) |
| $249-$749/month; enterprise plan also available | 30-day free trial | 4.2 (5 reviews) |
Top positive reviews: 
"It's an easy way to incentivize and encourage customers to spread the word and refer your brand. And easy to use on the customer's end also, for both those referring your brand and those receiving the referral." –Erin L. 
"I really like that you can see the Facebook feed of what people are saying when they share the referral link… It's easy to use and having the widget on our website makes a lot of sense. Our customers benefit and we benefit." –Anonymous verified reviewer
Business fit
Friendbuy is clearly an ecommerce referral solution – it's only meant for online stores with a simple transaction structure. If you have any other type of business, it probably won't work for you, especially since it isn't designed to handle multi-step sales processes. 
Customer service/onboarding
Friendbuy's primary form of support is via email. (There's no live chat option, and some reviewers warn that you may have to wait a while for an email response). You can also use a self-service help center. There are white-glove support options and a tailored onboarding package available, but only on the enterprise plan. 
Integrations
Friendbuy offers several integrations, including Stripe, Chargebee, Klaviyo, and Attentive. But these integrations are limited to ecommerce-focused options. There's no option for integration with HubSpot, Salesforce, or any other CRM. And surprisingly, the only ecommerce platform we could find on the Friendbuy integration list is Shopify. 
It's also important to note that not all integrations are available on all plans. Some integrations are only available to enterprise plan users. 
Rewards
Friendbuy lets you offer, and automate the fulfillment of, nearly any type of reward via a simple give-and-get structure. Since it's widget-based, though, you won't be able to modify the program to fit your needs if you'd like to use a more complex reward setup (like a tiered or multi-step rewards program).
Customization
As long as you stay within Friendbuy's widget structure, you'll be able to customize the program for your business. Use the copy, design, and visuals of your choice to create a professional, on-brand referral program.
But beyond the design aspect, customization is limited since you'll need to stay in the boundaries of the template. And you'll only be able to place the program on your website using the widget (you can't put it in a customer portal or host it outside your site). 
Engagement
Friendbuy does offer a dashboard where advocates can track the status of their referrals, so that's a positive for engagement. We couldn't find any information on whether they offer automated promotional emails or notifications, though. 
Dashboards and tracking
Friendbuy's dashboard lets you track a wide variety of metrics, including shares, purchases, and referral revenue, which you can then examine by channel or by date. There's also a dedicated dashboard for A/B testing different program layouts and comparing the results. 
Other notable features
Friendbuy also offers a customer loyalty program. But loyalty programs only encourage your existing customers to stay with you – they don't boost customer acquisition and retention simultaneously, like referral programs do. And the loyalty program only comes with the enterprise plan.
Our take
Friendbuy may work well for you if you're in the ecommerce sector, but it's not the right choice if you have any other type of business. And even if you're an ecommerce business, the plans seem fairly expensive for only offering a limited, widget-based solution. 
Comparing the top 5 referral software platforms at a glance
Still trying to figure out which referral software to use? Compare our featured platforms in the table below:
Type
Pricing
Business fit
Multi-step rewards and sales processes?
Integrations
HubSpot support?
Salesforce support?
Referral Rock
Comprehensive
$200-$800
/month
Any business (B2B, SaaS, ecommerce, B2C, service business, small business, enterprise)
Yes
30+ for all businesses
Yes
Yes
ReferralCandy
Simple widget
$47- $299+
/month (plus commissions)
Ecommerce
No
14; only ecommerce platforms
No
No
Extole
White-label
Unknown
Enterprise
Unknown
11
No
Limited
Referral Factory
Simple widget
$95-$200+
/month
Small business, ecommerce
No
12; very simple functionality
Limited
Limited
Friendbuy
Simple widget
$249-$749+
/month
Ecommerce
No
24; only ecommerce tools
No
No
Wrapping up: Choosing the best referral marketing solution
Now that we've taken a deep dive into the top five referral software tools on the market, you're ready to make an informed choice about the right referral marketing software for your business needs, start a successful referral program, and grow your customer base through this valuable form of word-of-mouth marketing. 
Referral Rock referral software works well for any business type and size, handles multi-step and other complex sales and reward processes, and smoothly integrates with the software you already use (including HubSpot and Salesforce). Learn more or request a demo today.