Referral marketing isn't just for B2C businesses. B2B decision-makers also turn to people they trust when deciding which purchases to make. When a peer recommends a product to a B2B decision-maker, they listen.
Why start a B2B referral program?
Peer recommendations are often unpredictable, even in the B2B world. But a formalized B2B referral program gives your brand some control over the sharing process. These programs make it easier for a business to share your product or service with other decision-makers, streamline the sharing process, make referrals easy to track, and reward the advocate for sharing.
Arguably, since B2B purchases are usually much larger or long term, referral marketing is even more important in B2B than in B2C. In fact, there are many  statistics that prove how important B2B referral programs are.
A report by Useful Social Media reveals that word of mouth influences 91% of a B2B purchaser's buying decisions
According to Influitive, "84% of B2B decision-makers start the buying process with a referral."
A majority 87% of B2B frontline sales personnel, 82% of sales leaders, and 78% of marketers believe that referrals are crucial to sales success.
Another 71% of B2Bs report higher conversion rates from referrals than other customers. 69% say that referred leads take less time to close than other leads, and 59% say referred customers have a higher lifetime value. It's all because of the trust that referrals place in their peers.
Are you looking for more statistics on B2B referral marketing? Read this article for more compelling B2B referral marketing statistics.
But how is a B2B referral program different from their B2C counterpart? What are the best practices for B2B program rewards and promotion? This definitive guide has the answers.
B2B vs. B2C referrals
B2B referral programs must be tailored to the distinct needs of the B2B purchasing landscape. Before purchasing a product, a B2B company goes through a multistep sales journey and long decision-making process with a number of stakeholders. It's rare that a B2B will agree to an instant transaction.
B2B companies usually look for long-term deals that last at least a few years. This makes the buying process drastically different from B2C, where one customer is all that's needed to make a short-term, individual decision.
Furthermore, B2B buyers often require a highly personalized experience. They want to know exactly how your product or service will meet their needs, specific customer support details, and hands-on assistance during every part of the sales funnel.
Before you launch a B2B referral program
To set your business up for success, follow this checklist before launching a B2B referral program.
Offer a great product worth sharing
Customers will only share your product or service with others if they've had a positive experience with you. This usually starts with a great product and service. How can you tell if a customer is satisfied enough to recommend you to other businesses?
Check your customer retention rate.
Browse for your customer reviews online. How many positive reviews does your business have? What do they say about you?
Look at your existing customers. Are any already recommending your products or services? You may have some B2B influencers or partners who regularly recommend you to their clients.
Conduct a Net Promoter Score (NPS) survey, which gauges which of your customers are most likely to recommend your product or service to their peers.
Once you've identified several customers who say they're likely to share your brand, remember to reach out to them directly when you start your B2B referral program.
Develop your current customer relationships
Your existing customers are your best customers, so commit to building lasting relationships with them from the beginning. This is especially important in the B2B landscape, where the relationship with your buyers is long-term.
After you make a sale, don't leave your customers on their own. Keep the lines of communication open, and support them at all stages after their purchase. For example, if you're a software company, assist your customers with setup, and then check in periodically to see if they have any questions.
Take an extra step and get to know each of your customer's businesses. Listen to their needs and concerns. Gather their individual feedback, both about what you're doing well and what you could improve. This will help you deliver customized service for each customer, improve their overall experience, and make every single customer feel highly valued. Fostering these solid relationships increases customer satisfaction, which is the key to driving more referrals.
Make sure customer support is ready
Before you start a B2B referral program, gauge how well your business will be able to handle added customers. This type of program is meant to bring in new customers through your existing customers, and hopefully start a viral cycle where these new customers will then bring in more new customers.
But if all your new customers aren't satisfied with your customer service, your program may end up being bad for your business. Customers will no longer recommend you – or worse, they'll leave you for a competitor. Make sure your customer support team is able to deliver the same high levels of service to your new customers before asking for referrals.
Decide which customers to target
The most effective referral programs invite the best customers first. But which customers should you target?
Paying customers

This may seem obvious, but it's important to keep in mind, especially if you run a service where you have customers using free trial and paid versions.
Reach out to paying customers first. They've experienced your full range of features, and have a deeper knowledge of what you have to offer. Plus, they've expressed their confidence in the value your product by becoming a paying customer.

Loyal users

If you sell products, choose customers who use your product frequently. Prioritize long-term users and repeat buyers, especially if they have expressed their satisfaction in your product.
If you offer a service or a subscription, prioritize customers who have been with you the longest. These are often the customers who really know your value and growth.
No matter what you're selling, it's best to look for customers who have used your product with success. This allows them to recommend you sincerely and express how you've helped grow their business.

Willing promoters

If you conducted an NPS survey, reach out to the customers who said they would be most likely to promote you.
Also directly invite any customers who have left you positive reviews online.
Do you already have customers spreading the word about your brand? They are the perfect candidates for your company's B2B referral program.
Know the best timing to target customers
Don't ask customers to join your referral program right after they become paying customers. This may seem like you're just using them as a means to another transaction.
It's best to only ask for referrals after your customers see the value in your product or service. Once they've had the time to use and enjoy their purchase, they're far more likely to refer others.
Some key moments where customers see the most value are usually a few weeks after they've started using the product or service, or after a successful customer service experience. These are the perfect time to send a quick thank you note with an invitation to your referral program.
14 B2B referral program best practices
Now that you're ready to start a referral program, you need to create a plan that will deliver the best results. These B2B referral program ideas will help you create that plan.
Keep in mind that even though you're a B2B, referrals will still be made from individual to individual. An employee at one of your client businesses will refer an employee at another business.
1. Make it easy to share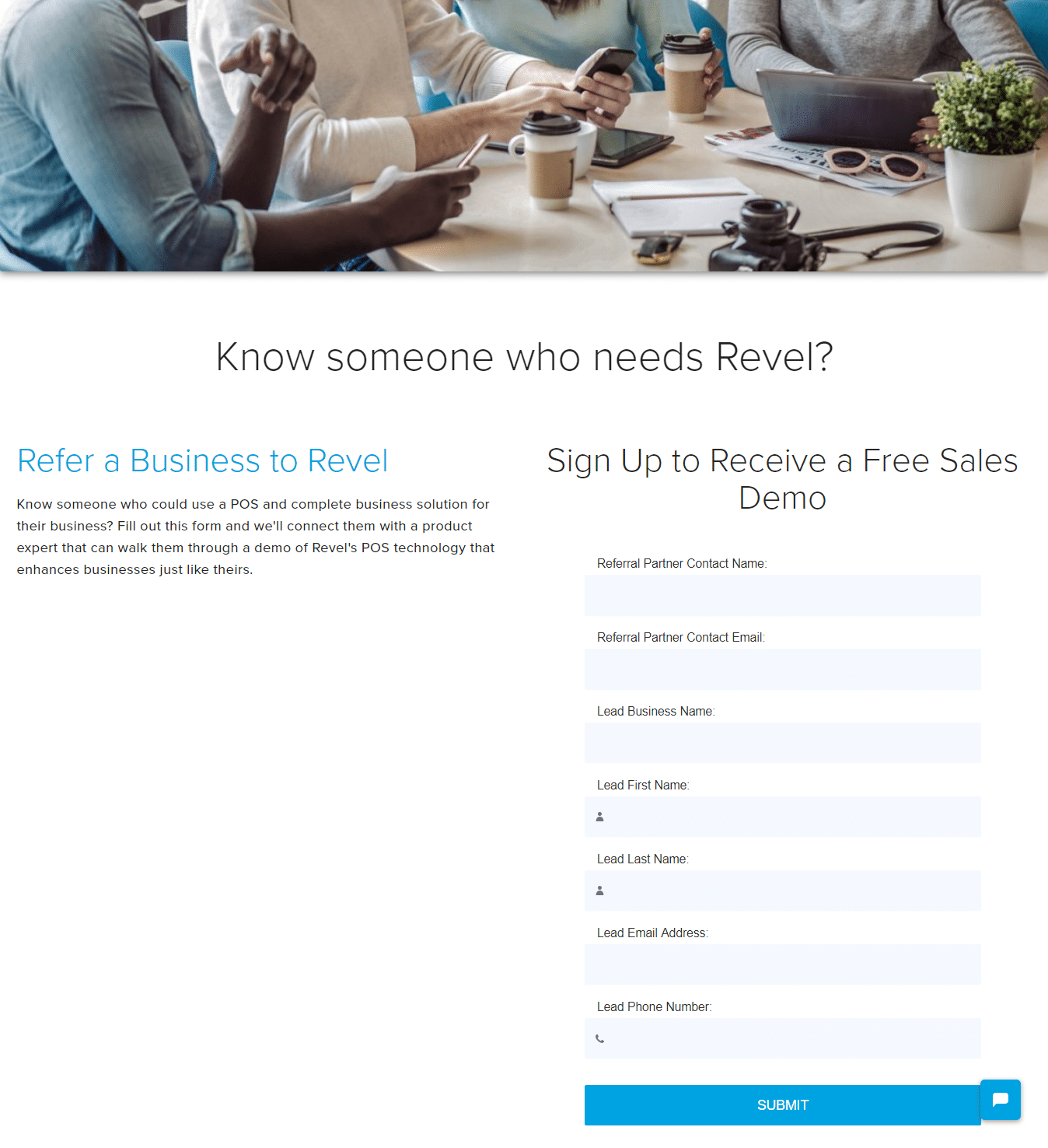 Revel Systems has an uncluttered layout, with a concise explanation, clear CTA, and simple lead form.
One of the best ways to prepare this type of program is by making the sharing process simple. If your process takes too many steps, or is unclear to the user, you'll lose out on valuable opportunities to acquire new customers.
From learning about your referral program to sending their first referral message, the entire process should take as few clicks or taps as possible. Streamline your referral process and make it easy for your customers to refer others to your business.
2. Use clear descriptions in your B2B referral program messages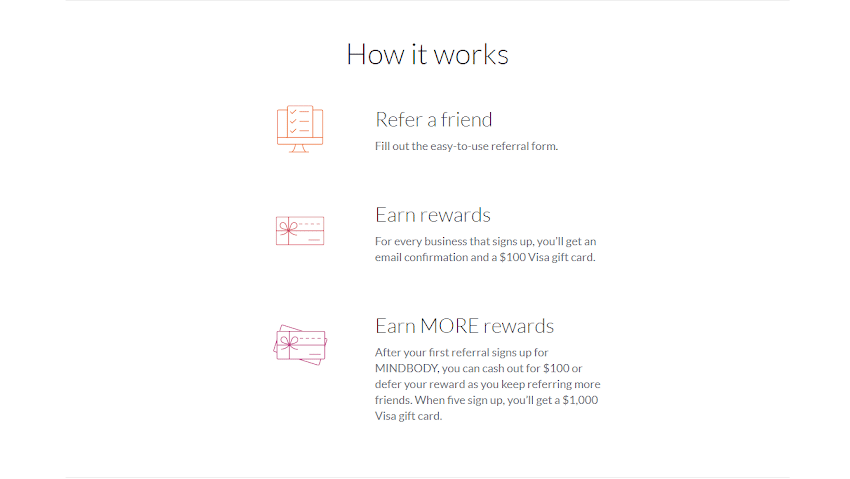 Wellness center management software MINDBODY does a great job at keeping its referral program simple.
Your clients are busy. Make sure your message is easy to understand and clearly explains what you want them to do (refer potential new clients), what's in it for them (incentives and rewards), and the rules to get the rewards (what counts as a successful referral, and how are rewards earned).
3. Design your lead form carefully
Many referral programs tend to ask for a lot of information about the person and their company. Too many questions can get overwhelming quickly.
Don't be tempted to get all their information right away. Instead, think about the minimum amount of info you need from customers and their referrals to accomplish your goal. You can always ask for more info later.
Consider trying one of these simple lead form combinations:
Member name, company, and email, lead name, company, and email
Member name, phone, and email; lead name, phone, and email
Member name and email; lead name, phone, and email
Member name and email, lead name and email
4. Use a concise call to action (CTA)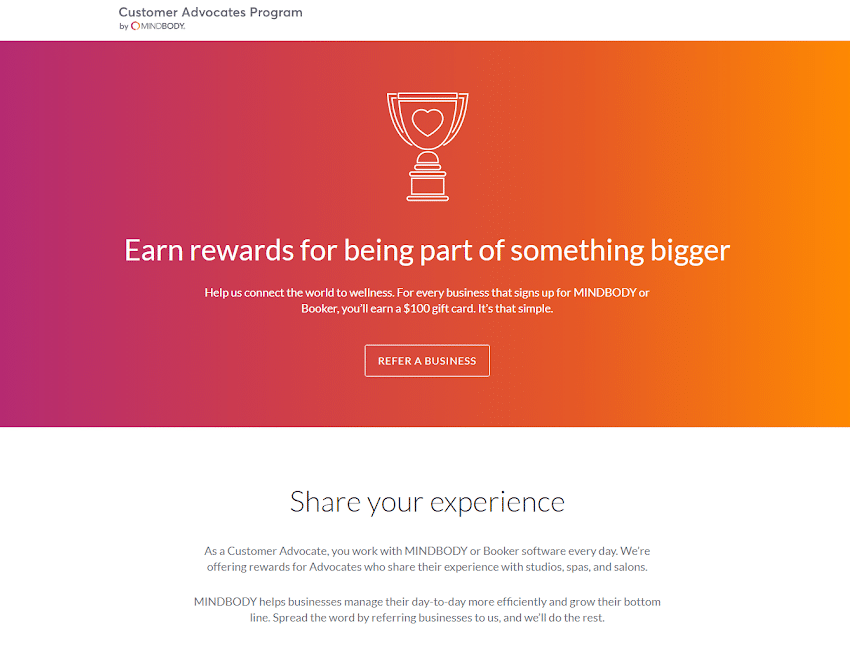 MINDBODY's eye-catching CTA focuses on multiple benefits of referring others: the actual rewards, as well as the added intrinsic benefit of spreading the word about the software.
Your call to action should be the largest, most prominent text on the page. Ideally, it should catch the customer's eye, share the reward you offer them, and summarize the benefits of referring – all in a single sentence.
Some examples include: "Refer customers, grow your revenue," or "Invite other businesses and earn free storage space." Other programs stick with an even simpler CTA: "Join our referral program."
5. Use a referral code or link
Referral codes and referral links make sharing easier for your customers – they can just copy and paste them into any message. These codes and links also tie the customer to their referral, making sure the right customers are rewarded for their efforts.
6. Create an FAQ with all the important program information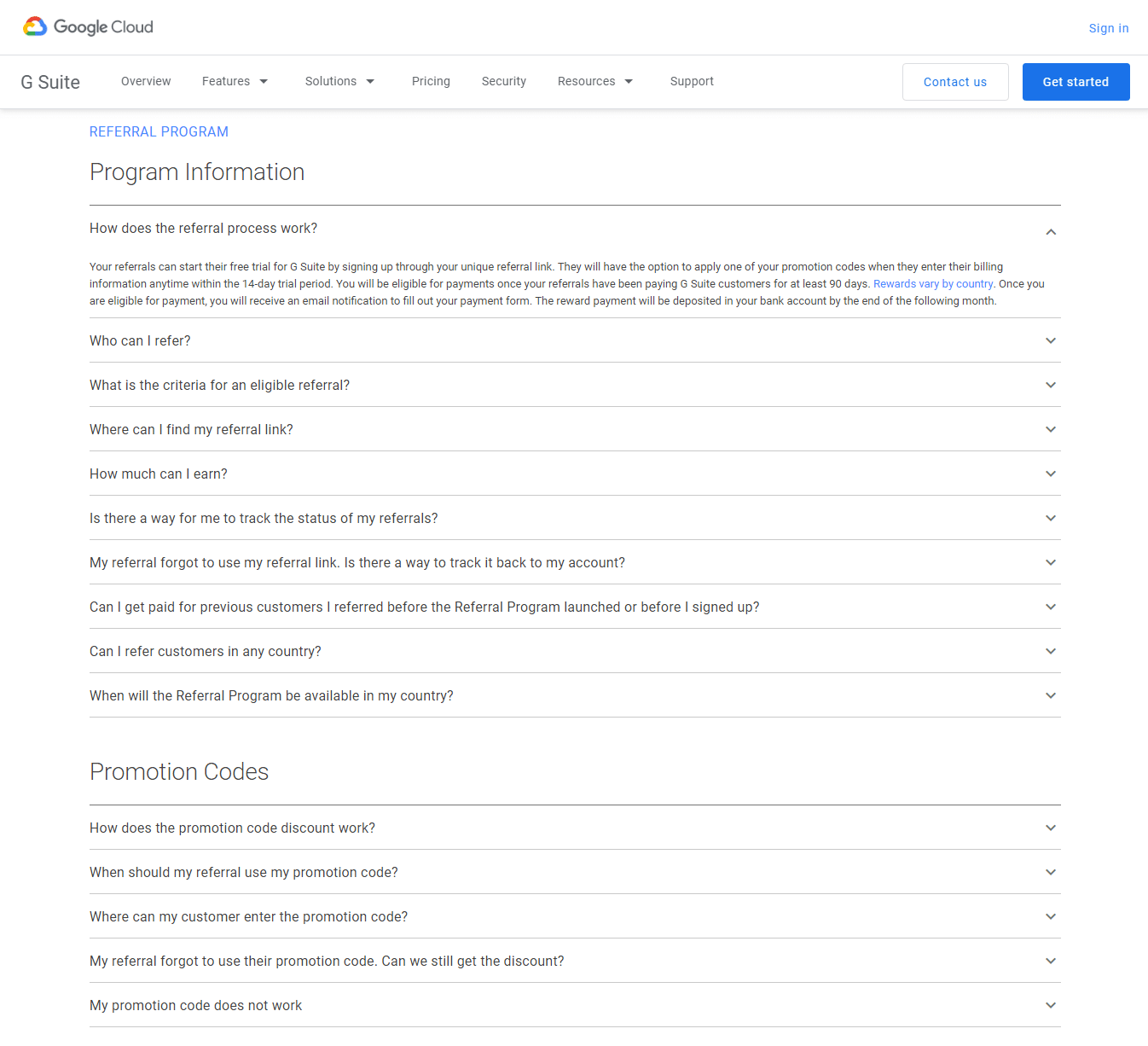 Google has created an FAQ for its G Suite referral program, to make the sharing experience easier.
A referral program FAQ page informs your customers about what to expect from your referral program. The quick, easy-to-read format allows you to explain your program in greater detail, including your program's terms and conditions, without cluttering your main referral page. Plus, it will help address any concerns and reduce the load that falls on your customer support team.
7. Personalize the referral's experience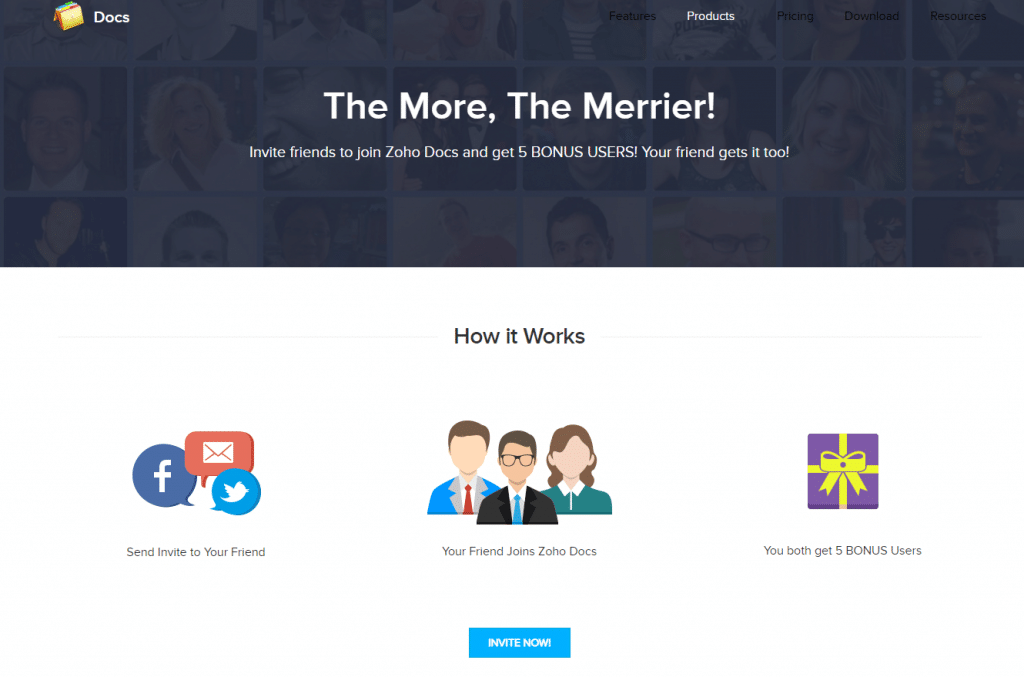 Zoho Docs has a B2B referral program with options for sharing via email, Facebook, and Twitter.
B2B businesses are looking for customized experiences, and the ways you connect with new customers should also have that personal touch. Oftentimes, it's the first experience the referral is having with your company.
8. Craft a compelling referral message (with the help of your customers)
In any referral program, it's important the very first contact a referral has with your business comes directly from the existing customer. You'll need to work with your customer to craft a compelling, personalized message that is sent directly from them to their peers.
How do you do this? You might follow the traditional route, similar to a lot of B2C referral programs – you provide each customer with a pre-drafted referral message, with the opportunity to customize the message before sending it to their peer. Allow them to write what they want and explain personally why they love your business.
It's important to also provide customers with several sharing options, including email, text messagem Facebook, Twitter, LinkedIn, and any other relevant platforms.
Here's an example email template:
An initial greeting (i.e., "Hi [name], I hope you're doing well. I thought you might be interested in [business])
A short introduction to your business
Space for the customer to describe their relationship and benefits they've had with your business.
A way for the referral to contact your business
The referral code or link (this is best at the end of the email)
Remember that the message should read like it's coming from the customer. You can, however, provide  some supplementary materials to attach to the email as a way to help them share more about your business.
9. Customize your own call and/or email
Once a customer refers another business to your company, you can have someone on your sales team personally contact the referral to introduce your company. Be ready to gather info about the referral's business and its specific needs, so you can better explain how you'll meet those needs. Invite them to bring up any questions they have.
You might also reach out to the referring customer first, and ask for any background info on the referral. They'll likely share some of this info without much prompting.
10. Properly scan and handle your referred leads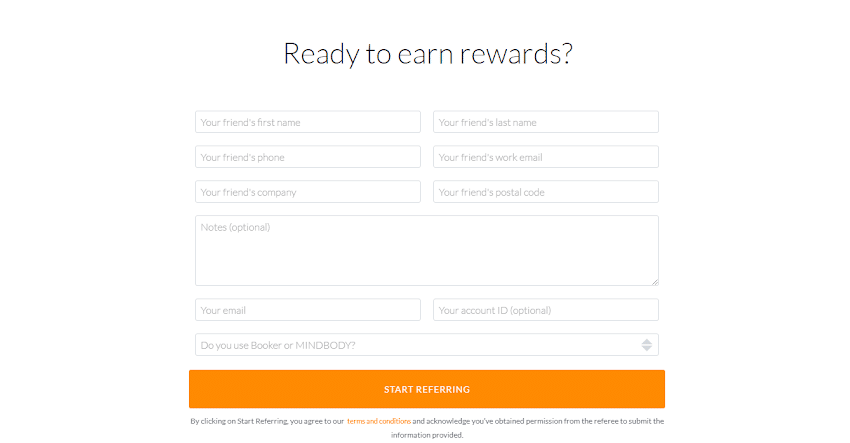 MINDBODY lets members provide notes about their peers and their peer's business, to aid MINDBODY in personalizing the experience for the lead.
Scanning and handling referred leads efficiently is key for B2B businesses.
Scanning referred leads: Before you spend too much time pursuing a referral, make sure they aren't already moving through the sales funnel. Check for the referral's position in the company – are they a decision-maker in the purchasing process? Is the company the right size to invest in your product or service for the long term? Can your company meet its needs?
Handling referred leads: Don't let referrals slip away. If your marketing team doesn't properly hand off a referred lead to your sales team, and sales doesn't follow up efficiently, you'll lose the chance at a sale (which might also dissuade customers from referring others). Quickly hand off all qualified referrals to your sales department, and make sure the right salesperson follows up in an efficient manner.
11. Motivate members to refer by choosing the right incentives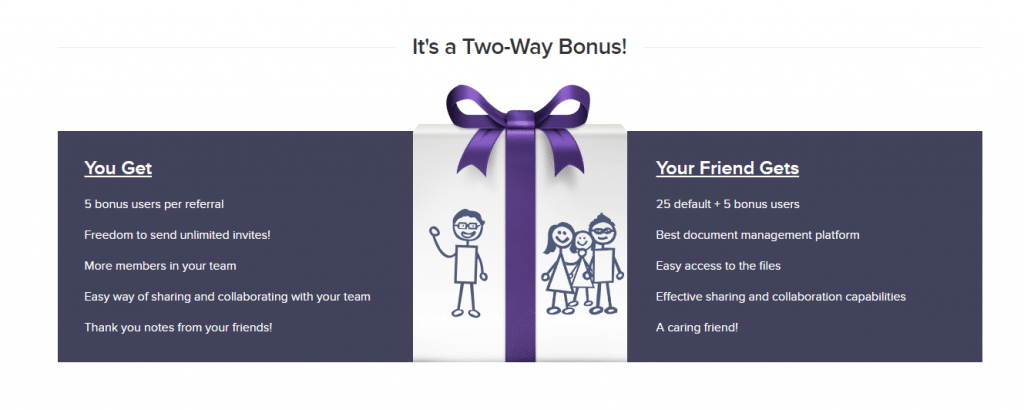 Zoho Docs offers the dual-sided feature incentive of 5 free users for both the member and the referral.
Now, it's time to figure out how you'll reward your customers for referring others to your business. It's important to select the incentive and and reward structure carefully if you want to successfully motivate your clients.
B2B incentive programs work very differently compared to B2C programs. When choosing the right incentives, it's all a matter of who the referring customers are, and what is going to motivate them. For example, if many of your customers travel frequently, they would probably be motivated by travel vouchers.
Standard B2C incentives, like discounts, credits, and money back on purchases, can work for small or medium businesses. However, they won't work for bigger businesses, as the referring customer is usually not the one paying for your product.
If you're a SaaS company, consider offering upgraded features as a reward for small or medium businesses. For example, more storage space, the ability to add more user accounts, added features, or a free month of your program. This could also work for larger businesses, as long as they're in direct contact with the software.
Swag, like branded apparel and bags, work for most customers, regardless of the size of their own business.
Direct cash incentives and gift cards will also work for most clients.
Does your company hold conferences, webinars, courses, or networking events? Consider offering free passes to these events in exchange for a successful referral (if your customers would directly benefit from attending them). After all, B2B employees love receiving opportunities to grow professionally.
You may decide to structure your referral program like a partner program, where customers act as an approved reseller of your product, in exchange for a commission. In these cases, keep in mind that a B2B partner program is very similar to an affiliate program. Participants in this type of program are driven by cash, not by credits or discounts.
A second part of your referral incentive is how to structure who gets the reward.
Consider offering dual-sided incentives. In addition to rewarding your customer for making the referral, think about offering an incentive to the referred lead, motivating them to make a purchase.
Think about using cumulative incentives, which continue to reward customers each time they successfully refer a lead.
Gamified incentives also work well. For example, use a simple points systems, where points can be redeemed for an incentive of the customer's choice. Or hold a competition, where the customer who has the most successful referrals in a given time frame earns an extra reward.
Given the length of the B2B process, you may want to give the customer a smaller reward first for referring a peer, and then a larger reward if the referral has successfully made a purchase.
12. Promote your B2B referral program
You've put in all this work to design your referral program. Now, it's time to make sure your customers know about it, so they can spread the word.
There are several ways to promote your referral program. As mentioned in the "Before you launch" section earlier, you'll want to target your best customers first. With targeted promotion, you use personalized phone calls or emails to thank your loyal customers, and then invite them to join your referral program. Let them know you chose them specifically.
Once your referral program is up and running, use general promotion techniques to remind customers about the prograrm.
Promote the referral program on your website's homepage with a referral call-to-action button. Make sure the button is easy to find, either on a navigation bar or in a menu.
Consider promoting the referral program on your blog, social media accounts, or add a banner in your newsletters.
Ask for referrals directly (through promotional emails or phone calls), but choose your timing carefully. Ask when a client is happiest. For instance, when they've made a purchase, renewed a subscription, or given you positive feedback.
Whichever promotion method you choose, don't be afraid to have fun. Yes, you're a B2B company, but that doesn't mean you can't inject some personal joy and humor.
Use eye-catching text and images in your promotions.
Tie a promotion into an upcoming holiday or sporting event, or reference a movie or another well-known pop culture moment that will resonate with your clients.
Gameify your program. For example, offer points for each referred lead and see who can rack up the most points, Or, see how many referrals your client base can make within a single day.
13. Consider using automation
Referral programs have a lot of moving parts. For busy companies, automating some standard steps will give a better chance of success. B2B referral marketing software helps you track your program's success and manage your referrals.
Referral marketing software keeps a record of all your customers and referrals for you, including which customers are associated with which referrals. It also generates the referral codes and links needed to monitor each referral and tie them back to the referring customer. Then, if referrals are successful, it registers them into the program, and automatically rewards the customers with their earned incentive.
You can even use referral marketing software to help qualify and generate B2B leads. If you ask the customer or referral for their company name, phone number, company website, or email, you can use this stored info to research more about the company to see if they would truly benefit from your products or services.
14. Track your goals

To see whether your referral program is successful, you'll need to set measurable goals and implement tracking systems to determine whether or not you've met these goals.
For example, it's best to track the program's conversion rate (the number of referred leads who ultimately make a purchase, relative to the total number of referred leads), or its participation rate (the number of targeted customers who make referrals, relative to your total number of targeted customers).
Using referral marketing software makes measuring your program's ROI much easier because these platforms already come with built-in analytics, referral link distribution, and tracking features.
And once you've set up your referral program, don't just forget about it. The robust tracking mechanisms can help you test and refine your program. For example, you can experiment with different variables, such as your type of reward or the copy on your referral program page. Consider running A/B tests to see which structures your customers and referrals respond to best.
B2B referral program examples to inspire you
Before we wrap things up, it's a good idea to take a look at how other companies run their B2B referral programs.
1. G Suite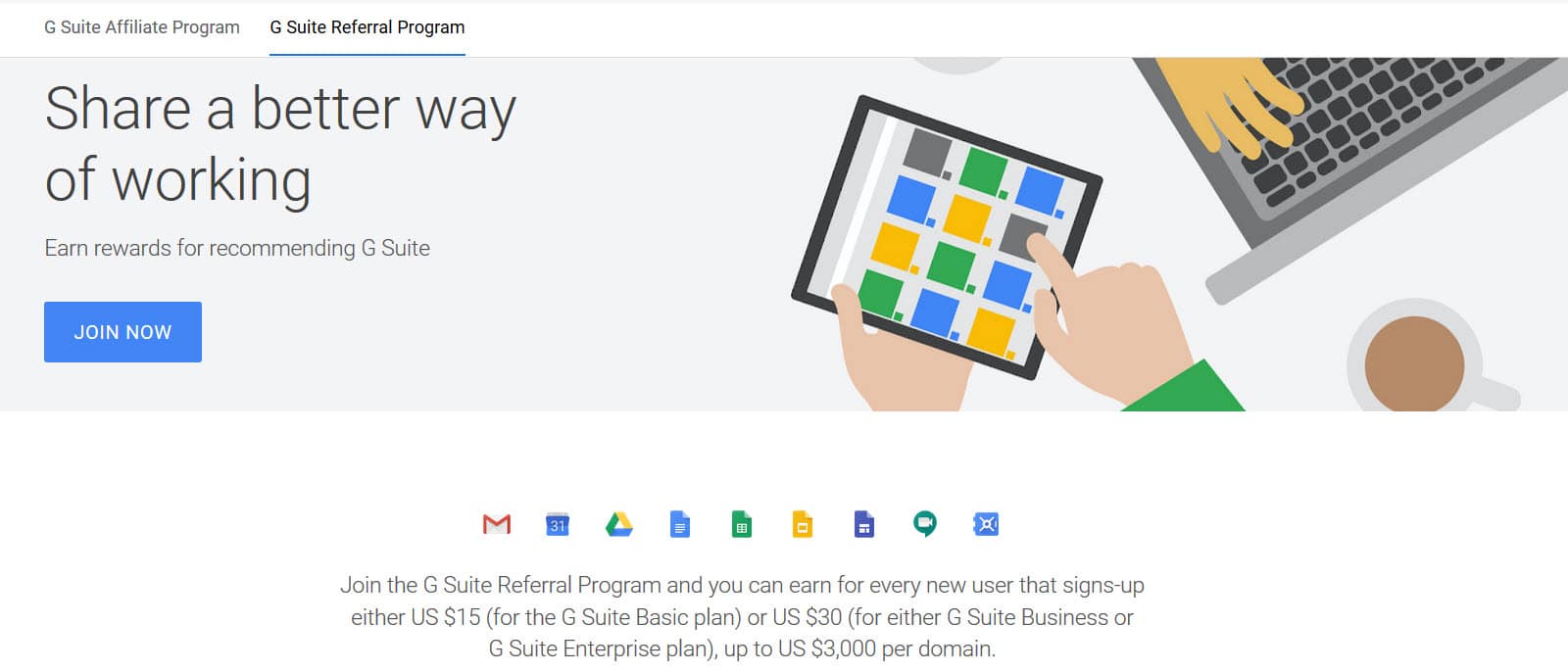 It's difficult to mention B2B referral program examples without mentioning Google – or more specifically, G Suite, Google's line of business productivity software. Most likely, you or your company use at least one of Google's many B2B programs on a daily basis. G Suite's range of programs include Google Docs, Google Sheets, and Gmail (to name a few).
If your B2B company joins the G Suite Referral Program, Google pays you a referral fee of $15 for every person who signs up for a Basic plan, or $30 for those signing up for an Enterprise plan.
2. NetSuite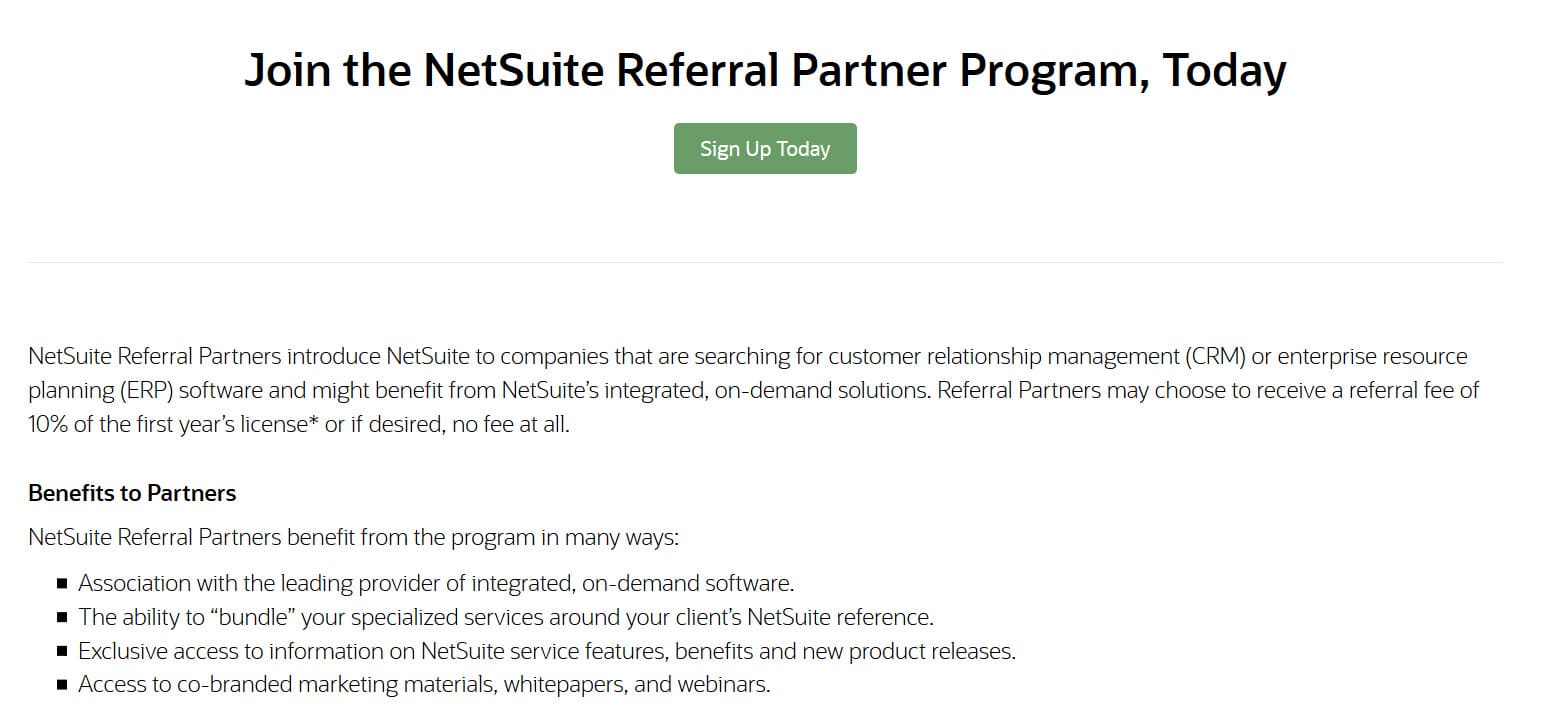 Many companies looking for a CRM solution partner with Oracle NetSuite. With that in mind, the company has created a way to reward users who refer them to other businesses. By joining the NetSuite Referral Partner Program, users are offered a referral fee of 10% of the first year's license. Unlike the other examples, this type of B2B referral program focuses more on co-branding.
3. Hilti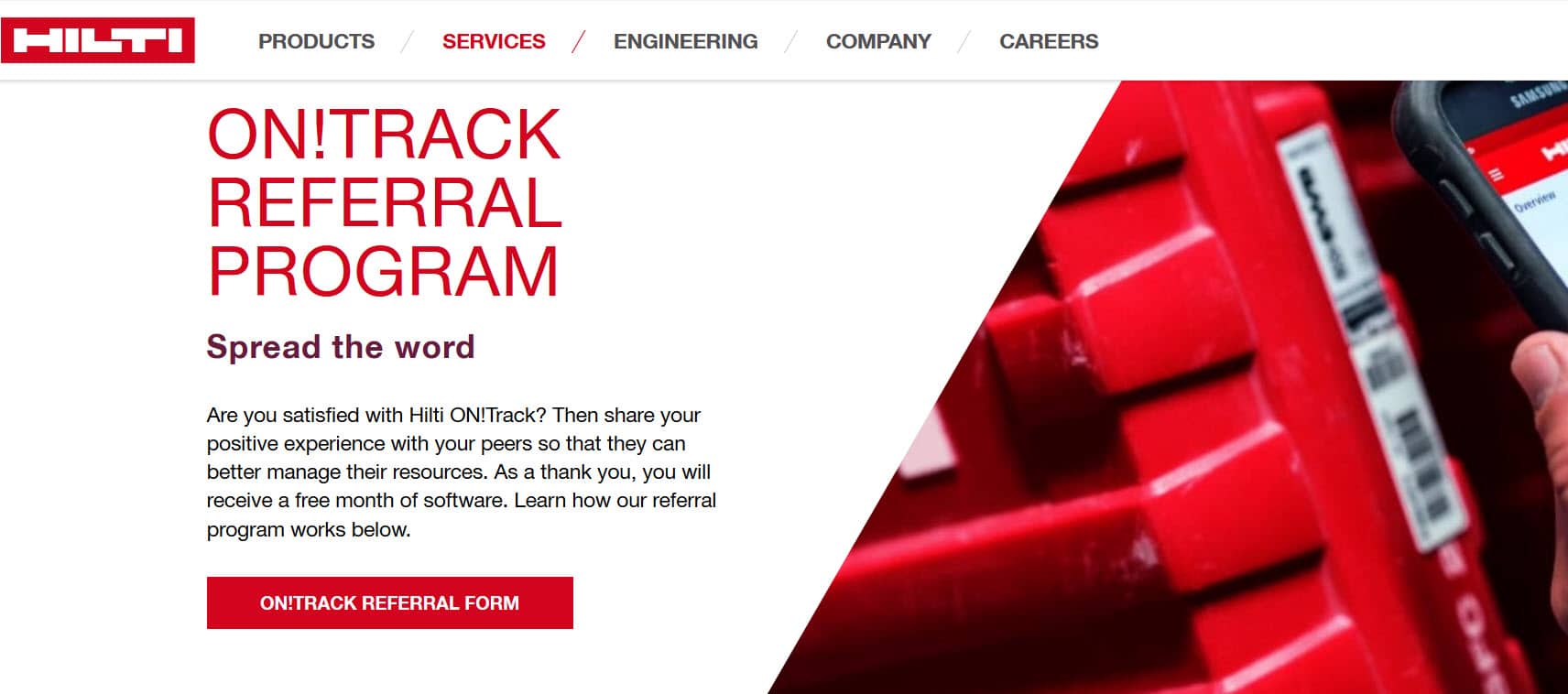 If your business depends on commercial tools, you may have heard of Hilti. This commercial tool company recently launched a service called On Track, along with an On Track Referral Program. This program rewards customers for sharing the business with others, with a free month of the service for every successful referral.
Key takeaways
Ready to start your own business to business referral program? Before you launch your program, it's important to know which customers you'll ask to join the program first, as well as the best time to ask them. Make sure these customers are satisfied, and your customer success team is ready for an influx of new referrals.