Last Updated on
11

minutes to read
Digital marketing comes in many forms, but two often cause confusion – referral programs and affiliate programs.  Are the two really that different? Yes, they are. Here's why.
Referral Programs Versus Affiliate Programs
What are Referral Programs?
A referral program gives current customers and users incentives each time a friend they refer successfully signs up.   The key participant of a referral program is a customer.
Rewards are often a one time discount, gift card, or an upgrade of service.  An upgrade of service could be something like more file space, additional users, or access to a VIP room.
Learn more about Referral Marketing and Programs and Why You Need a Referral Program.
What are Affiliate Programs? 
On the other hand, an affiliate program gives compensation to actual marketers, bloggers, influencers, podcasters, industry-leaders (who, in this case, are called affiliates) for signups they bring in.  A big difference vs a referral program is that the participant of an affiliate program does not have to be a customer.  More times then not, the participant is not a customer but has relationships or an audience that relates to the program's target customer.
Affiliate program rewards are always in cash and are often a percentage of the overall sale.  An affiliate incentive can also be a one time amount for the sale or a recurring percentage of a monthly subscription (perpetuity/lifetime of the new customer)
Learn more about Affiliate Marketing and Programs
Examples of Referral Programs vs Affiliate Programs
Here are some well-known examples of referral programs and affiliate programs that highlight the major differences in rewards and
Dropbox [Referral Program]
A perfect example of this is Dropbox, who have made it worthwhile for users to refer. They offer additional free space for every successful referral. This played a huge role in ramping up their membership signups by 60% in 2010.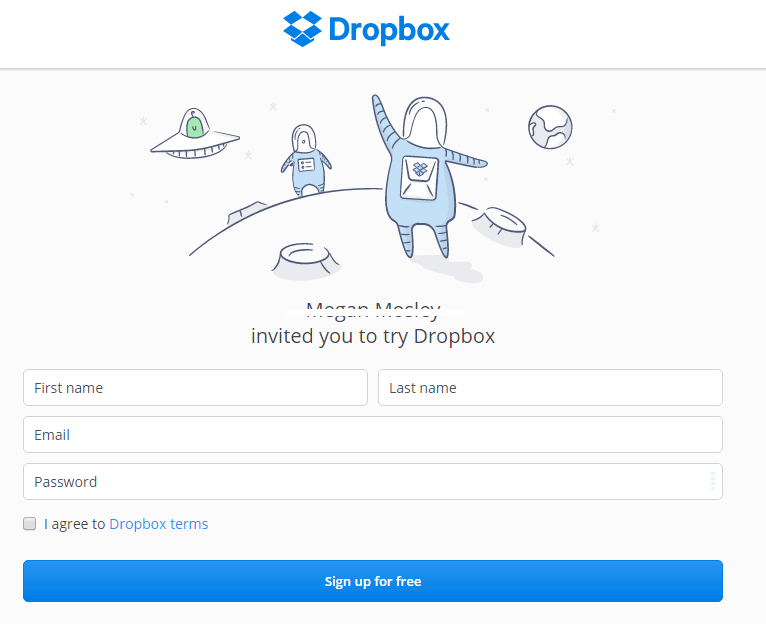 Uber [Referral Program]
Another brand who has mastered the art of referral is Uber. Each user is given their own referral program, which gives not only the current user but also the newly-referred customer, a free trip. Because of this Uber take the cake in ride-sharing apps and services. Other similar services have adopted such programs and have also seen a large increase in users.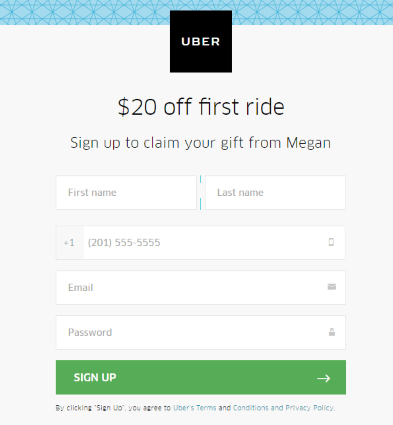 Amazon [Affiliate Program]
When it comes to affiliate marketing, Amazon probably comes to mind. You may have noticed a lot of bloggers recommend products in their articles. If you take a closer look, you'll see that those recommendations often lead right to Amazon.
To break it down, Amazon tracks where those sales are coming from. When they see sales coming from a specific bloggers page, they compensate that blogger.
Target [Affiliate Program]
A good alternative to Amazon Affiliates is the Target Affiliate Program. They are another big business, who sells a huge variety of product, so it's very easy for bloggers to fit links easily into their content. The downside is that Target is a popular shopping place, so affiliates may miss out on potential commissions when people choose to shop in-store instead. Nonetheless, it is still a great affiliate program.
A Deeper Look at the Differences
To further understand the differences between the two (and to help you decide what would work better for your brand), here are some key points to look at.
Who does the referring
Referral Program
Your typical referral is an existing customer, fan, advocate. These people, use word of mouth marketing, even outside of a referral program. But, when they do sign up for a referral program, they personally give their referral link to friends.
Affiliate Program
Your typical affiliates are looking to generate income off of a referral. In fact, sometimes affiliates are even sought out by the business or brand. Most of the time, however, affiliates sign up for an affiliate program, get their link, and then slap it on their webpage or in a blog. Then they wait for traffic to click through.
Level of Relationship
The biggest difference between a referral program and affiliate programs is the relationship between the one referring a product or service and the person being referred.
Referral Program
Referral marketing, on one hand, works for people who have an existing relationship. Like friends and family, for example. The trust between the two individuals is what leads to the successful referral occurring.
Affiliate Program
In affiliate marketing, there is no relationship between the two people. The goal of an affiliate marketer is to get as many successful referrals as he or she can. The person clicking on the affiliate link does not necessarily know the affiliate personally but has some trust in their recommendation. For example, vlogger subscribers.
Lifetime Customer Value (LTV)
Lifetime customer value shows you what you'll potentially earn from a customer within their lifetime. Will this person only make a one-time purchase, or will he or she be a loyal customer with recurring orders?
This, of course, will depend on the kind of product or service you are pushing. Some products are generally for one-time use, but there are always peripherals and other services they can pay for. Naturally, for consumables, it is expected that customers will keep coming back (especially when the product is proven to be worth it).
Referral Program
A referral program can work with a variety of customer lifetimes. However, for products with higher LTV, a referral program works best because long-term trust is needed.
Affiliate Program
An affiliate program would usually work better on products that have lower LTV because of scalability.
Marketing Channels
Remember that in weighing the pros and cons of referral and affiliate programs, you have to consider what gives you the most value over a longer period.

Referral Program
For referral programs, you need a more intentional approach. Remember that a person that is given a referral program already knows that he or she is directly being offered a product or service. There may even be a chance that the person being given the code has not realized the need for the product or service yet.
The great thing about this, again, is the level of trust. Because the referral program comes from someone already trusted, there is usually a higher chance of the person actually moving forward with the next steps.
Affiliate Program
Compared to referral programs, affiliate programs are often more easily shared. It's as simple as including a link towards a product, service, or piece of content, and blended into content or displaying as ad space. The better the content quality, the easier for readers to trust. Meaning a higher potential for link clicking.
It's also worthy to remember that the people who landed on the affiliate page are already interested in the product or service is recommended. Thus, making the process of converting a lot easier.
Types of Rewards
Rewards are typically the ultimate driving factor in both types of programs. It doesn't matter how much someone likes the business, the incentive plays a big part in actually getting people to refer.
Regardless of the type, the reward can vary from program to program. It could be a one time reward or a recurring reward, and a business can ultimately choose whatever they want to reward with.
Referral Program
Generally speaking, incentives for a referral program are usually in the form of discounts, coupons, or products. Normally, users can send a referral code to their friends via email, or through social media posts.
Affiliate Program
On the other hand, affiliate programs are more likely to give out cash incentives. Cash incentives are commonly a percentage of each sale. It's also common for the affiliate to get a free product on top of their cash compensation.
How it's Shared
The strategies for sharing these two types of rewards programs are slightly different. Referral programs can take a more direct approach, whereas affiliate programs seem to be lurking in the background.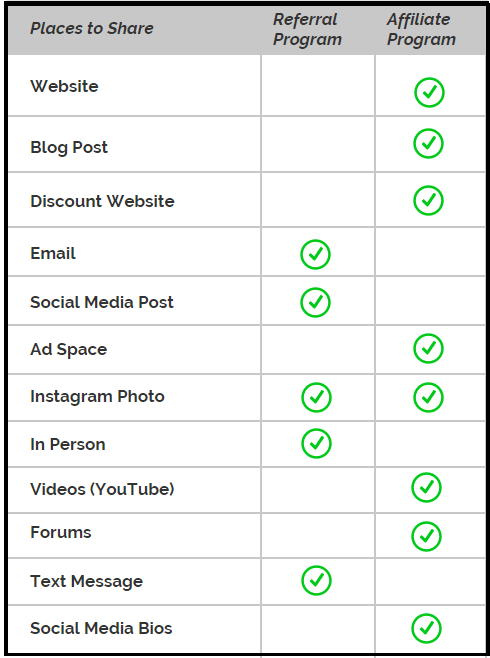 Are there any similarities? You bet
As you can see the two types of programs are different. Even so, there are some similarities. The biggest one, as you can guess, is that incentives drive people to promote. Whether it be promoting a link in a piece of content, like in affiliate marketing. Or sharing a referral link with a friend, as with referral marketing. The incentive isn't the only thing on the line, however…
Social Currency Risk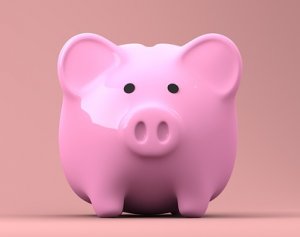 A commodity is being recommended regardless of the level of relationship. This is why in both cases, there is also a level of risk involved.
But what happens if the product or service does not work for the lead or referral? Well, in both cases, a certain amount of trust or social currency is taken from the affiliate or the referrer.
Referral Program
In a referral program, for example, there is a sort of guarantee that the referrer has used the product or service and fully trusts its capabilities. This means that when the referrer's friend receives a referral, they would expect it to work well for them, too.
Affiliate Program
In affiliate marketing, a lead will come from some other source, like from a blog link. For instance, people browse through their favorite blogs and may see a product link. The reader then decides to trust the blogger's word and clicks on the link.
Repeatable Marketing Channels
Both options drive growth. They both use a brand advocate to help make sales and increase leads. Both options also provide a high ROI to the business.
Referral Program
Referral programs, often nurture customer relationships. This form of engagement helps drive growth because the customer feels good about sharing the business with friends. Though referral programs don't produce as high of traffic as an affiliate program, they do bring in higher quality leads and have a high conversion rate.
Affiliate Program
Affiliate programs, on one hand, often have a lot of great user-generated content that they are trying to push for maximum exposure. This content has little to do with relationships and rather works because a lead was looking for the product, and happened to find the affiliate's content.
Time To Make A Decision
Now that you know the basics of referral marketing and affiliate programs, you can start strategizing on the best approach for your business.
| | | |
| --- | --- | --- |
| Business Type | Referral Program | Affiliate program |
| Ecommerce | Definitely | Can be good if products have higher margins |
| SaaS (Consumer and no salesperson) | Great for giving consumers a credit or freebie | Possible but price points are lower, so not that beneficial to an affiliate |
| SaaS (B2B) | Yes, just need incentives that align with the referrer | Great for highly transactional sales with no sales person.  (Tough to compensate both affiliate and salesperson) |
| Local Services | Great for monthly services and high dollar services | Much more difficult with offline businesses and longer sales cycles |
| Consulting/Coaching Services | Can be good, but often lower volume numbers of people to refer | Great but tougher to track electronically in the sales process. |
| Gyms | Great fit for programs to give discounts on membership or credits | Tougher to target local people for a gym online |