Starting and running a successful affiliate program can feel like a huge project to tackle: you'll need to find and train the right affiliates, decide on the right commission, promote the program, and have a plan to track their success. You'll also need to make sure affiliates follow your program's rules.
If you want to learn how to start an affiliate program for your business (and run it successfully after launch), this beginner's guide covers everything you need to make the most of this online marketing strategy.
By following these eight steps to create the best affiliate program (using affiliate marketing software to launch and scale), you'll know how to set up an affiliate program that's equipped for success.
What is affiliate marketing?
When your business starts an affiliate marketing program, it encourages content creators to promote and link to your brand's website, and rewards these affiliates with a commission whenever they help you make a sale.
An affiliate program involves recruiting content creators, such as bloggers, social media personalities, or niche experts, to promote your brand on their websites or social accounts. These creators will place affiliate links – unique, trackable links that direct readers to your own website – within their content.  Then, you'll pay these affiliates a commission every time someone makes a purchase via their affiliate link.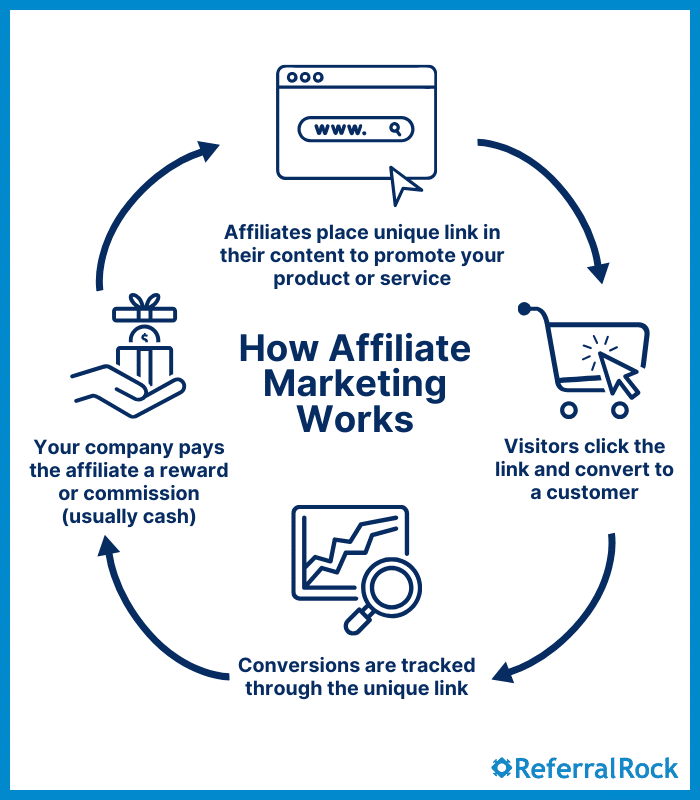 Is an affiliate program right for your online business?
Whether you sell physical products or a digital subscription service, there's a good chance that starting an affiliate marketing program will work for you. Affiliate programs are relatively niche, though – your company must meet several standards for an affiliate program to work.
Here are a few things to keep in mind:
An affiliate program will work well if you want others to promote your business on their own channels and drive traffic directly to your website. Affiliates won't resell your products for you. Instead, they'll recommend and link to products that you sell within your own online store.
You must be willing to pay affiliates with a cash commission (or store credit) every time they help you make a sale.
It's best if your product or service appeals to a wide audience.
You need to have access to good-fit affiliates – creators whose niche or target audience matches yours.
Affiliate marketing campaigns work best if your company has high customer retention rates. If a customer brings in continued profits for your business, you'll more easily be able to afford the repeated commissions. Plus, since you won't spend as much money on customer acquisition costs, you'll be able to offer higher commission payouts, and entice higher-quality affiliates to join your program.
Affiliate programs work especially well for businesses with higher profit margins. Although these programs can work for nearly any industry, ecommerce retailers and online subscription businesses (including SaaS businesses) use affiliates most often.
When we surveyed 56 marketers, they shared that affiliate marketing works best for the following types of businesses:
Ecommerce (80%)
Beauty (77%)
Apparel (68%)
Tech (68%)
Health (61%)
Subscription services (61%)
* If you're a subscription-based company, it's your choice whether to credit affiliates every time a customer they brought in renews their subscription.
Keep in mind, since affiliates promote your product on their website, they'll mostly reach people they don't personally know.
If you'd rather have customers promote your products to individuals they personally know, you should opt for a customer referral program instead.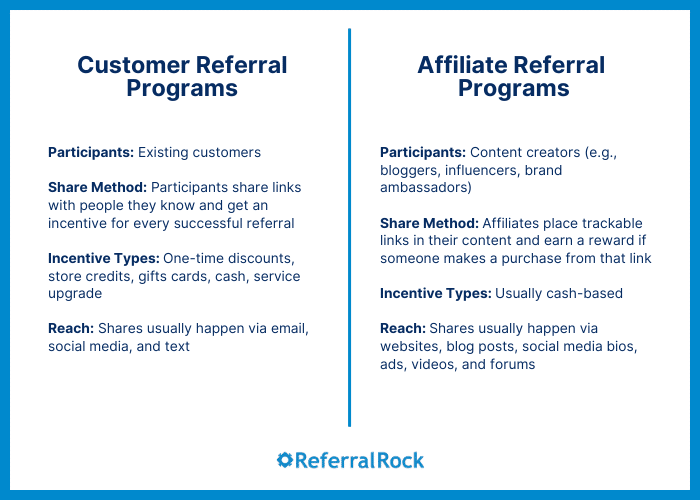 A referral program will work better for your business if:
You'd like to mobilize your customers to refer friends, family, and others they know to your business
You aren't ready or able to pay cash commissions on every sale
Your product is meant for a niche audience
Your business is new or fairly new, or you have a small business or startup, so it's difficult to recruit suitable content creators as affiliate partners
Check out more details on what makes a referral program different from an affiliate program.
Affiliates are also different from influencers. Influencers are authorities who address a network of followers that they've built a relationship with. Compared to affiliates, influencers care more about authentically showing how they use a product than generating direct sales. Plus, influencers are paid by campaign rather than by commission-per-sale.
You can combine influencer marketing with affilliate marketing, though. This involves finding existing influencers, then recruiting them as affiliates (giving them affiliate links and paying them on a commission basis).
Benefits of affiliate marketing programs
Does an affiliate program seem like a good fit for your business? If you're still debating whether to start an affiliate program, these benefits may help you make your decision. Here are some of the top benefits of affiliate programs for businesses:
Affiliate programs help you rapidly increase brand awareness among new audiences that creators have already built for you.
Affiliate programs let you harness the recommendations of trusted creators. Consumers are much more likely to trust what affiliates have to say, compared to ads and messages that come straight from your brand.
Affiliate programs help you reliably track the ROI of word-of-mouth. Every sale is traced back to the affiliate responsible.
Affiliate programs help you increase leads and sales in a targeted manner. Affiliates have access to audiences who match your ideal audience. Plus, they can link to any product page or landing page you choose from their affiliate site or social media bio.
Affiliate programs are cost-effective and low-risk. You only pay an affiliate after they've generated a sale for your business – you don't have to pay upfront before you see results.
How to start affiliate marketing: What do affiliates need?
From a business perspective, you'll need to know what an affiliate needs to be successful before you start an affiliate marketing program.
Affiliates are entrepreneurs, and many generate a significant chunk of their income from their affiliate marketing business. Knowing the affiliate's point of view, and their expectations, will help you set both your affiliates and your business up for success, and show you how to create an affiliate program that's a win-win.
To be successful in generating passive income, affiliates need:
The right niche and digital marketing channel (affiliate website, review site, social media platform, YouTube channel, or email marketing newsletter) to reach a desired audience
An audience that is engaged, and that trusts them highly
An affiliate program that offers competitive commissions, involving affiliate products that fit their chosen niche
A track record of creating relevant, high-quality content where affiliate links fit naturally (this content marketing could consist of blog posts, social posts, product reviews, tutorials, YouTube videos, email lists, or podcasts)
Ways to drive traffic to that content, including SEO (search engine optimization) for niche keywords so the content can be found easily on search engines
Strategic link placement to encourage clicks and conversions
Support from the affiliate programs they're participating in (say, product-related assets and dedicated website landing pages) to help them generate more affiliate revenue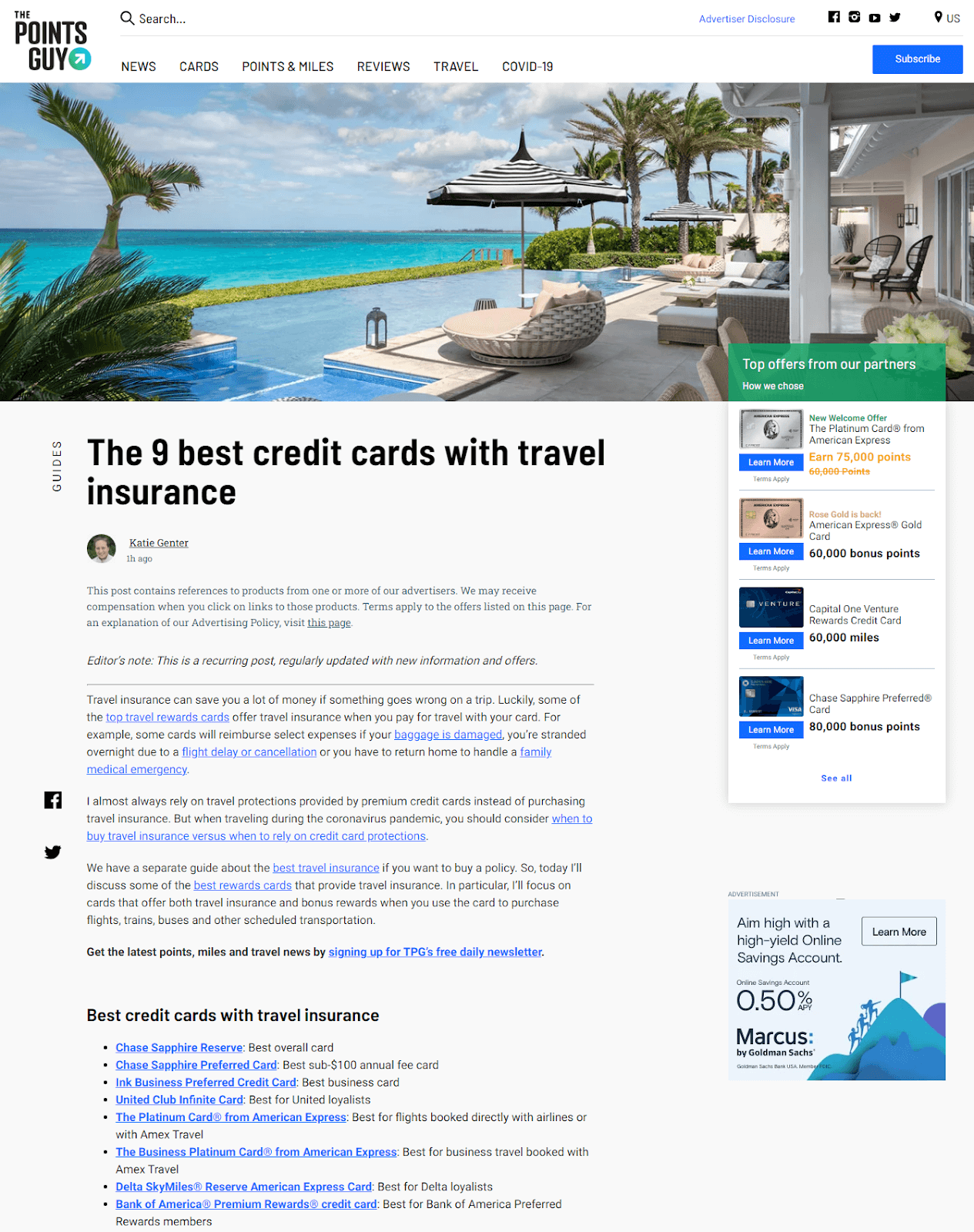 ThePointsGuy runs an affiliate site dedicated to promoting credit cards.
How to start an affiliate program: 8 essential affiliate marketing steps
Now that you've determined an affiliate program is right for you, you know how it works for affiliates, and you've seen the benefits of affiliate programs, follow this step-by-step guide to launch a successful affiliate program.
Here's how to start an affiliate program:
Set goals for your program
Analyze your competitors' affiliate programs
Decide on the right affiliate commission
Figure out other key aspects of your program structure
Start finding affiliates
Screen potential affiliates and recruit the best ones
Train your affiliate team, and keep them in the loop
Keep track of how your affiliate program is performing
Step 1: Set goals for your program
Like with all marketing programs, you'll need to start by setting goals for your affiliate program.
First, you'll need to establish the audience you want to reach.
What types of customers do you want to bring in through your affiliate program?
What types of affiliates will help you do so?
Next, set a few top measurable goals, or KPIs, for your program. This will help you know whether your program is successful. KPIs must be SMART: specific, measurable, attainable, relevant, and time-bound.
Your main goal will be the amount of revenue you'd like affiliates to bring in per month, per quarter or per year.
Set goals for conversion rates: How often do you want people who click on affiliate links to make a purchase?
Consider setting a goal for the average order value (AOV) driven by affiliates.
Also, set goals for the numbers of unique affiliate sales in a given time period.
You can also set goals for the impressions, clicks, and leads you'd like affiliates to bring in within these timeframes.
Sales are most important, of course, but these other metrics will also be helpful in measuring your affiliate program success.
Step 2: Analyze your competitors' affiliate programs
You've probably done a general analysis to determine your business strengths and weaknesses versus those of your competitors. Now, it's time to look into your competitor's affiliate programs.
Even before designing your own, a specific analysis on the available affiliate programs will let you know where you stand, and allow you to position your program competitively. After all, you're also competing for affiliates.
Here's how to run an affiliate program competitive analysis:
Find at least two competitors with affiliate programs. It also helps to find at least one business you don't directly compete with, but that has the same audience as you (and that could potentially attract similar affiliates).
Look at how each competing program structures their affiliate commissions.
What action triggers the payout of an affiliate commission (a sale, a lead generated, or something else)?
Are affiliates paid a percentage of the sale as a commission, or a set amount for each action?
Are affiliates paid in cash or in credits to use towards the brand's products?
How does each brand's commission rate stack up? Does it seem high or low compared to other program commissions, and relative to the price of their products?
Determine how each brand finds their affiliates.
Do they recruit affiliates on their own, or through an affiliate network?
Are affiliates required to submit an application to be accepted?
How rigorous is the application process?
What are the terms and conditions of each affiliate program?
How does each brand allow affiliates to promote and post their affiliate link?
What is an affiliate not allowed to do within a given program?
If you're able to do some digging, try to find out other details about the competitor's programs:
What sort of training does each brand provide for affiliates, if any?
What promotional and branding resources does each brand provide to affiliates (banners, creatives, free products)?
How often does each brand communicate with affiliates?
How does a brand use affiliate tracking cookies? Do they use cookies to trace a sale back to an affiliate, even if someone doesn't make a purchase right away? How long do the cookies stay active?
Finally, run a SWOT analysis.
What are each program's strengths and weaknesses?
What opportunities could you take advantage of, because a competing program missed them?
What threats might each competing program pose to your own affiliate program?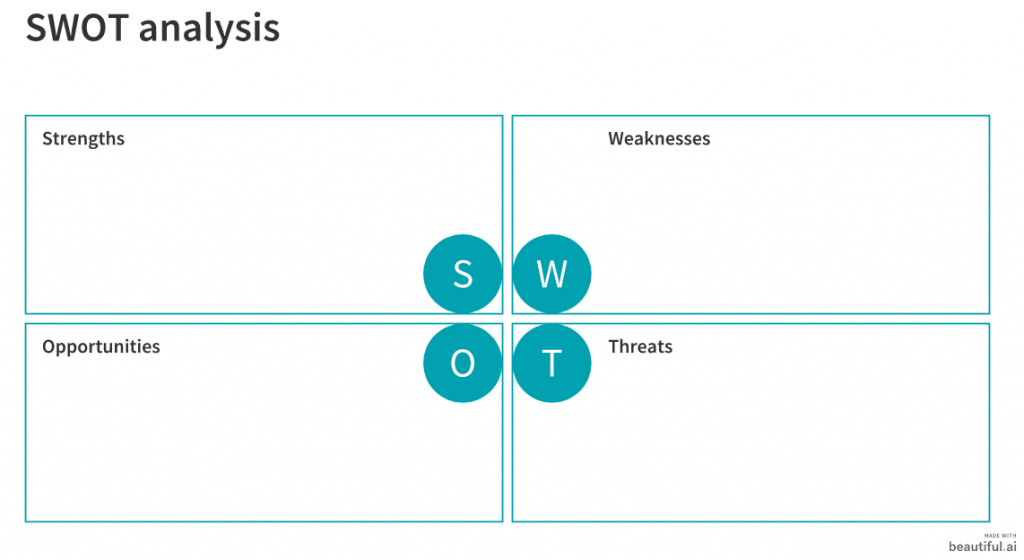 Step 3: Decide on the right affiliate commission
Use your competitive analysis findings to help you structure your own affiliate program. One of your most important  design choices will be your commission structure, or the way you'll pay your affiliates.
Even if you've seen other commission rules in competing programs, you should only compensate an affiliate if a sale is made via their affiliate link. (Don't use a pay-per-click or pay-per-impression model, as this would leave you more vulnerable to fraud!)
First, decide whether you'll pay a set amount for each sale, or a percentage of each sale affiliates make. You'll also need to choose between paying in cash or store credit. Usually, a percentage commission paid in cash will be most attractive to affiliates.