An affiliate program may seem like a simple digital marketing strategy: Your business recruits partners, known as affiliates, to place links to your business on their website, blog, or social media page. Then, you pay these affiliates a commission every time someone makes a purchase via their affiliate link.
While the concept seems simple, starting and running a successful affiliate program can be a challenge. After all, you'll need to find and train the right affiliates, decide on the right commission, and have a plan to track their success. You'll also need to make sure they follow your program's rules.
Fortunately, this guide to starting an affiliate program covers everything you need to get off on the right foot. With these seven steps (and affiliate marketing software), you'll set your affiliate program up for success.
Before you start affiliate marketing: Is an affiliate program right for your online business?
Whether you sell physical products or a digital subscription service, there's a good chance affiliate marketing will work for you. Affiliate programs are relatively niche, though – your company must meet several standards for an affiliate program to work.
Here are a few things to keep in mind:
An affiliate program will work well if you want others to promote your business on their own channels, and drive traffic directly to your website.
But you must be willing to pay affiliates with a cash commission (or store credit) every time they help you make a sale.
With a commission paid out for every sale, affiliate programs are best if your company has high customer retention rates.
Without spending as much money on customer acquisition costs, you'll be able to offer higher commission payouts, and entice higher-quality affiliates to join your program.
Affiliate programs work especially well for ecommerce or online subscription businesses, particularly those with higher margins.
When we surveyed 56 marketers, they shared that affiliates work best for the following types of businesses:
E-commerce (80%)
Beauty (77%)
Apparel (68%)
Tech (68%)
Health (61%)
Subscription services (61%)
Keep in mind, since affiliates promote your product on their website, they'll mostly reach people they don't personally know.
If you'd rather have customers promote your products to individuals they personally know, you should opt for a referral program instead. We have more details on what makes a referral program different from an affiliate program.
Affiliates are also different from influencers. Influencers are authorities who address a network of followers that they've built a relationship with. Compared to affiliates, influencers care more about authentically showing how they use a product than generating direct sales. Plus, influencers are paid by campaign rather than by commission-per-sale. Learn more about the differences between affiliates and influencers.
7 steps to start the best affiliate marketing program
Now that you've determined an affiliate program is right for you, follow this step-by-step guide to launch a successful affiliate program.
1. Set goals for your program
Like all marketing programs, start by setting goals for your affiliate program.
First, you'll need to establish the audience you want to reach.
What types of customers do you want to bring in through your affiliate program?
What types of affiliates will help you do so?
Next, set a few top measurable goals for your program. This will help you know whether your program is successful.
The main goal is the amount of revenue you'd like affiliates to bring in per month, per quarter or per year.

Set goals for conversion rates: How often do you want people who click on affiliate links to make a purchase?
Consider setting a goal for the average order value (AOV) driven by affiliates.

Set goals for the numbers of unique affiliate sales in a given time period.
You can also set goals for the impressions, clicks, and leads you'd like affiliates to bring in within these timeframes.
Sales are most important, of course, but these other metrics will also be helpful in measuring your affiliate program success.
2. Analyze your competitors' affiliate programs
You've probably done a general analysis to determine your business strengths and weaknesses versus those of your competitors. Now, it's time to look into your competitor's affiliate programs.
Even before designing your own, a specific analysis on the available affiliate programs will let you know where you stand, and allow you to position your program competitively. After all, you're also competing for affiliates.
Here's how to run an affiliate program competitive analysis:
Find at least two competitors with affiliate programs. It also helps to find at least one business you don't directly compete with, but that has the same audience as you (and that could potentially attract similar affiliates).
Look at how each competing program structures their affiliate commissions.
What action triggers the payout of an affiliate commission (a sale, a lead generated, or something else)?
Are affiliates paid a percentage of the sale as a commission, or a set amount for each action?
Are affiliates paid in cash or in credits to use towards the brand's products?
How does each brand's commission rate stack up? Does it seem high or low compared to other program commissions, and relative to the price of their products?
Determine how each brand finds their affiliates.

Do they recruit affiliates on their own, or through an affiliate network?
Are affiliates required to submit an application to be accepted?
How rigorous is the application process?

What are the terms and conditions of each affiliate program?

How does each brand allow affiliates to promote and post their affiliate link?
What is an affiliate not allowed to do within a given program?

If you're able to do some digging, try to find out other details about the competitor's programs:

What sort of training does each brand provide for affiliates, if any?
What promotional and branding resources does each brand provide to affiliates (banners, creatives, free products)?
How often does each brand communicate with affiliates?
How does a brand use affiliate tracking cookies? Do they use cookies to trace a sale back to an affiliate, even if someone doesn't make a purchase right away? How long do the cookies stay active?

Finally, run a SWOT analysis.

What are each program's strengths and weaknesses?
What opportunities could you take advantage of, because a competing program missed them?
What threats might each competing program pose to your own affiliate program?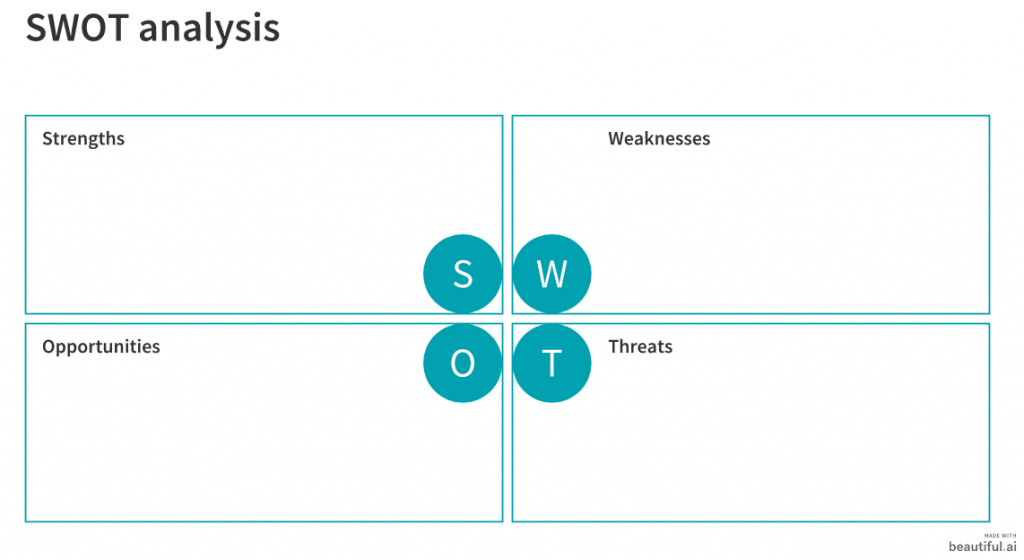 3. Decide on the right affiliate commission
Use your competitive analysis findings to help you structure your own affiliate program. One of your most important  design choices will be your commission structure, or the way you'll pay your affiliates.
Even if you've seen other commission rules in competing programs, you should only compensate an affiliate if a sale is made via their affiliate link. (Don't pay per impressions or clicks!)
First, decide whether you'll pay a set amount for each sale, or a percentage of each sale affiliates make. You'll also need to choose between paying in cash or store credit. Usually, a percentage commission paid in cash will be most attractive to affiliates.
Next, decide on the exact commission you'll offer affiliates. While you want it to be competitive compared to rival affiliate programs, remember: one-upping your competitors isn't always the best strategy.
You also need to take care of your company's own needs. Consider your customer acquisition costs, your retention rate, and your average customer lifetime value.
How much does it usually cost to bring in a new customer?
What percentage of customers do you retain in a given year?
How much revenue can you rely on each customer to bring in?
Use all of this information to calculate a commission that will attract new affiliates, but will also be sustainable.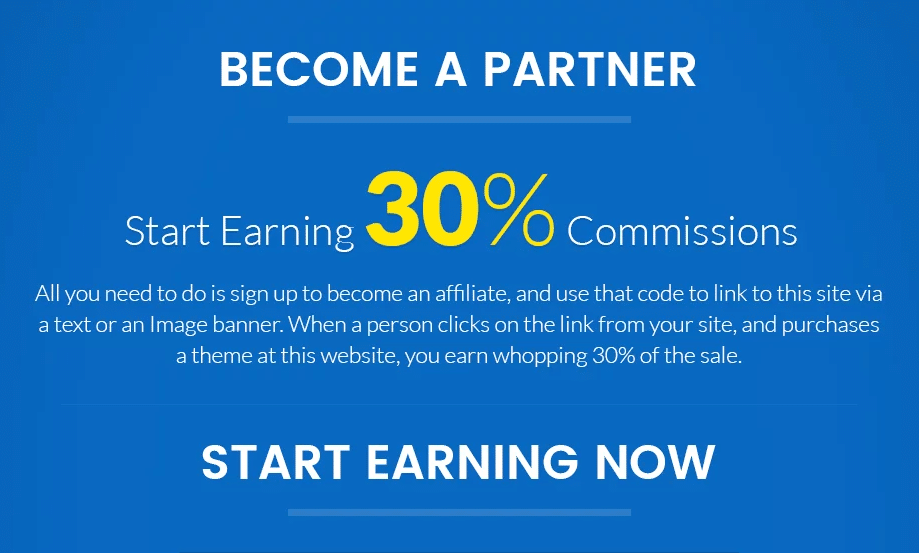 InkThemes advertises its commission rate to potential affiliates.
4. Decide on other key aspects of your program structure
In addition to your commission, you'll also need to decide on the following:
How will you allow affiliates to promote and distribute their affiliate links? Which marketing channels can they use?
How long will affiliate cookies be active (how long are affiliates eligible to earn a commission after someone clicks on their affiliate link)?
What other terms and conditions will your affiliate program include?
How will you make your affiliate program stand out, compared to competitor programs?
Will you designate or hire a dedicated affiliate manager for your program?
5. Start finding affiliates
Now that you're ready with your own program structure, your next step is to find affiliates. At this point, you'll need to decide between using an existing network of affiliates and forming your own select affiliate network.
Will you use an existing affiliate marketer network?
An existing affiliate network can help you build up a base of representatives quickly, especially if they already have relationships with top affiliates in your niche. It can also nurture relationships with these affiliates for you, as networks usually handle affiliate management.
But affiliate networks also present a huge disadvantage. They charge their own commission (or finder's fee, in a way) on top of the commission you pay affiliates directly – sometimes, this is up to 30% of the commission you charge.
For example, if you pay affiliates $100,000 in a given year, an affiliate network might require you to pay them an additional $30,000 because it found the affiliates for you.
And even though affiliate networks track your affiliate performance, and automatically pay out affiliates, you won't have direct control of your valuable affiliate data.
Will you form your own network of affiliates?
If you decide to form your own personal network of affiliates instead, you can still track affiliates efficiently, and compensate them automatically, with affiliate marketing software (also known as an affiliate platform).
Usually, the software will cost much less per year than the fee you'd pay to tap into an existing affiliate network. Plus, this software gives you full control over the data you need – and all other aspects of running a program. Thus, affiliate software offers plenty of advantages over using an existing affiliate network.
How to form your own network of affiliates? Think about reputable websites, bloggers, and social media influencers that your potential customers follow and trust, that produce quality content, and that fit in the niche your brand occupies.
Then, make a list of people behind those accounts, who you'd like to ask to be your affiliates. If they're familiar with your product or service (and maybe already buy and love it), that's even better. But it isn't a requirement.
You could also place an open affiliate application on your website, promote it, and let potential affiliates come to you. Screen them carefully, depending on your needs, and see how well their niche and audience match yours.
6. Recruit and train your affiliate team
Choose the best-fit affiliates and reach out to see if they'd like to join your affiliate team. Your goal is to find high-quality affiliates and avoid scammy ones, so be sure to screen potential affiliates carefully – both manually and with business intelligence tools.
Decide on how many affiliates you want to recruit, depending on the reach you want, and how exclusive you want your affiliate membership to be. For detailed tips on recruiting the highest-quality affiliates, learn from the experts in our affiliate roundup.
After you've recruited affiliates, brief them on your program's terms and conditions, and have them sign an agreement to abide by these rules. Then, train affiliates on brand and program fundamentals, give them their unique affiliate links, and supply them with promotional resources. Make a plan to regularly check in on their progress.
7. Keep track of how your affiliate program is doing
After you've started your affiliate program, you'll need to regularly track its success. This is done either via your affiliate program software or the affiliate network you've signed up for.
Keep track of which affiliates are bringing in the most sales. Also, check how well your affiliate program is meeting the measurable goals you set during planning, including  the amount of revenue, conversion rates, unique sales, and AOV. If your program isn't meeting these goals, it may be time to tweak your commission structure or rethink your affiliate lineup.
Wrapping things up
Now that you know the steps to affiliate program success, you're ready to start a program of your own. First, check the competitive landscape. Then, design a program that sets your brand apart in the affiliate's eyes, with an attractive commission. And of course, find and recruit the right affiliates, who will help your brand reach sales goals.
As you can tell from the tips we covered, affiliate marketing software is essential if you plan to run an affiliate program with your own network. Check out our list of the top 13 affiliate marketing software programs.