If done correctly, a SaaS affiliate marketing program can boost your revenue by up to 30%. So, if you're a SaaS (software as a service) business owner or marketer, affiliate marketing is a smart way to supplement the revenue coming in through your other paid and unpaid marketing channels. Thanks to trusted affiliates' voices, you'll stand out from the crowd, because people trust their peers far more than any message your brand could put out. 
Ready to grow your SaaS through the power of affiliates? In this article, we'll cover:
Why SaaS affiliate programs are so beneficial for your business
How to know if running an affiliate program is a good option for your SaaS
Best practices to make your SaaS affiliate marketing program a runaway success
Real-life examples of successful SaaS affiliate programs and their winning strategies
What is SaaS affiliate marketing?
SaaS affiliate marketing involves recruiting content creators, such as bloggers, to promote your software programs on their own channels. 
These creators, known as affiliates, place direct links to your SaaS website (affiliate links) on their own websites,  in their blog posts, or within other content.
 Every time a lead clicks on an affiliate link and purchases your software, the responsible affiliate earns a cash affiliate commission as a reward for helping you make the sale. 
Does affiliate marketing work for SaaS businesses?
Affiliate marketing programs aren't just for ecommerce: they've returned real results for SaaS companies. These statistics prove that affiliate marketing strategies work for all businesses, including SaaS companies:
Over 80% of brands have affiliate programs, and affiliate marketing has an estimated global worth of over $12 billion. 
Business Insider reports that affiliate marketing brings in 15% of digital marketing revenue.
In the U.S., affiliate marketing spend experiences a 10% growth each year.
According to our own survey, 68% of marketers say affiliate marketing works well for tech brands, and 61% say it works well for subscription services (including software subscriptions). 
Why are SaaS affiliate programs beneficial?
Having an affiliate program for SaaS is a win-win from every conceivable angle:
Your potential customers learn about a software program that could benefit them from a content creator they trust.
Your SaaS business can increase sales with little to no cost and little to no risk. 
Your affiliates are rewarded with commission for every single sale made – a no-brainer incentive to keep selling.
Let's go into more detail on why having a SaaS affiliate program is beneficial for your business.
SaaS affiliate programs harness trusted authorities 
SaaS consumers trust the opinions of affiliates who are authorities and experts in their industry – over and above any amount of advertising you can generate from your own brand.
This is because affiliates are seen as trustworthy by their loyal fans and followers. If they say something is worth buying because of specific benefits, their audience will take their word for it. 
Affiliate programs give you a way to track and measure word of mouth
Most programs are run on affiliate management software that enables you to measure, analyze, and improve your program. 
With tracking and automations, you eliminate a lot of effort and guesswork from your affiliate program. You can refine and improve any underperforming areas, leaving you free to scale the best channels.
Affiliate marketing is cost-effective compared to paid ads
Paid ad efforts can eat into your budget. You'll also need to spend resources testing and refining strategies before you start to see sustainable long-term results. 
With affiliate programs, you only pay the affiliate commission when a sale is made (besides costs for the software, which can be paid on a monthly basis, if needed). 
Affiliate marketing is low-risk
The ROI on other forms of marketing, such as paid ads, can vary. There's a period of testing and trials before you start getting scalable results. 
But because you only need to pay up when an affiliate sale is made, you can pre-determine your costs and mitigate any risk of  overspending .
Affiliate programs are highly targeted
Provided you've done the initial research of zoning in on affiliates who have a relevant following, you can expand your reach to a much wider audience – one that's already primed and ready to buy. 
Working with affiliates helps you eliminate the laborious steps of having to attract, nurture, and convince a segment of customers to buy.
You stay in control
Even though affiliates are marketing for your SaaS company, you're still ultimately in control of the campaign. You choose the affiliates you'll work with. You have a say in how they'll market your company, and you decide how much to set your affiliate commissions. 
Affiliates help increase your traffic, leads, and sales
Affiliate marketing is a sales pipeline worth considering for an additional source of website traffic, as well as revenue (both one-time and recurring revenue). 
Is an affiliate program right for your SaaS?
The big question is, of course, whether an affiliate program is right for your SaaS business in the stage you're at now. 
There are some key criteria to check before you consider investing in a SaaS affiliate program. 
Otherwise, you can run into challenges in creating a long-term, profitable, and sustainable affiliate marketing model. 
You should be completely comfortable paying cash commissions to affiliates every time they make a sale. 
Provided you've factored commissions into your profits, they're a relatively small price to pay for repeat sales and new potentially lifelong customers. 
You should already have high customer retention rates.
If you're already getting new customers who stay on and continue to generate revenue, your SaaS affiliate program will be more likely to sustain itself over the long term. 
You should already have high profit margins.
Most SaaS companies typically do have high profit margins, but it's still essential to check. 
You should know at least some potential affiliates to recruit.
Strike up conversations and build relationships with content creators who could potentially become your affiliates when your program is ready.
These content creators should ideally be in the same niche or cater to the same audience as your company. It's a major plus if they have a solid reputation with the customers you're trying to woo.  
You are comfortable with the idea of content creators promoting to anyone who visits their sites.  
Content creators will promote your SaaS to all of their website visitors. So it's not necessarily only the people that they know who're going to get exposed to your product. 
It's important to communicate with your chosen affiliates if you have definite ideas about who you want to see your product.  
 
Pro tip: If an affiliate program isn't right for your SaaS, all's not lost. A SaaS referral program may be a better alternative and fit. In a SaaS referral program, your customers are encouraged to share your SaaS with friends and colleagues they know personally.
When your existing customers refer a friend or colleague who eventually purchases your software, the existing customers receive rewards for their contributions. 
The rewards could be in the form of non-cash benefits as well, such as credits toward their SaaS payments, feature upgrades, or branded swag. Cash isn't always the biggest incentive for all customers. 
SaaS affiliate program best practices
To create the best affiliate program for SaaS companies, it's best to include and implement these industry best practices:
Set strategic affiliate marketing KPIs 
Set KPIs (key performance indicators) so you have concrete goals and metrics to measure and work toward. KPIs can help you stay on top of your goals and optimize your campaigns for better results.
Here are a few different examples of KPIs you could track:
Revenue goals per quarter or per year: How much do you want to earn from the program during the specific period?
Number of qualified leads you'd like affiliates to bring in per quarter or per year: Qualified leads are potential customers who have taken actions during the sales funnel that show an interest in making a purchase.
Ideal conversion rate (% of affiliate link clicks that ultimately result in purchases): How many customers go on to buy after clicking the affiliate's links?
Number of unique sales that come from affiliate links: How much business have your affiliates brought you during the period?
Choose competitive but sustainable commission rates
Do some initial research on other affiliate programs in your industry so you set a commission that's attractive to affiliates, while still being sustainable for your business in the long run.
Look at other companies in your industry that also run SaaS affiliate programs. What type of commission or rewards are they offering? You want to understand what will attract your affiliates the most, and set your commission rates accordingly. 
Choose a commission rate that's sustainable for your business. Look at your average customer acquisition costs (CAC), retention rate, profit margins, and revenue. Then, determine what commission you can afford to pay affiliates for every sale.
Decide whether you'll pay a flat fee or percentage on each sale. Base this on competitors' commission structures, as well as what seems strategic and sustainable for you.
Plan to pay your commission out as cash, whether that's via a check, PayPal, or Visa gift card. Most affiliates prefer cash.
Outline commission rules and bonuses
Seasoned affiliates will often have questions when it comes to commission rules and bonuses. Set expectations as clearly – and as early – as possible. Here's a list of questions to prepare for:
When do affiliates receive their commission?
If your sales process is shorter, the commission should only be awarded after a sale is made.
For multi-step sales processes, consider offering a smaller commission (flat fee) when a lead is qualified, and a larger commission upon the sale. 
How long are affiliates eligible for a commission after someone clicks their link?
For instance, let's say a customer registers via the affiliate link but buys after two months. Will the affiliate still get a commission?
Are affiliates eligible for recurring commissions if a customer they brought in renews their subscription? 
A recurring commission structure is a very popular and successful incentive used by many SaaS businesses these days. 
Are affiliates eligible for commission bonuses? 
For example, will they get a one-time bonus if their sales hits a certain threshold within a given period?
Or will their permanent commission rate increase when they hit a certain lifetime sales goal?
What if someone cancels their subscription within a certain period? Does the affiliate still earn a commission on that sale?
Find and select affiliates carefully
This is one aspect of your SaaS affiliate marketing program where you cannot afford to be complacent. The wrong affiliates and downgrade your brand, while the right ones will exponentially scale your product sales.
Affiliates don't always have to be traditional marketers. They can be bloggers, social media influencers, and/or even industry experts. What matters is their relevance to your niche.
The content, personality, and voice of your chosen affiliates should align well with your industry or niche. 
Verify potential affiliates haven't engaged in spammy or unethical behavior. You don't want affiliates who could ruin your reputation or scam your business out of money. Reputation, once destroyed, can take a while to rebuild. And it may not always completely recover. 
Affiliates must have an audience that closely matches yours. That is, their existing audience should find your product appealing enough to make a purchase. Additionally, look for high, positive engagement from their audience. It's a sign the affiliate is trusted and has a loyal following. 
Identify whether the affiliate has a reputable track record of promoting brands. Even better, regardless of their track record, they should have a concrete plan for how they'll promote your brand as an affiliate.
Pro tip: How to find affiliates? Look for them with relevant hashtag or topical searches on social media, on dedicated forums and social media groups, or use brand mention software.
You could also publish an affiliate application anyone can fill out. Optimize your application page following SEO best practices, for a keyword including your niche plus the words "affiliate program."
But make sure to screen all applicants against the same rigorous standards you use for affiliates you reach out to.
Don't overlook existing customers as potential affiliates
It's tempting to favor marketers and influencers over your customers. But customers are often your biggest brand ambassadors. 
Content creators may not always be familiar with your SaaS company. They may not have the in-depth connection with your product that your customers do. 
As someone with personal experience, customers can also authentically share what makes your SaaS stand out. This is a tremendous advantage in an affiliate program! 
You can reap similar benefits from a SaaS referral program, which encourages all of your customers to share your software with their friends.
Have affiliates sign an agreement
It's important to set up an affiliate marketing agreement to clearly lay out the terms of engagement between your SaaS business and your affiliate partners. 
The agreement should clearly indicate what affiliates can and cannot do to promote the business, your branding guidelines, how they'll earn commission, and other conditions of the relationship.
Don't rely on existing affiliate networks
Affiliate networks can give you access to a large network of potential affiliate partners. But even though these networks do much of the initial legwork, they come with several drawbacks.
Here are some of the disadvantages of affiliate networks:
Affiliate networks charge extra. You may have to pay up to 30% of the revenue you generate from an affiliate program, in addition to the commission you pay affiliates. 
Affiliate networks don't share their affiliate data. You don't have access to tracking and reports, which can help you draw meaningful insight and improve your affiliate program. 
Affiliate networks function like a middleman. They control all relationships with affiliates, so you don't get to build meaningful long-term connections.
You're forced to compete directly with other businesses on the affiliate network. What invariably happens is whoever can pay the most, gets the most affiliates or best affiliates. In this sense, making use of affiliate networks is not very cost-effective.
Affiliate relationships on networks are usually purely transactional. Network affiliates are looking for another way to generate passive income in the form of commission. They may not be as invested in the relationship as someone you reach out to directly because they align with your business.
Run your program with the right affiliate software
Another critical component of successful affiliate marketing programs is to pick the right software. Without software at your disposal, it can become difficult to manage all the moving parts, especially as your program scales. 
Affiliate software helps you automate the entire process of affiliate marketing, from tracking affiliate sales to ensuring all affiliate commissions are paid out on time.
You're able to recruit affiliates without directly competing with other businesses – and once you've recruited them, you own the relationship with affiliates. In addition, software can streamline the process of communicating and building these affiliate relationships. All communication is centralized and managed easily from a single platform dashboard. 
Affiliate software provides a cost-effective option to get your program running. All you have to pay for are the software and affiliate commissions, unlike the additional fees that are charged by affiliate networks. 
You also retain control of your data and all other aspects of running a program, as there's no middleman hogging all your data. 
How to select the right affiliate software? 
The right affiliate marketing software is necessary to sustain a profitable affiliate program. Here are some tips to select the right affiliate software for your SaaS business:
The software should make it easy for you to set up the affiliate program. Training resources and educational support are a plus. Some software businesses provide dedicated account managers to help you through any challenges you may have.
The software should have robust affiliate tracking, attribution, and data reporting features.
The software should help promote authentic relationships with affiliates – not just transactional relationships. 
If your sales process is multi-step, the software must be able to work with multi-step processes too. 
The software must integrate well with your existing sales and marketing workflows, including your CRM and other tools.
The software should come with great customer service. 
Easily set up and customize your affiliate program with Referral Rock affiliate software.
Our platform is flexible enough to work with any SaaS, including companies with multi-step sales processes. 
Keep your affiliate partners engaged with our relationship-focused platform. Track affiliate activities in detail to optimize your program, and seamlessly integrate with the software you already use. Plus, an onboarding specialist is included with every plan.
Learn more about Referral Rock affiliate software, or request a demo.
Keep open lines of communication 
It's important to keep open lines of communication with your affiliates. Staying in touch on a regular basis shows them you're genuinely invested in the relationship. 
Personalize emails and other direct messages with at least the affiliate's name.
This includes a welcome email that lets affiliates know what to expect from the program. 
Also, personalize congratulatory messages when affiliates meet certain goals or reach milestones, and any check-in messages, whether they're customized for the individual affiliate or sent to every affiliate.
Train your affiliates on the key aspects of promoting your brand. 
Talk them through your brand's unique selling position, messaging, and voice, as well as what they should and shouldn't say about your SaaS. 
Give affiliates access to branded material and assets. 
Make promotions plug-and-play so it's easy for affiliates to mention you on their channels. 
Assets could include logo materials, banners, images, videos, reviews of your business, and even graphics displaying awards your SaaS company has earned
Keep your affiliates updated on your brand and affiliate program.
And be sure to give affiliates access to try your SaaS (if they don't already have it). This way, they can accurately share key features of your software, and give their audiences the most up-to-date info on how it works. 
It may also help to give a list of your software's features, and update that list when features are added or changed, so affiliates know what to look for when trying out your platform. 
Consider giving affiliates early access to new and exciting features, before your general user base. Affiliates can use this insider preview to drum up compelling promotions prior to the launch or release. 
If there's a limited sale or offer that affiliates should highlight, let them know all the details.
Make sure affiliates know how to contact you if they have concerns. 
This can be through email, phone or video calls, or via a feedback form. 
Pro tip: Consider hosting affiliate-only webinars or creating an insider affiliate community on social media. These exclusive experiences help keep affiliates in the loop – especially important since affiliates are promoting a constantly changing SaaS product.
Track ROI and refine your program accordingly
Use affiliate software to easily set up and track your ROI goals.
Then, based on the data you've collected, identify whether your SaaS affiliate marketing program is working well, and where it might need some refining.
Top SaaS affiliate program examples
Up next, we look at some of the best SaaS affiliate programs available and what they do to make them so successful. 
1. Moosend
Email marketing platform Moosend lays out all the details on their affiliate marketing landing pages. This makes it easy for time-pressed affiliates who want to know what's in it for them as quickly as possible.
The business has opted for a 30% recurring commission structure, which is in the average range for payouts. 
But where Moosend's affiliate program really shines is the number of resources available to affiliate partners. 
Moosend provides a dedicated affiliate resource center where affiliates can access all the marketing tools they need, such as banners and swipe files. 
Affiliates can track referrals and conversions themselves using their link, which gives real-time statistics and insights for improvement. 
Another attractive feature for affiliates is the 90-day cookie duration. This assures affiliates earn commission as long as the customer signs up within 90 days of registration using the affiliate link. 
Best of all, Moosend provides account support for affiliates via email and chat.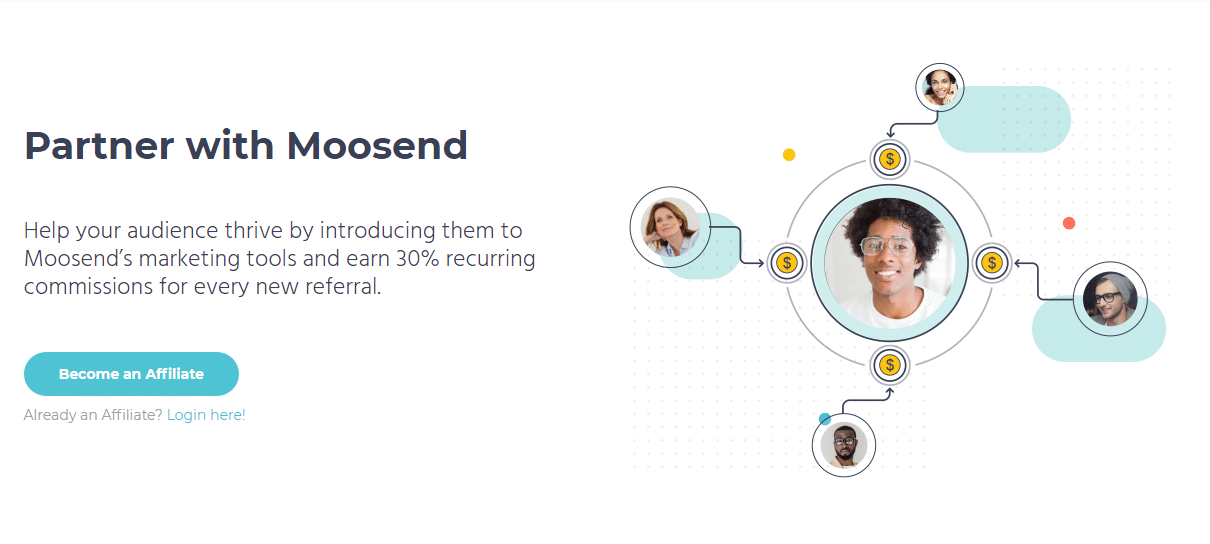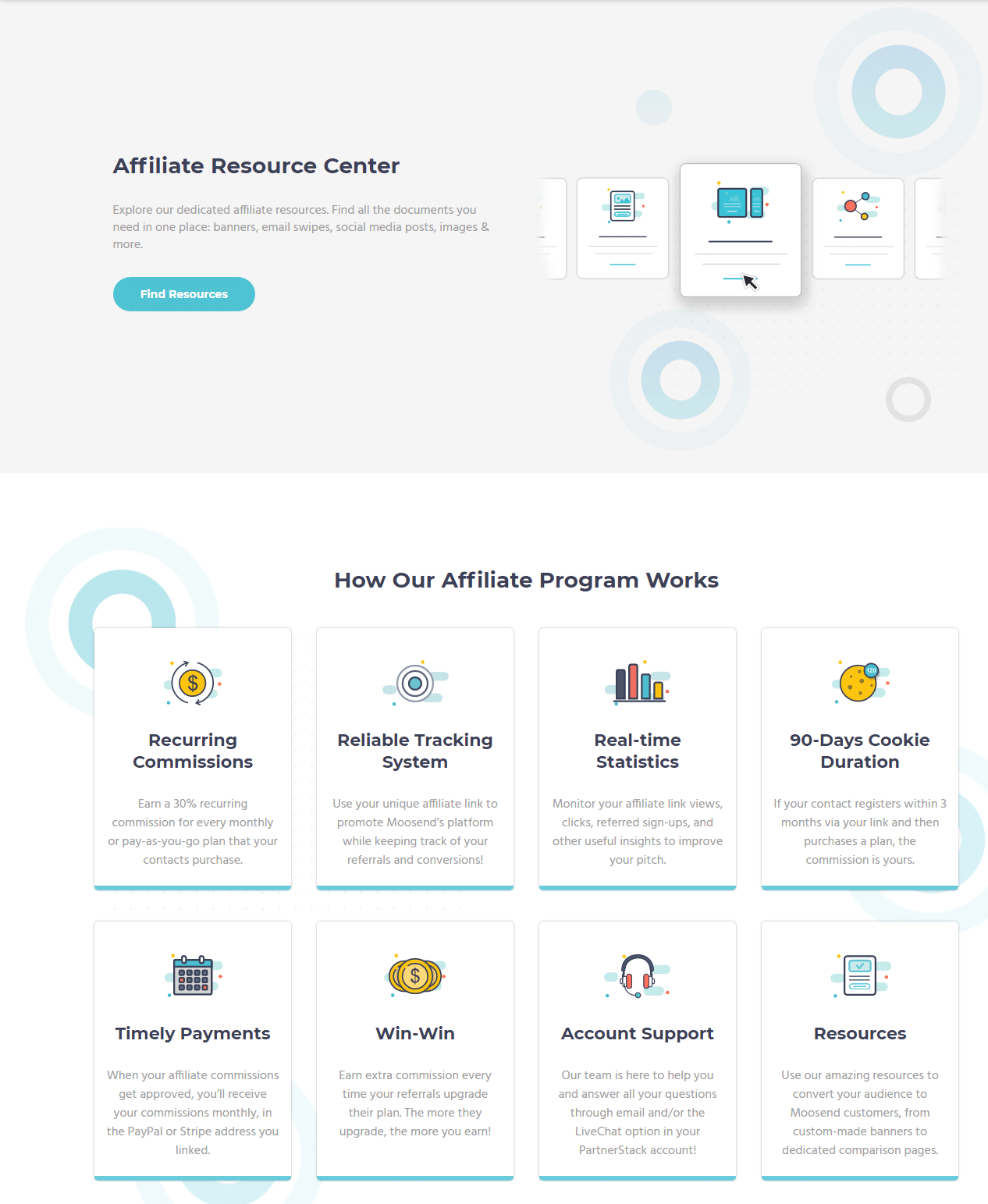 2. Unbounce
Unlike Moosend, Unbounce has chosen to be more selective about who they work with and use a more targeted marketing approach.
So who does Unbounce accept in its affiliate program? If you're a marketer or an agency, have an existing SMB (small and medium-sized business) audience, and you absolutely love Unbounce, you have a good chance of becoming an Unbounce affiliate partner. 
Unbounce has opted for a 20% recurring commission structure and a no-frills affiliate marketing program that delivers on the basics. 
On a more unique note, the program offers a dedicated partner coach (a real human) available just an email away. 
Each affiliate enjoys a custom dashboard for tracking referral links and earnings.
Affiliates also get access to partner templates, promotional marketing materials, and training.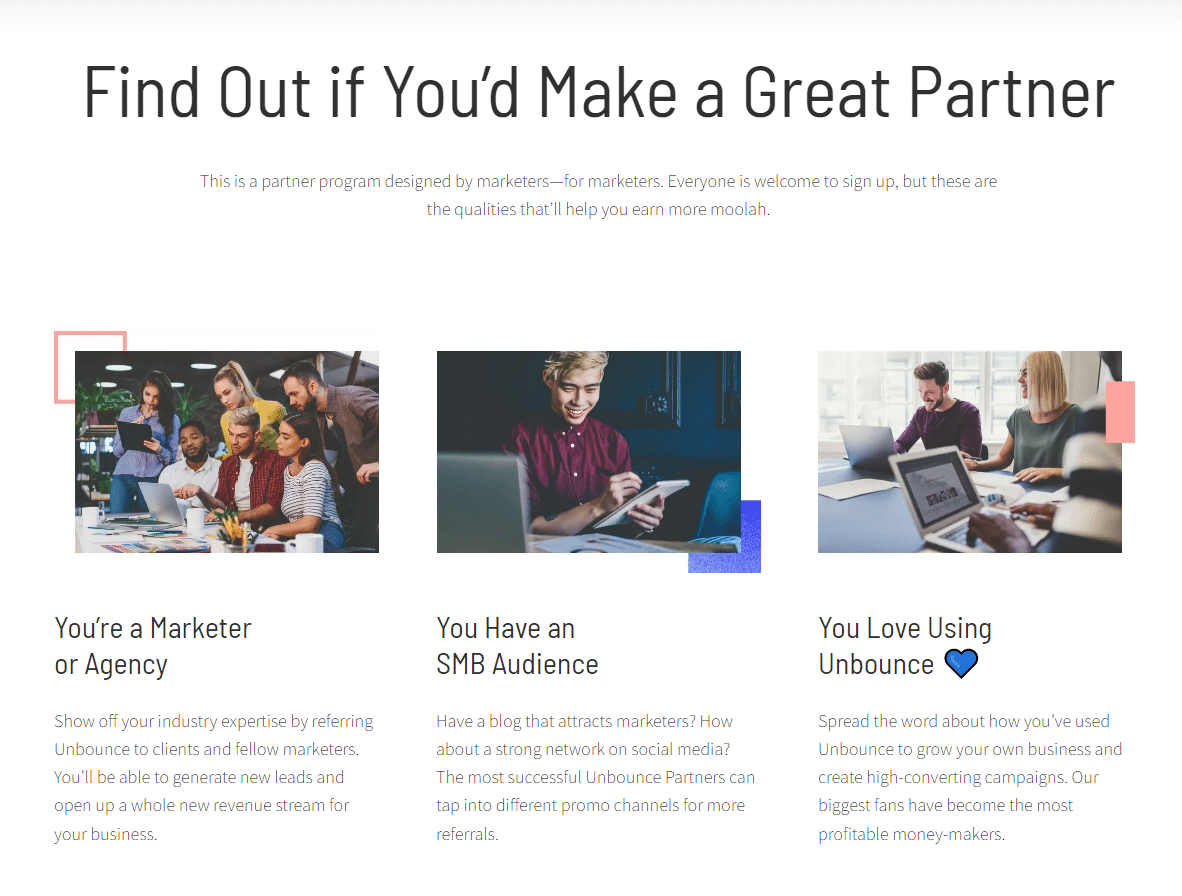 3. Leadpages
Leadpages offers a maximum of 50% recurring commissions on their tiered incentive structures, one of the highest incentives in our list. The lowest you can earn is 10% at the base level. 
To add to the excitement, the commission applies regardless of the type of sale, so you can earn up to 50% even if it's for a one-time purchase. 
Leadpages has gone all out to attract top affiliates by positioning themselves as an all-in-one affiliate product that delivers on everything an affiliate might need for marketing. 
Like other affiliate marketing platforms, the company offers educational content, marketing resources, and swipe copy. 
But Leadpages also has a dedicated affiliate support team and an exclusive private Facebook group for sharing promotion tips and insights. 
They also hold periodic special promotions, and give affiliates early access to newly released templates and promotions.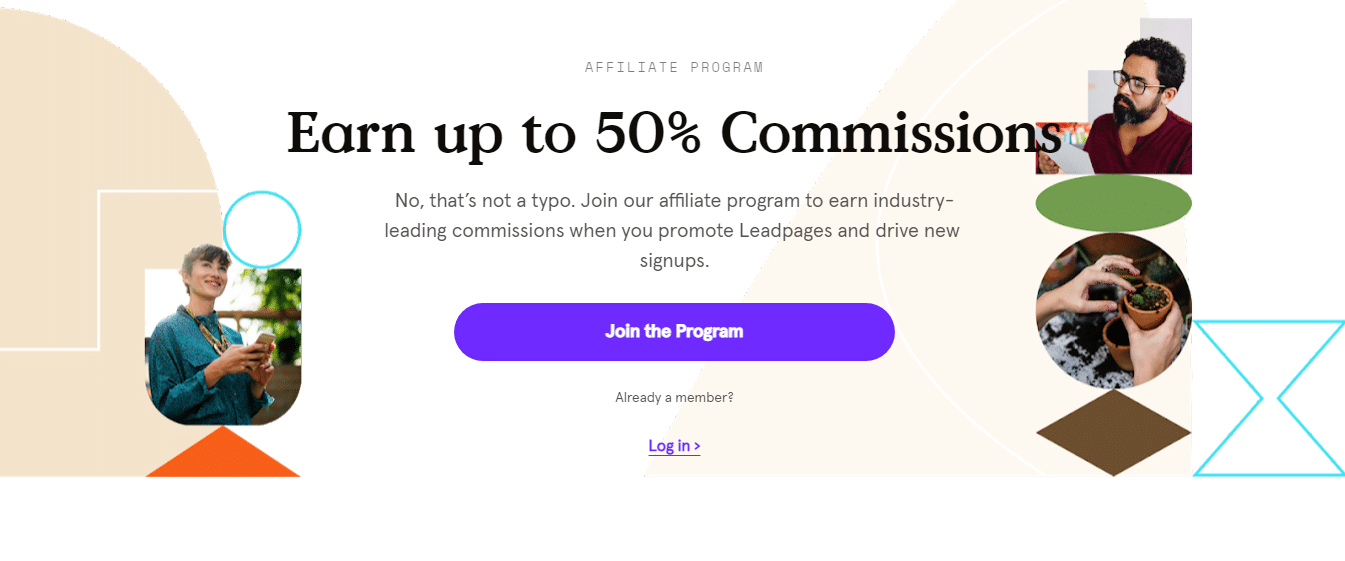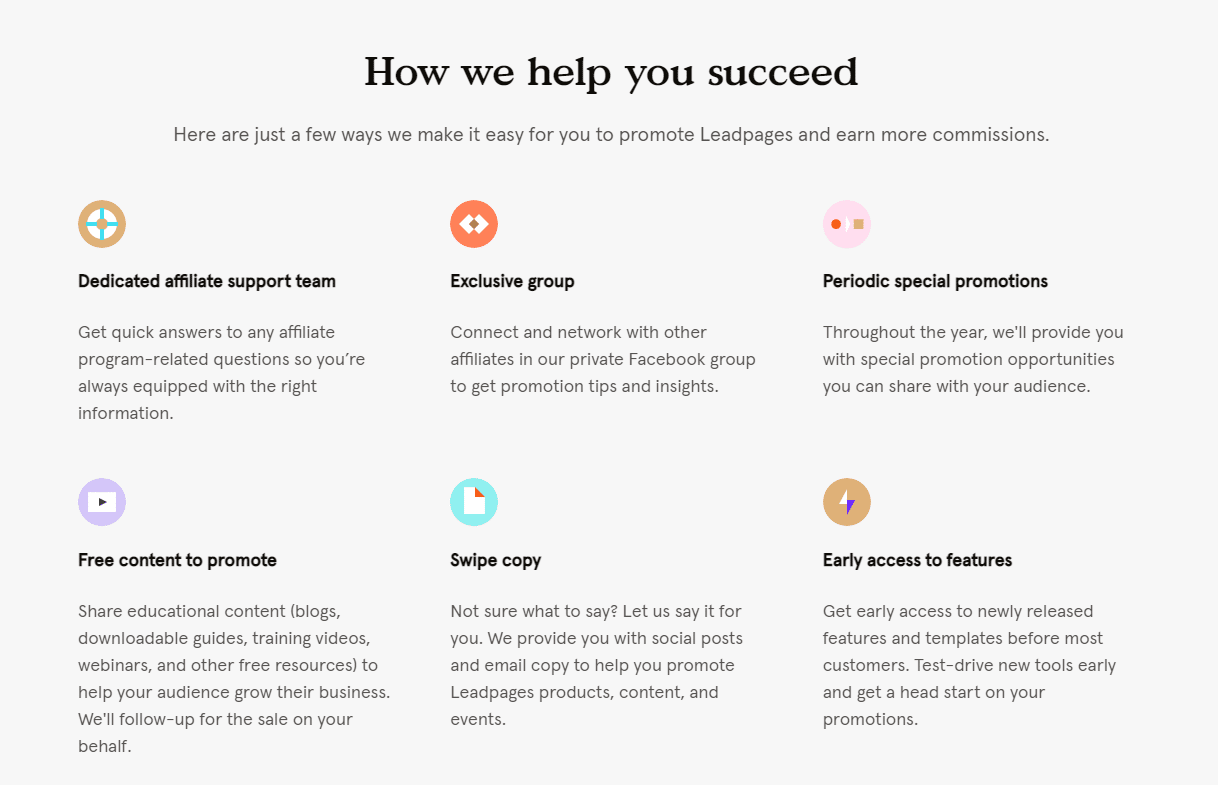 4. ActiveCampaign
ActiveCampaign offers a scaled commission structure, starting from 20% to a maximum of 30% on a recurring basis for as long as a paying customer is retained. 
The program has the standard assortment of marketing assets, evergreen webinars, and a dashboard for tracking progress.
ActiveCampaign prefers to let its top-rated product and its in-house marketing do the talking. They will happily take over once a customer has clicked an affiliate link, so the affiliate doesn't need to invest as much in conversion. 
ActiveCampaign has an affiliate portal, provides product updates on a regular basis, and also has an exclusive community for affiliates.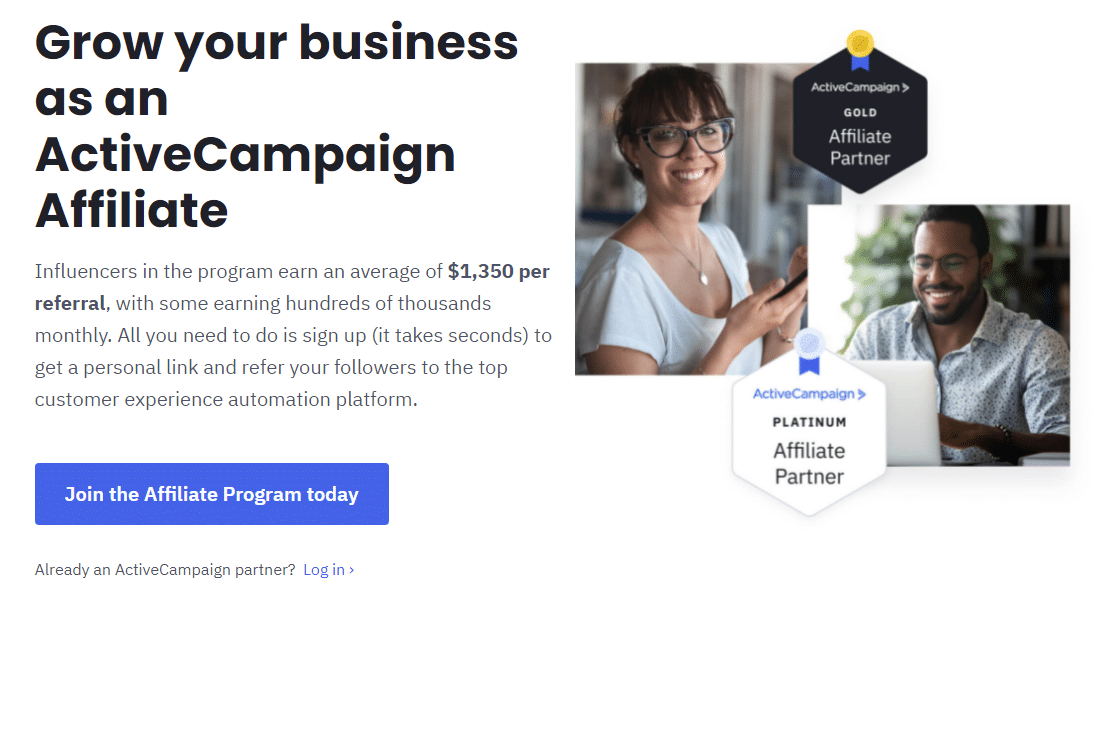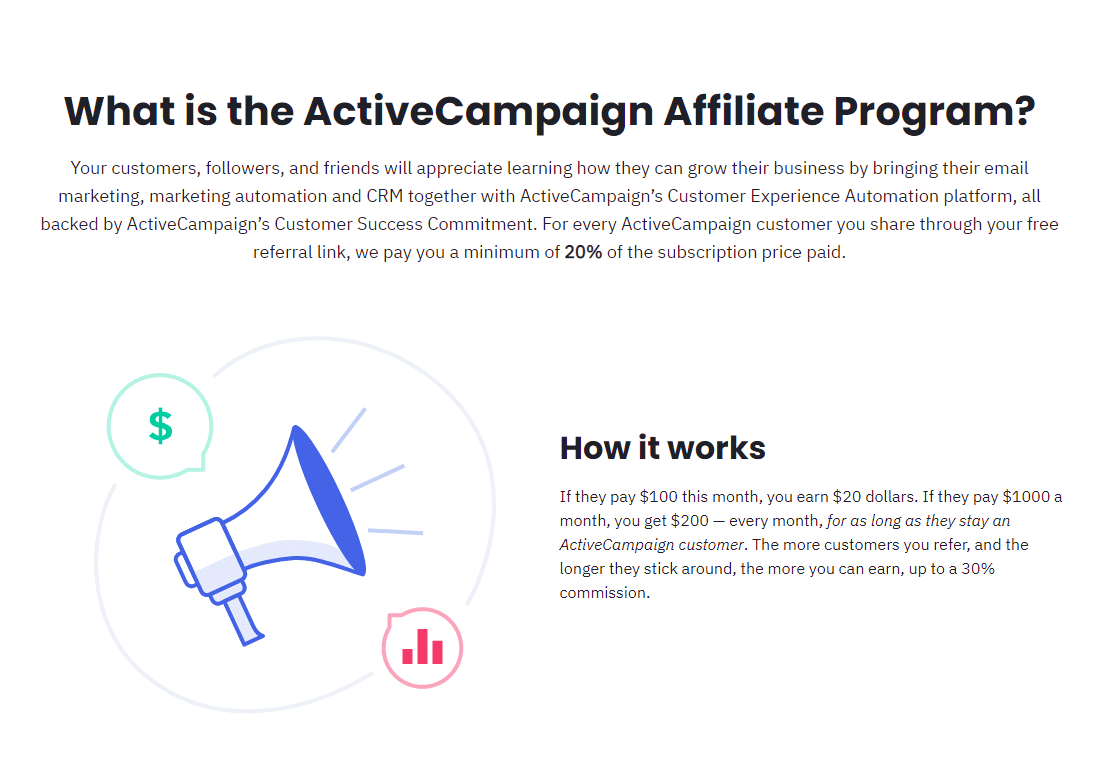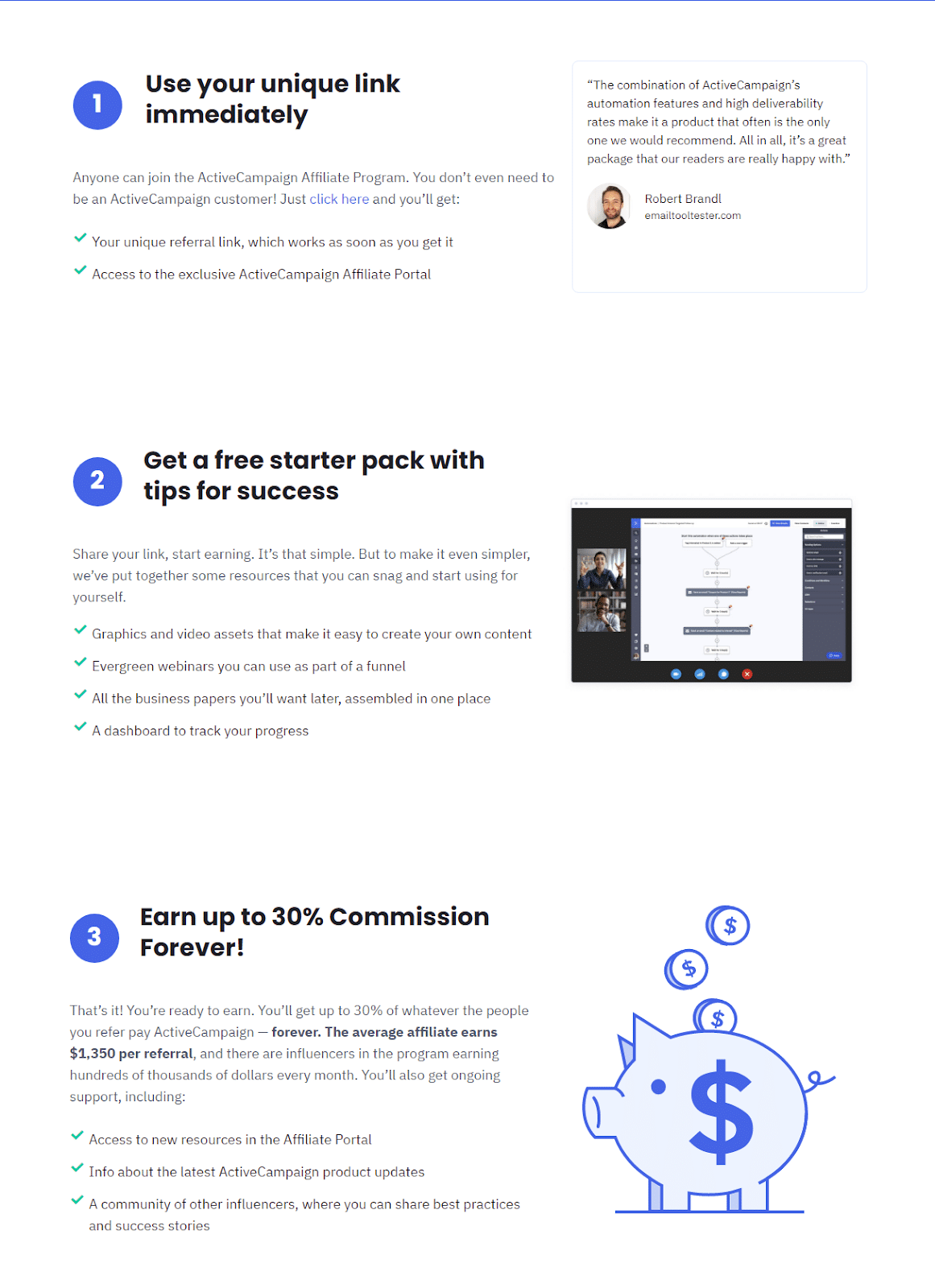 5. Elementor
Many entrepreneurs and small business owners are as familiar with Elementor as they are with WordPress. Such is the appeal of a product that promises to make designing your WordPress site easy and effortless. 
Aside from a popular product that's easy to sell, Elementor does offer many attractive incentives for affiliate partners. Its program offers a very generous 50% commission whenever an affiliate motivates a paid plan signup. 
Unlike Unbounce, which has a limited affiliate profile, Elementor has chosen to cast its net wider. 
Its affiliate program is open to content creators, web educators, digital entrepreneurs, WordPress developers, marketers, embedded developers, and agencies. Elementor has pretty much targeted everyone who can potentially use their product one.
Elementor has a very active community and a creative library with exhaustive marketing tools and content.
Affiliates can also connect with a dedicated affiliate manager, gain early access to product updates, and are able to track their clicks and earnings.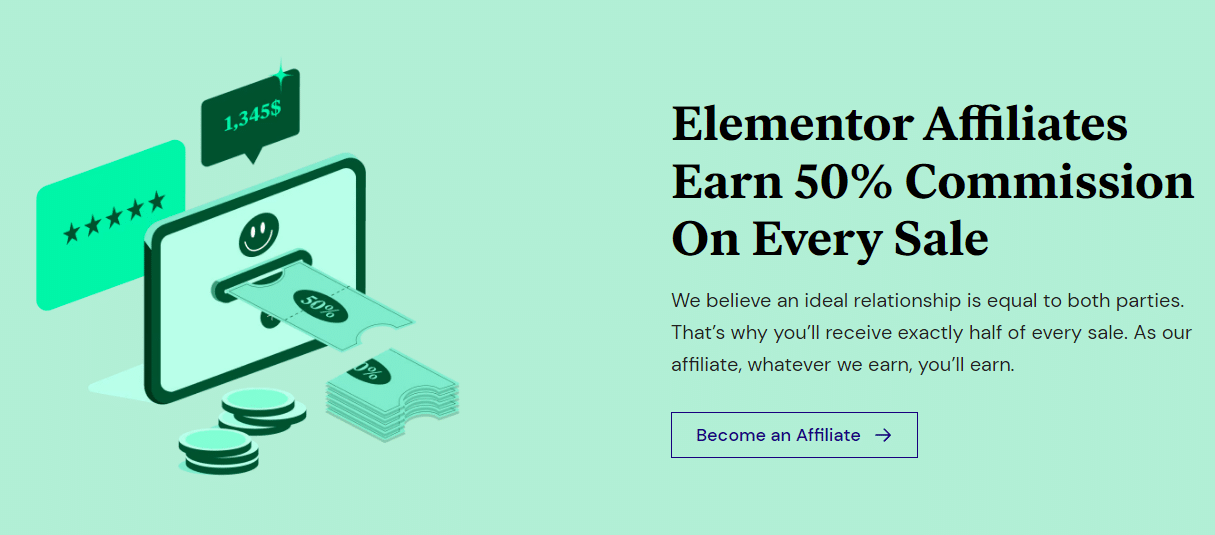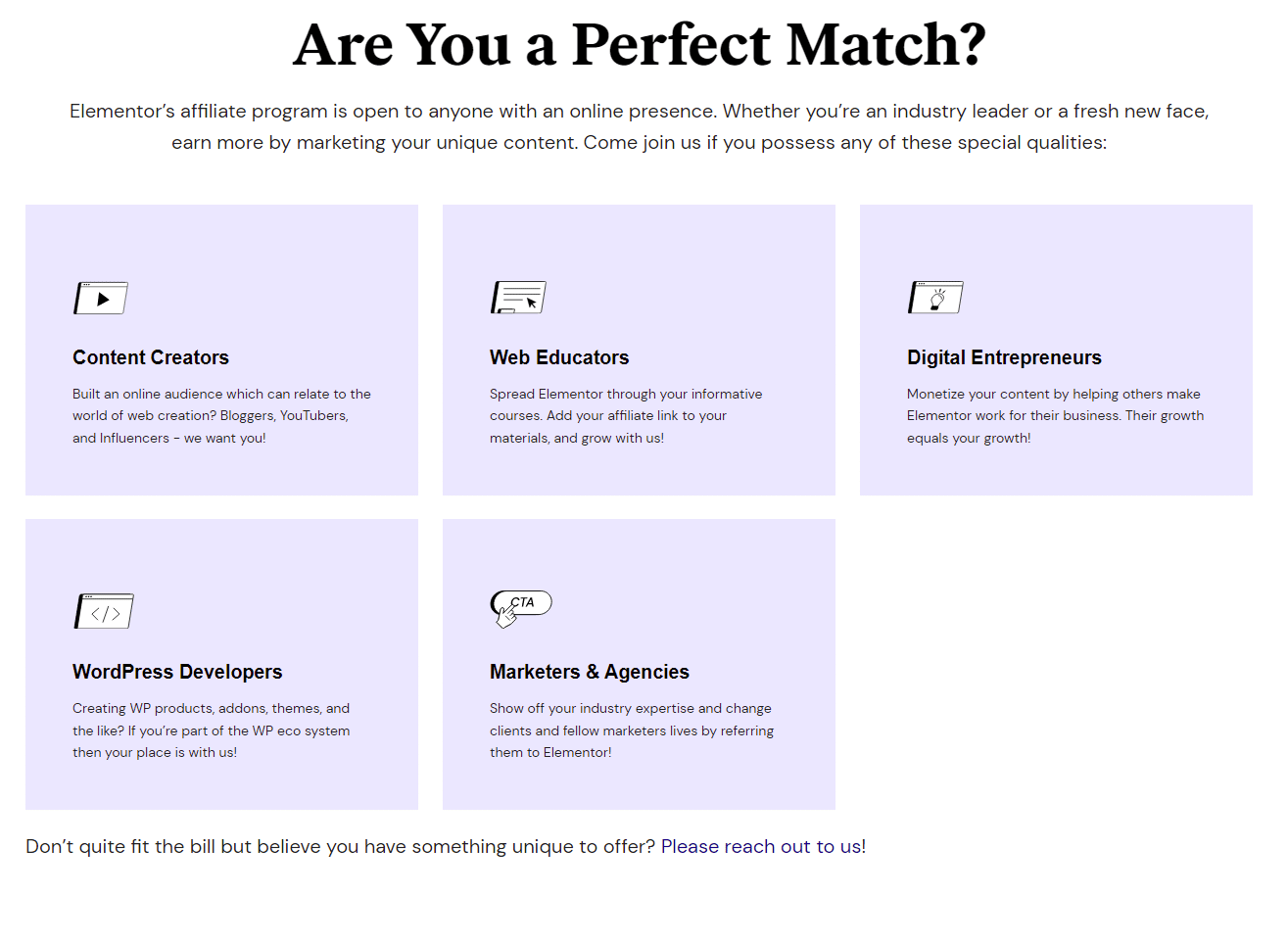 6. Omnisend
Omnisend is an email & SMS marketing platform that has an attractive affiliate program. They offer a suite of goodies to make it easier for affiliates to market Omnisend's offering, meaning a quick start with a good commission rate.
Competitive 20% commissions. These are monthly recurring commissions for new referred businesses that join Omnisend on a paid plan.
Omnisend builds its affiliate program on a comfortable 90-day cookie, meaning that affiliates earn on any customer that signs up within a 90-day window through the affiliate link.
All affiliates get a dedicated account manager that helps them maximize their earnings with priority support and supporting materials.
To make it easier for affiliates to get started, Omnisend provides loads of banners, ads, and other types of content that's ready to share from Day one.

7. SocialBee
SocialBee offers a 20% recurring commission for each new social media management platform customer and a 10% recurring commission for concierge customers. The best part is that commissions compound if referrals opt for both the tool and the concierge services. 
As part of SocialBee's affiliate program, you can unlock new opportunities by reaching revenue benchmarks inside the program.
Affiliates access a single dashboard to track clicks, sign-ups, customers, and earnings. The tracking system includes 90-day cookie tracking.
Aside from supplying a wide range of ready-to-use resources, SocialBee brings to the table their monthly demo webinars to keep you up-to-date with the old and the new inside the platform.
SocialBee provides affiliates with a personal account manager to assist throughout the partnership. 
One of the perks of SocialBee's program is gaining exclusive access to upcoming sales campaigns and new beta features.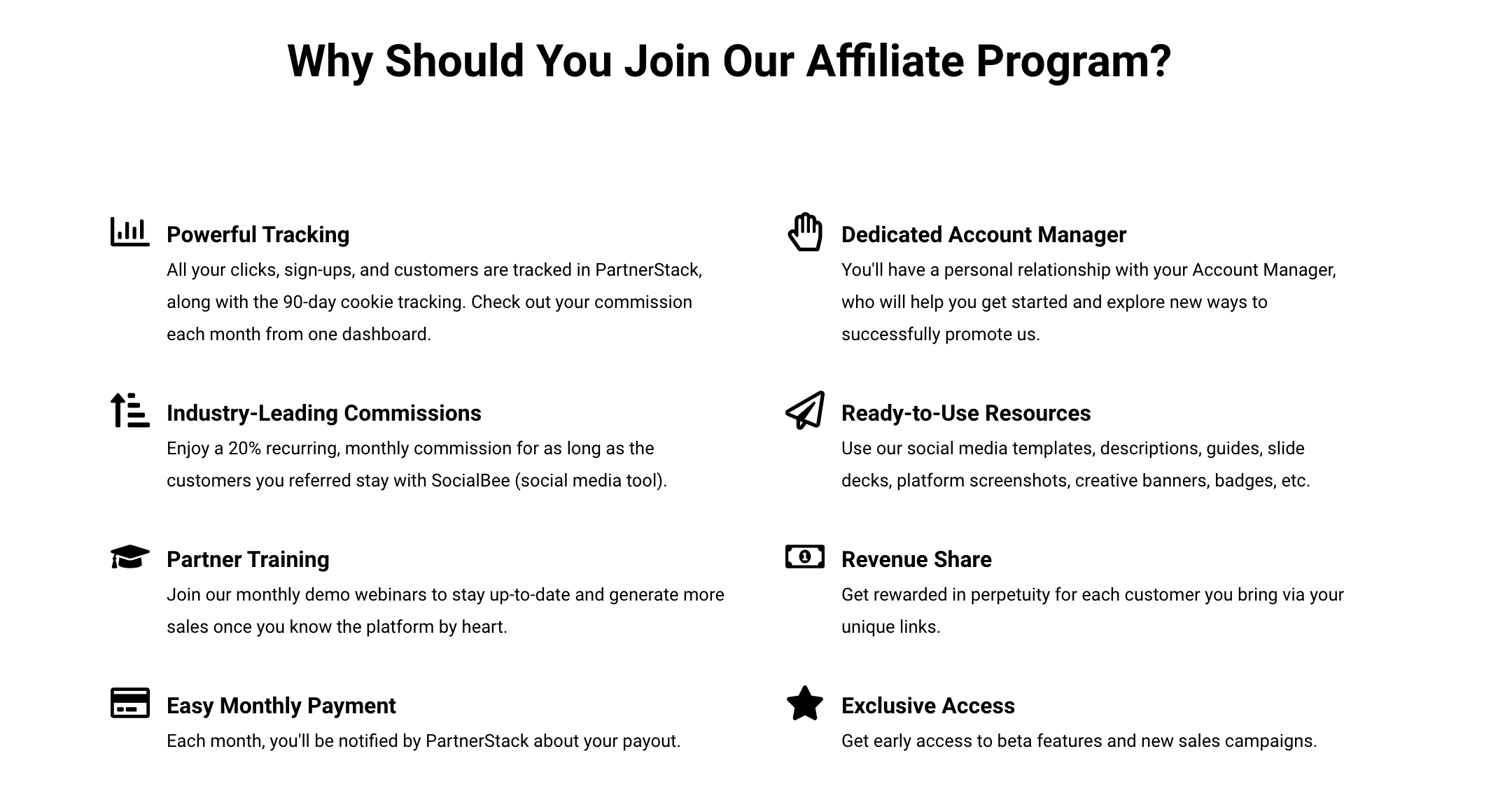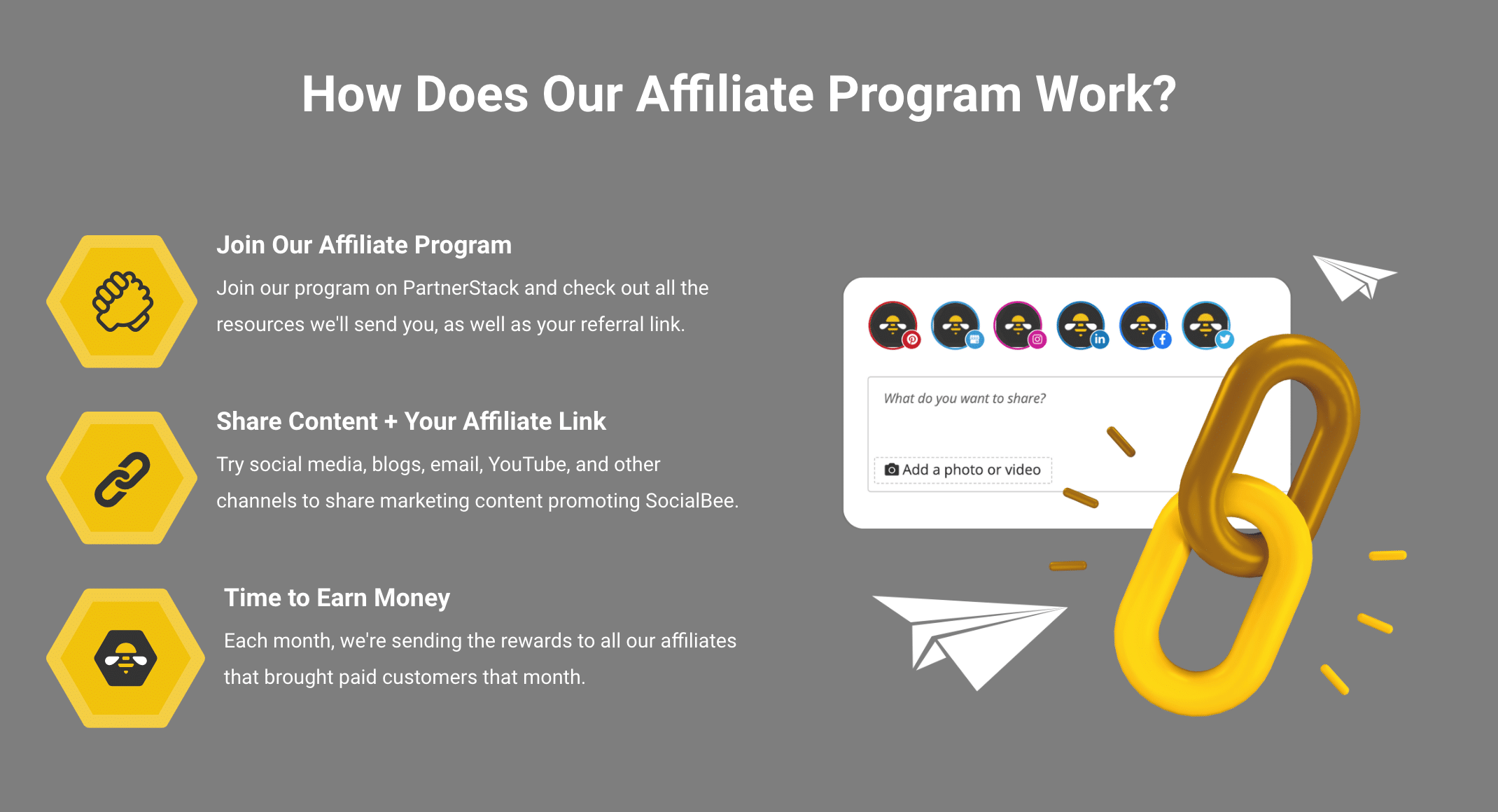 SaaS affiliate marketing vs. other types of SaaS partnerships
What's the difference between SaaS affiliate marketing and other types of partnerships your SaaS might form? SaaS affiliate marketing is one type of channel partnership. But there are plenty of other SaaS partnership types available. 
Here, we've listed out a few other popular partnerships, and how they are different from affiliate programs.
SaaS integration partnerships:

A company whose software integrates well with your own promotes your SaaS on their website, as a way to enhance users' experience with their own tool
You agree to promote their software on your integration page as well
But unlike affiliate programs, there's usually no commission element involved 

SaaS reseller partnerships:

You license partners to sell your software in their own marketplaces, and train them to assist customers in using the software
While affiliates direct leads to your website and get credited for the sales they promote there, reseller partners sell your software on their own websites.

SaaS referral partnerships:

Trained partners agree to directly recommend your software to people in their existing networks
They use trackable links like affiliates, and earn commissions in return for referred customers
But they only refer people they've built a personal relationship with
Conclusion
A SaaS affiliate marketing program can help you generate an additional source of revenue for your business in a way that's low-risk and low-cost. 
These affiliate programs can be hugely profitable when done right. Use our checklist outlined above to determine if your SaaS business can benefit from a program like this. 
If so, we encourage you to implement the industry best practices we've highlighted, so you can make your very own affiliate program an outstanding success.