Is your SaaS business not seeing the results you expected from traditional ads? There's a more effective, more economic strategy to scale your growth – a SaaS partner program. 
Some of the biggest SaaS brands, including HubSpot CMS, SEMrush, Zendesk, and Databox, launched partner programs early on, which were instrumental in helping them scale. These brands continue to use their partnerships to accelerate growth, encourage user retention, and increase revenue. 
There are several types of SaaS partner programs, including referral, affiliate, integration, and reseller partnerships.
All have the potential to widen your company's distribution and sales – as long as you select the right type for your business needs. 
In this article, we show how a SaaS partner program can help you reach your company goals, and the best practices to follow for success.
What is a SaaS partner program?
A SaaS partner program (also known as a channel partnership) is a partnership with third parties, either businesses or individuals, who agree to help market and/or distribute your software to new audiences.
As an incentive for helping increase your sales, you reward your partners with cash rewards, tangible incentives, or sales commission. Regardless of the incentive, a key element always stays the same – the more software sold, the bigger the partner's reward.
It's important to note that a SaaS sales partner does not become your employee. Although your partners will sign a formal agreement to market or sell your software, they still remain independent entities.
5 types of SaaS partner programs
SaaS partner programs come in several types, and it's important to select the right one for your business needs.
Although each of these partner programs involves a different type of partner and promotional format they all share one important element in common. All of them can be run with PRM software (also called partner relationship management software), which streamlines tracking and automates key components of your program.
Here are five of the most common types of SaaS partner programs you can choose from: 
1. Reseller partnerships
In a reseller partnership, you license partners to sell your software on their own channels. Most reseller partners sell your SaaS in their software marketplaces, alongside various other programs. 
But resellers go beyond just opening up another distribution channel. They also add extra value to the purchase – hence the common term "value-added resellers." Resellers are trained to assist customers in using the software, all the way from installation and customization to customer support.  
An excellent example of a reseller partnership is between Fiscal Foundations and QuickBooks. The former resells QuickBooks subscriptions alongside offering software setup, customization, and support services. 
2. Affiliate partnerships
Affiliate programs are one of the most commonly used SaaS partner programs. In this model, your business partners with content creators, website owners, and agencies to market your product. 
But unlike resellers, who sell your software on their platforms, affiliates drive leads to your platform and encourage them to buy directly from you. 
Affiliate partners place a unique affiliate link on their website or other digital channels to direct their audience to your sales page.
They also create marketing content, like reviews and testimonials, in an effort to convince as many people as possible to buy (and increase their commission payouts).
 Every time a user clicks on the link and purchases your software, you reward the responsible affiliate with a cash commission. 
3. Referral partnerships
In a referral partnership, you select existing customers to refer your software to their friends, family, and others they've already developed a relationship with. 
Since referral partners are already customers who have used your software, they're well-equipped to share what makes you stand out. These recommendations are especially effective because of the high level of trust between connected peers. 
Referral partnerships tend to bring in fewer sales compared to other partnerships because of the select scope. But all of those leads are warm. Referrals are more likely to purchase from you, and more likely to stick with your software in the long run. (This is perfect if your SaaS is a subscription-based software.)
While very similar to customer referral programs, referral partnerships are more formal agreements with hand-picked partners, whereas a SaaS referral program lets any customer participate informally. 
4. Agent or broker partnerships 
Agents or brokers market to potential customers who are likely to purchase your software. They make meaningful connections with leads and direct them to your site, and you reward the responsible agent for every successful sale. 
Agents haven't necessarily used your products before, but are willing to help market your company in exchange for rewards. 
Like affiliates and referral partners, agents do not resell your products. They simply bring interested customers to your platform to make their final purchase.
5. Integration partnerships
An integration partnership is a strategic partnership with a non-competing software company whose products integrate with your own. The partner lists your product on its marketplace as a product that integrates with their own. For example, someone might list themselves and compatible products like Hubspot phone integration, or easy WordPress integration.
Like affiliates, integration partners place links to your website on their own pages, and earn rewards when anyone who comes from their site makes a purchase. However, their objective is far more purposeful than that of affiliates because they're promoting each of your SaaS products in tandem.
While some integration partnerships have monetary rewards attached to them, the real value in this partnership is the brand awareness and sales your SaaS companies concurrently bring to each other.  
SaaS partner program examples
Searching for inspiration as you build your own partner program? We've got you covered with these stellar partner program examples, one for each of the five program types we've highlighted above:
Drift's reseller program
Drift's Solutions Partner Program is their take on a value-added reseller setup. Partners customize and optimize Drift's conversational chat AI for the needs of their clients, and sell these versions on their own sites. 
What stands out most about this partner program? The many layers of support for partners have a trickle-down effect on the customers each partner attracts, and results in increased acquisition and retention for both Drift and its partners. 
For example, partners gain access to detailed sales resources, including an exclusive community where they can address questions to Drift and learn from other resellers. 
A dedicated channel account manager gives personalized help to each partner so they can drive more sales. And the opportunity to get Drift certified for free means partners are especially equipped to offer Drift support whenever customers need it.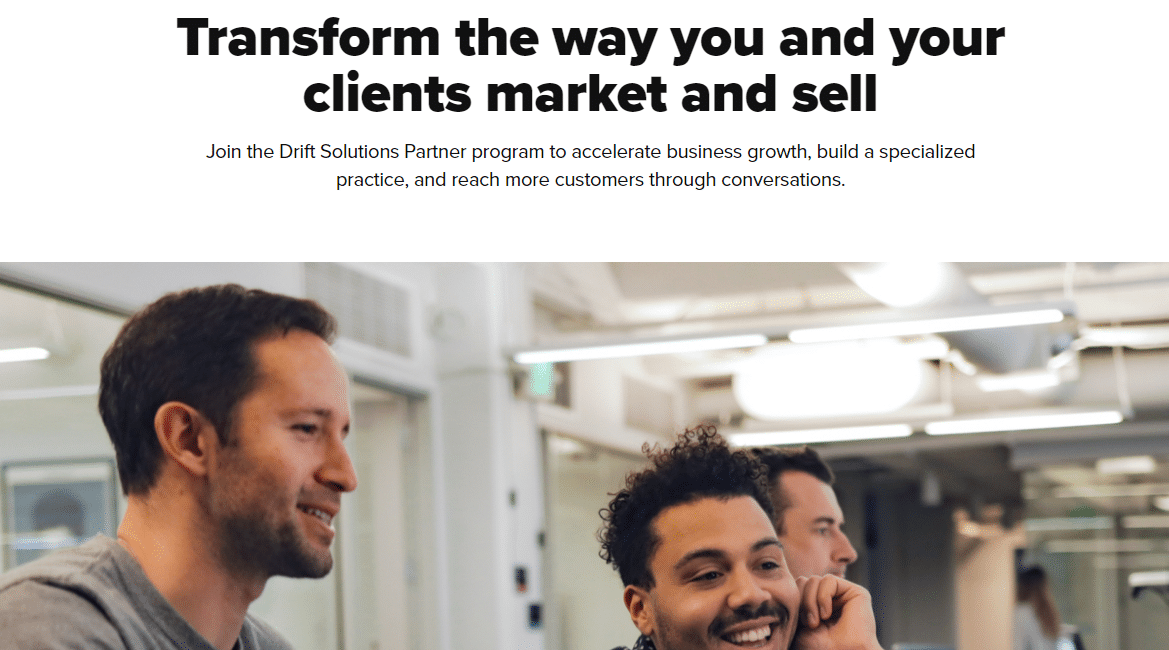 ActiveCampaign's affiliate program
Customer experience automation software ActiveCampaign knows how to run an effective affiliate program. The program's enticing commission starts at 20%, recur whenever referred subscribers renew, and can increase to 30% for subscriptions that are continuously renewed.  
ActiveCampaign offers plenty of promotional resources for affiliates to feature in their content, including graphics, videos, and even access to webinars, which increases their chances of getting sales.  
And thanks to their dedicated partner portal, it's easy for affiliates to access these resources, track sales, and reach out with any questions or concerns.
ActiveCampaign also provides quick-start tools and tips to help affiliates start earning commission as soon as possible.
Similar to the Drift program, ActiveCampaign partners have access to an exclusive online community, where they can help fellow affiliates and stay updated on ActiveCampaign news.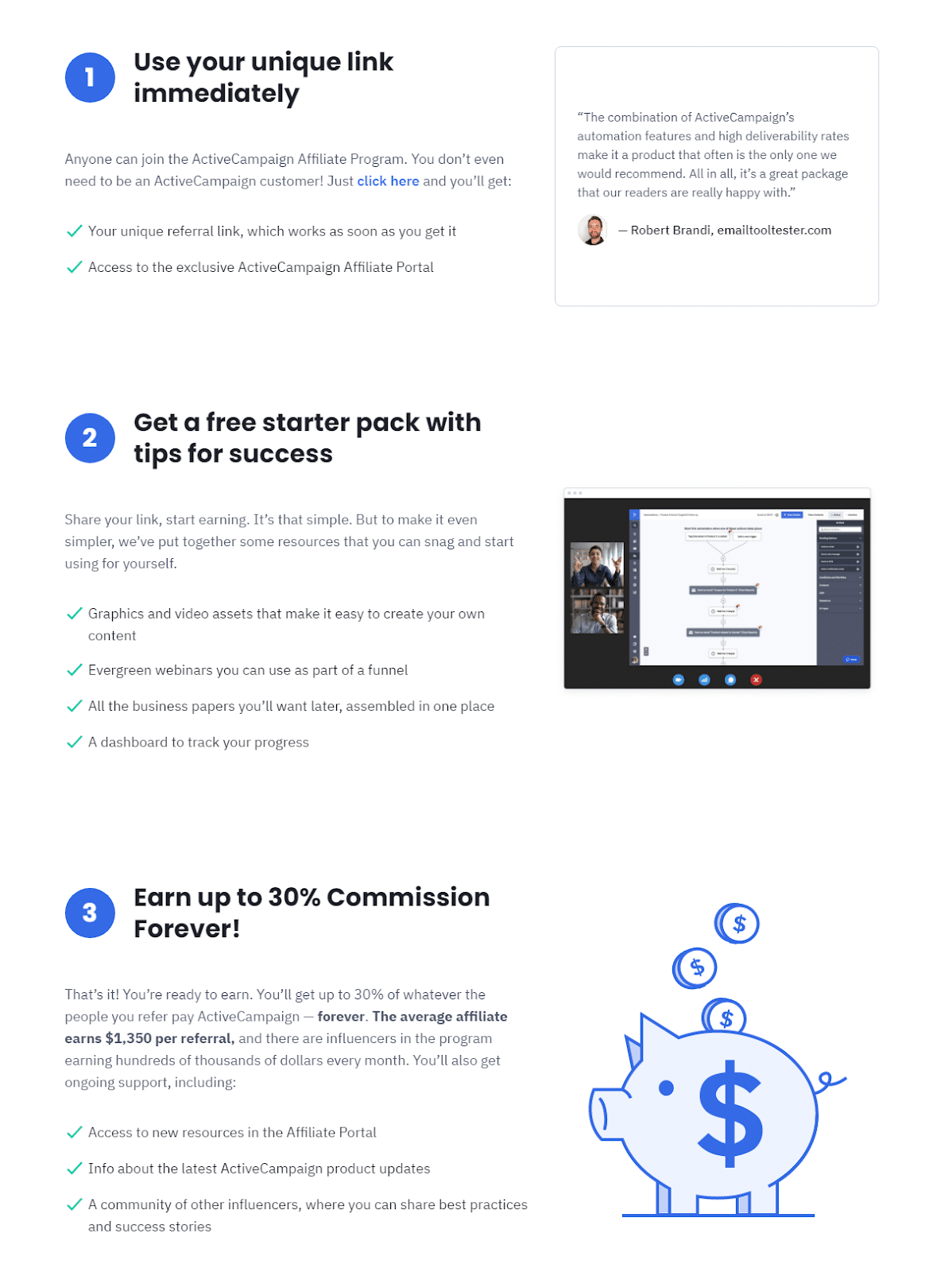 NetSuite's referral partner program
Instead of hosting a traditional referral program, NetSuite has chosen a more formalized approach where customers apply to promote NetSuite software as referral partners. These partners identify companies that they've developed relationships with, who might benefit from Netsuite's CRM or enterprise resource planning software.
When partners make successful referrals, they receive a referral commission of 10% of the new customer's first year license payment. Partners are equipped to advocate for NetSuite in the long term, thanks to exclusive access to  new releases, brand developments, co-branded promotional materials, and webinars. 
NetSuite's referral partnership program exists alongside several other types of partner programs, including reseller and agency partnerships.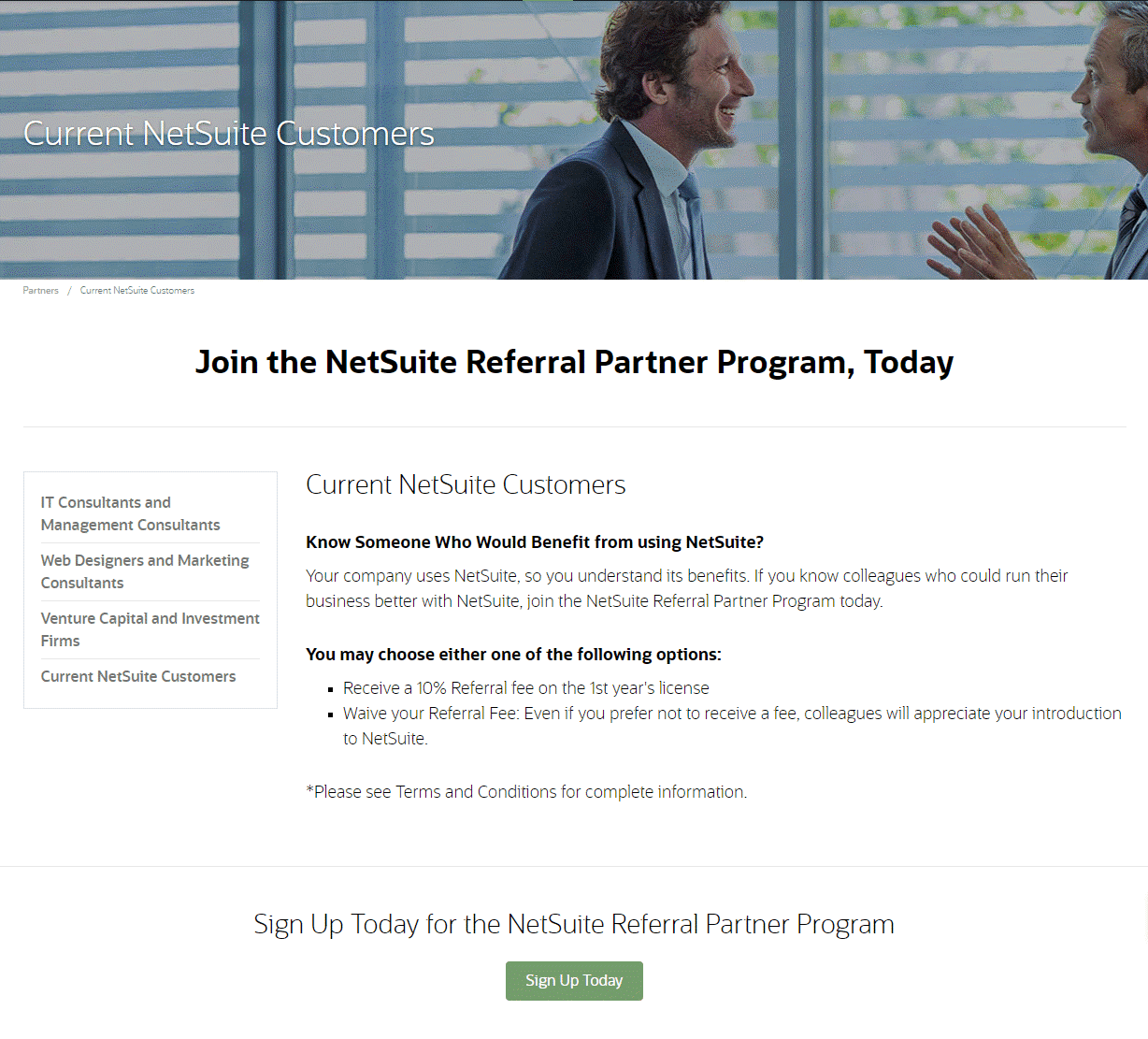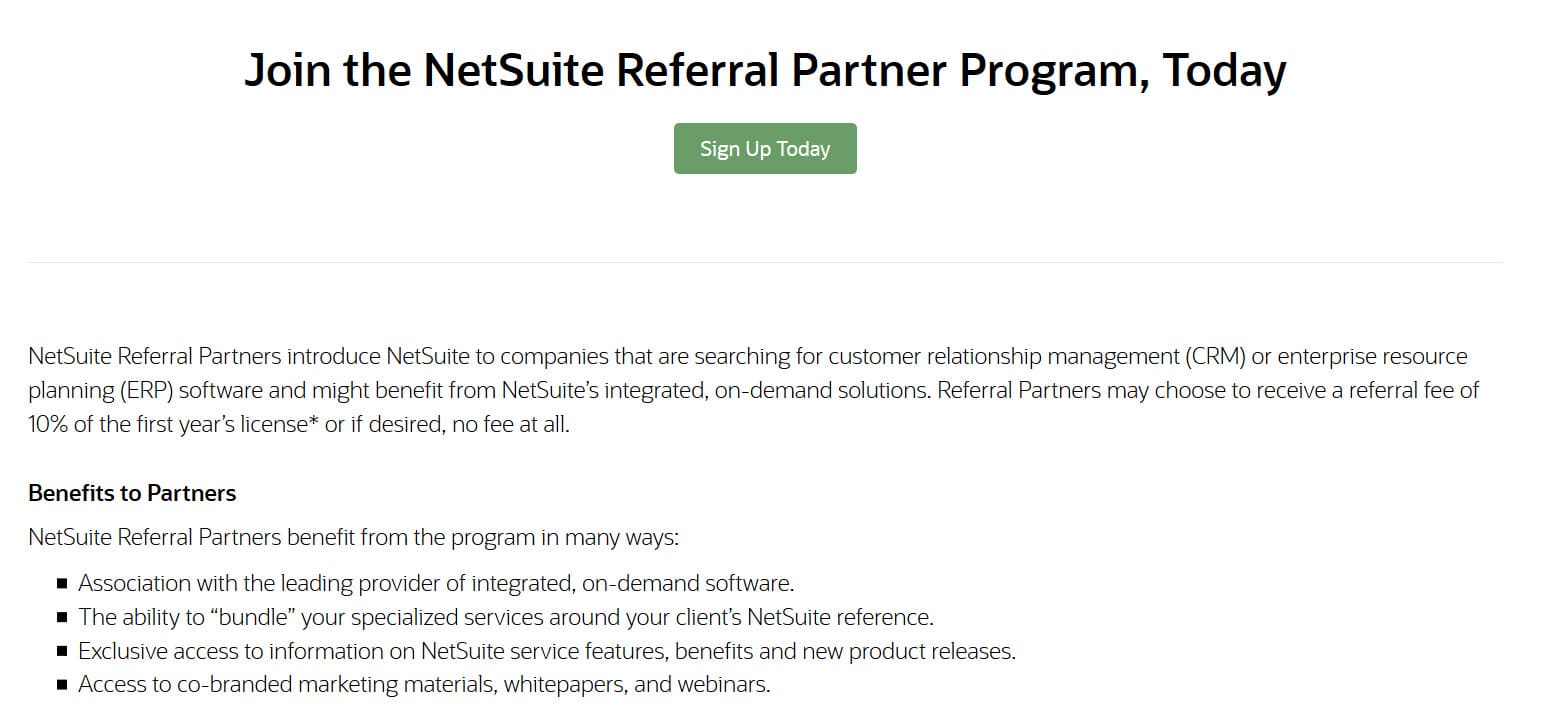 Cloudways's agency partnerships
Website hosting platform Cloudways built its agency partner program using a tiered structure. 
As agents and their clients spend more on hosting, the agents gain more and more partnership benefits. This includes priority for client support, a dedicated partnership manager, one-on-one training sessions, onboarding discounts for clients, better co-marketing opportunities, commission bonuses, and early access to features. 
All agents are equipped for success via a detailed partnership guide, learning materials, and in-depth trainings.