According to Statista, affiliate marketing spending has likely reached a staggering $8.2 billion in the US alone. And a large part of affiliate marketing campaign spending is driven by the ecommerce sector. 
An ecommerce affiliate program is a great way for your ecommerce store to generate revenue and grow your customer base. But figuring out how to start one can be overwhelming. Don't worry – we've got your back.
Today, we'll:
Define ecommerce affiliate marketing
Cover the benefits of an ecommerce affiliate program
Explain how to tell if you're ready for one
Break down best practices for ecommerce affiliate marketing programs 
Let's dive in!
What is ecommerce affiliate marketing? 
In ecommerce affiliate marketing, your online store partners with content creators and entrepreneurs (bloggers, vloggers, and social media influencers) who have similar audiences to yours. These affiliates will promote your products on their own channels.
Affiliate partners will link to your products (affiliate links) within their content—such as articles, videos, product reviews, or blog posts. When consumers click an affiliate link, head to your landing page or product page, and purchase an affiliate-backed product, you pay that affiliate a commission on the sale.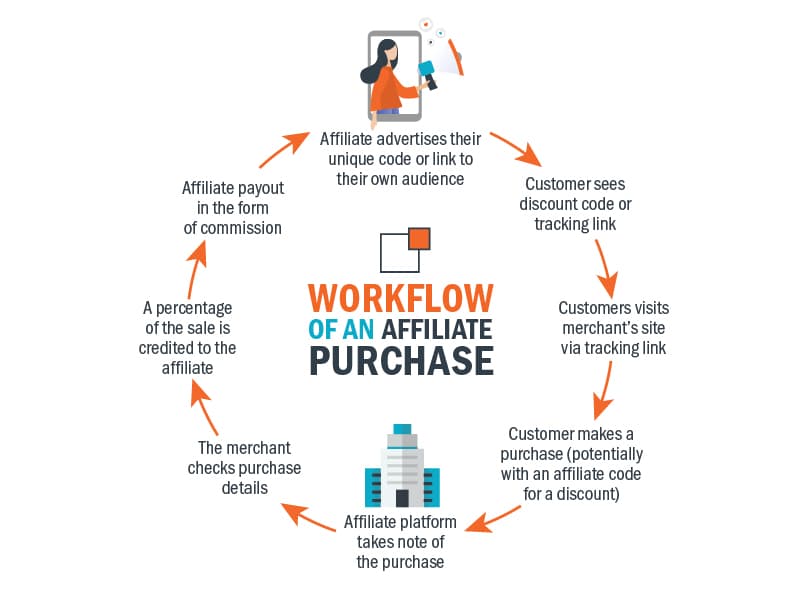 Does ecommerce affiliate marketing work?
Affiliate marketing works well for many industries, but ecommerce businesses have seen the most success with this digital marketing strategy:
16% of global ecommerce sales come from affiliate marketing
The estimated global worth of affiliate marketing is over $12 billion
8 in 10 brands run affiliate programs, and many of those are ecommerce
40% of online retailers said that affiliate marketing is their top customer acquisition channel
Affiliate marketing spending has grown by about 10% year-over-year
Affiliate marketing will soon drive more conversions than email marketing 
The most popular industries for affiliate marketing are fashion ecommerce (23%), sports and outdoor ecommerce (18%), and beauty/health ecommerce (14%)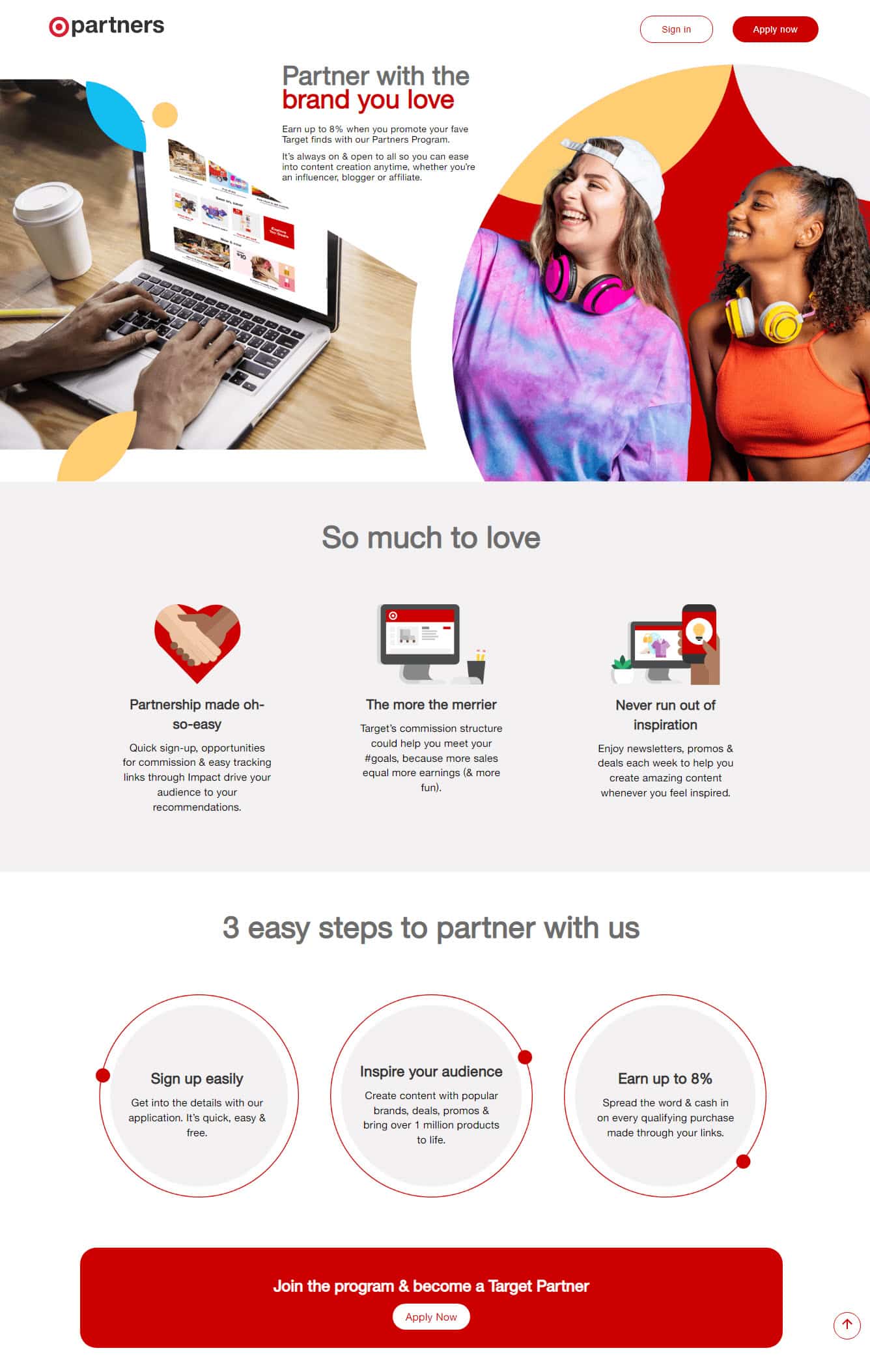 The Target Partner Program (affiliate program).
Benefits of ecommerce affiliate programs 
As you've seen from the statistics above, ecommerce affiliate marketing can deliver impressive results. An affiliate program can skyrocket your sales when used correctly. 
Here are the main benefits of ecommerce affiliate programs: 
Affiliates have already built up a large, targeted audience for your ecommerce website – and their audience matches your own. So, they'll help you build brand awareness, which is especially helpful if you're still making a name for yourself.
Affiliate content includes genuine insights into the value of your products or services. They share their own experiences through reviews and posts, so audiences can see what makes your products remarkable. 
Affiliates' audiences trust what affiliates say about your products. So, they're more likely to click on an affiliate link and make a purchase. They're more inclined to believe the affiliates than ads that come straight from your business. 
Affiliate marketing is a cost-effective way to market your business, compared to PPC (search engine ads). You'll only need to pay for the software and the commissions. 
Affiliate marketing is low-risk. After paying once for affiliate software, you'll only pay when affiliates make sales. It's a performance-based marketing strategy, where you won't spend anything on affiliates upfront. Rather, you'll always know you've received real results before giving out commissions.
Affiliate software automatically tracks sales and ROI. This way, you'll have real-time visibility into the impact of your affiliate program. 
Affiliates lead to increased traffic, warm and meaningful leads, and new customers. So, if you're ready for an affiliate program, don't miss out!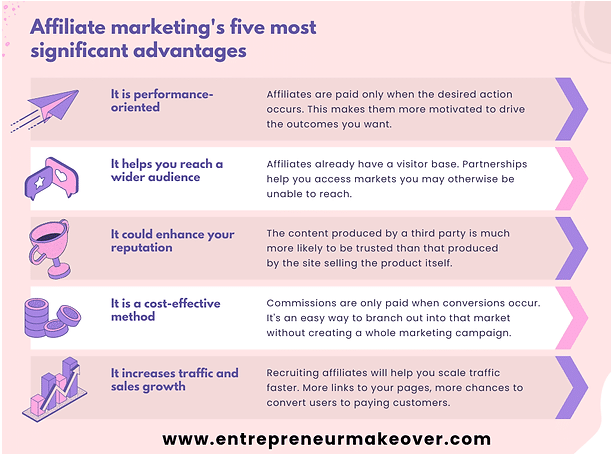 Are you ready for an ecommerce affiliate program?
Even though affiliate marketing is an ecommerce marketing mainstay, not every ecommerce site is ready for an affiliate program. You'll need to meet these conditions before you start ecommerce affiliate marketing:
Make sure you're okay with paying cash commissions on every sale 
Know your profit margins (how much you can afford to spend on commissions)
Find good-fit content creators with audiences that match your business' audience

It helps if some content creators have already used the product/service and have talked about why they love it in their content

Verify that your product or service appeals to a fairly wide audience
Pro tip: Don't feel ready for an affiliate program yet? Consider starting a referral program.    Referral programs encourage your customers to recommend you to the people they know. 
You'll still only pay out rewards when referred friends make purchases, but you have more reward options (you can give out non-cash incentives). 
If you want to start an ecommerce referral program, our dedicated guide covers everything you need. 
Ecommerce affiliate program best practices 
Have you determined that an ecommerce affiliate program is right for you? Now that you've seen the benefits of affiliate programs, it's time to take action. Follow the best practices below to start the most successful ecommerce affiliate program:
1. Run a competitive analysis 
To establish a successful ecommerce program, it's important to understand how your competitors are doing. You want to see what they're doing well and where they fall short. 
Start by examining close competitors' affiliate programs. Find at least two companies that offer similar products (or cater to the same audience as your brand) and that already run affiliate programs. Then, analyze their programs' strengths and weaknesses, the opportunities for improvement that you can take advantage of, and the threats they may pose to your own program. This is known as a SWOT analysis.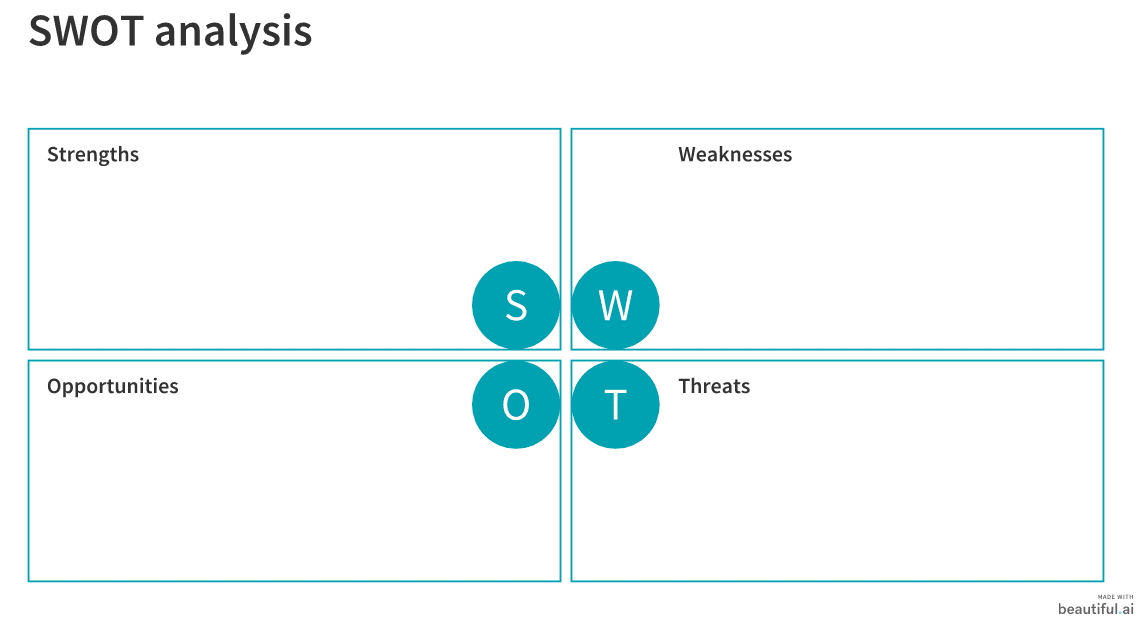 Next, study how competitors structure their commissions, including the length of time an affiliate is eligible to earn a commission after someone clicks on their link, and how long affiliates must wait for commission payouts. Also, review their program terms and conditions, and if possible, check how they find affiliates, train them, and communicate with them. 
A competitive analysis will help you figure out what your own program needs to have for it to be successful. 
2. Set program goals 
When you're establishing your affiliate program, you'll first need to set goals. These are the foundation of your program, and will help you measure whether your marketing efforts are successful. 
Your goals should be SMART: specific, measurable, attainable, relevant, and time-bound.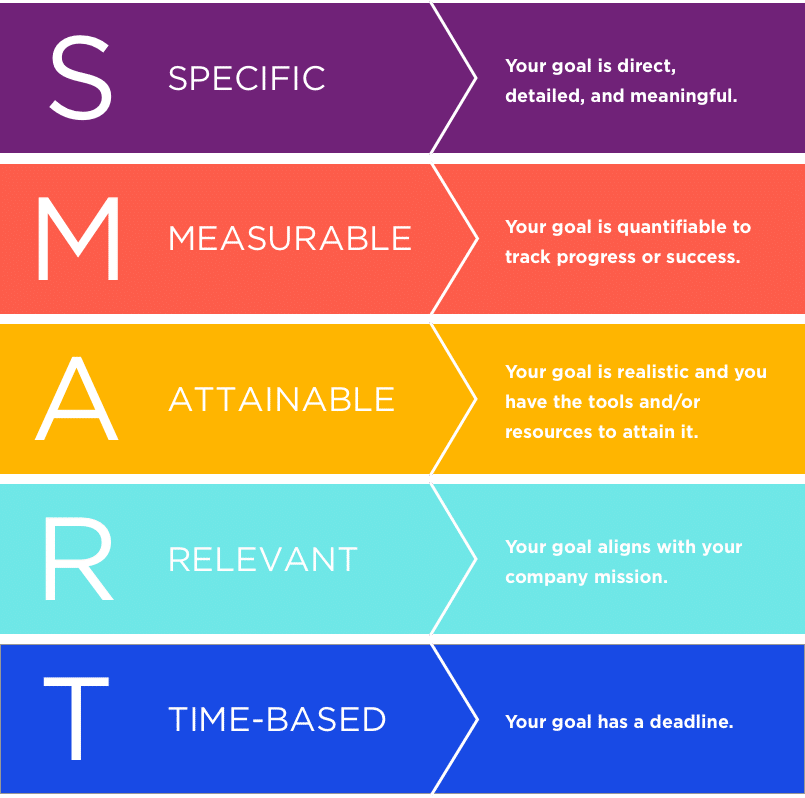 Your affiliate program goals could include: 
Ideal conversion rate per quarter or per year (percentage of people who purchase after clicking affiliate links) 
Revenue generated by affiliates per quarter or per year
Average order value (AOV) per quarter or per year 
New affiliate sales generated during a specific period 
Setting goals like these gives affiliates more clarity on what they're working towards, and helps both you and your affiliates focus on achieving those results in real-time. 
3. Set commissions strategically 
A motivating commission structure incentivizes affiliates to drive the most sales possible for your business. However, you must be able to afford to pay your commission out consistently – for every affiliate sale – without hurting your bottom line.
Your commission must be in cash, or an equivalent to cash (think PayPal or a Visa gift card) to be attractive to affiliates. But you can choose to pay either a flat commission fee on every order, or a set percentage commission on each sale.
You'll also need to decide on a tracking cookie length. This defines the number of days that affiliates are eligible to receive commissions on a successful sale, starting right after someone clicks their affiliate link. Longer tracking cookie lengths tend to be more appealing to affiliates.
Competitors' affiliate commissions and cookie lengths should also serve as a benchmark for setting your own – an affiliate won't want to join your program if you offer a 10% commission and a similar company pays out 20%. 
Also, only pay commission when a sale is made. Do not pay for clicks, traffic, or leads, as this only makes it easier for unethical affiliates to game the system.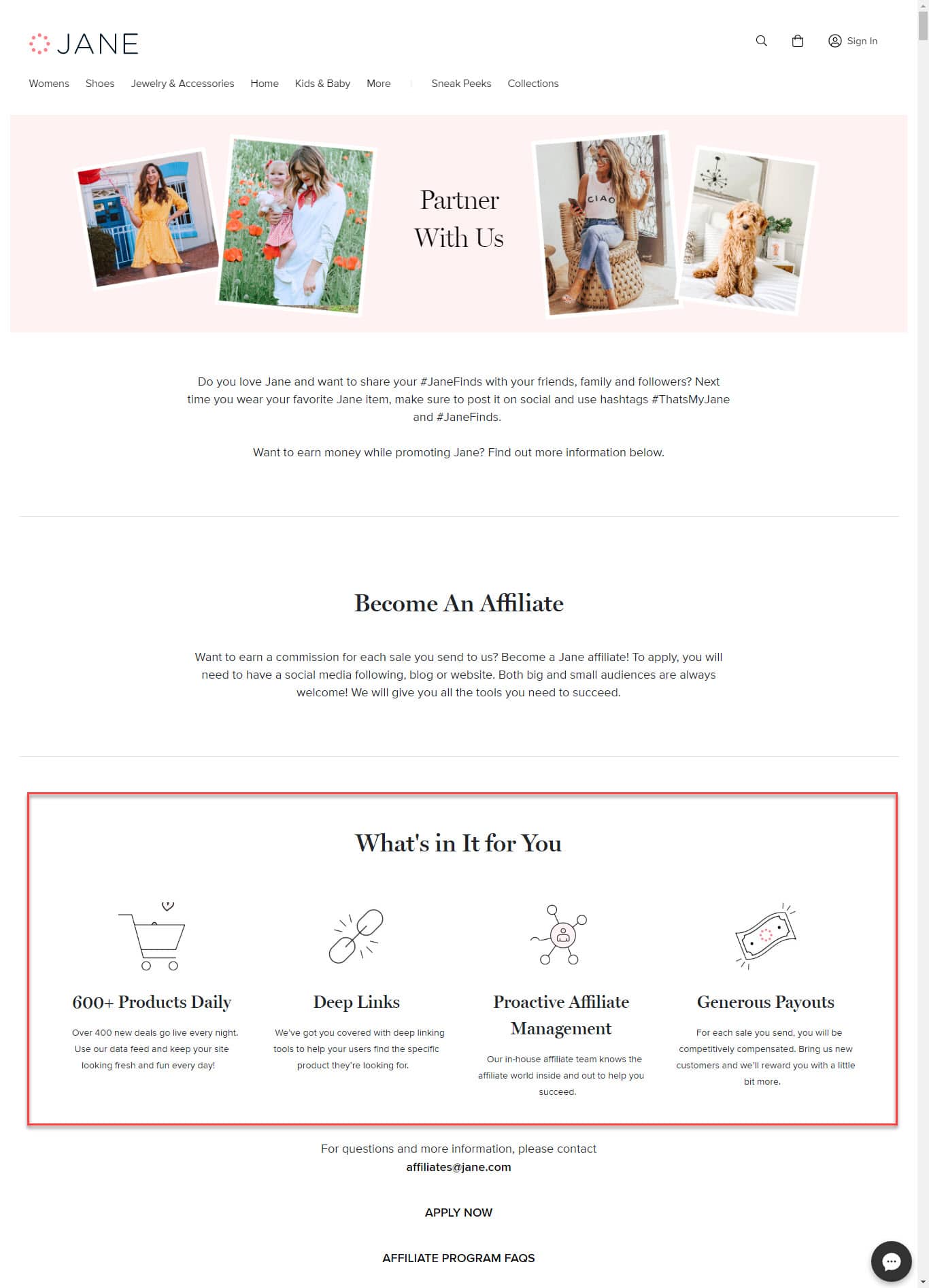 The Jane affiliate program showcases benefits for affiliates, including competitive commissions. 
4. Decide what products you want affiliates to promote 
One of the most common mistakes people make when launching an affiliate program is not having a clear idea of what they want their affiliates to sell. 
While you may allow affiliates to promote any of your products, it's best to encourage them to promote the items that usually yield the highest average order value (AOV). If you offer percentage commissions, your high-AOV products will earn affiliates a higher commission payout. 
You might also encourage affiliates to promote your most popular products – the best-converting items – or the product categories that best fit with a given affiliate's audience. 
If you give affiliates a choice in which products to promote, it still helps to let affiliates know the exact products that bring in more conversions and higher AOV. 
Pro tip: If you've just launched new products, you might also build momentum by having affiliates promote these latest offerings.
5. Avoid existing affiliate networks
You might think that existing affiliate networks will make things easier for your ecommerce business, as these networks will find affiliates for you. But that's the only real advantage of affiliate networks – networks have far more drawbacks than benefits. 
With a network, you don't control the relationship with your affiliates
Affiliates belong to the network, not your brand, so it's hard to foster connections with them. And since the network also owns all of your affiliate data, you can't access your own affiliate metrics or use them to the fullest. 
You're forced to compete with other brands for the same affiliates
Affiliates can sort through all the brands who are using the affiliate network, and compare many different affiliate programs side by side before choosing the most lucrative ones. If you're a smaller brand that can't pay out as much in commissions, it will be hard to compete with the brands who can offer more. 
Affiliate networks won't keep your affiliates engaged
The affiliate networks actually stand to earn more if an affiliate joins lots of programs on their network. So, they derive no benefit from motivating affiliates to sell more of your products.
Most importantly, affiliate networks are expensive
Networks take their own additional cut of your sales – plus sometimes charge even more in extra fees – on top of the commission you're paying affiliates. Some networks charge as much as 30% of all the sales you make through them. 
6. Set up your program with affiliate software
Affiliate software (also called an affiliate platform) is a much better way to manage your affiliates, without all the drawbacks of affiliate networks. This valuable marketing tool will track affiliate sales, and help you compensate affiliates automatically.
With affiliate software, you'll control your data and how you run your affiliate program – you can set the commission structure you want, fully brand the program to your needs, and access all the metrics you need to refine your program. 
Plus, software makes it easier to engage affiliates, especially since your program won't be positioned alongside competing programs. You can personally reach out to affiliates (and build stronger relationships as a result), instead of relying on a third party to pass messages back and forth. In fact, leading affiliate software programs, like Referral Rock, will help you automate affiliate engagement and keep affiliates motivated. 
And software costs much less than signing up for an affiliate network. Pay once for the software, then only pay commissions to your affiliates, without a middleman taking a cut. Running an ecommerce affiliate program with software means that your program will be more profitable in t