Have you ever purchased a product online because a friend told you they couldn't live without it?  If so, you've seen the foundational reason why ecommerce referral programs work so well. Customers almost always look to others before deciding what to purchase.
Ecommerce referral programs are one of the best and most cost-effective ways to gather leads and increase your customer base. According to Nielsen, 84% of customers trust recommendations from people they know more than any other form of advertising. People rely on social proof to learn more about why they should choose a specific product or company over another.  
In this article, we dive into how an ecommerce referral program can benefit your online store by generating leads and increasing sales. We take a look at:
What ecommerce referral programs are
The benefits this marketing strategy can offer your business
What to do before you start an ecommerce referral marketing program
How other ecommerce businesses have used referral programs to great success
What are ecommerce referral programs?
An ecommerce referral program invites your customers to refer friends and family to your online business in exchange for some type of referral reward. These programs are streamlined and automated so you don't have to do a ton of work to launch and run them – a simple referral code entered online is enough to track all new sales and reward the existing and/or new customer.
In an ecommerce referral program, you offer your customer an incentive like a cash reward, a coupon, a discount, a free benefit or service, or a gift card if they refer new customers to your business. 
For them to start referring others, you should also provide them with a unique link or code they can send to friends and family. This makes it easy for them to spread the word and for you to track your conversion rate. 
When you use referral software, all new leads and customers are automatically counted and tracked through that referral link. This makes it super easy to see if your referral program is effective and gauge how many people are coming to your site because of a referral. 
What are the benefits of an ecommerce referral programs?
There are many benefits of ecommerce referral programs. Not only will you see more sales, you'll also find your business is growing its base of loyal and dedicated customers in the long run. 
Let's take a look at some of the main benefits referral marketing programs offer ecommerce businesses.
Referral programs leverage social proof and trust. As mentioned above, a huge majority of consumers read reviews and/or talk to friends before deciding to purchase a product or service. If someone hears about your company from a trusted friend, they're much more likely to buy with confidence. 
They increase brand awareness. When you offer a bonus to customers who refer you, those customers will be more motivated to do so. They'll tell their friends and family and may even share on social media to reach a wider audience. The result? Your products and services will get out there and more people will know about your brand in a positive light.
They are more cost-effective than other advertising techniques. Ads and other campaigns will cost you money and come without guaranteed results. Referral programs, on the other hand, are inexpensive and much more likely to get results. After all, you're spending your time and money on customers you already have.
They are low-risk. You have to purchase a referral software to begin, but as soon as you have one in place, the only payment made is when someone makes a purchase. You're not paying anything if you're not getting results.
They create customer loyalty. Thanks to social proof, referred friends aren't just more likely to make a purchase – they're also 18% more likely to remain a customer in years to come and make repeat purchases.
They have the potential for viral growth. When one customer refers a friend to your company, that friend may also be inclined to share with their friends as well. Ultimately, this valuable word-of-mouth marketing can have an exponential growth effect for your business.
They are easy to track. By attaching some simple KPIs, like how many orders are placed, how many customers are referred, how much money you make on referred orders, etc., you can easily track how well your referral program is working.
As you can see, there are many benefits to referral programs. So, let's take a look at how to effectively prepare for and create a great ecommerce small business referral program, starting with inspiration from companies that have excelled.
Ecommerce referral program examples
There are thousands of ecommerce companies out there who have succeeded at bringing in lots of customers through referral programs. Let's take a look at a few of those companies and what they did right.
Outdoor Voices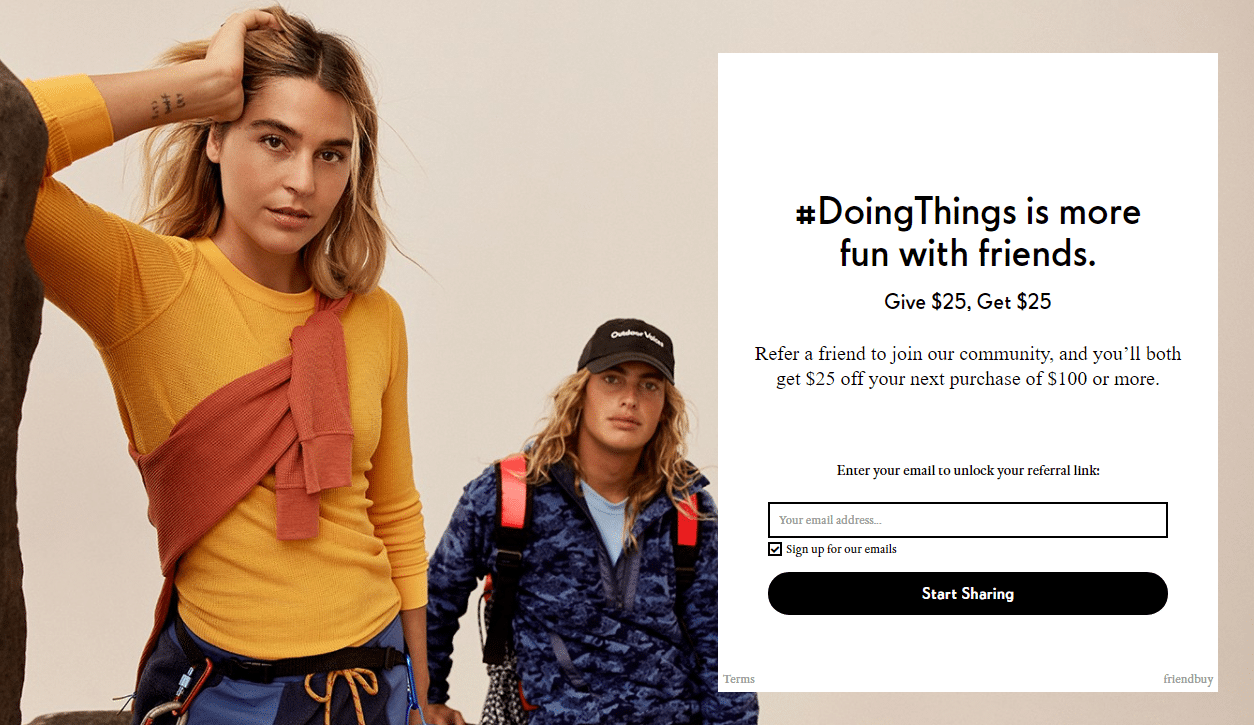 Outdoor Voices offers a discount reward for customers who refer a friend. They use their hashtag #DoingThings to promote their brand and offer a $25 discount to both the referring customer and the referred customer on their next purchase. In their program, they incentivize their customers to invite friends who will love the company's products by offering a great discount to both parties. 
Customers simply enter their email, and they'll get a referral link that they can share with friends in any way they choose. Outdoor Voices makes the process simple, rewarding, and effective. 
Casper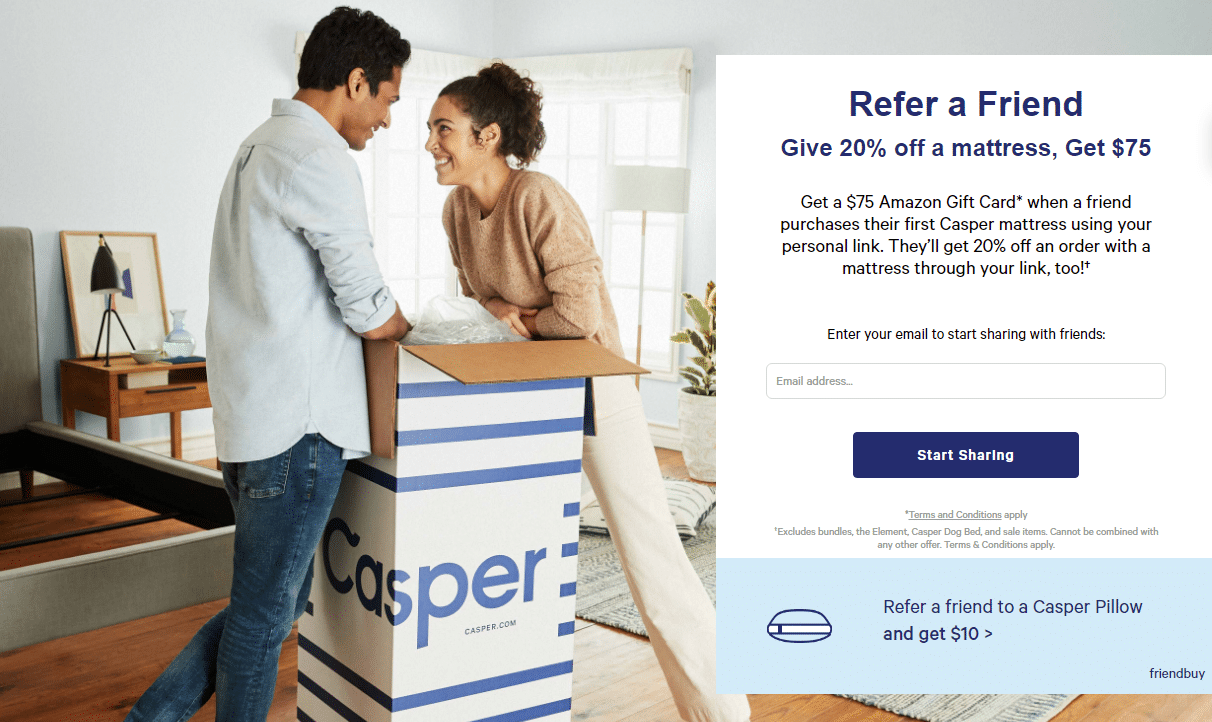 Casper's referral program invites customers to give before they get, making them feel good about their generosity and excited about their reward. Casper gives new customers a 20% discount on mattresses, while existing customers can earn a $75 gift card for their referral. In this way, the company promotes its brand value and encourages connection among their customers. 
By simply entering their email address, customers get a unique link to share with friends and family. They even provide a link to a second referral option (earning $10 for a referral of a different product) on the same page to encourage more sharing options for their customers. 
Omsom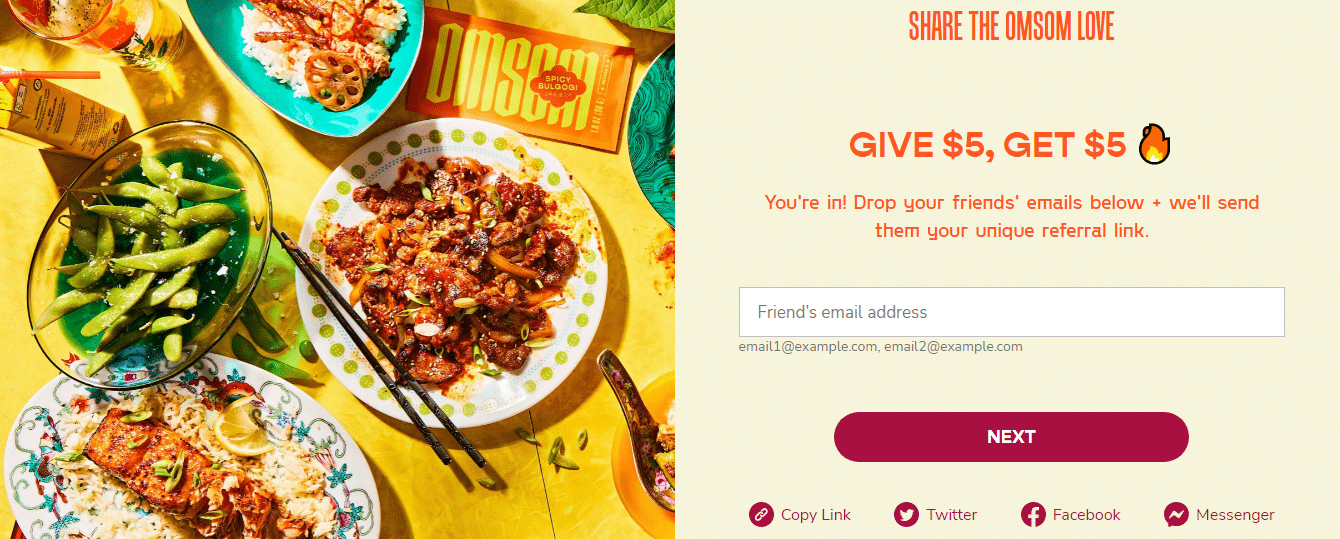 Omsom offers a similar incentive by offering customers a "Give $5, Get $5" reward. Customers simply enter their email address, refer as many friends as they want, and get $5 for each referral. All their friends get $5 off too! 
This simple referral program invites customers to share Omsom with people who will love their products and be excited by a discount on their first purchase. With a headline that says "Share the Omsom Love," the brand is maintaining its identity as a friendly, inclusive, and customer-focused company. 
Omsom also makes their referral link easy to find by placing it right in the footer menu of their website. This easy access encourages customers to view and use the referral program link.
Lokai

Lokai follows the successful pattern of giving out an identical, double-sided reward to both a referrer and their friend. But instead of store credit, they offer 20% off of an order. This is a significant discount, and one that likely convinces many customers to share, since Lokai very rarely offers other coupons or sales.
Using a pop-up, the brand smartly advertises its referral program right after someone purchases a Lokai bracelet – in other words, when the brand is top-of-mind, Lokai presents an opportunity to save money on their next order by thinking of a friend. That's not the only place Lokai promotes its program, though. The referral program page is easy to find in the bottom menu, as well as via a callout featured on other pages on the brand website. 
Hydro Flask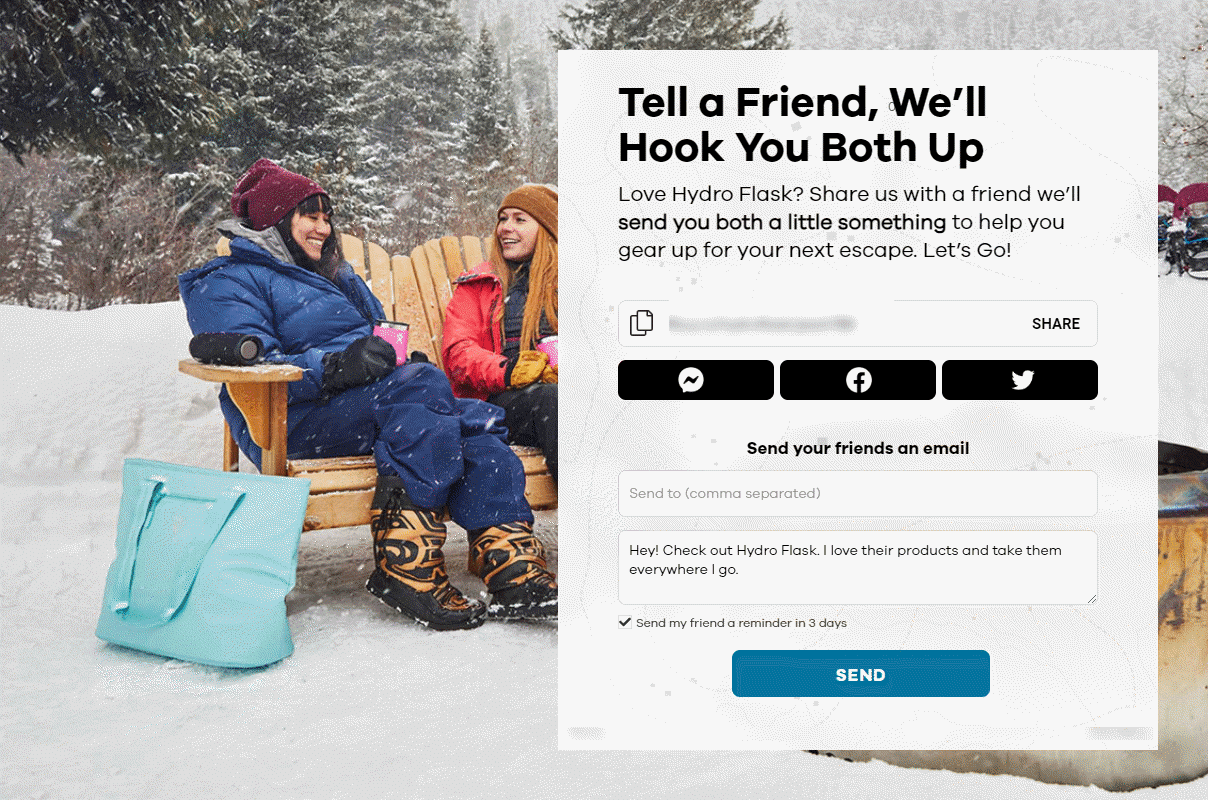 Hydro Flask takes an interesting approach to its referral program reward. Customers can tell that, when a friend they refer makes their first purchase, both they and their friend will receive "a little something" related to Hydro Flask. But what that reward is remains a mystery, so it entices customers to share and find out. (We've heard that the reward is a valuable discount on a Hydro Flask purchase, but we don't know for sure!)
To refer their friends, all customers need to do is enter their email address, then choose between multiple convenient options for sharing: email, Facebook, Twitter, Messenger, or a click-to-copy referral link. We also appreciate that customers can write their own message to their friends, but can also opt for a prefilled message to save time. 
What to do before starting an ecommerce referral program?
Think you're ready to start an ecommerce referral program? Don't dive in just yet. For the highest-performing referral program, make sure the following factors are in place first:
A well-loved product or service: No customer is going to recommend a bad company, no matter how great the referral incentive. Provide your customers with quality products and great customer service before asking for any referrals. Once they know you're a great brand, they'll be happy to share you with their friends because they believe you offer quality products to every customer.
Happy customers who are willing to promote you: You can check this by going online to see if your brand is being mentioned in comments, reviews, social media posts. You can also use NPS surveys to see which customers are most willing to promote you. And if you hear from new customers that they were referred by a friend, then it's definitely time to consider starting an official referral program.
Strong knowledge of current customers: What do they love about your brand and services? Why would they be willing to share you? Learn more by sending surveys or talking to customers in person. When you know what motivates them, you can better determine how to attract more people with the same kinds of value and benefits.
Knowledge of your ideal new customers: Likely, they're not very different from your current customers, which is why referrals work so well. Your customers will know who in their network will want and actually use your services, so you're almost guaranteed to get more valuable customers by encouraging customer referrals. 
Once you have all these in place, you can start your referral marketing campaign. 
How do I set up an ecommerce referral program?
To create an effective ecommerce referral program that gets results, there are a few essentials to keep in mind. For example, you should provide a desirable reward and offer customers plenty of options to engage with their friends. 
Let's take a look at  how you can set up a high-performing ecommerce referral program, inspired by nine key elements that the most successful referral programs have in common.
1. Pick motivating and brand-centered rewards
People won't refer others if they don't want the reward you're offering. Aside from choosing attractive rewards, it's best to choose ones that help promote your brand.
Rewa