Last Updated on
23

minutes to read
Here at Referral Rock, we've been talking a lot about brand awareness and reputation management which is exactly why we wanted to write up a brand mention tool article. There are plenty of different ways people track their brand awareness and manage their reputation. The easiest way, and the most common way, however, is through marketing automation tools that keep track of your mentions and reach. These tools are known as brand mention tools (or social listening tools).
Today, we'll cover the benefits of brand mention tools, alternatives to these tools that help with similar strategies, how to evaluate brand mention tools, and a comprehensive breakdown of brand mention tools to consider.
Benefits of Brand Mention Tools
Anything anyone says about a brand online—that doesn't come directly from the brand itself—counts as a brand mention.
Even the most well-known brands work on getting others to think and talk about them positively. In other words, they focus on generating positive brand mentions.
Why does tracking brand mentions, with brand mention tools, matter so much?
Brand mention tools are a vital part of developing a brand awareness strategy and reputation management strategy.
If a brand isn't paying attention to what people are saying online— brand mentions— and fueling the fire, so to speak, they wouldn't know how to consistently deliver what people want. What positive elements do your customers love, and what elements do they think you should improve? Brand mentions will give you the inside scoop.
It's also vital to be able to gauge the sentiment about your brand: How do people feel about your products and services?
You'll want to catch the glowing mentions as they happen, so you can thank the people behind them and repurpose them into user-generated content.
And when you catch negative brand mentions (negative or untrue sentiments about your brand), you'll want to act quickly to make things right, so the negativity does not spread.
Key Features of Brand Mention Software
Brand mention software helps any company monitor how wide the word about their brand has spread, and where their brand stands in the competitive landscape.
Let's break down the main features of brand mention software:
Track mentions of your brand, and other relevant keywords, in real-time. This means you'll be alerted whenever someone mentions your brand name, exactly when it happens, anywhere on the internet.
Track what people are saying about your competitors, so you can better position your brand and capitalize on where your competitors fall
Track mentions of keywords relevant to your brand, so you can enter the right conversations.
Analyze how your brand is performing online based on your mentions data.
Monitor your brand's reach and how people are engaging with your brand.
Brand Mention Tools: The Comprehensive List
Below, we've compiled our list of tools to consider using for measuring and tracking your brand mentions. Examine their features and price points carefully, to be sure you get what your brand really needs.
The Evaluation Criteria
| | |
| --- | --- |
| Evaluation Criteria | Description |
| Industries | What type or types of businesses is the software best for? |
| Price | How much does the software cost? Must you commit for a whole year, or is monthly pricing available? |
| Free trial or demo? | Does the company let you try out the software for free? For how long? Or, do they offer a longer-term free plan with limited features? |
| Review Score | How do people who have used the brand mention tool rate their experience? This aggregated score, out of 5 stars, is the average of reviews from two popular software review sites. We've also included the number of people who reviewed the tool. |
| Networks best suited for | Is the software a comprehensive brand mention tool, covering mentions throughout the web equally? Or does it specialize in monitoring mentions on a select few social networks? |
| Top 3 Features | What features make this brand mention tool stand out? |
The Tools
| Tool | Price | Demo Available | Platforms | Review Score |
| --- | --- | --- | --- | --- |
| Iconosquare | $29 and up | No | Instagram, Facebook | 4.3 (111 reviews) |
| Brandwatch | Request pricing | Yes | All | 4.1 (267 reviews) |
| Snaplytics | Request pricing | Yes | Snapchat, Instagram | n/a |
| BuzzSumo | $79 and up | No | All | 4.5 (187 reviews) |
| SproutSocial | $99 and up | Yes | All | 4.35 (1699 reviews) |
| Best Company | Free | No | All | n/a |
| Netvibes | Free and up | No | All | 4.15 (14 reviews) |
| Mention | $29 and up | Yes | All | 4.6 (671 reviews) |
| Buffer Reply | $50 and up | Yes | Twitter, Facebook, Instagram | 4.35 (15 reviews) |
| Brand24 | $49 and up | No | All | 4.7 (313 reviews) |
| Mediatoolkit | $58 | No | All | 4.9 (37 reviews) |
| Mentionlytics | $29 and up | Yes | Twitter, Facebook, Instagram, YouTube | 4.9 (31 reviews) |
| Awario | $29 and up | Yes | All | 4.3 (67 reviews) |
| Hootsuite | $29 and up | Yes | All | 4.25 (5278 reviews) |
| Keyhole | $179 and up | Yes | Twitter, Instagram, Facebook, YouTube | 4.2 (52 reviews) |
| Socialbakers | Request pricing | Yes | All | 4.1 (110 reviews) |
Iconosquare

"Simplify your social media management"
Iconosquare is a powerful Instagram analytics and social media management tool.
It allows you to grow your social presence by using best-in-class analytics, manage multiple social profiles, monitor brand mentions, share your performance with quick and easy reporting, plan and schedule your content in advance, and much more.
Founded in 2011, Iconosquare is the pioneer in the Instagram analytics field and has been an official Instagram partner since 2016. It currently lists over 25,000 clients, from such brands as National Geographic, L'Oreal, Hilton, H&M, among others. If you're looking to track your brand mentions, you'll want to check out their monitoring features. 
| | | | | |
| --- | --- | --- | --- | --- |
| Industries | Price | Free trial or demo? | Review Score | Network Best Suited For |
| Small businesses, social media agencies, enterprises | Starting at $29/month | 14-day free trial | 4.3 (111 reviews) | Instagram, Facebook |
Top 3 features
1. Best analytics out there. By providing detailed insights on content performance and audience engagement, Iconosquare can help you grow your social media presence, benchmark yourself against competitors, track the effectiveness of the hashtags used to increase your reach rates, and more. The Scheduler feature will also help you find the most optimal time to post on Instagram.
2. Monitoring. Listen to and instantly respond to your audience's mentions with Conversations, track all your photo, caption and comment tags in one place, and compare your brand to competitors by monitoring multiple competing accounts.
3. Performance reporting. Branded PDF reports on your account's performance, produced with a click of a button! Send them regularly to your inbox and share directly with your clients.
---
Brandwatch

"Monitor 95 million online sources to see what people are saying about your brand—and take action."
Brandwatch is the world's enterprise social intelligence leader, empowering over 2,000 of the planet's most admired brands and agencies including Unilever, Walmart, and Dell to make insightful, data-driven business decisions.
The company has made two acquisitions to date: PeerIndex (2013) and BuzzSumo (2017) as a standalone content marketing platform and was bolstered by its merger (2018) with Crimson Hexagon.
| | | | | |
| --- | --- | --- | --- | --- |
| Industries | Price | Free trial or demo? | Review Score | Network Best Suited For |
| All | Request pricing | Demo available | 4.1 (267 reviews) | All, but particularly Twitter |
Top 3 features
1. Brandwatch's Analytics product surfaces business-critical insights within millions of online conversations
2. Brandwatch Audiences optimizes targeted influencer, content and paid social campaigns.
3. The Vizia platform broadcasts insights to decision-makers throughout entire organizations.
---
Snaplytics
"Optimized story marketing for all"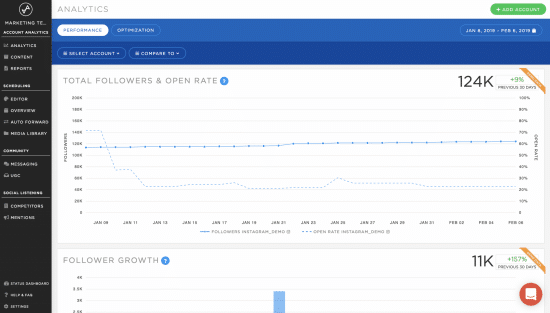 Snaplytics started out as an analytics tool dedicated to Snapchat in 2015. Today, it continues to evolve into a full-service suite that enables marketers to create and manage vertical stories on the web.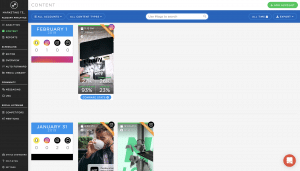 As stories reach other social media platforms. Snaplytics have since expanded to cover Instagram, providing our users with actionable insights to develop their social media and influencer strategy.
The team is composed of passionate individuals, working non-stop to develop the tool to adapt to our clients' needs and industry trends.
Coming right up is a set of social listening features that would be the first to allow brands to measure their share of voice.
| | | | | |
| --- | --- | --- | --- | --- |
| Industries | Price | Free trial or demo? | Review Score | Network Best Suited For |
| Variety of B2Bs and B2Cs, including educational institutions | Request pricing | Demo and 14-day free trial both available | N/A | Snapchat, Instagram |
Top 3 features
1. Publishing – schedule stories for Snapchat and Instagram (we help with IGTV too)
2. Analytics – monitor how your story performs (open and completion rates, views, and screenshots, etc) and how your following grows (by gender, source, etc)
3. Listening – check on your competitor's type and level of activity plus mentions to your brand
---
BuzzSumo
"BuzzSumo gives you insight into what content is working, and the influencers amplifying it"

BuzzSumo allows brands to discover their most shared and liked content across social platforms. Brands are able to easily figure out which content pieces are resonating with their audience all thanks to BuzzSumo's advanced search engine.
You're also able to search up to 12 months of data, making easy for you to determine which changes and content pieces have helped your brand the most.
| | | | | |
| --- | --- | --- | --- | --- |
| Industries | Price | Free trial or demo? | Review Score | Network Best Suited For |
| Agencies, brands, publishers | Starting at $79/month | Yes, 7-day free trial | 4.5 (187 reviews) | Twitter, Facebook, LinkedIn, and Pinterest. |
Top 3 features
1. View All Social Networks – BuzzSumo lets you see the shared activity across all the major social networks
2. Advanced Filtering – Easily find the most shared content and filter by content type
3. Content Curation – You can find and discover interesting content and share it directly with your audience.
---
Sprout Social

"Real people, real brands, real connections"
Sprout Social is a social media management and monitoring software that helps brands find and form real connections with their audience. The Sprout Social suite is perfect for deep listening, providing you with the analytics, social management, and customer care you need to create the connections you need to widen your brand awareness. Over 25,000 happy customers, from all types of brands and organizations, trust Sprout Social.
| | | | | |
| --- | --- | --- | --- | --- |
| Industries | Price | Free trial or demo? | Review Score | Network Best Suited For |
| Small businesses, agencies, enterprises | $99-$249 per month | Demo and 30-day free trial available | 4.35 (1699 reviews) | All |
Top 3 features
1. Award-winning service – Sprout Social offers everyone personalized, quick, and reliable support.
2. Streamline everyday tasks using customizable workflows, saving your team valuable time while optimizing your performance.
3. Smart Inbox offers real-time brand monitoring to track direct messages
---
Best Company
"Thousands of customer reviews. Hundreds of detailed data points. Our independent research will help you find a company you can trust"
Best Company
is an online review site and reputation management tool that provides unbiased data to consumers to help in their buying process as well as supplies businesses with tools to manage their online reputation and improve their brand awareness. For consumers, there are clear and easy-to-read rankings, facts, and breakdowns of each company within hundreds of industries to assist in the buying process. And for businesses, there are tools that allow them to compare their brand to other leaders in the industry, respond directly to consumer reviews, and improve their lead generation.
"Online review management, especially in an age where online presence is so vital to a brand's success, online review management is crucial for brand awareness. If consumers are searching for your brand and are being met with negative feedback, that's going to deter a lot of potential customers from using your services. This is why you should utilize online review sites and their tools to manage your online presence.
Many review sites allow you to respond to customer reviews on their site, which demonstrates to consumers that you care about the customer experience and you are doing everything you can to ensure their encounter with your brand is as positive as possible. Responding to bad reviews especially shows consumers your brand cares about rectifying bad experiences and righting wrongs. No brand is perfect, and it's doubtful your brand awareness will be perfect. However, if you take the time to manage your online reputation, you can use it to improve and amplify your brand awareness strategy." says McCall Robison of Best Company.
| | | | | |
| --- | --- | --- | --- | --- |
| Industries | Price | Free trial or demo? | Review Score | Network Best Suited For |
| All | Free | Platform is free for all to use | N/A | All |
Top 3 features
Online Reputation Management
Review Generation
Lead Generation
---
Netvibes

"Everything you care about online — in one place"
Netvibes makes it easy for you to customize and monitor all the things you care about online. You can do a lot with the platform. Like follow your social networks, be alerted of breaking news, or read articles on your preferred topics.
By capturing a variety of information across the web and being able to analyze the data, you can now understand the impact of your decisions and focus on opportunities that can drive your business forward.
| | | | | |
| --- | --- | --- | --- | --- |
| Industries | Price | Free trial or demo? | Review Score | Network Best Suited For |
| Variety: agencies, brands, enterprises | From $0-$649/month | Free plan available | 4.15 (14 reviews) | All |
Top 3 features
1. Personal corpus – Listen to the sources you trust and focus on what matters.
2. A dashboard of things – Control your apps and devices by programming the Dashboard to act for you.
3. Faceted exploration – Filter by author, date, location, language, company and more.
---
Mention

"Monitor your campaigns anywhere online. Scour the web, social media, and more for powerful market insights"
Mention offers real-time media monitoring so you can get live updates about your brand. The Mention platform allows you access to monitor over 1 billion sources daily. View everything from social media, forums, blogs, and all of the web. With boolean alerts, you can zoom in on your brand, competitors, and customers to create the perfect marketing campaigns.
| | | | | |
| --- | --- | --- | --- | --- |
| Industries | Price | Free trial or demo? | Review Score | Network Best Suited For |
| Agencies, enterprises | Starts at $29/month | Demo available | 4.6 (671 reviews) | All |
Top 3 features
1. Real-time media monitoring – Get live updates about your brand on the web.
2. Custom Insights – Focus on the metrics that matter most to you.
3. Mention API – The power and flexibility you need to handle your data.
---
Buffer Reply

"Social media engagement made easy"
Buffer Reply is an all in one team inbox. Making it easy for all teams to communicate and respond to social conversations. Reply lets you see everything you need to know about the person you are talking to, that way your team can provide personalized responses, helping you build great relationships.
Reply gives you actionable data and easy-to-read reports on a variety of key metrics allowing you to improve your engagement over social platforms.
| | | | | |
| --- | --- | --- | --- | --- |
| Industries | Price | Free trial or demo? | Review Score | Network Best Suited For |
| All | $50-$225 per month | 14-day free trial | 4.35 (15 reviews) | Twitter, Facebook, Instagram |
Top 3 features
1. Integrates with Slack – Slack integration so you can easily send new support requests
directly into the Slack channel.
2. Export your reports – Export all your reports in CSV format.
3. Integrate with your dashboards – API to integrate Reply data into your dashboards.
---
Brand24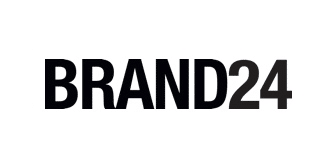 "Get instant access to online mentions, grow customer satisfaction and sales"
Brand24 is a Social Media Monitoring platform which gives you an opportunity to collect, analyze and react to every publication mentioning you/your company on the internet. By tracking these mentions you are able to analyze which digital marketing channels generate the biggest buzz about your business. The tool also helps you in getting into interactions with your customers by talking with them on your social media profiles, responding to crises in real time. With that knowledge, you can target your campaigns more precisely, which leads to increased sales and customer satisfaction.
| | | | | |
| --- | --- | --- | --- | --- |
| Industries | Price | Free trial or demo? | Review Score | Network Best Suited For |
| Variety: marketing, advertising, IT, PR, software | Starts at $40/month | 14-day free trial | 4.7 (313 reviews) | Instagram, Twitter, Facebook, Quora |
Top 3 features
Mentions Feed

– list of mentions with complex description. Allows you to see what people say and react in real time.

Data Analyse – analyze buzz quality and quantity to get to know your customers better. In Brand24 you can also use various types of filters like geolocalization, author, number of visits, influence score or sentiment.
Discussion Volume Chart – an intuitive representation of changes in discussion volume and reach.
---
Media Toolkit

"Monitor online mentions of your brand in real-time"
Mediatoolkit is a media monitoring and analytic tool. Making it one of the easiest and fastest ways to find out who is mentioning you online. It gathers information from all over the web from millions of sources. The platform notifies you in real time when your name is being talked about.
| | | | | |
| --- | --- | --- | --- | --- |
| Industries | Price | Free trial or demo? | Review Score | Network Best Suited For |
| All | Starting at $58 per month | 14-day free trial | 4.9 (37 reviews) | Facebook, Twitter, Instagram, YouTube, VKontakte |
Top 3 features
1. Unlimited users – Unlimited seats per account.
2. Advanced Boolean search – Set up search strings that prevent irrelevant results.
3. Custom alerts & digests – Daily or weekly alerts, it's all up to you.
---
Mentionlytics

"Intelligent Social Media Monitoring. Access mention insights. Find influencers & sales leads. Grow your brand's reputation"
Mentionlytics is a social media and web monitoring tool that lets you track mentions for your brand from all over the web. Intelligent insights are a unique feature of Mentionlytics that helps you find lead influencers of your industry, trending topics of your niche market and real-time customer feedback that helps you react and prevent any upcoming crisis. All data can be exported in pdf or excel, or even in their app to keep them on the go, regardless of the pricing plan.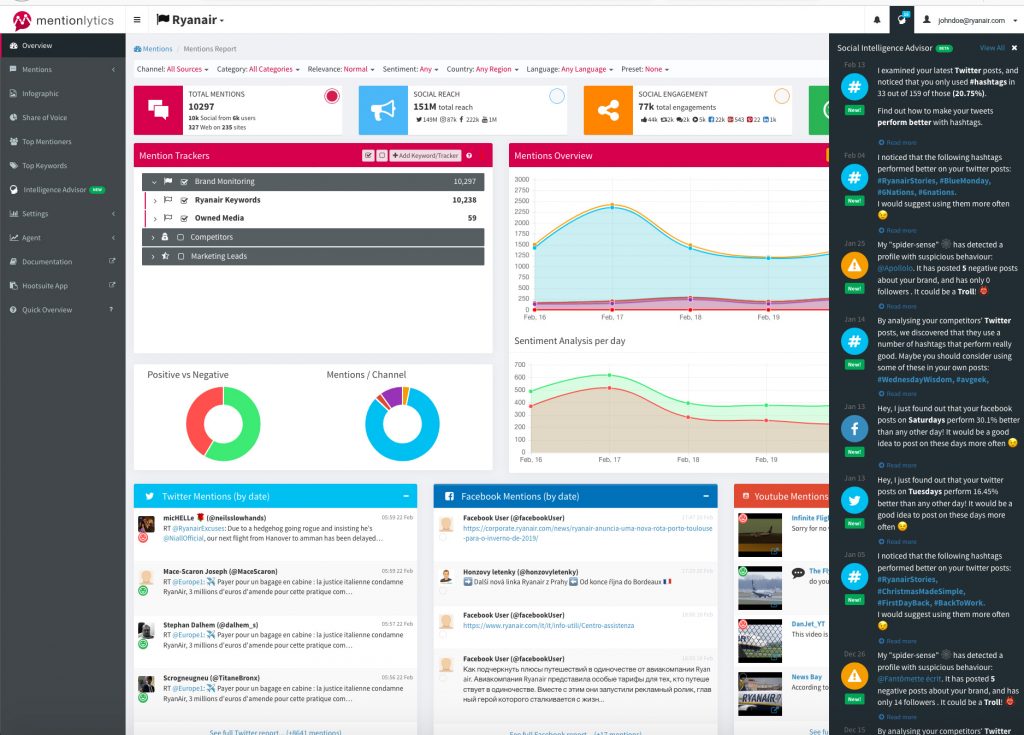 | | | | | |
| --- | --- | --- | --- | --- |
| Industries | Price | Free trial or demo? | Review Score | Network Best Suited For |
| All | Starting at $29 per month | Free trial available | 4.9 (31 reviews) | Twitter, Facebook, Instagram, YouTube |
Top 3 features
1. Social Intelligence Advisor (SIA) – Unique to Mentionlytics. Gives you actionable, personalized advice to help you improve your web and social presence (find best days to post, hashtags that perform better etc).
2. Boolean mention search – Filter results with as much detail as you want.
3.  Sentiment Analysis in every language.
---
Awario
"The Web is talking about your business. Find these conversations and join in."
Awario is a brand mention tool that scores sentiments as positive or negative, lets you set up mentions based on very specific criteria, and alerts you to a mentioning user's reach and number of previous mentions. They offer many methods of customer service and support, including email support, a help center, guides, video tutorials, and a dedicated account manager (for higher-level plans), so your experience with Awario is as smooth as possible.
| | | | | |
| --- | --- | --- | --- | --- |
| Industries | Price | Free trial or demo? | Review Score | Network Best Suited For |
| All | Starting at $29-$299/month | Free trial available | 4.3 (67 reviews) | All |
Top 3 features
Real-time mention monitoring: After you input your brand name and other relevant keywords into Awario, Awario will alert you to mentions of your brand right as they happen, tag them as positive or negative, and score them based on the user's reach. Also, if a given user is on social media, Awario will show the number of previous mentions by that user.
Boolean searches: Use Boolean logic to track very specific mentions of your brand or other keyword, and use negative keywords to exclude irrelevant mentions.
Instant engagement: Reply to and reshare mentions right from Awario (great for taking action on a comment or reposting user-generated content to your brand's own account).
---
Hootsuite

"Manage all your social media marketing in one place"
Hootsuite is one of the most well-known social media management tools. It allows you to schedule and automate your social media messages across a wealth of social profiles, and track and measure detailed analytics. Hootsuite also falls into the brand mention tool, as it lets you track what people are saying about you on social media. The World Wildlife Fund and Accor Hotels are among the many companies that rely on Hootsuite.
| | | | | |
| --- | --- | --- | --- | --- |
| Industries | Price | Free trial or demo? | Review Score | Network Best Suited For |
| All | From $29-$599 per month | 30-day free trial | 4.25 (5278 reviews) | All |
Top 3 features
All-in-one: Schedule, curate, and manage your social media profile, monitor mentions, and examine detailed analytics about your social media performance
Detailed brand mention tool: Find and filter mentions by keyword, hashtag, and location, in many different languages.
Integrate and customize: App add-ons let you perform even more mention monitoring, including the monitoring of reviews. Also, over 250 integrations help you streamline processes and pass data across tools.
---
Keyhole

"We help Agencies measure the impact of their social media & influencer campaigns."
Keyhole monitors brand mentions, campaigns, and events, and gives you "deep insights into key trends & conversations happening right now." It lets you know what people are saying on Twitter, Facebook, Instagram, YouTube, news sites, blogs, and forums, and respond to your mentions right away from the tool. Keyhole also makes its powerful API available, for total flexibility in monitoring mentions.
| | | | | |
| --- | --- | --- | --- | --- |
| Industries | Price | Free trial or demo? | Review Score | Network Best Suited For |
| Medium and large agencies, nonprofits, enterprises, and media companies. | Starting at $179 per month | Free trial available | 4.2 (52 reviews) | Twitter, Instagram, Facebook, YouTube |
Top 3 features
Advanced mention tracking: track hashtags as well as mentions with the top-quality hashtag tool, see the sentiment behind mentions at a glance, and identify trends in conversations that contain the mentions you're tracking
Social analytics: In-depth, real-time tracking of engagement and reach across your social platforms
AI campaign prediction: Predicts how hashtags are likely to perform over time: the only tool of its kind
---
Socialbakers

"One solution for all your social media marketing. No matter the size of your challenge, we have you completely covered."
Socialbakers is an all-in-one social media platform that covers research, content scheduling, analytics, mention tracking, influencer management, and social customer service. Big names like National Geographic, Samsung, and Walmart trust Socialbakers for their social media strategy, social listening, and tracking needs.
| | | | | |
| --- | --- | --- | --- | --- |
| Industries | Price | Free trial or demo? | Review Score | Network Best Suited For |
| Medium to enterprise businesses | Request pricing | Free trial available | 4.1 (110 reviews) | All |
Top 3 features
AI research: AI uncovers insights on your audience, including their social media habits, content interests, and social voices they trust, so you can create campaigns tailored to their needs and desires.
Fully customizable brand mention tool: With the power of AI, this tool finds, tags, and labels the exact mentions you want to find, however you want. Identify the context and sentiment behind mentions.
In-depth sentiment analysis: Track changes and trends in sentiment over time, from the individual post level to the campaign level. And instantly see how your audience perceives your brand as a whole, based on the nature of their mentions.
Metrics to measure results
Now that you have the right tools to track brand mentions, you need to focus on what you're going to measure, to track brand awareness. You will likely find a variety of items to measure, or at least both qualitative and quantitative. Remember that many brand mention tools measure more than just mentions!
We're going to go over a few of the most common metrics to measure—beyond just brand mentions. But we'll start with brand mention metrics themselves.
Brand mentions
Social listening lets you gain valuable insight and can provide you with a variety of information that can be used in your strategy to build brand awareness.
This is also important because it lets you see what people are really saying about you, and on which platforms. All of which can help you make changes as necessary and gain insight as to which platforms you can focus on to bring in leads.
You'll want to track your number of brand mentions overall, but you'll also want to monitor the percentages of mentions that are positive, neutral and negative (sentiment analysis). And of course, you'll want to see who mentions you the most, and which people who mention you have the greatest reach.
One of the more common ways outside of using one of the tools described above is to use Google Alerts, which allows you to track your brand mentions or a preferred keyword across all social media platforms.
Shares
A good quantitative measure is to determine how often your content is being shared. You'll have the opportunity to see which blog posts work best for your audience. Therefore you can create more content that follows a similar flow.
You can see this by adding a share bar to your posts, but you can also track this type of information with an analytics tool.
Social media reach
There are a few tools out there that help you track your social media reach. As you can imagine your social media reach has a huge impact on your overall brand awareness. As your reach determines how many people may see your content.
This measurement considers your number of followers. For example, a follower who has 500 followers of their own is able to help expose your brand more than a person with just 50 followers. So if you have a ton of followers who have a high following of their own, you have a much better chance of having a good organic reach.
Social engagement
If you are active on your social channels, you will likely also have a good social engagement. Measuring the interaction levels of your followers is easy and helps you see what kind of content they like seeing.
Likes, comments, retweets, shares, etc. are all ways to track social engagement. Some of the tools will even help you keep tabs on which post had the most engagement.
Site traffic
Site traffic should be obvious—this is what you hope that brand mentions eventually lead to, and it allows you to put a number on the level of interest in your brand. Monitoring this traffic allows you to see if there are changes in your overall brand awareness. If you find that there is a decline in traffic, it may indicate changes needs to happen. Or you can see if the decline correlates with any new campaigns or recent changes you have already made.
Alternatives to Brand Mention Tools
Is brand mention software not what you're looking for? These other tools help you increase brand awareness and manage your reputation, but they have important differences from brand mention tools.
Brand analytics tools: Analyze what times are best for engaging with your audience. For example, they might pinpoint the best times for posting to social platforms, running campaigns, sending emails, when users are most active, etc. These might even be able to inform you of user demographics, most-used hashtags, and interactions with your brand. Note that some brand mention tools also include brand analytics features.
Social media management tools: Queue social media posts in advance for automatic publishing, and monitor how your posts are performing. Again, some brand mention management tools (like Hootsuite) offer features like these, but social media management tools are still a distinct category. Some examples of social media management tools that don't track mentions include Storyheap and Tailwind.
Influencer marketing software: These tools help you find influencers, or short term representatives of your brand, to talk about you. They also help you track and manage influencer campaigns, and communicate with influencers. They often have brand mention tracking features, but these features are focused on tracking what specific users (the influencers) are saying.
Brand ambassador software: These tools help you find and manage long-term representatives of your brand. This category somewhat overlaps with brand mention software. After all, brand mention software can help you find your biggest fans on social media, based on the number and content of their mentions (then, you can potentially recruit them as ambassadors).  However, brand ambassador software also helps you manage and track ambassador campaigns, which brand mention software doesn't do.
Referral marketing software: This software motivates your customers to share your brand with their friends, through a formalized referral program that simplifies and incentivizes sharing. Yes, it lets you track how many people share your brand through the referral program, and yes, it helps you increase brand awareness. But it's not brand mention software because it doesn't track what people are saying about you across the internet.
Reputation management tools: Brand mention tools fall into this broader category, but there's much more to the story. Other brand reputation management tools include review management software, SEO tools (like Ahrefs), and customer satisfaction survey software (like NPS software). Visit our reputation management tools article for more on this category.
Customer experience management software (CX): Comprehensively monitors all aspects of a customer's journey, by collecting customer feedback, purchase history and other insights from each individual customer, for easy monitoring of their satisfaction. In a way, it's one step up from customer satisfaction software. Qualtrics is one example of customer experience software.
Wrapping Things Up
There are many tools you can use to monitor brand mentions. That works in your favor because measuring brand awareness, and managing reputation, can be complex, but they are key to growing your business.
If you have the right brand mention tools and processes in place, however, measuring and building brand awareness and reputation can be done pretty easily, and can have a powerful effect on your business' success.