Last Updated on
8

minutes to read
You may have heard the term brand advocate before. A lot of businesses actually rely on the influence of their customers and employees to gain exposure for their brand.
Why? Simply because it works. It's no secret that people trust the recommendations of loved ones over a paid ad from the business itself. As a study by Nielsen found, recommendations from friends still remain the most credible form of advertising.
And a customer may be able to get you in front of new eyes that you might not have been able to reach. It's their well-established networks that work well at amplifying your reach because the element of trust is already involved.
But how can you harness the power of your customers and employees and turn them into advocates?
You might consider a channel of advocate marketing.
What is advocate marketing?
Advocate marketing is simply the spreading of brand recognition through an affiliated source, whether that be a partner, employee, or customer.
In fact, many types of marketing can fall into advocate marketing, and as we see it, it's more of an umbrella term that fits under word of mouth marketing.
If you were to do a quick Google search, you'd likely find a variety of ways to do advocate marketing. Including using referral marketing, influencer marketing, affiliate marketing, reputation management, etc. Knowing this, you may immediately recognize the many benefits associated with this type of marketing.
The benefits of an advocacy marketing program
If you run a successful program there are many benefits. The obvious is increasing your word of mouth, thus increasing referrals.
But there are a few others that should be noted.
Increased brand recognition and building brand awareness
Providing a channel for customer engagement to occur
Creating a shorter sales and onboarding process
Receiving feedback to create a more customer-centric product
In many cases, you'll find a business uses a platform or software to help streamline their advocate programs, making achieving the benefits listed above much easier. Creating and automating specific workflows can make scaling an advocate (or other types of marketing) much easier to do, not to mention make it easier to track the process.
What is advocate marketing software?
"Customer Advocacy Software is designed to support a company's marketing, sales, and customer success efforts" as said by TrustRadius.
More specifically, this type of software can help you find an advocate so that you can engage with them and get them to spread the word for you. Whether that means by sending referrals, writing a review, or even participating in different surveys like NPS.
Advocate marketing software is something that is used to help you amplify your reach by using your existing customer base to do the heavy lifting. All while increasing your social proof and expanding your overall brand awareness in a more trusting way than traditional marketing methods (aka paid ads and signage).
This type of software easy bleeds into many other software types like referral marketing software, review management software, to brand awareness software.
We'll cover the different types now.
Different types of advocate marketing software
We've found that there are a variety of different software platforms that can fall under advocate marketing software. There are a few that actually are marketed as such, while others are simply categorized into it.
Let's start off with a few examples of advocate marketing software.
Advocate marketing software
As we have mentioned a few platforms can squeak into the advocate marketing software category, but the ones listed in this section can actually be marketed as advocate software. When digging further in, you will realize that most are actually aimed more towards employees. Let's dive into these employee advocate software tools.
EveryoneSocial
"The Leading Employee Advocacy & Social Selling Platform"

EveryoneSocial is an employee advocate marketing software that helps you equip your entire team from sales to marketing and everyone in between with the right content and tools they need to be part of the digital world.
EveryoneSocial is one of the original employee advocacy platforms. Meaning you create the content and resources for your team, and they share it on their social networks (helping you increase your marketing efforts by a lot).
Since EveryoneSocial has been around for a while, you have a tried and true, not to mention an easy way to aggregate, review, approve, and of course, push content out to your people.
SoAmpli
"SoAmpli enables sales teams to sell more"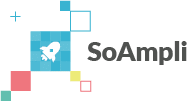 The tool, SoAmpli uses both human and artificial intelligence to provide your team with the best content to share. And it helps in connecting them with relevant prospects.  The platforms gives your sales team access all the relevant content they need so they can share relevant and on target information on social media.
Since your team will be given the perfect content to share, they will be able to increase their network and turn otherwise cold leads into real customers.

Influitive AdvocateHub
"Give advocates what they crave: exclusivity, recognition, and rewards"

AdvocateHub helps businesses create a community of advocates by offering a personalized game design and challenges and using gamification to make advocating a rewarding experience.
You can design challenges to help educate, get feedback, collect NPS surveys. You can also provide missions to complete like providing a testimonial, a reference, or even writing blog content. Influitive is really turning more towards advocate marketing to help B2B companies become successful by using the voice of their customers and employees to build recognition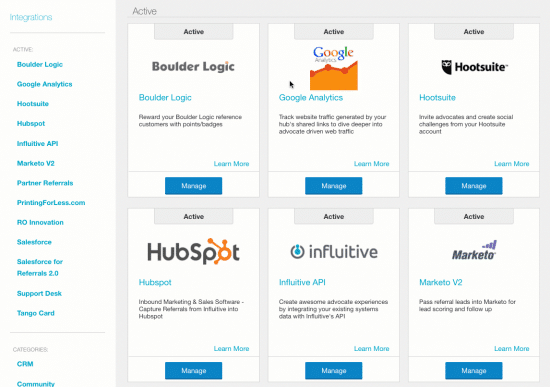 GaggleAMP
"Employee Advocacy Made Easy"

GaggleAMP focuses on helping brands engage their employees, partners, and stakeholders to use word of mouth for them. They know that a business needs to focus on more than just likes and follows, and to instead needs to engage.
The platform is all about helping businesses create and execute their vision by aligning the right content with their team.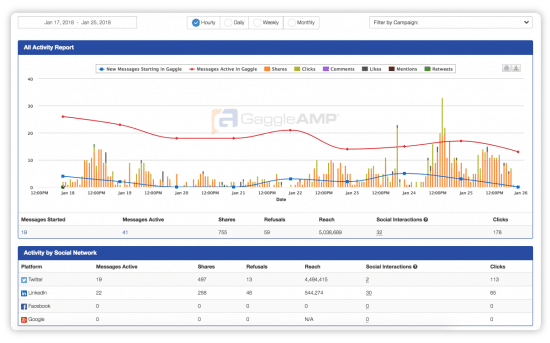 Bambu by Sprout Social
"The easiest employee advocacy platform"

Bambu is an employee advocacy platform that provides employees with curated and pre-approved content to share across social networks.
Since 2015 the platform has been used to help improve employee advocacy. This helps employees act on behalf of their company in a more effective way. Because employee advocacy can turn your organization into a powerful marketing engine that boosts the business functions that matter the most.

Amplify by Hootsuite
"Boost your social reach"

Amplify is an employee advocacy solution which encourages employees to share content through their social networks.
Amplify is built around the idea that employees are the best advocates for the work they are doing. By empowering employees to become industry experts, businesses can share content through tons of new channels and into new social circles.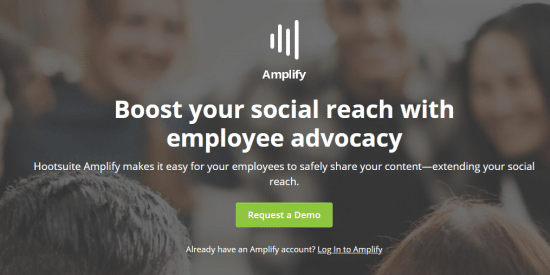 Referral marketing software
Referral marketing software often gets tied into advocacy software because it also uses the power of existing customers, partners, and even employees to spread the word of a business.
Typically speaking, people in referral marketing programs are incentivized to share the business. And new customers are also incentivized to buy. Though incentives aren't necessarily required.
These type of recommendations work because people trust their friends and family to share only relevant and high-quality things with them. And since social currency is involved for the person referring, it is more likely they will only share and refer businesses that they actually use and like (regardless of whether an incentive is involved).
Brand awareness tools
Brand awareness tools also get categorized in advocate marketing because they work at achieving the same thing, brand awareness.
Most of these types of tools help businesses see where they need to make changes in order to get the brand recognition they desire. Social mention tools and social analytic tools help make this possible.
Influencer marketing software
Influencer Marketing Software can also sometimes be identified as an advocate marketing software. Except it uses celebrities, bloggers, social media gurus, and those with a high following to spread the word. Most of these people are sent products to use in their content.
Influencer marketing works because influencers have a pretty good influence over their followers (hence the name). And use the perfect moment or micro-moment to connect with followers.
This is why you'll see brands use celebrity endorsements. Instagram, for example, often uses high profile grammars and celebs to promote and endorse their products. This is why some brands have been able to pop up out of nowhere. Like Fashion Nova, who regularly has celebrities, like the Kardashians help them promote new clothing styles on Instagram. And it's often the reason these styles sell out.
Customer loyalty software
Though customer loyalty software has also been categorized as an advocate software. This one doesn't necessarily help businesses get customers to refer, it does get customers to come back.
Eventually, customers can become an advocate for the business and will talk about and potentially recommend that business to others.
Starbucks, for example, uses a loyalty system where customers who purchase with their app earn points towards future treats. The people who regularly purchase this way have the potential to create content on behalf of the business. Think of all the Starbucks selfies posted on the web. On Instagram alone, it has 33.6 million hashtags!
Summary
As you can see, a lot of things can make an advocate. It's basically anyone who is willing to share your business. True advocate marketing software, as we have found, relies more heavily on employees, rather than customers like some of the other tools that often get categorized the same way.
Either way, advocacy marketing software is a way to help businesses increase their brand awareness with content shared by either employees, customers, or partners.