Another common term heard in the marketing world is influencer. But what is influencer marketing software and how is it different from other types of marketing software?
What Is An Influencer Program?
Influencer marketing uses influential people to spread the word about a business. They become promoters and advocates of the brand. Most common influencer programs rely on public speakers, celebrities, bloggers, social media gurus, and vloggers. These individuals cast out their branded content to as many people as they can. This serves as an advertisement for a brand. It is different from referral marketing. Referral marketing is an individual sharing a brand to the people they actually know.
The gist of an influencer program is that influencers create content and share it with their entire outreach. They may review, try, or wear a product and display that experience to their following. The terms depend on what the brand is wanting to achieve.
Most of the time, an influencer program will contain a checklist of actions the influencer is to do. For example, a makeup brand may want influencers to create a Snapchat video using the product. Then they may request the influencer to upload an image of them with that product to their Instagram. They may also want the Instagram post to include a certain phrase or hashtag. On top of all that, they may want the influencer to write a review of the product.
Influencer programs incentivize the influencer to share by giving them freebies. Some programs take it up a notch and provide cash and/or other incentives for sharing. Certain brands consider the number of followers an influencer has as a way of determining the amount of compensation.
What Does Influencer Marketing Software Do?
Influencer marketing software provides a platform for influencers and brands to meet. A brand signs up for a profile and sets filters for their target influencers. Campaigns then become available to matching influencers who are on the platform.
But how does a brand know if an influencer is a good fit? An influencer submits their profile to the brand campaign. Campaigns will only become available to an influencer with matching demographics and interests.
The software allows brands to track and manage influencer requirements, as well as analytics for the campaign. Common analytics include engagement level, activities completed, and crowd response.
Some influencer software provides users with a checklist to finish. While others allow brands to assign single tasks at a time. To note, that usually means this one task has to be complete before the influencer can move on.
Influencer marketing software also weeds out poor performing influencers. This way brands always have a reliable list of influencers to choose from. For example, influencers who miss campaign requirements can become blocked from the platform. Or become blocked from future campaigns with that brand. Some platforms may even charge the influencer the price of the product(s).
An Example of an Influencer Program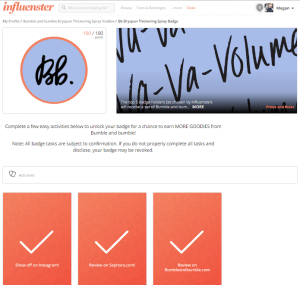 Bumble and bumble ran an influencer campaign through Influenster. There were specific tasks users had to complete after receiving the product. Each task came with its own specific set of instructions. For example: when reviewing the product online influencers had to state that the product was given to them for review purposes. Then, when posting about the product on social media, the influencer had to use certain hashtags in their posts. They also had to mention the product was a complementary product. Instagram shows 490 posts using that specific hashtag!
Influencer Marketing Software On The Market

TapInfluence was founded in 2009 as a community for bloggers. Great content creation is the epitome of their evolution and quickly led TapInfluence to become the world's first Influencer-Generated Content Engine. The platform brings together content creators, influencers, and brands. These relationships lead to actions and meaningful content.
Influencers can sign up through the Tapinfluence platform and are matched with brands. Brands invite the influencers who are matched with them. Some influencers make influencing a full-time gig and create content for brands regularly. The best part is influencers can sign up for free.
Top 3 Features
Influencer Discovery – The platform helps brands discover over 50,000+ opt-in influencers. Influencer Discovery gives brands a 360-degree view of the influencer so they are able to get their best match. This feature includes audience intelligence, influencer profiles and search, and influencer performance data.
Easy Automation – Building and executing influencer marketing programs of any size, or complexity is made easy. Everything from influencer communication with your brand, content creation and content review, content scheduling, and social activation can be automated.
Analytics – Track engagement across multiple channels like blogs, Pinterest, Instagram, YouTube, Facebook, and Twitter. Analytics make quantifying engagement, total media value, and ROI easy. Including Actionable analytics, Real-time ROI, and Influencer performance.
Who Uses TapInfluence?
Suntrust, Express, Fossil, Panasonic


Upfluence Software is an all-in-one SaaS that allows brands to manage campaigns all the way from the identification process to the payout.
650 brands use Upfluence to run their influencer programs. Upfluence's solutions are designed to help brands with their content marketing efforts by giving them a way to create a variety of content. By providing brands with a way to share impactful content, brands have an easy way to get more clients. Upfluence helps brands with the entire process of planning, creating, publishing and amplifying content.
Top 3 Features
Identify influencers – Locate your influencers in just a few clicks. The search engine features 20+ advanced filters and a database with over 600K+ profiles (growing every day). Customize your search with criteria such as keywords, follower count, engagement level, geolocation, language, and social platform. Screenshots of the software here.
Browse the latest posts and view live analytics for any influencer: with 8.7M+ content updates per day at your fingertips there's no risk of picking the wrong influencers (but if you wanted to automate this process, their team of experts is at your disposal). Once you've found Influencers, you can easily create and export lists with contact information or work directly within the application.
Manage the campaign – Helpful templates and mass emailing allows users to contact their influencers directly within the software, manage the responses, and coordinate campaigns. Know when your mail has been opened, negotiate contracts, and easily track influencer posts with their Publisher tool. Last but not least, a payment processing platform integrated into the database simplifies influencer interactions so brands can focus on their marketing goals.
Track Success – Upfluence software offers social listening and reporting tools which provide analytics of published content throughout the campaign. Easily accessible reports include CTR, engagement, and shares so success metrics can be measured instantly.
Who Uses Upfluence?
PayPal, Ralph Lauren, Havas, Ricola


Creators tell their product story and share your brand with their audience. Famebit allows millions of people to learn about your brand. Influencers have a way of getting their audience's trust on products, brands, and services.
Getting started is easy. In 4 steps, businesses can start getting user-created content. First, a business creates their campaign. They start to receive proposals, then they select a creator, and finally, they get content. All content gets verified and approved by the brand before it goes live. This way businesses remain in control of their image.
Creators can signup and submit to campaigns. When submitting to a campaign, creators disclose the type of content they plan to create. They also discuss their fee and their typical campaign completion date.
Top 3 Features
Flexible budgets – Signing up for FameBit is free. Brands are in charge of how much they spend on content, thus it's easy to stay within budget. Some brands choose to spend thousands of dollars per campaign. While others choose $100 campaigns.
Tools powered by data – Finding the right content creator is essential for any program. Famebit has an advanced filtering system for campaigns. Brands target creators that fit their needs.
Brand safe content – Brands can view creator profiles. Review content and proposals. Send brand specific talking points, and decide what content gets posted.
Who Uses Famebit?
Sony, Adidas, Cannon, Conair

"Engagement For Your Brand Anytime, Anywhere" Influenster is the leading influencer marketing platform that helps brands make connections, drive engagement, and create advocates. The Influenster community is huge, with 4MM+ members that help brands gain conversations and valuable user-generated content. A community of social savvy shoppers that stay up to date on the latest products, provide reviews and share their thoughts on tested products.
Brands can hyper-target influencers to boost conversation around products and/or services. This is done by sending out VoxBoxes, which are complementary product packages sent to targeted Influensters based on their social media presence and other demographic information. Not only do influencers have to show off these specific products, they are asked to provide reviews and feedback across various platforms.
Top 3 Features
VirtualVox – Whether brands are looking to drive contests, sweepstakes entries, attendance at events, or promote in-store deals (and more),  Influenster helps amplify the brand's conversation and buzz.
Consumer Insights – Influenster delivers fast results at a fraction of the cost of traditional market research.
User-Generated Content – Content is authentic & original. Influencers interact with brands by creating original content that encourages word-of-mouth marketing.
Who Uses Influenster?
Boulder Brands, L'oreal, Living Proof, P&G


Revfluence is the leading content generation platform powered by influencers.
With over 100 leading brands like Bare Minerals, GrubHub, and Madewell, Revfluence is an enterprise-grade software suite built for social, digital and PR teams to generate branded content at scale via hundreds of thousands of influencers worldwide.
Revfluence analytics leverage millions of data points to provide real-time content feedback, increasing ROI across paid, earned and owned channels.
Revfluence automates: responding & negotiating proposals, setting guidelines & reminders, product shipments tracking, content review, tracking posts. Creators, on the other hand, can set their terms and find brands that they want to work with. Creators also get paid quickly – their PayPal accounts receive the payments – right after they share content.
Top 3 Features
Influencer database – There are over 500,000 influencers in the database. To find the right influencers, they have powerful search and filtering options like follower size, follower demographics, hashtag, keyword, age, location, and more.
Automatic staging and workflow – Their CRM-like solution makes it easy for a single user to manage hundreds of influencer relationships from outreach to payment.
Content Library – Because influencer content outperforms traditional studio shot content, social media managers are now becoming valuable content sources for everything from email marketing to Facebook Ads. The content library gives teams a single source to view and collaborate on this content.
Who Uses Revfluence?
Ipsy, BareMinerals, GrubHub, Walgreens


Heartbeat is all about girl power. Their exclusive team of women is changing the way brands connect to media on social. Real women are their influencers. These women are helping to change the brand-consumer relationship. Heartbeat influencers (or as they call them Ambassadors) provide authentic content for brands. Heartbeat bridges the gap between brands and ambassadors to create fluid marketing movements. "We're changing the way marketing works forever. Welcome to a new era!"
Ambassadors sign up and then accept campaigns to take part in that match their profile and likes. Brands select their ambassadors in 3 steps.
Pick audience – 

With in-depth targeting and segmentation capabilities. Select by interests, location, shopping habits, and much more.

Choose marketing goal – New and established businesses have 7 different marketing objectives to choose from

.

Review and analyze – 

Brands get immediate results, analytics, and real-time campaign optimization.
Top 3 Features
User-Gen Content at Scale – 10,000 hyper-targeted creators to choose from.
Authentic Engagement – Average engagement on campaigns is above 7%.
Cost-Efficiency – 90% Discount on traditional influencer cost.
Who Uses Heartbeat?
Netflix, Bebe, Amazon, H&M


Whether you're a small business, medium business, or a large corporation, Assembly is a great fit. It brings all of a brand's influencer marketing campaigns into one place on one platform for easy management. Their goal is to help brands and agencies create stellar influencer campaigns that drive results. So no matter what the end goal is, building brand awareness, getting more downloads, clicks, etc,  Assembly helps brands track and analyze the entire campaign.
Top 3 Features
Campaign Creation – Assembly walks you through the entire campaign creation process. They help you plan out your campaign, decide on goals, outline requirements to influencers, manage deadlines, specify payment type and more!

Analytics and Tracking – With Assembly's proprietary tracking technology you can track, analytics and report on all of the following metrics – Views, Reach, Engagements, Clicks, Conversions, Content Created and ROI.

Communication – Important in any relationship! Through the Assembly platform, you can ensure two-way communication between influencers and brands.
Who Uses Assembly?
Flytographer, Kismet, Jelly Marketing, Shift


Linqia combines the science and accountability of online media with award-winning service.
Their AI-driven platform and team of experts is leading the transformation of influencer marketing
. Their Performance Platform also serves as a social content lab.
So marketers can test and amplify the best performing influencer content to drive greater ROI
. Founded in 2012, Linqia works with over 250 leading national brands.
Linqia's headquarters are in San Francisco, CA, with offices in New York, Chicago, and Bentonville
.
With Linqia, marketers can store and manage all their influencer content. Brands can view influencer content and program analytics in real time. Program analytics identify which pieces of content perform best with each audience segment. Therefore, brands can take that content and amplify it on their paid, owned, and earned media channels.
Top 3 Features
AI Delivers ROI at Scale: Linqia Performance Platform's machine learning technologies from Google and Facebook help drive greater ROI for customers. The platform has analyzed millions of potential influencers in the U.S. and identified 100K that meet the criteria for success. PerformanceMatch™ uses a combination of AI-driven analysis and audience targeting to analyze influencer content and identify patterns that determine which influencers will deliver meaningful results.
Target Audiences: Reaching core audience demographics is critical to selecting the right influencers for your brand. Linqia combines proprietary data tracked through the platform with social data from Facebook and Twitter to determine the demographics of influencers' audiences across multiple platforms. Customers can reach specific demographic and geographic segments across the U.S. to target influencer audiences by age, ethnicity, location, education level and annual income.
Goal-based Pricing: Linqia has run thousands of influencer programs using proprietary algorithms to surface insights and drive repeatable, predictable results. They offer goal-based pricing that aligns with customer objectives, whether that be Reach (CPM), Engagement (CPE), or Traffic and Conversions (CPC). They are confident in their technology, which means they guarantee results. Linqia has a 93% customer repeat rate.
Who Uses Linqia?
Black & Decker, Gerber, Herdez, Kimberly-Clark, Mezzetta, McDonald's, NBC, Nestle, Purina, Square, Unilever, Uniqlo, Viacom and Walmart.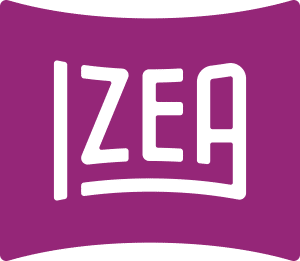 IZEA is an influencer marketing platform for agencies and brands that automates influencer campaigns. The platform shortens the process and workflow, on top of providing great features for campaigns.
In 2006  Izea created the influencer marketing space. The goal was to pay bloggers for producing content for brands. Now, with over 3 million transactions under their belt, they offer marketers a software platform that covers every inch of content production and distribution through influencers.
Top 3 Features
Content Direction – Brands can collaborate with creators using the platform tools. This helps keep content and messaging consistent.
Secure Payments – Accounting headaches are eliminated. Brands can negotiate fees with two-way bidding, make direct offers and securely manage payments for campaign expenses.
Content Distribution – Content can be published to all major social media platforms like Twitter, Facebook, Blogs, YouTube and many more.
Who Uses Izea?
Kraft, Dell, Levi's, Pottery Barn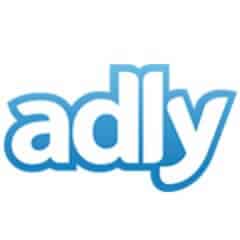 Adly is a digital marketing software and services provider. They connect brands and agencies with influencers and celebrities. This helps drive leads and engagement and results in increased sales.

The Adly tools allow brands to boost engagement by using data-driven targeting, social advertising, and events that all help result in sales. For brands, Adly makes it easy for brands to reach the right audience by cutting straight to influencers and celebrities who can drive engagement for specific campaigns.
Top 3 Features
AudienceIQ – Brands can discover which influencers will successfully hit on campaign objectives.
Campaign Builder – Execute influencer social campaigns in one unified approach: Target, execute, measure; and repeat.
Real-Time Reporting – Easily monitor campaign performance and engagement levels all in real-time. Adly's reposting tools ensure that content reaches its main objective.
Who Uses Adly?
Verizon, Coca-Cola, The Walt Disney Company, Hyatt


Klear is one of the world's leading Influencer Marketing platforms. The platform offers marketers an a-to-z solution for their influencer campaigns, with powerful yet simple influencer search engine, influencers profiles, campaigns analytics, and campaign reports.
Klear provides an easy and user-friendly way to become influencer marketers. The platform provides the deepest available entity-level information on more than 500 million social accounts.
Klear's focus is to show marketer's data that matters, tie it to a clear call-to-action plan, and provide users with invaluable intelligence that will give their brand a strong competitive edge
Top 3 Features
Influencer Search Engine – Klear influencer search engine offers the marketer an easy way to find influencers by a social network, location (country, state, and even city), demographics, hashtags, gender, and more.
Influencer Database – The Klear database has more than 500 million social accounts on Instagram, Twitter, Youtube, Facebook, and blogs. There are over 500,000 influencers in the database.
Campaign Measurement – The platform helps marketers measure campaigns, monitor brands and mentions of products and see how influencers mentioned them and what was the campaign's performance.
Who Uses Klear?
Adidas, Kayak, OMD, Huawei, VisitBritain, Wunderman, L'Occitane, and many more.
That's a wrap
Influencer marketing programs use the power and influence of highly followed individuals. Unlike referral marketing, this type of marketing is for larger groups of people and is a less individualized and personalized action. Though the influencer gets to add their own spin on the content used to drive followers to a specific brand, they are not seeking out specific individuals.
Do you know of any other influencer platforms? Or have you ever been a participant in an influencer program? We'd love to hear about it.