Paid media, owned media, and earned media are the three channels through which a brand can gain exposure and engage with the public.
But not everyone fully understands the differences between the three channels. For example, is social media an owned or earned channel? And which type of media provides the most mileage for your company?
Today, we'll cover the differences between paid, owned, and earned media, and the advantages and disadvantages of each type. We also share some successful paid, owned, and earned media examples from companies that have used these channels to expand their market reach.
What is paid, owned, and earned media?
Paid, owned, and earned media are the different types of content and channels through which your brand can reach its audience. From social media sponsorships to Youtube ads, most of the marketing we see falls into one of these three types of media.
When it comes to paid media, owned media, and earned media examples, each type serves a specific function and requires a specific approach. Taking the time to learn how each media type fits into your overall marketing strategy can help your message reach your target audience in the best way possible.
The goal of paid, owned, and earned media
While paid, owned, and earned media are all different, their end goal is the same – to build brand awareness and generate more business.
In fact, the most successful marketers don't just rely on one media channel. They draw from all three to create a comprehensive media strategy, and know how to maximize each type of media in their marketing strategy.
What's the difference between paid, owned, and earned media?
To maximize each type of media, you have to first understand the difference between paid media, owned media, and earned media.
Paid media is any type of content or marketing channel that requires payment (i.e., Youtube ads, podcast sponsorships). Usually, it's aimed at increasing traffic.
Owned media is any content that is published on channels that you create and control (i.e., your website, your newsletter).
Earned media is any conversation or publicity around your brand that comes voluntarily from others (i.e., social media mentions from others, referrals, third-party reviews).
In the sections below, we break down each type of media, and explain its role in a brand's overall marketing mix.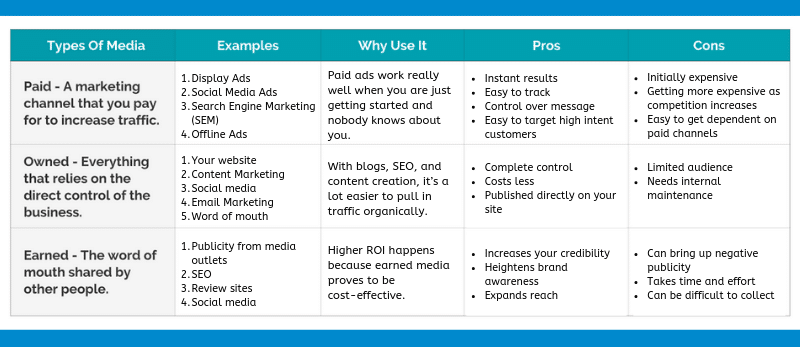 What are paid media channels?
Paid media is any type of content or marketing channel that involves a payment. Most of us are already familiar with this type of paid media – billboard ads, commercials, and PPC (pay per click).
Paid media is targeted to specific consumer segments, such as a certain demographic or even past customers.
Why pay for your media mentions? Paid media works really well if you're just getting started and interested in building a customer base because it guarantees your content will go straight to your target market.
Paid media strategies are also good for retargeting or remarketing to those who have already shown interest in your business (i.e., past customers, past visitors to your site).
When leveraged together with other media types, paid media can be very effective in reaching people with high purchase intent.
Advantages and disadvantages of paid media
Pros
Cons

Instant results
Easy to track
Full control over your message and copy (even though you don't own the channels, you're still in the driver's seat)
Easy to target high-intent customers

Initially expensive
Gets more expensive as competition increases
Easy to become dependent on paid channels that do not scale with spend
Many types require you to invest money before you know the ROI (the exception is paid word-of-mouth, where you only pay for results)
How much does paid media cost?
The cost of paid media depends on the channel and duration of your ad. For example, social media ads are relatively affordable, while a full-page print placement can cost a pretty penny.
The duration or frequency of the ad also factors into the cost. Will the ad run for a special holiday weekend or an entire month? A longer run time increases the number of people who see your ad, but it also raises the overall price.
Another cost to consider is the set up, which can oftentimes exceed the cost of the paid media placement. If you don't have someone in-house to create your assets, you'll have to factor in an additional contractor fee.
Other costs associated with paid media include content creation, design, production, website configuration, etc.
What is the return on investment (ROI) for paid media?
The ROI for paid media can vary wildly, depending on the type of channel, cost of goods sold, lifetime value of a customer, etc. The good thing is that most paid media channels include the ability to monitor and track key metrics, so you can measure exactly how much ROI you're getting in relation to direct spend.
It's good to know your budget and minimum required sales beforehand, so you can determine if the paid media channel is worth the cost.
How much time does paid media take?
Time to set up: If you're creating an ad from scratch, the initial setup for paid media can take a significant amount of time. On the other hand, if you're promoting or revising an existing piece of content, you'll save a lot of time up front.
To get the most out of your paid media, you may also plan to develop landing pages where people will be directed after clicking the ad. Landing pages should be carefully designed to convert leads into customers, and can also take some time to develop.
Time to see results: Once a paid media ad has been created, however, it can generate traffic almost immediately. As soon as ads are up, people can see them. This makes paid media especially great for brands looking to gain instant visibility and initial customers.
Paid media examples and types
There are several subcategories under paid media, including both online and offline channels. Here are the main types of paid media, along with some examples of how they work within an overall media strategy:
Paid media example #1: Display ads
Display ads are one of the founding fathers of online paid media. Their initial popularity came mostly in the form of ubiquitous static banner ads that appeared on website sidebars.
But display ads have come a long way since then. Here are a few current display ad options:
Pop-ups: A small ad that pops up as visitors browse a website (these can be triggered depending on time, clicks, exit intent, etc.)
Wallpaper ads: A website background image that displays an ad on the entire page (WeTransfer is a popular one!)
Video ads: A small video that automatically plays whenever a visitor scrolls past the section of the page
As far as paid media goes, display ads are usually very affordable. However, the pricing also depends on the site you want, the exact paid media placement (above the fold will be more expensive), and the average traffic the sit generates.
Display ads are great for remarketing or retargeting campaigns, as their visual aspect can easily catch the eye and remind potential customers of your brand or site. Likewise, Dynamic Search Ads are useful too.