Employee referral programs can deliver stunning results for companies looking for low-cost and effective ways to grow their businesses. 
In today's digital environment, your audience is much less likely to trust ad messages. They'd rather do the research on their own, which informs their opinions about your company and products before you can reach them.
It's time to look to your best brand ambassadors  – your own employees – to attract new hires and new customers.
Today, we'll dive into what makes employee referrals so powerful, plus best practices for both types of employee referral programs.
What is an employee referral program? 
An employee referral program is a marketing strategy where a businesses encourages employees to recommend best-fit candidates for job vacancies within a company, or recommend products and services to peers, family members, or friends.
In exchange, your employees can earn incentives, or referral rewards, when they bring in a successful hire or a sale.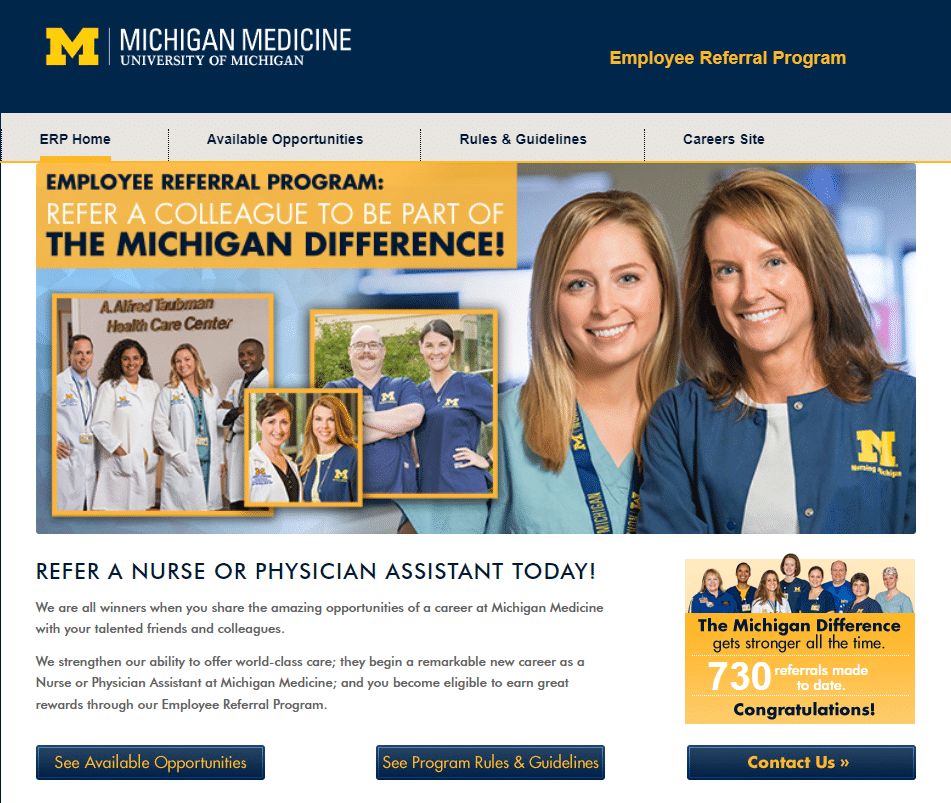 The two types of employee referral programs
Employee referral programs come in two types:
The first type of employee referral program encourages current employees to help you find job candidates.
The second rewards employees for recommending your products or services to their peers.
The most common type of employee referral program is one where your employees recommend good-fit candidates to apply for positions at your company.  This is known as an employee-to-employee referral program.
But in the other program type, employees recommend your products and services to people they have a relationship with. Here, your employees are acting as brand ambassadors. This is known as an employee-to-customer referral program. 
Both types of employee referral programs utilize the knowledge and network of employees to grow your business. Employees know your business inside out, and they are often your most valuable resources to bring in high-quality leads and top talent.
 
Employees refer job candidates
Employees refer potential customers
How it works
Employees encourage good-fit potential candidates to apply for positions at your company
Employees act as brand ambassadors and recommend your products to peers
Employees share…
Information about the job with their peers
Why they love your brand's products or services with their peers
Employees earn rewards…

When applications are submitted
When applications are accepted
When someone they refer is hired 

When their referred peers make purchases
While it seems complicated to set up, create, and run programs like these, it doesn't need to be a difficult process. 
You can easily manage both programs using referral program software, which helps track all referral activity. 
Why do you need an employee referral program?
As part of the regular recruitment process or lead generation strategies, businesses can spend considerable time, money, and effort on achieving goals. If you're not using employee referral programs, you are missing out on a goldmine of the best talent and leads. 
Your employees personally know your brand and company culture. They're uniquely positioned to refer higher-quality candidates, new customers, or both. 
If you're looking for employees, implementing an employee referral program can boost your recruitment strategy, widen your talent pool, provide a strong impresssion of your employer brand, and streamline the hiring process.
Employee referrals have a proven track record for bringing in new hires – they brought in 30% of all hires and 45% of internal hires in 2016. 
Having employees directly recommend candidates results in a shorter time-to-hire than putting out job posts. Referred applicants are able to start as early as 29 days after being referred, as opposed to 39 days for applicants hired through job boards, and 55 days for applicants hired through career sites. 
Employees who are referred are more likely to stick with your business, a factor that can be measured using employee retention rates. Retention rates of referred employees are very high at the end of the first year, at 43%, as opposed to 33% for traditional recruitment on career sites. To put it another way, the turnover rates of referred employees are much lower. This can also lead to a lower cost-per-hire, and lower recruiting costs overall.
Referrals are also the best source of high-quality hires, giving them a  greater potential to produce more revenue. Referred workers are roughly 25% more profitable than non-referred workers. It helps that they often have a built-in mentor to help them through the onboarding process and beyond.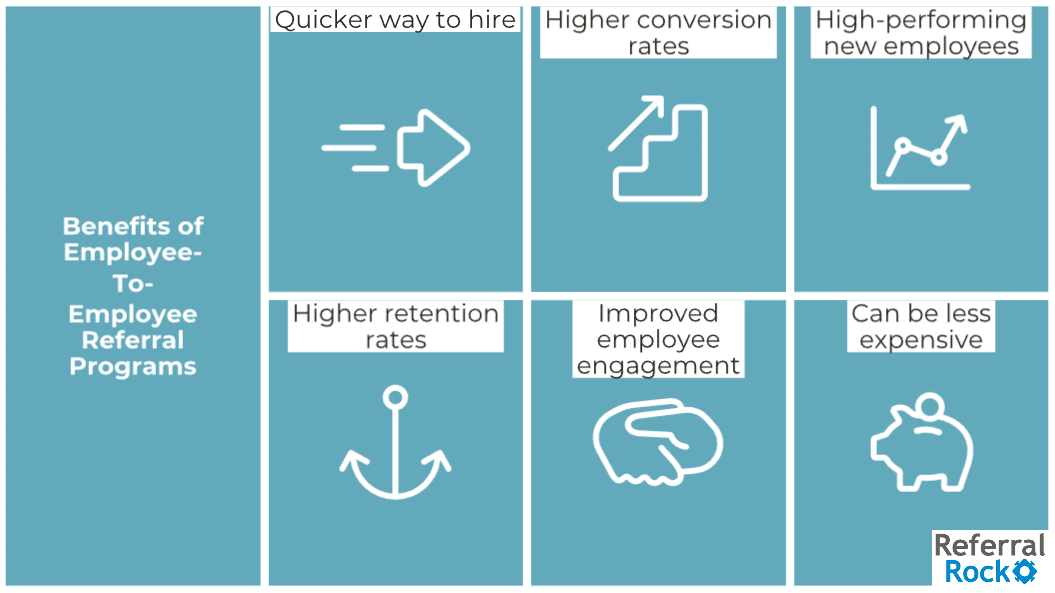 If you're looking for new customers, your existing employees can be some of your best brand advocates as well. They're able to explain the value of your products and your brand's mission in a language their peers will easily understand. 
Referred customers (in any referral program) are more likely to purchase from you. As many as 92% of consumers trust recommendations from friends and family, above all other forms of advertising – even when those peers are your employees. 
Referral programs bring in high-quality customers who are more likely to stay loyal to your brand. The average value of a referred customer is at least 16% higher than that of a non-referred customer in a similar demographic. 
A referral program shows appreciation and rewards for employees. As many as 92% of employees are more likely to repeat the referral process if they've been recognized for their actions.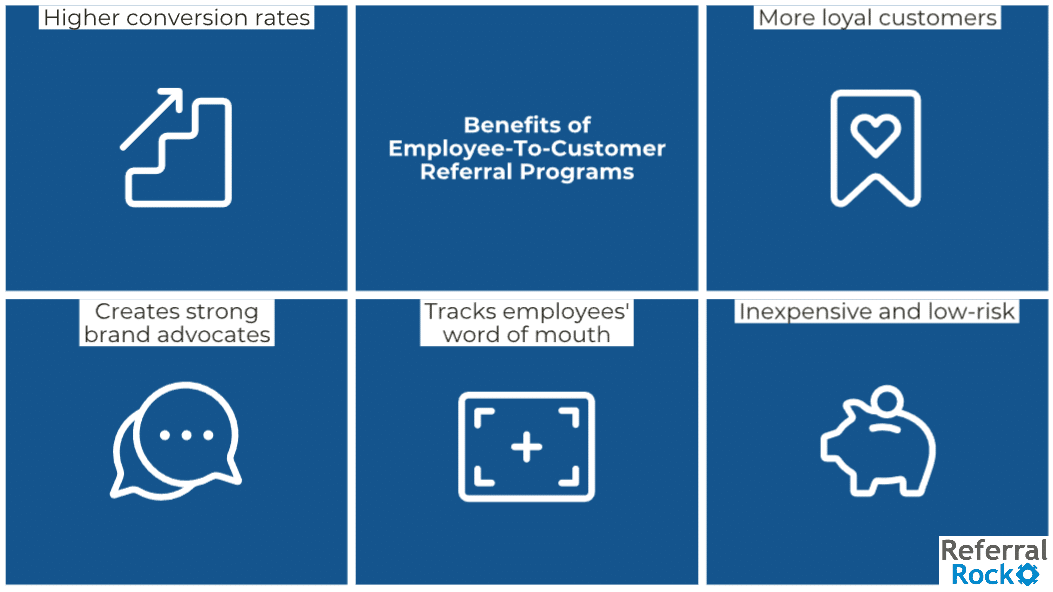 Before you start an employee referral program
Make sure you have the following prerequisites in place to ensure a successful employee referral program:
1. You have highly satisfied and engaged employees. Engaged employees are motivated to perform their jobs well, and aren't just going through the motions. You can use employee satisfaction surveys to gauge how satisfied your employees are. 
2. Your employees know your brand and company culture well. Educational resources and informational updates can help employees internalize your company values, mission, and goals. 
3. You know what types of incentives would best motivate employees to refer others. You can even survey your employees for their preferred benefits, similar to how you would carry out an employee satisfaction survey.
Do you want employees to refer candidates? If so, you'll also need:
A fairly large company for an employee referral program to be worth your while.
To familiarize all your employees with what you're looking for in an ideal employee.
Do you want employees to refer new customers? If so, make sure your employees:
Know your products or services well. 
Know who your ideal customer is – the type of customer who would be the best fit to use your products or services.
Provide standout customer service and can handle an influx of new customers.
Employee referral program best practices (for both types of programs)
Follow these best practices to build a strong foundation for either employee referral program type:
1. Use employee referral program software 
Employee referral software lets you track exactly where every employee referral came from, and instantly reward your employees for successful referrals.
The best referral software will automate all aspects of setting up and running a program, including tracking key metrics, rewarding employees, and even promoting your program. You should also be able to customize the program to your needs, and integrate with your existing processes.
Referral Rock's
referral software
works well for all types of businesses and referral programs. Whether you want employees to refer new customers or new employment candidates, we can help you run a program that fits your needs.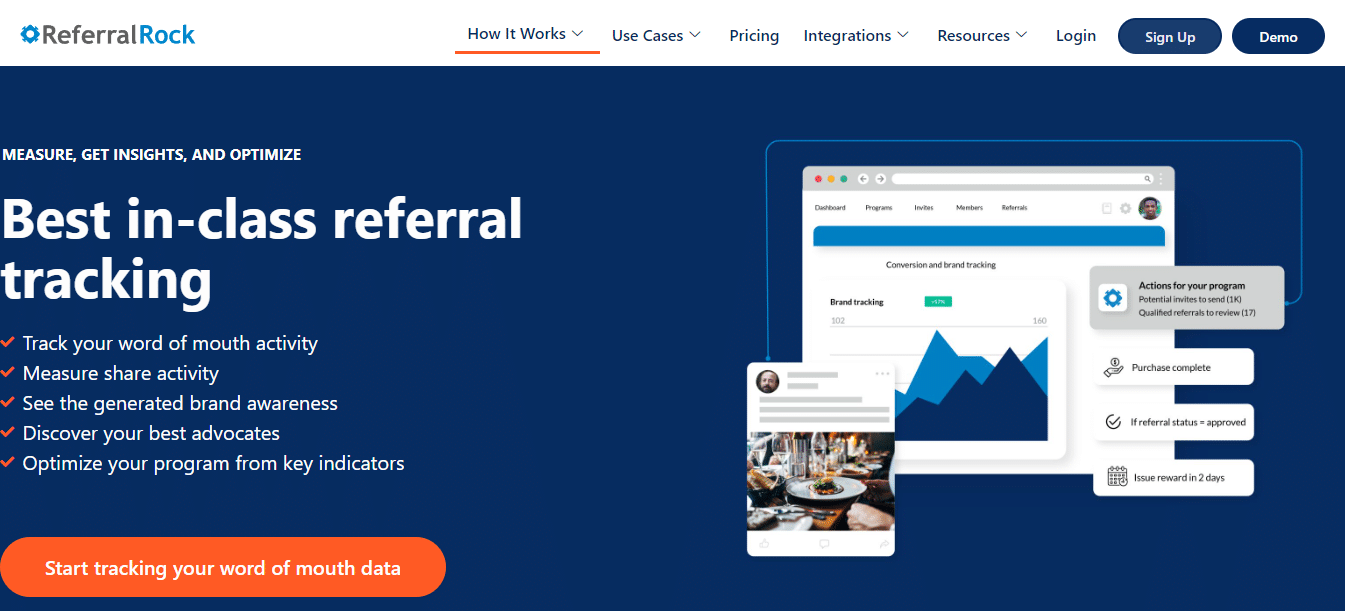 2. Choose rewards that motivate employees
Rewarding employees for referrals shows you appreciate their efforts. Recognition increases employee engagement, improves confidence, and makes employees more productive and willing to go the extra mile. 
When you develop your program, offer employee referral bonuses that employees genuinely want to earn:
Cash payouts work especially well. Pay the cash bonus together with the employee's paycheck. Alternatively, for an added incentive, make the payouts immediately. 
Gift cards are another incentive that employees appreciate. Try offering gift cards for popular brands like Amazon and Starbucks, or any brands you know employees love.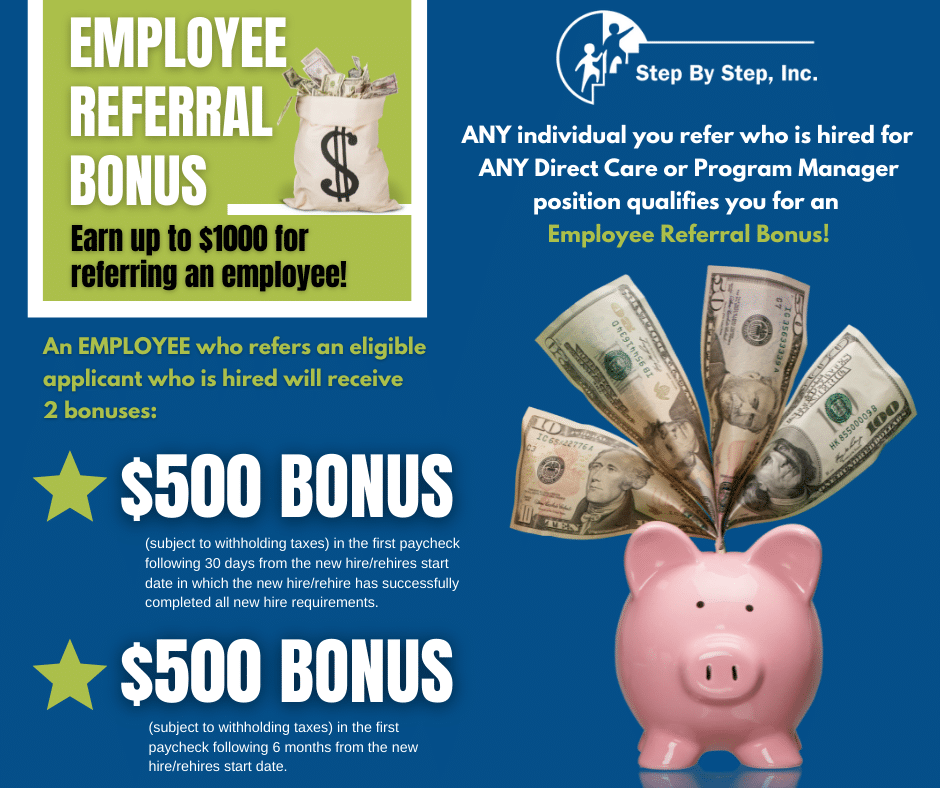 Or, try offering these other well-loved rewards: 
Tickets to major events like sporting events, concerts, or book festivals
Credit towards travel, or further development/mentorship opportunities, for big referrals
Extra paid time off 
Gym or spa memberships
Other tangible incentives, like watches, apparel, phones, tablets, or food baskets