Ready to launch a referral program and tap into the power of trusted recommendations? You'll need to create a referral program FAQ. Your existing customers are your best advocates, so you'll want to make sure they have all the information they need to share with their friends—and get rewarded for it!   One of the best ways to ensure that your referral program will work without any hiccups is to build out your FAQ page for your referral program. Here's why.
4 reasons why you should create a referral program FAQ
A referral program FAQ is essential in meeting your goals because it helps make the referral process as frictionless as possible.
Here are some specific reasons that you should spend time creating a FAQ section for your referral program.
1. It sets expectations and establishes conditions
When you start your referral program, you might get flooded with questions regarding how your referral program works. A referral program FAQ defines the scope of your referral program, and lets advocates know how exactly to refer their friends (such as what platforms they can use, and how to find and share a personal referral link or code).
The FAQ also states if and how customers will earn referral incentives, including the specific conditions that must be met before a customer can earn a reward. In short, your customers will know what to expect!
2. You can avoid clogging customer support
The less time customer support is burdened with the same (and redundant) questions, the better. A FAQ can save you from a ton of customer support inquiries, making not only your customers happy but also your team.
3. It can better equip members to promote without worrying about how it works
Even if you pour all of your time into creating the best user experience for your referral program, your advocates might give up before successfully referring their friends if they can't answer a question or overcome an obstacle.
Creating an FAQ or knowledge base removes the most common barriers to referring, and reduces the chances that your advocates will give up.
4. It'll increase overall customer satisfaction
Answering your customers' questions in a FAQ shows you care about their time and happiness. It provides a better overall experience with your brand. And when your customers are fully satisfied, they're even more likely to refer friends.
What should you include in your FAQ?
Your FAQ must be tailored to your audience. So you need to include the questions they're most likely to ask, based on your referral program structure. The questions you include will also differ depending on the products or services you sell, the reward structure of your program (if any), and whether you use a referral code or link.
The questions below, are the most common questions customers ask about referral programs of all types. Under each question, we've included the information your answer should provide.
Plus, we've included a few great examples from real-life FAQs. Choose the right questions for your own program, and tailor the wording based on your needs!
Basic questions
These are the typical questions people have when they sign up for a referral program. You may be asked these when someone is wanting to sign up for the first time or when they are just starting to explore the program.
Here are some sample questions and possible answers.
1. What is [insert the name of the referral program here]?
Consider starting off your FAQ by answering this question. Give a brief overview of your program, and of the rewards you're offering (if applicable).
Try one of these phrases to answer, all of which are commonly used in real referral FAQs:
"(Program) lets you refer friends and earn (reward)."
"(Program) rewards you for sharing with your friends."
"(Program) is a small way to thank you for sharing us with your friends."
Check out this example answer from Crowdfire referral program faq.

2. How do I refer a friend? / How does this referral program work?
Every referral program FAQ needs to answer this question! This is a great immediate follow-up to the question above—or you can skip right to it and have it as an awesome first question for your FAQ.
Walk your customers through the referral process in detail here.
What ways can your customer refer a friend? Via email? Facebook? Twitter? Other ways?
Do you use a referral link or a referral code? If so, where can customers share it? Everywhere?
If you haven't listed your referral and friend rewards in the previous question, and you're offering rewards, list them here.
Walk customers through the program step by step.
Think about emphasizing how easy your program is to use.
Here's how Verizon answers this question in their referral FAQ. Notice how they list their referral options: email, text, Facebook or Twitter. Also, they call their referral program an "easy tool!"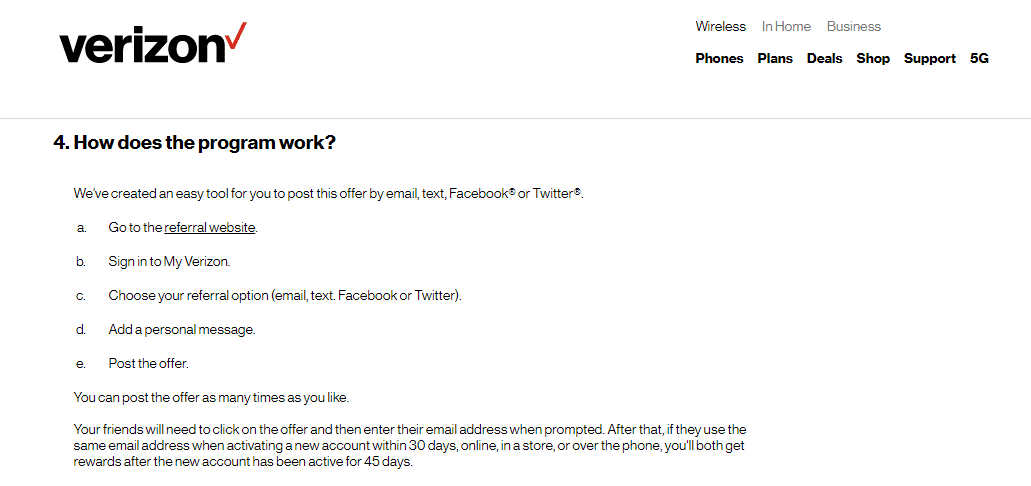 Rewards and eligibility
Though having a general FAQ about what your program is important, many people want to get right into the rewards. Therefore, you may have a few FAQs regarding the reward and how to earn it.
1. What rewards can I earn?
Are you offering discounts, store credit, free products, cash or something else as a referral incentive? You can always dedicate a specific question and answer to cover the reward(s) you offer. You can add this as its own FAQ instead of listing them in your program overview or "how-to." FAQ. This may help to keep your FAQ answers more concise.
Trying to decide which rewards you'll offer? Learn more about choosing referral rewards.
2. Which of my friends are eligible to refer? / Who can I refer to earn rewards?
Let your customers know which of their friends will count as eligible referrals (in other words, which friends' purchases can activate any referral incentives or friend incentives you are offering).
Can your customers only refer friends who have never made a purchase from your brand—new customers?
Are people who have used your subscription service before eligible referrals if their subscription is currently inactive (as an incentive for the referrer to help bring them back on board)?
Can customers only refer friends with a unique email address, that no one entered to refer them before? Can they enter an email address of someone who was referred before, but who didn't yet make a first purchase?
Or can any friend use a referral code or link to earn rewards for the person who referred them (and/or for themselves), regardless of whether they've made a purchase before?
3. What conditions must referrals complete for me to earn the reward?
Most often, the friends your customers refer will have to make a purchase for a referral reward to activate.  But must a friend's purchase be of a certain amount? Must the friend buy a certain "package" or subscription?
Let your customers know the exact conditions their referrals must meet, so they won't be disappointed. After all, once they know the reward conditions, your referring customers are more likely to thoughtfully recommend potential customers who would genuinely be interested in the product (and who would thus be most likely to help them earn the reward).
In this example from Greenlight, referred friends must pay for the first month of their subscription for a referral to be successful. Successful referrals earn both the referrer and friend $10.

4. How do I track the referral status (whether a referral is pending or completed)?
Include this if you have a referral dashboard where customers can check the status of a referral. Define what each status means. Usually, you'll have a "pending" stage, after the friend receives the referral but before they have made a purchase, and a "completed" stage, after they have made a purchase.
This is how SugarSync answers a similar question: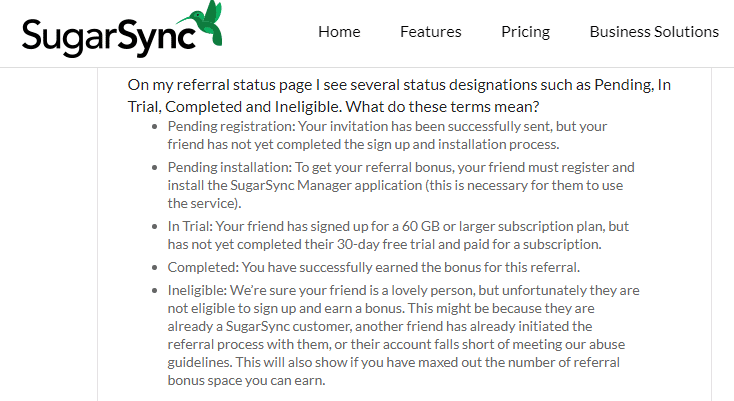 5. How can I tell if I've made a successful referral? / How can I tell if a friend has used my code? / How can I tell if I have earned a reward?
Your customers will be eager to know when their friends have made a purchase. And if you've set up a reward system, they'll likely be even more eager to hear when they have met the conditions needed to receive their reward.
Let them know how the awaited notification will come to them in this answer (usually it will be via email or via a message in your app). For example, they may receive an email stating that their friend made a purchase using their referral code, and their reward will be sent to their dashboard within 2-3 business days.
6. Tiered rewards: How can I track my rewards? / How many referrals do I need for each reward?
If you've set up tiered rewards and have a reward tracking system, this is an especially important point to cover. Tell your customers how many qualifying referrals they need for each subsequent reward, how to track the number of referrals they have made, and how they will know when they have earned each reward.
7. How will I receive my reward?
Will customers receive free coupons via email? Discounts via text message? Cash via PayPal? Gift cards or free products in the mail? Some other combination of reward and delivery method? Let them know!
8. Is there a limit to the number of people I can refer? / Is there a limit to the number of rewards I can earn?
Establish this limit so your customers know when they have reached the end of their successful referrals and can no longer receive any more rewards.
Also, how long does the limit apply? Is this limit for a calendar month? A calendar year? A year from the first successful referral? An all-time limit?
Referral codes and links
Some people will want to know how their referred friends will be tied back to them. So it's wise to address this concern in your FAQ. Here are common referral link and referral code questions that get asked.
1. Do you have a referral code? / Do you have a referral link?
Referral codes and referral links make it easy for customers to refer their friends—and for your brand to track referrals. Customers can send their unique codes and links via email, social media, text, and other methods. Then, you can easily trace successful referrals back to the person who shared. So, tell your customers if your referral program uses these tools and how they will be assigned
2. Where can I find my referral code/referral link?
Must customers generate a referral code or referral link on their own? Or will you automatically generate it? Where can they find the link or code? How can they retrieve their link or code if they lose it? Answer these questions to help ease their worries.  (i.e. once you sign up for the program you will be assigned your unique referral code to share with your friends. You can find this on your user dashboard, and it will automatically be attached to any social post you share directly from your dashboard.)
3. Where can friends enter my referral code?
A referral code won't fulfill its purpose if friends don't know where to enter it. So, what specific page must new customers visit to enter the code? Do they enter it at the checkout, like a coupon? Or does the code have a built-in referral link? Or will the code automatically be used if they click on the shared link?
Here's an example answer from the Roberts Space Industries referral program, which uses both links and codes to make referring simple.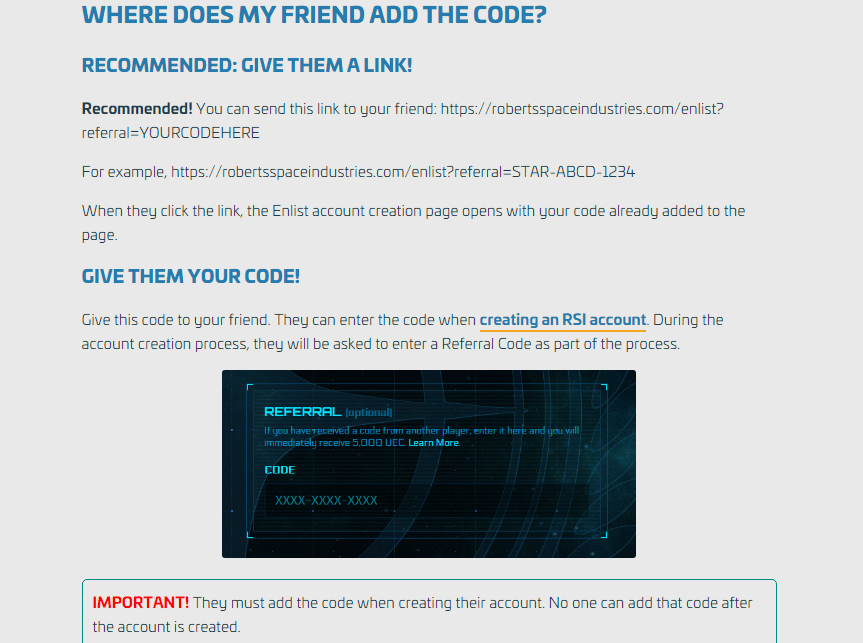 4. What if a friend signs up but forgets to use my link or code? /Can my friend enter my code or link after creating an account? / Can my friend apply my referral code after making a purchase?
State that a friend who makes a purchase without using the referral code or link can't apply the offer retroactively. So, if they forget, they are out of luck. That way, you won't have hordes of people asking to apply a code after purchasing, when the code was meant for first-time purchasers.
Also, typically speaking friends usually won't be able to enter a referral code or use a referral link after creating an account.  But will they still be able to enter a code if they've made an account but haven't made a purchase? Clarify your brand's specific terms and conditions.
5. Where am I allowed to share my referral code?
Referral links and codes can theoretically be shared anywhere. But are there places your brand might not want them shared, so people don't attempt to game the system by "referring" people they've never met or interacted with directly.
For example, you might allow sharing on customers' personal blogs or social media accounts, but not on public forums like Reddit.
Briefly establish the consequences, like removal of all reward eligibility, for those who are caught abusing the system.
Yes, you could include some of this info in your "how-to" question, but setting this question apart can help prevent program abuse. If you don't include full terms and conditions below your FAQ, this question is a great place to include the relevant parts of your terms (and a link to your terms and conditions page). Alternatively, you could include a link to your terms and conditions at the top of your FAQ page.
One final important question
This one is big, and though your program should run smoothly, you may hit a bump in the road. If a customer needs to reach out to someone, for whatever reasons, mention where they can do this and who they can reach out to.
1. Where can I reach out if my question wasn't answered here?
This should always be the last question in your FAQ. After all, you can't answer every question that your customers have about your referral program. And if you did, your FAQ would become too cluttered. So, point your advocates towards your customer support email, phone number, or chat. (Keeping this info at the bottom of your FAQ helps ensure that your customer support will only be called on when they're truly needed, for more obscure and specific inquiries.)
If you have a knowledge base or video walk-throughs you can also include it in this section as a resource.
Key takeaways
Creating a referral program FAQ helps you set expectations for your referral program, take burdens off of your customer support staff, equip advocates to promote without worry, and increases customer satisfaction.
Be sure to establish how your referral program works, and who is eligible to be referred. If applicable, answer questions about rewards, including their conditions and limits, and the use of referral codes and links, including how to find a lost link or code.
Finally, use your last question and answer to direct advocates to customer support if the FAQ didn't cover their inquiry. Armed with the knowledge from your FAQ, your advocates will feel empowered and be more likely to refer their friends!