Last Updated on
11

minutes to read
Why start a refer-a-friend program? It's all about trust.
Refer-a-friend programs help your brand gain trust since the referrers have already tried and loved the product or service before referring it to their friends. This places refer a friend programs among the top of the most effective marketing strategies.
Check out these convincing statistics on referrals and trust:
Nielsen reports that 90% of people trust brand recommendations from their friends, family, and peers. Meanwhile, only a third of consumers trust ads (Nielsen).
According to Market Force, friends influence around 81% of online consumers' buying decisions in the United States.
McKinsey suggests that 20-50% of consumers depend on word of mouth as the primary influence of their purchase decision And in a joint study, Ogilvy and Google/TNS put that number even higher, at 74%.
These statistics show why having a good refer-a-friend campaign is vital in convincing buyers to purchase from your business.
We've explored some of the best refer a friend program ideas so you don't have to. You'll see how they can be a game-changer for your business.
The best refer a friend marketing ideas
How should you structure your refer-a-friend program? What rewards should you offer? Here are some of the best ideas for your inspiration.
Store credits or subscription credits
You can reward your customers with subscription or store credit for referring your products to their friends. It does not cost you much, as the credit can only be used to buy your products. It's only the cost of the product that you lose out on. And thanks to the reward, the existing customer feels happy about saving money on the purchase (and will likely be willing to spend more in the future).
Most importantly, by offering credits towards your own brand as a reward, you make sure that your customers keep your brand top-of-mind.
These campaigns also work well for selling digital products, like software, courses, or ebooks. Depending on your product or service, it might not even cost you a single penny, but your customers get a lot of value for free, meaning they will happily refer your products to their friends.
Donations to charity
This reward is pretty straightforward. More and more customers are socially conscious—committed to making a positive change in their community and world, and supporting businesses that are committed to the same. So, choose a charity that your company and your audience are passionate about, and pledge to donate on customers' behalf with each referral.  The customers refer their friends who share a common interest of giving to charities.
It doesn't take too much effort for your members to share your program, and both your members and their friends can contribute to the cause or charity.
Social gifting
Social gifting is highly effective 'refer a friend' campaign idea. This one-sided incentive lets your customers show they care by giving their friends a reward related to your business, introducing them to you in the process. This reward could be a free product, discount, gift card, or anything else directly related to your brand.
In this campaign, the existing customer (the one doing the referring) does not get rewarded at all. Instead, the referred friend (the new customer) gets all the benefits.
Why would anyone refer without receiving any reward? Well, this concept depends on a desire to share an experience with others, or simply share a reward that is too great not to share.
So, the success of the program depends greatly on the desire to help friends. If your customers feel that your product is worthy of sharing with a friend, and think it will benefit certain friends, they will participate actively in the 'social gifting' campaign. So, if you use this type of refer-a-friend program, it's a good idea to use messaging that plays up friendship (like "share the love" or "help your friends out.)
This idea is a win-win for your business. Essentially, it's the same as a friends & family discount offer. If you want to give a big discount, you'll need to check your average customer lifetime value and your margins to see what this incentive might be worth both for you and for referred customers. Maybe limiting the quantity of these social gift distributions, to make them feel exclusive,  can help increase their significance.
The only issue with providing a steep discount in the beginning could be that referred friends always expect that great of a discount. So, tread carefully. Setting an expiration date, or rewarding them for offering the same social gift to their friends and family can help increase more referrals, and more opportunities to increase customers' lifetime value. Of course, setting up less valuable but two-sided rewards will help you avoid these issues in the first place. Consider this when you decide whether to use social gifting.
Tiered referral rewards
This type of refer a friend program offers larger rewards the more friends someone successfully refers. Customers can see a progress bar, so they know how many referrals it takes to get to the next reward. And these rewards stack—customers can earn them all if they refer enough friends who make purchases.
Razor company Harry's used this strategy when they first launched, to smashing success (100,000 emails gathered in a single week)! As you can see below, the tiered rewards they offered ranged from a free shaving cream to a entire year of free blades, so the people who referred large amounts of friends reaped massive rewards!
If you're in ecommerce, another tiered approach you could use to encourage customers to refer friends is through attractive discounts. Offer greater discounts the more referrals someone makes, and limit the discounts that you offer outsider the referral program.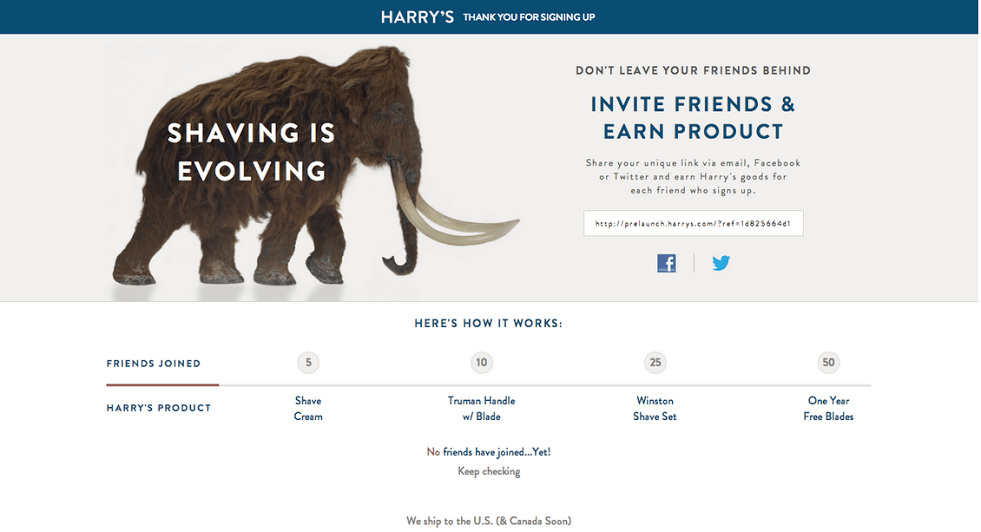 Exclusive memberships
Go a step above by offering exclusive perks and experiences for top advocates. For example, create special clubs for the customers who bring in the maximum number of new customers, and offer them benefits available only to club members. For example, create special clubs for the customers who bring in the maximum number of new customers, and offer them benefits available only to club members. An example would be craft beer of the month subscription clubs offering their best customers access to new, exclusive brews before the general public.
Even with a SaaS tool or other digital product, you can still implement a "club"  element with dedicated customer support for your members' VIP experience.
Being part of an exclusive program can grow as your referral program grows. So, consider creating top-tier rewards even within your club. You could create the top 5, top 10, or top 50 member-exclusive programs to spice up your members, and get them excited about the next reward type they can earn.
Upgrades
By upgrading the services your customers are using already, you will win the loyalty of your customers. For instance, if you're a SaaS business, you could upgrade a customer to the premium tier when they refer your product to a friend, or grant them temporary free access to some of your highest-caliber features. This won't cost you anything extra, but you'll gain new customers and keep your existing customers happy (and referring).
Repeated benefits
Even if your loyal customers forget you, never forget them! Once your customer meets a certain target number of referrals in a given timeframe, offer them benefits that they get to enjoy each month. For example, if a referrer brings ten new customers in a month, offer them discounts or deals over the upcoming months.
Surprising mystery gift rewards
Specific gifts are often the smart idea, but mystery rewards drum up anticipation and excitement. The customers who refer their friends will receive this mystery gift. Then, the trend spreads as others wonder what the reward is (or find out what their friends received on social media or in conversations).
The approach gives you the freedom to choose a wide range of gifts to reward customers. Some larger companies, like Amazon and eBay, have used this idea, and it has worked out well for them.
Obviously, when you set expectations and use the element of surprise, you need to back that up with rewards worthy of anticipation. Your goal: create that "I just received X, what did you get?" conversation going around to spark that next "I wonder what I'll get" conversation to storm your business.
Contests
Referral contests also encourage a lot of customers to participate actively in your campaign and are a great idea for driving customers to the brand. Offer an enticing, in-demand product for the winner of the contest, like an expensive smartphone or tickets to an upcoming show or concert. As always, pick something that's attractive to your audience!
Offer secondary prizes as well. While some customers might not be able to get the big reward, giving away gift cards to the mass or top 20-100 of your members who referred a specified amount of friends can be a great way to encourage referrals. Also, offer discounts or other benefits that don't cost you anything to other participants.
A contest can create an entire army of customers who will work for you and bring new customers, as long as rewards feel achievable and not every reward is left up to chance.
Also, don't forget about promoting social media shares in your contest. Giving entries for shares in social media widens the campaign, and more people can learn of the programs as customers share to their friends in their social sites. After all, on social media, people naturally share with many people at once. So, if you want more people to participate in your refer-a-friend campaign, simply have them share with their networks and reward those who provided the most shares.
Gamified rewards
This refer-a-friend marketing idea is a hybrid of sorts, as it often combines several different reward structures. Drawing on elements from your customers' favorite apps, it turns referring friends into an attractive game. Customers can progress through "levels" as they refer more friends, earning both rewards and new "titles" with virtual badges. Leaderboards encourage friendly competition: who has referred the most friends over a certain period of time, or using a certain medium? And you could incorporate contests, and mystery gifts, too. The possibilities are nearly endless!
Promote Your Refer-a-Friend Program
Having an effective refer a friend campaign idea is not enough. You'll need to market your referral program across many customers to make it known. Simply put, be proactive. Shout about your refer-a-friend campaign like you're holding a megaphone.
You cannot expect your customers to participate in your refer a friend program unless they're aware of it. So, promote your campaigns actively to ensure that your customers are fully aware of the benefits of participating.
If you already provide awesome products or services, and a stellar customer service experience, customers are probably already spreading the word about you. If you tap into this word of mouth and implement a referral program strategy using your support channel, you have the potential to unlock a ton of referrals—and effectively track your word-of-mouth.
You can promote your campaigns via social media, emails, SMS and other platforms. And if you have a brick-and-mortar, you could have staff members hand out referral program flyers to the customers who visit your store. Get the word out to as many customers as possible. Fine-tune your refer a friend messaging and refer a friend slogan to create those eye-catching triggers.
There are many well-made referral programs software out there. Here's some top-notch refer a friend program ideas and examples you can learn from, as far as creative thinking goes.
Also, check out our refer a friend best practices article for more tips on running a smooth refer a friend program.
Conclusion
A refer-a-friend campaign is among the most effective of marketing tools. When you decide on your structure and rewards, choose an idea that is desirable and accessible. The program is a selling point and a way for new customers to join your brand. Making your refer-a-friend program discoverable, having a great landing page, a nice refer a friend pop up, and retargeting customers who visit the page and do not refer friends by giving more than another opportunity generates more referrals later.
As you can see, most of these ideas can be scalable and grow with your business. The more referrals you receive, the more ideas you can implement to reach to the next level.