Why start a refer-a-friend program? Not only does it bring in more customers, a successful program also builds trust.
Refer-a-friend programs invite customers who are already fans of your brand to share it with their friends and family. This level of trust between peers is what places refer-a-friend programs as one of the top most effective marketing strategies.
Here are a few notable statistics on how referrals build trust:
Nielsen reports that 90% of people trust brand recommendations from their friends, family, and peers, but only a third of consumers trust ads.
According to Market Force, friends influence around 81% of online consumer buying decisions in the United States.
McKinsey suggests 20–50% of consumers depend on word of mouth as the primary influence of their purchase decision. In a joint study, Ogilvy and Google found that number to be even higher, at 74% of total consumers.
Now that we've seen how refer-a-friend campaigns help attract customers to your business, it's time to explore some campaign ideas. Below, we've rounded up ten of the best refer-a-friend program ideas. Read through and see how strategies like these can be a game changer for your business.
The best refer-a-friend marketing ideas
One of the key factors in successful refer-a-friend programs is the reward. What incentive should you offer customers who join your program? The best referral rewards are ones both attractive and accessible to your customers. Here are some of the best rewards offered today.
1. Store credits or subscription credits
Consider rewarding your customers with store credits or subscription credits for referring others to your business. This won't cost much, as the credit will go toward part of a total purchase. Plus, this type of reward makes customers happy about saving money and encourage them to continue buying from your business.
Credit-based referral campaigns also work well for businesses that sell digital products, like software, courses, or ebooks. Depending on your product, it might not even cost you a single penny. For many digital businesses, the expense is already baked into your operations or product. But for customers, getting credits are still very valuable.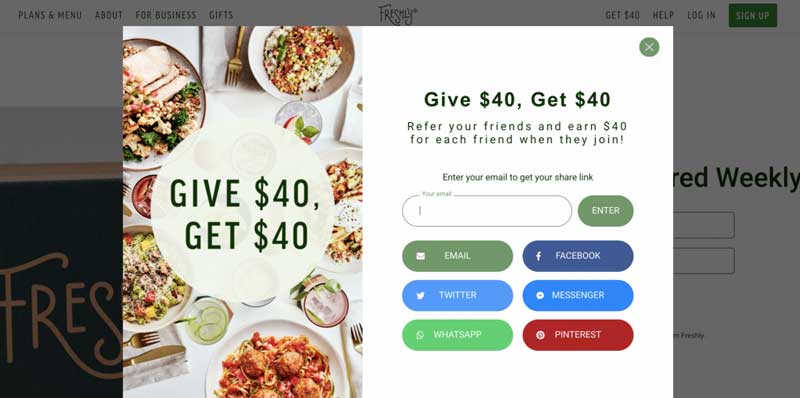 2. Donations to charity
More and more customers are socially conscious – committed to making a positive change in the world and their community, and supporting businesses that are committed to the same. Choose a charity your company and your market are passionate about, and pledge to donate on the customer's behalf for every referral.
It doesn't take too much effort for your members to share your program. But adding a social, charitable reward may be the incentive your members and their friends need to spread the word.
3. Social gifting
While social gifting has been a long-established practice, it's seen a resurgence as a marketing or refer-a-friend campaign idea. The one-sided incentive lets your customers show they care by giving their friends a reward from your business, promoting your offerings in the process. This reward could be a free product, discount, gift card, or anything else directly related to your business.
In social gifting, the existing customer (the one referring) doesn't receive a reward. Instead, the new customer (the referred friend) gets all the benefits.
Why would anyone refer others without a reward? This concept is based on the human desire to share an experience with others, or simply share something too good to keep to themselves. If your customers feel a product is worth sharing or will benefit their friends, they will actively participate in your social gifting campaign. If you use this type of refer-a-friend program, consider using it in your referral messaging. For example, something like "Share the love" or "Give to your friends" can already ignite the desire to share.
However, be careful when offering steep discounts. Referred friends (who turn into new customers) can get used to buying only with a big discount. To prevent this from becoming a concern, you can limit the number of social gifts a customer can give out (increases the discount's exclusivity) or put an expiration date on when the discount can be used.
You can also or reward the new customer with the same social gift for their friends and family, which generates even more referrals and creates opportunities for long-term customer relationships.
4. Tiered referral rewards
Tiered refer-a-friend programs offer larger rewards  with every successful referral. In most tiered referral programs, customers can see a progress bar indicating how many referrals they need to get to the next tier. Naturally, the customers who refer the most amount of people will reap the most massive rewards.
Razor company Harry's used this strategy when they first launched, which was a smashing success (100,000 emails gathered in a single week!). As you can see in the image below, their tiered rewards ranged from a free shaving cream to an entire year of free blades.
You can also apply this tiered reward approach to discounts. For example, an ecommerce company can offer greater discounts the more referrals a customer makes – 20% for the first five referrals, and then 40% for every succeeding referral.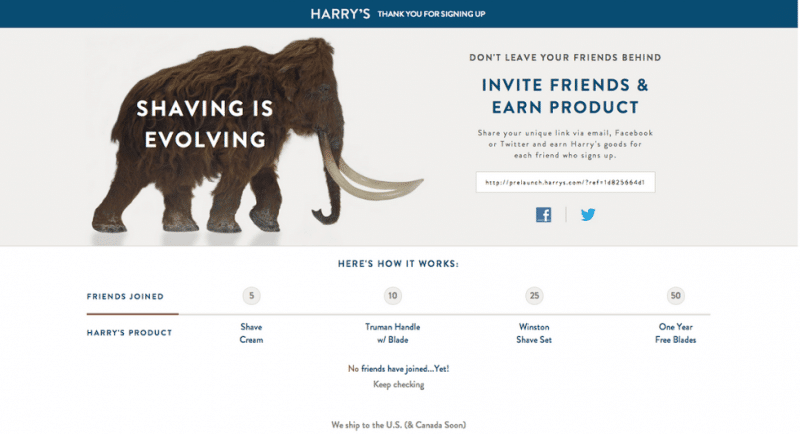 5. Exclusive memberships
Elevate your referral strategy by offering exclusive perks and experiences for your top customer advocates. This involved inviting customers who bring in a maximum number of referrals to a special club with exclusive benefits, such as early access to store sales, free products, or invitations to VIP events.
If you're selling a software tool or other digital product, you can still offer an exclusive membership element by offering customers dedicated customer support.
Moreover, this exclusive membership can grow along with your referral program. Consider creating top-tier rewards even within your club – for example, you can offer even greater rewards for the top 10 or top 50 overall members. These exclusive rewards will motivate more referrals, and spice things up for your best-performing refer-a-friend members.
6. Upgrades
Rewarding customers with service upgrades is a great way to further win their loyalty. Say, you're a SaaS business with a refer-a-friend program. You can reward every successful referral with an upgrade to your premium package, or free limited-time access to your highest-caliber features. These incentives don't cost anything extra to your business, but are effective in gaining new customers and keeping your existing customers happy.
7. Repeated benefits
Oftentimes, the simplest referral reward – cash, discounts, credit – are all a customer wants. In this case, your referral program can simply repeat the rewards after a given time frame. For example, if a customer invites ten new customers in a single month, reward them with credit or discounts they can use in the following months. If they continue referring others to your company, you can continue offering the same reward for them to enjoy each month.
8. Surprise mystery rewards
Offering specific gifts is often a smart referral strategy, but throwing in a surprise mystery reward can drum up your customer's anticipation and excitement. Mystery gifts are best offered to your customers who refer others, rather than the new customer who has been referred to your business.
Mystery rewards also serve as a great promotional tool, as they keep customers wondering what their reward will be. Fun, surprising rewards are also likely to be shared by customers to their friend's or social media followers.
This approach allows you the freedom to choose a wide range of gifts to reward customers. For example, investment and trading app Robinhood gives users a surprise mystery stock whenever they referred a friend. This provided a fun and potentially high-value motivation for users to share the app with their friends.
Of course, when you set expectations and offer the element of surprise, customers will expect a reward worthy of anticipation. Think of the best rewards that will get your customers saying: "I just received X, what did you get?" or "If I refer a friend, will I get a reward that awesome, too?"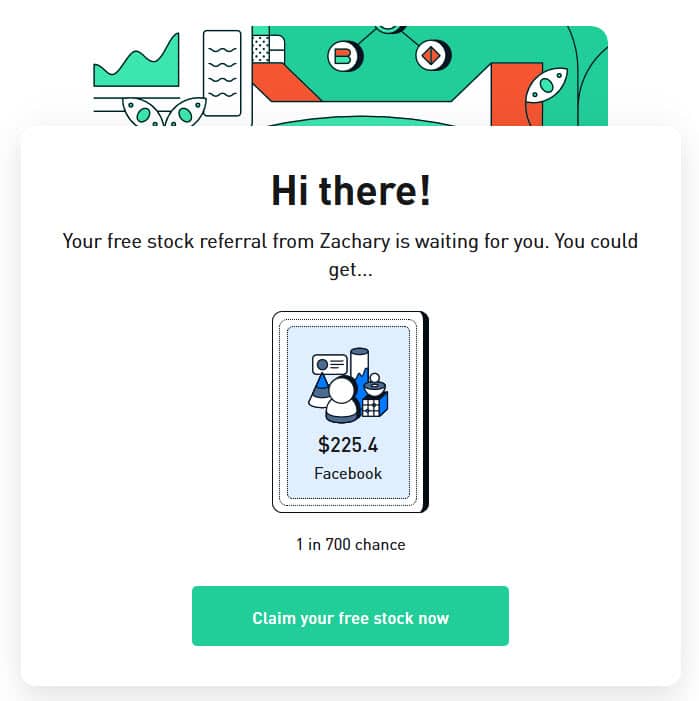 9. Contests
Referral contests effectively create an army of customers eager to join your program and bring you new customers. Contests work best when a high-value, in-demand product is rewarded to the winner – for example, the latest smartphone or tickets to an upcoming show or concert. As always, pick something attractive to your particular audience.
A good idea with contests is to offer secondary prizes, as well. Some customers might not be able to reach the big reward, and giving away store gift cards to the top 20–50 referrers can be a great way to encourage referrals. You can also offer discounts or another low-cost reward to customers who referred a certain number of friends.
For companies with a lot of participating customers, you can reward different winners in a single campaign. Consider rewarding customers with the most shares in social media. After all, social media helps promote your refer-a-friend campaign and plays a big part in its success.
(While you could also hold a drawing, where every successful referral gives customers an entry to win the big prize, we find contests are more effective into motivating customers to make the most referrals.)
10. Gamified rewards
This refer-a-friend marketing idea is a hybrid, as it often combines several different reward structures. Just like many addictive games and apps, a gamified referral campaign encourages customers to go through levels – the more referrals they make, the more rewards and achievements they unlock. You can further promote the game angle by creating titles for each level and awarding customers with virtual badges.
Adding a leaderboard to your refer-a-friend program also encourages friendly competition – customers can see who has the most referrals over a certain period of time, the most social shares, etc. Consider incorporating mystery gifts, exclusive memberships, and contests, too. The possibilities are nearly endless!
Promote your refer-a-friend program
Having a great refer-a-friend campaign idea is not enough. You'll also need to promote your referral program. Fine-tune your refer-a-friend messaging and refer-a-friend slogan, and proactively spread the word about the benefits of your refer-a-friend campaign.
Look into the different ways to promote your campaigns via social media, emails, SMS, and other platforms. If you have a physical location, consider having staff members hand out referral program flyers to all your store visitors. And if you need more promotion ideas, check out our article on refer-a-friend best practices for tips on running a smooth refer-a-friend program.
Conclusion
A refer-a-friend campaign is among the most effective of marketing tools. It's a great way to reward existing customers and a channel for inviting new customers to experience your products and services. As you can see, most of these referral program ideas are scaleable and can easily grow with your business. The more referrals you receive, the more ideas you can implement to bring your business to the next level.