Looking for a way to grow the student numbers for your online course? Or increase your edtech company's user base? Education referral programs are a marketing technique that can help you reach a broader market, accelerate brand growth, and increase your profits.
Whether you just started your online education program or have been in business for years, an education referral program can grow your audience larger than you ever imagined.
In this article, we cover what an education referral program is and how it helps your business. We also cover the best practices when running an education referral program, along with some successful examples to inspire you.
Let's start with the basics.
What is an education referral program?
An education referral program rewards customers for sharing their educational experience with their friends, family, or colleagues. 
It's an automated program that tracks all customer referrals, and rewards those customers when someone they recommend enrolls in your educational program.
Education referral programs serve two business purposes: online course enrollment and edtech adoption. 
The first purpose is to encourage more people to enroll in your online courses, and is a B2C referral program. 
The second purpose is to encourage businesses and institutions to adopt an edtech platform, and runs as a B2B referral program.
Why do you need an education referral program? 
An education referral program is a powerful marketing tactic that helps to market your company beyond your immediate network. Starting an education referral program has several benefits:
It generates proof of the high-quality education you provide because those recommending it have first-hand experience. 
A person is more likely to trust their friends and peers over ads that come directly from a brand. An education referral program motivates new customers to purchase because they trust the people recommending your online course or edtech platform.
Referred customers are more likely to stay with you because of the trust and shared experience they have with the person who recommended them. 
Even when giving a reward for every successful referral, an education referral program still comes out cheaper than other forms of advertisements. 
An education referral program is an excellent opportunity to build long-lasting relationships with your customers, both existing and newly referred. 
Through an education referral program, you can track all your customer referrals and use the data to improve your services. 
Before you start an education referral program
For your education referral program to work – whether it's to increase enrollment or encourage more institutions to adopt your edtech program – these key components should in place:
You have existing customers who are satisfied with your services and are ready to promote you through word of mouth
You offer attractive courses customers want to enroll in, or edtech services customers want to purchase
Your team provides excellent customer service
You have a good understanding of who your ideal customers are (i.e., their demographics, interests, needs)
You have clear knowledge about your existing customers, especially those who are most likely to refer their friends 
You can motivate existing customers to refer their friends and colleagues, whether it's with certain extrinsic rewards, the desire to help peers, or both
Pro Tip: The customers who will be most likely to refer their friends are your most loyal and satisfied customers.
Who has taken the most courses or used your edtech platform the longest?
Who has left a positive review or social media comment?
Has anyone already recommended you to others before?
Education referral program best practices 
Your education referral program will only work if you can motivate your existing customers to actively refer new students or edtech users. 
So how do you make your education referral program a success? Here are the best practices you should follow.
Sweeten the pot with rewards customers love 
Whether you are doing a student referral program to increase enrollment rate, or are aiming at increasing your edtech client base, there are several best practices to follow when designing your reward structure.
First, you need to reward both the advocate (the existing customer doing the referring) and the peer they referred. 
These "double-sided" referral rewards will motivate both the existing customer to keep referring more peers, and encourage the friend to make their first purchase. 
So when should you issue the rewards?
When an existing customer refers a friend, reward the referred friend only after they enroll in their first course or purchase your education technology.
At the same time, give the existing customer their reward as a thank you for their support
Pro Tip: After your referral program kicks off,  think about introducing tiered rewards. These are rewards for your existing customers, which increase in value after a set number of successful referrals.
As for what types of rewards to offer, the best choice depends on what type of education referral program you're running. 
Best rewards for online courses 
In a B2C student referral program aimed at increasing enrollment, the best way to reward customers (both existing and new) is to offer them something related to your e-learning program. The best rewards for B2C referral programs are:
Discounts on enrollments
Credit toward future enrollments in your online courses 
Free session(s) for a course
Branded merchandise, such as t-shirts and caps
Even if they aren't directly connected to your business, other tangible rewards connected to education, such as a lunchbox or gift card for learning supplies, also works well.
Best rewards for edtech 
If your referral program targets learning institutions and businesses, it's a B2B referral program. You still need to reward the person who made the referral (the advocate) and their peer who just purchased the edtech platform. 
Remember though, within a B2B company, the advocate isn't always the person who purchased your edtech in the first place. So, select the advocate reward with this in mind
Here are rewards that work perfectly for edtech companies:
Cash incentives or gift cards (sometimes called a referral bonus)
Discounts or money back on your edtech services (a great reward for the new customer, but only works for the existing customer if they are the buyer)
A free month or a discounted month, if you offer your edtech platform as a subscription (again, works well for the new customer, but only works for the existing customer if they are the buyer)
Free upgraded features or plan upgrades 
Free enrollment in an online professional development course (that either you or one of your customers offers through your edtech)
Branded merchandise, such as a backpack, binder, or lunchbox
Promote your referral program 
Although offering attractive rewards or a referral bonus is a good way to motivate customer referrals, it's useless if no one knows your program exists. Here are ways you can promote your referral program:
Through an attractive homepage banner with eye-catching images
In the top and bottom menus of your website
In mass emails about your referral program
In personal referral program emails, sent to your best customers
In newsletters, enrollment confirmation emails, and other regular emails 
Through social media posts 
In email signatures and social media bios
Within your course enrollment portal and edtech management portal
Through direct word of mouth, when interacting with customers or students one-on-one
Make sharing easy as A-B-C 
Now that customers are aware of your education referral program, make sure the sharing process is simple.
A customer should be able to refer others on any platform and in as few clicks as possible. Also make sure the share button is easy to find.
Your education referral program must have an enticing headline. Tell customers exactly what they should do and what they stand to gain. 
Beyond the headline, explain how the program works in as few words as possible. 
The referral form shouldn't be complicated, either. Only ask for the minimum amount of info needed for customers to refer a friend or colleague.
Make the program shareable through email, social media, or a referral link customers can copy and paste almost anywhere. 
Then, once a potential customer lands on your site, direct them to a simple FAQ page that answers any questions about the program.
Personalize the referred friend's first experience 
In most cases, a referred customer arrives at your online learning program through a friend. Personalize their entire experience to feel authentic, like it's coming from their friend.
Your first communication with the referred customer should be in the voice and  words of their peer – genuine and conversational (not like it's coming from your brand). Leave a space for your customer to explain in their own words why they love your brand and why they think their friend will also love it.
Automate your program with referral software
The right referral software streamlines your program creation process and automates all aspects of program management. 
It creates a customized referral experience for your brand, tracks where every referral came from, and instantly issues rewards for successful referrals.
Referral software also collects all program data, so you can easily measure success and refine your program.
Our own referral software, for example, allows you to: 
Set up your education referral program in days (not months) – no coding needed! 
Track all your referrals at a glance
Promote your program automatically, for scalable and cost-effective growth. 
Learn from a dedicated onboarding specialist and expert support – offered with all plans
Learn more about how Referral Rock's
referral marketing software
can help you accelerate student or user growth for your educational brand. 
Education referral program examples 
Here are some examples of education referral programs, as well as how they utilized the best practices we discussed above. 
Use them as a guide when creating your own education referral program.
Simplilearn (online courses)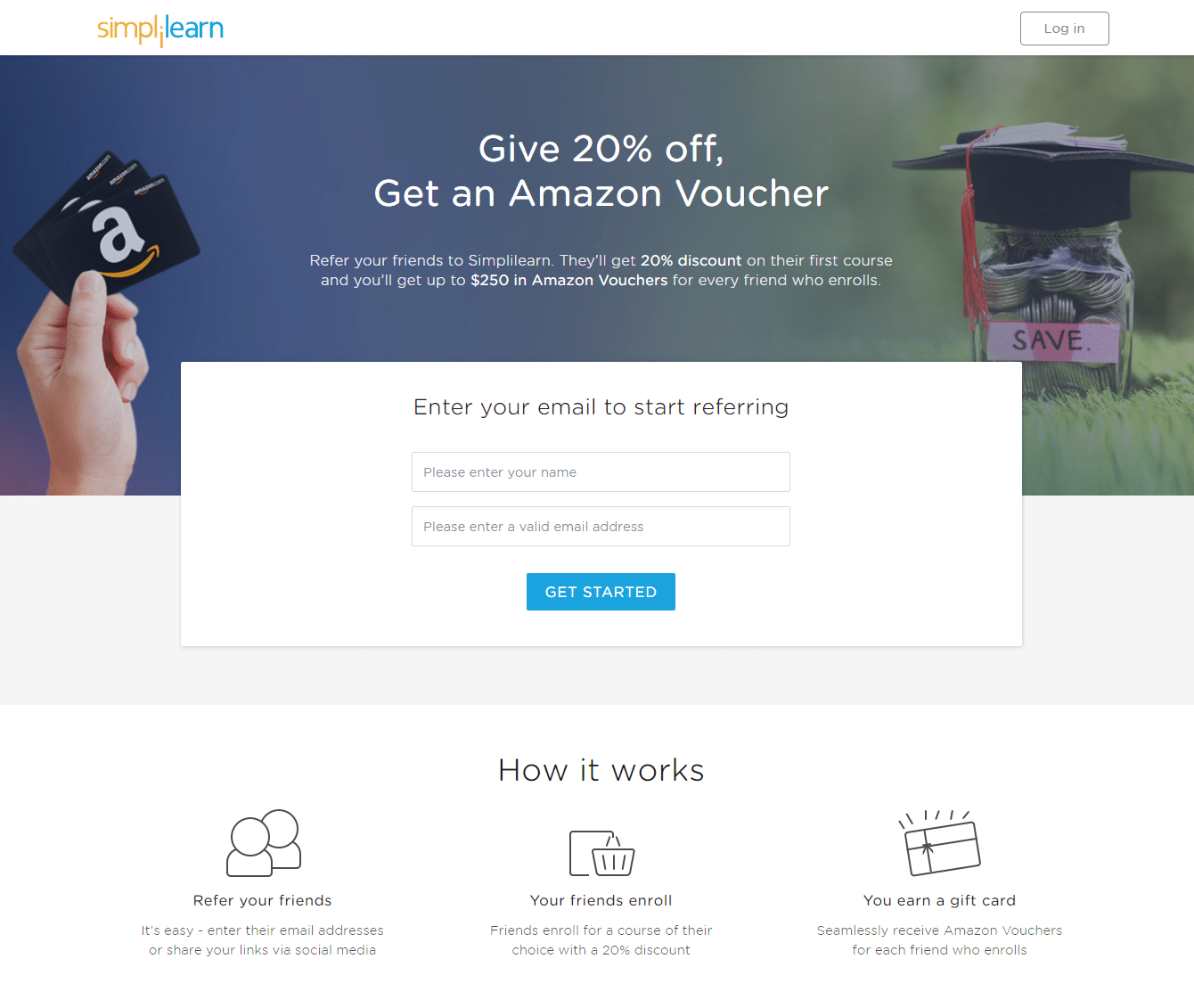 Simplilearn knows how to keep its referral program easy, without sacrificing maximum impact. Thanks to its headline and brief description, advocates quickly know the benefits they receive for successful referrals (Amazon digital gift cards) and how their referred peer will benefit (a 20% discount). 
Additionally, their website contains a detailed FAQ, so students can find out more about how the program works and clear up common concerns.
There are multiple ways students can share Simplilearn's referral link, including through email and social media. Students can also keep referring friends as often as they like. 
Another motivating feature is that advocates earn higher rewards if their peers enroll in more expensive courses.
Alison (online courses)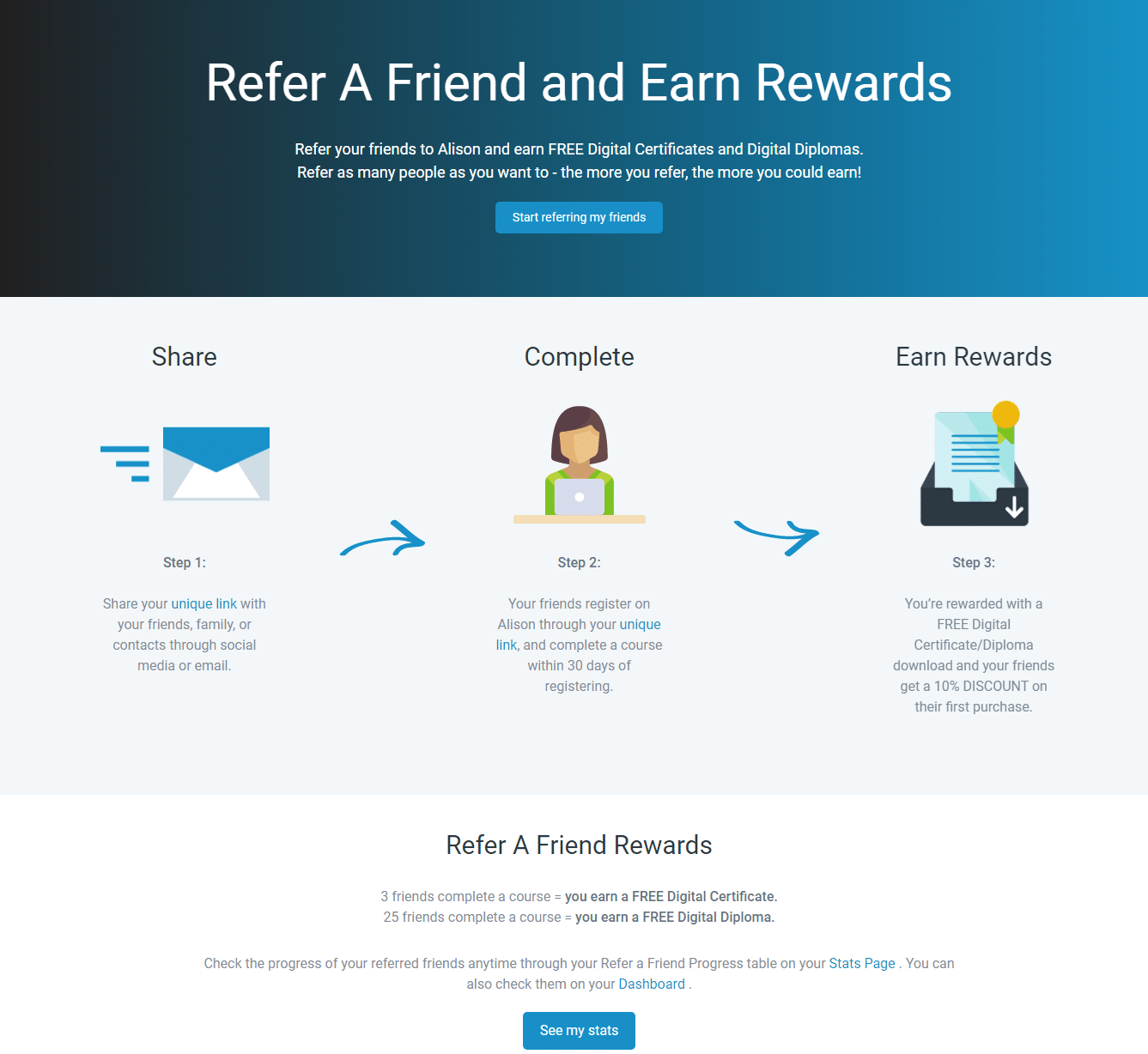 Alison uses a simple step-by-step guide, with attractive images to quickly show students what to expect from the course platform's referral program.
Students know exactly what needs to happen for them to get points toward an advocate reward – the friends they refer must complete a course within 30 days of signing up.
Once they make three successful referrals, the advocate earns a free certificate course with Alison. After 25 successful referrals, the advocate can complete a diploma program for free.
And since any referred friends who sign up for a course receive a 10% discount, both the advocate and friend rewards are directly tied back to Alison. 
As for how students can share, email, social media, and referral link options are available. 
For more information regarding the program, students can easily consult the FAQ section. 
Kognity (Edtech)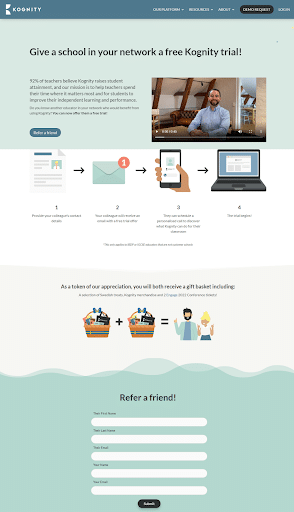 The Kognity edtech referral program focuses on building community in the education space.  
The headline is aimed at educators helping educators, and calls on Kognity users to gift a free trial of the edtech services to schools that might benefit. 
We also love how the page reminds users how Kognity benefits students and educators ("92% of teachers believe Kognity raises student attainment"), giving educators further intrinsic motivation to recommend Kognity. 
Like all great education referral programs, however, extrinsic rewards are also offered. 
When the referred school signs up for Kognity, both the advocate and the peer who newly signed up their school receive free tickets to Kognity's Engage digital conference, Kognity branded swag, and a selection of treats from Sweden, where the edtech company is based. 
Final thoughts
An education referral program is an effective and cost-effective way to reach a wider audience and market your e-learning services or edtech platform. For the most success, however, your program should benefit both the existing and new customers.
It's also important to continuously promote your program, so customers know about it and can kick-start your word-of-mouth marketing engine. And finally, using the right referral program software can help keep your program running as smoothly as possible.