Referral marketing occurs when a current customer recommends your business to a friend or family member. It's one of the most cost-effective marketing strategies out there. And by creating a formalized referral program, you can reliably drive these word-of-mouth recommendations.
Referral programs reward customers for recommending your business to their peers. When a customer recommends your business, and the friend they refer makes their first purchase, the referring customer receives an incentive. These programs are a powerful marketing channel, as they turn current customers into advocates and bring in a steady stream of new customers.
Ready to amp up your referrals and scale your business? Here's your ultimate guide to starting a referral program that works, including:
Why you need a referral program
Essentials you must have in place before starting a referral program
Tips and best practices for implementing a referral program, from our referral program experts
The top referral program examples (and secrets to why they work)
What is a referral program?
A referral program is a word-of-mouth marketing strategy that motivates your existing customers to share your brand, products, or services with their friends, family and colleagues. Within a referral program, the existing customer earns a reward whenever someone they refer makes their first purchase.
To encourage customers to refer their peers, a brand will prominently promote the referral incentives on offer. These incentives could include gift cards, discounts, store credits, free products, or swag. Customers who use the referral program receive referral links to share with their network, so the business can easily track referral sharing.
Why start a referral program?
A customer referral program (or refer-a-friend program) helps businesses easily pinpoint their biggest brand fans, as well as track the exact source of their new customers.
A formalized program also makes it easy for customers to share your brand, with a dedicated referral page and messaging.  So, referral programs turn your happy customers into reliable advocates! And referring customers don't just share with anyone: they bring in good-fit leads who are more likely to purchase from you.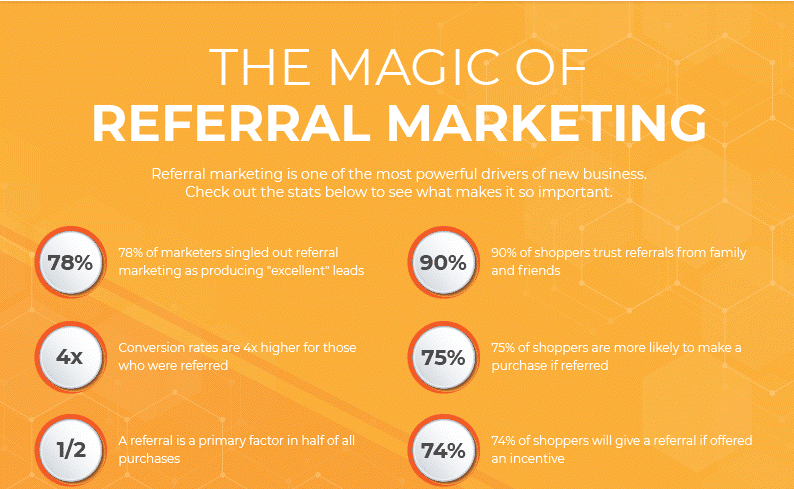 Why do you need a referral program?
Referral programs generate leads and sales through the power of trust. When a potential customer is in need of a product or service, they're most likely going to ask a friend or family member for a recommendation first. After all, as Nielsen reports, 84% of consumers trust referrals from friends and family more than any other source of information about a brand. And thanks to the benefits they offer customers, referral programs create an engine that reliably encourages these recommendations – meaning more leads and sales for you.
Also, referral programs track the referrals that customers make. Without a tracking element, it's hard to know the impact of word-of-mouth recommendations. But thanks to a referral program, word-of-mouth marketing becomes measurable.
What is the goal of a referral program?
The main goal of a referral program is to attract new customers who are a good fit for your brand. Referral marketing leads are already warm because they trust their peers' recommendations. Plus, since their reputation is on the line, customers will only recommend your product to friends when they know these friends will benefit from what you offer. So, referred leads are more likely to make a purchase, and more likely to align with your ideal customer profile.
Top 4 benefits of referral programs
A customer referral program can benefit businesses of any size, in any industry. Here are four of the main benefits that come from starting your own referral program:
Standardizes the sharing process
Attracts new customers at a very low cost
Brings in high-quality customers
Has a proven track record of success
Let's explore each in detail below.
1. Standardizes the sharing process
If your business offers exceptional products and services, customers will be happy to refer you to others. However, even your happiest customers may not always remember to spread the word about your business. Unless they see a friend or family member in need of your product or service, they might never think of referring others.
This is where a referral program software can help. A referral program standardizes the way you invite and reward customers for sharing your brand with others. By offering a formal referral program – with clear and attractive rewards – you can increase the odds of your business getting word of mouth.
2. Attracts new customers at a very low cost
Referral programs encourage your current customers to spread the word about your business with the promise of a reward. But how much does a referral program cost? Not as much as you may expect.
The cost of referral rewards is fixed (per referral), and these incentives are only paid for performance. The result is a much lower customer acquisition cost (CAC) compared to most types of advertising.
3. Brings in high-quality customers
Referred customers have a higher retention rate than other customers, and are proven to bring more value to your business. They are proven to spend 25% more, and are 37% more likely to make a repeat purchase. They also have a 16% higher customer lifetime value than customers who were not referred.
And perhaps most strikingly, referred customers are three times more likely to refer someone else, meaning there's a high chance they'll keep the cycle of referrals going and bring you even more top-tier customers.
4. Has a proven track record of success
Some of the most popular businesses have seen success thanks to a strong customer referral program.
PayPal's famous referral program literally gave away money. The company started out by offering $20 to start an account, and another $20 to refer their friends (this number decreased through the years). As one of the first notable referral programs, it helped PayPal achieve 7–10% daily growth and a user base of over 100 million.
Dropbox also offered a referral program that was greatly inspired by PayPal. It led to a 60% increase in user signups, with over 2.8 million referrals taking place in the first 18 months. Even today, 35% of all signups come from the company's referral program.
A leading German bank offered €25 ($28) for every successful referral. The results? Its referred customers generated 16% greater profits and were 18% more likely to stay with the bank.
Unfortunately, even with all of these benefits, not enough companies are taking advantage of referral programs. A study shows 71% of startups don't have a referral marketing program in place.
If you don't want to miss out, we can help get a customer referral program up and running for your business in just a few steps.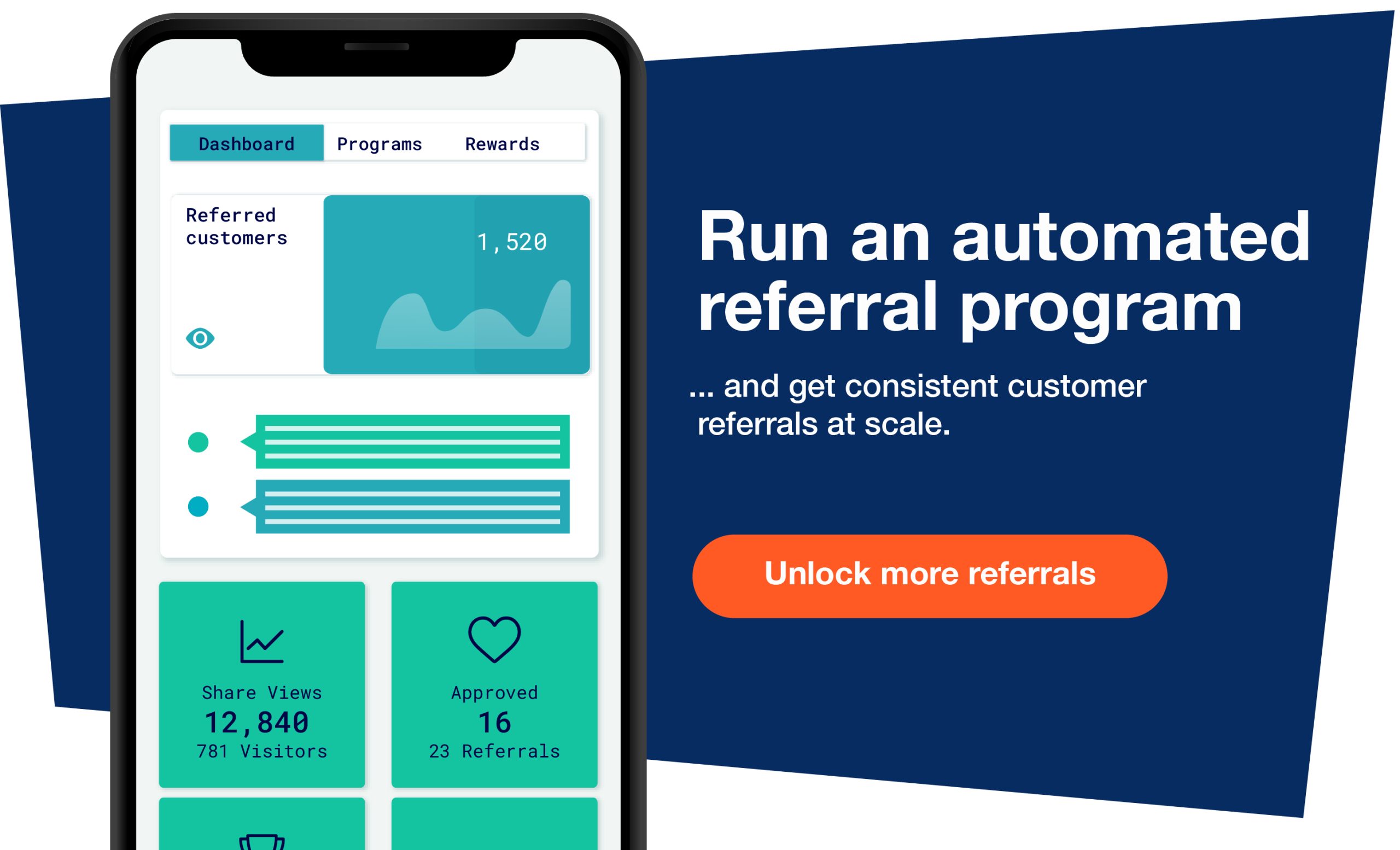 How does a referral program work?
Referrals have proven to be one of the most valuable forms of marketing. Not only do most of us look to others for product and service recommendations, these recommendations come with a high level of trust.
Research reveals that 75% of customers are more likely to make a purchase if their friends refer them.
It makes sense. The friends were once in your existing customers' shoes and looking for a similar solution. If an existing customer is telling them how great a product is, they're more likely to give it a try.
Plus, referral programs have the potential to create a never-ending cycle of word-of-mouth marketing (sometimes called a viral loop). One referral leads to two, three, and so on. All from a single customer.
It's easy to see how recommendations have changed the way consumers shop these days. And if your business is going to adapt to these changes, it needs a strong customer referral program strategy.
How to create a referral program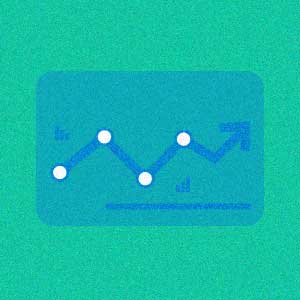 Step 1: Lay the foundations for success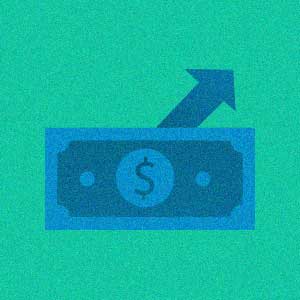 Step 2: Choose your referral program rewards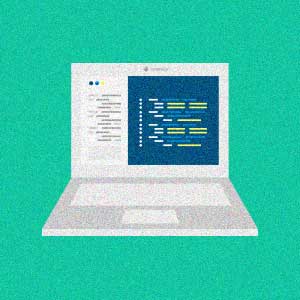 Step 3: Design a referral program that converts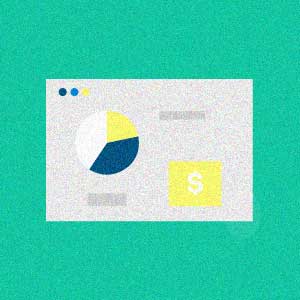 Step 4: Utilize referral program software tools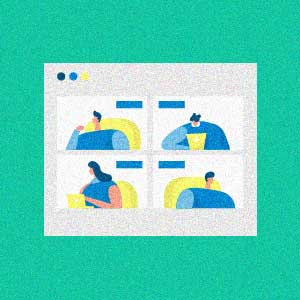 Examples of referral programs to inspire your own
How to create a customer referral program?
Now that you understand how referrals and referral programs help a business, it's time to start building one of your own. But where do you begin? Here's what you'll need to do to create a referral program that delivers the most ROI:
Provide exceptional products
Put your customers first
Know your ideal customers
Have a clear marketing goal for your program
Determine who will get the referral rewards
Choose which reward to offer
Decide on a reward structure
Use catchy headlines
Make it easy for people to refer
Provide multiple sharing options
Use a bold call to action (CTA)
Create your referral messaging
Optimize your program for mobile
Implement analytics and tracking
Determine your launch strategy (who will you ask for referrals first?)
Figure out how you'll tell all customers about the program
Utilize referral program software tools
Step 1: Lay the foundations for success
The success of a referral program lies in having a solid referral system – one built on exceptional products, strong customer relationships, and a clear marketing goal. Having these foundations in place before you design and build your program is key.
A. Provide exceptional products
Providing exceptional products and services is the first step to creating a referral program. If your offering doesn't stand out and make an impact, people won't remember to refer you to others – no matter how great your referral program.
"Believe it or not, I built my entire business through word-of-mouth referrals," says Ritika Puri, Founder of Storyhackers, a Silicon Valley-based marketing firm, in an interview with Grasshopper.
But Ritika didn't get these clients because she's lucky – she got referrals because she does amazing work. "I genuinely love getting to know my clients and love to make them 200% happy," she says. "I am very passionate about (and completely believe in) the work that my clients are doing. This passion guides me toward amazing projects and people."
Whether you run a marketing firm or another type of business, you can learn from Ritika. It's important to be passionate about offering exceptional products and services. Otherwise, even the best customer referral program may never take off.
B. Put your customers first
A referral program is nothing without your customers. If you're planning to launch a program, it's important to develop your customer experience and relationships first.
And like all good relationships, communication is key. Take the time to have conversations with your customers. Listen to them and respond sincerely. After all, these customers are similar to the ones you'll be targeting in your referral program, so consider them as your direct line to understanding the market.
At the end of the day, if you put effort into providing a positive experience through your brand, customers will be happy to share.
C. Know your ideal customers
Since referral programs are a customer acquisition strategy, it's important to understand the types of customers you want to attract through the program. These customers should be similar to the existing customers who will make referrals. How will you best motivate these new customers to sign on, and get existing customers to share with people in the right demographics?
D. Have a clear marketing goal for your program
While the first three points covered generally good business practices, this final one focuses on how to set up a referral program. Why are you creating a referral program? Aside from more sales, is there anything else you hope to get out of it?
A few other goals can include:
Increase customer loyalty (customer retention)
Build brand awareness
Create a viral marketing campaign
Drive customer acquisition
No matter why you want to start a referral program, it's important to identify these goals. This allows you to measure how the program is doing, and see whether you're actually hitting your targets.
Joni Holderman, founder of
Thrive! Resumes
, gets 82% of new business from referrals. "I offer clients a free resume update when they refer a colleague who purchases a resume. It's a win-win. I get great new clients who are an excellent fit, get to stay in touch with valued clients, and the costs are about the same as I would pay in marketing to acquire a new customer."
Step 2: Choose your referral program rewards
Now that you've covered the basics, it's time to figure out how you'll motivate your customers to participate in your program.  What will make a customer spend their time and effort to refer others? Aside from offering great products and exceptional customer service, a reward incentive (sometimes called a referral bonus) can be the nudge they need to send others your way.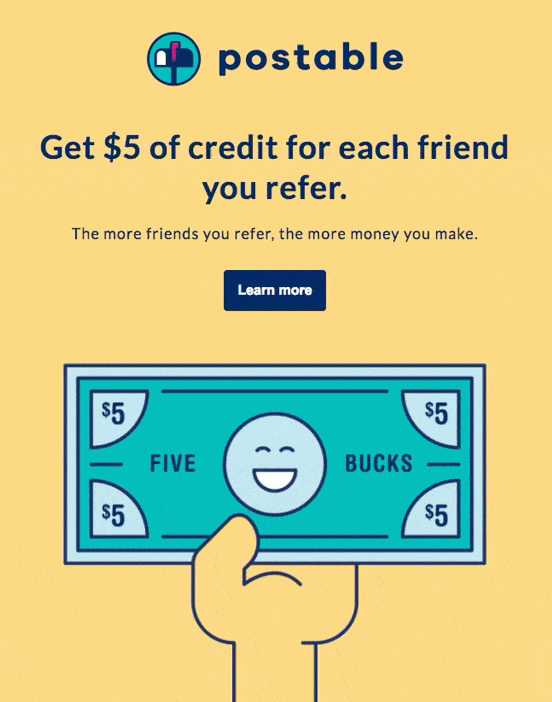 Don't make the mistake of thinking you can get by with no incentive at all, as that makes it difficult to get anyone to participate in your program. Even if your business and product are well-loved, a lack of incentive can make your referral program less attractive. When it comes to any business transaction, people usually take a "what's in it for me" attitude. So, be sure to offer a well-chosen reward that makes referring worth it.
"Consumers don't just simply use a product and recommend it to friends and family members. They want to know what is in it for them. We overcame this challenge by providing customers with incentives when referring someone to our brand – discount coupons that can be redeemed on our website. Individuals are eligible for increased discounts with every member they refer to our brand. It helps create a strong customer base."
– Erin Neumann, Soxy  (As told to us in our B2B social proof roundup)
A. Determine who will get the referral rewards
The first question to answer when designing your referral rewards program is who will receive the reward. Will you offer incentives to the existing customer (the referrer/advocate), the new customer (the referred friend/lead), or both?
One-sided incentives
This type of incentive rewards either the existing customer or the referred customer – not both.
If you choose to reward only your existing customer, it can increase their motivation to share, but also make the referral seem self-serving. The referred friend won't be very motivated to purchase right away –  leaving both parties (and your business) still without a sale.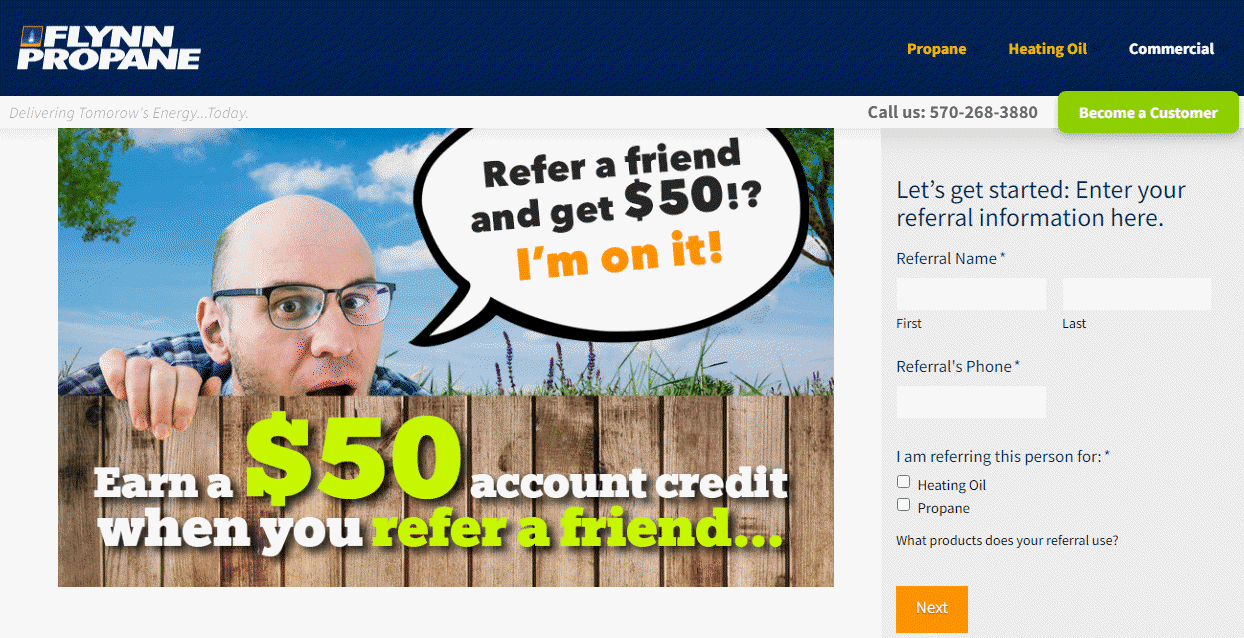 If the reward only goes to the referred friend, there's a good chance it will lead to a sale, although you might not see as many referrals.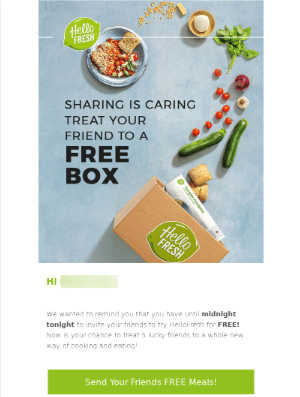 Two-sided incentives (or double-sided incentives)
This type of incentive usually has the highest engagement, as it rewards both the existing customer and the referred customer. The reward can be the same for both parties ("Give $20, Get $20") or different ("Give $15 to your friends, and get a free product in return").
In most cases, it's best for referral programs to offer a two-sided incentive. After all, you're rewarding the existing customer for making more referrals, and encouraging the new customer to make their first purchase.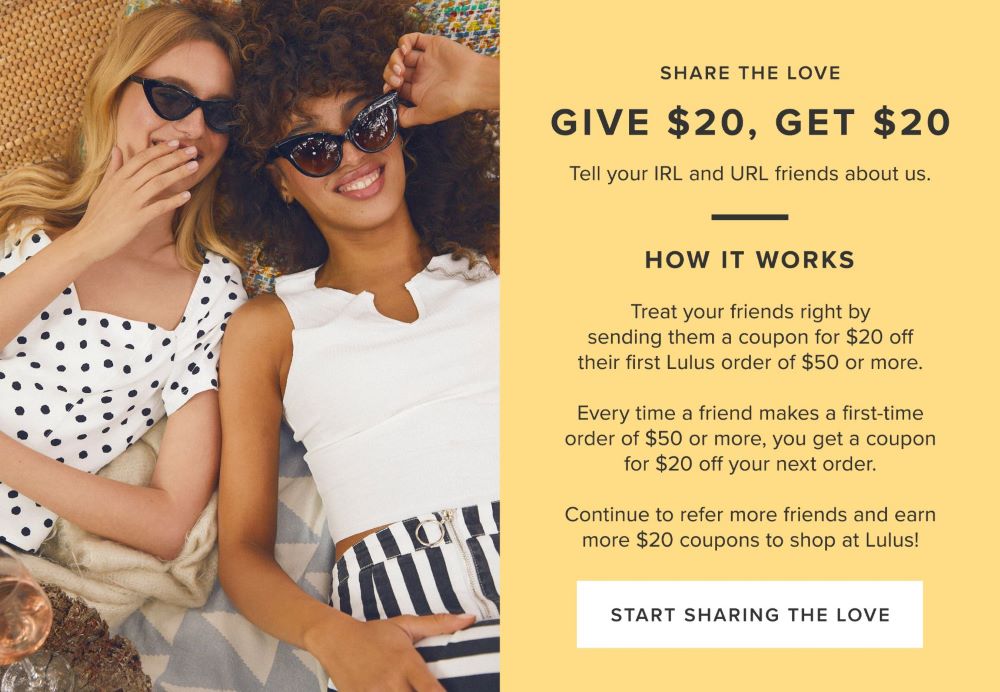 B. Consider what reward to offer
Just as every business is different, every referral incentive will be too. Find out what type of referral reward will work best by considering what your customers value most. For example, a snack food brand can offer a free sample or discount for every successful referral, and a cloud storage platform can offer free storage space.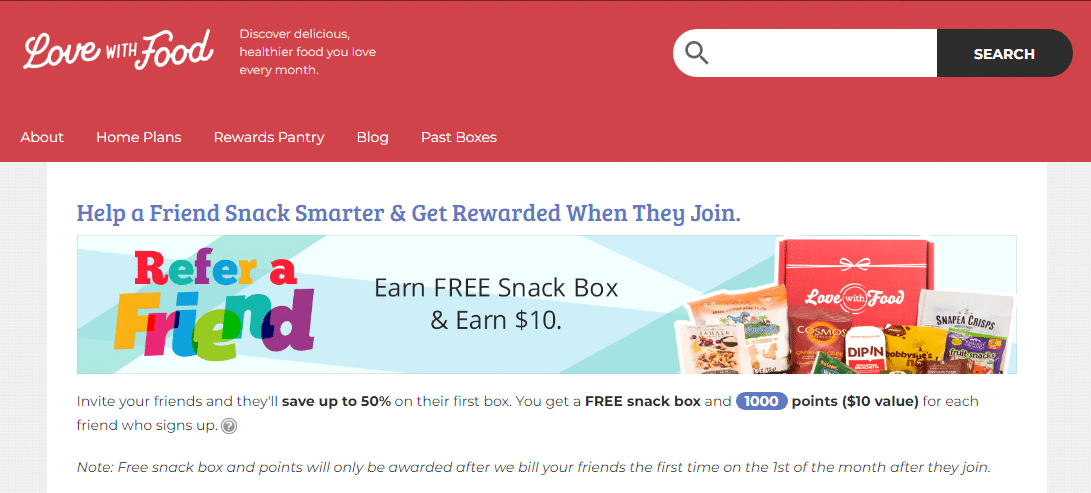 Here are some questions to help you determine your referral reward:
Who are my current customers? What type of reward would they most enjoy?
Do the referral rewards make sense for my brand and business?
Will I offer monetary or non-monetary rewards?
Cash rewards naturally tend to be the most enticing and eye-catching. But they aren't the only ways to incentivize your customers. In fact, studies suggest customers may be even happier receiving gifts as opposed to straight cash. With a little creativity, you'll find there are many types of reward incentives:
Discounts/coupons
Store credit or points
Service upgrades or freebies
Free products
Free month subscription
Branded swag
External gift cards (i.e., Amazon, Apple, Visa)
Donations to charity
There are many ways to reward your customers for their referrals. Just make sure the reward incentive you choose is one where they see the most benefit.
You'll need to consider how your buying process is structured when selecting a reward.
For instance, if you're an apparel or cosmetics brand (or any brand where people purchase often) you might offer store credit to referrers. This way, customers can use the credit on their next purchase, and they'll be motivated to buy again soon.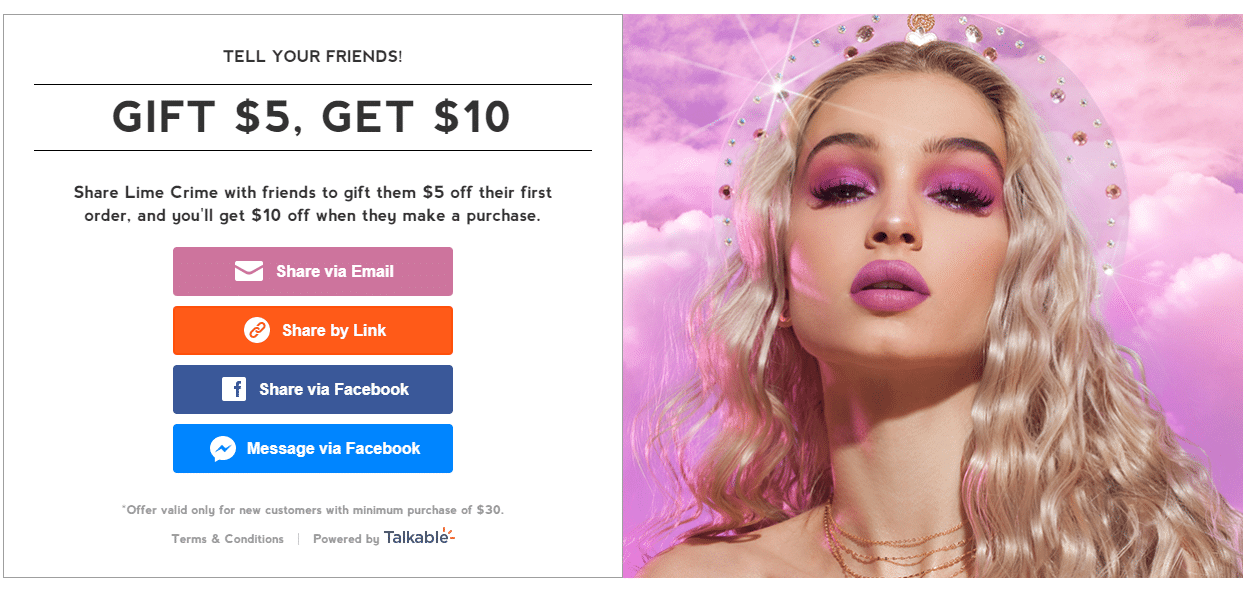 But this reward won't make sense if you're a business where purchases are infrequent, like a car dealership, mattress company, or home renovation company. For brands like these, cash and large, tangible gifts make more sense as referral rewards.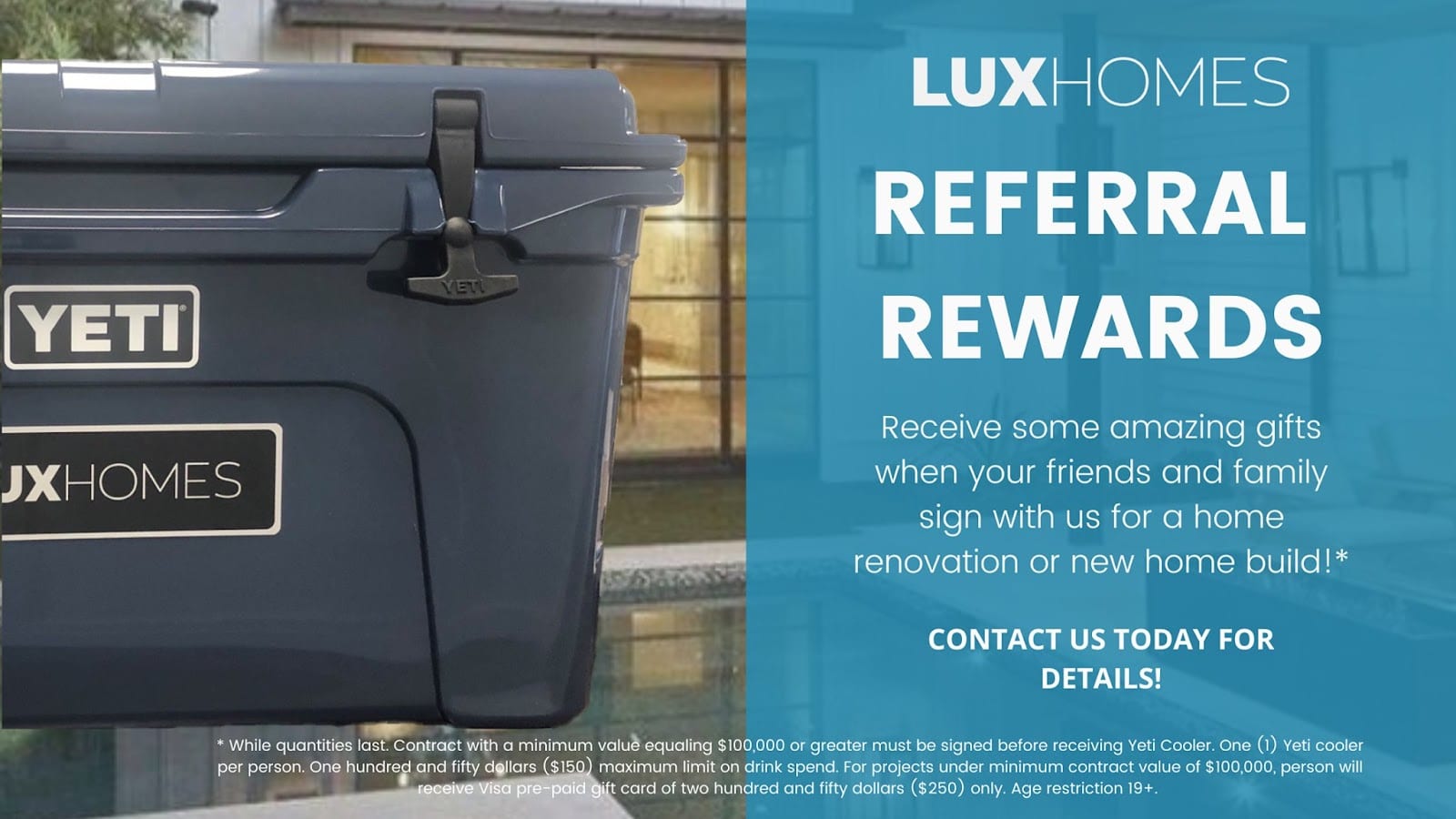 C. Decide on a reward structure
The final piece of the referral puzzle is setting up your reward structure. When and how will you give customers their reward? Below, we go over the most popular options:
Standard reward structure
This is the simplest of all structures. You offer the same reward for every successful referral (i.e., $20 store credit) and automatically reward your customer as soon as their referred friend makes a purchase.
A standard reward structure doesn't require you to keep close track of a customer's referrals, but it could lose its motivating factor in time.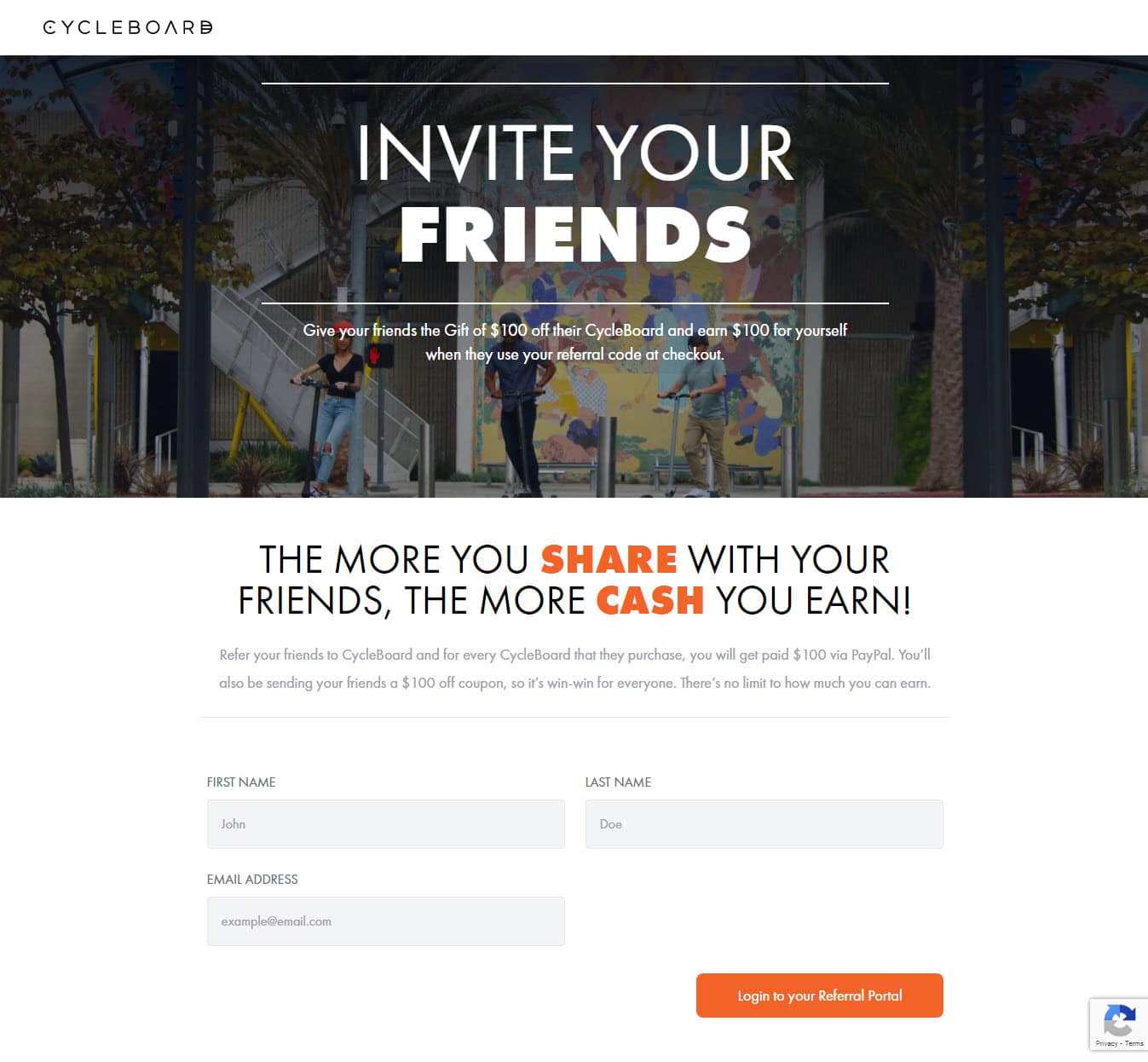 Tiered reward structure
This offers different levels of referral reward incentives, usually based on the number of referrals. For example, a referring customer may earn $10 for the first three referrals, and then $20 for every succeeding referral.
Alternatively, you can also start with the greater $20, and then offer $10 after a certain number of referrals has been made. Or, you could offer different products, or swag items, that increase in value as customers hit certain referral goals (like The Hustle does).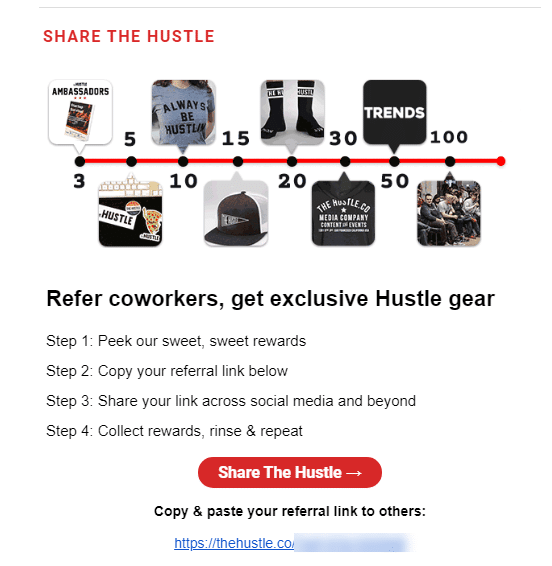 Multi-step or staged reward structure
This breaks down the entire referral process into steps, and rewards customers for each step they accomplish.
For example, a customer might earn:
$5 when a referral schedules a consultation
Another $5 payout if that referral moved on to book a service
A final $20 payout when the referral pays their invoice
This structure works best for B2B businesses, as well as others with longer sales processes (say, infrequent expensive services, such as landscaping).
Referral drawing
In a referral drawing structure, customers earn an entry into a random drawing for a bigger-ticket prize in exchange for their referrals.  One referral equals one entry. So, the more referrals someone makes, the greater their odds of having their name pulled.
Regardless of the outcome, though, every successful referrer earns a smaller set reward for every referral, just like in most referral programs. (Usually, this is store credit or a free product.) This way, there's always an immediate motivation for customers to share.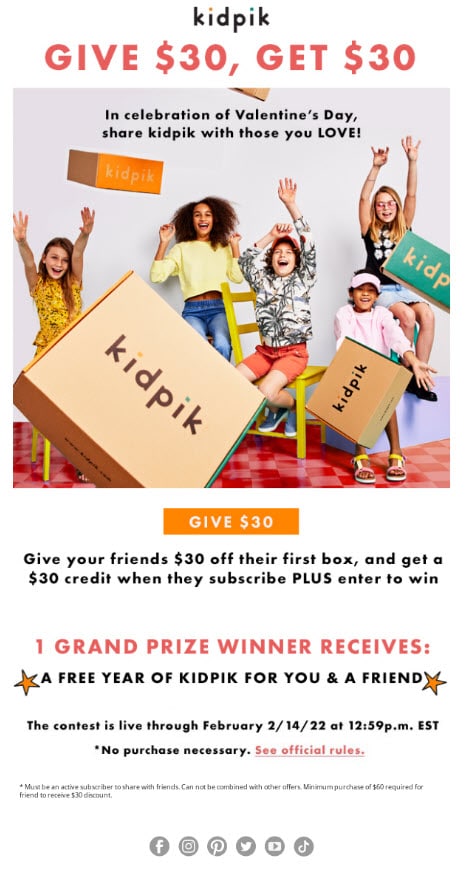 Gamified reward structure
A gamified reward structure (sometimes called a referral contest) awards an extra, high-value reward to a customer who makes the most successful referrals in a certain time period. This is a great way to create super-advocates for your brand by appealing to customers' competitive sides.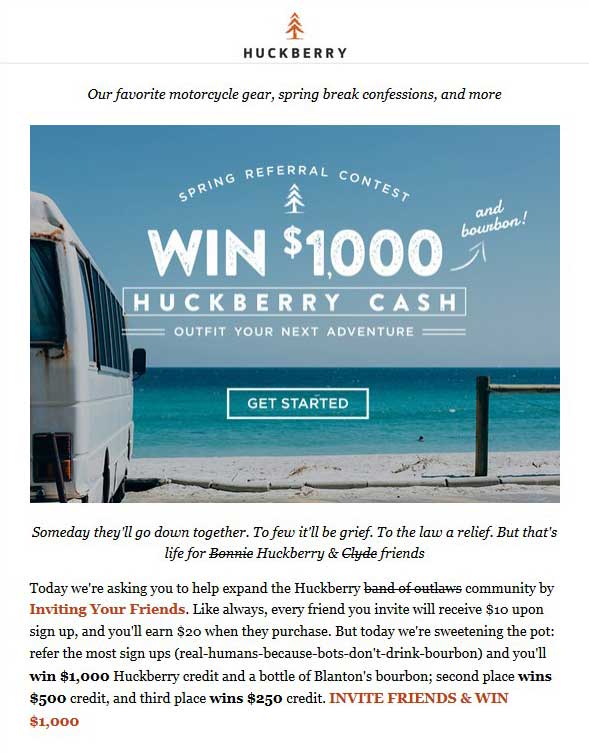 Gamified structures and referral contests are a great way to add excitement to your referral program (especially for certain seasons). So, consider starting one of these friendly competitions.

Step 3: Design a referral program that converts
Once you've decided on your rewards, the next step is designing your referral program. The look and feel of your campaign can say a lot about your business and the way it interacts with customers. After all, these referrals may be the first time someone comes across your business.
Keep your referral program messaging clear and easy to understand, and make sure the elements – the way your program looks, feels, and sounds – are in line with your business.
A. Use catchy headlines
Before you can get a customer's referral, you need to get their attention. This is true for every type of marketing. But when it comes to customer referral programs, headlines are a key player in attracting your customers to join.
A good headline should provide the gist of the program in a single sentence. It should also share what the referral program is about and explain the benefits of joining. Here are a few examples of headlines that work:
"Give $20, Get $20"
"Refer a friend and get $15"
"Share a better way of working"
"Spread the word and get free socks for life"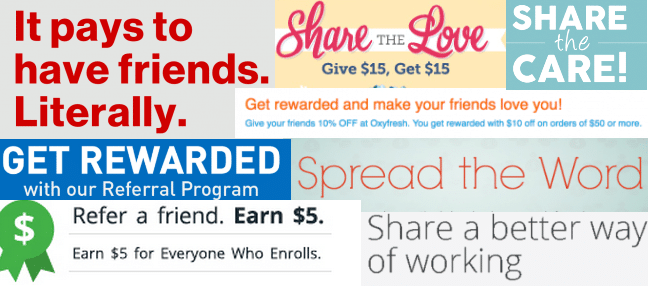 B. Make it easy for people to refer
The best referral programs make it easy for customers to share your brand with others. If a customer has to jump through hoops just to send a referral, they'll likely give up early in the game. Give customers a way to refer their friends in as few clicks or taps as possible.
And when you're explaining how the program works, cover:
The rewards on offer
What needs to happen for rewards to be earned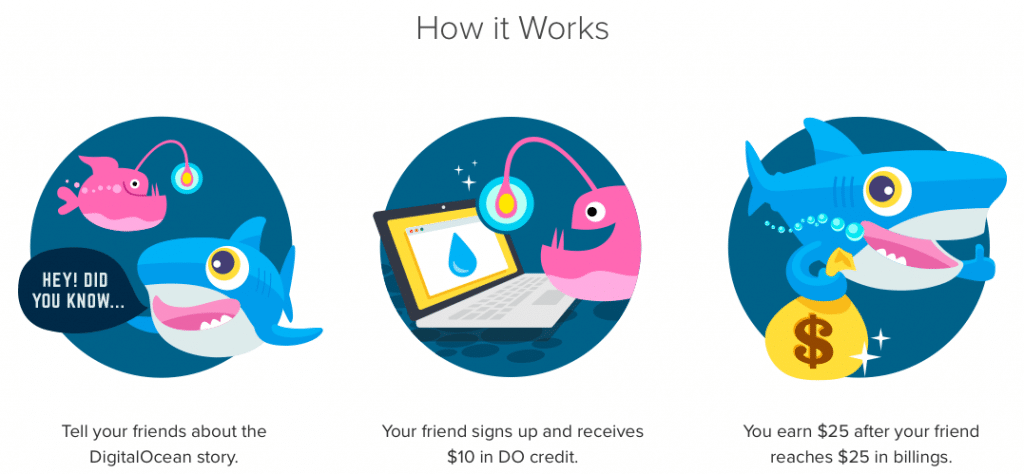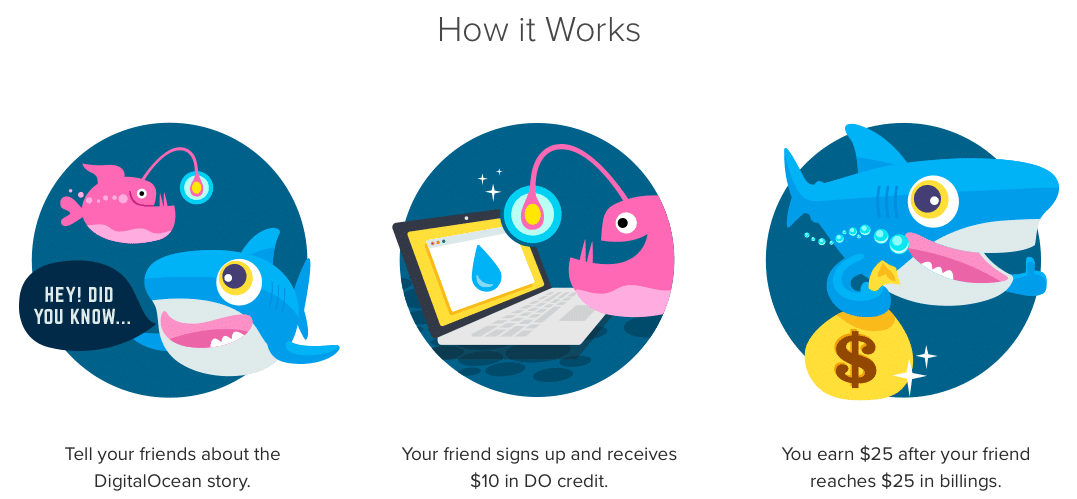 Be as concise as possible – get to the point so the sharing can begin. Summing things up in a three-step process (like DigitalOcean did above) is especially effective.
If there's anything extra that needs to be explained, set up a separate referral program FAQ.
C. Provide multiple sharing options
One key way to make sharing easy? Give your customers a few different ways to share, and you increase the likelihood of them actually sharing.
Fortunately, most referral software tools give you multiple convenient sharing options for customers (i.e., social media, email, text message). It's best to choose the options that align with how your customers naturally share exciting things with friends.
Include a one-click referral link so customers can simply copy and paste the link to share in whatever way works for them.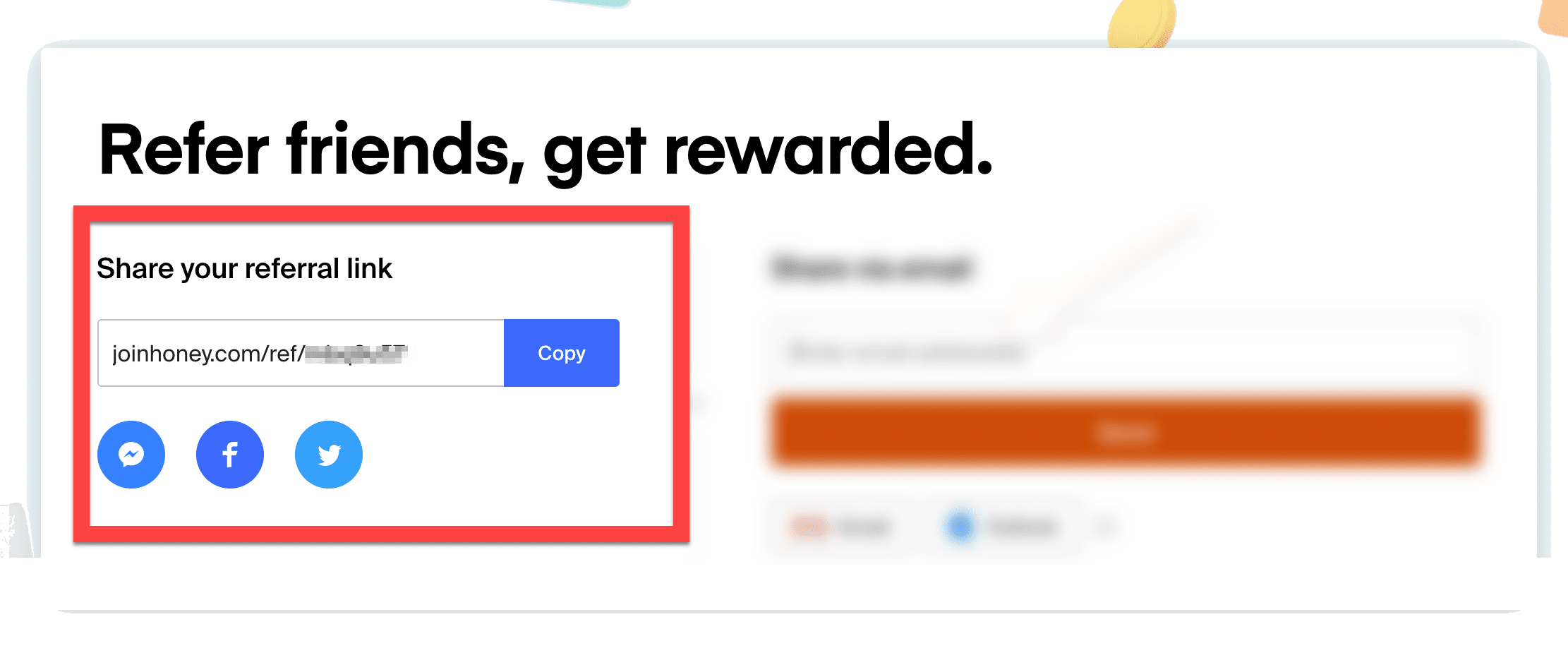 In the example below, clothing retailer American Apparel sent an email to their subscribers, encouraging them to share the brand with their friends. In exchange, they offered 20% off for both the subscriber and their friend. But American Apparel's referral success wasn't just because of its enticing offer – it was how easy it was to refer a friend.
With a convenient referral widget, the company allowed subscribers to share the coupon via email, Facebook, Twitter, or a direct link. It even pre-filled the referral message box (more on this below) so subscribers didn't have to do a thing, aside from making a few simple clicks.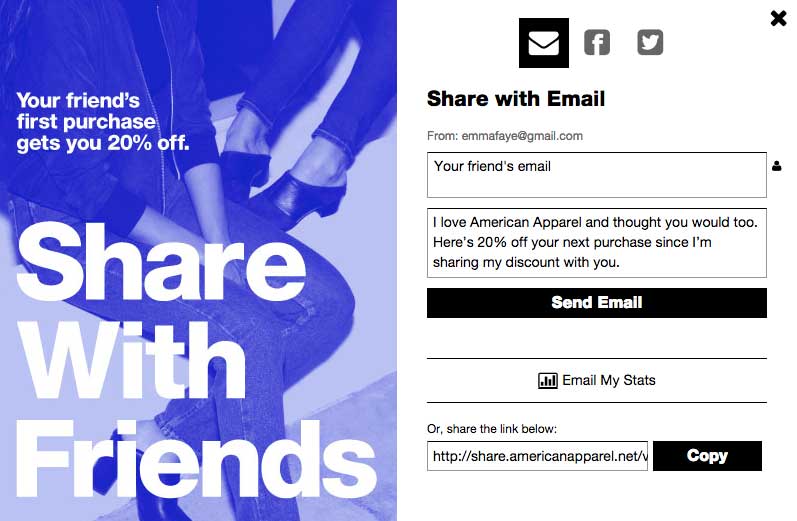 D. Use a bold call to action (CTA)
The referral call to action is the powerhouse of any strong referral program page. This is the button customers click to move forward in the referral process, and make the share. So, make sure it's eye-catching, in a color that stands out from the rest of the page. It also needs to say what you want the customer to do next in just a few words: "Share now," "Invite friends," or "Get [type of reward]" are great examples.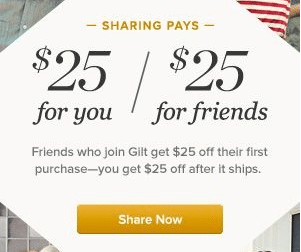 E. Create your referral messaging
On top of sharing options, having the right referral messaging is also important. Referral messaging is the text your customer will send to their friend.
A pre-filled, ready-to-send message makes it even easier for customers to share your business with their friends. In fact, using established referral program templates often tends to bring better results.
That being said, it's good to give customers the option to edit the existing message or add a few lines of their own.
While your customer already knows about your business, their friend might not. The referral message might be their first point of contact with you, and should cover a few things in your referral message template:
Explain the referral benefits at the very start
Give a clear call to action (what the next step is)
Keep everything easy to understand
Make it personal (it should feel like it's coming from the customer, and be addressed to their friend by name)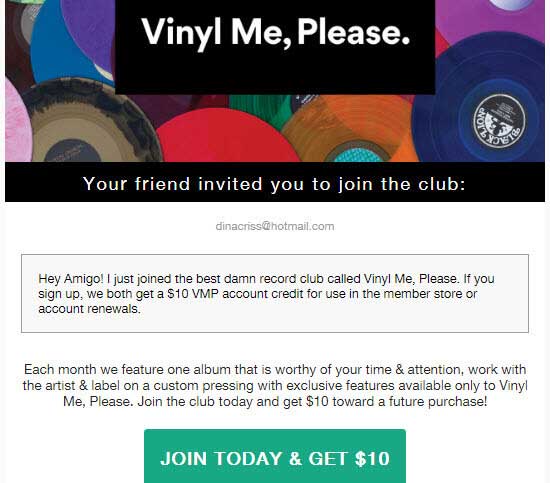 F. Optimize your program for mobile
Many customers naturally share things they love with their friends using their phones. So, it makes sense to make your referral program mobile-friendly, so it's easier for customers to share with friends no matter where they are.
Just like with any referral experience, make sure that your referral program experience is simple and uncluttered. Explain things super concisely, and ensure that customers can refer friends in just a few taps. Place the call to action in a place that customers don't need to scroll, and make it bold and bright.  These steps are even more important on mobile, due to the smaller screen size and the fact that customers have more distractions when on their phones.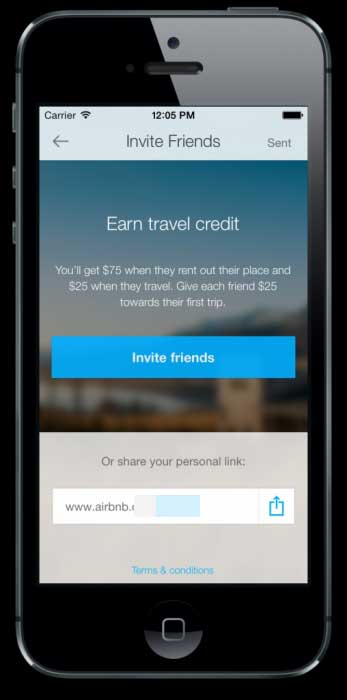 G. Implement analytics and tracking
The best referral programs always do a little bit of testing: What words resonate with your customers? What type of reward will draw them in? You may find what works well for other customer referral programs might not work as well for you.
To see success in your referral program, it's important to implement an analytics and tracking system.
This is where the right referral program software comes in handy – these tools come with built-in analytics, referral link distribution, A/B testing, referral tracking, and more. You can monitor when a customer refers others, whether the referral results in a sale, and other key metrics in your campaign.
Referral program software can help you understand what is working for your business, as well as any areas that need some improvement. With this information, you can fine-tune your referral program to meet your unique business needs.
H. Determine your launch strategy (who will you ask for referrals first?)
When you first launch your referral program, it's best to start by connecting with your most loyal customers. This includes customers who have purchased from you the most, have remained with you the longest, have given you glowing feedback, or who have even already referred friends to your business before an incentive was on offer.
Also, if people have recently left unprompted positive reviews or social comments, they're also the perfect people to invite to your referral program. They're willing to recommend you publicly, so why not ask them to directly recommend you to friends (and earn rewards in the process)?

Send these customers personalized emails, thank them for their loyalty and support, and give them VIP access to your program before you launch to your entire customer base.
I. Figure out how you'll tell all customers about the program
Now that you've figured out the overall design and tracking components, and you've launched your program to key players, how will you let all customers know about your referral program?
You won't see conversions if your customers have no idea that your program exists. So, plan out how you'll promote your referral program before you launch to all customers!
Here are some ways to let customers know about your program:
Actively ask for referrals from all of your customers by sending a dedicated program email.
Talk about your program in other emails, such as your newsletters.
Post about your program on social media.
Include a form that asks for referrals on your thank-you pages, in post-purchase pop-ups, or in emails sent right after a purchase.
Put your homepage and menus to work by adding eye-catching links to your referral program page.

Step 4: Utilize referral program software tools
There are a number of software solutions that make it easy to set up a referral program.
Referral marketing software offers tools dedicated to streamlining customer referrals and increasing word of mouth about your brand. This software makes it easy to track every referral back to the person who made it, and instantly issue referral rewards to customers once they are earned. 
Keep in mind that not all customer incentive programs are alike. There are other programs, such as affiliate programs or loyalty programs, which are also useful in growing customers, but these are not the same as referral programs. Make sure the software you select is designed for tracking referrals.
Using software to build your referral program from the get-go comes with the added benefit of having a customer support team to help you along the way.
Our Referral Rock referral software is custom-built to help all businesses (not just ecommerce) design, track, and manage their referrals on an easy-to-use platform.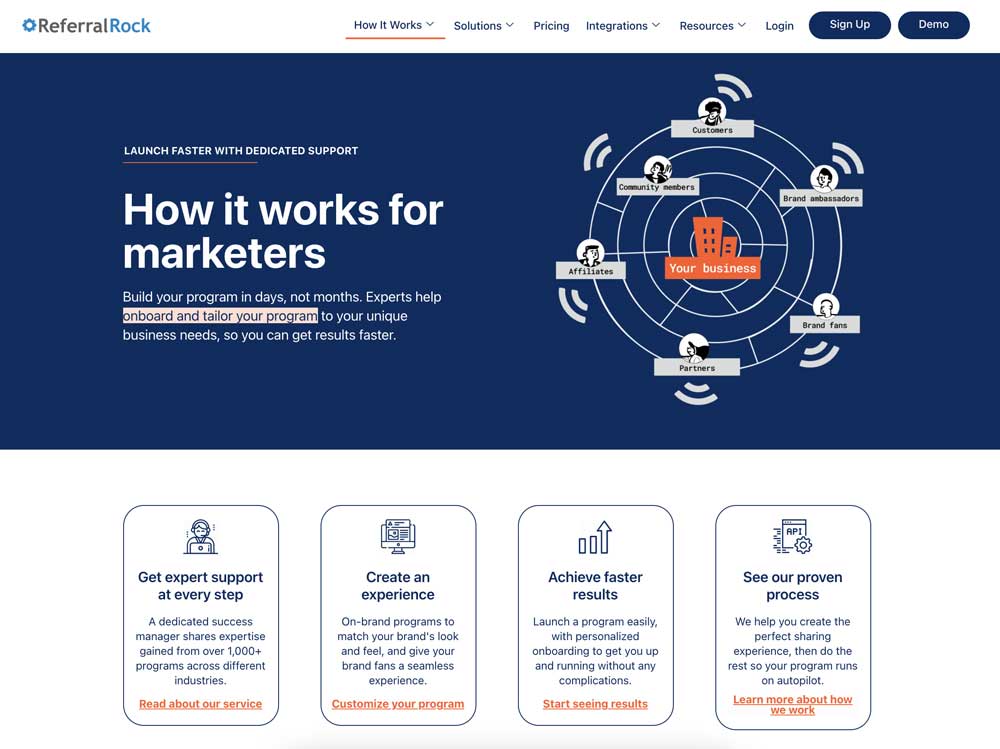 What are the different types of referral programs?
A customer referral program is the most popular type of referral program, and is the one we've focused on in this article. This program encourages all of your customers to share your brand with friends.
Sometimes, though, businesses will run customer ambassador programs. Often, these programs are the exact same as customer referral programs, just with a different name. But in some cases, customers must go through some sort of formalized training, or meet other requirements, before they can make referrals as ambassadors. Other times, a business will hand select some of its best customers to be ambassadors, and limit the program to these VIPs. Many ambassadors will use social media to promote a brand and direct their followers to your website via their referral link.
A referral partner program is another type of referral program. Referral partners sign a contract to partner with you and go through a partnership training. Then, they refer individuals or businesses they have an existing relationship with, and earn commissions on the sales they help make.
Yet another type of referral program is an employee referral program, where you encourage employees to share your business with the people they know in exchange for rewards.
In addition to all these, there are also different customer referral program structures based on industry. For example, a B2B referral program, run by a business with a long and multi-step sales process, will look very different from a simple B2C ecommerce referral program.
7 best referral program examples to inspire your own
When starting your own customer referral program, it helps to see some examples where other brands have had success.
What is the best referral program? Here are seven of the most effective referral program examples to inspire you:
Harry's
Omsom
Stitch Fix
Morning Brew
Grasshopper
GetResponse
Dropbox
Referral program example 1: Harry's
Using a referral program to create awareness before a launch
Sometimes, referral programs are the catalyst that makes a brand a household name. For example, Harry's offered a referral program before they even launched. The company's co-founder and co-CEO, Jeff Raider, described the process on the Four-Hour Work Week blog:
"First, users entered their email addresses on a splash page. This first step was essential since we wanted to capture emails both for our list and so that we could use it as an identifier for tracking referrals.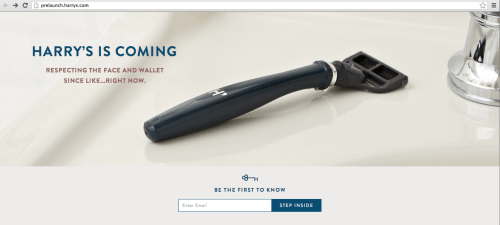 "The second page was where the referral mechanisms lived. It contained a shareable link to the splash page coded specifically to the user. Below the link were buttons to share the link through email, Facebook, and Twitter with the click of a mouse. By sharing the link with friends, users had the opportunity to earn free product. The more friends who signed up using your unique referral link, the bigger the prize you earned."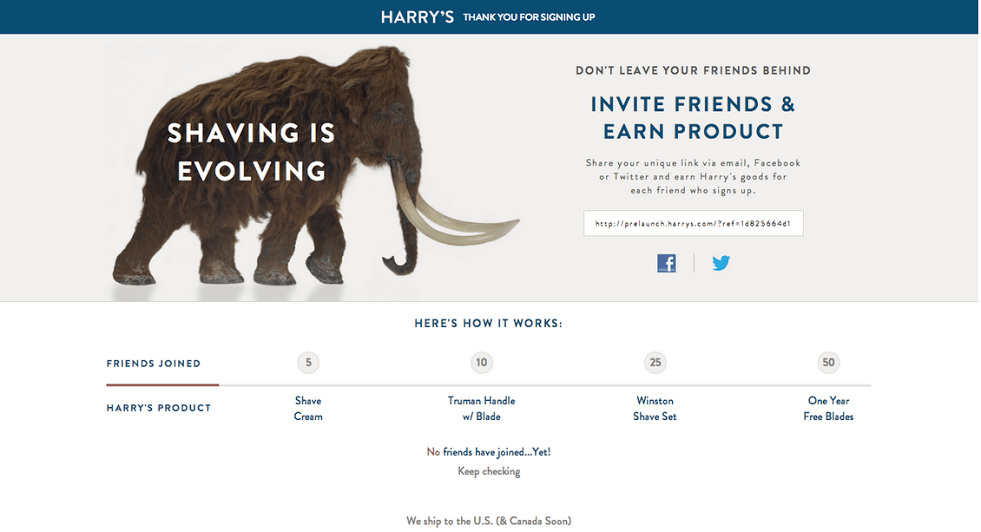 The tiered referral program worked wonders for Harry's. In one week, they were able to gather almost 100,000 email addresses. Today, Harry's owns the German factory that makes its blades, and its products can be found in top retailers across the country. With the right messaging and execution, the brand's referral marketing  program has greatly contributed to the brand's overall marketing strategy.
Referral program example 2: Omsom
Catching advocates' and friends' attention with an enticing headline, images, and reward
Omsom, a brand specializing in flavorful starter packets for at-home Asian dishes, knows how to spice things up with their referral marketing program.
Their headline "Give a starter, get a starter" (complete with a super eye-catching fire emoji), and their hero image of delicious foods someone could make with Omsom starters, draw customers in and encourage them to refer friends. The bold colors of the program page stay consistent with the rest of the company's branding, and also keep the customer's eyes glued to the page.
And of course, there's the enticing double-sided reward of a free Omsom starter packet, for both the advocate and the referred lead (a $5 value.) Who doesn't love getting something for free – and giving a free gift to a friend at the same time?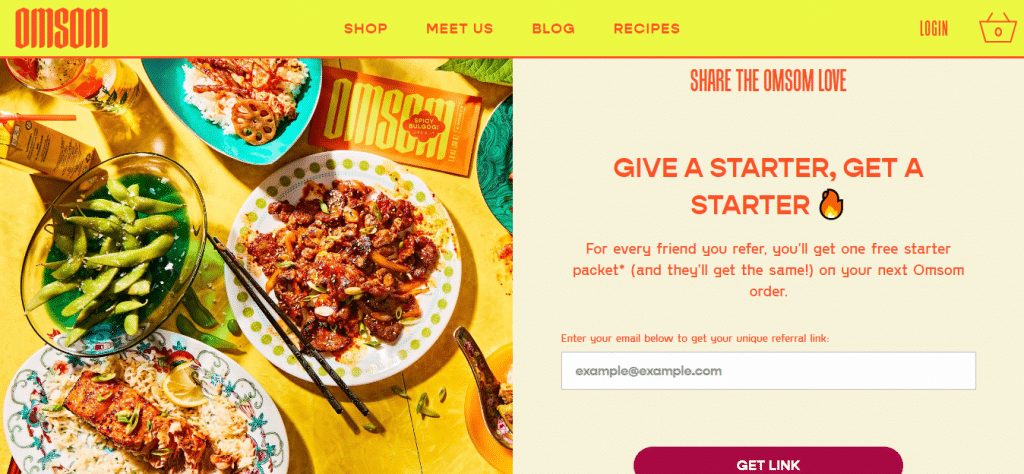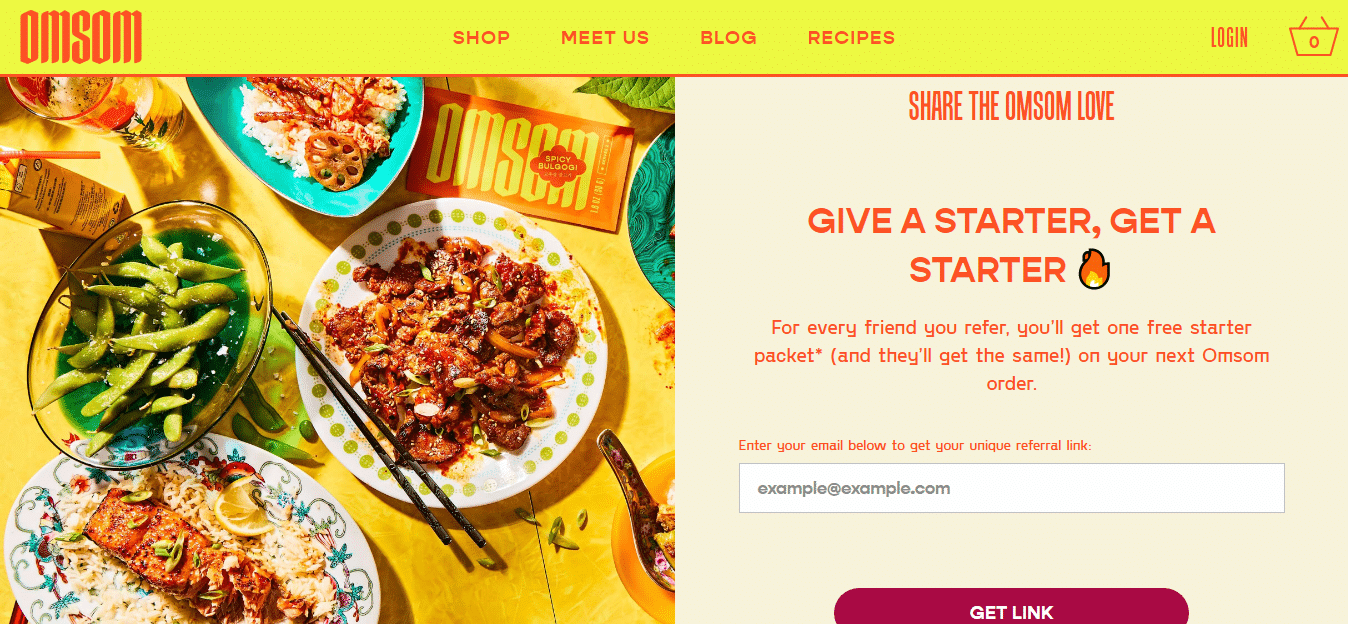 We also have to highlight one of Omsom's early referral program emails. This shares the same fiery headline as the referral landing page, thanks customers for making the brand a success, and then invites customers to "share the Omsom love," appealing to the desire to help a friend. Like the landing page, this referral email draws customers in and gets straight to the point!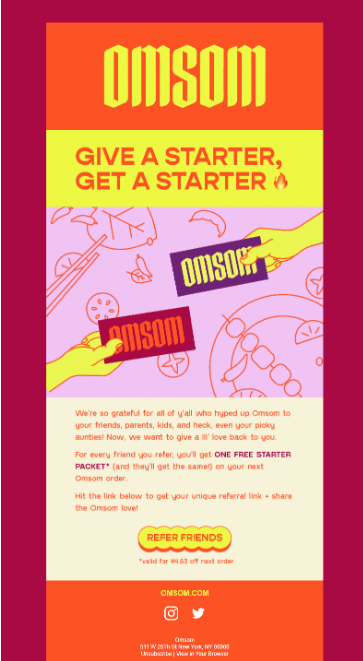 And Omsom doesn't stop there. The email advocates send to referred friends clearly introduces the new lead to the benefits of Omsom in its messaging ("Fire up restaurant-quality Asian dishes in under 30 minutes with our starters – pantry shortcuts for specific Asian dishes…").
It also highlights specific Omsom best-sellers, with mouthwatering hero shots, that the friend might want to try using their free $5 reward.
Plus, it includes the bold colors, flavorful images, and fun emojis consistent in all parts of the referral program. Omsom has fired up word-of-mouth marketing with this red-hot referral program!

Referral program example 3: Stitch Fix
Using a referral program to encourage sharing positive experiences
Stitch Fix is a subscription service that uses technology to recommend personal styling and clothing items based on size, budget, and style. The company, which was founded in 2011, is now valued at $300 million and continues to grow. Part of their secret sauce is a referral program.
Stitch Fix capitalizes on customer happiness, encouraging customers to share their positive experiences in exchange for a reward. Each customer gets a unique referral link to forward to their friends, and for each one who signs up, the customer gets $25 in Stitch Fix credit. The more friends they refer, the more credit they get.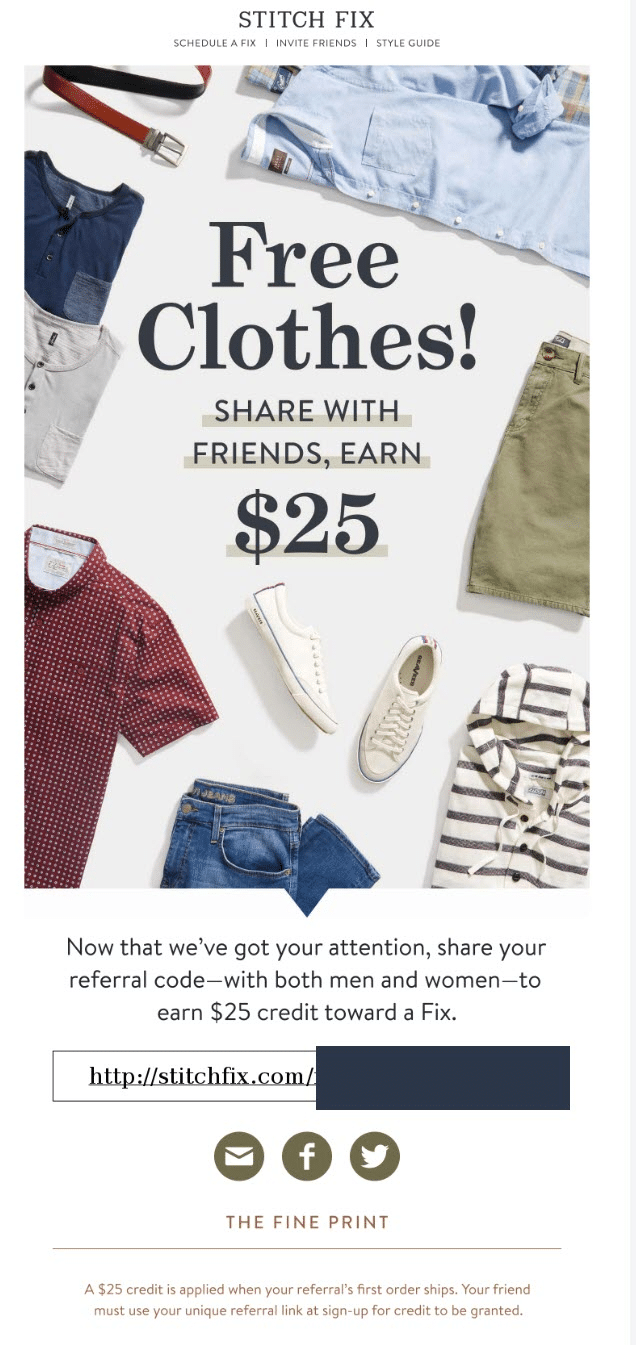 The referral program helped Stitch Fix spread like wildfire, especially on social media sites like Facebook. A satisfied customer base throughout the country shares their unique referral link with their Facebook friends, in hopes of getting their friends to sign up and increasing their Stitch Fix credit.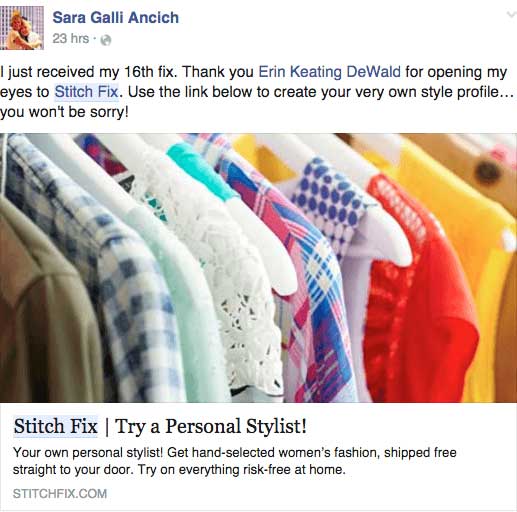 Referral program example 4: Morning Brew
Mobilizing viral sharing with tiered and gamified rewards
Morning Brew is a popular marketing newsletter that has found viral growth through the power of referrals. Each Morning Brew subscriber can earn tiered rewards as more and more friends they refer subscribe to the newsletter themselves.
Available rewards include virtual event access, branded swag like Morning Brew mugs, t-shirts and pint glasses, and even a complete work from home makeover for  super-advocates who successfully share with 1000 friends. These rewards motivate lots of sharing at a relatively low cost on Morning Brew's end, which is vital since Morning Brew is a free newsletter.
It's super easy to share "the Brew" in multiple ways (via email, social media, and a referral link), and the tracker that highlights how many referrals needed for the next incentive is extra motivating. Plus, subscribers can write their own message when they share for a personal touch (or save time with a pre-written message, if they choose).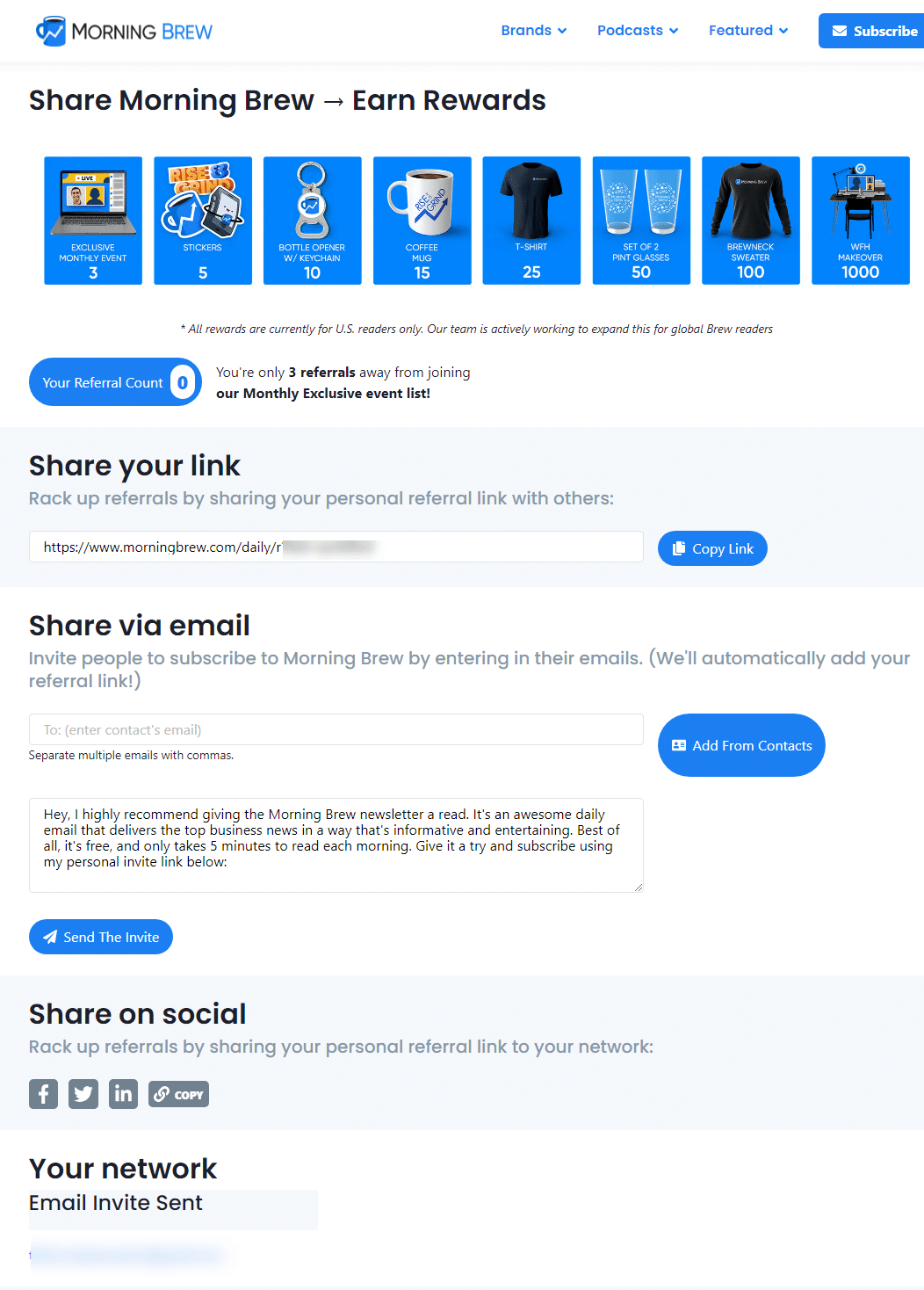 The newsletter referral program also includes a famous contest element in their referral program to drive even more word-of mouth – flash MacBook pro giveaways. If a subscriber successfully refers a friend during the contest, both earn an entry into the high-end laptop giveaway.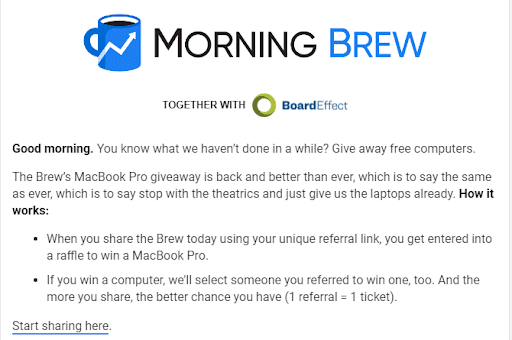 Morning Brew's investment in referrals has paid off in spades. Nearly a third of Morning Brew's core subscriber base was referred to the newsletter by their friends. Plus, thanks to their referral program, they grew their subscriber base from 100,000 to 1.5 million subscribers in just 18 months!
Referral program example 5: Grasshopper
Fostering community through its 'Refer an Entrepreneur' referral program
Grasshopper is a virtual phone system marketed to entrepreneurs and small business owners, rather than general consumers. To capture its target audience, the company built a referral program called "Refer an Entrepreneur."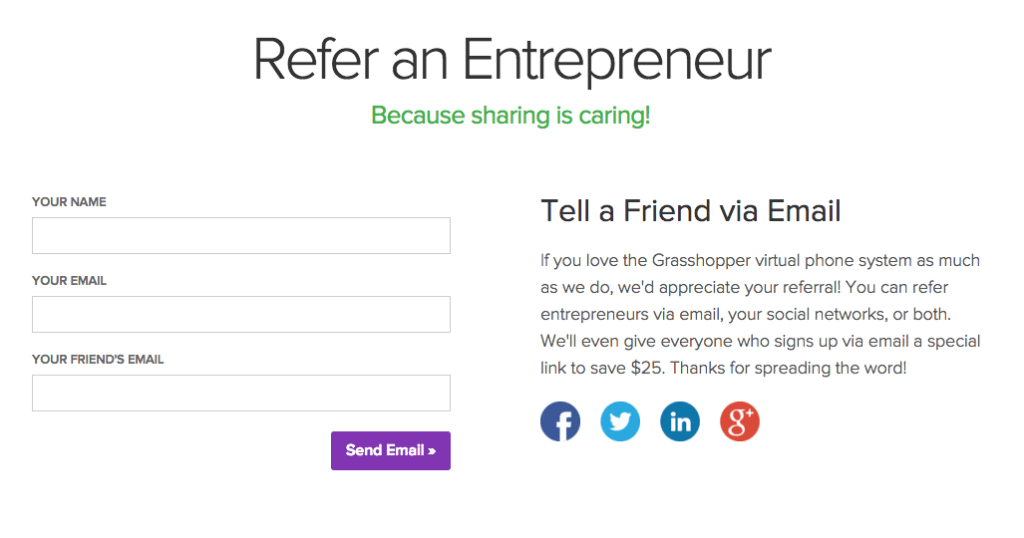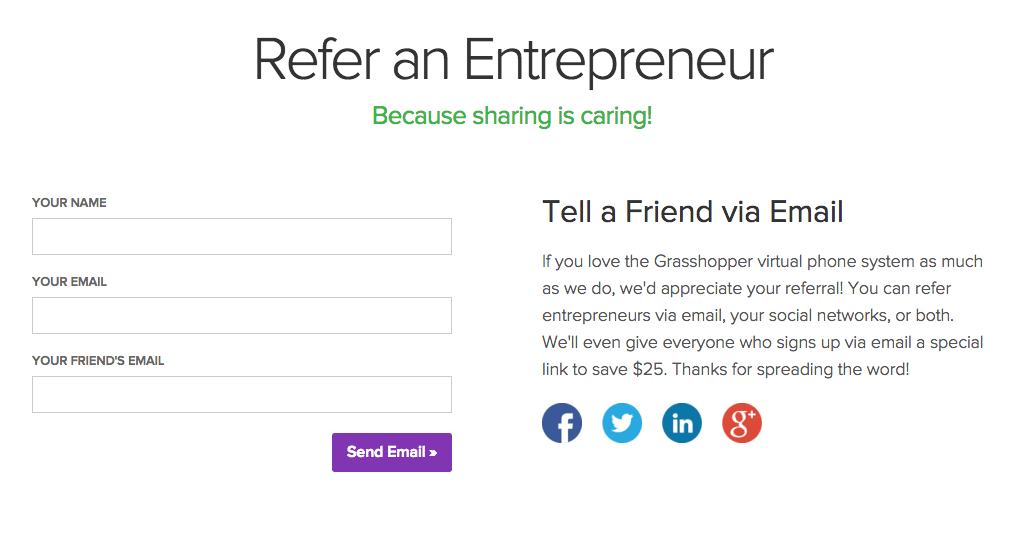 In Grasshopper's referral program, both the referring customer and the new customer get $25 credit each. This double-sided incentive motivates existing customers to spread the word within their network, as well as new customers to take advantage of the special discount. This encourages high conversion rates on both ends (for referrals made and newly referred customers signing up).
Referral program example 6: GetResponse
Fostering repeated B2B referrals with a unique, high-value reward
GetResponse provides another stellar example of a B2B referral program. The company makes referring easy with streamlined instructions on their referral landing page. And every time a successful referral is made, the company awards both the referring advocate and the new customer with a $30 GetResponse credit.
But that's not the biggest standout feature of this successful referral program setup. For every three successful referrals a brand advocate makes, they earn the opportunity to take one of GetResponse's Digital Marketing Certification courses for free. The courses, valued at nearly $200, are the perfect VIP referral incentive for the marketers GetResponse is targeting through the referral program. This unique, top-tier reward that only GetResponse can provide is an ideal way to encourage multiple B2B referrals.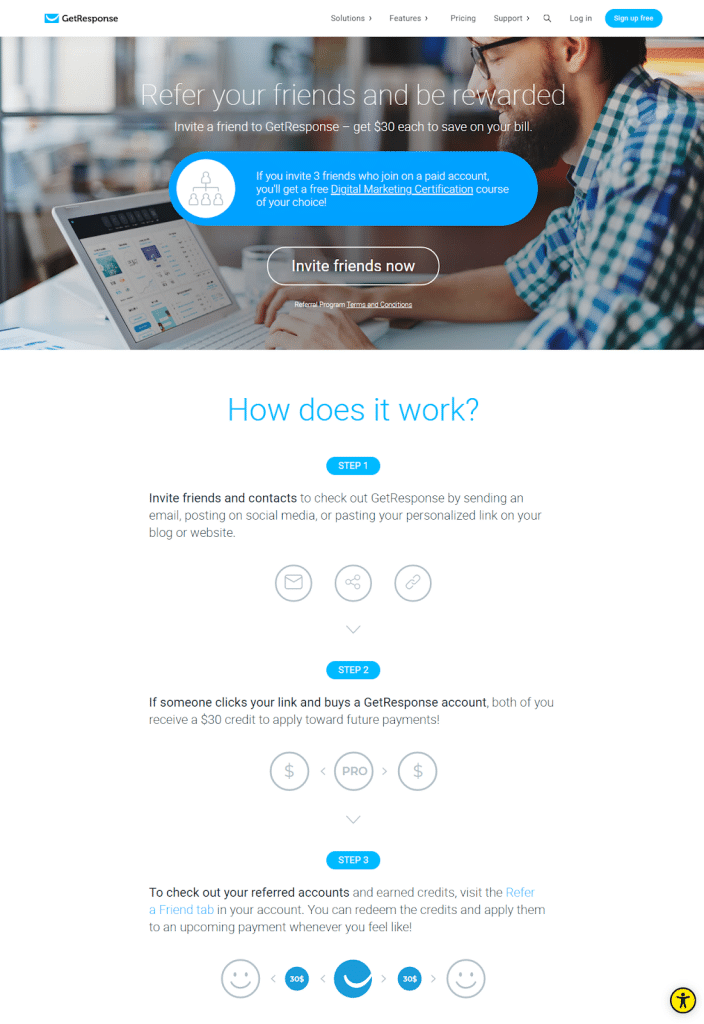 Referral program example 7: Dropbox
Pioneering the referral program structure and integrating it into the product experience
We briefly talked about it earlier, but no "best referral programs" list is complete without Dropbox's powerhouse referral program. As one of the first major referral programs, the Dropbox program helped the brand grow by 3900% in 15 months. And it is still going strong today, with 35% of all signups coming from the Dropbox referral program.
So, what does the Dropbox referral program nail that you can steal for your own program? Dropbox opens things up with a strong headline that advertises the referral reward (including how much total space a referrer can potentially get for free – everyone loves free stuff). And the double-sided referral program means both the referring customer and the new customer stand to benefit.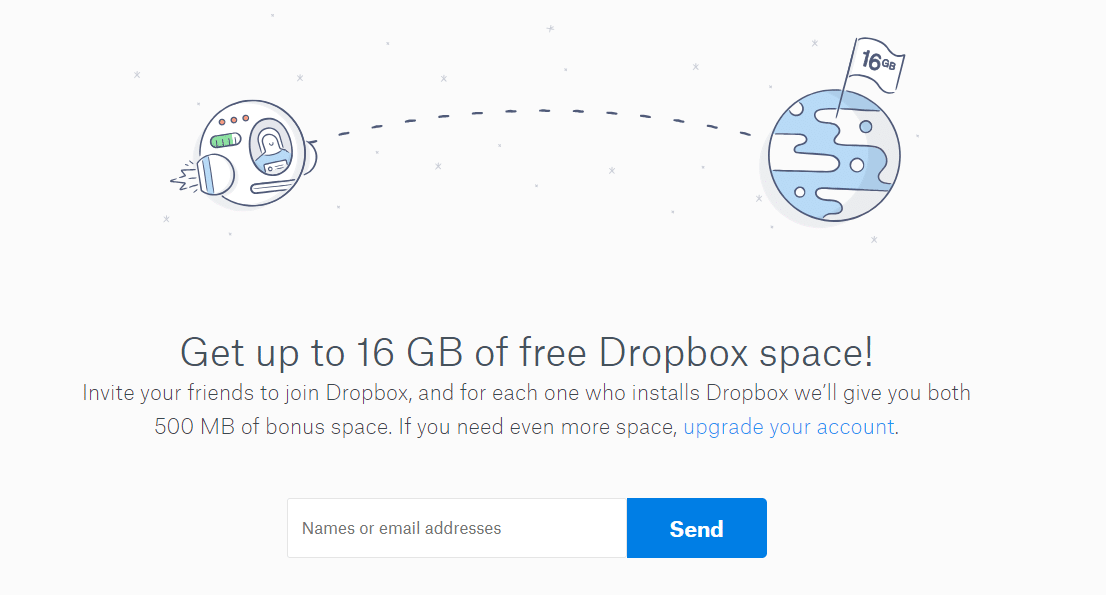 It's super easy to enter friends' email addresses, or to copy a unique referral link and share with friends any way you choose. The real gem, though? Dropbox presents the referral program at the end of their onboarding process. It's like they're saying, "Thanks for signing up for Dropbox! Like what you've seen? Here's a way to get more Dropbox space for free!" Users are often convinced to share because the product experience is so amazing, with an easy onboarding.
Plus, once referrals are made, Dropbox doesn't leave referrers hanging. Instead, it's super easy for them to check the status of their referrals from a portal.
And what happens on the friend's end? The friend receives an email notifying them that they were given 500MB of free space. But that email also invites them to share Dropbox with their own friends, in order to earn more space for themselves. That's how to start a cycle of repeated sharing!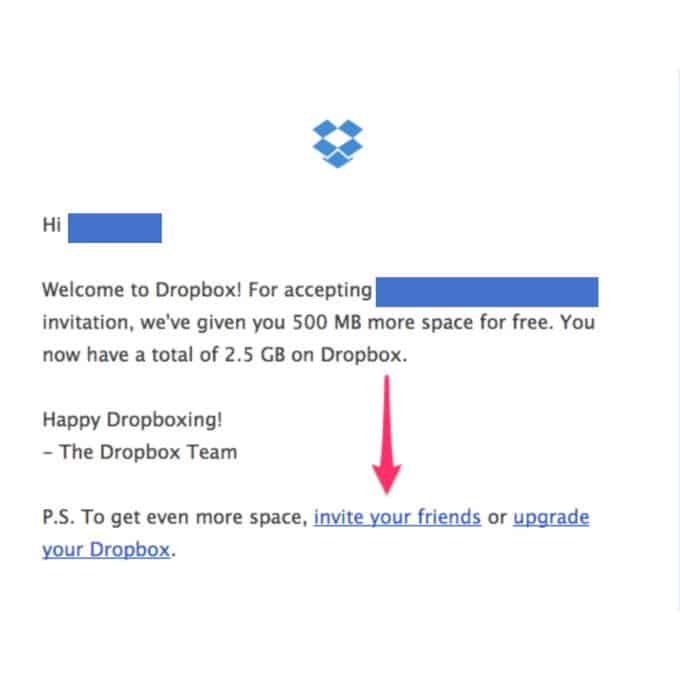 Summary: How to start a referral program that works for you
Referrals can come from anywhere – a happy customer, a friend or family member, or even a celebrity endorsement. The key is to harness these referrals using a well-designed program that incentivizes word of mouth and builds customer loyalty.
When learning how to start a referral program, it's important to have a relationship with your customers and understand what will best incentivize them to share. You should also make the referral process as easy as possible, using shareable referral codes and links created with referral software.
These allow you to automate any routine steps, track referral campaigns, and make use of analytics to create the best referral program for your business.
Referral marketing programs can take your business to the next level, bringing new customers directly to your door. Whether you're a small business owner, marketer, or customer engagement specialist, learning how to start a referral program is well worth the effort.
Looking for more info on starting a referral program? Check out these resources: