Bank referral programs (refer-a-friend programs) can help your bank grow its customer base using your existing network of loyal customers. Today, we'll break down the benefits of starting a referral for your bank or credit union, best practices for bank referral programs, and some of the best bank referral program examples.
Why referral programs work for banks
Referral programs are a popular way for businesses in all industries to acquire new customers through the power of word-of-mouth marketing. Instead of marketing with your bank's own campaign messages, referral programs motivate your existing customers to spread the word about your bank to their friends and family.
And these recommendations are trusted: A study by Nielsen revealed that 84% of people see referrals as the most trusted and influential form of advertising.
The Financial Brand further estimates that almost a third of banks and credit unions already have referral programs. Even if you think your bank's marketing strategy is already working well, a well-designed referral program will boost both customer acquisition and retention.
Benefits of bank referral programs
Effectively acquire new customers: Referral programs work because your customer's peers trust what they say about you more than they trust marketing messages from your bank. Thus, leads referred by a friend are more likely to open an account at your bank than "cold leads" who weren't referred.
Reduce acquisition costs: Referral programs bring in new account holders at a lower cost than other marketing methods. According to The Financial Brand, the average customer acquisition cost (CAC) for banks and credit unions (the cost to get someone to open a new account) is $250–$400. With referral programs, however, the average CAC is significantly lower, at $110–175.
Boost brand awareness: Referral programs empower customers to spread the word about your brand. This quickly and effectively increases brand awareness. 
Increase customer loyalty: Since referred customers trust the peers who shared your bank with them, referral programs bring in customers who are more likely to stay with your brand for longer periods of time. Plus, by rewarding these customer advocates, you're encouraging their loyalty, as well. This means that, in the long run, you'll end up with customers who have a higher customer lifetime value.
Let you harness word of mouth as a channel: A referral program lets you track the word of mouth your customers generate in an actionable way, and use the data to improve your success. Your happy customers are already talking about you, so why not harness that free publicity in a way that you can measure?
The best rewards will be as high as possible while still ensuring the brand meets or beats their desired cost per acquisition
The Financial Brand
Before you start a bank referral program
Before you start a referral program, make sure you've taken the proper action steps. Having these elements nailed down will help ensure your referral program is a success.
First off, you'll need to have a solid existing customer base. Your customers will be the network of people willingly recommending your bank in order for your referral program to work.
You'll also need to know the details about your target audience (your existing customers, who will do the referring).
What are their demographics?
What platforms do they usually use to get information about your bank? (i.e., specific websites, social media, TV, radio, print media)
What platforms do they use to communicate with friends? (i.e., email, social media, text)
What motivates them to sign up? (i.e., convenience? lower costs? a commitment to community responsibility?)
 What sort of rewards would encourage them to refer their friends?
Knowing your existing customers will also help you understand the leads you want to attract. Most of them may have similar traits, so creating buyer personas may aid you in this process.
In addition, make sure you provide great customer service. A stellar customer experience is the main reason customers will be driven to recommend your bank. You can survey your customers about their experience first to determine if they are willing to recommend you to others.
5 best practices for bank referral programs
The design, rewards structure, and promotion of a bank referral program are the three places that make or break your program. These following tips and best practices will help you create and run a bank referral program that works.
1. Create an ongoing program
You might have seen other banks give referral bonuses for a limited time. Or, you might have tried this strategy yourself before. Don't make this common mistake. People will naturally refer friends to your bank when they know their referral will benefit a friend. Word of mouth happens organically, and you'll want to capture the benefits whenever you can.
But if you only capture and reward referrals for a short time, and then deactivate the rewards structure, this won't be worth the time and investment it takes to set up a referral program.
An ongoing program, on the other hand, allows you the opportunity to motivate multiple referrals  from the same customer over longer periods and to build true advocates. You'll also gain long-term, actionable data related to word of mouth.
2. Make sharing easy
If your program is easy to access and share, people will share. Make sure your customers can easily find your referral program and share your bank with their friends, using as few steps as possible, from access to reward.
One of the best ways to do this is to design a referral form with a few simple steps for referring customers to enter their and their friend's information. The program's instructions and terms must also be simple, with a clear referral call to action.
For detailed tips on how to accomplish this, check out our article on referral program landing pages. We've also included solid examples of referral pages and forms in this article's "program examples" section.
It's also recommended to enable customers to share on multiple channels. This way, they have the option to share in the ways they normally communicate with their friends. For instance, don't limit your customer's sharing options to just referral emails. Instead, give them the option to send referrals via social media, email, text message, and other mediums.
The best way to broaden your customer's sharing options is with a referral link – one that customers can copy and paste anywhere.
3. Offer enticing, meaningful rewards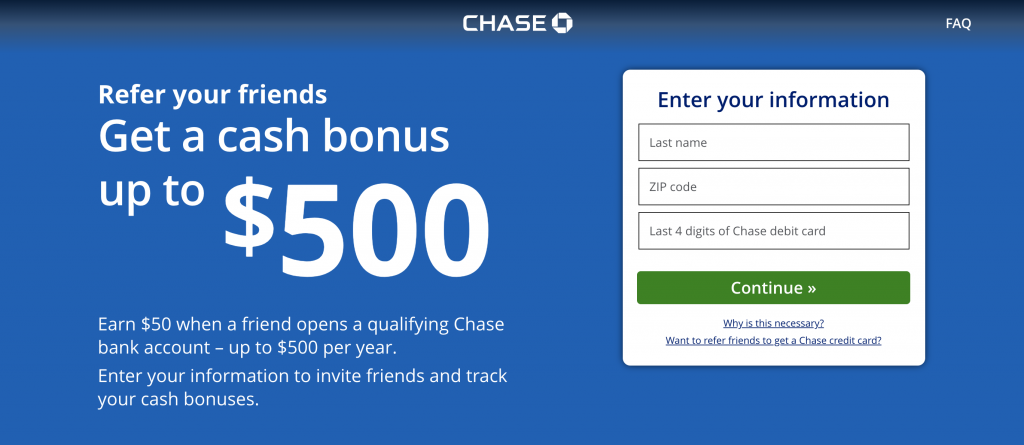 Don't skimp on referral program rewards. The best bank referral programs give double-sided referral rewards to motivate everyone involved. Give rewards to both the referrer and their friend – to the referrer as a reward for sending a new customer your way, and to the friend after they make their first deposit.
Furthermore, simplify the process of earning rewards. If customers have to jump through too many hoops to earn a reward, they'll probably lose motivation. The best practice is to reward the referrer immediately after someone they refer opens a new account, and to make that reward available for every successful referral a customer makes.
It's also important for the referral rewards to be meaningful and connect back to your bank. Usually, bank referral rewards consist of a bonus deposit for the referrer's existing account, and an extra initial deposit to the referred friend's new account. For standard accounts, $50 each for the referrer and friend often works well. Set too low of a reward and your customers won't be motivated – but be sure the reward fits your budget, too.
Consider giving different levels of referral rewards based on the type of account. You may decide that referrals for higher-level accounts merit larger rewards as compared to the standard referral reward for basic accounts.
4. Promote, promote, promote
Make sure every customer is aware of, and can access, your program. Even if you create a program that follows all the other best practices, it won't work if no one knows about it. Here are some tips for promoting a bank referral program:
Post signs in your branch that advertise your program.
Create a website banner or hero image that customers can easily find on your homepage. Link it directly to your referral landing page.
Consider other subtle ways to promote your program on your website. For example, some banks add a link to their footer or menu. As long as customers can see it, and find it, they'll be more likely to join your program.
Add links to your referral program within your customer portal so regular patrons can easily access it.
Post about your referral program on your social media account. If you have multiple branches, make sure each branch promotes the program on their local social media accounts.
Email loyal customers and personally invite them to refer their friends. Or, send a mass email about your program to all of your customers at once.
Use transactional and other regular emails, such as newsletters, to promote your referral program with a short referral call to action.
Lead into your referral program using your regular customer surveys. If someone gives you good feedback, direct them to your program.
Continually promote your program so your customers will instinctively use it when they want to tell their friends about your bank. Referral program promotion is a long-term investment.
Find more referral program promotion tips here.
5. Automate the process with referral software
With the right referral software, the hassle of manually managing referrals will be a thing of the past for your bank. Referral software tools allow you to track the amount of referrals your customers generate, track which customers your referrals are coming from, and quickly distribute rewards. You'll also have plenty of data on your referral program that you can use to measure success and refine your program structure.
Plus, referral software generates unique referral links for customers to easily share your program via social media and email. Since referral software streamlines program design, tracking, rewarding, and promotion, it's an essential tool for any bank that wants to run a successful referral program.
Learn more about why referral software is easier than doing it yourself, and learn how Referral Rock software can help you kick-start your word of mouth.
Bank referral program examples
Still looking for inspiration for your bank's referral program design? We've handpicked some of the best bank and financial referral programs below, and included our thoughts on why they rock.
Provident Bank
Provident Bank's referral program catches customer's eyes by putting the call to action and reward front and center ("Refer-a-friend! And get $25 or $50"). Note how referring a friend who opens a higher-value business account earns higher rewards.
The program is easy to understand, with the terms laid out in three simple steps. Plus, customers earn the reward for their own account immediately after a friend opens a new account.
Provident's emphasis on how referrals help build relationships, the focus on sharing to help a friend ("Pay it forward"), and the way the bank thanks customers for spreading the word, are also notable messages your bank should consider applying in its own referral program.
Citibank Philippines
Citibank offers banking, credit cards, loans, and more. The bank's referral campaign in the Philippines offers a choice of rewards to clients for referring a friend, including cash rebates, reward points, and miles. This way, there's a greater chance that rewards will be meaningful to customers. Citibank also gives higher rewards for higher-value accounts within their list of services.
It's easy for customers to generate and share a referral link – just enter account information, click, and copy. Plus, they can instantly share their referral link on multiple platforms (Facebook, Twitter, email) with one click.
Wrapping things up
When designing a bank referral program, it's important to focus on your customer's needs, your program design, rewards structure, program promotions, and referral tracking. These are key to designing a top-notch bank referral program.
Of course, referral software can also make the process much easier. Compare over 35 referral software options in this comprehensive, sortable list.