So you want to build a referral program, but you're not quite sure what the program should be. Listen, we get it.  You don't have to copy, but you can learn from the top referral program examples. A lot of businesses think referral programs are cut and dry for a specific type of business. That's simply just not the case. Here's a list that shows the best referral program examples out there broken down by type of business.
All types of business can enjoy the benefits of a referral program. Sure, you may have to get a bit creative with the details, but regardless a referral program can work for all. So, if you're thinking about starting a referral program, but you're stumped on program ideas… We've created an amazingly awesome list of businesses that have a referral program. The best part is there are ideas for all business types!
Don't forget that a business can run many referral programs at the same time. Some businesses may run a customer program and a partner program simultaneously. Referral programs can take on any form, and incentive options are endless. This is an ever-growing list, I'm sure you can think of a few that have slipped past this list. If you find more awesome referral program examples feel free to share them with us. Let's keep this list growing.
Check out the best referral program examples
Automotives
Uber: Earn FREE Uber with Your Own Personalized Referral Code!
Alright, so Uber has a few referral programs they run. They did a good job at catering to everyone, both drivers, and riders. Drivers can earn a little bit of moolah between their drives by referring drivers and riders. Additionally, riders can earn free Uber credits for sharing with their friends.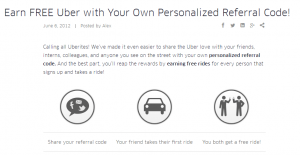 Tesla: Receive a $1,000 credit when you order a new Model S or Model X.
Tesla's referral program likes big rewards. The most recent referral program gives Tesla referrals $1000 credit towards the sale price of a car when using a referral code. The Tesla owner who sent the referral code will then earn rewards based on how many qualifying referrals they had.  The more referrals a user sends the more rewards they can receive. Everything from new rims to a new car!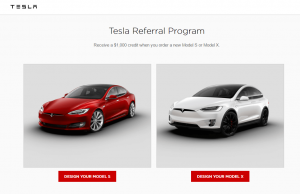 Clothing
MeUndies: Be a hero. Invite your friends to MeUndies and they'll get 20% off.
MeUndies will give referral program users $20 for free if they refer a friend. Plus, the referred friend will receive 20% off. This subscription box is for both men and women, so everyone can get in on the reward action. Don't be fooled by the name,  MeUndies offers a variety of loungewear too. MeUndies also utilizes a simple sharing option. The user simply shares by email or Facebook. Easy, right?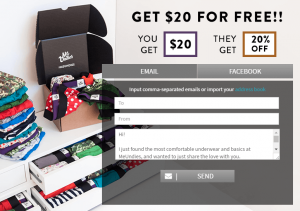 Stitch Fix: Get $25.00 in credit when our friends receive their first Fix.
StitchFix is a clothing subscription. Gives $25 in Stitch Fix credit for referring a friend. Plus, it's pretty simple to do. Users just invite their friends right from their account homepage. Users can just copy and place their link wherever they'd like. A user also has the option to refer people right from their phone app. StitchFix also offers an affiliate program – score!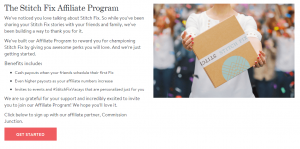 Sock Fancy: Get free socks, again and again
Sock Fancy gives you the chance to earn awesome socks for free! A program member sends a friend a 15% off coupon, and they get a free pair of socks if the referral signs up. How awesome is that? Double sided rewards really seem to benefit everyone involved.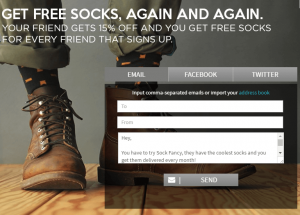 Trendy Butler: Friends and family program. $10 for every sign up
Trendy Butler,  a clothing subscription, catered for men. Trendy Butler gives their program members $10 every time one of their referrals signs up. It's a super simple process, members simply share their unique link and if someone signs up with the link, they are rewarded. Staying trendy has never been easier.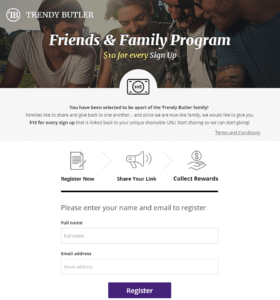 Gyms
24 Hour Fitness: Fit for all your friends
gives program members a few reward options, which is always a bonus! Members can opt for either a free 50-minute training session or a $20 MyStore coupon. All they need to do is invite a friend. If the friend joins then they are on their way to rewards. Plus their referral will receive a 3-day pass.  Double sided-rewards are the best!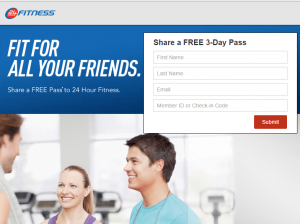 Gold's Gym: Turn a friend into a training buddy
Gold Gym runs a few different referral programs. They have one specific for their program members and they also run a program for their franchise owners.  Pretty cool of them to offer a little bit of something for everyone.

YMCA: Save up to 20%
The YMCA has plenty of locations and many of them have their own referral programs. This one is specific to Atlanta, but if a program member refers a friend both the program member and their referral get 20% off their membership! Double sided rewards are great.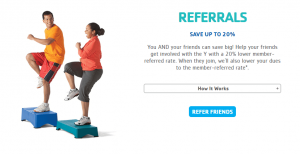 Television and Internet
Hulu: Get more than a year free!
Hulu, a subscription video on demand service has a pretty epic referral program. Referral program members can earn free Hulu for over a year just by referring a friend. If that friend registers and pays for their first month of Hulu, the member will earn 2 free weeks. That sounds like one of the best referral marketing campaigns, am I right?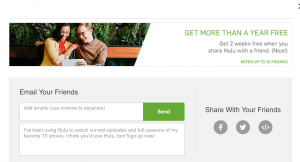 Xfinity: Share the awesome. Refer-a-friend
Xfinity is a cable and internet provider will give program members a whopping $100 for referring their first friend. Then a member can earn $200 for their 2nd friend and another $200 for their 3rd friend. That's a lot of dough for simply getting a friend to join!

Shopping/Products
Budsies: Give your friends a 10% discount
You get a $20 Budsies gift card when they make a purchase.
Budsies has a super simple referral program. A customer simply signs up and starts sharing their referral code with friends. If one of the referrals then becomes a new customer they will get 10% off their Budsies stuffed animal. Plus, the original customer will get a $20 gift card. Looks like a great win-win situation!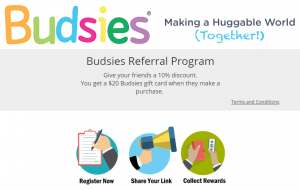 Groupon: Refer a friend and earn $10 in Groupon Bucks
Groupon knows that everyone loves a good deal. They have a pretty user-friendly referral program. When a user refers a friend and the friend buys their first Groupon deal, the user will get sent $Groupon bucks. Pretty nice way of saying thanks for spreading the word.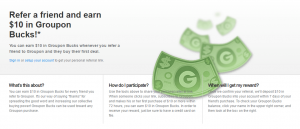 Leesa: Give $75 off a Leesa mattress, get $50 cash got yourself
Leesa, a brand that specializes in mattresses hits you with a double whammy. They offer a two-sided referral program. If a program member sends their friend $75 off a Leesa mattress, Leesa will give the member $50 back. Cash is not the only reason you'll be sleeping well at night.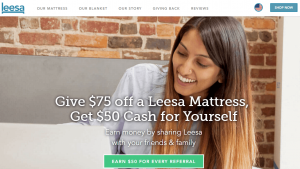 Ulta: Give $10, get $10
a beauty salon and store offers a super simple double-sided referral program for their salon. The member refers a friend and if the friend uses the salon they will receive $10 off their first appointment. The member will then get $10 off for their next visit.  You just need a friend's email to refer.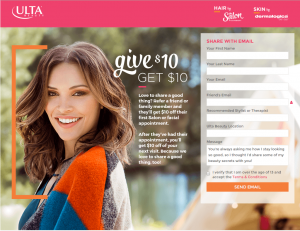 Software, services, and tools
Dropbox: Earn more space by referring friends
Dropbox has a very cool spin on a referral program. Since their main goal is to provide users with a space to put docs, pics, etc. They have created a program that will give users extra space by inviting their friends to try Dropbox. Pretty nifty!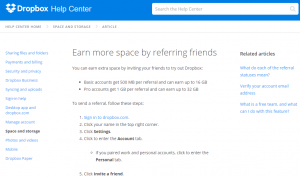 Google: Share a better way of working
Google has an excellent b2b referral program, Google Apps for work to be exact. Program members can earn $15 for every user they get to sign up. If they get a business to sign up, they will earn a hefty $1500. Google Apps include Gmail, Google calendar, Google Drive, and many other apps. help the working world go round.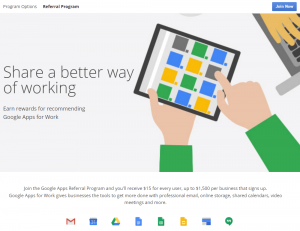 Hubstaff: Earn 30% Recurring Commissions for Life
Hubstaff a time tracking software runs a couple different programs. Their big one is their affiliate program. Affiliates who get a referral to sign up will earn 30% of the commission. Additionally, if your organization uses Hubstaff, you can earn 10% off your payment for a year just for referring a friend.
Evernote: Invite friends to Evernote
A cross-platform, for note taking, organizing and archiving. If members refer friends they earn points that can be put towards the premium service. 3 referrals are equal to 10 points. On top of that, if one of the referred friends goes premium, the referring member will earn an extra 5 points. Nifty, am I right?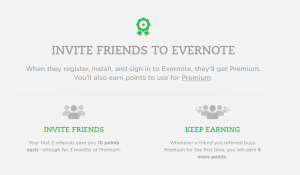 Wix: Make Money with Wix
Create beautiful websites and earn some serious dough at the same time. You can earn $100+ for each convert. Not to mention you have unlimited referrals. Wix offers all the necessary tools so that you can start promoting and earning cash. Talk about super easy!

Subscriptions
Julep: Invite your friends
A member just sends a bestie a referral and if they join the member gets $15. Pretty straightforward. Plus the bestie will earn a free gift with their purchase. Everybody wins. There is a 40 referral cap per year. Luckily that's a pretty impressive number, and it resets every year!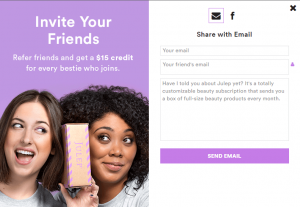 Ipsy: Earn 250 points when a friend subscribes to the Glam Bag with your referral link
Ipsy uses a different take on referrals. Each referral you send can earn you 250 points. Points can be traded for goods. There are other ways to earn points, but it's pretty cool that you can refer a friend and get some bonus points!
Loot Crate: Share the awesome. Give $5, Get $5
Loot Crate is a super fun subscription box… (I mean crate) which is one of the coolest and successful referral campaigns. The program is very simple. You send a friend $5 and you get a $5 credit. After you have 4 successful referrals you get a free crate.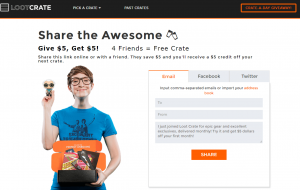 Travel
Airbnb: Share your love of travel
Airbnb is the gift that keeps on giving. You invite a friend, and when they travel you get a credit. Then if that friend invites a friend to use Airbnb, you get a bigger credit! How neat is that?

Vantage Travel: Refer a friend and earn up to $200
Vantage Travel uses a tiered reward system. Members of the referral program can earn up to $200 for each of the first 7 referred travelers.  Then on the eighth referral, members can earn a free trip! Plus, it's a double-sided program, so each referral will get $100 off. Additionally, there is no referral cap – so you can keep earning. Check out their referral rewards.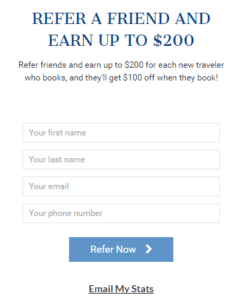 Do you know of more referral program examples?
Do you need more ideas for creating your referral program? Don't worry we have you covered, we have plenty of referral program ideas to share with you. There are a ton of programs out there (Referral Rock has some great customer success stories as well!). If you know of a good one, let us know. We'd be happy to add it to our list.
Are you a small business? Take a look at these small business referral examples too!