Travel referral programs are a powerful marketing tactic for your travel agency to scale its growth.
Most people prefer to look to their friends and colleagues rather than a corporation when deciding where to go on a trip. According to Nielsen, 83% of worldwide respondents  trust the recommendations of those they know.
As a result, your business can benefit significantly from a travel agency referral program. Give your customers something of value for recommending your trips to their friends, and watch your company soar to new heights.
What is a travel referral program? 
There's a good chance you already have a group of delighted customers who are recommending your travel agency to their friends and family. 
A travel referral program strengthens this recommendation machine by persuading more individuals to suggest your travel agency (and suggest it more often.)
Travel referral programs are a word-of-mouth marketing strategy that encourage your network to advocate for your agency. It rewards your existing customers for recommending your travel agency to family members and friends.
Since travel referral programs allow customers to share their brand experience directly with their network, they're an effective way to bring in new leads for your travel. 
And with a referral system (or referral marketing software program), you'll be able to track these referrals automatically and know exactly who is responsible for each referral.
Why do you need a travel referral program?
A travel referral program is crucial to the growth of your travel agency. Like any other business, a travel agency needs to secure a broad customer base; this necessitates a referral program. 
Customer opinions have an impact on others. Because of social proof, someone's more likely to take an action or purchase a trip when they see others doing it. And a referral from a trusted friend has the greatest impact.
But people often need an extra reminder or motivator to share your travel agency. Travel referral programs create this motivation by offering incentives whenever your customers tell others about your travel agency.
Because of this, referral programs are widely recognized as one of the most effective and reliable marketing strategies.
Below are a few other reasons why your travel agency needs a travel referral program:
Referral programs make it easy for clients to spread the word about your travel agency. 
People are more inclined to trust their friends than messages directly from your brand. So if someone advises a peer they should book a vacation via your agency, that peer is more likely to do so.
Referrals are a low-cost method of increasing reservations from new travelers, compared to paying for digital ads.
Customers who have been referred to you are more likely to return for future trips because of the trust factor.
Referral software systems enable you to effortlessly track every referral made by your customers. Use the data you gather to refine your program and increase your customer base even further.
Before starting a travel referral program: The essentials
Before you roll out your travel referral program, it's important to have the following:
A sizable current consumer base (your customers are who will fuel your referral program)
Bookings you know your clients enjoy and would recommend.
Excellent customer service, as shown in customer reviews, social media comments, and/or satisfaction survey responses.
An understanding of who your customers are, and the ability to answer key questions about them: How do they connect with their peers? What would inspire them to refer friends to your agency? 
Knowing who your best customers are, based on who has made the most reservations, has given favorable feedback, or previously recommended you to their friends?
Travel referral program best practices
Once you've determined your travel agency is ready for a travel referral program, follow these best practices to set it up for success.
Choose the appropriate incentives 
Your customers, as the cliché goes, are also your most excellent salespeople. Customers will naturally tell their friends and family about a five-star experience if you deliver it. 
However, referrals will increase if you add an extrinsic reward, such as referral credit, coupons, or gift cards.
For the best outcome, every time a customer refers your agency to a friend who becomes a new customer, they should receive a reward. Choose customer-motivating incentives such as:
Travel credits for future travels
Cash back
Gift vouchers to other companies your clientele enjoy, especially if the vouchers can be used for items that may be useful on a trip
Waiving a standard charge on a customer's next reservation 
A tangible reward that will be beneficial during a journey (such as a travel bag) 
Decide on your reward structure
As you choose your reward types, you'll also need to pick your reward structure. 
First off, who will receive the referral rewards? Will you only award the advocate, or will you also thank their friend for making their first new booking?
Pro tip: It is preferable to reward both, as this simultaneously encourages existing customers to refer and motivates referred friends to make their first booking. This is known as a double-sided reward.
Once you've decided who to incentivize, iron out other elements of your reward rules. Choose a reward scheme that's cost-effective for your business, while still motivating for your customers. Will you:
Offer smaller rewards for initial signups, and larger rewards when the friend makes their first booking?
Pay out higher-valued rewards to the advocate as they send more successful referrals (a tiered system)?
Reward based on a percentage of the friend's booking, paid in travel credits (so higher-priced trips are worth more for the advocate)?
Give the advocate a percentage of several or all bookings their friend makes in the future, as credit towards future bookings? As you offer repeated savings in credits, it will also promote strong customer loyalty among the customers who make successful referrals.
Promote, promote, promote!
People must be aware of your program for it to result in new bookings. Here are a few ways to promote your referral program: 
Feature your travel referral program on your website. Use a hero image or banner in a prominent location, and/or buttons in the top and bottom menus.
Leverage email marketing in mass emails about your program, personalized emails sent to your best customers, newsletters, booking confirmation emails, and other emails that may have nothing to do with your program.
Post about it on social media.
Plug it in email signatures and social media bios.
Make it accessible in your travel agency's customer portal (if you have one).
Strike up one-on-one conversations with customers – don't be afraid to ask for referrals!
Make sharing simple
Customers should be able to access the travel referral program application and share your agency with their peers in a minimal number of clicks or taps. 
And once they're on the page, sharing should be as easy as possible. You don't want anything getting in the way of their referral.
Create an enticing call-to-action headline that outlines exactly what buyers should do (share) and what they stand to gain (the reward). And make sure the "share" button is easy to find. 
Explain the program briefly – step-by-step is best – and keep each step concise. 
Provide several methods for sharing, including email, social media, and a referral link customers can copy and share anywhere they want.
If there's more to say about the program, but you think it would clutter the page, include a link to a separate FAQ page to answer popular queries. 
Show heartfelt gratitude
Aside from offering valuable incentives, writing a personal thank you note to everyone who makes a successful referral will go a long way.
Consumers will feel valued, as it reminds them they're essential to the success of your travel agency. It will also increase their likelihood of referring friends to your agency in the future. 
You can also publicly acknowledge top advocates (or any advocate who makes a successful referral) with personalized shout-outs in your email newsletter or on your social media accounts.
Automate your travel referral program with the right referral software
The right referral software streamlines your program creation process and automates all aspects of program management, removing the hassles of a DIY program
Thanks to its built-in automated referral links, referral software lets you track exactly where every referral came from and instantly issue rewards for successful referrals
Software also collects program data you can use to measure success and refine your program for optimum results
Travel referral program examples
The companies on our list of inspiring travel referral program examples have found the right balance of knowing their target demographic, offering rewards their consumers would like, and providing efficient user experiences.
Below are three top travel agent referral programs:
1. Friendly Planet
It's difficult to find someone who hasn't heard of Friendly Planet. It's now more rewarding than ever for customers to spread the love of travel with the agency's travel referral program.
The agency pays $100 in travel credits as a thank you for each friend sent its way. There's no limit on the amount of friends someone can refer, and rewards can be stacked towards the same trip. 
And with its equal double-sided reward, any referred friends benefit as well, with a $100 discount off their first booking.
The step-by-step guide on the agency's referral page makes it easy to understand exactly what's needed to refer friends.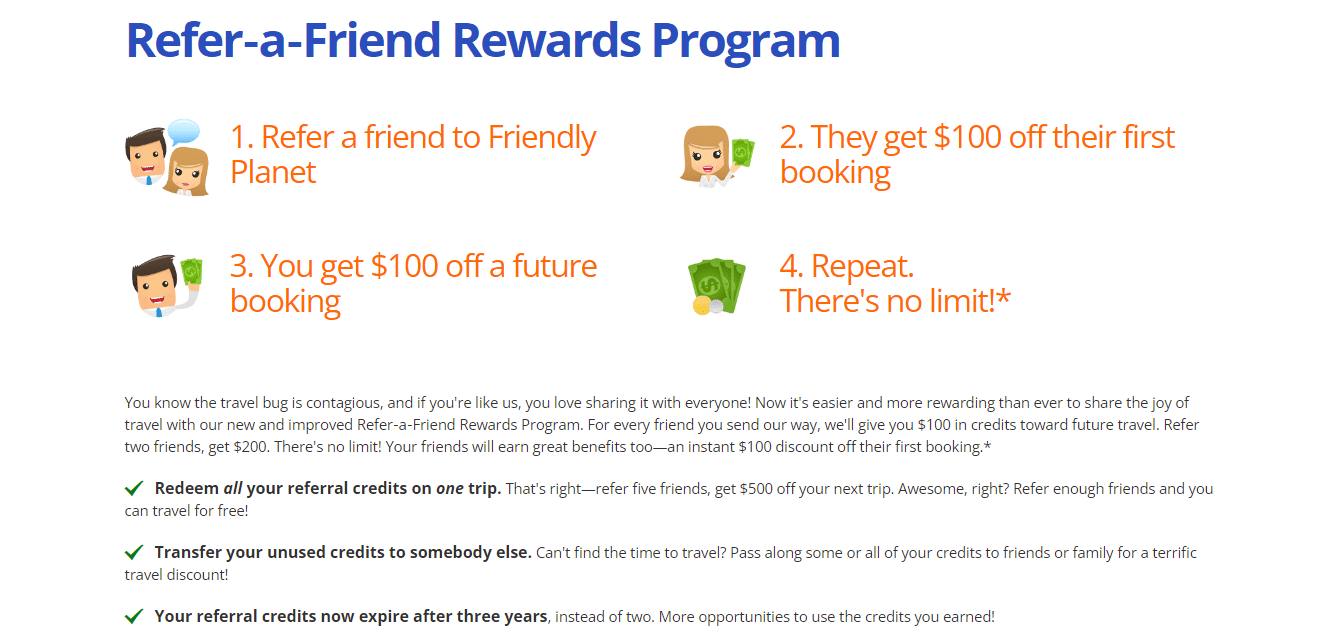 2. EF Go Ahead Tours
EF Go Ahead Tours offers a travel referral program that rewards customers for spreading the word about the agency. 
When referred friends join the travel agency, they receive $100 for their first trip. In return, the existing customer who recommended them receives stackable travel credits that increase in value after a certain number of referrals (starting at $100, and increasing to $300). 
As if that's not enough, customers can earn an entire free tour if enough of their referred friends book their first EF trips within two years. That means completely free travel is available – a particularly effective incentive.
Customers can potentially earn over $1,500 in credits plus a complimentary tour worth up to $4,000 if they convince eight friends to book within two years. The two year time limit for this ultimate reward creates a sense of urgency.
But even if that period passes before someone refers eight friends, they're still able to start again and earn valuable rewards starting at $100. 
And just like Friendly Planet's program, EF includes a step-by-step guide to make the program easy to understand. In this case, there's also an image of exactly how much customers can stand to gain from each referral – a great best practice to apply in your own program, if you're also using a tiered system.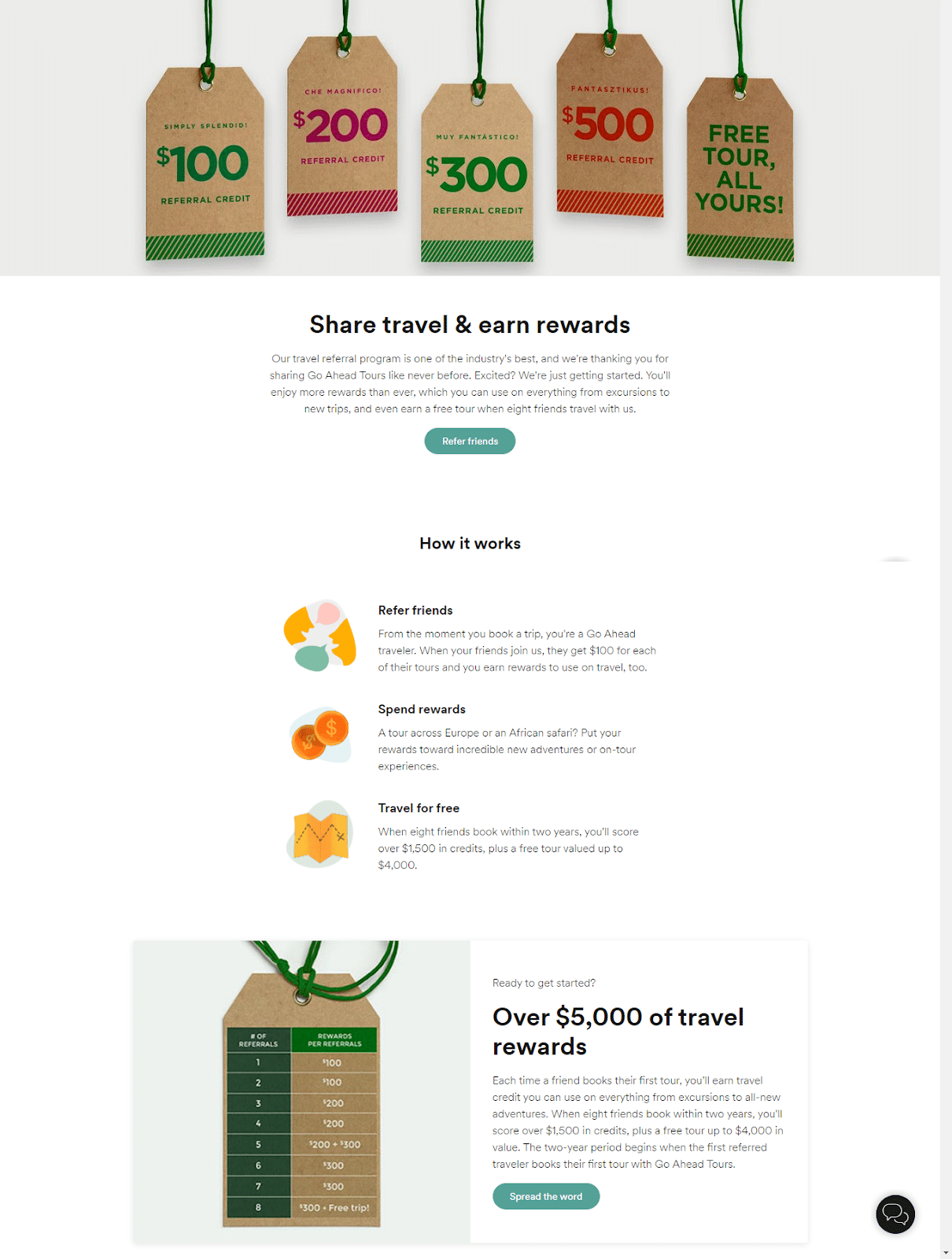 3. Kensington Tours
Kensington Tours designs tailored itineraries based on a traveler's taste, so no two experiences are the same.
When someone refers Kensington Tours to their friends and family, the referring customer receives $250 toward a future trip for every confirmed referral booking. 
Even better, prospective clients who are referred will earn a $250 credit toward their first vacation with Kensington. 
We love Kensington Tours' streamlined referral form that makes referring friends easy. The form even gives customers a chance to write their own subject line and message to their friends about why they love taking trips with the agency, or the option to use a suggested message Kensington provides as a starting point.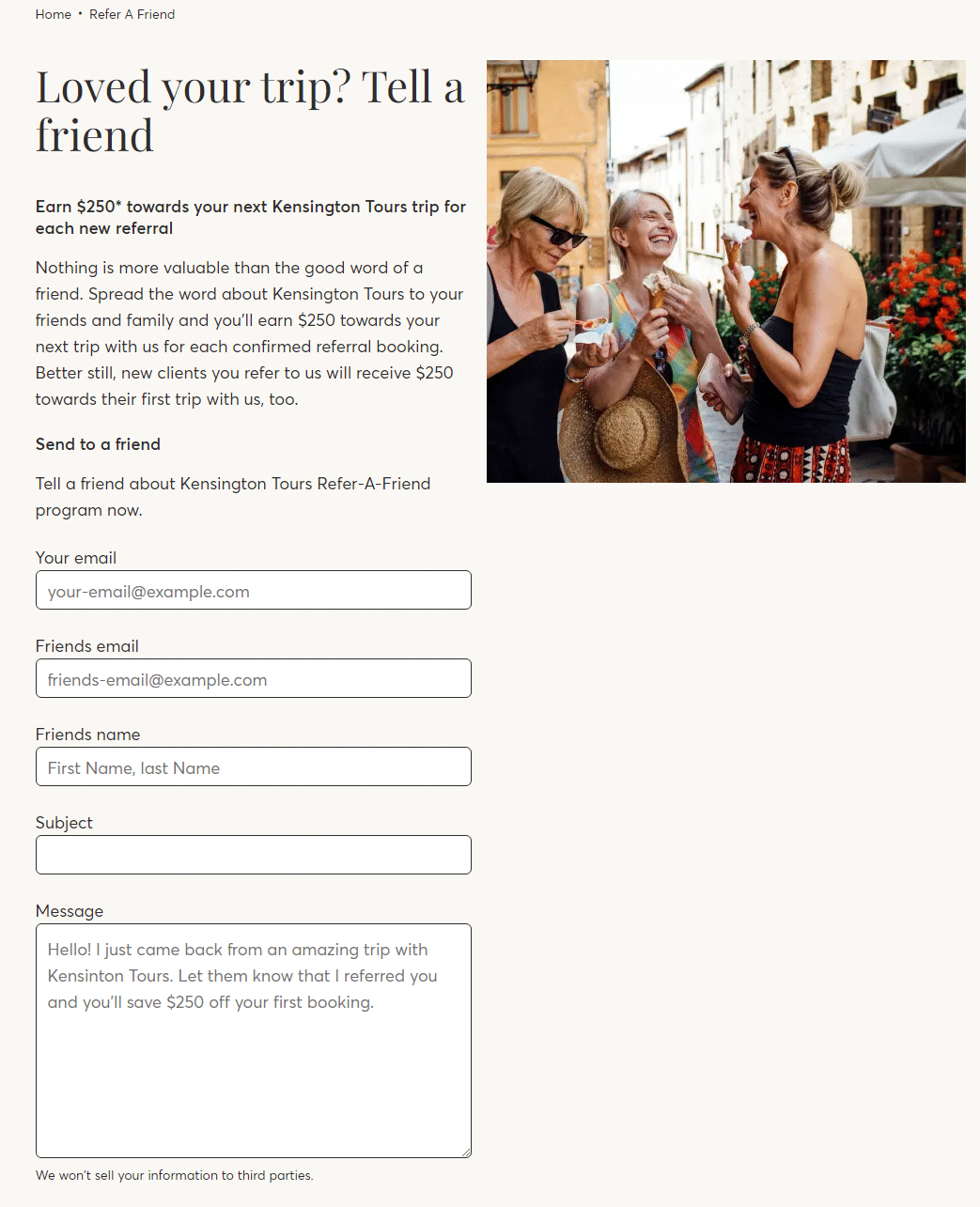 4. Travelpayouts 
Travelpayouts is well-known for being the largest partnership platform in the travel niche. It is not a travel agency, but is used by travel agencies to earn commissions from recommending travel-related services to their customers.
One of the ways Travelpayouts has grown to be used by 300,000 travel creators and agents is through its referral program. It allows all Travelpayouts partners to increase their earnings by sharing opportunities to make money with other members of the travel niche. The platform rewards its partners with 7% of their referral earnings for two years after their registration. With a variety of offers available at Travelpayouts, as well as a suite of promo tools and comprehensive 24/7 support, partners can easily start making money with affiliate marketing and be provided with a stable flow of income. The Travelpayouts referral program is global, so you can invite referrals from any country around the world using your referral link, which is available right after your registration on the platform.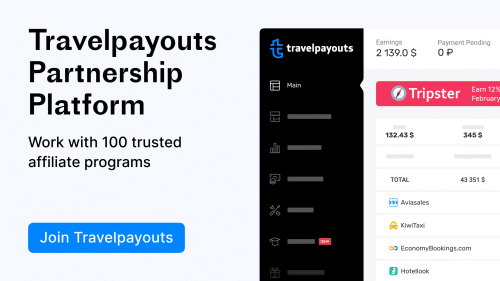 Grow your customer base with a travel referral program
If you haven't actively encouraged customer referrals or included travel referral program ideas into your marketing plan, you're passing up a valuable source of potential revenue.
Travel referral programs benefit everyone involved, from the sponsoring travel agency to the lucky passengers.
Now that you understand the value of a travel referral program, it's time to get started on your own. Determine your ideal customers and best existing clients, create satisfying rewards, and make it simple for happy customers to suggest you.
Engage our experts to build your dream travel referral program in no time.