What is a brand ambassador program, exactly?
A brand ambassador program formalizes your relationship with the people who love your brand and officially gets them involved in promotions. Through a brand ambassador program, you'll recruit your biggest advocates – people who are already engaged with your brand, even without any prompting.
The ambassadors you recruit for your program will focus on promoting your brand both online and offline, with the end goal of increasing sales, driving conversions, and/or augmenting brand awareness.
A brand ambassador program helps standardize the way your company works with these individual ambassadors toward accomplishing these goals together. As part of the program, you'll give your ambassadors insider information, including key brand and campaign messaging, so they can then share this to their network through word-of-mouth.
While it's important to share some basic guidelines on how to represent your brand to the public, ambassadors should always promote your brand authentically and in their own voice. The purpose of a brand ambassador program is to help spread the word about your company through your ambassador, using their presence on social media, websites, public events, trade shows, and other networking.
5 steps to creating a brand ambassador program
Starting a brand ambassador program can seem daunting, but it really doesn't have to be that way. In fact, if you have happy customers cheering for you, you're already off to a good start. Here are the five key steps to create a brand ambassador program:
1. Know what you're looking for in a brand ambassador
Before you can start an ambassador program, you'll need to find the right ambassadors. But even before that, you'll need to know what qualities to look for in the perfect ambassador for your brand.
Whether they're niche authorities, audience ambassadors, or passionate existing customers, you'll want to choose ambassadors who will help you reach your brand's specific goals. This means someone who not only loves your brand and its products, but also embodies your brand's philosophy. The best ambassadors will fit at least one of these categories:
The enthusiast: People who are very enthusiastic about your products and/or services. A good way to find them is to look for the most glowing posts on social media and review sites.
The authentic poster: People who have posted authentic love for your brand more than once, without any prompting. Brand ambassadors will need to post about your brand multiple times, and having these posts come across as natural is key.
The authority in your niche: The expertise of these ambassadors will make their followers even more likely to trust their recommendations. For example, an athletic shoe company might recruit a runner as an ambassador, while a sunscreen company might ask a known local dermatologist.
Those who blend with your target: These are people who can easily reach your target audience. For instance, if your brand targets college students, it might help to recruit brand ambassadors on campus. If your company creates plant-based food products, it makes sense to team up with vegans who already love your product (or even foodie meat-eaters who are impressed by how much the burger tastes like traditional meat).
The true professional: In addition to fitting one of the other categories above, you should look for ambassadors who conduct themselves with professionalism online and in person. You don't want someone with a history of questionable, disrespectful, or insensitive posts and actions –this may end up even damaging your brand reputation.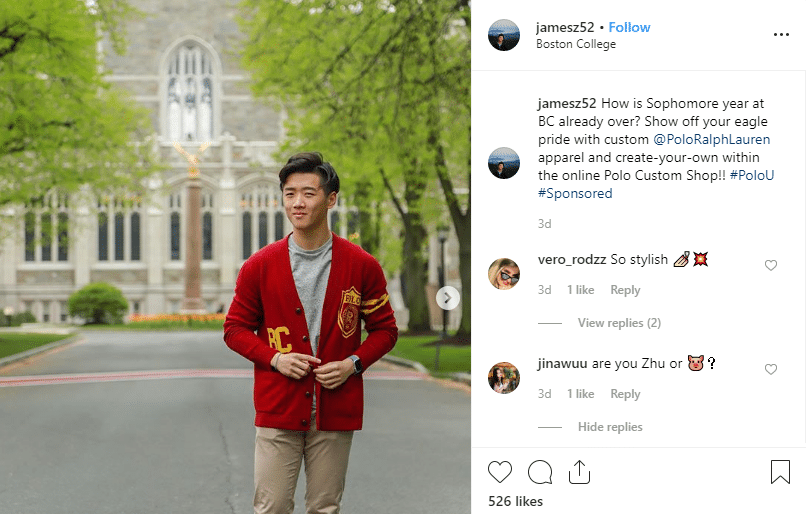 James Zhu is a Polo Ralph Lauren campus ambassador at Boston College.
2. Find and reach out to potential brand ambassadors
Most companies find their brand ambassadors in three main ways: manual social media searches, software programs, or a manual application process.
Social media searches
Even before deciding to start a brand ambassador program, you may already know of a few people who have posted about how much they love your brand. These individuals are a good place to start.
You could also do a search through social media for more people who have used your hashtags or tagged you in their posts. This requires a lot of time and discernment – not every one who uses your hashtag is a good fit to be a brand ambassador.
Software programs
Using software to find people who have previously engaged with your brand can be a life-saver. You won't have to spend hours tracking performance on your own – with a few simple settings, software can do all the hard work for you.
And, it doesn't even have to be that expensive. Some software tools are extremely cost-effective, especially considering the time they save you and the sales they allow you to generate.
Programs like SocialToaster and Brand24 let you search for people who have mentioned your brand or products, and see who is talking about you online. Once you've found people who seem like great potential ambassadors, ambassador software will also help you reach out to them. Other software options can even help you run full-circle programs and control all aspects of your brand ambassador program.
Application process
Of course, you can always reach out to some of your best customers. You can also include a brand ambassador application form on your website, and let potential ambassadors come right to you.
In the form, explicitly ask if they would be willing to share your products with their network – more than once – and weed out any "nos." Also ssk why they chose your product, and why they love your brand. This helps identify their authenticity as a brand ambassador, as well as give you a sneak peek into the type of content they will be sharing.
Plus, application forms can be used in tandem to any other method. After collecting a list of potential brand ambassadors, asking them to complete an application form will help to narrow the list down your best candidates.
Tip: Whatever method you use, reach out to each of your high potential candidates with a personalized note. Even though they're already enthusiastic about your brand, a personalized note shows that you're going the extra mile and have a great program in store.
3. Set, share, and track goals for your brand ambassador program
You've recruited a group of authentic, enthusiastic ambassadors – awesome! Now it's time to enter an agreement with each of them and set common goals.
Whether you are going through a software form, verbal agreement, or using a longer traditional contract, you need to clearly define your goals and objectives. Do you want ambassadors to share a certain amount of times? Does it matter what platform they share on? These are the points to cover in any agreement you form your brand ambassadors.
Establish expectations: Set clear expectations for how often you want each ambassador to post about your brand on social media, what platforms the posts should be on, what they should include, their role during offline events, and any other specifics about your expectations
Clear communication: Clearly communicate the short-term and long-term goals of your ambassador relationship, as well as your marketing efforts as a whole.
Use a contract: Have ambassadors agree to the partnership – this can be done with a verbal agreement, software forms and tracking, or a formal contract committing them to meet the established expectations.
Give the inside scoop: Give ambassadors any information the need to promote the brand, as well as about any relevant promotions and campaigns they should include
Form a relationship: Get to know the ambassador's own goals, and see where there are any overlaps with your brand. Most ambassadors sign on because they love your brand, but many also have other intrinsic motivations, such as building their own resume. As Sharon Savariego, CEO and co-founder of Mobilize, explained to Forbes, "Today's ambassador programs are driven more by intrinsic motivations that provide opportunities for mutual growth. People join these programs to widen their social circles, receive recognition for their impact, and grow both professionally and personally."
Give guidelines: Create rules to make sure ambassadors properly represent your brand, but don't make them too restrictive that your ambassadors won't be able to have their own authentic story and voice. In other words, give them guidelines, but not "lines."
Track everything: Track how well your ambassador program is meeting your brand goals. With the right software analytics tool (like ExpertVoice and Heartbeat), you can easily see how your ambassadors represent your brand on social media, how often they post, and how much engagement and reach each post generates.
4. Reward ambassadors if you choose – but recognize them no matter what
Another key point in your program is if and how you are going to compensate your ambassadors. Some programs pay their ambassadors with products, some pay with money, and some don't pay at all. But while some ambassadors are fine promoting for free, any form of reward is a great way to show ambassadors how much you value their support.
The real important part you will need to figure out is how to bring in a number of suitable brand ambassadors to your business. Cash is not the only solution to bring people in.
Knowing what motivates your potential brand ambassadors based on the skills and characteristics you are looking for can create loyal fans. You can compensate ambassadors with free products, gift cards, or even with multiple rewards in a gamified structure.
Free products give ambassadors even more of a reason to share your brand. But if an ambassador shows off any free products or is otherwise compensated for a post, make sure that they disclose this compensation with an #ad or #sponsored hashtag.
If you choose to reward ambassadors, clearly state how they will be compensated and exactly what they need to accomplish to earn the compensation. You can use brand ambassador software to help you automate the reward process. If you are rewarding ambassadors based on their referrals, give each one a unique referral code or link to help them redeem their rewards.
This will also help you track how many new customers an individual ambassador sends your way. There are many referral software tools to choose from that can assist you with this process.
Whether or not you compensate ambassadors, recognizing their achievements is an important part of making them feel valued and part of your team. This can be done with a personal thank you note, a special feature on your website, or even an ambassador of the month series promoted on your social media and blog.
Consider including what makes them a stand-out ambassador and asking them to a few questions about their experience with your brand. This also serves as a is a great way to highlight your brand ambassador program.
5. Build rapport with brand ambassadors, and always keep them updated
In any long-term relationship, you don't just contact someone once and leave it at that. You need to continue communications with the person in order to build a relationship of trust.
It's the same way with your brand ambassadors – don't let contact drop after the initial calls or emails. Instead, keep the lines of communication open. Here are a few guidelines to create an ambassador relationship that lasts:
Be reachable. Make sure that ambassadors can easily reach you with any questions or suggestions they might have.
Keep your ambassadors updated on any brand promotions. Are you starting new campaigns? Are you launching new products? Ambassadors want to feel like they are part of your brand's journey.
Get your ambassador's feedback in building your brand. Ambassadors want to see your brand succeed. And as part of your target market, they will be able to offer fresh perspectives to help your campaigns better resonate with others. You may even ask them to test out a trial product or service before launching to the public.
But let the feedback go both ways. Praise ambassadors for their successes, encourage them, and recognize their effort. In the same way, you can also offer constructive suggestions on how they can better promote your brand (as long as you don't stifle their creative control).
Keep constant communication. Don't be afraid to schedule check-in calls or ask for updates from each individual ambassador, especially if you shift your goals or establish new campaigns.
Remember, building trust with anyone you have a relationship, from customers to brand ambassadors and partners, helps your reputation.
Examples of brand ambassador programs
Now that you know the basics of building a brand ambassador program, let's review a few notable ones used by today's popular brands:
1. Lululemon

Lululemon's ambassador program has been known to encourage autonomy and personal growth in both employees and consumers. In fact, Lululemon ambassadors can fit into one of the three categories: Elite Ambassadors, Global Yoga Ambassadors, and Store Ambassadors. Each ambassador is chosen because they reflect the Lululemon culture, and today, the brand has a mix of partnerships with local ambassadors and influencers, alongside elite athletes and fitness gurus. The goal of their program is to provide feedback on the product and help out with social impact programs, which leads to an increase in brand loyalty.
2. Skullcandy

As a way to give consumers reliable information and aid in their purchasing decision, SkullCandy launched an ambassador program to put their product to the test.
The gear testers (aka SkullCandy Ambassadors) were recruited to provide product reviews on the SkullCandy website only after they actually tested out the product. The feedback and user-generated content this program provided is now used to help future customers identify which of their products will work best for them.
SkullCandy also has a list of members they consider "SkullFamily," which is a group made up of athletes who show off the SkullCandy products in their everyday lives. This additional tier of ambassadors has been very effective in influencing all the fans around them.
Takeaways for creating a brand ambassador program
Brand ambassadors are experts at providing word of mouth that your audience trusts, and passionate about seeing your brand succeed. Why not harness their promoting power and make their relationship with your brand official with a brand ambassador program?
When creating your brand ambassador program, consider using specialty software tools to help streamline the process of finding and managing your potential ambassadors.
Then, set your expectations and brand goals for every one of your ambassadors, and consider how you will compensate them for their efforts. And most importantly, keep the lines of communication open. The most successful brand ambassador program will make everyone involved feel like they're a valued part of your brand's journey.