Employee ambassador programs can be a cost-effective marketing strategy for generating quality leads. After all, employees are already experts in your brand, and know what makes it stand out. But before you start leveraging employees as ambassadors, it's essential to know the kinds of resources you need, how to plan and structure your employee ambassador program for success, and most importantly, how to motivate your employees for the best results.
In this article, we cover:
What an employee brand ambassador program is
Why you should leverage your employees as ambassadors
Potential disadvantages of employee ambassador programs
How to determine whether an employee ambassador program is right for your brand
Tips and best practices for running an employee ambassador program
Real-life examples of effective employee ambassador programs
Other program options to consider, if employee ambassador programs aren't the best fit for you
What is an employee brand ambassador program?
An employee brand ambassador program equips your employees to represent your brand as ideal 'ambassadors,' both online and offline, in exchange for incentives. 
Typically, employee ambassador programs:
Mobilize employees to officially represent and promote your brand
Provide resources and guidance to make sharing your brand more effortless and more focused for employees
Reward employees for authentically sharing your brand with relevant audiences, both online (say, on social media) and offline (say, at events or in one-on-one conversations)
Make it easy to track employees' promotional efforts and determine the impact on your brand's bottom line
Why leverage your employees as ambassadors?
There are many different benefits your business can gain from leveraging your employees as brand ambassadors: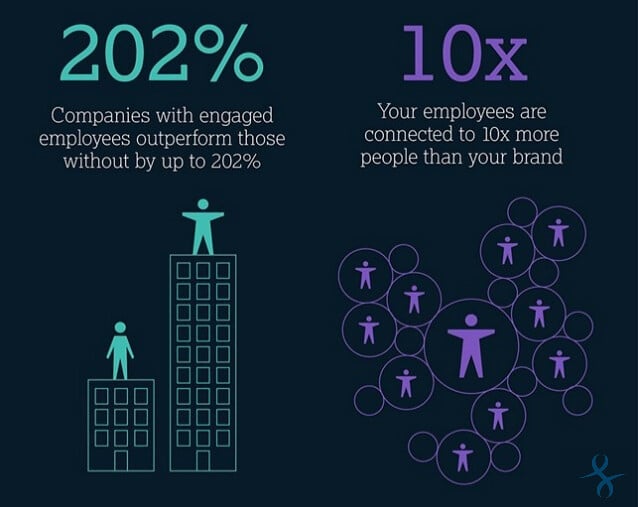 Employees are already experts on your brand, its products and services, and the audiences you serve. They have the inside scoop, and so are the best people to talk about your brand, products, and services.
Employees are already committed to your company's values. They know what exactly your brand stands for and have made these values their own. This makes it easier for you to hit the ground running with any form of employee advocacy program.
Employees require less briefing on your company – they're already familiar with it, compared to other ambassadors. Aside from some basic training on new products or services, and on how ambassadorship itself will work, they don't need extensive ambassador onboarding.
Having dedicated employee advocates who are willing to endorse you personally reflects well on your company. Brand ambassadorship is a reflection of the quality and value of your brand. Customers see this individual endorsement from employees as more organic and credible than your brand's direct marketing and advertising.
Ambassador development helps equip employees to better serve both new and existing customers' needs. Having a deeper level of brand awareness and in-depth information on the brand, what you do, and what you sell means employees can more effectively serve new and existing customers. 
People trust employees, especially when they're part of the same online and offline circles. This means employee ambassadors' messages are more likely to generate leads, compared to messages from your brand.
Employee-ambassadors help expand your reach and bring in high-quality leads. According to G2, these leads are "seven times more likely to convert".
Employee ambassadorship is cost-effective for your brand. After all, you only spend money on rewards, meaning it's low cost compared with other marketing methods where you're paying before you see results.

Possible disadvantages of employee ambassador programs
While employee ambassador programs provide many benefits for brands, it's important to be aware of some of the potential disadvantages that can crop up when you deploy programs like this. However, some thought and planning can take care of most of these challenges.
Employees could come off as too salesy, especially if they aren't trained to sound authentic. It's essential to give employees the ability to choose the content they resonate with the most to share. Also, look at loose templates that employees can customize within reasonable guidelines of brand voice and tone. Don't just feed employees the exact messages to share.
Sometimes it can be challenging for employees to build a personal voice, independent of how your company presents itself. It may be easier and an excellent second strategy to mobilize authentic external brand advocates such as customers.
Employee ambassadorship can seem less genuine than other word-of-mouth promotions. Today's audiences are marketing savvy, and unless the content is crafted with care, it's possible that audiences might think your employees are representing you just to gain more money. 
Depending on your brand and target audience, employees might not be the best fit to promote you. Not all products or services easily lend themselves to being promoted by employees. 
Sometimes, they may require a form of product or service specialization that may be difficult for your employees to gain, even with training over and above their regular workplace commitments.
Other times, employees may simply not fit the demographics of your audience – a single man isn't a good fit to promote a product designed for moms, for instance.
Some employee ambassador efforts may be harder to track and measure. Without visibility, it's hard to determine the results of promotions and whether they've achieved the desired results.
There's a minor risk that if an employee ends up leaving your brand, your brand may lose favor in the audience's eyes because the employee was the reason they saw your brand as valuable in the first place.
Is an employee ambassador program right for your brand?
Before considering developing an employee ambassador program, you want to weigh several factors to decide whether it's really the right approach for you. 
For any employee brand ambassador program to be successful, it's crucial that the majority of your employees, or the participating employees:
Are dedicated and passionate about your brand. Ambassador promotions will only be successful if your employees are just as vested in your brand's success.
Know what makes your products/services unique and better than competitors. Provide training and resources to educate your employees, so they can organically showcase the best features of your products and services to their peers. 
Are committed to and live out your brand values. Value mismatch can make the ambassadorship look inauthentic or, worse, misguide potential customers about what your brand really stands for.
Understand your company vision (the "why" behind your brand). Without knowing the "why," it can be hard for your employees to connect the results they're trying to achieve to the brand's goals. It can end up being a missed opportunity. 
Know the audience your brand is trying to reach. It can be a waste of time, effort, and resources if your employees are promoting to one and all, without a clear idea of who your products and services are ideal for.
Have large enough online and/or offline "circles" of people who trust them, within an audience profile that matches yours. You want to leverage employees with reasonably large networks or employees who are natural 'sellers'. Their peers should ideally be similar to your target audience profile.
Feel valued by your company. Aside from incentivizing your employees for their efforts, you also want to make sure they're appreciated for their contributions. You don't need to do anything fancy. Hand-written appreciation notes can be just as gratifying to receive.
Ideally, are already sharing your brand with people in their circles. If they're already promoting, it's a lot easier to have them take progressive steps or follow through with the program.
To cultivate all of the above characteristics, you'll need to have:
A company culture where employees feel invested in your brand and part of the team. You also want to ensure your brand is always transparent with your employees and inspires trust in everything you do. 
Strong relationships with employees. Building good relationships and focusing on promoting inclusivity with your employees creates positive results, and not just in your employee ambassador program. Employees can become more motivated and interested in being a part of your company's growth story as a result.
Products/services your employees want to promote. Spend time with your employees to get a sense of how they feel about promoting your products and services. Use surveys or questionnaires. Address concerns and adopt changes wherever needed to make the program as employee-friendly as possible.
8 best practices for running an employee ambassador program
Now that you have a sense of what makes for an effective employee ambassador program, let's look at tips and best practices you can deploy to enhance its success.
1. Let employees know about the program
To promote your employee ambassador program at launch, you have a few different options. You could open it to all employees right away if you're confident about how vested they are in your brand. Alternatively, you could just start with your best advocates first. Create a small group and then scale once you're starting to see positive results you can replicate. 
Invite employees to become ambassadors personally, whether that's via emails or direct conversations. This gives them a choice, as not all employees will want to actively promote your business to their friends or peer network. And that's perfectly OK.
Talk up the benefits of your program to all employees in company meetings, and promote ambassadorship in employee-only spaces such as Slack. No matter how your brand's employee communication is structured, make sure you have spaces exclusively for updates and in-depth information on the brand ambassador program. Inform your employees, so they always know where to look and who to contact for more information.
2. Train employees on how they can best share your brand
It's best to closely guide your employees through the steps of how best to share your brand, so they feel supported every step of the way. It also enhances their skills, and, by extension, the value they deliver to the brand advocacy program. 
Even though employees may be familiar with social media platforms and know how to find their way around, they aren't necessarily all social media marketing mavens. So, you'll want to offer training on social media and provide learning resources so your employees know what they can share and how they should ideally share it. You could provide video or textual how-to guides that show employees how to create content from start to finish, including getting quality and authentic photos of them using the product, tagging your brand, using relevant hashtags, and how and when to post content.
If they're engaging in any offline communication as ambassadors (like at events), you'll need to train them on how to engage in one-on-one branded conversations as well. These conversations should be focused on relationship-building rather than on making the sale. 
Provide guidelines on the most important points to share, and provide a checklist of what they shouldn't share, both online and offline. Show concrete examples so the guidelines are more useful and helpful. For example, provide a list of detailed dos and don'ts. 
At the same time, you want to encourage your employees to engage in authentic conversations that don't sound overtly salesy or corporate. That means letting your employees do the talking rather than feeding them scripted posts and messages.
Next, review your branding fundamentals with your team. Talk about your brand messaging, and conduct refresher trainings on your brand mission, vision, and values. Provide branding resources in the form of customizable social media templates and guides, for example, inclusive of brand logo and colors.
Depending on what works best for you, you can either open the training to all employees or allow only those who complete specific trainings to become "official" representatives. For instance, you can have only the people who complete your social media training go on to become official brand ambassadors. This helps you control quality and also ensures alignment and consistency to your messaging. 
Remember to house all the resources and trainings in a centralized location, whether that's your Google Drive, Slack, ambassador portal, or company task management portal. Your employees should be able to access these trainings whenever they need a refresher.
Another important aspect to keep in mind is to provide constant updates to help keep your program top of mind. For example, you can update your employees whenever there are changes to the program, when you're launching new products, whenever there's new content to be shared, and when you have new promotions or sales.
3. Leave room for authenticity
While you can use customizable templates that your employees can work with for support, it's critical they understand they don't need to follow your checklists to the T. There's a lack of authenticity and genuineness when the same message keeps popping up in feeds everywhere. Potential customers can quickly switch off, or worse, unfollow or block.
As we mentioned earlier, leave room for your employees to personalize their messages in a way that feels natural and appears more appealing to their peers. You can still offer support if they want to check back on what they're sharing before they post. Sometimes, you may need to provide some initial hand holding until your employees start to find their feet.
Remember that the employee's perspective is usually trusted more than the brand's messages, so help employees cultivate their own true voice while working within your company's guidelines.
4. Get employees' input
To add some real value to your ambassadorship program, ask your employees what they think online and offline ambassadorship should look like. On the one hand, this can be a great way to get employee buy-in. On the other, you'll be able to get a sense of what appeals to the target audience on the ground from the people who have the best insights.
To start with, ask your employees what would motivate them to share your brand. Look for both external and intrinsic motivating factors. Intrinsic factors are simply the internal factors that exist within the individual to motivate them, like the need for recognition, the desire to see your brand grow, or the desire to help out peers. External factors, as the name suggests, are those that motivate the individual from the outside, like prizes, bonuses and awards. Knowing these motivators can help you figure out how to develop your program, so employees feel highly motivated to participate in it.
When you ask for feedback, remember to take it on wherever possible and use it. This can be within the framework of the program. Sometimes, it can also be connected to factors not immediately relevant to your program, but that still apply to bettering your brand. Your openness to feedback and the willingness to implement positive changes can strengthen your relationship with your employees. It can also help you identify what's working right and what's not.
5. Regularly communicate with employees about the program
You always want to keep the employee ambassadorship alive and constant in the minds of your employees. There are several ways you can do this. You can bring the topic up in one-on-one or group meetings to check how things are going and get updates on sentiments on the ground. You can house all your ambassadorship program participants in a specific email or Slack group so you can send them constant updates and listen in on challenges or concerns. Also, make sure you're following an open-door policy if you're not already doing so. Be available and present for your employees for any questions and concerns they have, whether that's face-to-face, via email, on Slack, or on another platform. 
In addition, it's a good idea to let your ambassadors know when their advocacy results in sales as part of your ongoing communications. Alternatively, use brand ambassador software that can automate this process. The software can be set up to notify employees automatically whenever there's further progress on their leads. Having these kinds of updates on the progress of their efforts can be encouraging and motivating for your employees besides making them feel like relevant and important members of the team.
6. Recognize employees for their efforts
Recognizing employees for their efforts gives them a sense of pride in their contributions. It also motivates them to keep on delivering. Provide rewards (employee referral bonuses) whenever your employee-ambassadors' social sharing results in leads and sales. If you did the homework on determining their intrinsic and extrinsic motivators, it should be easy to figure out what kinds of rewards will be appreciated by your employees the most. Check in with your employees beforehand while you're working out motivators, if in doubt, to determine the best incentives.
Some examples of exciting rewards are cash payouts; tickets to conferences, sports games, or concerts; gift cards; travel allowances; spa or gym memberships; and even food baskets. You can also do company swag or high-value items for your most significant contributors, in the form of watches, tech or gadgets.
Remember to show appreciation in the form of peer recognition as well. Give a shout-out to the top-performing employee ambassadors every month in team meetings or on Slack. Provide these MVPs additional rewards or high-value rewards, like the ones we talked about earlier. Handwritten thank-you notes can still get employees excited because of the thought and personalization behind the effort. 
7. Track the ROI of your program
Tracking the ROI of your program is essential to understanding how successful your investment was. It will also help you identify stumbling blocks and scale positive endeavors. Set clear and measurable goals for your program related to employee participation, leads, sales, or/any other kind of metric you want to track.
It can be beneficial to use brand ambassador software to automate the process of monitoring your employees' sharing. You will get real-time updates and have complete transparency on the efforts and results.
Looking for a fully automated brand ambassador marketing platform for your business? Choose
Referral Rock employee referral software
.
 Our software lets you customize and brand your programs to your needs, and automates promotions to keep your employee ambassador program top-of-mind. It also integrates with over 30 of the tools you already use, for a seamless fit into your existing presence and processes.
Book a free demo with a member of our team here.
8. Make ambassadorship part of your company culture
Employee ambassadorship should ideally permeate your work culture from the top all the way down to the bottom. Every employee should be able to access the program and serve as an ambassador if they wish, unless you've decided beforehand to stick to a core group to start with. But the ideal scenario is to open your program to all your employees at some stage. By then, hopefully, you will have tweaked and refined your program enough to make it effective and successful.
Another aspect to consider is that even though you're opening the program to all your employees, not all of them may be willing to participate, and that's ok. It's perfectly fine if they want to separate their work from their personal existence. But your attempts, nevertheless, should be to make the program as exciting and 'worth it' to attract maximum employee participation.