In an era where building a strong brand presence is pivotal, leveraging the influence of college students through student ambassador programs can be a game-changer. The programs harness the passion and influence of college students to propel brand recognition and credibility.
But running a successful campus ambassador program isn't just about plastering logos across campuses or picking out students and asking them to represent your brand. It's about strategic planning, nurturing relationships, and empowering these young ambassadors to confidently express your brand's story.
A well-orchestrated college brand ambassador program can generate authentic conversations about your brand and establish a loyal customer base. This article tells you how your brand can establish a successful college brand ambassador program.
What is a student ambassador program?
A student ambassador program is a strategic initiative where college students who are passionate about a certain brand represent and promote it over a long-term period. The brand in question could be the college or university the students are attending. It could also be consumer brands that resonate with the student demographic, such as an apparel brand, an energy drink, or a dating app.
Student ambassadors act as the face of the brand in both online and offline environments. Online, they may promote the brand on their social media platforms and create engaging content to build brand awareness and positive sentiment.
Offline, they might represent the brand at campus events, organize brand-related activities, and use word-of-mouth marketing to enhance its visibility and credibility among their peers. In return, student ambassadors may receive benefits such as internships, networking opportunities, mentorship, professional development, product discounts, cash, or scholarships.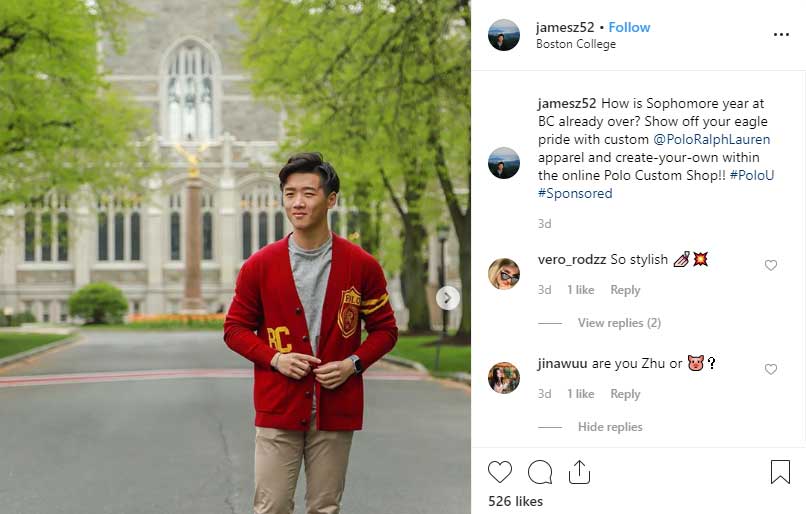 What do student ambassadors accomplish?
Student ambassadors play a crucial role in both brand and school contexts by serving as liaisons, advocates, and representatives. For brands, student ambassadors:
Promote the brand on social media platforms and personal networks, increasing brand visibility and engagement
Organize and participate in brand-related events or activations on their campus, boosting brand presence and reach
Share honest feedback and insights about the brand's products or services, helping the brand better understand and cater to its target audience
Create user-generated content that can be used in the brand's marketing efforts
Provide peer-to-peer recommendations, enhancing the brand's credibility
For schools, student ambassadors:
Represent the school at events such as open days, parents' evenings, or school fairs, offering a student perspective to prospective students and parents
Lead campus tours and present information sessions, making the school more accessible and relatable to potential applicants
Support new students during orientation or transition periods, aiding in their adjustment to the new environment
Share their experiences and success stories through various school communications, inspiring future and current students
The roles and responsibilities of student ambassadors can vary based on your brand's or school's specific goals.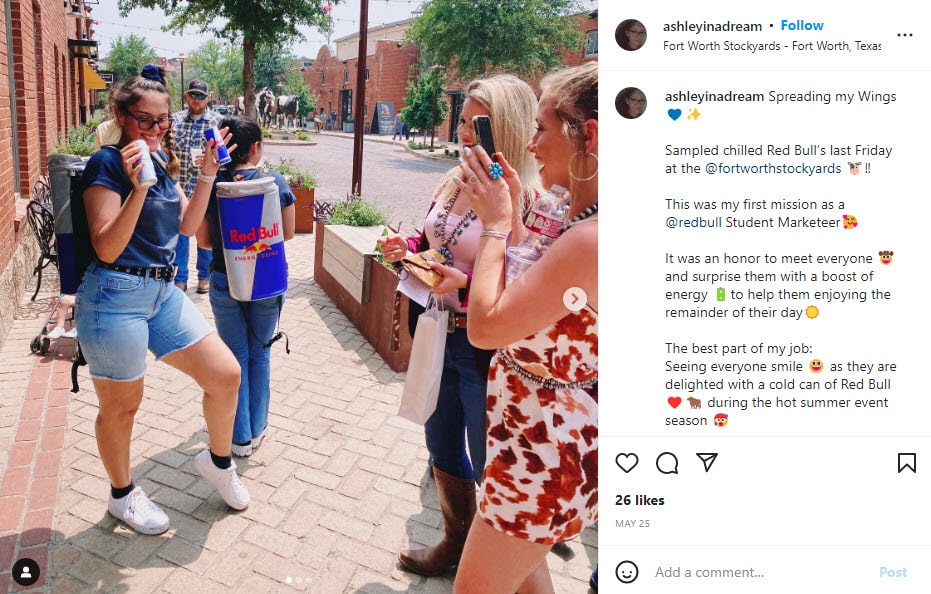 Benefits of campus ambassador programs
Campus ambassador programs create a win-win situation for both the brands and the students involved. Here is how your brand and the student ambassador can benefit:
Your brand will benefit from the following:
Increased brand awareness and engagement: Campus ambassadors, through their various promotional activities, significantly boost the visibility and engagement of your brand within their networks.
Authentic promotion: These representatives can create and share authentic content, generating a more trustworthy and relatable image of your brand among their peers.
Driving sales or enrollments: Young adults often trust the opinions of their peers more than the brands themselves. As such, campus ambassadors can significantly influence purchase decisions or college enrollments.
Cost-effectiveness: Recruiting campus ambassadors is usually less expensive than traditional marketing strategies, providing a high return on investment.
The benefits for student ambassadors include:
Skill development: Students can gain essential skills such as marketing, event management, social media management, public speaking, and leadership skills.
Networking: Campus ambassadors have the opportunity to build connections with industry professionals and their peers, aiding in their future career paths.
Resume building: Being a campus ambassador for a reputable brand is a valuable addition to any resume, showcasing leadership, responsibility, and marketing skills.
Unique experiences: Students often receive firsthand access to leadership opportunities, new products, or events. They have the opportunity to be part of exclusive brand initiatives.
Best practices for student ambassador programs
When launching a student ambassador program, you should follow best practices to ensure maximum effectiveness. Best practices will increase the chances of your program's success and foster a positive and engaging experience for the students involved in the camp rep program. Let's delve into some of these best practices:
Set clear goals and objectives
When using campus brand ambassadors, you must outline what you want the program to achieve. The goal could be to increase enrollment numbers, enhance brand awareness, improve engagement, or boost sales. These goals will guide the structure and activities of your program.
After defining your overarching goals, translate them into SMART (Specific, Measurable, Achievable, Relevant, Time-bound) objectives. For instance, suppose your goal is to enhance brand awareness.
A SMART objective could be: "Increase social media mentions of our brand by 25% over the next six months through ambassador-led online campaigns." The clearer and more measurable the goals, the more likely the program will succeed.
Know where to find ambassadors
The success of your student ambassador program heavily depends on your ability to find brand ambassadors who can represent your brand's story and promote it in a way that fosters trust.
If you want to promote your campus, consider handpicking enthusiastic upperclassmen who reflect well on your school. They should represent various demographics and interests to ensure a diverse and inclusive representation of the school's student body.
If you want to promote your brand on multiple campuses, start by identifying students who have already shown their affinity for your brand, possibly through posts or comments on social media. Utilizing brand mention software can make this process more efficient.
Alternatively, create a brand ambassador application for interested students to fill out. Promote this application via social media, email campaigns, or campus events to reach a broad pool of potential ambassadors.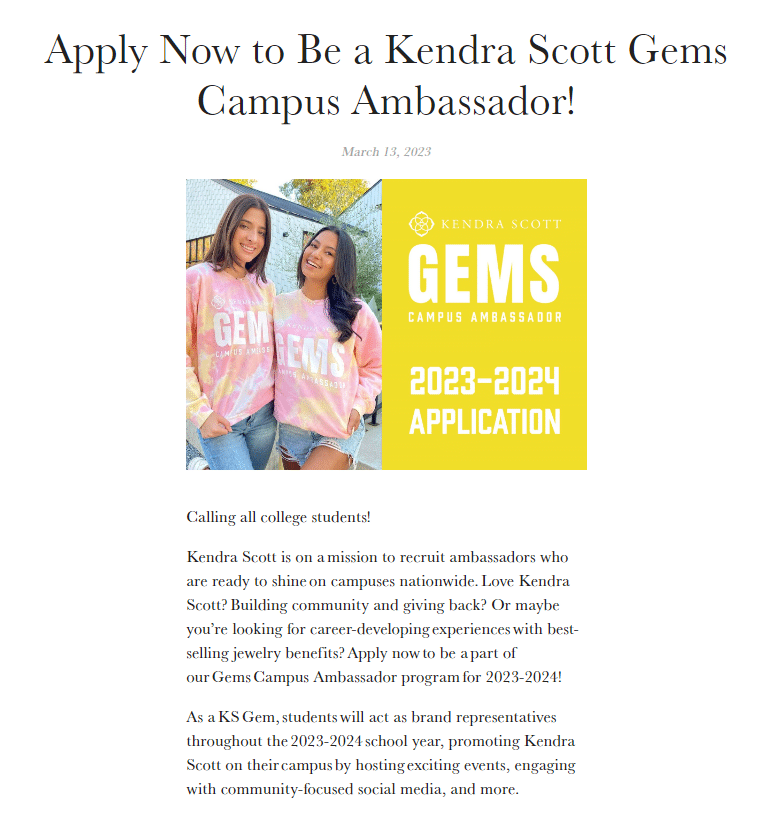 Implement a thorough selection process
Ensuring your ambassadors fit your brand or institution perfectly requires a thorough selection process. Start by creating a rigorous brand ambassador application and interview system.
Written applications provide insight into a candidate's communication skills and motivations. Follow this with a Zoom interview for a more personal touch and to assess their passion, enthusiasm, and comprehension of your brand or school.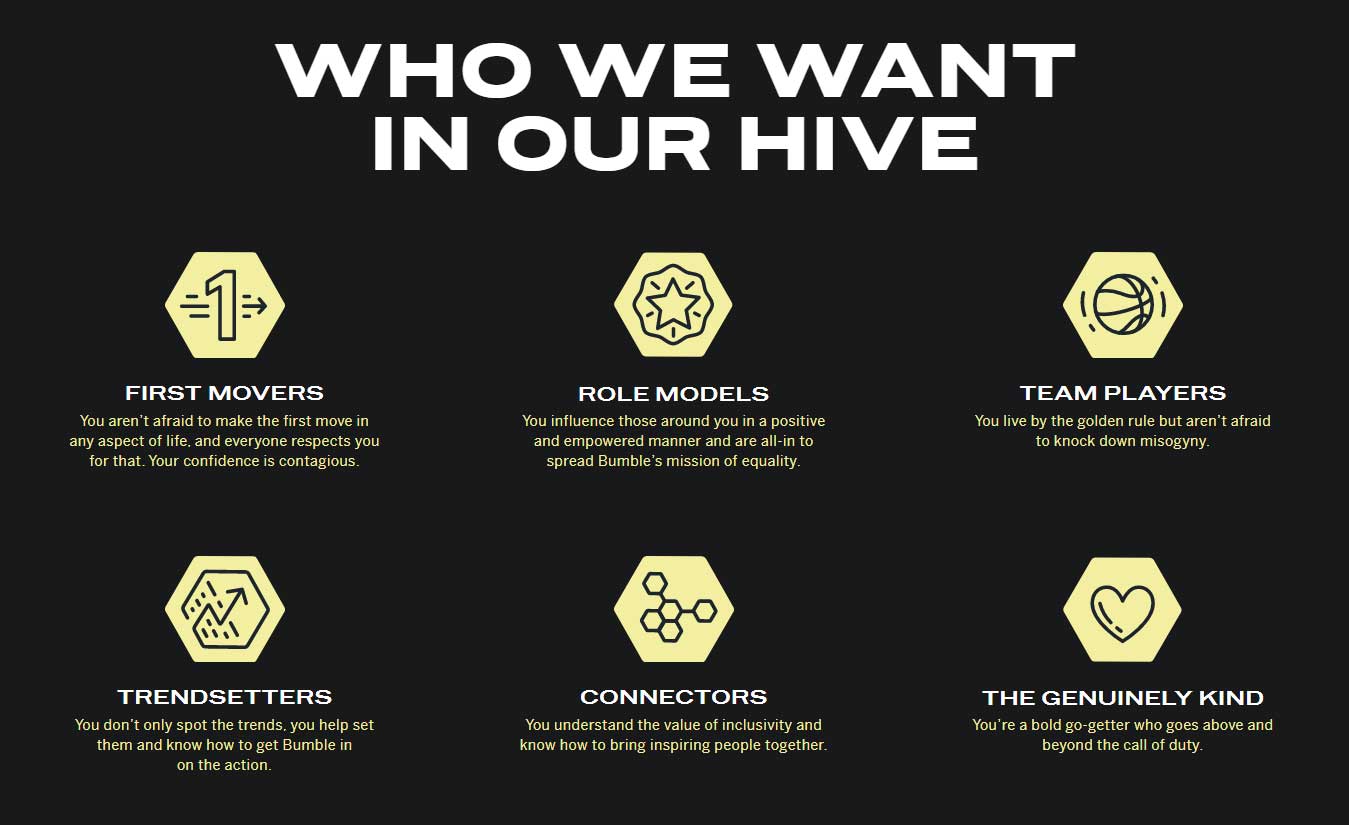 When reviewing applications and conducting interviews, look for strong communication skills, leadership qualities, and a genuine passion for your brand or institution. Key questions to ask include why the student wants to be an ambassador, why they love your brand or school, and what qualities they possess that would make them an excellent brand representative. These insights will ensure you select dedicated ambassadors.
Offer enticing ambassador rewards
While student ambassadors are often motivated by their passion for your brand or institution, rewarding their hard work is both fair and effective for encouraging ongoing commitment. Free products or school merchandise are popular and tangible ways to show appreciation.
However, you should recognize the student ambassadors' contributions to driving sales or enrollments. Reward them with gift cards, store credits, cash, or other incentives they'd appreciate for every conversion they help generate.
Consider giving your highest-performing ambassadors additional rewards, such as tech items, to spur a sense of competition and further motivation. You can use brand ambassador software to automate the reward process and offer different rewards to different ambassador segments.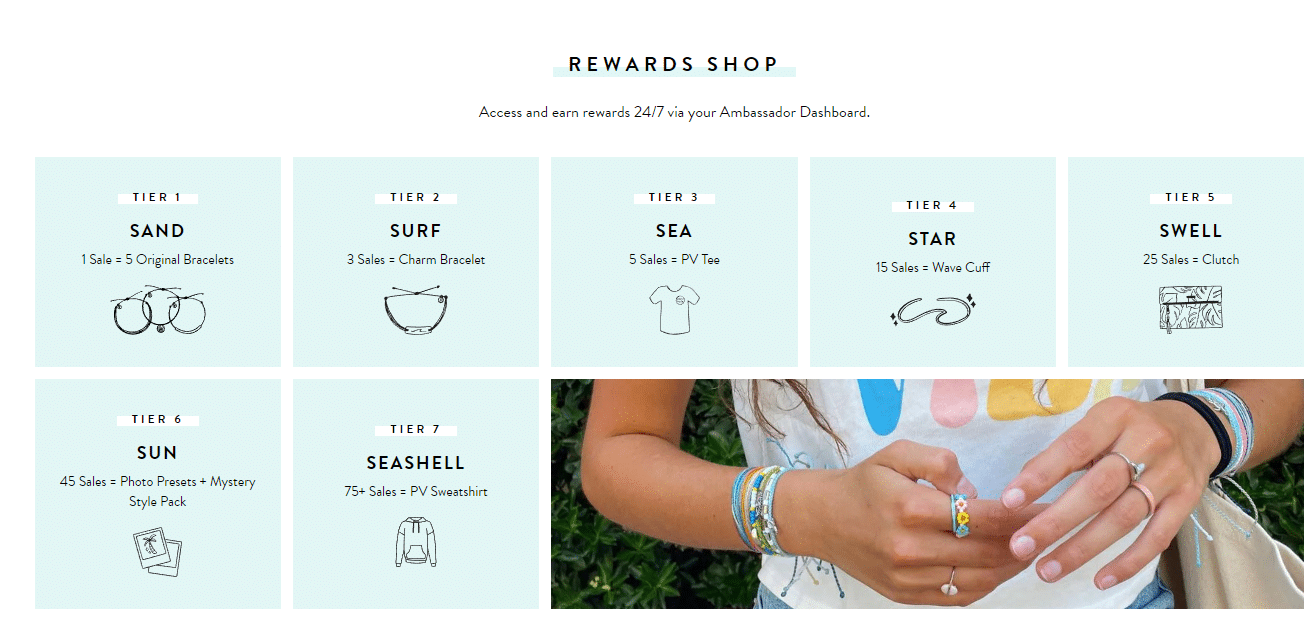 Provide training and support for student ambassadors
Proper training and ongoing support are integral to empowering student ambassadors to excel. Start by organizing training sessions to equip them with the necessary brand ambassador skills and knowledge. Potential training topics could include public speaking, social media management, and event planning.
A critical aspect of a student ambassador's role is authenticity. Help them understand how to maintain their genuine voice while representing your brand or institution, as this builds trust among their peers.
In addition to training, provide ongoing support for your ambassadors. This could be through mentorship, regular check-ins with program coordinators, or providing an easy way for them to reach out with questions or concerns.
Maintain ongoing communication and feedback
Open and regular communication is vital to the success of a student ambassador program. The best practices to keep in mind here include:
Establish clear channels for ambassadors, program coordinators, and your brand or institution to connect and exchange information
Send regular updates on brand developments or program news to keep ambassadors informed and involved. You can do this through group chats, emails, or regular meetings.
Actively seek feedback from your ambassadors to continually improve the program and swiftly address any issues they might be facing.
Collaborate on strategies for maximizing the program's impact. The strategies could include leveraging social media and digital platforms, planning engaging events, and executing effective offline promotions.
Create a dedicated newsletter or an exclusive online community for your ambassadors. These platforms can share promotion reminders, best practices, and insider information, equipping your ambassadors with the tools they need to excel.
Measure the success of the program with software
It's vital to assess how effective your student ambassador program is, by tracking elements such as enrollment, sales, or social media performance. Conversions (sales or enrollments) are the most essential metric to keep tabs on, as they're the direct measure of your program's success.
But you should also track other metrics based on your goals, such as:
The frequency of blog posts and/or social media posts ambassadors make
Impressions and engagements
Reposts and shares of ambassador content
Brand reach
Inbound traffic
As you regularly evaluate the program's success, you'll be able to make data-driven adjustments. Be flexible and adaptable in your approach to managing the program, and let the data guide you.
Brand ambassador software will let you create tracking links that automatically attribute enrollments or sales to different ambassadors. This is the best way to keep tabs on your success. 
In addition to link tracking and automation features, Referral Rock brand ambassador software has tools to keep ambassadors engaged, to boost ambassador activity and improve conversion rates. It even lets you track the reach of student ambassadors' activities even before they result in purchases or enrollments, for an accurate picture of how your ambassadors have helped you build brand awareness.
The best student ambassador programs 
Some of the best brand ambassador programs overall are student ambassador programs – and there's a lot to learn from their success. Here are two of our favorite student ambassador programs, and why they work so well
PINK Campus Reps
We love clothing brand PINK's ambassador program – it's an awesome example of how to leverage passionate fans with strong peer networks.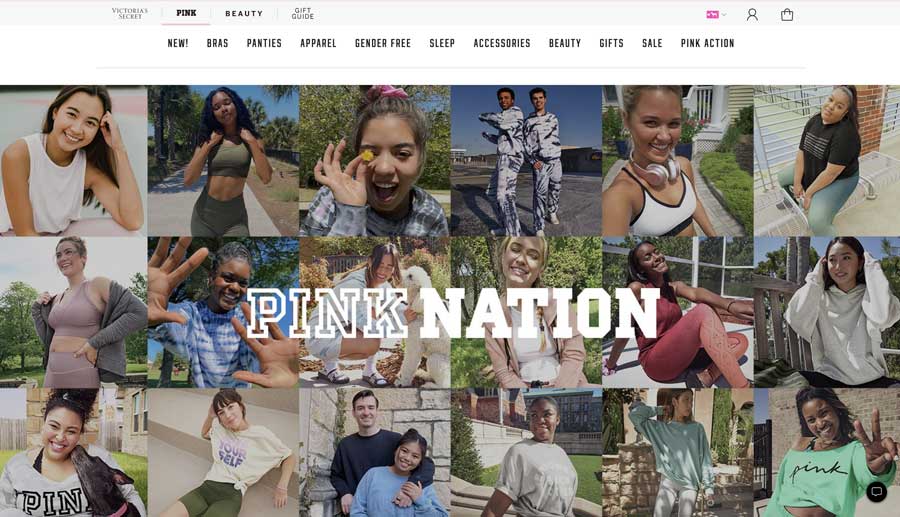 What we love about this program:
PINK chooses ambassadors with a record of both on-campus and online involvement – who, of course, have already shown love for the brand
There's plenty of training opportunities for ambassadors to develop skills. This includes an initial detailed training that covers the ins and outs of the brand and how to promote it
Through meetings and surveys, Reps chat daily with both other Reps and supervisors at PINK to share ideas and build community. They even get to influence future product lines, and talk with higher ups in the company!
Reps get to plan events in PINK stores, as well as on-campus events and guerrilla opportunities. They collab with organizations on campus as well as store staff – lots of opportunities to use their networking skills.
Reps get plenty of free PINK products, including exclusive ones. They also get access to deals and insider surprises.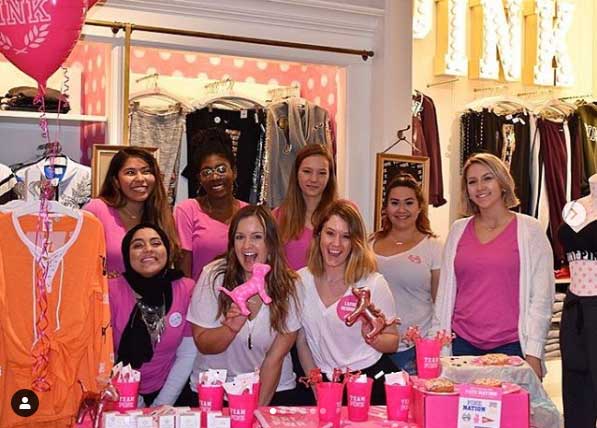 Bumble Honeys
Bumble Honeys, the dating app's student ambassadors, get plenty of opportunities to develop valuable leadership and networking skills as they promote the brand.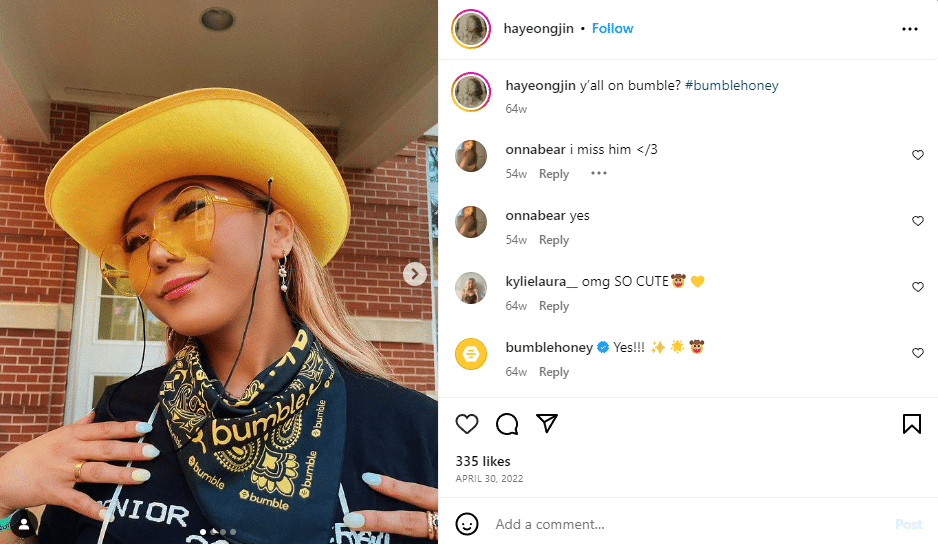 What we love about this program:
Bumble's detailed application process helps find the best-fit reps. It includes questions about why applicants love Bumble, how they embody the brand values, and the leadership skills they already have.
Bumble knows exactly who they want as ambassadors! They have a great section on their program page that lays out the essential skills.
Honeys are tasked with strategizing and planning their own events based on their audience and current trends.
Honeys don't just get to work with staff at Bumble HQ – they also get to talk with influencers and opinion leaders in awesome resume-boosting opportunities.
Bumble's ambassador program is touted as one of the most engaging out there.
Wrapping up
A well-structured student ambassador program can drive brand awareness, engagement, and sales while providing invaluable experiences for students. However, you should implement best practices when designing your program, such as setting clear goals, finding the right ambassadors, and maintaining open communication.
If you're eager to kick-start your ambassador program, Referral Rock can help. Our dedicated brand ambassador solution is tailor-made to help amplify your word-of-mouth marketing efforts.
Whether you're running referral programs, affiliate programs, ambassador programs, or partner programs, Referral Rock offers the flexibility and support you need. Schedule a demo to see how our solution can help you.