If your business plans to tap into the power of brand ambassadors, you'll need to select advocates who have the right brand ambassador skills.
Here's a list of the top 16 skills and traits brand ambassadors need. Make sure to select ambassadors who have all of these skills for the best brand ambassador program.
1. Has love and enthusiasm for your brand
First and foremost, brand ambassadors must genuinely love your brand and want to see it succeed. They must be so enthusiastic about your products and services that they're willing to post about you numerous times, sometimes without being asked. An ambassador's dynamic enthusiasm must pull people in and make them as excited about the brand as he or she is. This positivity must shine through no matter how many times ambassadors promote the brand.
Also, brand ambassadors must live out the values, mission, and vision of the brand they represent at all times. They should already embody your brand's values before your brand formally recruits them as ambassadors.
2. Exhibits brand knowledge
Brand ambassadors know your company's mission and goals like the back of their hand. They must also be experts in your products or services, so they can educate their audience about your brand, and answer any questions people may have.
3. Communicates authenticity
Authenticity is key in getting a brand ambassador's audience to trust them. So, the ability to communicate authentic love for your brand is arguably the most important brand ambassador skill.
Ambassadors must be able to communicate their enthusiasm for a brand naturally, and in their own voice, without sounding like they're making a sales pitch. They genuinely use your products often, and they want to share true stories of why they love the products and how the products help them, in hopes of benefiting others. So, when looking for the best brand ambassadors, look for people who have posted authentic love for your brand more than once, without prompting.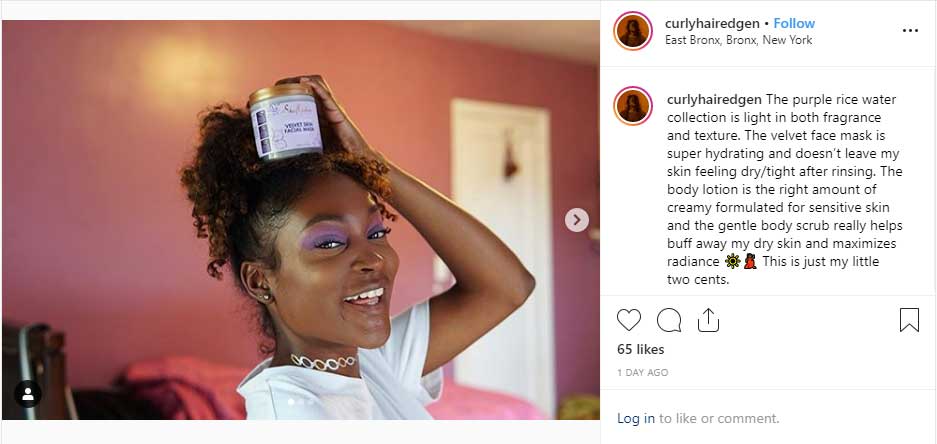 Shea Moisture ambassador Genesis (@curlyhairedgen) shares why she loves the brand's purple rice water collection, in her own voice.
4. Knows basic marketing
Brand ambassadors don't need a degree in marketing (or any degree at all), but they must have a basic knowledge of marketing principles. They must also grasp the role of ambassadorship itself: how word of mouth can help with customer acquisition, and how advocates can help promote a brand through genuine recommendations.
5. Has strategic planning skills
Ambassadors must develop and execute solid strategic plans. They must know their target audience, figure out the best ways to connect with this audience (what messages, posts and events will resonate best, in what places), and put their plans into practice. Sometimes, their marketing will seem spontaneous (think guerrilla marketing), but they even carefully plan and execute those endeavors. They also evaluate which strategies work well and which haven't worked so well, and apply that information to developing future strategies.
6. Possesses a strong social media/blog presence
One of brand ambassadors' main roles is to maintain a consistent social media or blog presence for your brand, from their own accounts. Brand ambassadors must project a consistent image, and have a clear niche. Their posts must always be high-quality and polished (not blurry or rushed).
7. Holds authority in their niche
Ambassadors must hold high authority within a niche, among an audience, or both. They must have built this authority through a strong social media presence, and/or through a solid network of offline connections. Their expertise will make prospective customers even more likely to trust their recommendations.
Through their authority, ambassadors will easily relate to, and be able to connect with, your brand's target audience. For example, an athletic shoe company might recruit a runner as an ambassador, and a sunscreen company might ask a dermatologist to represent them. A brand that caters to college students might choose student ambassadors at a variety of campuses, a men's clothing brand will probably only pick male ambassadors, and a baby food brand might assemble a network of mom-advocates.
Authority is more important than the ambassador's number of followers or connections. Ambassadors don't need to have a high number of followers, or even have niche authority, as long as they have high authority among their audience. They must know who their audience is and what they desire, and consistently deliver what their audience desires.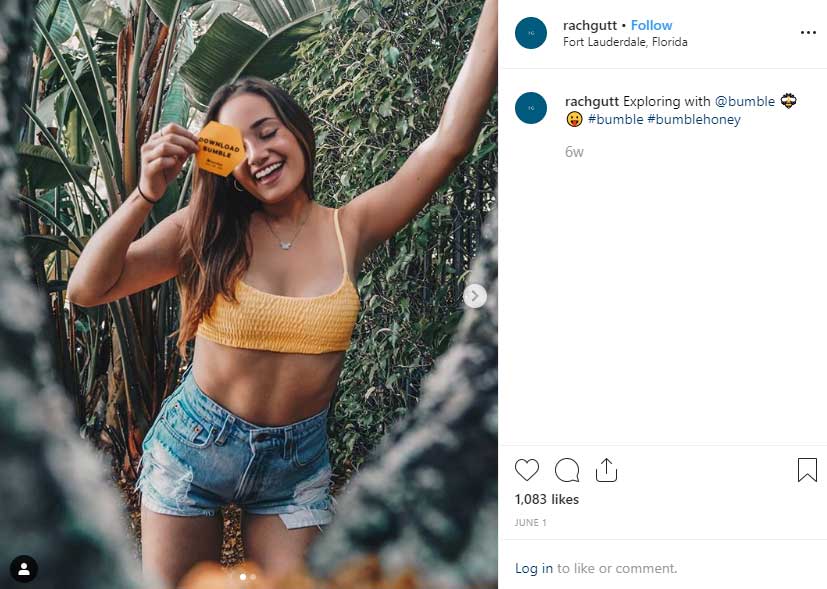 Rachel Guttman (@rachgutt) is a Bumble Honey, a member of the Bumble app's student ambassador program.
8. Produces creative content
Brand ambassadors' posts must draw their audience in with their creativity. Also, ambassadors need to find creative ways to connect with their audience. After all, they're sharing your brand multiple times. So, they'll need to keep their content fresh, and not let it get repetitive or stale. They must continually come up with new situations to showcase your product in, find new angles, and write new captions.
Also, they'll creatively adapt their message to best resonate with each individual, in each unique situation. And flexibility is also key to creativity. Ambassadors will need to come up with creative solutions to any challenges they encounter, especially when they are out in the field.
9. Has in-person conversational skills
Brand ambassadors' role isn't limited to online advocacy – they represent your brand offline as well, at trade shows and other events. Thus, they must be talented at the art of in-person communication. Rather than following a script, brand ambassadors must hold organic, one-on-one conversations tailored to each individual they talk to, detailing why they love your products.
Ambassadors must always be ready to strike up a dynamic, personal conversation with whomever they meet. They must also be able to relate to any person they meet, in any situation, and talk to them about how your brand's products will benefit them as an individual. They must be able to think on their feet, and keep their conversations casual yet professional. In other words, they must be skilled, outgoing communicators.
10. Has a talent for relationship-building
Brand ambassadors prioritize building strong, long-lasting relationships with customers and potential customers. They know how to connect with others on an intimate level, and know that fostering these deep connections with your brand is far more important than securing sales. They work to build a community around your brand, made up of loyal customers who are also willing to share your brand with others.
So the people you choose as your ambassadors must be skilled at making connections with others. With these relationship-building skills, ambassadors will convince people to be your repeat customers out of trust, rather than by pushing a product.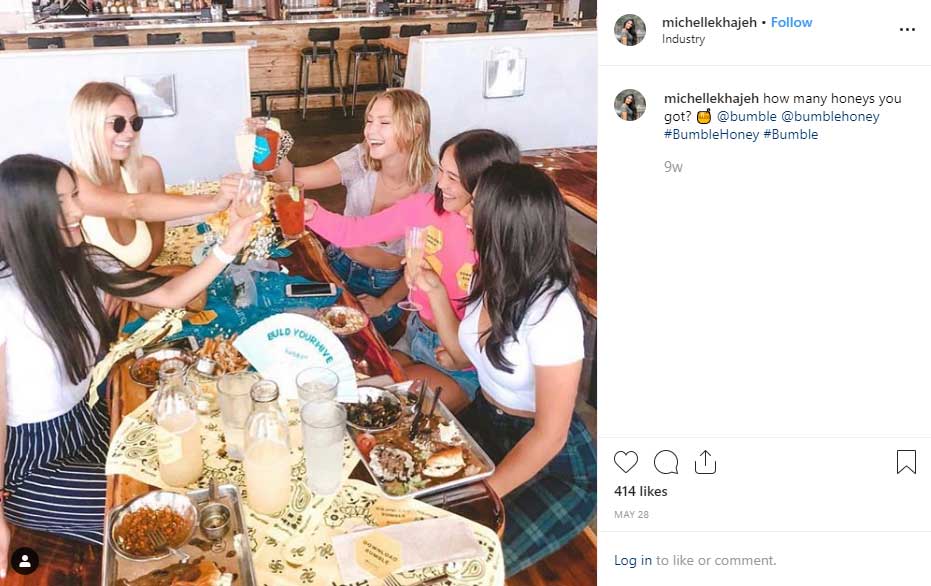 Bumble ambassador Michelle (@michellekhajeh) holds a branded community-building event.
11. Conveys confidence
An ambassador's confidence motivates people to keep listening to them. When people seek recommendations from others, they gravitate towards people who sound and look confident. In-person, they must never seem nervous or unsure when they talk about your brand. Instead, they must always talk (and carry themselves) in a self-assured way. Online, their written recommendations must be polished and clear.
12. Is open to feedback
Ambassadors must carefully follow any rules and guidelines you give them for promoting, to maintain your brand image. They must also take feedback from you graciously, both on what they're doing well and how they can improve. Willingness to take feedback shows that an ambassador is always ready to grow professionally and personally.
13. Is comfortable with giving feedback
Ambassadors are constantly seeking ways to help better your brand. Because they are committed to seeing your brand succeed, ambassadors are great people to test new products, say what they like, and share how they could be improved. They might also have ideas for how your brand can better connect with your target audience, or share feedback about your products that comes from their followers. An ambassador relationship is a long-term relationship, so ambassadors must be comfortable with communicating their concerns on a regular basis.
14. Has leadership qualities
Even if you've set guidelines for them, ambassadors usually carry out their tasks with little to no supervision. So, they need to take the initiative. They should be able to spot a solid potential customer and engage with them, without any guidance from you. They should also be seen as leaders within your brand community, who offer support to customers (including other, newer ambassadors) and answer any questions they may have.
15. Shows commitment
Ambassadors are committed to helping your brand succeed, and reliably complete all the tasks you assign them in a responsible manner. If you have a more formalized program, they'll attend any trainings and development sessions you set up, and set aside ample chunks of time to promoting you (they might commit a certain number of hours per week, commit to making certain numbers of posts per month, or commit to planning/attending a certain number of events). And even if you have a more informal relationship, they'll commit all the needed time and energy to make their promotions the best they can be!
16. Has a high level of professionalism
Ambassadors must always conduct themselves with professionalism online and in person. After all, the way they present themselves while representing your company will instantly reflect on your brand.
Brand ambassadors are mindful that they're representing your brand at all times, whether or not they're making a post, assisting at an event, or formally networking. Even when they're just walking down the street, they're the face and voice of your brand. They know that they influence others' perceptions of your brand through their actions, whether positively or negatively.
The ambassadors you choose to represent you must not have a history of questionable, disrespectful, or insensitive posts or offline actions—someone unprofessional like that could damage your reputation. Instead, pick people with a strong conscience, both digitally and offline.
Let's take a look at some brand ambassador program examples.  Below, we've illustrated how these 16 brand ambassador skills play a vital role in the Lululemon and PINK ambassador programs.
Brand ambassador skills in practice: Lululemon
Lululemon, an athletic apparel brand, was one of the first brands to use long-term ambassadors—and their program is still going strong. What brand ambassador skills do their ambassadors need?
Niche and audience authority: Lululemon ambassadors are local yoga and fitness instructors, as well as other athletes. Members of their communities see them as athletic authorities.
Relationship-building skills: Most ambassadors are tied to physical Lululemon stores, where they offer free yoga and fitness classes, and/or assist at other events. According to Lululemon, ambassadors are "not just in partnership with [the] brand,"  but "an extension of [the] brand and an inspiration to [Lululemon] guests." They are dedicated to making an impact within their communities.
Authenticity: Rather than explicitly telling their network to buy Lululemon, ambassadors wear the products during their everyday athletic activities so their community members see how well these products work in practice.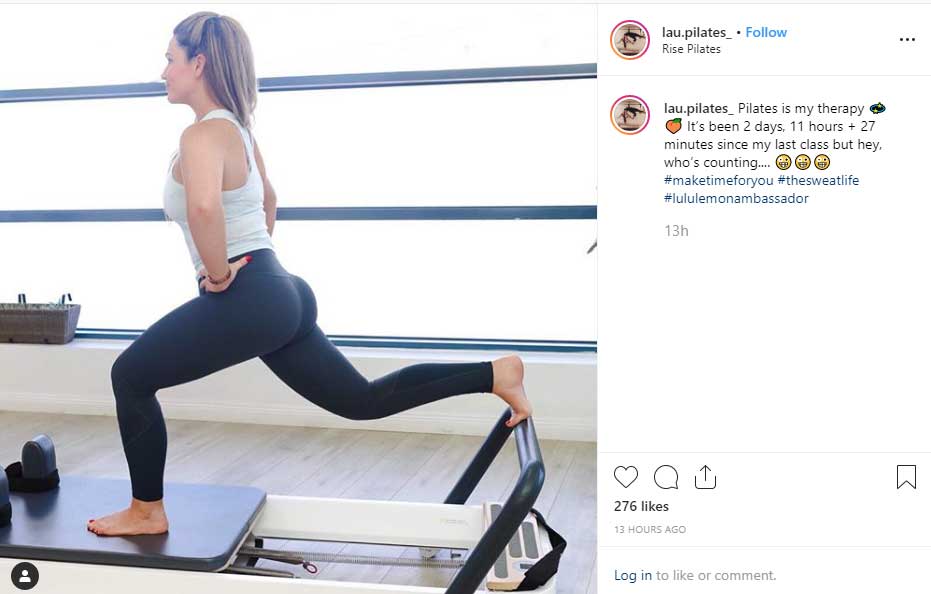 Ambassador Laura Saggers (@lau.pilates) wears Lululemon at the pilates studio where she is the director.
Conversational skills: Lululemon ambassadors must be ready to regularly talk about the brand one-on-one, in authentic, unscripted conversations. They also need conversational skills to teach classes and facilitate discussions (where they promote the brand more indirectly).
Social media prowess: Many Lululemon ambassadors post frequent action shots of themselves performing athletic activities, including leading classes, in Lululemon gear.
Commitment to growth and professionalism: One of the three pillars of Lululemon ambassadorship is dedication to "growth in your community, personally or professionally, or a combination of all three." Ambassadors receive instructional and mentorship opportunities. Top ambassadors are invited to a multi-day summit (and sometimes have the opportunity to instruct at larger events).
Willingness to give feedback: As Lululemon states on their website, ambassadors "provide [the brand] with invaluable feedback so that [it] can improve and grow." They have the chance to try new products, which means they are one of the first groups to share their thoughts on said products with Lululemon.  In addition, through close relationships with their community members, ambassadors let Lululemon know what customers want from their brand.
Brand ambassador skills in practice: PINK Reps
Now, let's look at how brand ambassador skills are vital to being a successful ambassador for PINK, based on the job description for PINK Campus Reps:
Authority: PINK is a lifestyle fashion brand targeted at students, with "a natural connection to campus." So, PINK reps must be current freshmen, sophomores or juniors at the time of application (they serve as ambassadors when they're sophomores, juniors or seniors).
PINK reps must have a record of involvement on campus. They must also post branded content to their social accounts regularly – and sometimes, they'll collaborate with campus organizations to sponsor events. Clearly, it's vital that they have built a network of online and offline connections who trust them!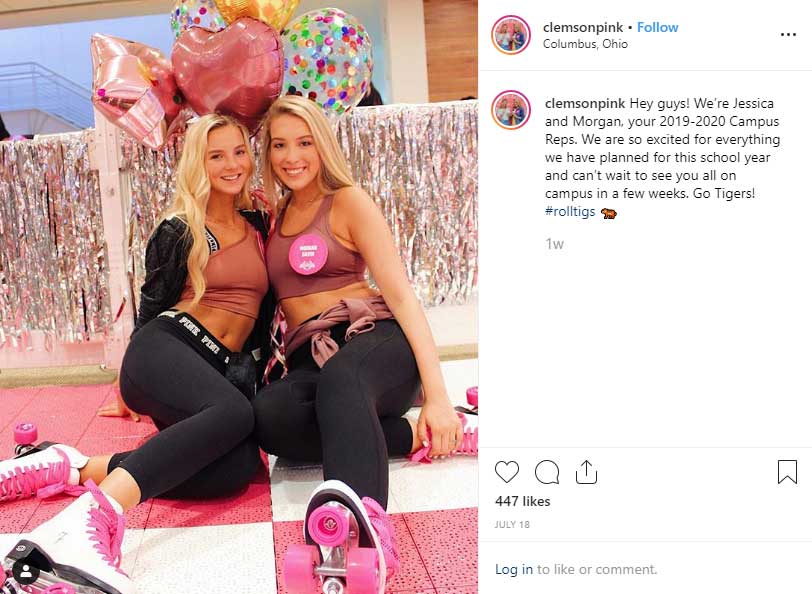 The 2019-2020 @clemsonpink Campus Reps.
Brand love/Authenticity: PINK reps "Must. Love. PINK" and must be "a current member of PINK Nation" (the brand's loyalty program).  Just like the brand, they must embody "the energy, excitement, and fun of college life." They choose to apply for the program because they're already PINK fans, and want the chance to impact the brand's success by sharing their love. And since PINK's all about fashion, ambassadors must be fashion-forward – they must know how to put together killer style inspiration posts for social media.
Confidence/Conversational skills: "PINK Campus Reps help promote PINK Nation on campus" through "sweet deals, surprises, and exclusive products." Also, they "get to collaborate with their local PINK store to generate and drive traffic" to seasonal in-store events.  So, they must always be ready to strike up a conversation, and carry themselves with confidence!
Enthusiasm: No matter where they represent the brand, their contagious enthusiasm must draw people in and make them want to learn more. After all, they embody the brand values of the "energy" and "excitement" associated with college!
Strategy/Creativity: Pink reps must be "masters of planning and organization," because they are tasked with planning enticing events and creative guerrilla marketing endeavors. They must carefully strategize their actions to capture the attention of, and connect with, the most students.
Relationship-building skills: PINK reps "empower other young women on [their] campus" and build community among students interested in PINK.
Professionalism: PINK reps must be mindful that they represent the brand at all times.
Leadership: "It's super essential that [PINK] Reps have proven leadership abilities," because PINK reps recruit and lead a PINK Campus Team of fellow students.
Willingness to give and receive feedback: PINK Reps "get to influence product by communicating with PINK leadership through meetings and weekly surveys. PINK Campus Reps are always in the know; they chat on the daily with other Reps and Supervisors, and share their ideas, feedback, and support." PINK reps also work closely with their larger Campus Team to plan events centered around the brand.
Commitment: PINK reps must spend at least  "8-10 hours a week on Campus Rep activities for one full academic year." Pink also requires Reps "to attend a three-day Brand Certification session in Columbus, Ohio at the end of the summer – all expenses paid."
In conclusion
Now that you know the top skills and traits for brand ambassadors, and have seen examples of the skills that ambassadors in the top programs need to possess, it's time to find ambassadors for your business and start a brand ambassador program.