Do you want to start a successful brand ambassador program – or do you already have a program that needs a little sprucing up? An important part of finding the right ambassadors is having the knowledge to pick them out. But how can you sift through potential ambassadors to decide who would be a perfect fit? A brand ambassador application, of course.
With an application, you'll gain valuable knowledge on potential brand reps, and get insights into why they want to be a part of your brand's success. This is your opportunity to sift through potential ambassadors, just as you would any potential employee. 
Let's discuss key components of a well-rounded brand ambassador application. Plus, our template and 9 examples will inspire you as you create your own application for your ambassador marketing campaign. 
What is a brand ambassador?
Brand ambassadors help to promote a company and its products or services, and increase brand awareness. Typically, brand ambassadors are asked to participate in word-of-mouth marketing efforts such as representing you at events, creating content, talking to potential customers, and more.
A brand ambassador is someone who loves your brand and agrees to promote it in the long term (unlike influencers who generally only represent a brand for a short time). Though an ambassador is usually paid for promoting a brand, they are not necessarily an employee. But, most ambassadors are screened and recruited before representing your brand, sort of like employees are.
These people help to promote you in a variety of ways (online, offline, or both). They could promote you online, through social media accounts, their blog, and even through other websites. Or, they could represent you offline, like at an event or through casual conversation. 
While promoting you, they are building relationships with your target audience. In doing so, they are authentically showing how they use your product in real life to friends, family, and anyone who may follow their social media profiles.
What is a brand ambassador application?
A brand ambassador application is the form where people apply to be a brand ambassador, just as someone would apply to a job. 
A brand ambassador application collects information from individuals who are interested in becoming a brand ambassador for a company. The application is used to gather information about the candidate's experience and qualifications, as well as to provide an opportunity for the candidate to describe why they may be the best fit for the role.
An ambassador application is likely on a page of its own, and not among your current job listings. You may have seen websites with a page dedicated to a company's ambassador program. The ambassador application is typically found linked or embedded on this page. 
It's important to note that this application is different from the brand ambassador job description.
The key differences being: 
It's usually its own page. The application is usually on a separate page that the job description page links out to 
Or, it's in its own section. If both are on the same page, the application follows the job description as its own brand ambassador form.
A brand ambassador application should be used in any brand ambassador program. Even if you're directly searching through social media or through your customer base for ambassadors, you should still create an application. This not only looks professional, but it can help you determine if potential ambassadors are actually a good fit.  
Why do you need a brand ambassador application?
Having an actual application has its benefits. It will sift out anyone who isn't truly serious about promoting you. If someone is willing to take the time to fill out an application, then their motivations are probably genuine, and they aren't there just to make a quick buck.
But there are a whole host of other reasons:
Lets the ambassadors come to you. You may want to let new ambassadors just come to you, rather than putting in the effort to seek them out. Likely, only those who are happy with your product, values, and brand will apply.
Allows you to pre-screen ambassadors. This is probably one of the most important reasons for requiring an application. You'll have the opportunity to learn more about them to make sure they're a good fit.
Shows professionalism. When you have a formal program in place, it just looks better. You look professional, and it helps back up requirements and expectations for representing ambassadors.
Increases the visibility of your program. You can add the link to your application practically anywhere. Try giving it a spot on your website, adding it to your social media descriptions, making it a recurring scheduled post, and even adding it to your email signature for constant promotion and increased visibility.
Keeps information organized. An ambassador application helps you collect and keep all the information needed about a prospective ambassador in one place. This way you're not searching through emails or DMs trying to find bits of information.
Sample brand ambassador application form template
There are a few items that your application should always cover. But, you can really personalize this to your exact needs or add on more specific questions related to your brand and ambassador program. 
The point is to figure out who the applicants are and how they may benefit you and your program. So along with basic contact information, you will have to add some questions relating to their interest in your brand.
This brand ambassador application template covers all of the pertinent information needed for finding the perfect ambassador.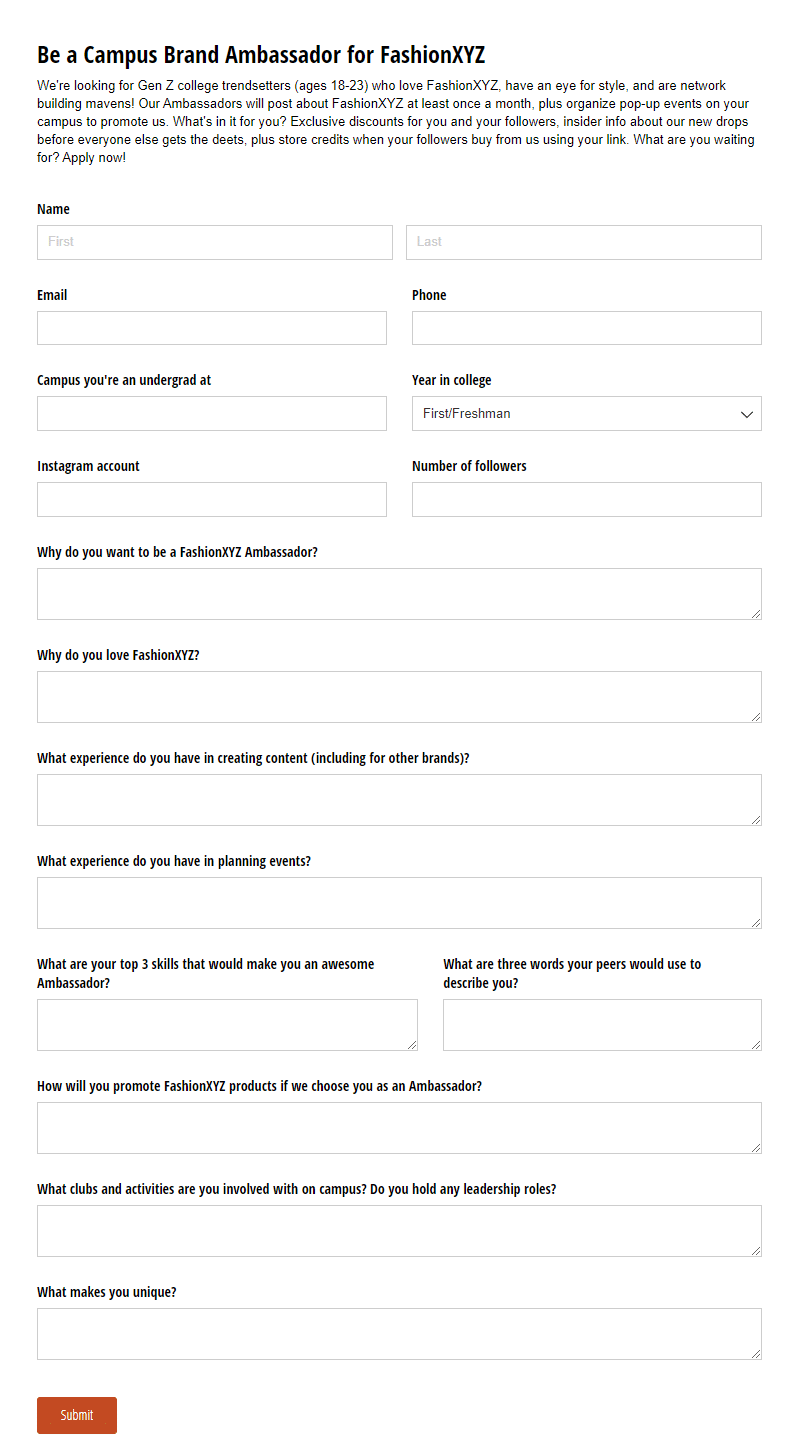 How to make a brand ambassador application?
There are numerous ways to go about actually making the application. In the simplest way, you could easily create an old school document to email potential ambassadors after they express interest in the program. 
But, there are other ways that may help you keep things more organized and seamless. 
Use an ambassador software. There is a lot of software out there to help you with any pain point you may be facing. Brand ambassador software happens to be one of them. This type of software will automate many of the processes within your program, but will also allow you to create and manage applications.
Try a form creator. If you aren't wanting to go full software, you can create a professional looking brand ambassador form template to use for submissions. For example, you can use a form creator like Typeform or Google Forms. (You can use the information later to create accounts for the ambassadors you accept with brand ambassador software).
Either way, the application needs to include several essential fields to help you screen ambassadors. 
The following are sections of form fields that should be included in a brand ambassador application.
Application introduction
Your introduction should provide a brief description of the brand ambassador position, responsibilities, and what you're looking for in an ambassador. You can hit the main points you may have mentioned in your job description. 
This is also the perfect opportunity to relist the perks of being a brand ambassador in brief. Listing out incentives – like discount codes, gift cards, free products, sneak peeks at new products, or exclusive offers and giveaways for ambassadors' followers – can help convince good-fit potential ambassadors to fill out the form.
Keep it short. Ideally, your longer brand ambassador job description should be linked to this application, or it should have brought them to the application. But, you should still have a short description so applicants remember who/what they're applying to, the criteria, and why they should apply.
You may be able to skip this altogether. However, if the application is on the same page as the job description, you've covered this already and do not need to reiterate.
An introduction is nice to have, but you'll only have to use it if your application is its own separate page.
Contact information 
This one should be obvious – you'll want to know how to reach the person who is applying.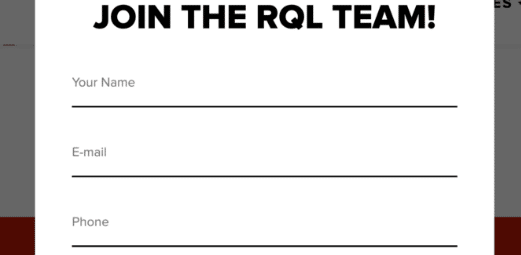 You'll need the basics, including:
Applicant's name. This one is usually required, as you'll need to tie a name to their information.
Email address. Many people choose to use email as their main form of communication. So this one is also vital, in fact you may prefer this over their phone number (at least initially). 
Home address. For tax purposes, you will likely need to have their address on file. Plus, if you are mailing them supplies, gifts, swag, etc. you'll need this on hand. But, you can also choose to not get this information right off the bat, and may need to only ask for it if you move forward with the applicant.
Phone number. This is another one that can be optional. Perhaps you choose to email first after reviewing information and then schedule a call if you plan to move forward with someone.
These four items cover the very basics and will allow you to easily get back in touch. 
Demographics
This may not be necessary. But, you may want to ask more specific demographics. Your program, product, or brand may be very niche, and you may want to weed out those who do not necessarily fit best.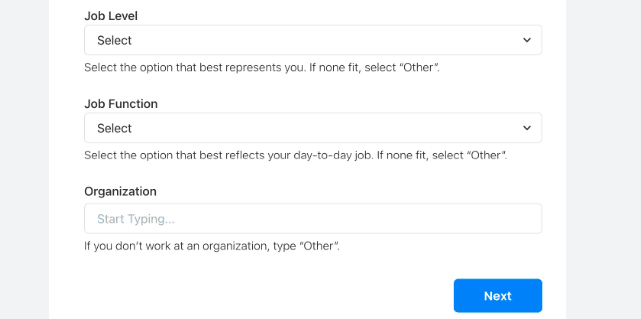 Some common demographics asked are: location, occupation, age, gender, student status, and even marital status.
Unlike a job application, an ambassador application may not need to ask these at all. However,  depending on your unique requirements, you may choose to use some of them as an added filter. 
Links to their channels
If you're seeking social media-focused ambassadors, ask for links to their social profiles. Or, if you're seeking bloggers and other long-form creators, ask for a link to their blog or website. Either way, you'll want these links, as they can provide you with vital information and allow you to see the ambassador in their own environment.

This information can help you accomplish two things. 
You can see their potential reach. This will let you verify their reach (number of followers or amount of traffic) and engagement (how often their audience comments on their content).
You will see if they align with your brand. It will also let you ensure that the style and tone of their content aligns with your brand, and that they align with your mission and values.
You may require someone to have a certain amount of followers. This is great, as it can help you bypass those who do not meet your requirements. But, their follower count does not matter if they aren't in alignment with your brand. Being able to check brand alignment and audience engagement is very important. 
Interest question
Ambassador questions and applications are typically very brief and relatively easy. But if you're only looking for their contact information and social media links, you may pass up someone who truly loves your brand or aligns perfectly within your niche.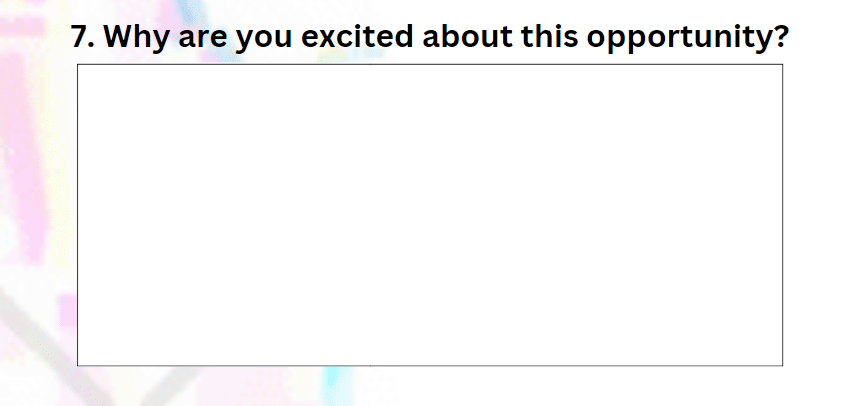 This is why it's helpful to ask, 'why.' What does this person hope to get out of this ambassadorship? By asking them why they are interested in becoming a brand ambassador, you can filter out anyone who isn't genuinely interested. Understanding the 'why' is essential for choosing the right ambassadors. 
Brand love question
Not only do you want to know why they are interested, but you should also figure out why they love your brand in the first place.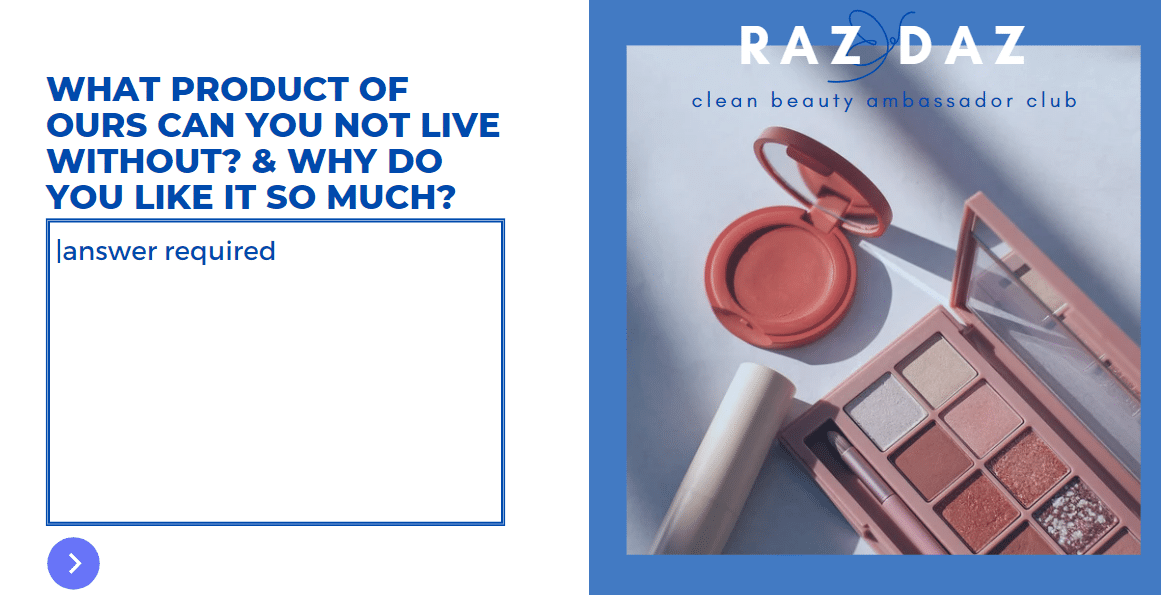 Many brands ask a variation of "Why do you love [brand]?" or "What is your favorite thing about [products]?" This simple single question can help you make sure you're recruiting true fans and enthusiastic brand champions.