Word-of-mouth marketing (also called WOM marketing or word-of-mouth advertising) is any form of marketing where one person talks to another about their positive experiences with a brand or product.
Sometimes, word of mouth may seem hard to control, as it's in the hands of your market. But there are many ways for your brand to harness word of mouth for itself.
Below, we cover some of the most popular and effective types of word-of-mouth marketing strategies, and help you choose which type or types will best meet the needs of your business. Let's start by breaking down why word-of-mouth marketing is so vital.
Why do you need word-of-mouth marketing?
Word-of-mouth marketing is powerful because people trust the recommendations and endorsements of their peers far more than they trust ads and other messages that come straight from your brand.
They're more likely to make crucial purchasing decisions when they see and hear people like them loving your products. This allows you to reach more people in your target audience, increase your conversion rates, and expand your customer base.
As a well-known Nielsen report states, 92% of people trust word-of-mouth recommendations from people they know, more than all other forms of advertising.
And word of mouth often doesn't stop after just one interaction. Since social media can quickly create a cycle of repeated sharing, one word-of-mouth recommendation could even result in viral growth.
What are the two types of word of mouth?
All types of word-of-mouth marketing can be divided into two main categories: organic word of mouth and amplified word of mouth. 
Organic word of mouth refers to any peer-to-peer sharing where someone positively talks about your brand, without any sort of direct action from your brand.
This means that most organic word of mouth is completely free publicity. It also occurs frequently as people naturally talk. But this type of word of mouth can be unpredictable and difficult to track. In fact, much of it is "dark social," or sharing that doesn't have a trackable source.
That's where amplified word of mouth comes in. Amplified word of mouth is any peer-to-peer sharing that your brand actively encourages via a marketing campaign.
Although the sharing messages themselves still come from your market (and not directly from your brand), your brand makes this sharing easier via the campaign – and can track how much sharing occurs and where it comes from.
There are many types of amplified word-of-mouth marketing  that will let you inspire conversation and take control of sharing, as you'll see below.
Picking the best types of word-of-mouth marketing campaigns
There are many channels available to increase your word of mouth. What's important is picking the best type of word-of-mouth marketing for your business.
Some businesses choose to implement a variety of channels, while others focus on creating one in-depth word-of-mouth engine. It all depends on the outcome you want. For example, a business may choose both a referral program and a partner program to accomplish two different tasks.
There's also the matter of how much control you'll have over sharing.
A rewards program run by referral or rewards program software gives your business plenty of control over how you'll encourage word-of-mouth sharing. So, it's clearly a form of amplified word of mouth.
Other types of word-of-mouth marketing don't allow for as much structure or control on the business end. But regardless, they are still a great resource.
For example, reviews and testimonials work for almost any business out there and are an excellent way to generate word of mouth. But, a business has very little control over what someone will say about them online (including people who have a high blog or social media following).
Let's do a quick overview of a few types of word-of-mouth marketing.
| | Who | What | Where |
| --- | --- | --- | --- |
| Customer referral marketing | The most common referral programs are for customers & employees | Refer people they personally know | In person, social media, text, email |
| Partner programs | Usually non-competing businesses, who may share similar customers | Refer their customers who need a service like yours | On their website, email, in person |
| Influencer marketing | People who have influence over potential buyers | Influence their fans to like the same things as them | Social media, in person, video |
| Brand ambassador marketing | Hand-picked reps who promote your brand in the long term | Build relationships and authentically share their experiences with your brand | In person, social media |
| Affiliate marketing | People who have a high blog or social media following | Promote specific items and brands to their followers | On their blogs, social media, video |
| Reviews and testimonials | Those who have first-hand experience with your product/service | Provide feedback on specific software, services, and products | Review platforms, social media |
| User-generated content | Customers who love your brand and have an online presence | Create and post positive content that features your brand | Social media, sometimes on their blogs |
Now, let's review each type of word-of-mouth marketing channel.
1. Referral programs (Refer-a-friend programs)
Referral programs encourage happy customers to share your brand directly with friends who would benefit from your  products or services. They also reward customers when a friend they refer makes a purchase from you.
This doesn't involve having a customer fill in old forms. Someone might not appreciate all of their personal information being given out by a friend. This can also be bad for your social currency, as people will be less likely to trust you, making it harder for people to want to share you. Plus, it's time-consuming on the advocate's end.
Rather, a referral program is a streamlined program run with the help of referral software. It makes sharing easy for your customers, tracks each referral, and instantly rewards customers with free gifts when they successfully make referrals. All the while, it keeps advocates' and friends' information secure.
Customers share information with friends in ways they would naturally share what they love, such as email, social media, and SMS. But their friends' info doesn't leave the "bubble" of the referral program, unless a friend becomes a customer and later volunteers that info on their own.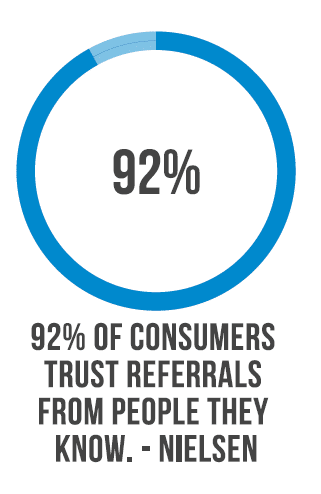 When you design a referral marketing program, you need to consider the advocate's journey, as well as the potential customer's. As mentioned, no one wants to be signed up for something without their permission. So, it's all about offering the potential customer the choice to join, and making the message feel like it authentically comes from the advocate. This can be accomplished by providing advocates with a referral link to share.
Used for: Businesses who are looking for high-quality leads. Referrals are built on trust, and they are personally known by the referrer. Therefore, referral marketing may not produce as many referrals, but the ones that it does produce are better since they are a direct/personal lead.
Key use case: Evernote, the desktop note-taking app, allows anyone who is signed up (with any plan) the option to share the app with their friends. As soon as the user signs into their account, the option to share will appear in their drop-down menu.
Evernote uses a double-sided referral reward: advocates earn service upgrades, while their friends enjoy a free trial of the Premium version. This further incentivizes both parties to participate and provides an extra push for word of mouth to happen.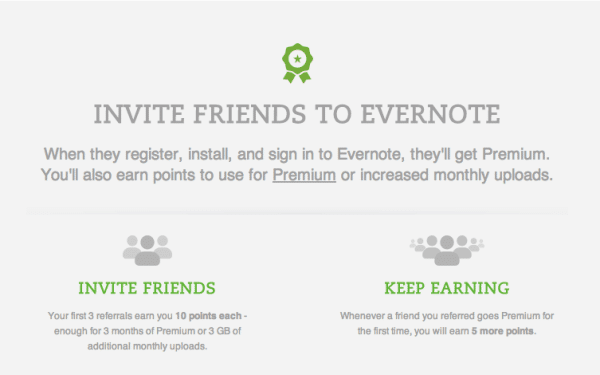 How to do it:
Make it easy for both your existing customers and their friends to join and participate.
Make the program easy to find. A great referral program promotion strategy means your program is easy to see.
Make it shareable via many channels. Most referral software programs will allow a variety of sharing options.
Offer enticing rewards for both advocates and friends.
Give the end-user the choice to opt in. In other words, avoid having the customer auto-enroll friends without their knowledge. Make sure the referral is given the option to participate or not.
2. Partner programs
Partner programs can be a great growth strategy. A channel partner can help you boost sales, as well as give you access to other markets that you might not reach on your own.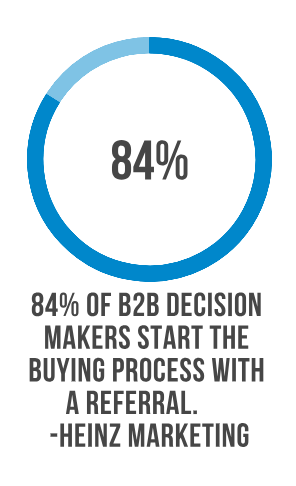 Many partner programs operate similarly to referral programs. The main difference is the referrer is not a customer, but rather a partner business or other third-party distributor.
The terminology is usually a bit different as well. In a partner program, you may hear the word finder's fees. And the software used is often different – PRM software (although some referral software that has the flexibility to run partner programs counts as PRM software).
Used for: A channel partner program makes sense for businesses who have similar customers, but that don't compete with each other. A partner may distribute a good or service that can benefit your customers as well. You might create a program so that you can sell your own products through your partner. A partner program is great for gaining access to client networks that would otherwise be difficult to tap into.
Key use case: TechSmith's partner network offers a few options for collaboration. The company partners with all sizes of businesses, which allows everyone to build up relationships and scale their business. These reseller partners are supplied with everything they need to sell TechSmith products and services. TechSmith also offers an affiliate program that we'll discuss later on.