Referrals are win-win partnerships that, if done right, benefit everyone involved. If you thought the only way to do this was through direct referrals, we've got some good news for you. Here are five popular types of referrals with real-life examples of how companies pull these strategies off.
1. Direct referrals (word-of-mouth)
Direct referrals are some of the best advertising your business can receive. This method has been around for as long as companies have been in existence. These types of referrals are also cost-effective and powerful ways to advertise your business.
You can ask your customers and business partners for referrals. However, it's even better when brand ambassadors do this work for you.
Imagine you're going to purchase new software for your business. Are you going to trust online reviews from strangers or referrals from people you know? Most people trust the opinion of someone they know personally over any type of advertising.
After your company begins a direct referral program, you should start seeing more profit coming into your business.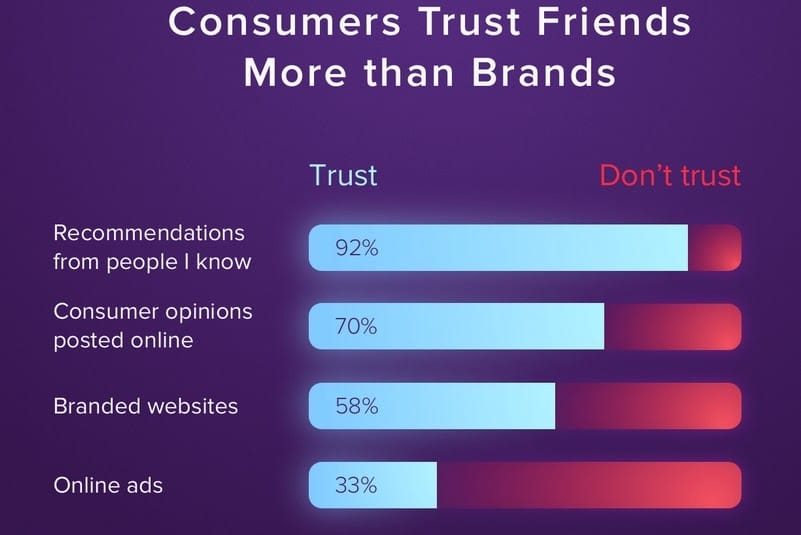 Source: Cleveroad
Example: Zappos
To say that Zappos knows about happy customers is an understatement. Zappos even goes as far as to call itself "a service company that happens to sell shoes."
Most companies would place profits from their word-of-mouth marketing success into new marketing campaigns. Instead, Zappos places its profits back into the customer experience. By doing this, Zappos is an example of how great customer service creates lots of direct referrals.
Here are a few examples of how Zappos utilizes its word-of-mouth success to continue building upon its customer service:
No automated phone systems, helping to ensure questions and concerns are taken care of quickly.
Zappos' contact information is easily available on its website, meaning customers don't have to hunt down a way to reach this business.
Not limiting the standard length of customer calls, which doesn't rush customers and employees. Zappos' longest customer call lasted an astonishing 10 hours and 51 minutes, that's dedication to solving a customer's problem.

By not using scripts, employees have a better chance of creating deep, personal connections with customers

.

This company empowers its workers to make judgment calls to help a customer, without having to get the go-ahead from another employee

.
2. Email referrals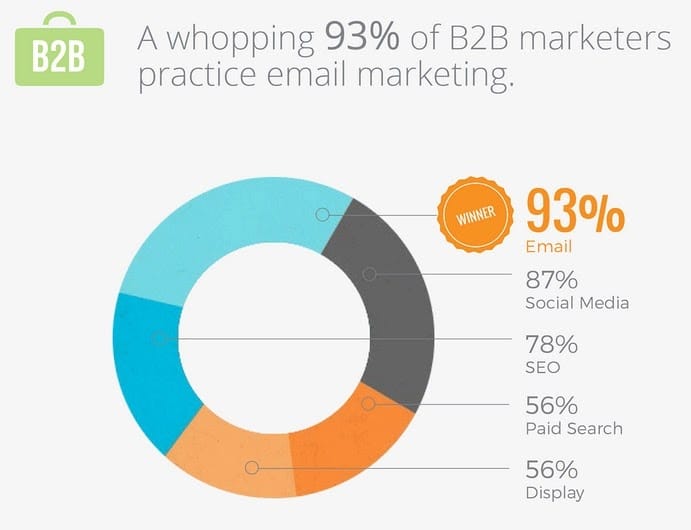 Source: Pinpointe
Throughout time, technology changes how companies operate. With that in mind, one of these changes took place after email became a popular way for the world to communicate with each other. Now, many companies use email marketing as a way to reach customers with news, promotions, and other types of information.
Email marketing isn't only a popular way to communicate with consumers, it's also quite effective. One study found that 73% of consumers choose email as their preferred way to interact with brands.
Example: Dropbox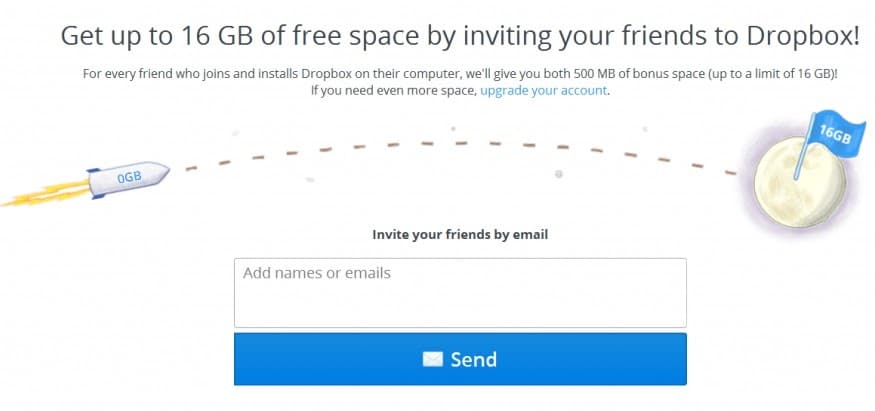 Source: Dropbox
Dropbox provides an excellent example of how to do an email marketing program. Pictured above, you'll see how effective a simple email marketing template can be. The bold title makes it clear what's in it for those who refer Dropbox to others. You'll also see the text box makes it easy for people to easily add the names or email addresses of their referrals. The simple yet eye-catching blue send button is a great call-to-action.
Need more information about this topic? We've put together a list of great tips to help you design your own email marketing newsletter.
3. Incentive-based referrals
It's often a great idea for brands to offer incentive-based referrals to customers and business partners. Incentive-based referral programs encourage customers to become loyal by receiving rewards.
In the past, companies typically offered coupons or gift cards for their referral programs. With the popularity of everything going digital, most companies now give out digital rewards.
If you want to take things to the next level, implement a program that rewards the people who give and receive the referral. For example, one of these types of referrals can involve offering a 15% discount to an existing customer for referring someone to this business and extending this same discount to that person's referral.
Example: Harry's
As a male grooming company wanting to have a stellar launch, Harry's could have taken many routes to achieve this goal. It chose to utilize an email marketing strategy that led to great results.
In the months leading up to this company's official launch date, Harry's employees went to work attempting to talk to, as Co-CEO Jeff Raider puts it, "friends, entrepreneurs and virtually anyone else who would listen to us talk about Harry's."
After a lot of hard work, Harry's received about 100,000 email signups over the course of a few months. Each of these signups got redirected to Harry's unique referral page, which is where the true genius of this email marketing campaign began.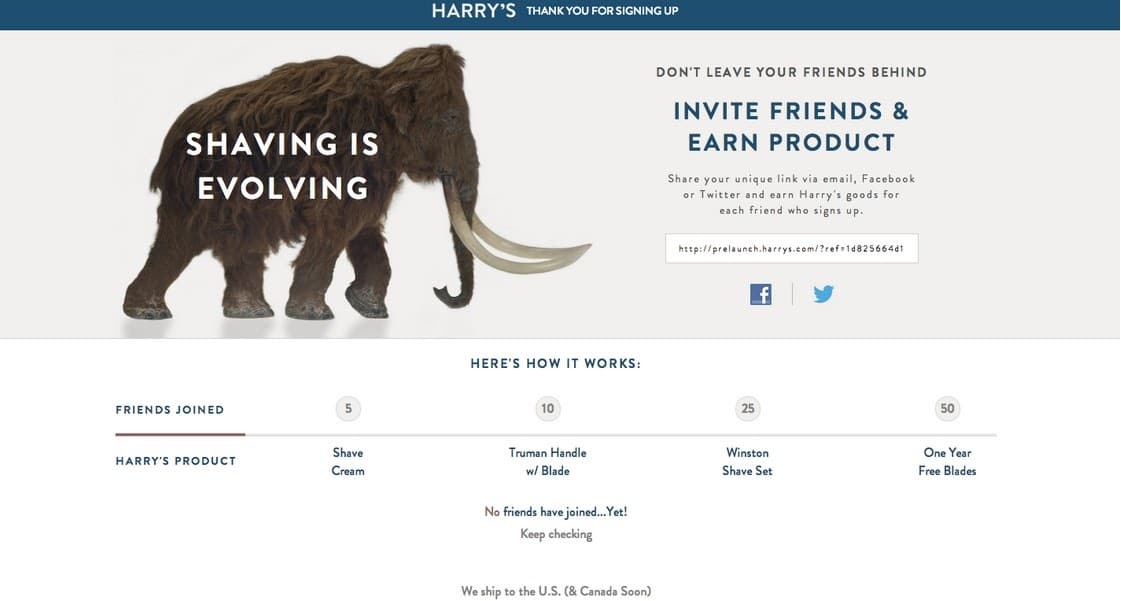 Source: Harry's
While this program combined email and social media marketing, its foundation was from the email addresses that Harry's had spent gathering from any interested source it could find. Harry's had also spent the majority of this campaign communicating with this group through targeted emails.
It also combined a referral program with a gamification referral program that was hard to resist. Here's what it looked like:
5 referrals were worth a free container of shaving cream.
10 referrals were worth a Thomas Handle with blade.
25 referrals were worth an entire Winston shave set.
50 or more referrals qualified you for an entire year's worth of free replacement shaving blades.
Harry's did a great job of offering referral rewards to its brand fans to enjoy by referring this company to others. By using a microsite and making these rewards fairly easy to obtain, it achieved its goal of having a successful launch and lots of referrals.
4. Referrals from reviews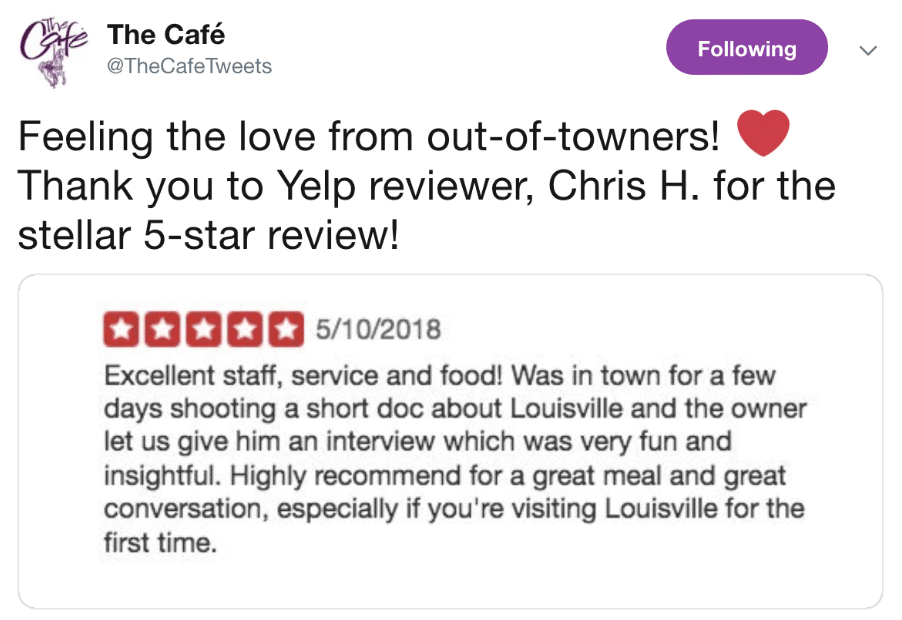 Source: The Cafe's Twitter
Another type of referral happens when customers review your business. Of course, you'll first need to create and claim pages on relevant review websites (Google, Yelp, etc). You don't have to sit there and wait for reviews to come in. Instead, feel free to begin asking customers to review your business. It's also wise to try NPS software to find out what customers think about your company.
During this time, you're likely to find that your loyal customers are quick to complete these reviews. Other customers might need a bit more convincing. To solve this problem, think about enticing customers to leave reviews for discounts, free products/services, or even points as part of your company's loyalty program.
Whatever you do, avoid "gaming the system" by purchasing fake reviews or asking customers to only leave positive reviews. Review websites are extremely good at detecting suspicious behavior and they're not afraid to lower rankings and remove accounts.
Are you wondering how to deal with negative reviews? So were we when we asked this same question to 40 marketers and collected their responses here.
So, what makes reviews so important in the world of referral marketing? If you want to market your brand to others, it's hard to find a better way to do this than by gaining reviews (preferably positive ones, of course).
Example: Zendesk
Zendesk is a business that sells customer service software. It's also an example of a business that knows how to utilize reviews as referrals. Instead of using a simple review template or pulling a quick quote, Zendesk considers its reviews as customer stories. It's also a company that knows as to utilize their customer's reviews as types of referrals.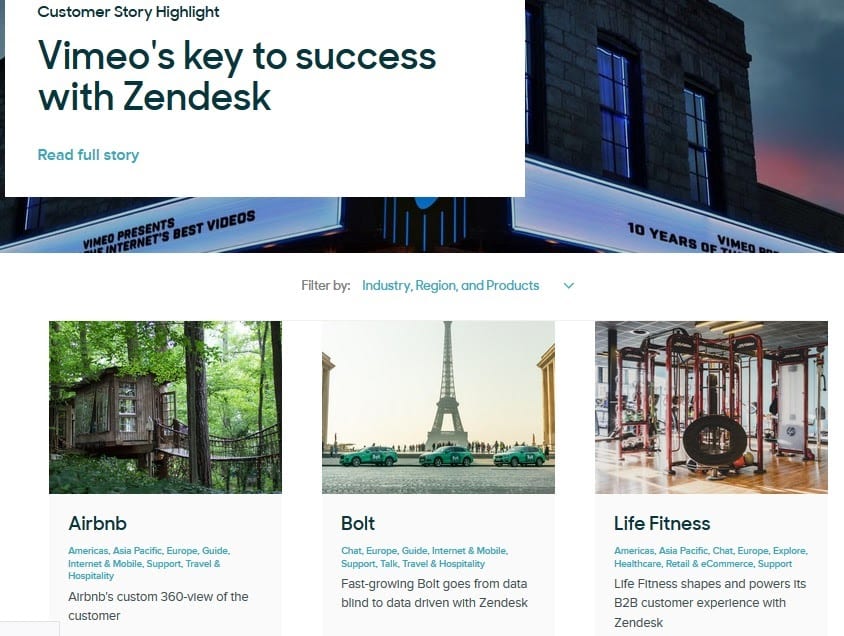 Source: Zendesk
For each story, you'll find a full-length explanation of what challenges each of Zendesk's clients faced and how the company helped solve their problems. You'll also see that each story contains a beautiful layout that shows you the Zendesk service each company uses as well as how these products helped them. By telling a story, it gives potential customers a much clearer picture of what to expect after hiring Zendesk.
5. Social media referrals
As mentioned earlier, technology continues to change how companies operate. With that in mind, it's also important to consider having your business utilize the power of social media referrals. The best part of this strategy is most of your brand's advocates are already on these pages.
If someone is referring your business to others, it's likely going to take time for this person to reach out to their entire network. With social media, it only takes one share for your company's content to instantly reach their entire audience. Think of it as a massive amount of direct referrals that take place the moment a loyal customer clicks that share button.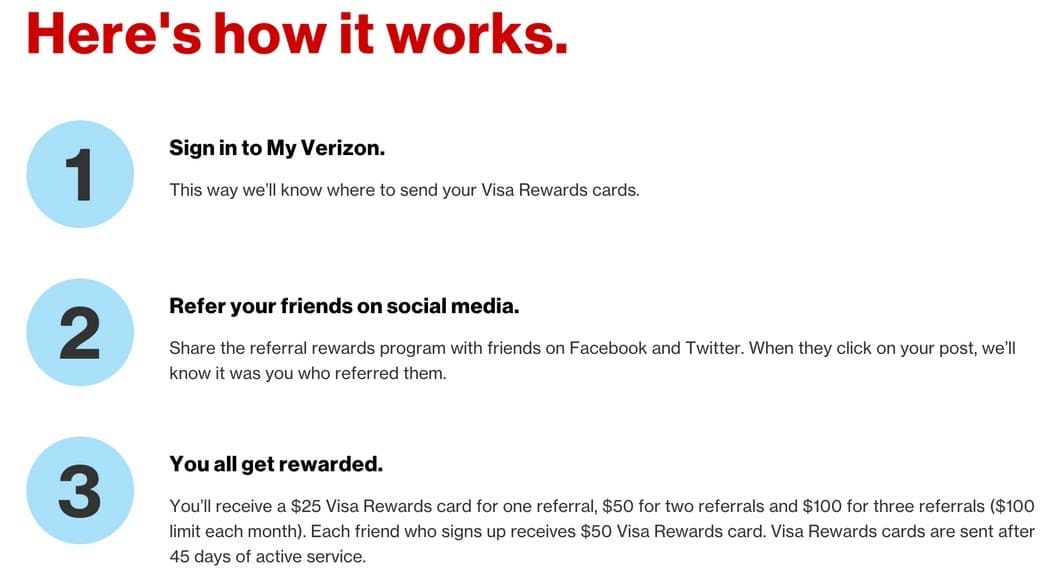 Source: Verizon
Example: Pepsi's emoji label campaign
Pepsi's recent emoji label campaign is a great example of how a company utilized both influencer and social media referrals to its advantage. It began this campaign by creating a #sayitwithPepsi hashtag and partnerships with a network of popular social media influencers.
Each time an influencer posted content featuring Pepsi, it extended the reach of this campaign to new audiences. After the influencers began posting their content featuring relevant pics of the newly labeled bottles and relevant hashtags, Pepsi started looking at the results of each social media campaign to see which ones were the most engaging.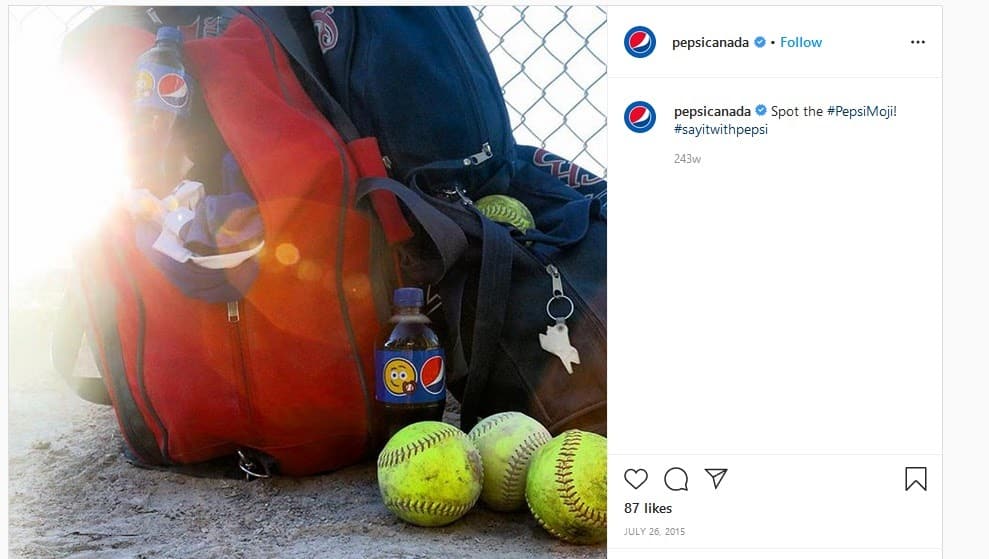 Source: Pepsi's Instagram page
Next, it took the content with the best engagement metrics and had an entirely separate group of influencers share it with their groups of followers. The goal of this campaign was to grow this soft drink company's fanbase and engagement rates. After this campaign was over, it led to 46 million impressions and 50,000 engagements from social media users.
Key takeaways
Wrapping things up, there are several popular ways to refer others to your company. Certain companies achieve success by using one type of referral, while others might succeed by using a combination of referral types. The fun part is trying them all and seeing what works best for your business.