As one of the most effective ways to promote your program, referral email marketing invites customers to earn rewards for referring their friends and family.
Referral emails are messages a business sends to its existing customers with information about its referral program.  These emails are direct, personal, and a great way to establish lasting relationships with your most loyal customers. Best of all, they're highly effective in growing your customer base.
Referral emails are a fixture in any successful referral program. Learn about all the parts of a referral email example, from the overall design to the best referral email subject lines. Then, check out our searchable list of the 35+ best referral email examples (refer-a-friend email examples) across all industries.
What should be included in a refer-a-friend email example?
Unlike most business emails, which are usually informative, a referral email contains three key parts:
A referral email subject line enticing enough for customers to open the email
An incentive or offer too good to pass on
A clear call to action (CTA) that directs them to join the referral program
Take one away, and your entire referral email campaign may fall short. But cover all three parts, and you have the workings of a great referral marketing program. Read more about each part in the following sections.
1. A compelling referral email subject line
When it comes down to being clever vs. being clear, the latter is proven to get 541% more clicks. People don't open email for random amusement – they want to know exactly what they're opening and why they're opening it.
For example, would you click on an email with the subject "It's Fri-yay!" or one with "$50 for you, 50% off for your friends"? While there will definitely be a time to show off your humor and wit, referral email subject lines are intended to get customers to read the message.
Here are a few more best practices when writing your referral email subject line:
Keep it short: Between 6-10 words, or 28-38 characters, to be specific (especially if you're focusing on a mobile referral program)
Make it personal: Adding the recipient's name into the referral email subject line results in 29% higher open rates than non-personalized subject lines. Even better if you can tie into a personal event, like their recent purchase or first year of membership.
Add a number: Digits get our attention, and are proven to increase click-throughs by 36%. Plus, numbers are a great way to break up text and easy to take in at a glance
Add an emoji: Emojis can increase email open rates by 29%. They also add personality, save space, and fit well with a lot of modern brand identities. Use wisely.
Avoid all caps and excessive punctuation: It looks spammy.
2. An irresistible referral incentive
Once a customer opens your email (thanks to its strong referral email subject line), it's best to stick to the point.
Include the basics of your referral program: What you're inviting them to do (refer others), what you're offering (a strong incentive), and how long the offer stands (one referral, one month, ongoing?).
If there are more specifics, list them briefly as well. For example:
Is there also a reward for the referred friend? This is known as a double-sided or two-sided referral incentive.
Do the incentives accumulate? For example, does the customer earn greater rewards with each referral or tier?
Are there any conditions needed to receive the reward? Does the friend need to sign up for a demo? Make a purchase?
Remember, this is only your introductory email. Keep it simple. The goal is to get your customers interested in the referral program, so it's best to remove any friction that may cause them not to refer new customers.
You can always create a separate referral program FAQ or landing page to cover all the other details.
3. A clear call to action (CTA)
Your referral email has been opened and your customer is interested. Now what?
Take them to the next step with a clear call to action (CTA). CTAs are typically a referral link or button that brings them to more details about your referral program.
Alternatively, you can cut straight to the chase and invite them to send their unique referral code to friends and family right from the email.
No matter which you choose, a CTA should invite interaction and continue the conversation with your customer. To get readers to click a CTA, apply the following:
Smart placement: If customers are familiar with your referral program, go ahead and place your CTA above the fold (the space seen immediately when opening the email). If you need more space to explain your referral details, then move the CTA to the very bottom of the email. CTAs in the middle of your referral letter can be easily overlooked.
Visual cues: Draw the eye to your CTA by making the button large and in a contrasting color. You can also use images that subtly point to the CTA, such as a photo of someone looking in the direction of the button or arrows pointing to the referral link.
Strong, actionable text: Rather than the overused "Enter" or "Click here," use more descriptive verbs, like "Reserve your spot" or "Get my 25% discount."
Create a sense of urgency: Adding a time sensitive phrase, like "Refer before the weekend" or "Join now" to the end of your CTA will encourage customers to act fast.
To make sure you're keeping track of every unique click and referral code, consider using a referral software platform or digital marketing tool that will automatically track all these interactions.
40 referral email examples to inspire your own
We've all likely received a referral program email before – some good, some bad. The most effective referral emails are ones with an attractive referral email subject line, exciting incentive, and a clear CTA that lets customers start referring others right away.
Below are 40 of the top refer-a-friend email examples received by customers today. Filter the referral email templates by industry, or browse through them all to inspire your own marketing campaign.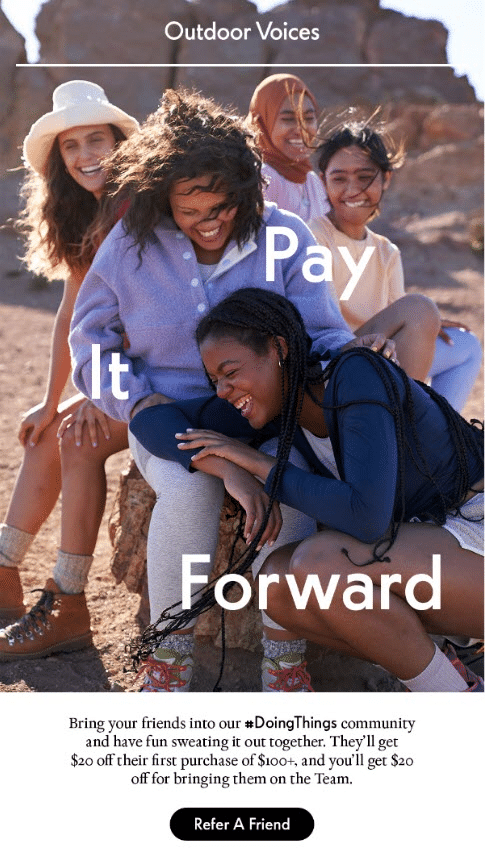 Outdoor Voices
Outdoor Voices makes activewear for women and men "Doing Things" daily.
Why this referral email example rocks:
Clean and uncluttered design that gets right to the point
An inviting hero image featuring friends having fun together outdoors, and ties in well to the dual-sided referral benefit ($20 for both the customer and the referred friend)
Outdoor Voices reinforces community values, with words like "sweating it out together," "bringing them on the Team," and an invite to "Pay it forward"
Includes the brand's #DoingThings hashtag to promote user-generated content and drive even more word-of-mouth referrals

MeUndies
MeUndies sells feel good underwear, loungewear, and apparel to make the world a comfier place.
Why this referral email example rocks:
Strong hero image highlighting the products
Referral program email is optimized for mobile, and displays beautifully across all devices
Positions referrals as a surefire way to be "Undie-buddies 4 lyfe," giving 20% off to friends and earning $20 credit for yourself
MeUndies is a master of creative copy, as shown throughout their other referral program emails
Bombas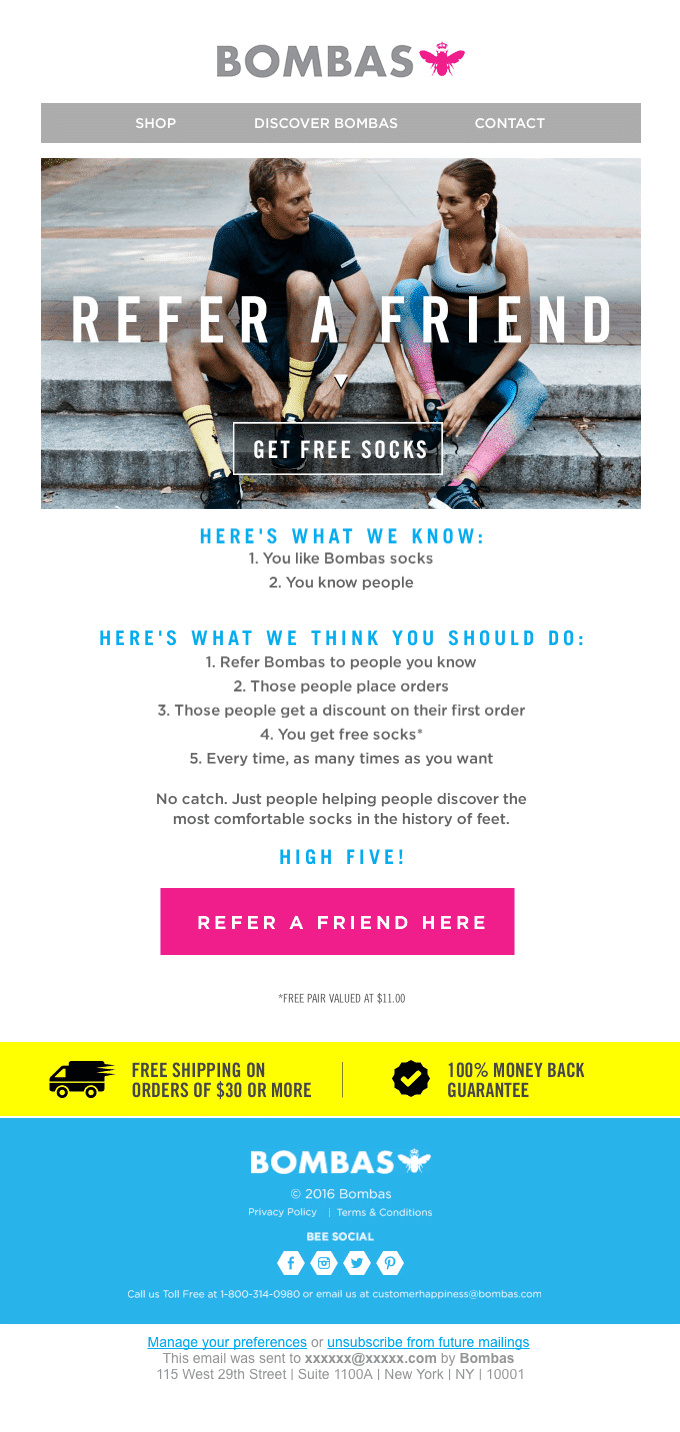 Bombas
Bombas is a comfort-focused sock and apparel brand that donates an item to match every purchase.
Why this referral email example rocks:  
A "Refer a friend" headline is as clear as it gets
The "get free socks" incentive is easy to spot and simple (Who doesn't love free stuff?)
Step-by-step instructions make the referral program easy to understand
Two enticing call-to-action buttons: "Get free socks" and"Refer a friend here"
Friendly on-brand copy: "Just people helping people discover the most comfortable socks in the history of feet."

Jack Rogers
Jack Rogers is a retail women's footwear company founded in Palm Beach, Florida and known for its signature sandals.
Why this referral email example rocks:
Although not seen here, the referral email subject line follows best practices: "Refer a friend, get $10." Clear, concise, and won't get cut off on mobile.
The large hero image shows off some of the brand's latest shoes
Easy-to-understand description of the referral program placed right below the hero image
The brand's #lovemyjacks hashtag promotes user-generated content and drives even more word of mouth