Last Updated on
18

minutes to read
This article is part of the "Messaging and promoting your referral program" section of our guide that has over 38 resources dedicated to everything you need to know about referral programs.
You may enjoy other articles from this section:
Here's why you need a compelling referral email:
Ready to expand your customer base? When they decide whether to make a purchase, people want recommendations from their friends and family—the source of information they trust most. Many people tune out paid ads, as well as any other messaging that comes straight from your brand. But when a friend tells them about your awesome products or services, they listen.
Your satisfied existing customers are your best advocates—their recommendations will cause new customers to come rolling in. But your advocates might need some encouragement before they share.
That's where referral marketing comes in! Starting a referral program rocks because it makes the sharing process official. It motivates your customers to spread the word through rewards they can't resist and makes it super easy for them to recommend your brand to their friends.
So how do you make sure that your advocates get all the insider information about your referral program? By sending a referral email, of course.
A refer a friend email is a great option because it meets them in a space they already visit every day, their inbox. But you'll have to design your email carefully, and you'll have to make sure that email gets opened in the first place, and doesn't get lost in a sea of other messages.
Don't worry, we've got you covered. Read on to learn the best practices for designing a compelling referral program email, including examples we love.
Focus on value, conciseness, and convenience
Your refer a friend email format must be carefully designed to convince your customer advocates to share your brand. These three main points are key in designing an effective referral email:
Value: What extrinsic rewards (incentives) and intrinsic benefits will an advocate reap from referring?
Conciseness: Explain your referral program in as few words as possible.
Convenience: Make it easy for advocates to start sharing your brand right away!
The tips below will help you design referral emails optimized for these three crucial factors.
Use a compelling refer a friend email subject line
You might think that a witty but vague subject line will entice your customers to open your email. But that's not true. Instead, your customers want to know exactly what your referral email offers before they open it. So, make sure that your referral email subject line makes that perfectly clear.
State your referral offer right in your referral email subject line.
This is a great time to use a clear referral call-to-action!
According to HubSpot, numbers in email subjects make your email more likely to be opened. So, if your referral offer involves store credit ("Give $5, Get $5") or a discount ("Refer a friend, get 25% off"), that will work in your favor!
Keep your referral email subject line short and sweet, so it doesn't get cut off on mobile devices.
Use as few words as possible (3-7 words is best).
Keep the character count 30 characters or under, if possible. The most used smartphones have a display limit of between 33-40 characters for email subjects before they cut them off.
Here are some examples of subjects that fall within these word and character guidelines:
 Share the love, get $10
$5 for every friend you refer
Give $10, get $10
Refer friends and earn free stuff
And if you want to get a bit creative, consider using an emoji 😊. Surprisingly, like Campaign Monitor reports, an emoji in the subject line can increase your open rate by 56%.
Here's a list of our favorite mobile referral program examples.
Inside your referral email, make your CTA clear
Inside of your email, you'll need to get straight to the point of your referral program. Your advocates must see exactly what you want them to do (share), and understand the value of sharing with friends, as quickly as possible.
After all, most people don't take the time to read every little detail of an email—they'll usually just scan through it. So, a carefully crafted call-to-action (CTA) is key.
Effective CTAs:
Catch customers' eyes
Concisely tell customers what you want them to do (share with friends)
And show them what's in it for them (an incentive or intrinsic reward)
Make sure your CTA is easy to find. Always put it at the top of your email text, and display it in the biggest font. Also, consider bolding it. Then Follow it with an easy to find CTA button.
Make your offer easy to understand and find
Focus most of your email text on explaining the terms of your offer. Referral emails are all about showing your advocates the value of your referral program! Ideally, you stated your basic offer in your CTA. Now, it's time to go into detail. Explain your offer concisely, but make sure you cover these points.
What incentives are available for customers who refer a friend?
 Are there any rewards for the friends?
 What conditions must be met for your advocates to receive the reward?

For example, do referred friends need to make a purchase? Does that purchase need to be worth a minimum amount?

Are rewards cumulative (do advocates get a reward, or points towards a reward, for every friend they refer?)
Provide a way for customers to start referring right away
Inside your email, make sure that customers have a way to start referring right away. Include a call-to-action button with a link to your referral page (where customers can send recommendations to friends via email or social media).
Or, give them a unique referral code or referral link that they can start sharing immediately!
Keep your referral email layout simple, not crowded
Your referral email shouldn't include much more than your CTA and offer info. Too much information will overwhelm your reader and ultimately make them less likely to refer. So, keep things simple, and use as few words as possible.
But, if you're thinking about including a few other items to add your brand's unique touch, try these elements that won't crowd your email.
Including a carefully selected hero image will capture readers' attention without cluttering things up.
A GIF is also a great choice because it will grab readers' attention right away.
Consider putting your own branded spin on the referral offer. For example, Julep uses the text "Get a $15 credit for every bestie who joins." Just make sure this doesn't take away from the conciseness of the offer.
Use a referral program FAQ section to cover all these points in one place.
Send the email when your product is top-of-mind
When should you send the referral email? Time it while your product is still at the top of your customers' minds— preferably, right after they complete their purchase. At this point, they're the most committed to your brand and most excited for what's to come. And if they're making a repeat purchase,  they're even more equipped to advocate for you, because they already know how awesome your products or services are. 
You could even combine your referral email with your "thank you for your purchase" email. This will work extremely well if you decide to write your email like a personal letter. Keep it to the point, but also make sure your wording feels authentic.
Thank your customer for making the purchase.

Briefly explain why referrals are important.

Lay out how your referral program works.

Invite your customers to contact you if they have any questions. Consider adding a link to your

referral FAQ

as well.

Include a referral CTA button.
Awesome refer a friend email examples we love
1. Digital Ocean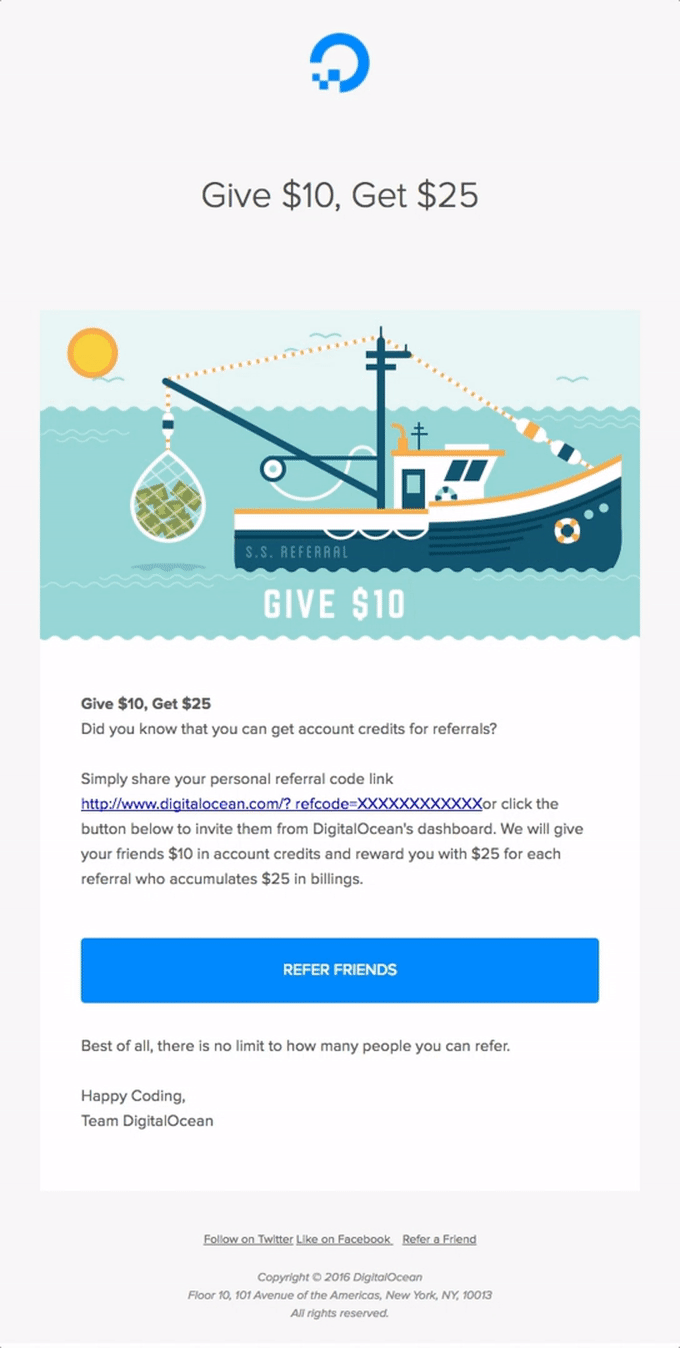 Source: DigitalOcean/Really Good Emails
DigitalOcean lets developers build, test, scale, and manage applications.
Why this referral email rocks:
Grabs readers' attention right away with an on-brand (ocean-centric) GIF, which also broadcasts the CTA ("give $10, get $25").
Provides two quick referral options: a unique referral link and a CTA button that takes advocates to a referral page.
Gets right to the point with a clear, uncluttered offer.
2. Postable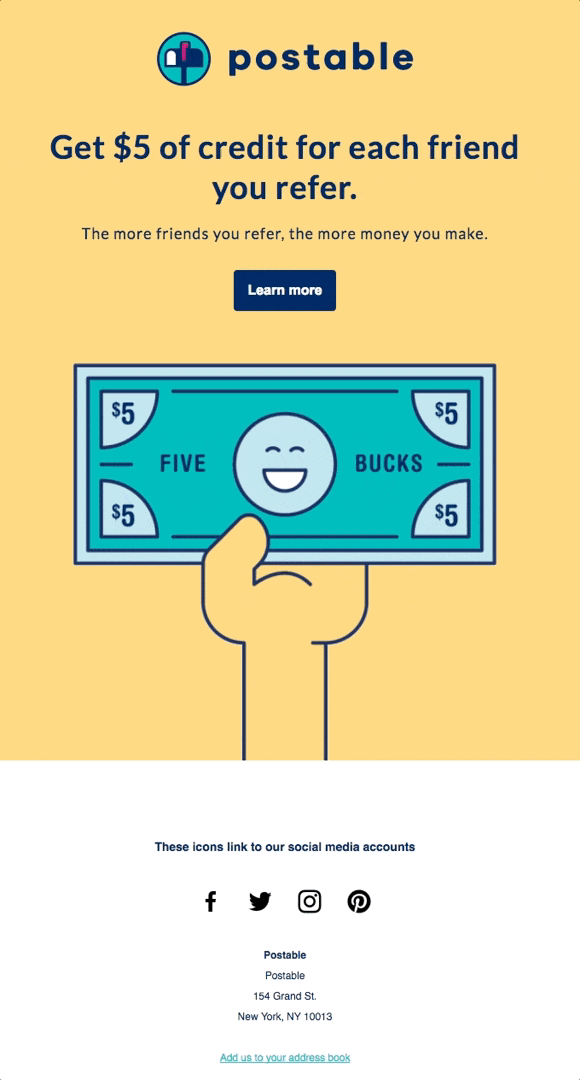 Source: Postable/Really Good Emails
Postable sells and mails designer greeting cards and invitations.
Why this referral email rocks:
Clean and concise: displays very little text, but readers can easily understand what Postable wants them to do.
Gets right to the point with the CTA ("get $5 of credit for each friend you refer") and explanation of cumulative offer ("the more friends you refer, the more money you make").
Engaging GIF with smiling money=value!
Easy-to-find CTA button that takes advocates to a referral page.
CTA button is "above the fold" so advocates don't have to scroll to reach it.
Yellow palette that catches the eye, but doesn't overwhelm.
3. Bombas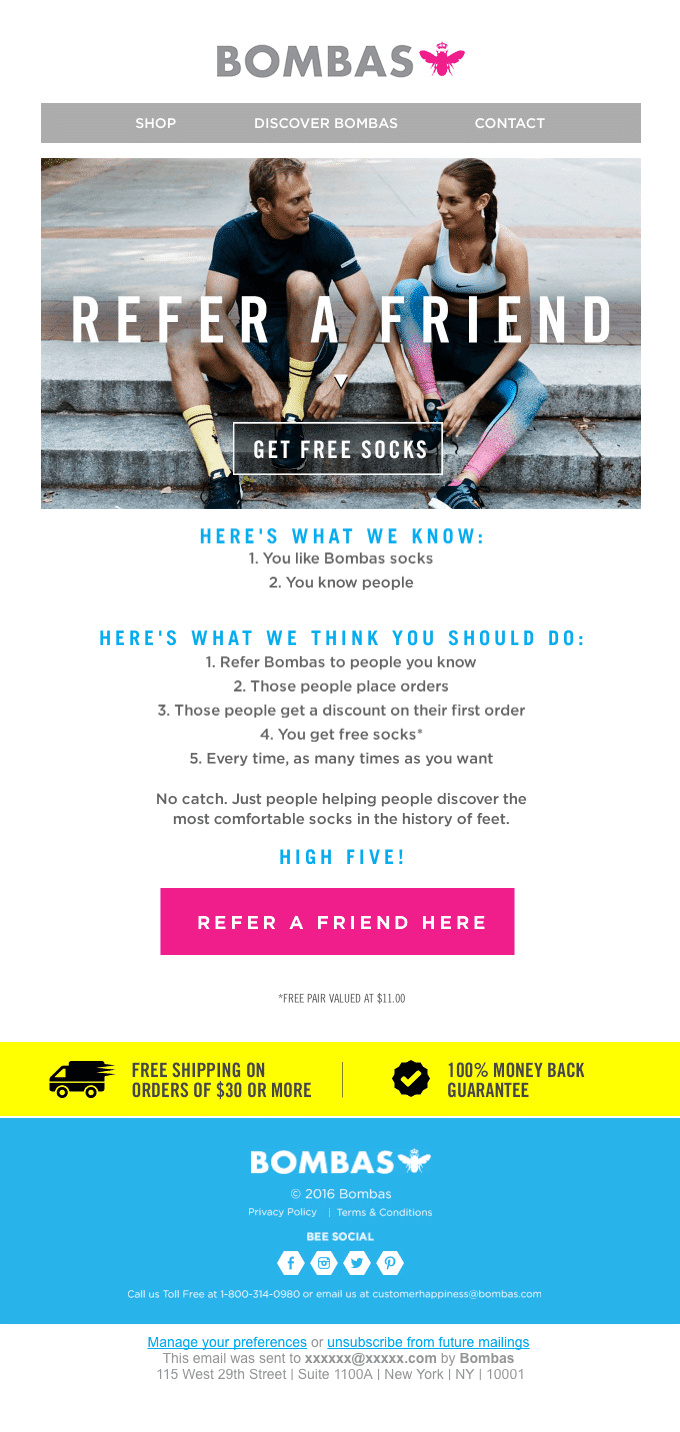 Source: Bombas/Really Good Emails
Bombas is an athletic sock brand that donates socks to people in need with each purchase.
Why this referral email rocks:  
Bold CTA gets right to the point: "Refer a friend."
Valuable offer is easy to spot and attention-grabbing—who doesn't love free stuff?
List of steps makes the referral process easy to understand.
Two enticing call-to-action buttons: the one that says "get free socks" and the bold pink one.
The "Get free socks" CTA button is above the fold, so you don't have to scroll to find it.
On-brand creativity without clutter: "Just people helping people discover the most comfortable socks in the history of feet."
4. Pay with GasBuddy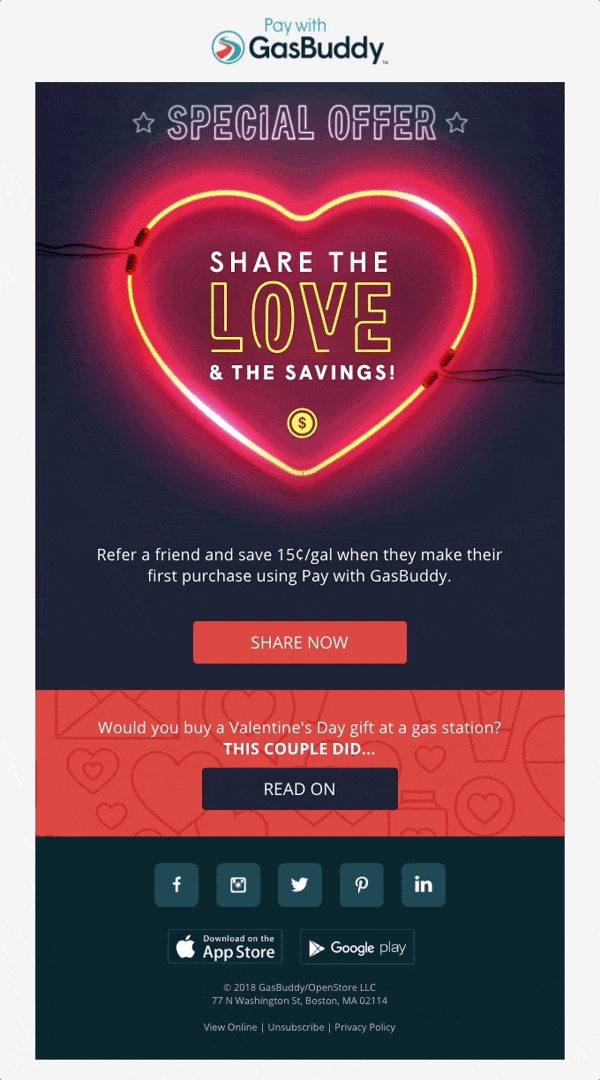 Source: GasBuddy/Really Good Emails
Pay with GasBuddy is a payment option that helps you save on gas.
Why this referral email rocks:
Neon heart GIF captures attention and frames the CTA ("Share the love & the savings"), making the CTA even easier to find.
CTA reminds advocates of their love for GasBuddy and makes them eager to pass on that love—to gain savings for both themselves and their friend.
"Special Offer" text at the top of email prompts urgency and hints at exclusivity.
Very little text—just enough for customers to know what GasBuddy wants them to do.
"Save 15 cents/gal" is a very valuable offer: Who doesn't love free gas?!
This email was sent out near Valentine's Day and customized for the holiday.
Colors are on-brand—a great way to customize an email for your brand without cluttering.
5. Goby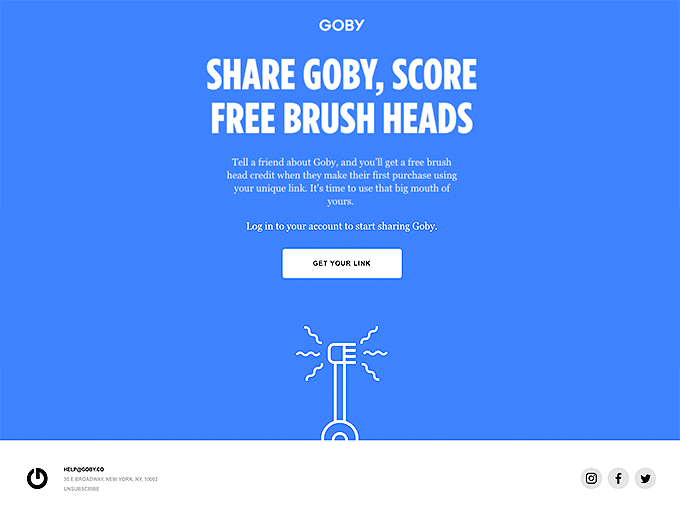 Source: Goby/ Really Good Emails
Goby is an electric toothbrush company.
Why this referral email rocks:
Clear CTA with offer of free brush heads: especially valuable for people who use Goby regularly.
Clean, uncluttered layout with minimal colors and focus pointing to the center of the email.
On-brand line that works well with the referral instructions: "It's time to use that big mouth of yours."
6. Square Cash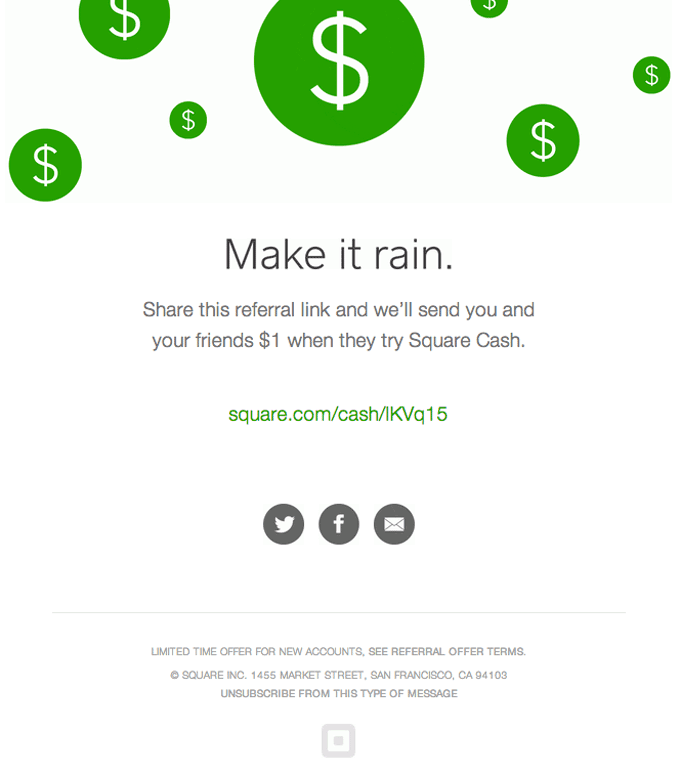 Source: Square Cash/Really Good Emails
Square Cash (now known as Cash App) lets you send money to and receive money from friends, or receive credit card payments for your business.
Why this referral email rocks:
Images of green money falling from above (free money!) catch readers' eyes quickly.
Extremely concise referral offer text. In addition to the CTA, Square uses only one sentence (and needs only one) to explain the referral program.
Minimalistic layout with only two colors pairs well with the clean text.
Unique CTA ("Make it rain.") evokes the money advocates can earn. Ideally, a CTA would have a reference to referring or a more specific offer. But this creative CTA works because it offers value, draws the eye to the clear, uncluttered description, and invites the reader to learn more.
7. Airbnb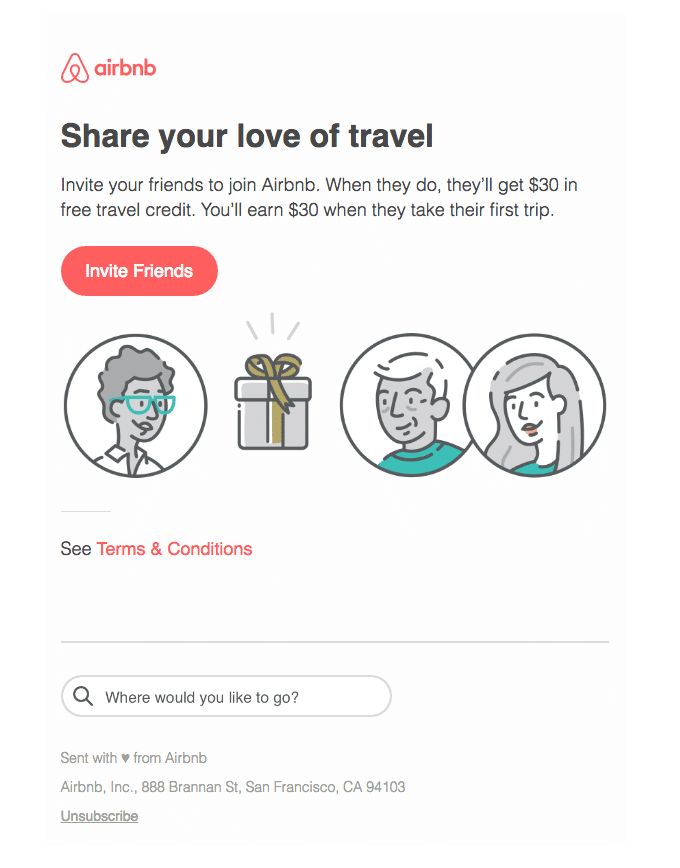 Source: Airbnb/ Really Good Emails
Airbnb pioneered the homestay business.
Why this referral email rocks:
CTA reminds advocates why they signed up for Airbnb (their love of travel) and invites them to share with friends. The focus of the CTA is on the intrinsic value, which draws readers in (where they'll find out about the extrinsic reward.)
Clear text explains the referral offer with only 3 sentences.
Red "Invite friends" CTA button easily stands out from the rest of the email.
8. Treehouse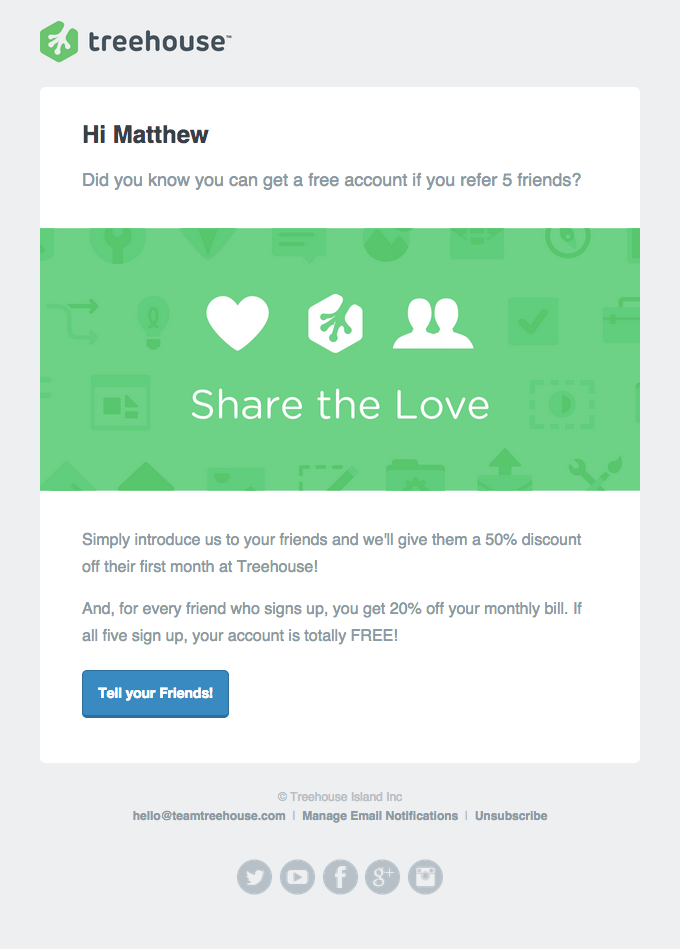 Source: Treehouse/Really Good Emails
Treehouse provides web development and coding courses under a subscription-based model.
Why this referral email rocks:
Personalized to the advocate: Treehouse greets the customer with their name at the top of the email.
Begins with an enticing sentence of  valuable offer text: "Did you know you can get a free account if you refer 5 friends?" Who doesn't love getting something they are using regularly (and using to better themselves) for free?
"Share the Love" CTA appeals to the intrinsic value of sharing the service with friends who will also enjoy it. This works even better since Treehouse is an education platform.
Offers and carefully explains a cumulative reward. With a stacking, 20% off a referrer's monthly bill for each friend referred, and the free account on offer for 5 successful referrals (plus a 50% discount available for the friends), lovers of Treehouse are motivated to keep sharing with multiple friends!
9. Webflow
Source: Webflow/Really Good Emails
Webflow gives users the tools to design, build and launch websites visually (with drag-and-drop functionality), so they don't need to write code.
Why this referral email rocks:  
Here, we have an example of a prelaunch referral email, meant to build up a customer base with excited advocates before the service even goes live. It offers the unique reward of giving faster access to Webflow's beta for each friend someone refers. So, it invokes exclusivity and the desire to gain insider info as motivators. And the first people who see the product are the people most likely to keep sharing with their friends!
Concise text gets right to the point: "Share your unique referral link. The more friends who sign up using your link, the faster you get access."
Referral link is right in the email (and it's easy to copy the link), so customers can share it right away.
10. Jack Rogers


Jack Rogers is a premium women's footwear company. 
Why this referral email rocks:
This referral email layout is optimized for mobile, and automatically shifts depending on the device, so it looks awesome no matter where customers view it. 

Referral email subject line follows best practices: you can't see it here, but the subject is "refer a friend, get $10." It's clear and concise, and won't get cut off on mobile.

Eye-catching hero image shows off Jack Rogers shoes

Easy-to-understand, concise referral program offer right under the hero image

#lovemyjacks branded hashtag promotes

user-generated content,

driving even more word-of-mouth!
11. Little Spoon

Little Spoon sells organic, pediatrician-recommended baby food. 
Why this referral email rocks:
Enticing hero image featuring a baby and the products

Easy steps outline the referral process, so customers can start referring right away

Creative, branded CTA: "Share the love, baby!"

Two referral CTA buttons: the first says "refer a friend" on a green button, and the second really motivates with "Get my $20!" on a white button

Quick terms and conditions at the bottom of the email

Clear use of a unique referral code for each customer

Carefully chosen colors (most of the email's green and white, so it doesn't feel cluttered.)
12. MeUndies


MeUndies sells creatively patterned, comfortable boxers and briefs. 
Why this referral email rocks:
Creative hero image with people wearing the products 

Optimized for mobile: email displays beautifully no matter where customers view it, and the view changes on mobile vs. desktop

Focused on how referring makes the customer a good friend, but balanced with the gain the customer will receive. The call-to-action ("Give your friends 20% off") focuses on the benefits you'll give to your friends, and then the email states (in parentheses) what you can earn for yourself, below the CTA (an attractive reward of $20.)

Easy-to-understand referral terms

Super creative copy that ties into the brand (Meundies is a master of this, and it shows throughout

their referral program!

)
13. Boohoo

Source: Boohoo/Milled
Boohoo is a trendy, affordable women's fashion brand that originated in the UK.
Why this referral email rocks: 
The entire email is a colorful hero image collage that keeps enticing customers to keep scrolling and learn more. It surprisingly doesn't come off as cluttered at all, because of the tight focus on this well-crafted collage.

Call-to-action, "refer your friends," is big, bold, and in a totally unique font, checking all the boxes needed for standing out!

Guaranteed, unlimited incentives (5 British pounds credit for every friend referred; "score more for every bae you send our way") and the chance at a big-ticket incentive (an entry into a beach vacation drawing for each referral) really motivate customers to refer!

On-brand wording brings the creativity, and it's broken up by images so it doesn't overwhelm.

Two CTA buttons, which each say "sign me up," increase the chances that customers will click through

Launch email: Boohoo used this referral email to promote their program the moment it started!
14. Outdoor Voices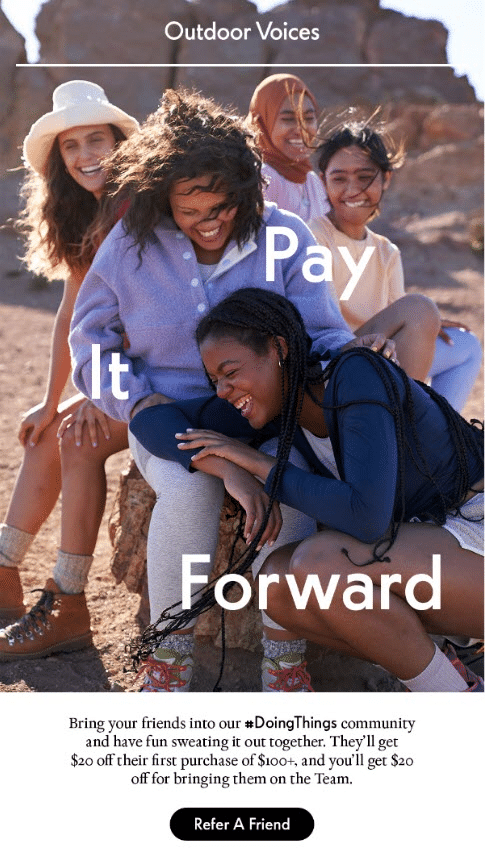 Outdoor Voices is a women's activewear brand. 
Why this referral email rocks:
Outdoor Voices' email is completely community-focused. (The CTA is "pay it forward." The hero image features friends having fun together outdoors. And the email body includes text like "bring your friends into our community," "have fun sweating it out together," and "bringing them on the Team.") This emphasizes mutual benefit for the member and referral—Outdoor Voices is more fun shared with friends. It also empowers the customer—they're an important team member, and vital part of the brand's success. So, why not help build up the team?

Clear referral terms let customers know exactly what they must do to earn the reward.

Extremely uncluttered, this email gets right to the point. 

#DoingThings branded hashtag promotes user-generated content, driving even more word-of-mouth!
15. Rocksbox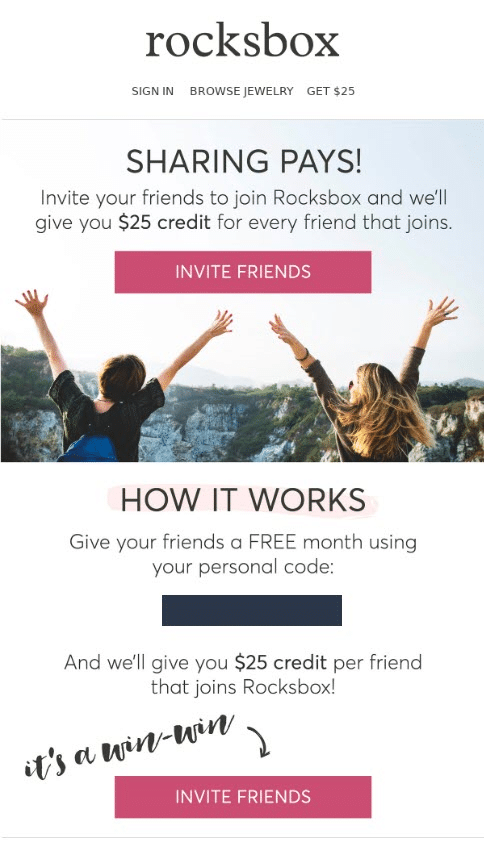 Rocksbox offers a monthly jewelry subscription box.
Why this referral email rocks: 
Eye-catching CTA: "Sharing pays!"

Uncluttered layout, with offer explanation that only takes a few sentences

Referral code included in the email, so customers can copy and paste it right from the message 

Easy-to-spot pink CTA button ("Invite friends") is included twice

"It's a win-win" text and arrow draw even more attention to the referral CTA button
16. Stitch Fix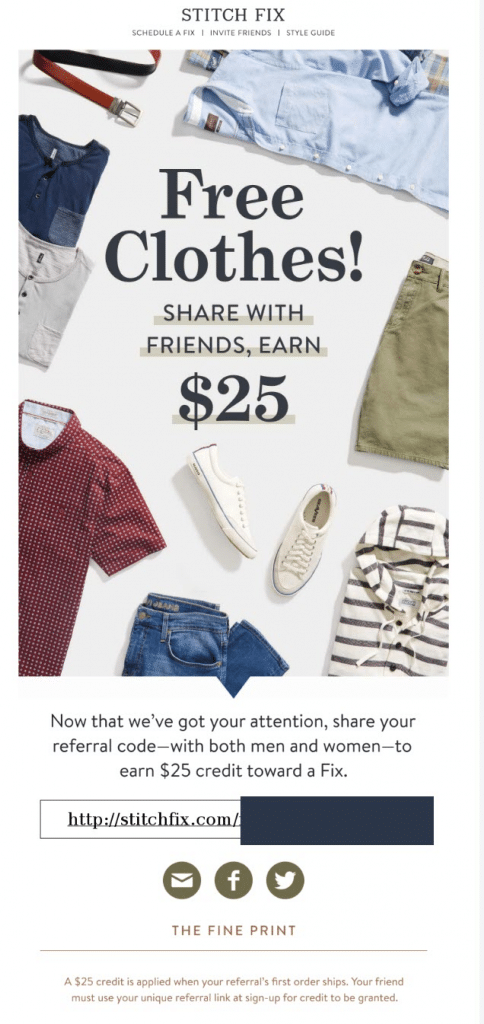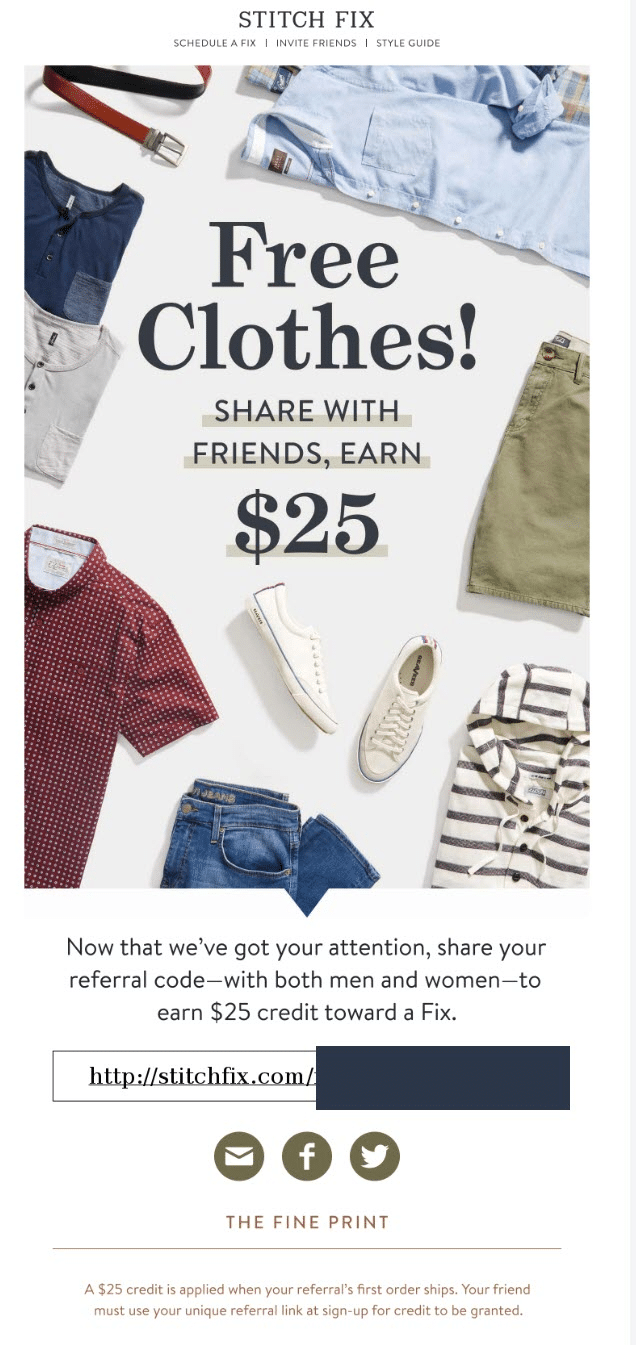 Stitch Fix is a personal styling service that ships curated men's, women's and children's clothing boxes right to customers' doors. 
Why this referral email rocks:
"Free clothes!" Who doesn't love free stuff? This CTA really catches customers' eyes, and draws them to the clear referral offer: "Share with friends, earn $25."

Carefully selected hero image with clothing frames the CTA and referral offer.

Smart, witty text below the hero image ("Now that we've got your attention…") leads into more details about how the program works.

Concise explanation of the program

Customers can copy and paste their personal referral link right from the email!

Buttons with multiple sharing options—email, Facebook, and Twitter– give the customer choices for how to share

Fine print further clarifies the terms without being too cluttered
Key Takeaways
Launching a referral program but aren't sure how to promote it? Along with using an email marketing software, consider using referral emails. In all steps of your referral email design process, be sure to focus on value, conciseness, and convenience.
Make sure your advocates open your emails with a concise referral email subject line, which tells them exactly what your email has to offer.
Then, once they open the email, your referral program must be easy-to-understand, to remove any friction that may cause them not to refer.
Use a clear CTA that tells advocates what you want them to do (refer), and that shares the valuable rewards you have on offer.
Then, explain the referral program and its conditions in as few words as possible.
And provide a CTA button, referral code, and/or referral link, so your advocates can start sharing right away!
If you want to add in a branded touch, feel free to do so, but choose it carefully so your email doesn't get cluttered. Think about using a hero image, GIF, or tie-in sentence like some of the examples listed above.
Here's all you need to know about referral marketing.
This article is part of the "Messaging and promoting your referral program" section of our guide that has over 38 resources dedicated to everything you need to know about referral programs.
You may enjoy other articles from this section: