People influence people. Nothing influences people more than a recommendation from a trusted friend. A trusted referral is the holy grail of advertising – Mark Zuckerberg
Referral marketing is known to be one of the best and most trusted marketing approaches applied by both small and large businesses globally. This type of marketing aims at encouraging and increasing the number of new clients through word of mouth referrals. And is usually done by offering incentives, rewards and encouraging customers to recommend the business' products and services to other people.
But we're not talking about just about referral marketing in this article. Today we will take a look at why having a referral program is important. Having a program in place helps your customers recommend your products or service with ease. Identifying ways, channels, and incentives will help you achieve the success you need.
In 2015, Facebook's U.S. advertising revenue was 8.03 billion U.S. dollars, and in 2018, 14.89 billion U.S dollars. Any platform, that helps people share information with one another, will only fuel growth.
To put it in perspective, 82% of consumers proactively seek referrals from peers before making a purchasing decision. So how can you as a business owner or marketing team capture more sales and growth?
Let's start!
Here are 15 reasons why you need a referral program
Why do I need a referral program? And what are the benefits? MarketingProfs' Ann Handley stated: "We're past the age where if you build it, they will come. You have to have some sort of promotional program in place".
We'll just leave this here to think about… Online businesses get 60% of their sales thanks to referrals from advocates and brand Superfans.
Here are some reasons why a referral program is important.
1. Information from friends is trusted more
A study by Nielsen revealed that approximately 92% of consumers from various markets are more inclined to believe people who are in their circles.
This is because the people you know and trust are less likely to mislead you. Peer-to-peer marketing is the leading driver behind 20-50% of all purchasing decisions. Up to 30% of all internet users are using ad blockers, which means, referral programs and other trusted methods need to be used to gain more growth.
Also, 96% of the people that discuss brands online do not follow those brands' owned profiles. Which means, most businesses word of mouth isn't coming from your social media accounts, but instead from others.
2. Easy promotion opportunities
Promoting your referral program through social media is one step towards your growth: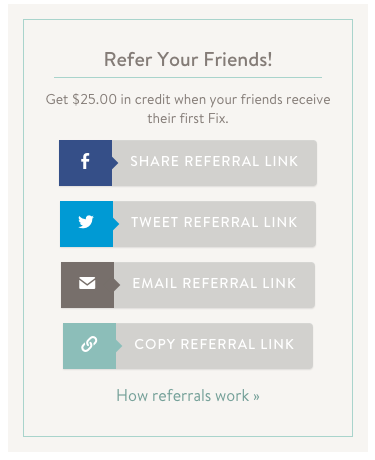 65% of social media users learn about brands, products, and services through social networks, according to Nielsen.
70% of social media users hear about their friends' and colleagues' experiences using products and services. Social Media Report 2012.
28% of millennials say they won't try a product if their friends don't approve of it or share it with them. Having a referral program makes sharing to friends and family easy.
Giving your advocates the confidence to refer your referral program is one thing. Making it easy for them to do, is another. By providing their favorite social media platforms you can get customers to take the initiative to promote your product to others.
76% of individuals surveyed say that they're more likely to trust content shared by "normal" people than content shared by brands. The more you provide referral program tools, the more opportunities for your business there will be.
3. Referrals remind customers why they choose to purchase with your company
When a customer refers a friend, close colleague, or family member to a certain product or service, they explain the reasons why purchasing from your business is the best option.
A study from University of Chicago wrote that non-cash incentives are 24% more effective at boosting performance than cash incentives. Having your customers feel like they are receiving gifts, products, services for referring others goes a long way.
It allows customers to scout for potential clients while giving them reasons why they should be in the team as well. Identifying and creating customer advocates can help you. Customer referrals are awarded accordingly depending on the number of people that have been referred. This means that your business considers the customers' efforts as meaningful and worth something.
4. Customers feel like they are part of the company
Want to give your customers more reason to thank them? Customers who work with the referral team feel like they are contributing to the company's success. Share the enthusiasm and thank them for their effort those referrals.
Whether it be a big YouTube or Instagram influencer, micro influencer, or even the average social media user is connected to 400+ friends and family. (Think of how much growth potential that means for you). But furthermore, those people now have your business on their brain.
If you reward them for their efforts, they will be likely to continue supporting you by referring more and continuing to buy from you too.
5. Referrals show that your business is performing well
It is easier to refer someone to a good organization that offers quality products and services than to one with poor services and bad reputation. The fact that a customer can speak well of your business to someone and encourage them to become new clients shows that your business is good and reputable. Statistics show that about 83% of clients who went through a positive experience will agree to refer others to your business.
6. Improved rate of customer retention
Customers who take part in referral programs are more obliged to stay with your business. From a marketing perspective, engaging new customers are usually more costly compared to retaining your already existing ones. Bain & Company found that "increasing customer retention by 5% can lead to an increase in profits of 25% – 95%".
7. Increased marketing scope
This form of marketing allows a company's marketing team to reach potential clients easily and at a faster rate. For example, one person interacts with a number of people on a daily basis. If this one person tells 5 people about your company and then the initial 5 tell the other 5 people, more and more people will be made aware of the existing products and services that you offer.
To make things even better, earned media (press, word-of-mouth, peer-to-peer referrals) drives 4x the brand lift as paid media.
8. Referral clients become more valuable to a business
Customers who have been referred to your business have already formed a positive attitude toward your company. This is because they have already been informed of the benefits that come from choosing to work with you based on being referred by someone they trust. These clients have an average lifetime value that amounts to 16% more than the value of the other customers. This helps you create a separate funnel for your business to truly maximize your ROI and your referred customer onboarding process.
9. Increased Return On Investment (ROI) value
Discounts and gifts are a small price to pay compared to the profit you can make with referral marketing. There are a variety of ways you can run a program. One of the most cost-effective referral program systems is to award points for every referral. The points will then be able to be exchanged for discounts and gifts. This way you gain more clients without having to spend a lot. You will then be able to experience an increase in your ROI value.
Also, the cost of digital advertising is rising 5x faster than inflation. You might have turned on PPC campaigns and realized that your margins are getting tighter and tighter. Looking at several marketing channels can help you put the focus on where you can get the most return. Want to learn how to calculate the ROI of your referral program?
10. An increase in customer engagement
The referral marketing system provides your business with a strong online presence. This is because many referred clients want to learn more about the organization, and the easiest way to do this is by visiting your website and social media pages.
Customers will also access your website to check their referral discounts and awards on the offered products and services. Increased visits to your company's site lead to an increase in purchases and potential revenue. Not to mention you may even earn some good social media shares and retweets.

11. Identification of loyal customers and provide exclusivity
Customers enjoy being appreciated by their favorite brands. Referral programs allow you as a business owner to identify your loyal consumers. These might be customers that have a high amount of accumulated points, a large amount of sent referrals, or those who share your content often. You can offer them rewards for their efforts to make them feel important and valued. A public shout out is always a pleaser.
Loyalty programs builds exclusivity. A study from Kelton showed 47% of consumers say receiving an exclusive offer made them feel excited. Other reactions included:
Rewarded (54%),
Special (36%),
Honored (34%),
Recognized (33%),
Proud (27%),
Chosen (24%),
Smart (21%),
Deserving (18%),
Justified (11%)
and Superior (10%)
The same study also showed that 51% of Americans eligible for such an exclusive offer would prefer receiving it over a loyalty program accessible to anyone. This can be amplified because referral program and loyalty program go hand in hand. Consider a customer that has made multiple referrals, they can easily be considered a loyal customer and they should be awarded with an exclusive offer or bumped up to a more VIP referral program.
12. Drives repeatable purchases
Having a referral program can increase your overall number of repeat customers. Whether you curate loyalty through rewards, exclusive V.I.P incentives, or simple cash back rewards that go towards their next purchase.
A customer will refer because of:
1. They really like you and are just too excited not to share yours.
Or
2. They want to earn the incentive. The latter is much more likely to happen. People want a discount or a coupon to come back and shop, and more often than not, people can think of someone rather quickly to refer.

13. Increased awareness on social media
We briefly mentioned this earlier. Most referral systems provide customers with an option for marketing on various social media platforms. 55% of customers share their purchases on social sites like Facebook, Twitter, Pinterest, etc.
71% of customers are making purchases based on social media referrals. The various social media platforms have become very useful in digital marketing as most potential clients most probably own at least two social media accounts. Your brand will be able to receive a boost in online social media presence.
14. Automating and monitoring your growth
You can monitor your user engagement report and analyze the impact of the referral program on your business. The reports show systematic tracking progress which you can use to create a strategy on improving the structure further.
You can identify your advocates when it comes to sharing your brand using tools like Mention. With a referral program, you can easily identify top advocates
From program promotion to syncing with the sales process, reminding your participants to share more referrals can be made easy. Automating your referral program will take you less time and you'll be able to focus more on your brand message to maximize conversions.
15. Simple to operate, easy to execute
Referral programs are less complicated and you do not have to put in a lot of time and effort. Rewarding clients with incentives for bringing in new customers requires you to put in place a system that will automatically track their efforts.
83% of consumers are willing to refer after a positive experience, however, only 29% actually do. Finding the right referral program software can make it seamless and easy for your customers to use. You can use a simple referral program spreadsheet or a referral program software.
Running a program can be so easy. Who doesn't want to invest a little time and effort into something that can bring them leads at the fraction of cost it would be to bring leads in elsewhere.
4 signs it's time to start a referral program
If you don't have a referral program in place, you might want to look out for these signs to determine your next steps.
1. Asking for the sale is difficult
It can be hard to ask for the sale. Asking for a referral can be difficult and awkward. There are times when pitching for an upgrade or act now not later moments can be used. Even if a lead might not be ready to act, they might be able to refer to others that are. Giving them the tools to refer is your first step in getting people to do it. Plus, it makes it very easy for you to ask them to refer in the first place.
2. Customers are asking for it
You need a referral program if you realize that your customers are asking for it. Whether it be directly asking for a referral program or if they are asking what other upgrades you can offer. If they are contacting you for something, you always have something to provide, assist, incentivize each conversation. You may also realize leads are coming in based on their friend's referral. This makes it clear that you should probably test out a referral program.
You can easily try out a referral program the old fashioned way. By using spreadsheets and manually monitoring the results. Or you can easily test out a referral marketing software so you can provide users with easy access to their referral code or referral link to share with others.
3. Customers are reluctant to give referrals
Your customers have a lot of things going on in their lives and so they might not always remember to give referrals. You can make it easy for them by introducing an automated referral program that provides fair incentives. You can do several tasks like:
Schedule a reminder notification to be sent to inactive users after a certain period of time.
Blast out a reminder every quarter to all users.
If you see someone has clicked a link to your referral program but did not complete an action – send them a reminder to come back.
4. Experience high closing rates with data
Statistical figures from the Huffington Post show that about 80% closings were experienced by organizations that made sales from an existing customer referral. This, in turn, generates money for the company. With a referral program, you can streamline your referral process to handle all the sales tracking, registration, reward fulfillment process, instead of using a spreadsheet and going through data or notes to see when a sale was actually made and to whom.
Conclusion: Why referrals work
Referrals programs work because studies have proven that people will twice as likely consider product recommendations that have been given by relatives and friends. This marketing strategy has been used by different organizations ranging from startups to well-established brands. People will trust referrals more than other sources of advertising. Referrals are affordable and effective compared to other forms of marketing and all that is needed is quality customer experience.
There are so many steps to making your referral program successful. The most important reason why you need a referral program isn't that you actually need one. But understanding the importance of using tools to help you automate so you can focus in the right areas, maximize exposure and your brand, fine-tuning the areas of focus to keep growing.
Examples are:
Outlining your goals with a specific timeline to enable you to monitor the progress of your program. How much data should you gather before making a decision? You can give your customers time to evaluate the product purchased before asking for a referral. When is the right time? You can split test your triggers to better optimize your program.
It's not about once you build it, they will come. It's about having that foundation and the tools to help bridge gaps.