What leads to a better ROI and is easier than generating leads from scratch? Referral marketing, of course. There are many benefits of referral marketing for your business. A referral program can help optimize your sales cycle, help you produce quality leads, and take your marketing efforts up a notch.
Many businesses turn to referral marketing because they want to expand their reach and because they know their customers can market to potential leads far more successfully than they can, which is just one of the benefits of referral marketing. It also dives into social marketing, which "sells" a behavior or lifestyle.
In fact, Nielsen found that people are 4 times more likely to buy when referred by a friend. Meaning referral marketing has the potential to help grow because it uses the power of your own customers to do the talking for you. Creating a sense of trust before a purchase is made.
As you'll see the benefits of referral marketing are incredible. Here's why…
1. Enables word of mouth to happen
Marketers want more leads, and this happens through word of mouth. Referral marketing provides scalability for this to happen.
A referral marketing campaign helps you reach a pretty large pool of people that you might not otherwise be able to dive in to. Thus, further helping you leverage your social channels.
In fact, the Word of Mouth Marketing Association (WOMMA or ANA), mentions that in the United States, there are about 2.4 billion brand-related conversations a day. People are already talking about brands, and when that is combined with referral marketing, a brands word of mouth can take a major leap.
Why is Word of Mouth Marketing so Incredibly Important? Because it brings in new customers. It's that personal recommendation for your business that acts as one of the best advertisements and builds trust.
2. Hits on your targeted audience/leads
Brands are often brought up in regular customer conversations because people simply like discussing new products and their favorite stores. Typically, they share this find with their friends who they think will also enjoy it.
Alternatively, a person will ask their friend for advice on a problem they need to solve. Often times, this brings up a specific brand or product. For example, a neighbor might talk about needing a good landscaper. You might know of a landscaping business and recommend them to your neighbor. Meaning you have sent that landscaping company someone in their target audience, and likely a qualified lead.
A big goal of marketers is to find qualified leads. To do this in an owned channel is like hitting the jackpot. In most cases, a person will refer those who they believe want what you're offering. And those who are actually interested will move forward. Voila, a qualified lead, who has been primed to trust you since you were recommended from a trusted source.
Not just that but these types of leads tend to be better customers too. Referrals tend to spend more and prove to have higher LTV.
3. An owned pay per performance channel
Owned channels can be a good extension of your brand. This is because they create even more ways for your customers to interact with you. You've built your referral program, and you nurture them in order to grow. As an owned channel you're providing a more authentic channel that really helps convert.
Depending on whether or not you offer an incentive for referrals, you have complete control over what you pay for. In fact, you actually only pay per performance. Meaning your customers can share and promote your business all over. But you only pay for leads that convert.
Because this is an owned channel we want to stress trackability. ROI and other metrics are easily available (especially if you're tracking via software).
4. Loyal customers multiply

It's a lot easier to gain and keep a lead through your customer's inner circles than it is to acquire a single new customer. A referral request creates a sense of trust, and that can create loyal customers.
In fact, referred customers are proven to be good leads that also stay with your business longer than other types of customers, as explained by the American Marketing Association.
To add on to that, Wharton School of Business found that referred customers are a whopping 16% – 24% more loyal on average than others.
Not only are leads more prone to staying loyal, but your customer is too. They now have an incentive to purchase from you in the future and possibly even refer you more down the road.
5. A channel for engagement
Any time you have the opportunity to connect with customers you should take it upon yourself to do so. This is because building up your customer relationships is important in becoming a referable business.
Referral marketing programs allow you to use relationship marketing. Referral marketing enables you to build a Rolodex of customers who will speak on your behalf. As well as allow you to measure and see certain behavior metrics.
All of which enables you to build the perfect opportunities to remarket and promote your business. But how does this create a channel for engagement to occur?
As a brand, you most likely already send emails and newsletters to your customers and share your content on social media. Referral marketing gives you another reason to use and share on these platforms making it a whole lot easier to ask for referrals.
Referral marketing can be tied through 
Emails
Social media
Customer support
You can also engage with them by giving shout-outs on social media, and praising them for their effort. A little public praise can be the exact engagement a customer needs in order to keep referring. Want more best practices for referral marketing on social media?
6. A cost-effective marketing strategy
Because referral marketing relies on word of mouth and your existing customers, your marketing costs can be cut down exponentially.
How is that possible? Well, it's a lot less expensive pushing marketing efforts towards your existing customer base than it is to market to new customers. Not to mention a customer's recommendation of you is much more persuasive than any ad you could pay for.
Think about these aspects.
A customer is more likely to open an email from you than a potential prospect
You can promote your referral program through existing marketing efforts
An incentive is your primary cost (and you only pay for performance rather than per click)
Marketing to new customers can be rather expensive. But, if you're using your existing customers to market for you, your prices get cut down.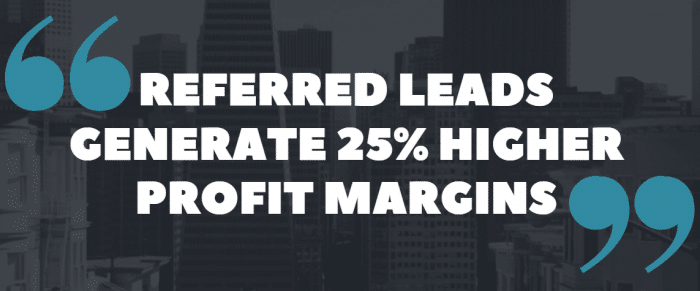 It's also worth noting that referrals can produce higher profit margins. Wharton School study (of more than 10,000 participants, over 33 months) found that referred leads generate 25% higher profit margins and represented higher customer lifetime values over leads acquired by other channels.
Summary
To summarize, there are many benefits of referral marketing. You can boost your marketing ROI and drive conversions with referral marketing. Not to mention build up your social proof and social currency, develop an engaging way to communicate with customers in multiple channels and hit right on your target market.
You can get all hands on deck with your marketing efforts, giving you the time and energy to focus on what you do best.