People rarely make a purchase without consulting the opinions of those who are already using the product or service. This means getting customer reviews is vital to your brand's success.
But how to get customers to leave reviews? And more importantly, how to convince your happy customers to leave reviews, as they're the ones who will sing your praises and boost your brand's reputation?
Directly asking for reviews is important, but convincing customers to write a review goes beyond the ask. You'll need to show them their opinion has value, and make it easy for them to leave reviews.
Today, we cover 18 ways to get customers to leave reviews. But first, we go over the main reasons why online customer reviews are so powerful.
Why you need customer reviews
Reviews are free, organized word of mouth!
We can't emphasize enough how effective word of mouth is for gaining new customers. But word of mouth can sometimes be unpredictable and hard to organize.
Not so with reviews. Review platforms collect and organize what people are saying about your products or services in easy-to-access places. And it costs nothing (or almost nothing) to get customers to leave reviews!
Customer reviews help you build social proof for your company.
Why is social proof so powerful? People who don't know whether to make a purchase tend to consult the opinions of others. They trust their peers much more than messages that come directly from your brand.
So when they see many positive reviews of you, your prospective customers will be more inclined to buy. Social proof accelerates lead generation and boosts conversion rates.
In fact,90% of people read online reviews before they make a buying decision, showing just how effective social proof can be.
And 72% of potential customers will only take action after reading a positive review.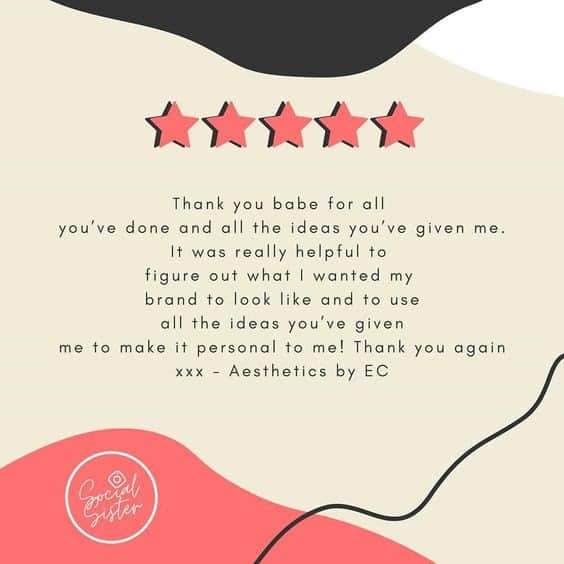 Reviews help occupy more ranking space for prime keywords and boost your SEO.
If you're a local business, reviews (especially Google My Business reviews) help your website climb search engine rankings, thanks to local SEO. Even if you're a bigger business or don't have a physical location, getting positive reviews on prime review sites will help your brand occupy more top ranking slots for your most important keywords.  
How to encourage customers to write reviews?
Now that we've gone over the benefits, let's dive into how to get customers to leave reviews. We've collected 18 proven tips and strategies below.
1. Ask directly and indirectly
People love to share their opinions – they may just need a reminder. Don't be afraid to ask for reviews.
There are two main ways to ask for reviews: directly and indirectly. Using a combination of both is the best way  to convince customers to leave a review.
Direct asks involve using a clear prompt that shows you're asking for a review (e.g., "We'd love your feedback!" or "Leave us a review.") You could ask for a review directly in an email, in a social media post, on your website with a "Leave a review" button, with a reminder card, in person, during a phone conversation, or during a video call.
But don't leave out indirect asks. These are when you include a subtle review prompt in marketing materials that aren't focused on asking for a review. For example, leaving a link to a review site in a newsletter, or in a receipt email, counts as an indirect ask. As does saying "We're on Trustpilot," "We're on TripAdvisor," or "We're on Yelp" without directly asking for a review.
For more on asking for reviews across different platforms, and ready-made templates for asking for a review, check out our detailed guide on how to ask for reviews.
2. Ask when customers are happiest
It's not ethical to ask for positive reviews directly, as you want your reviewers to provide genuine customer feedback. (Plus, asking for positive reviews makes it look like you're gaming the system.)
But there is a way to increase the odds of receiving positive reviews.
How? By asking when customers are happiest. This increases the likelihood your customers will  not only leave a review, but also give a high review score.
Ask shortly after a purchase: After checkout, customers have your brand top-of-mind and are likely more willing to share their thoughts. Make sure they have time to become familiar with your product or service before you ask for a review. For example, if you're a software company, wait a few days before asking for a review. Allow them enough time to onboard and explore your platform first.
Ask after a repeat purchase:If someone has made a repeat purchase from you, or has renewed their subscription or contract, that's a sign they love what you have to offer. Ask for reviews from these loyal customers – the more repeat purchases they've made, the better!
Ask soon after they've complimented you on social: Did someone make a glowing, unprompted social media comment about your brand or product? If you found it soon after they wrote it, your product is still top-of-mind and it's the prime time to ask for a review.
So how can you keep on top of positive social media posts in real time? Brand mention tools and other online reputation management software, can help.
Ask after you've received stellar feedback: Did someone compliment you on your customer service, whether in-person, in a thank-you email, or during a call? Turn this feedback into a positive review, and ask if the customer could take a few minutes to leave you a review.
Ask customers who have just referred a friend: They love your brand enough to share it with friends, so why not ask these customers to share the love through a review as well?
Ask survey-identified happy customers: Run an NPS survey, CSAT survey, or other customer satisfaction survey. Find the customers who are most likely to promote you, based on their responses, and ask those customers to leave you a review.
3. Include review links in receipt and shipping emails
Don't just ask for a review in a separate email. Receipt emails and shipping emails are prime places to include a review link, as these emails always reach customers shortly after a purchase.
The review link should come in the receipt email, if your company is service or subscription-based. Or in the shipping email, if you sell one-time, physical products (as it's best to ask for the review after the product is received).
4. Automate the review ask
To simplify the process and optimize for the best times to ask for a review, you can automate the sending of review emails. For example:
You could set up automated review emails to trigger a certain amount of days after a purchase or delivery.
You could automate sending review requests to the customers you've surveyed and identified as most likely to promote.
If you're service-based or subscription-based, consider automating the review ask to trigger routinely, such as on the first day of every month.
5. Personalize in your review requests
Even though automation saves you time and energy, a personalized request may be more convincing for getting customers to leave a review. It shows top customers you value their opinion highly.
Our recommendation is to save personal requests for the customers you think are most likely to leave you a positive review.
In a personalized review ask, thank the customer for choosing your business and highlight what they've helped you accomplish. If they've given you glowing positive feedback, referred a friend, or stayed a loyal customer, be sure to mention that and thank them as well.
Then, go into the review ask. Explain how the review helps your business, and how it helps others become informed about what you offer.
6. Start the review conversation with an open-ended question
If you start the review ask process with an open-ended question, you can learn more about what your customer thinks of your product or service before asking for a review.
This process allows you to source genuine feedback, as well as personally ask customers to leave a review only when you already know they're satisfied. (No one wants to ask for a review only to find out your customer had a bad experience!)
Start your conversation with one of these questions:
"How are you liking [product/service]?
"Do you think you'll make another purchase from us?"
"Are you planning on renewing your subscription?"
"Did our customer support team help you with [concern/problem]?"
Then, if you can tell your customer was satisfied with their experience, ask them to leave a review (and encourage them to use your conversation as a basis).
7. Remind customers how reviews help your business
One of the best ways to convince customers to leave reviews is to remind them why reviews are so helpful. Of course, this resonates most with your satisfied customers, who already believe in your business and are happy to help – it also promotes positive reviews!
Explain to customers how reviews help your business know what it's doing well and what it can improve. But more importantly, mention why reviews help potential customers make an informed decision about whether your product or service is right for them.
8. Follow up on review requests
If you sent a review request to a customer and they haven't reviewed you yet, don't be afraid to follow up with them. They may have forgotten about the review, even though they had every intention to leave a review about your business. And if they simply put it off the first time, your persistence may convince them to review you if you ask again.
9. Give customers multiple ways to review
The more options customers have for writing reviews, the more convenient it is for them to actually write one. More options also mean more real estate that your brand could occupy in SEO rankings, creating more opportunities for potential customers to discover and learn about your brand.
So, give customers multiple platforms to leave a review, including:
Your own website
Yelp, Facebook, and Google My Business – the three biggest players in the review space, and three of the most trusted sources of reviews
Multiple niche review sites (For example, Capterra, G2, and TrustRadius if you sell software, or TripAdvisor and Oyster if you're a tourist destination.)
Amazon, if you've chosen to sell through the site
10. Meet customers where they are
Make sure your review page is easy to access in multiple ways. This means optimizing web pages, emails, and social posts so it's as easy as possible for customers to leave reviews.
Customers should be able to reach a review site in as few clicks or steps as possible.
Include direct links to review sites in your emails, such as newsletters, shipping emails, and check-in emails.
Consider including direct links to review sites in your email signature as well.
If you send dedicated review emails, keep them short enough that customers can click a direct review link without scrolling. And include all the options customers have to leave a review.
Your social media posts on reviews should also be short and sweet, with direct links to the review sites you mention in the post.
Consider including a review link in your social media bio.
If you want Facebook reviews, it can be effective to send personal review requests using Messenger.
Include review buttons on your homepage, in your website header and footer, and in other high-traffic locations on your website.
Enable customers to review your products/services right on product pages, whether it's through an integrated on-site review system or a link to a third-party site.
If you sell physical products, consider mailing a "leave us a review" card with instructions on how to leave a review.
If you're live chatting with a customer and they compliment your products or customer service, it's a good opportunity to drop a link to a review site.
Giving a customer satisfaction survey? Think about including a direct review link at the end if customers give you a high enough score.
Regardless of the method you use, emphasize how easy it is for your customers to leave a review. Remind them it only takes a few seconds to click a star rating, and only a few minutes to write a review.
11. Remove any friction in leaving a review
Reviewing itself needs to be as easy as possible if you're going to successfully convince customers to leave a review.
After they land on the review page, deliver on your promise – make sure it only takes a few minutes to leave a review.
Time is usually one of the biggest points of friction between your business and a review, so reiterating the short time it will take to leave one can make a big difference.
Also, the review page interface should be simple to figure out and use. Limit the amount of text you display and keep your explanation brief.
12. Help customers get started writing reviews
Why not make reviewing even easier, by volunteering to help customers write part or all of the review?
Whether you're looking for a testimonial for your own site or for a third-party site, you could provide a template with highlights of your business relationship to jumpstart their review process.
Or, after a happy customer agrees to leave a review, you could even provide a sample of a full review they could leave, based on what they've shared with you in the past. Volunteer it sincerely, explain that it's intended to help make the customer's review process easier, and tell them they can edit it however they wish.
Customers don't have to use your prompts, but they will be a helpful guide for them when writing their review.
On a smaller, less personal scale, you can use review prompts with all reviewers. How? Give customers suggestions about the topics they could address in the review, using this as a starting point for their writing.
For example, did the product arrive on time? How was the customer service? How did the product perform?
13. Add an "awaiting review" reminder on customer account pages
If you're in ecommerce, consider designing your purchase history tab around reviews, as Etsy has. Their purchase history section is marked as "Purchases and Reviews," as a way to encourage buyer feedback.
Once buyers open this section to check recent purchases, Etsy marks recently delivered purchases that haven't been reviewed yet as "Awaiting Review." Buyers see a prompt to review these items, and can instantly click on a star rating to start their review, like in this example with stickers.

When they click on the star rating, a pop-up opens inviting customers to leave a more detailed review.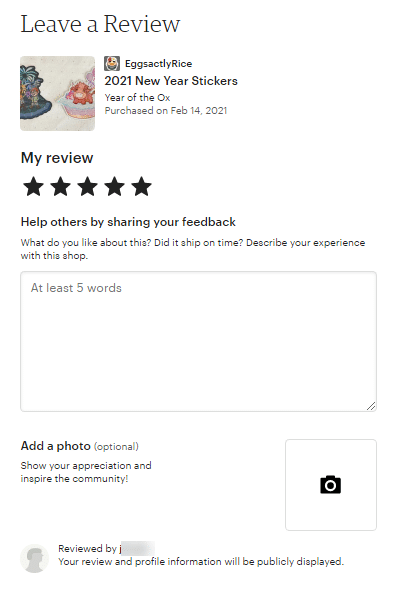 And Etsy doesn't stop there. The website uses prompts to encourage customers to get their review started, and reminds customers how a review helps the Etsy community make better purchasing decisions. Why not implement some – or all! – of these ideas in your own review system?
14. Incentivize customer reviews
Offer an incentive if you can, as a way to encourage customers to write a review. When customers see a reward is available, they'll be more inclined to give their feedback. Rewards could range from discounts, to store credits, to contest entries, to points in your brand's loyalty program.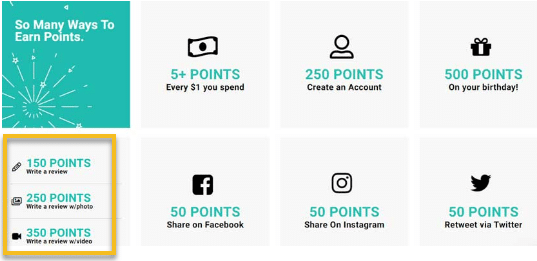 Having said that, make sure to offer rewards with caution.
First, be sure to offer a reward for any honest review, not just a good review. Bribing customers to leave positive reviews with rewards is unethical.
Second, and more importantly, you'll need to make sure the review platform you're using allows you to incentivize reviews. This greatly varies from platform to platform.
For example, Google does not allow you to incentivize reviews with rewards (or even with entries into a drawing). If Google finds out you reward reviews, Google could remove all your Google reviews.
On the other hand, Facebook does allow you to incentivize reviews. And of course, if you're collecting reviews on your own website, you can incentivize away!
15. Make it easy to leave reviews on mobile
Every day, your average customer spends over five hours on their smartphones, and an estimated 70% of web traffic comes from mobile devices.
Design all of your review-related materials on mobile first, so it's easy for customers to access a review platform and write a review straight from their smartphones.  
Some third-party review systems may be out of your control, but you can still make other parts of your review process mobile-friendly, such as any surveys leading up to reviews, the buttons linking to review sites, and the review emails you send.
16. Engage with previous reviewers
When customers actually do write reviews, take the time to write a personal reply to thank them for their feedback and show you're listening. And don't just reply to the five-star reviews.
Reading and replying to a negative review shows you're paying attention to all the feedback you receive – and committed to acting on that feedback.
Customers who haven't written a review yet will see and appreciate your response, and be more motivated to leave a review of their own.
17. Share glowing