How important is monitoring reviews of your business? Before people make a purchasing decision, they consult the trusted opinions of others who have purchased a product or service before. In this digital age, online reviews make it even easier for potential customers to see the public's opinions on a product or service, prior to spending their hard-earned money.
Positive reviews boost your brand's reputation and encourage potential customers to purchase your products or services.
91% of consumers ages 18-34 trust online reviews as much as personal recommendations. (BrightLocal)
93% of consumers (of all ages) say online reviews impact their purchasing decisions. (Podium)
Customers are willing to spend 31% more on a business with excellent reviews. (Invesp)
But if your brand receives a selection of negative reviews, and fails to do anything about them, this can drive potential customers far away.
 94% of consumers say an online review has convinced them to avoid a business. (ReviewTrackers)
Clearly, positive reviews are invaluable, and negative reviews can have far-reaching consequences. So, monitoring your brand's online reputation – what's said in the reviews, social media mentions, and comments you receive online –  is crucial. This includes responding to reviews, even if they're negative!
89% of consumers read businesses' responses to reviews. (BrightLocal)
What are the best ways to encourage customers to leave positive reviews, and how can you monitor your brand's reputation as reviews come in? We ran a survey to find out, and 42 marketers shared their insights. We'll cover their tips on generating reviews later on in the article, but first, let's dive into the fascinating statistics we gathered on review monitoring.
Monitoring online reputation
The vast majority of marketers we surveyed – 95% – monitor their brand's online reputation in some way. They're well aware that consumers trust the opinions of their peers, who have already used a given product or service.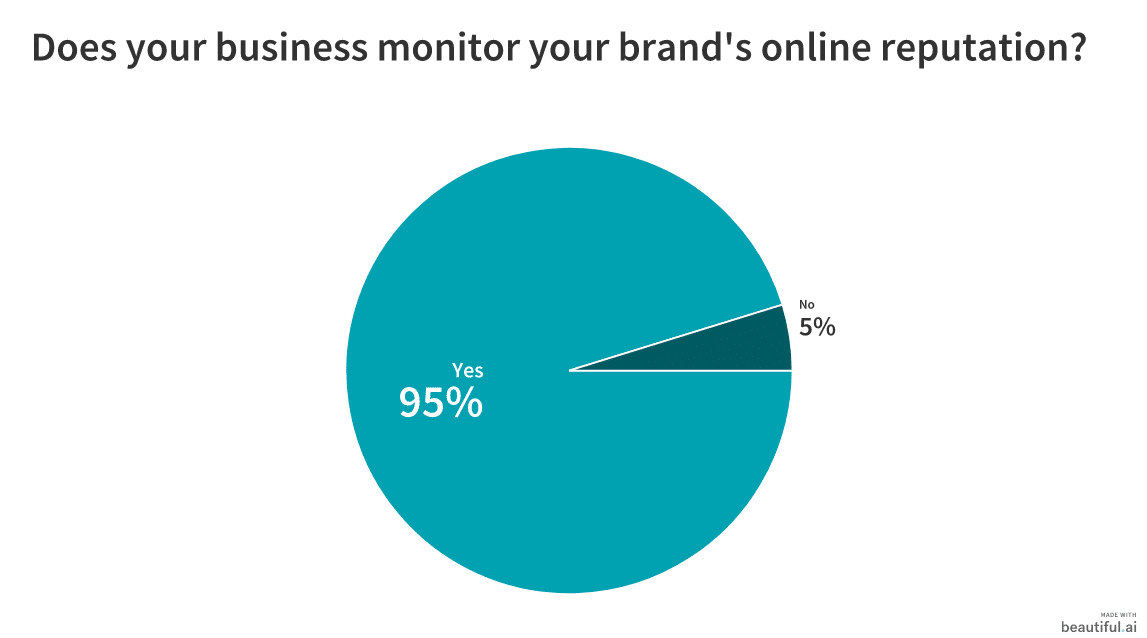 Brand reputation monitoring tools: Hootsuite wins out
Among tools used for monitoring brand reputation, Hootsuite (used by 45% of marketers) dominated handily when it comes to frequency of use. Although widely known as a social media monitoring platform, Hootsuite can also monitor and reshare content on review sites through a free add-on. Yext and Mention (also comprehensive monitoring tools) tied for the second-most used, at 12% each, and Google Alerts came in third, at 7%. The top 8 tools used by the marketers we surveyed are listed below. These tools cover monitoring across the internet, from reviews to social media to other brand mentions.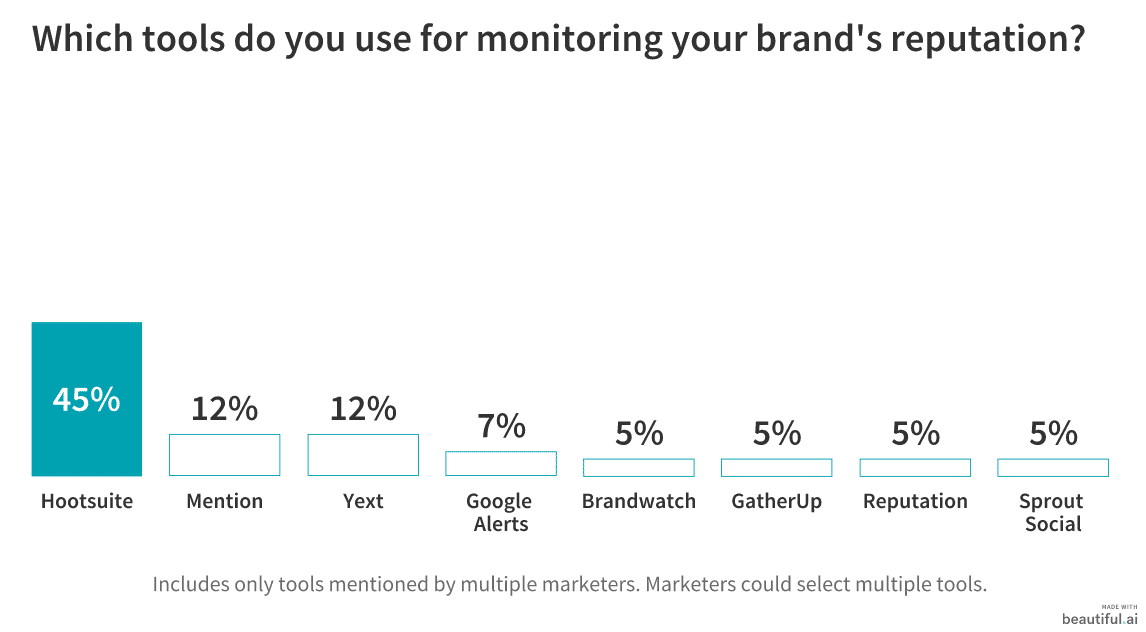 However, this graph doesn't even scratch the surface of the tools marketers use for monitoring brand reputation. The diversity of responses we received to this question were so great – we go over them more in detail below:
Google remains the most popular channel for getting reviews
With its ease of access for both leaving and viewing reviews, and its ability to impact search results, it's unsurprising that Google wins at providing marketers' brands with the most reviews, with 45% of marketers saying it provides the most reviews for their brands. Facebook comes in second at 29%, and Twitter comes in third at 10%.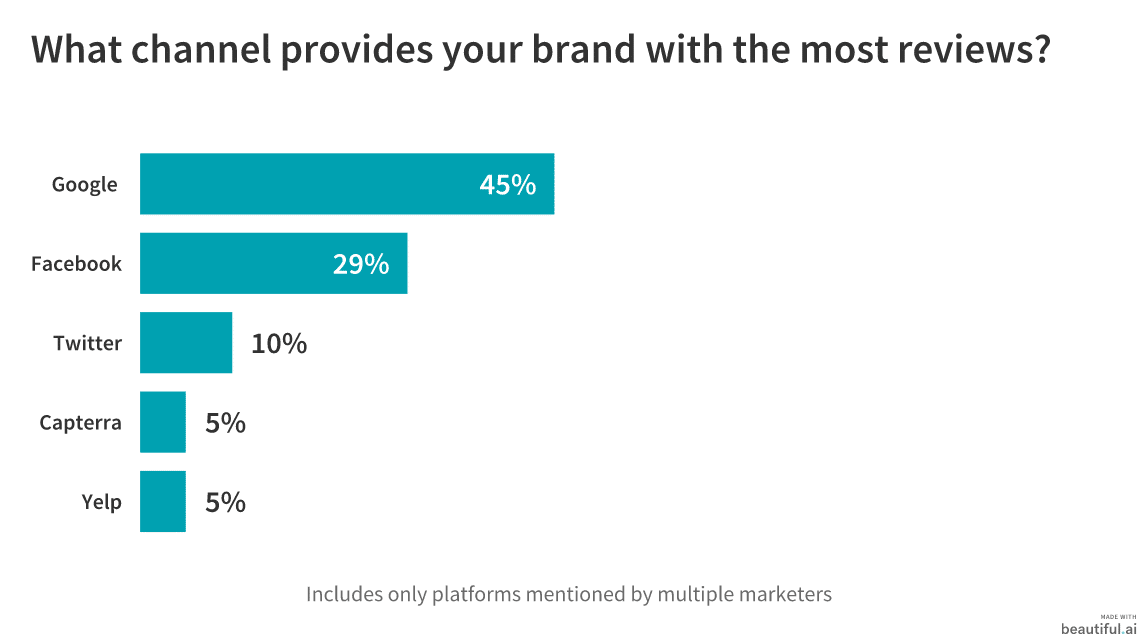 Replying to reviews: over two-thirds respond to all reviews
How your brand responds to reviews, good or bad, can be just as crucial as the types of reviews you receive. After all, resolving a reported problem quickly and graciously can turn a customer's opinion from negative to positive. In turn, this prompt response can motivate a customer to change their opinion from a one- or two-star review to a five-star review.
When we asked marketers whether they reply to all reviews, good or bad, 71% reported they did.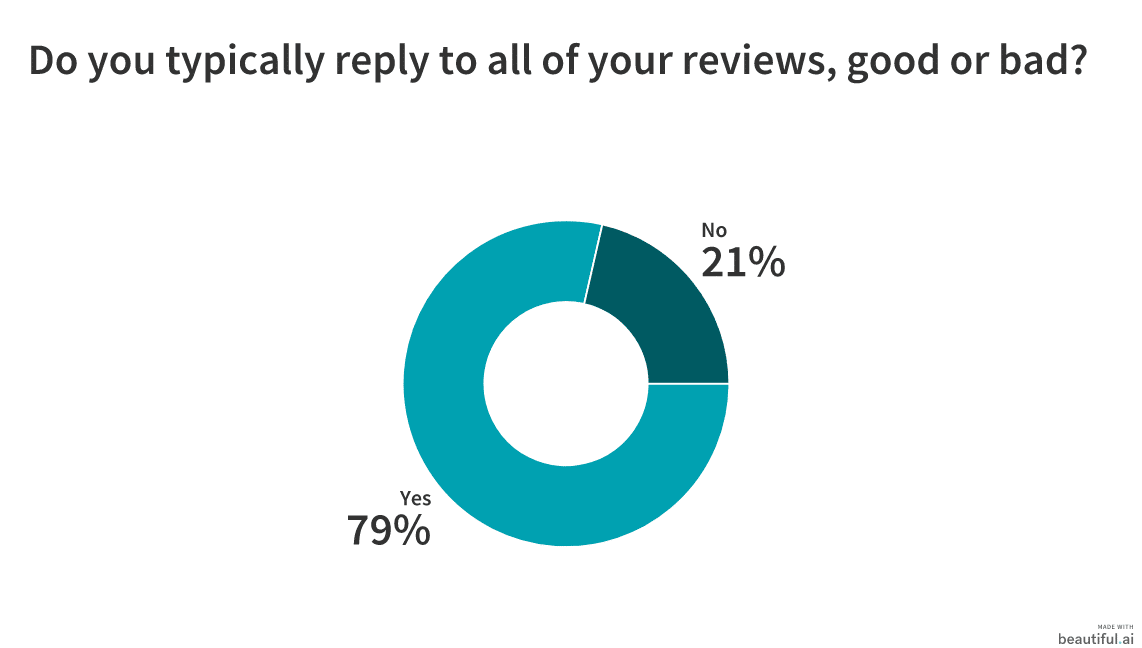 The majority of marketers prioritize a prompt response to reviews: 67% respond to a review within a day (36% respond within 1-12 hours, and 31% respond within 24 hours), and 86% respond within less than a business week.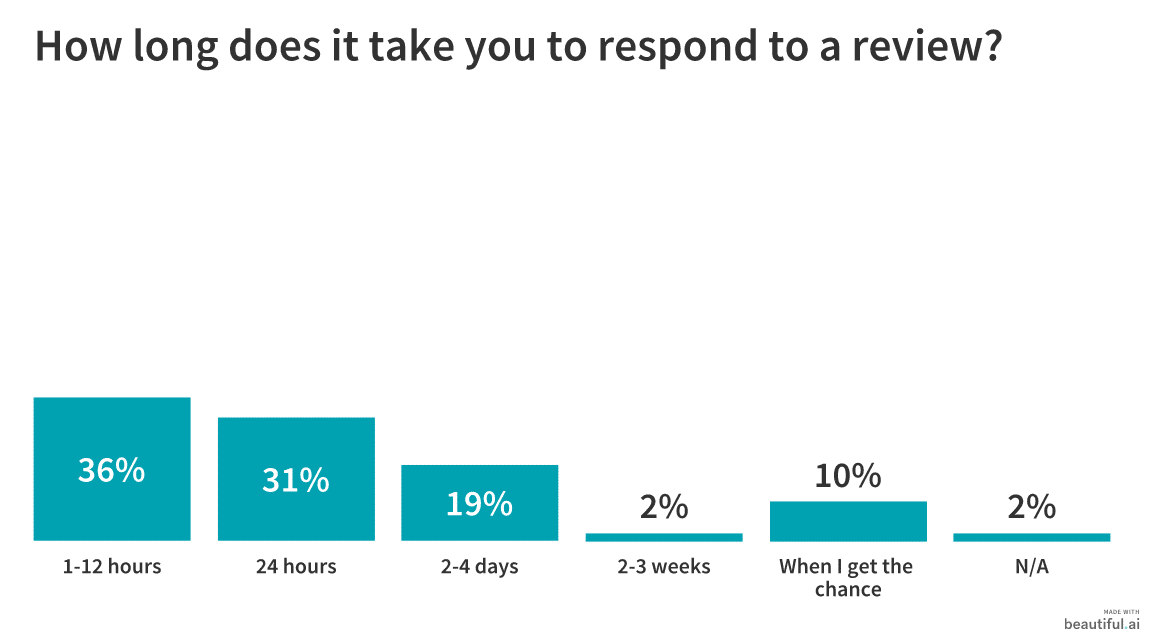 Positive reviews widely believed to improve SEO
93% of the marketers we surveyed believe that improved SEO is among the benefits of positive reviews. This makes sense, especially because Google displays reviews so prominently in search results, as part of Google My Business.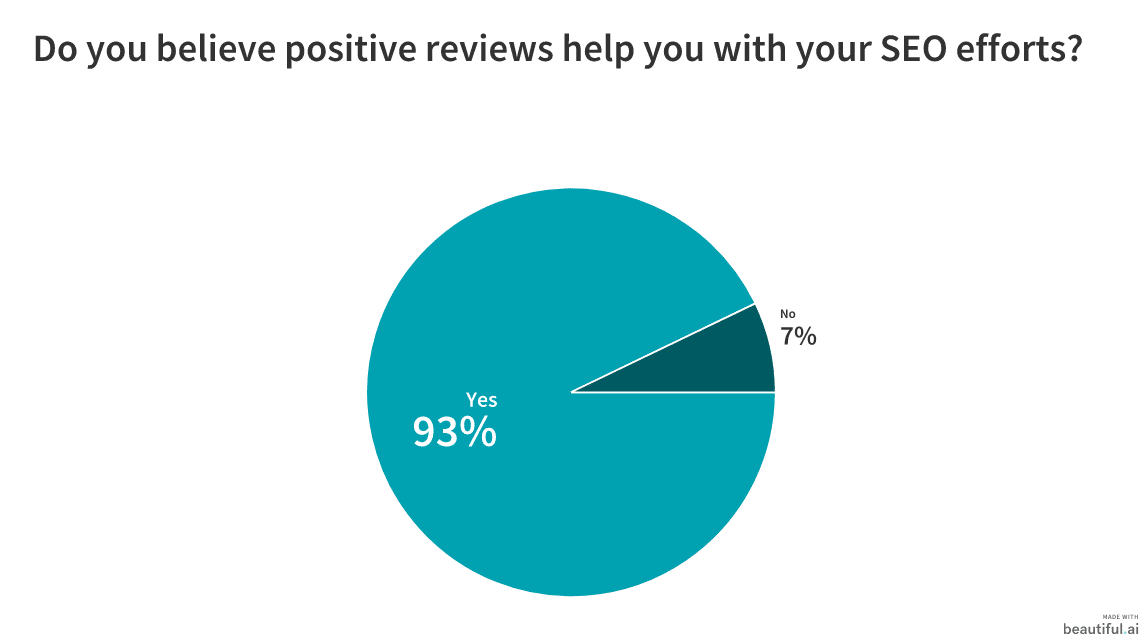 Campaigns to drive reviews: Our marketers share
We then asked our marketers what sort of campaigns they have used to drive reviews to their online business. The majority reported asking for reviews from satisfied customers, via email, but some marketers used other techniques. Let's see what they had to say.
Ask for reviews via email, soon after a purchase
As many marketers found out, directly asking for reviews can vastly increase the volume of feedback they receive. But it's best to time the "ask" carefully to encourage positive reviews – to request the review when customers are most likely to be satisfied. Many of the marketers we surveyed asked for reviews shortly after a customer made a purchase, usually via email.
Dave Carmany of Online Labels shares, "We send review request emails a few days after an order is delivered to help gather product reviews. We also have Bizrate and Google review requests show up at end of checkout."
Eric Schrader of Buzz Custom Fence explains, "We only accept payment online, which allows us to quickly send a followup to leave a review on Google. Our contractors also leverage Nearby Now and all clients receive a reminder to leave a review via email and text."
Jake Lane of NuBrakes Mobile Brake Repair explains, "Anyone who receives service with us is prompted to review their experience via a follow-up email. To gain the most effectiveness from the email, we also ask them to let us know about their experience when we're finalizing a job, to ensure they know reviews are important to our brand and growth."
Pairing email review requests with a phone reminder helped Damien Buxton from Midas Creative: "Every time we finish a piece of work with a client, we have an automated email process to encourage them to leave us reviews. We follow this up with a quick call to them a few days later, whilst still in the 'honeymoon' period."
Review generating services helped some companies automatically email these review requests. Says Michael Anderson of GeoJango, "We've utilized two separate review generating services to drive reviews for our business. The first one (Broadly) would email customers and ask them to review us on either Facebook or Google. This helped us acquire 39 reviews and a 4.9 overall rating within Google. However, they didn't have a great website implementation. Our current provider (Okendo) sends similar emails, but asks customers to review their products through our website, which is better suited for us as an E-Commerce company. These reviews are subsequently hosted on our homepage, a designated review page, and within each relevant product page."
Says Jeff Moriarty of Moriarty's Gem Art, "We use a platform called TrustPilot to help us build reviews for our business as a whole. When anyone purchases online, an email goes out asking them to review us two weeks later. We also use a platform called Stamped.io to build user-generated content for our products themselves. This is an automated platform that sends out an email 30 days after their purchase. Due to being a gift, we give more time for reviews on products."
Include links to leave reviews in company updates or reports
Jeremy Lawlor from Active Business Growth explains, "We are always looking for reviews. One thing we do is attach a link to review our Google My Business profile along with our monthly reports. Assuming the report is positive, it is quite likely that the client will give us a great review in return."
Check for satisfaction – and only asking for reviews when customers are satisfied
Another way businesses determined if customers were satisfied before asking for a review was to check their satisfaction directly. Says Jitesh Keswani of e-Intelligence, "Once our customers have received the services and they've had a chance to review the work for the month, we tend to ask them to let us know if we've been meeting their expectations. We send out emails to our consumers quarterly, so we know where we stand."
Only send review requests once you know customers are satisfied, shares Blythe Warwas from Art Unlimited: "In-house, we set aside time weekly for each team to bring forward excellent client experiences. If we have a client we know is extremely happy with us, we have the team member who interacts with them the most send them a personalized review request with direct links to our Google, Facebook, and Yelp company profiles."
Continues Warwas, "For our Review Management service, we use a platform called Broadly to send messages to people who have recently had good experiences with our clients. The message asks, 'Would you recommend X company?' If they say 'Yes!' it asks them for a review and gives them easy links to access company profiles. If they say 'No,' it redirects them to an email so they can give negative feedback to the company directly (and privately)."
Jonathan Aufray of Growth Hackers reports, "To help drive reviews and testimonials, we directly outreach to our clients (or the customers of our clients). When we've delivered quality work, got great results with a client and we know they're happy, we ask them for a testimonial or an online review. How do we do it? Very simply, we just send an email asking for it. Because we know they're happy with our work, they're most of the time pleased to provide us with a review."
Nachum Balofsky of 1SEO I.T. Support responds, "At 1SEO, we rely heavily on our email marketing campaigns to drive more Google reviews. Typically, we ask each one of our clients via email to submit a review once they have been with our agency for a few months and have experienced success with our marketing efforts."
Offer an incentive in exchange for a review
Simple incentives, including chances to win a contest, can be effective at driving reviews, as David Serville from Crewcare found: "We set up small contests to drive reviews or feedback. We invite them to share their opinions about the business online and they get automatically included in a draw. The rewards are usually small items such as smartwatches or vouchers."
Matthew Ross of The Slumber Yard reports a similar strategy: "We incentivize viewers and customers to provide reviews in exchange for free products. In short, we run a free monthly giveaway club with prizes valued at over $500. Part of the requirements to be eligible for the monthly prize is to leave a positive review."
The incentive doesn't have to be a contest entry – it can be a favor for the customer as you ask them for a review, as Akos Gabossy from PanIQ Escape Room Franchise shares: "After game time, we automatically send a follow-up email to every customer of ours where we kindly ask them to share their opinion/experience on Yelp, Trip Advisor or Google. In 'exchange' for the review, we also take a picture of each team, and we attach those pictures to the email."
Offer the chance to help someone else (in lieu of an incentive)
The chance to help someone else can be just as effective, if not more effective, compared to an incentive, says Gary McClung from Got Bugs? Termite & Pest Solutions: "Our main review generation campaigns are through email, either initially after a pest control service or though our larger monthly email blasts. Our campaigns, rather than offering any type of monetary incentive, give the reviewer the opportunity to help our technicians. If a customer leaves a service review for and mentions the technicians by name, the technician will receive a "tip" of $5. We feel that people would much rather be given an opportunity to help another person than be given another small gift card."
Genuinely thank customers
Olga Mykhoparkina of Chanty states, "We've run quite a few campaigns to attract customer reviews. The best thing for us at Chanty has been sending 'Thank you for using Chanty' emails where we genuinely appreciate the help and support of our customers while building our app and asking for a review. We've also tried the campaign where we ask for a review right after the 'Aha' moment which for many of our customers is turning a message in a conversation into a task. It didn't work quite that well, so we switched back to emails. However, I know this approach works quite well for many other companies."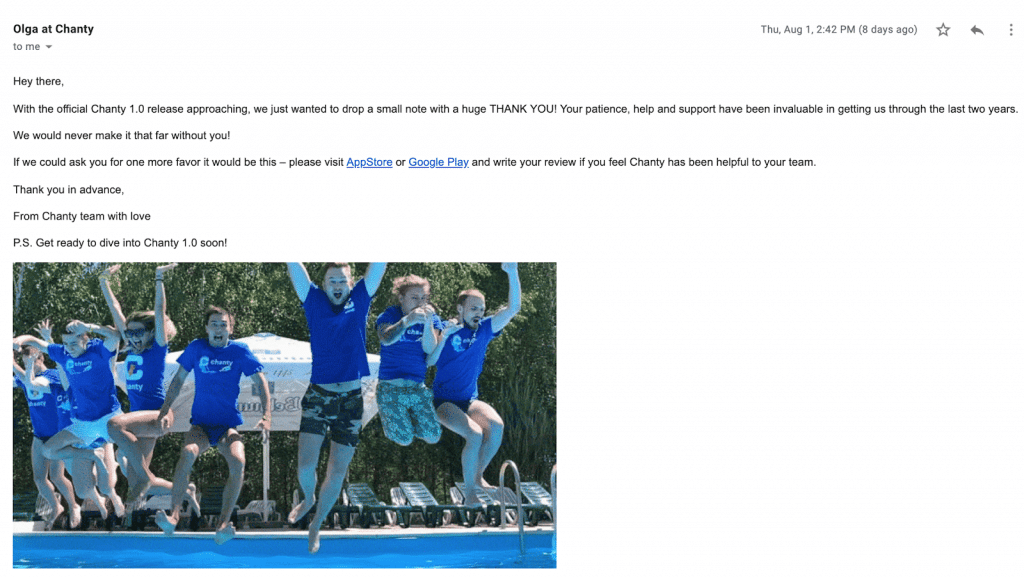 A "thank you" review request email used by Chanty, provided by Mykhoparkina.
Ask for a review while collecting survey feedback
Fiona Kay of Nigel Wright Group reports, "We send out monthly customer feedback emails which include a short survey for our customers to fill out about their experience working with us. At the end of the survey, we ask users if they would be willing to submit a Google review and provide a link to the relevant offices' Google My Business page. Since introducing this, we have seen a huge increase in the number of Google reviews we have received, none of which have been below four stars. In using the monthly customer feedback emails as a means to collect these reviews, it is encouraging them to be submitted on a regular, ongoing basis rather than simply lots at one point in time. This demonstrates to Google users that our reviews are naturally occurring and that our service continues to be excellent from month to month."
Using a multi-pronged approach (online and offline)
Matt Casady from STOR-N-LOCK Self Storage says, "We have several campaigns to help drive more reviews for our locations. We have signage in all our stores asking for reviews, and we have several places on our website that make it easy for people to review us on our website and on other sites like Google. We also have a texting service set up, so when customers come into our stores, we can quickly send them a link that makes it easy for them to quickly leave us a review."
Deliver solid customer service
Mike Falahee of Marygrove Awnings shares, "My main goal is to provide the best customer service. Doing so encourages people to spread the word about my company and drum up business. People talk about good service!"
Besides campaigns, marketers share other ways to get more reviews
Finally, we asked marketers to share one tip for encouraging customers to leave positive reviews, to help your own business implement these techniques. Three common themes emerged that cover most of the responses below: directly asking for reviews, ensuring customers are satisfied, and building trust through transparency.  Let's dive in.
Make sure your product/service and customer service are top-notch
Before asking for reviews or implementing any review generating campaign, make sure that your products or services are of optimum quality, and that your customer service is stellar. Your customers will only leave positive reviews if you've delivered exceptional customer service, so this should be the highest priority if you're looking to increase the number of positive reviews you receive.
Shares Alex Nerney of Create and Go,  "The best way to get more reviews is to provide an amazing service/product to your audience. If they don't want to review your product to begin with no amount of incentivizing will help."
Rusty Cochran of We Care Plumbing, Heating, Air, and Solar reports, "We encourage our employees to involve each customer in their servicing. When our techs arrive at their home, they focus on providing 5-star & timely service, which involves educating the customer on their situation and the remedy we're proposing. Once the job is done, the tech performs a clean & safety check. The tech verifies they met all customer expectations; if not, they go back & fix all issues until the client is completely satisfied. This is when the tech will ask for a review. We have a 6 step process to meet & exceed the expectations, from prep to wrap-up. We use the reviews to show future clients why they should use We Care and you can see examples of those readily available on any review site online. The customers love being empowered and share that experience with others, which leads to even more clients."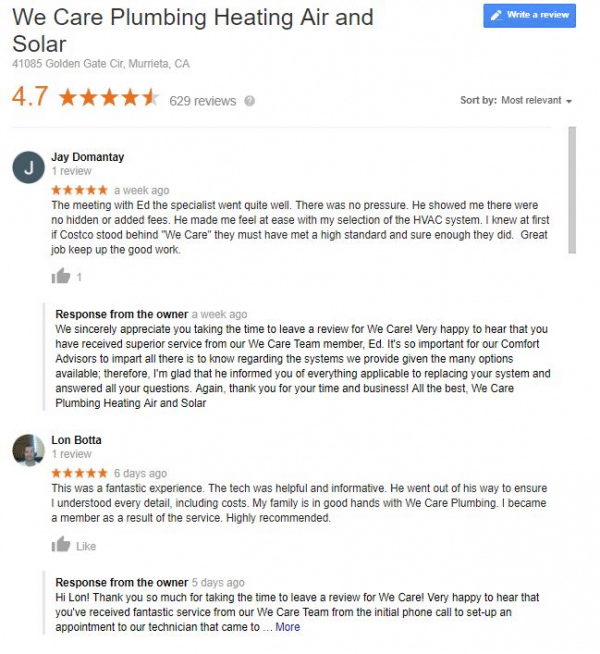 Reviews of We Care that highlight their thorough education process, provided by Cochran.
Mike Stewart from Mike Stewart Personal Real Estate Corporation says, "I like to call each client after the transaction is complete and they've moved in, which gives them a few days to settle in & discover anything they might have questions on. By calling them, I not only make myself available when other realtors are moving onto the next sale, but it also strengthens my commitment to service & mitigates any negative issues that might have been unknown. This typically leads to a positive review, which I then share on my website, which helps future sales. The reviews essentially become part of your Sales team."
Derek Hales from Modern Castle recommends, "Be authentically helpful all the time. We don't try to game the system. We don't try to spike reviews via a campaign or promotion. Instead, we simply try to create genuinely good and authentically honest and helpful content all the time. Our users respond to that content and leave positive, awesome reviews and feedback. In our view, that's more helpful and impactful than any type of artificially generated or campaigned review acquisition strategy."
Ask directly in emails
Don't be afraid to ask for reviews directly; many marketers do so via email. Jitesh Keswani of e-Intelligence shares, "I have discovered that the best way to gain reviews from consumers is to ask them to do so directly. We send a short and simple email, appreciating the business they give us, and prompting them to send a video review or just a regular old text review. Both of them should work well for traffic on your website. Your questions don't have to be related to your service alone – ask about their experience on your website as well."
Ask when you know customers are satisfied
However, for the best chance of positive reviews, time your requests so you ask when your customers are satisfied. An optimum time is right after they've made a purchase, or right after you've delivered optimum service.
Says Jon Parris from Gigi Pip and CityGro, "To optimize for positive reviews, combine review generation with customer service. Of course, if you don't have great customer service, you don't want to do this. Provided you go above and beyond to serve your customers, providing them an immediate way to share their appreciation is a fantastic way to get more and better reviews."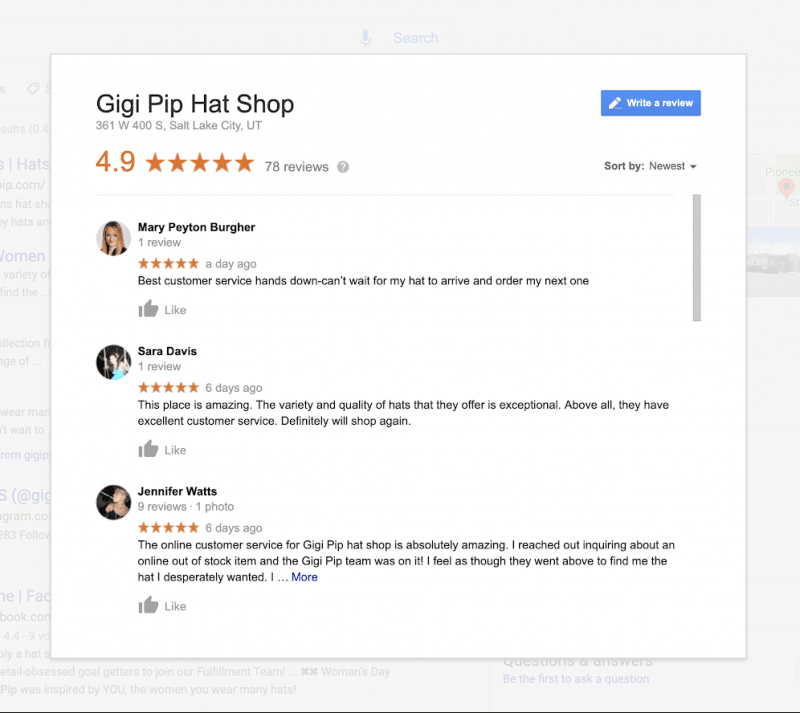 Service-focused reviews of Gigi Pip on Google Reviews, provided by Parrish
Jeremy Lawlor of Active Business Growth responds, "With our business, when we know our client is completely satisfied and it comes time to pay, we offer a 5% discount if they give us a review on the spot. Asking a happy client in person and only offering the discount if they give the review right then and there works almost 100% of the time. We've been able to rack up quite a substantial amount of online reviews just from this simple strategy alone."
Dave Carmany from Online Labels shares, "Present users with the opportunity to provide feedback while the shopping experience is fresh in their minds, it can offer your team some amazing insight. We've gained 15,000+ customer reviews by utilizing third-party programs, like Google Customer Reviews and Bizrate, that prompt users to take a quick survey at the end of the checkout process."
However, says Jake Lane of NuBrakes Mobile Brake Repair, you'll still need to educate your satisfied customers on the importance of reviews:  "Don't expect happy customers to automatically go and review you. Happy consumers rarely think about the impact of a review without you telling them how important it is. If you're a small company, explain that you're trying extremely hard to build recognition and it'd be great if they can help spread the word. If you're a larger company, create a review aggregation sequence that lets people join other happy customers by leaving a review."
Create a "review funnel"
Encourage positive reviews by only showing a review link to customers who say they are satisfied with their experience, through a "review funnel." Karen Weider of Weider Web Solutions explains the structure of a review funnel: " First, ask a customer how was their experience. If it was excellent, send them to a review site, if it was ok or poor then talk to them and fix the problem, then ask for the review. This also reduces the number of bad reviews because you catch the bad review before the customer gets the chance to put it online. In my review funnel, if they click 5/5 they are asked to leave a review, otherwise they are asked to contact me."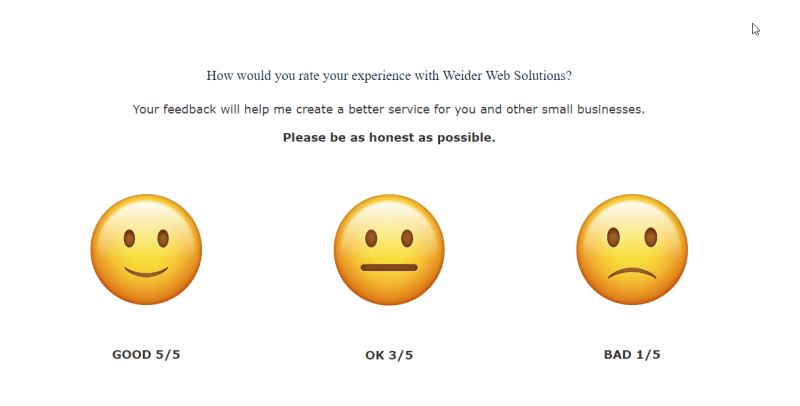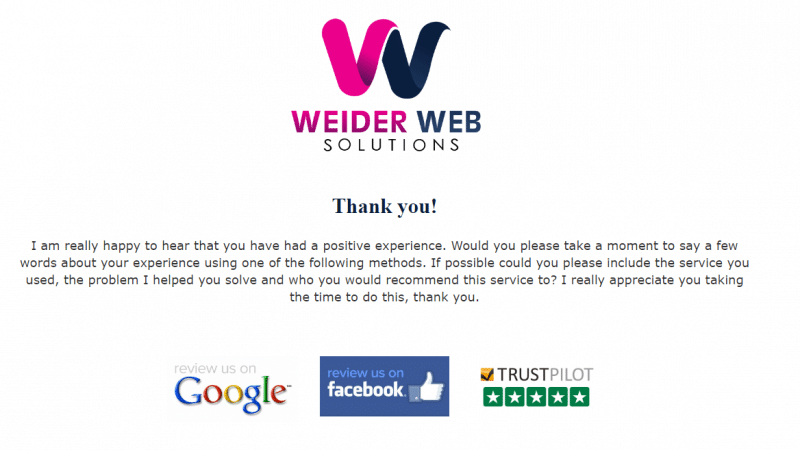 The Weider Web Services review funnel; only those who click 5/5 on the first screen see the review prompt on the second screen.
Use review software
Jeff Moriarty of Moriarty's Gem Art suggests, "Implement an automated solution. Our company used to email customers manually and ask them to review us. The process was constant, and the messaging we used in these requests changed depending on who was writing it. Finding a 3rd party automated solution allows the messaging and time to send to stay constant, plus you can do more testing to see the message or the time to send improves on the changes you make."
According to Bailey Hahn from Summit Digital Marketing, "Using review software helps increase your digital presence and your rankings for Organic Search results. We utilize Get More Reviews to retrieve customer reviews for our clients on all platforms: Facebook, Google, and any secondary review website. This software allows you to easily upload contact lists and immediately send review emails, or texts, or both. The customer can choose which platform they want to add a review/rating to, and Get More Reviews filters the negative reviews from the positive ones. We have seen this technique help many clients, and it has proven to be highly successful for SEO purposes."
Elaine Rose from ReviewInc says, "By asking your customers to review your company, you can engage your customers, and most times can learn more about your business and how to improve it. Manually doing this requires time, however with a comprehensive, easy-to-use software – your online reviews and online business reputation will improve."
"It certainly pays off to invest in a designated review acquisition service," shares Michael Anderson of GeoJango Maps. "Although a small percentage of customers will go out of their way to write you a review, most will never think of it after their purchase. However, if you have a review service that asks customers to leave a review, they'll be more likely to do so. Broadly is a good option for physical businesses that would benefit from Google, Yelp, and Facebook reviews. For E-Commerce companies that would like to feature reviews across their website, Okendo is a great option. These review services truly pay for themselves as they provide your company with numerous reviews that you otherwise would not have received."
Consider personalizing your email request
But review acquisition software is not always the best option, as a personalized touch can go a long way. Says Todd Minars, MD of Minars Dermatology, "I've learned that patients tend to review our practice if I ask them to do so personally in a follow-up email after their treatment, as opposed to impersonal requests from a mailing list or vendor. There's something uniquely special to a personalized email that achieves that request more effectively in our experience, so that tends to be our go-to method of procuring more and more reviews."
Ask when you ask for feedback
Brad Plothow from Womply recommends, "Every business needs to have a proactive feedback program in place to encourage customers to post reviews. The most direct way to get more reviews is simply to ask, but some review platforms discourage active review solicitation. If you're in the habit of asking your customers for feedback, they'll feel more engaged and be more willing to take the next step of posting their thoughts online"
Plothow goes on to offer statistics on the importance of reviews: "It's important to make encouraging reviews  a routine business process because, according to our analysis of review and revenue data for 210,000 businesses, companies that have 25 or more reviews in the last 90 days earn 109% more than average."
Create a review redirect site
Matt Casady from STOR-N-LOCK Self Storage suggests, "Invest in a vanity domain for your business: think like "ReviewBusinessName.com". You can set up that domain for cheap, and have the URL of that domain redirect to whatever review sites you want, and it looks more professional than asking someone to go to a bit.ly link. So, instead of your review handouts and signage telling people to go to a bit.ly link, have them go to your custom URL with a link that takes them right to your Google review page."
Build solid relationships with customers
"Identify where you fit into your customer's life, and act on that," says Gary McClung of Got Bugs? Termite & Pest Solutions. " If you're a service business, you want your employees to build a relationship with your customers. If a relationship is built, a customer is more likely to leave a review of that person than they are of the company. Rather than "Leave a review and receive a $10 credit", say "Leave a review of Jake and he'll receive $5." People may not be interested in taking the time to help your business, but they'll stop what they're doing to help a person they know."
Blythe Warwas of Art Unlimited also recommends asking your customers to recognize employees, if you offer a service:  "In your request for a review, ask them to recommend your team/employees rather than your company as a whole. People are more likely to take the time to write, 'Barbara was an amazing help and answered all my questions,' than 'X Company did a good job.' "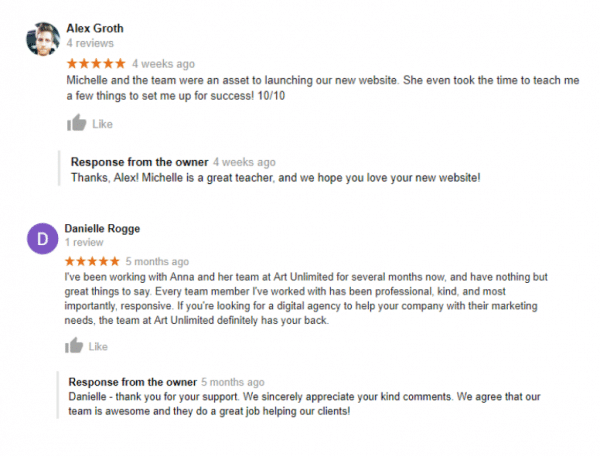 Examples of employee recognition in reviews, provided by Warwas
"Ultimately, customers are most likely to be open to leaving a review once you have established a relationship," says Nachum Balofsky from 1SEO I.T. Support & Digital Marketing. "People are usually pleased to offer good reviews once they have already received something in return, making the positive Google review a reciprocal gesture."
Build trust before you ask
"Earn trust before you ask for the review," says Chas Cooper of Rising Star Reviews. "Before you ask for that review, first ask the customer to rate your business privately. If they give a high rating, your job is done, so ask for the review. But if they give a lower rating, your job isn't done yet. Engage the customer to see if you can fix any problems or help them in some way that will make them happier with your business. Only after the job is truly done, then ask for the review. If you use this tip, not only will you get more reviews by asking EVERY customer for a review as soon as the job is done… but you'll also get reviews with higher star ratings, because you'll be making more customers happier."
Make sure your team knows the importance of reviews
Ensure that your employees understand how important reviews are to the success of your business, says Eric Schrader of Buzz Custom Fence: "Educate your team to integrate reviews into the customer journey. Software and tools help, but it requires the efforts of your sales and customer service team to understand the importance of reviews."
Leverage Google My Business
Take full advantage of Google My Business (here is a great Guide on Google My Business), the platform that offers the most visibility of reviews. Matt Erickson of National Positions recommends, "Make it simple. While asking a client to leave a review on Google, they still need to search for you on Google. Instead, find your GMB profile, locate and click the reviews, and grab the direct link. Google has simplified this process by providing a short link leading directly to your reviews section of your profile that provides an automatic prompt that makes it easier to leave a review. Using this link in a simple email or even in an SMS text will make asking and gathering that much easier."
Have a plan for dealing with negative reviews
How to respond to reviews when they're negative? Have a plan of action for dealing with negative feedback. It is imperative that you turn this feedback around quickly and transform it into a positive view.
Stewart J. Guss, Attorney At Law reports, "Reviews are often mentioned as one of the primary reasons a client chooses our law firm. What that means, however, is that MANY of our clients are aware of the power of a review – good or bad. For this reason, our client satisfaction team regularly monitors all major review sites for negative reviews. We find that often, if we immediately reach out to the client, the negative review turns out to be the result of a misunderstanding, or a short moment of frustration. By having our team constantly scouring the internet for negative reviews, we allow ourselves the opportunity to "strike while the iron is hot" in reacting to negative client experiences, and we are often able to turn them around. So, it is not just enough to monitor for bad reviews: I recommend you have a plan of action when they show up."
Harsha Reddy from SmallBizGenius.net says, "My one tip for driving more reviews is to have a clean Google My Business listing and to be responsive. Do not let bad reviews sit there without you trying to fix them. Without making excuses, make sure to acknowledge the response, thank the reviewer for their effort, and offer to fix the situation by inviting them back or apologizing sincerely."
Damien Buxton from Midas Creative advises, "Actively ask for reviews and follow them up. Don't be afraid of negative reviews, if handled correctly they can actually make your company look more human and that you care about customer satisfaction. Not responding to a review (good or bad) is never a good idea, it makes your company seem cold and uninterested in your customers."
Incentivize reviews
Even if customers love your products or services, they might still need a little "push" to review you, in the form of an incentive. Olga Mykhoparkina of Chanty shares, "We believe that delivering great products to people is key when it comes to collecting positive business reviews. However, even with the greatest product out there, you should incentivize your customers to leave reviews. Emails, product popups work well and they can work even better when combined with some kind of award: for example, a product discount."
"My biggest tip is to figure out a strategy to encourage or excite customers and viewers to leave reviews," shares Matthew Ross of The Slumber Yard. "Simply asking customers after the fact is not going to be enough. People are busy and naturally selfish. The majority of folks are not going to go out of their way to leave a review, even if they are satisfied with your product or service. As such, the key is to make it worthwhile for them, whether it's in the form of a future discount, a free product, a shoutout on social channels, etc."
Nathan Wade from  WealthFit recommends, "Google will prioritize business' websites that have the most and best reviews. If you haven't already, responding to Yelp reviews are going to be beneficial to your business. If you currently don't have reviews, then you can start encouraging your customer to write them through incentives like a small discount."
Recognition is another powerful incentive, says Joe Goldstein of Contractor Calls: "Taking screenshots of positive reviews and publishing them on your business's most popular social channel, along with a sincere and public thanks to the person who took the time to leave that review, is incredibly powerful. It shows your followers that you are receptive to their feedback and engaged with your customers. More importantly, it shows that their reviews matter. Including a link to your website's review page at the end of your post makes it even easier for other customers to contribute."
Be Transparent
Finally, Sean Tomalty, DMD of Tomalty Dental Care shares that transparency is vital in fostering positive reviews: "Our #1 tip to get reviews is to focus on transparency, while providing genuine & memorable service. Happy patients spread the word & to maximize their praise, we introduced a referral program that actually drives our new customer traffic from our existing base. By having these transparent "business discussions" with patients, we're able to include them in our success, and we've seen many of them, both new and old, are more receptive to leave reviews. We then post these on our site for all to see, as we have a menu heading that is titled "Write and Read our Reviews" and it links out directly to the review platforms we're on. No matter what the reviewers say about us, again in the grain of transparency, we want to make sure prospective patients can locate those channels and collections with ease."
Key takeaways
Encouraging, monitoring, and responding to online reviews is crucial to your business success.
Don't be afraid to ask for reviews directly. The majority of marketers use emails to request reviews. Many marketers use review request services for the "ask," but a personal email can also go a long way.
But before you ask, be sure your customers are satisfied. Ask for a review shortly after a purchase, or after they've explicitly shared their satisfaction.
Choose the right tools to actively monitor online reviews and social media posts about your brand.
Respond to reviews quickly, no matter their sentiment. Have a plan for responding to negative reviews – don't just ignore them. Resolving a pain point quickly can turn a negative review into a positive.
Be transparent and build trusted relationships with customers.