Looking for new ways to grow your customer base? Don't forget about wowing the customers you already have, to generate word-of-mouth marketing.  Think of the last time you recommended your favorite restaurant, clothing item, or other product to a friend. You probably shared because you loved your experience. The same goes for your company – when customers are wowed by your business, they naturally want to spread the good word.
This excitement to share is what drives word-of-mouth marketing (also called WOM marketing, WOMM, or word-of-mouth advertising). And this sharing leads to new customers, because the people who hear your customers' word of mouth highly trust the word of their peers. So, word-of-mouth marketing could be your secret weapon for growth – especially because it often happens for free.
Athough word-of-mouth marketing depends on your customers and fans, it's not out of your control. There are many ways to further your word-of-mouth marketing strategy. Below, we cover everything about the power of word of mouth, from what sets word of mouth apart from all other types of marketing to how you can harness word-of-mouth marketing to scale your own business.
What is word-of-mouth marketing?
Word-of-mouth marketing (WOM marketing) occurs when people talk to others about your brand, products, or services, via any medium. It also includes any actions your business takes to encourage people to share their experiences with your brand and recommend others on your behalf. This results in free, or nearly free, advertising for your brand.
Some common forms of word-of-mouth marketing are reviews, social media shares, and referrals.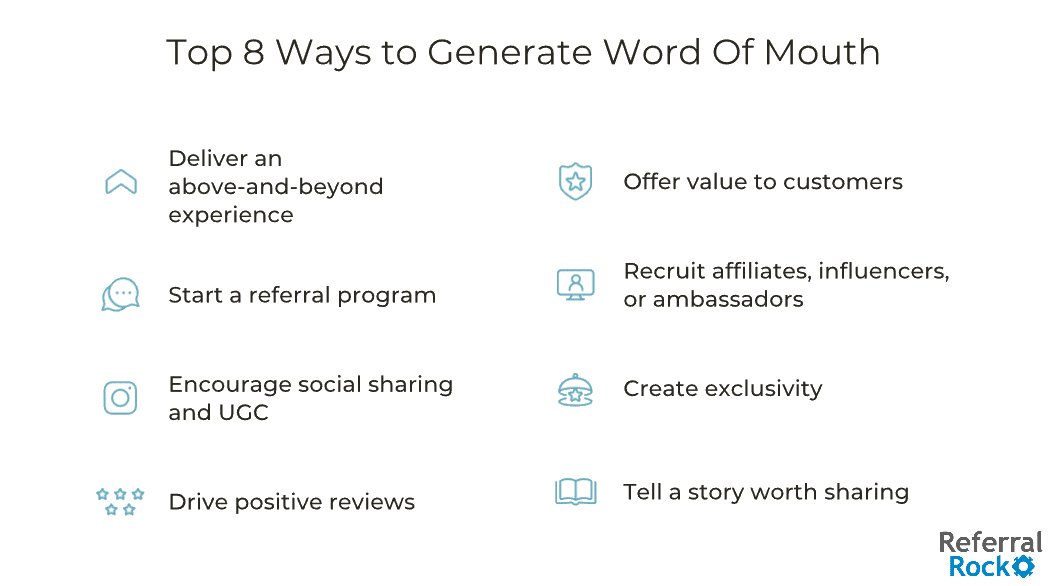 What prompts word-of-mouth marketing?
Usually, word of mouth is prompted by an above-and-beyond positive experience someone has had with your brand. Think about the last time you ate an amazing dinner out, or tried a cool new product that easily solved one of your problems. You probably couldn't help but share this standout experience with your friends.
Why is word-of-mouth marketing so important?
Word-of-mouth marketing stands out because of its high level of trust.
Why do people trust word of mouth?
Usually, word-of-mouth recommendations come from friends, family members, and others within someone's close circles. When someone sees a friend or family member raving about a particular brand, they're much more likely to buy. That's because peer recommendations are seen as especially valuable.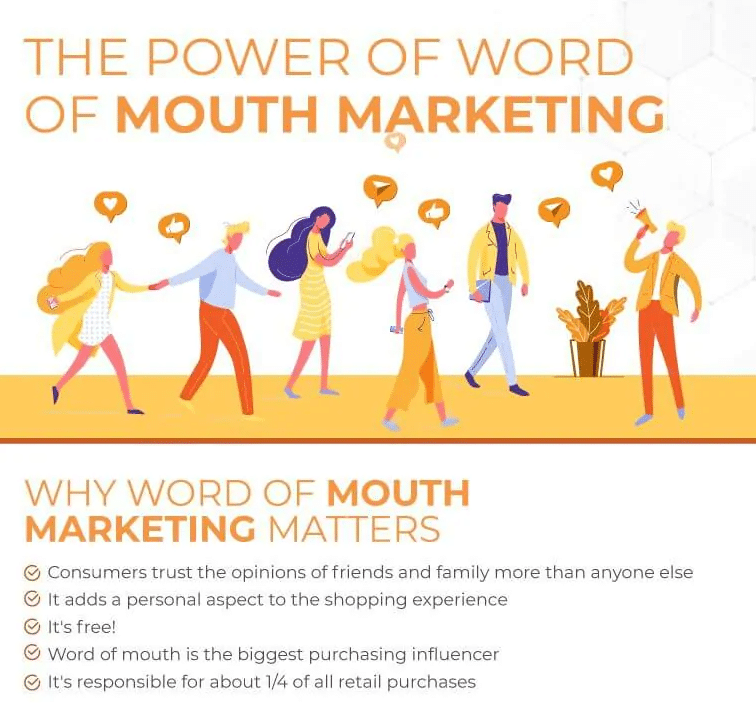 Word-of-mouth marketing benefits
According to a Nielsen report, 92% of people trust word of mouth referrals from those they know, more than they trust all other forms of advertising.
Word-of-mouth marketing means your customers and other fans are essentially doing the marketing for you, at little to no cost to your business! They are promoting straight to their network, usually in person or on social media. This makes word of mouth not only cost-effective, but highly valuable.
Plus, thanks to social media, what someone shares can reach millions in mere seconds. And word of mouth doesn't just stop after one interaction – one person will tell another, and another, and so on. With every share, repost, or retweet, word-of-mouth marketing carries the potential for exponential growth.
All this happens at a very low cost to your business – often, for free.