As intelligent, strategic, and awesomely interesting as you might be, you are still influenced by different people who impact your thought processes, mannerisms, and day-to-day lives.
This is true for all walks of life, and especially true within business and marketing. We should be proud of how we work, think, and what we produce. But no one should be too stubborn and unwilling to hear the thoughts, opinions, and stories of others. It helps in developing your own personal capabilities.
Fortunately, there are many successful business people to learn from. They have established themselves and gone on to create a platform where they document their processes and talk about what led to their achievements. It coincides with building their own personal brand. This ultimately has powerful outreach potential. Not to mention, creates authority and therefore, influence over a specific audience.
These influencers hold their effects through a number of different reasons. Firstly, based on the reputation of what they have done before. From there it is a combination of the quality and the value of their content, along with the number of followers they have through all channels.
Within the B2B Marketing sector, there are many successful entrepreneurs and creatives who are giving back and enhancing their profile with genuinely useful information and narratives. Therefore, shaping you into a better-rounded B2B marketer. Whether that means those who are just starting out or those who are emerging.
Below is the list of ten key influencers who are followed by every B2B marketer – follow them and you too may learn a few good B2B lead generation strategies and possibly convince you to start a B2B referral program.
10 B2B marketing influencers you must follow
1. Gary Vaynerchuk
Twitter: @garyvee, Followers: 1.64M
Gary Vaynerchuk started off as a wine critic. He took his family's wine business from $3 million to $60 million. He is now well-known and followed serial entrepreneur delivering hard-hitting business truths.
Gary is the CEO and co-founder of VaynerSports and VaynerMedia. Which is a full-service digital agency. It services Fortune 500 clients across the company's 4 locations. He is also a 4-time New York Times best-selling author. Gary has also invested in Twitter, Snapchat, Tumblr, Uber, and Venmo. Because of this, he is a sought-after public speaker. He often discusses his work and expertise in social media and digital marketing.
2. Joes Comm
Twitter: @joelcomm, Followers: 912K
Joel is a well-known B2B sales influencer. He's not only an American author. He's an internet marketer and CEO of a social media consulting company known as Infomedia.
Joel started his career as a radio personality. He then began getting revenues from his internet business ventures. In 2007, he hosted an online reality show named "The Next Internet Millionaire." The show helped him in becoming a demanded speaker and a brand consultant for both large and small B2B organizations.  As a keynote speaker, he was also awarded as a New York Times best-selling author. His expertise includes live video marketing.
3. Rand Fishkin
Twitter: @randfish, Followers: 401K
Rand Fishkin is well-known because he is the co-founder, CEO and "Wizard" of MOZ. Moz happens to be one of the world's fastest growing software companies. Most marketers know of the company because it is a key tool in marketing. The tool focuses on analytics,  SEO, social media, content marketing, inbound marketing, and link building.
Rand holds expertize in search engine marketing and optimization. Along with internet marketing, startups, web apps, social media marketing, and small business leadership. All which makes him a great influencer to follow. He tweets often on topics like marketing, SEO, and startups. He provides deep and detailed insights on SEO, content marketing, and technology. Thus making complicated concepts digestible for the everyday B2B marketer.
4. Neil Patel
Twitter: @neilpatel, Followers: 282K
Neil Patel is better known as the co-founder of KISSmetrics, Hello Bar, and Crazy Egg. To top it off, he is a frequent columnist for Forbes, Inc, Entrepreneur, Huffington Post, and more.
He helps companies like Amazon, NBC, HP, and Viacom, advising them on the development and generating revenue. His personal blog and guest blog posts are well-received across the industry. From content marketing to sales, he always provides transparency and data-driven insight. Forbes has ranked Neil Patel as one of the top-ten digital marketers. Specializing in search engine optimization, internet marketing, conversion optimization, and growth hacking.
5. Jay Baer
Twitter: @jaybaer, Followers: 261K
Jay is a man best-known for his book Youtility. He is a best-selling author of five books by the New York Times. He is the founder of five multi-million dollar companies. Jay has worked with more than 700 companies, including 35 of the Fortune 500 companies.
He's an inductee into the word-of-mouth marketing hall of fame and has been a winner of America's best marketing podcast. He is an expert in digital marketing and online customer service. His teachings often include topics like how to gain more customers. He also covers how to keep the customers you've already earned. Jay is an active angel investor and startup adviser. He is a must-follow personality for all B2B marketers.
6. Hiten Shah
Twitter: @hnshah, Followers: 225K
Hiten is another co-founder of KISSmetrics and Crazy Egg. At present, he is involved with Quick Sprout and Product Habits. He, along with Neil Patel, has always worked to maximize the potential of the projects he builds. He is an investor and an active advisor for startups.
Hiten, a publisher of SaaS Weekly, producing and curating a ton of insightful content. On topics like branding, SaaS marketing, and B2B. If you're a B2B marketer, you should subscribe to his weekly newsletter.
7. Avinash Kaushik
Twitter: @avinash, Followers: 189K
Avinash is a well-known digital marketing evangelist at Google. He's an author, a blogger, a web data analyst, and a great keynote speaker at B2B Marketing Forum. With so many strings to his bow, he never fails to blow the audience away with his thinking and ideas about the sales funnel. He is also known as the co-founder of Market Motive, Inc., which offers web-based courses and training for sales and marketing representatives in social media, web analytics, and SEO.
Be sure to check out his Twitter. His tweets are informative, entertaining, and original. Often revolving around B2B marketing, as well as how to leverage data to reinvent digital existence. Visit his website for articles, marketing podcasts, and web analytics videos.
8. Jeff Bullas
Twitter: @jeffbullas, Followers: 563K
Jeff Bullas is one of the top ten social media influencers, according to Forbes. He is the CEO at Jeffbullas.com, which receives over 5 million visitors a year. He is well-known for a variety of reasons: being a bestselling author and keynote speaker, as well as a content influencer, a digital entrepreneur, blogger, and of course, a digital strategist. He was awarded and recognized by social media examiner in 2013.
9. Ann Handley
Twitter: @MarketingProfs, Followers: 426K
Ann Handley is better known as head of content at MarketingProfs, a company that empowers marketers to drive success at their companies.
Ann is the world's first Chief Content Officer. She speaks and writes about how you can rethink the way your business markets. She's known as the author of the Wall Street Journal bestseller, Everybody Writes. She's a speaker, author, and member of the LinkedIn Influencer program.
Ann is an innovator and leader in digital marketing. She holds the position of CEO of ClickZ.com, one of the first sources of digital marketing news and commentary.
10. Jeff Sheehan
Twitter: @jeffsheehan, Followers: 363K
Jeff Sheehan defines himself as many things, including a technology futurist, influencer, keynote speaker, B2B sales and marketing professional, social selling trainer, LinkedIn and Twitter marketing expert, podcaster, and volunteer.
Jeff has worked with companies of all kinds and sizes namely Intel, Apple Computer, Cisco Systems, IBM, Hewlett-Packard, Dell, AT&T, Exxon, BASF, Dart & Kraft, and Nordson, to name a few, along with as many small and midsize businesses. His specialties include business development, account strategy and proposal development, contract negotiations, P&L, growing key accounts, increasing market share, hiring/coaching/developing high-performance staff, building and managing high-performance cross-functional teams, and more.
Conclusion
Now that you know who to follow for all your B2B needs, you'll have a ton of necessary tools and B2B marketing strategies at your fingertips. If you still need some more data on the industry, here are some B2B marketing statistics that can help inform your strategy.
About the Contributor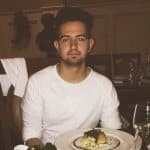 Anthony Musker is a digital marketer and content writer at
Whoisvisiting.com
. He implements the marketing activities including email, social, and SEO. He has various experience in sales and marketing teams, working for start-up companies and in the PR industry.