Last Updated on
21

minutes to read
B2B lead generation is the process of collecting information from interested potential buyers of your product or service, such as their name and company name, email, phone number, and business address. This information is used to qualify leads, or determine if they're a good fit for your business, and later to make sales to the leads that are qualified.
Lead generation is vital to the success of any B2B marketing strategy (don't believe us here are some B2B referral marketing statistics), but how can you ensure that you have a steady flow of leads for whom your product or service is a good fit? The exact processes that work best for your business will vary, based on your industry and target audience. However, several important steps stay the same—meeting potential leads where they are, establishing reliable authority, and crafting optimized lead capture forms and pages.
Let's examine top strategies to generate leads in B2B Marketing. We'll cover best practices for designing lead capture forms and landing pages themselves, as well as crucial trust-building techniques that will convince your potential customers to become leads.
The Lead Capture Process
First, you'll need to focus on optimizing your lead capture process (a good lead generation software may help). Determine how you'll format your lead capture form, design your landing pages, and direct potential leads to the landing page.
Designing The Lead Capture Form
Your lead capture form is at the center of your lead generation playbook because it's where the majority of your potential customers formally become your leads. To optimize your lead capture form, follow these best practices:
How many form fields to include? Strike a balance. Your form should be long enough to weed out buyers who are not qualified, but not so long that it overwhelms otherwise interested leads.
 If your form is too short, you might end up capturing information from decision-makers who aren't genuinely interested in you, or whose businesses aren't a good fit for your company.
But if your form is too long, you risk losing out on valuable leads, as people are likely to abandon the form.
So, find a middle ground, and only ask for the information you need to qualify leads.
The buyer's name and job title, company name, and work email are the obvious priorities to ask for in a form.
 Also, consider asking them for their work phone number, their industry, their business location, and the size of their company.
The company website is another helpful piece you can ask for to qualify a business. However, you can always wait to ask for this information until later in the process.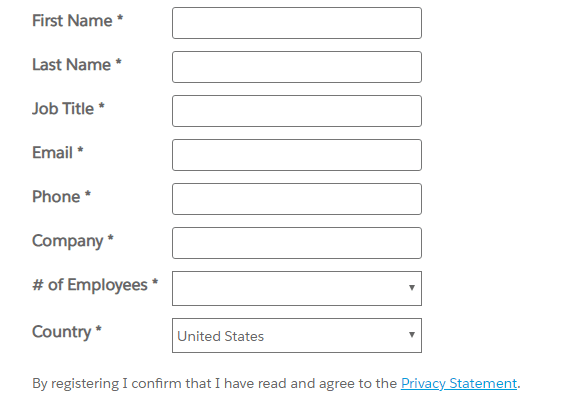 An example of a lead form from the Salesforce website.
Consider including qualifying questions on your form.
These are either drop-down or open-ended questions to help you further determine whether a lead's company and situation mesh with your typical buyer profile.
The most common qualifying questions briefly ask leads about their goals or challenges that they face in their role, so you can determine if your solution will meet their needs (and if they are likely a stakeholder in a business' decision to buy your software).
Your first priority, though, should be not to overwhelm the buyer. Leave questions like this out if your form already seems too long.
Hubspot's example of qualifying questions.
Finally, include a submission button with a clear call-to-action.
The button should stand out—use a color that draws in the eye but meshes with the page's color scheme.
The call-to-action text should communicate what you want leads to do. It could simply say "submit," but could say "get my free ebook," "sign up" (for a webinar, email newsletter, etc.), or something else.
Your Landing Pages
Your lead capture form will usually be placed on a landing page—a page dedicated to convincing visitors to leave their contact information, by concisely explaining what you have to offer.
Don't limit yourself to one landing page, though. You should ideally have multiple landing pages that speak to specific needs and desires of different buyer personas, at multiple stages of the sales funnel. Or, if you market to multiple business types, design a landing page for each type of business.
The exact content each landing page holds will depend on the goals and needs of the stakeholders you're targeting, and what stage of the buying journey they're in, but these best practices apply no matter what your landing page holds.
Firstly, what is the specific goal of your landing page—beyond capturing leads' contact information?
Do you want the lead to sign up for a course or webinar?
Download an ebook or whitepaper?
Fill out a detailed lead form, including qualifying questions?
Consent to a demo, personalized sales call, or other inbound sales conversation?
Use a concise header to state your call-to-action. Your header should draw in buyers' eyes and serve one or both of these purposes, in a single sentence or less:
Communicate what you want stakeholders to do (sign up, get the ebook, learn more, etc.)
State one or more benefits of your product or service
Your landing page's layout should be clean and uncluttered.
Concisely explain the benefits of using your product or service, or of registering for your ebook or webinar.
Show how the product/service will meet the buyer's specific needs.
Listing out benefits in a series of bullet points or images works well.
An explanatory video can help you cover more details about your product/service without cluttering your page with text.
Place the lead form "above the fold."
In other words, your lead form should be accessible before website users need to scroll down on the page.
Ideally, it should be placed next to the value proposition (the concise statement of your benefits), so it doesn't overwhelm the visitor. The prospective lead should be able to digest the benefits of leaving their contact information.
Use trust-building techniques.
Buyers trust the opinions and perspectives of their peers, so consider including short customer reviews and testimonials.
List companies who use your products or services, especially if they're recognizable to most
Also, think about including short statistical points, either about your own product, or general benefits of using your type of product or service.
What should you not include? A navigation bar or link back to your homepage.
If prospective leads are easily able to navigate away from the landing page, there's less of a chance that they'll complete the lead form.
 Ideally, the only button you should include on your landing page should be the one to complete the action.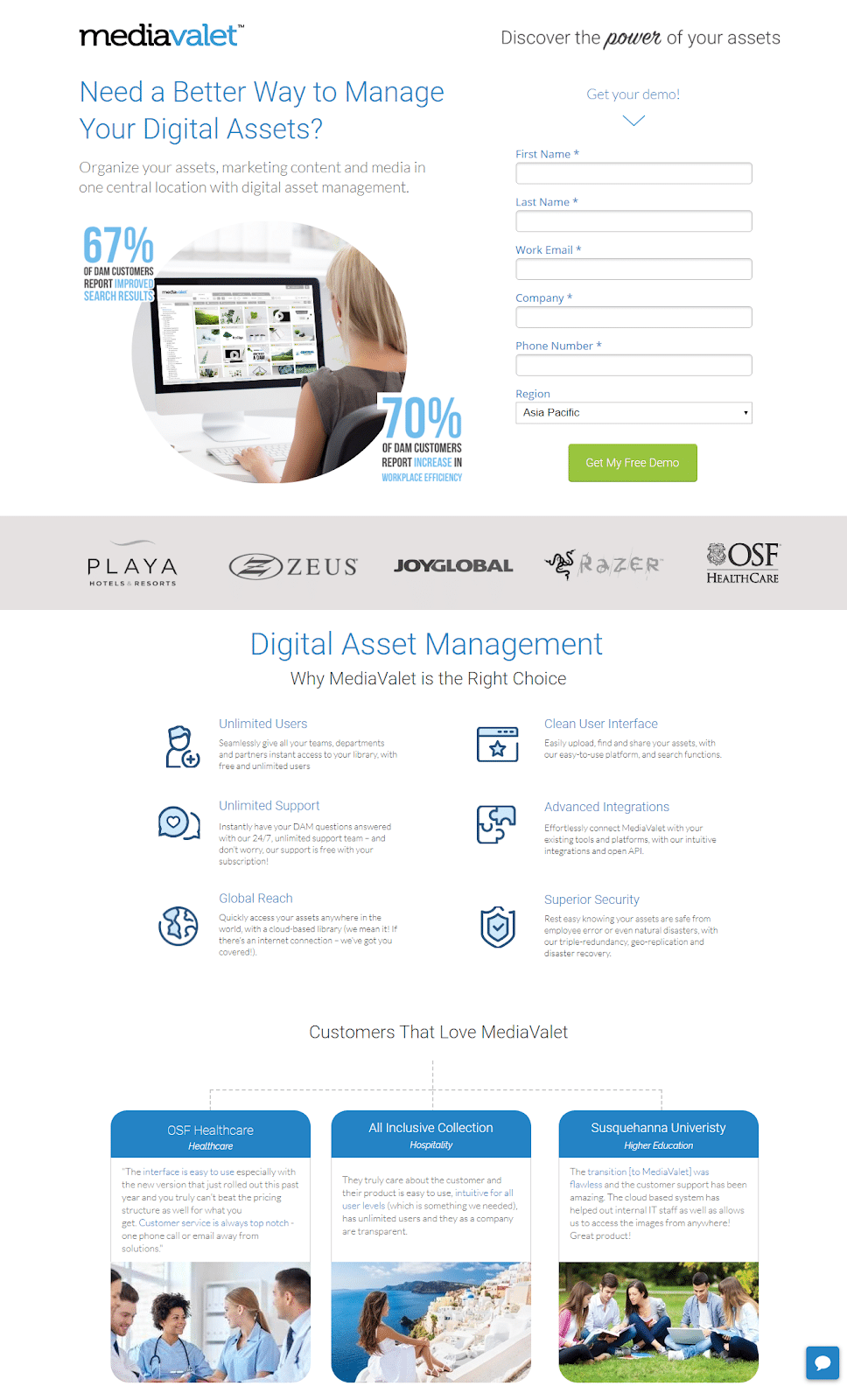 MediaValet offers a solid example of a landing page, meeting several best practices:
Concise lead capture form, to the right of clear call-to-action and hero image
Listing of features divided into several short sections with images
List of companies who use the service
Uncluttered layout
Review and testimonial section
No link back to the homepage
Directing Visitors To Your Landing Page
Of course, you'll also have to figure out the way or ways that you'll send potential buyers to your landing pages. Just like the landing page itself, the methods you choose should be tailored to meet buyers where they are, both location-wise and on their journey towards a purchase
Offering an ebook, data report, or whitepaper for free: You've probably seen this B2B lead generation technique on other websites—after reading a webpage for a bit, you see a pop-up offering a free ebook, data report, or whitepaper. Consider using this technique for your own purposes. Craft an ebook or another downloadable document that's packed with useful information, then offer the freebie at relevant points on your website through a pop-up. This pop-up should take visitors to a dedicated landing page that instructs them to fill out a lead form in order to access the free item. Be sure to apply the landing page best practices listed above, and play up the idea that the informational piece is free.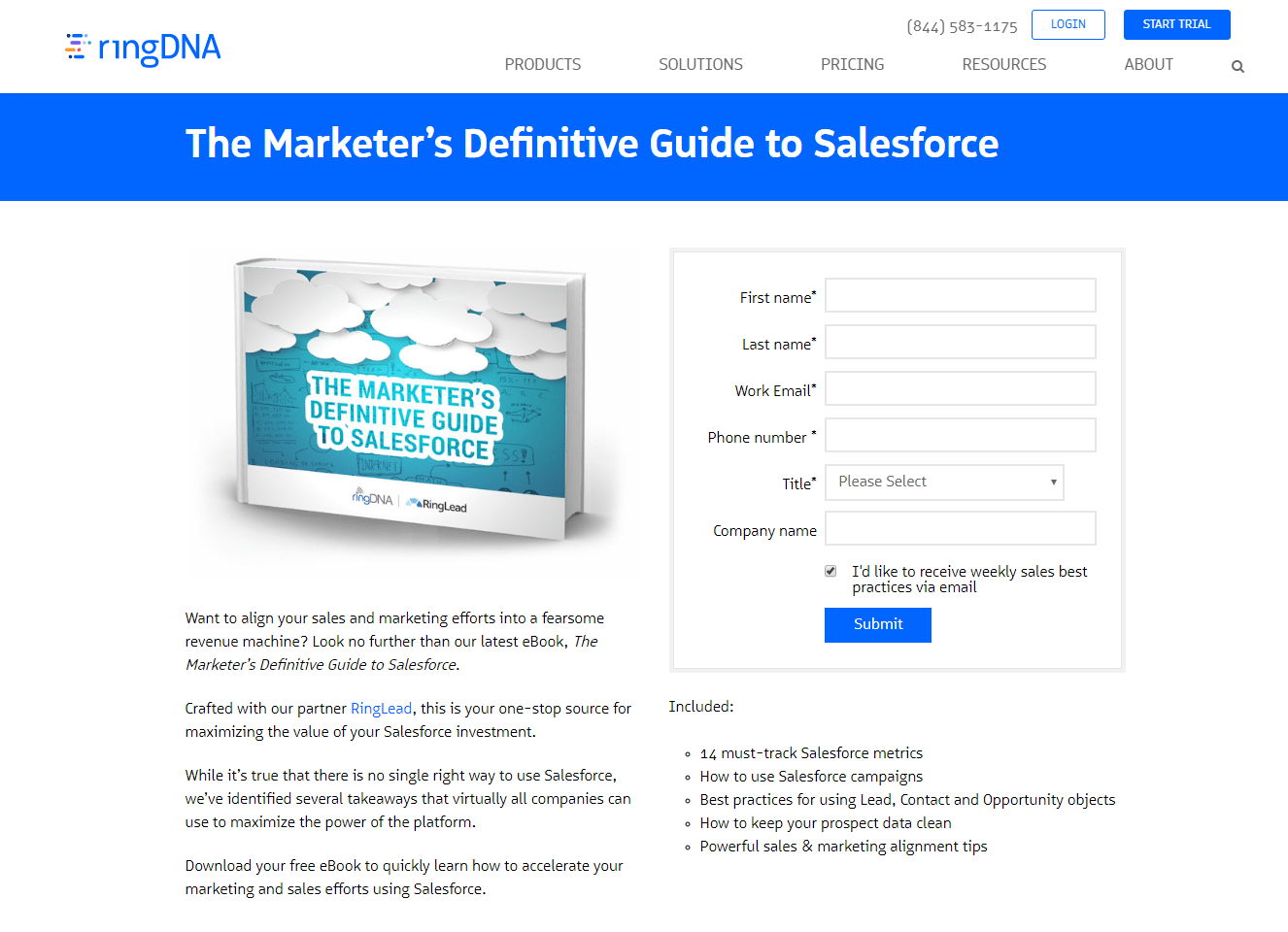 RingDNA generates leads with their free guide to Salesforce.
Prompts within blog content: Compelling blog posts, filled with useful information on a topic in your niche, are another reliable place to direct potential buyers to a lead capture form.
 Whereas the ebook lead capture offer above presents a useful but gated informational tool in exchange for entering contact details, this strategy offers useful information first, then encourages users to visit a landing page if they like what they see.
You can place a call-to-action, with a link to your landing page, basically anywhere in the content as long as it's relevant. Place it at the top of a post, right after the conclusion, or somewhere inline (tucked within the middle of the content.)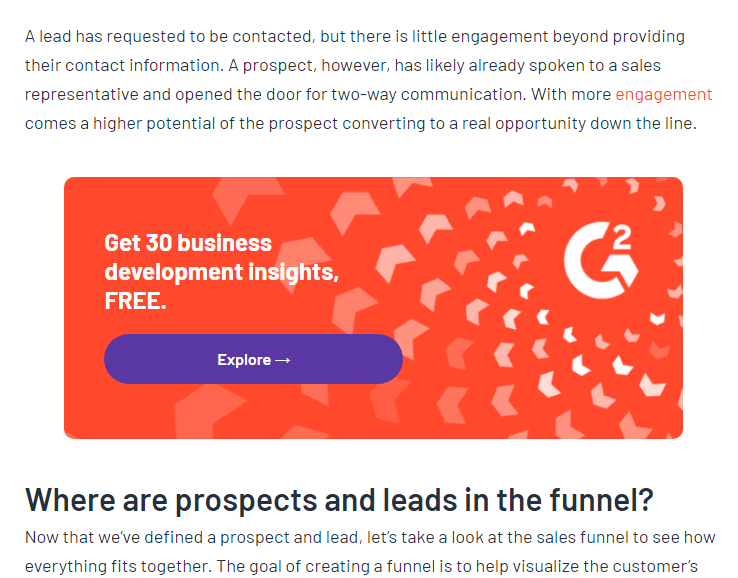 An example of how an inline prompt might look, as illustrated by G2.
Webinars: Offering a webinar to discuss a topic in your niche is an awesome way to share your expertise—and generate a large amount of leads who are likely interested in what you have to offer.
 A GoToWebinar study reports that 73% of B2B marketers and salespeople believe webinars are the best way to obtain quality leads.
Webinars allow for direct interaction with potential leads and let you answer their questions in real-time. This is an optimal way to build trust and establish your authority.
Advertise your webinar via notices on your homepage, pop-ups, and social media posts. These ads should direct interested decision-makers to a dedicated landing page that details what you'll cover in the webinar, and contains that all-important lead form.
Paid ads: Paid ads are perhaps the most common way to direct people to your landing page. However, you'll need to practice careful targeting to make sure that relevant buyers see your ad (and you don't waste money "targeting" people whose companies and situations don't mesh with your target audience).
For the right price, your business can place a relevant ad for your business at the top of a search results page for a given keyword. You'll pay a set amount every time someone clicks on it. But select your keywords carefully. If you plan to run these search engine ads, determine the main keywords that your buyers search for when researching products or services in your niche, and only bid on those relevant keywords. (For example, NPS software company AskNicely targets keywords like "NPS survey" and "NPS software.")
Facebook or LinkedIn ads are also effective options, as long as you play your cards right.  58% of B2B  marketers in a Regalix study report that Facebook and LinkedIn deliver the highest ROI among social media platforms when it comes to ads. Take full advantage of the wealth of available targeting settings, especially if you use Facebook (where you can hyper-target decision-makers by demographics and browsing habits).  And consider including powerful reviews and statistics about your company
But don't forget retargeting ads, as they are specifically aimed at buyers who have expressed some interest in you. Retargeting ads show up only for people who have previously visited your website and seem to "follow" that person as they browse the web. This is a great way to ensure that buyers who have already investigated your brand keep you in mind—and thus increases the odds that they'll come back to your website and become a lead.
Building Trust and Authority
Before they give out their information to your business, prospective leads conduct large amounts of research to find tools that will meet their needs and solve their problems. And with the ability to find answers instantly thanks to the internet, the ball is truly in the buyer's court. Gone are the days of cold calls and emails—buyers expect to initiate contact themselves, and don't want information forced on them. Instead, buyers compare solutions carefully and limit their contact with sellers. They will only leave their information with you, and thus initiate sales conversations,  if your business is on their list of potential solutions.
So, a key component of B2B lead generation is building trust and helping potential customers find the information they need. B2B marketing influencers may help you establish trust in this aspect. Once a buyer trusts you and sees you as a reliable authority, they're much more likely to turn to your solution. Top trust-building techniques include careful website design,  content creation, SEO, referral programs, and more.
A Top-Quality Website
Before they decide to give your information to your human salespeople, your potential leads are repeatedly consulting your first "salesperson" —your website. So, your website must look professional, be easy to navigate, and clearly inform buyers of your benefits, to establish the authority of your business.
Follow these best practices for designing a website to generate leads:
Make sure your website loads quickly—in less than three seconds.
Otherwise, you'll lose your shot at leads who choose not to wait and just click away.
If a webpage takes over three seconds to load, 40% of buyers will outright leave the site before they've even seen the first page in full.
Optimize your website for mobile.
If your website doesn't work equally well on smartphones and other mobile devices as it does on desktop, you'll lose out on the numerous potential leads who do their research on mobile.  According to Swiftcloud, more than half of B2B-related online searches happen on smartphones!
60% of B2B buyers report that "mobile played a significant role in a recent purchase," and around 42% make purchases on mobile, both at work and at home.
And without a mobile-optimized site, you might even lose out on desktop leads as well, since Google prioritizes mobile-friendly websites in SEO rankings.
Use SEO to optimize your website, so it ranks highly on Google when buyers search for relevant keywords.
 After all, high-quality website design won't do you any good if decision-makers consistently find your competitors long before they can find you.
Optimize for keywords that describe your business and its products or services, and for keywords that your buyers are likely to search for at different points in their journey.
And motivate your buyers to take action!
Create clear calls-to-action and value propositions, especially when directing visitors to a landing page. Prospective clients won't take action if they don't know why they should become your leads (and eventually purchase from you).
Make sure buyers can easily find and understand the features that your product or service offers, and how you set yourself apart from your competitors.
Content Marketing
Content marketing is a vital way to establish your expertise in a niche, and build leads in the process. The Marketing Blender reports that 80% of B2B decision-makers prefer to gather information about a company from articles, over information from ads   So, if you aren't creating informative content in your niche, it's high time that you create some, as it will pay dividends.
Just make sure that the content is relevant— that it speaks to the needs of the buyer. Pieces of content must give the buyer answers that they are actively seeking at different points of their journey, and through the channels, they frequent most. Don't constantly sing the praises of your company (if a piece does this, it's practically the ad that the buyers don't want).
Also, remember that a single B2B purchase involves multiple buyers. Each of these buyers has distinct points of view, shaped by:
Their distinct position, including the priorities they hold in the position
The knowledge they have and seek to gain
The goals they hope to accomplish through a purchase
The challenges of their role and their pain points
The obstacles (concrete and in the mind) that might impede them from making a purchase
How can you speak to each of these buyers in their positions, and deliver the specific information they're searching for, through different pieces of content?
Let's go over the main channels for creating authoritative content for B2B lead generation.
Text-based content is the most popular option.
Write informative blog posts on general and specific topics buyers are searching for. Be sure to optimize them for SEO, and include links to landing pages in your best content!
Create "roundups:" surveys and compilations of insights from other marketers and salespeople, on topics related to your niche.
Compile ebooks and whitepapers.
Assemble a "hub" or "microsite." This is a version of your website targeted towards a specific topic, where buyers can access all of your content on that topic. Since it's so targeted and has plenty of links, it will help your SEO (increasing your volume of potential leads) and build trust at the same time (making those buyers more likely to convert).
Blog on LinkedIn or Medium; guest blog on a related but non-competing website where your niche content fits well; and/or answer questions on Quora.

These avenues let you share information on a "neutral" ground (an easy trust-builder) and become a thought leader, while still including links to your website. The information you share on these sites will encourage buyers to seek you out and leave their contact info if they think you can help solve their problem.

Offer an informative, regular email newsletter. This is a quick way to gather emails of people who are interested in your insights and build trust (which can lead these people to consider your product and give you more comprehensive information about them).
But visual content is easiest to digest. So in a way, it's easier to build trust through this type of content.
Images are awesome for communicating statistics, testimonials, and smaller bites of information.
Infographics and slide decks work well for presenting several ideas at once, in the same visual, simple-to-grasp package.
Also, consider using videos for education on particular topics—you can always repurpose your most popular blog posts' content into videos.
Images and videos can serve as enriching complements to the text in your blog posts—and also works well as "standalone" content in social media posts.

A B2B infographic on pitfalls of bad customer service, created by Column Five and Get Satisfaction.
And be sure to post a wealth of valuable content, in all mediums, on social media. It's an awesome avenue for B2B lead generation—75% of B2B buyers use social media to support their purchase decision. Just be sure to choose the platforms that buyers frequent most.
Reviews and Customer Stories
Set your business up to gain reviews from third-party sites.
Third-party review sites aren't just for B2C businesses—they're a rich source for generating qualified B2B leads (who are actively looking for a solution like yours, and making direct comparisons between you and your competitors).
According to Avangate, "77% of B2B buyers conduct their own research before talking to salespeople," and "buyers who consulted online reviews during the software selection process were ultimately more satisfied with their purchases." Clearly, buyers are turning to review sites before they visit your own website.
 So, make reviews part of your lead generation flow. Find and become familiar with relevant review sites, and equip your loyal clients to leave reviews there. For example, if you sell software, you'll want to encourage satisfied customers to review you on G2 and Capterra.
Regardless of your niche, set up a Google My Business profile to connect Google Reviews, the most visible review source (which will also help your business increase its Google Search rankings).

An example of a Capterra review of Referral Rock.
Then, on your website, use the best of these reviews to make potential leads more likely to trust you:
Dedicate a review page, a portion of your homepage, or both, to customer reviews, testimonials, and stories.

Your buyers trust the recommendations of other people far more than they trust any message that comes directly from your brand.
Create a rotating carousel of your most compelling reviews, to include more testimonials without cluttering a page.

And think outside the short, text-based review box.

If possible, invite your top reviewers and most successful users to participate in a compilation video, where each gives a short testimonial of why they love your brand.
Consider letting customers tell their own long-form stories of how your brand has helped your business, either in text or video format.
Or, compile case studies yourself, covering your most successful brand clients.
Add a Human Touch
Aim to generate leads through human, personal connection, both inside and outside the lead form model.
Event marketing is one of the most well-known, classic methods for B2B lead generation.
Attending a tradeshow is the perfect way to place your brand in front of many eyes, and interact with potential leads in person (several of whom will likely leave their contact info on the spot).
So is networking at, or even speaking at, a niche conference.
And don't discount live chat widgets to generate leads.
Live chat, when it clearly indicates that a customer support person is on the other end, lets buyers know they can ask questions in real-time.
This personalized touch shows the service level they will receive if and when they become your buyers.
We mentioned webinars above as a way to generate leads directly (through a dedicated landing page), but they're worth listing again, because of how easily they let you build authority through informative content and direct networking.
Center your webinar around the needs of your target audience. Choose a topic that lets you answer common questions, or solve common problems, B2B decision-makers have.
Or, piggyback off of trending topics in your industry, based on what you find in social media posts and industry journals.
Format your webinar as a Q and A, a panel, an avenue to share exclusive information, or a way to solve pain points.
Start a Referral Program
Your prospective clients listen to, and trust, peers who have already had a positive experience with you, far more than they believe ads and other messages that come straight from your business. Given this, it's no surprise that B2B referral programs are one of the strongest methods of B2B lead generation.
B2B referral programs use the direct recommendations of your existing clients to generate new leads, who are highly likely to purchase from you. It's high time to leverage your existing clients to bring in new leads.
84% of B2B buyers start their purchasing process with a referral, and referred leads take less time to close than other leads. These leads are 4 times more likely to purchase than leads who weren't referred by a friend.
B2B referral programs are so effective because they make it easier for a business to share your product or service with other decision-makers.
 They streamline the sharing process by letting clients share via the channels they use every day, in just a few clicks.
These programs also incentivize sharing, with enticing rewards for the client if their referral ultimately purchases. So, they provide motivation for your clients to refer quality leads in larger quantities.
Check out this comprehensive guide to B2B referral programs, including plenty of best practices for using these programs to generate leads.
And if you're looking to start a SaaS referral program, be sure to check out our other article with tips and inspiration just for SaaS companies.
In Conclusion
For successful B2B lead generation, you'll need to implement B2B marketing strategies in two main categories—lead capture design and trust-building.
When you design a lead capture process, including lead forms and landing pages:
Don't ask for too little or too much information in your lead capture form.
Use clear calls-to-action—make sure prospective leads understand what you want them to do.
Don't link out from your landing page, so people can't quickly navigate away from your form.
Direct people to your lead form through prompts inside of blog posts, free content pieces, or webinars.
Build trust with these tactics:
Content marketing, including blogging, visuals, social media and webinars
An SEO-focused, easy-to-navigate, and professional website
Clients' reviews and stories
Direct human connections
Referral programs
Still deciding whether to start a B2B referral program? Here's all you need to know.
Also, check out over 60 statistical reasons to start a referral program for B2B lead generation.