As of 2021, 78% of people use social media to buy from brands, and 76% use it to recommend brands.
But consistently generating leads from social media can still be challenging for businesses. So, is social media worth the time marketers invest into it for lead generation?
We decided to ask the experts – 204 marketers who are using their social channels to generate leads.
In this piece, we'll share their opinions on whether social media lead generation is worth the time, and how you can maximize your time investment and use social media to source high-quality leads.
31% of marketers spend 10+ hours generating social media leads
Although the time spent on social media lead generation varies greatly, most marketers agree that this task takes thoughtful investment (like any other lead generation effort): 
35% of marketers invest 4-6 hours per week
16% spend 7-9 hours per week
31% spend 10 hours or more on social media lead generation per week – and nearly half of those marketers (14%) dedicate at least 13 hours per week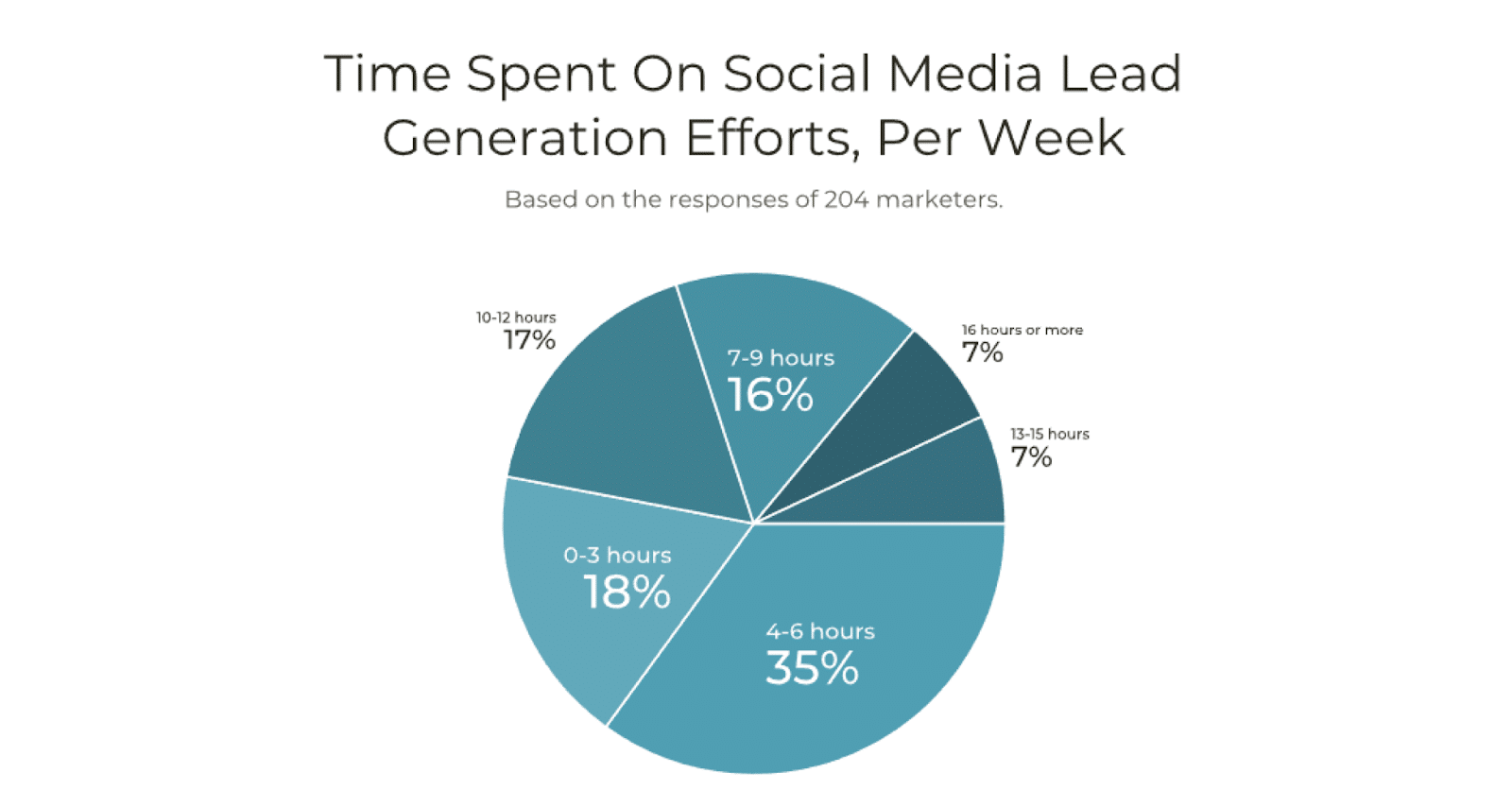 Social media brings in over 20% of leads for 4 in 10 marketers
But are the results that social media generates worth the time spent? Based on the lead percentages that 204 marketers are generating from social, and the long-form responses that the vast majority of marketers gave us, the answer is yes.
20% of marketers get 16-20% of their leads from social media. 
What's more, 43% generate more than twenty percent of their leads from social media. 
In fact, 15% of marketers share that over 35% of their leads are from social channels.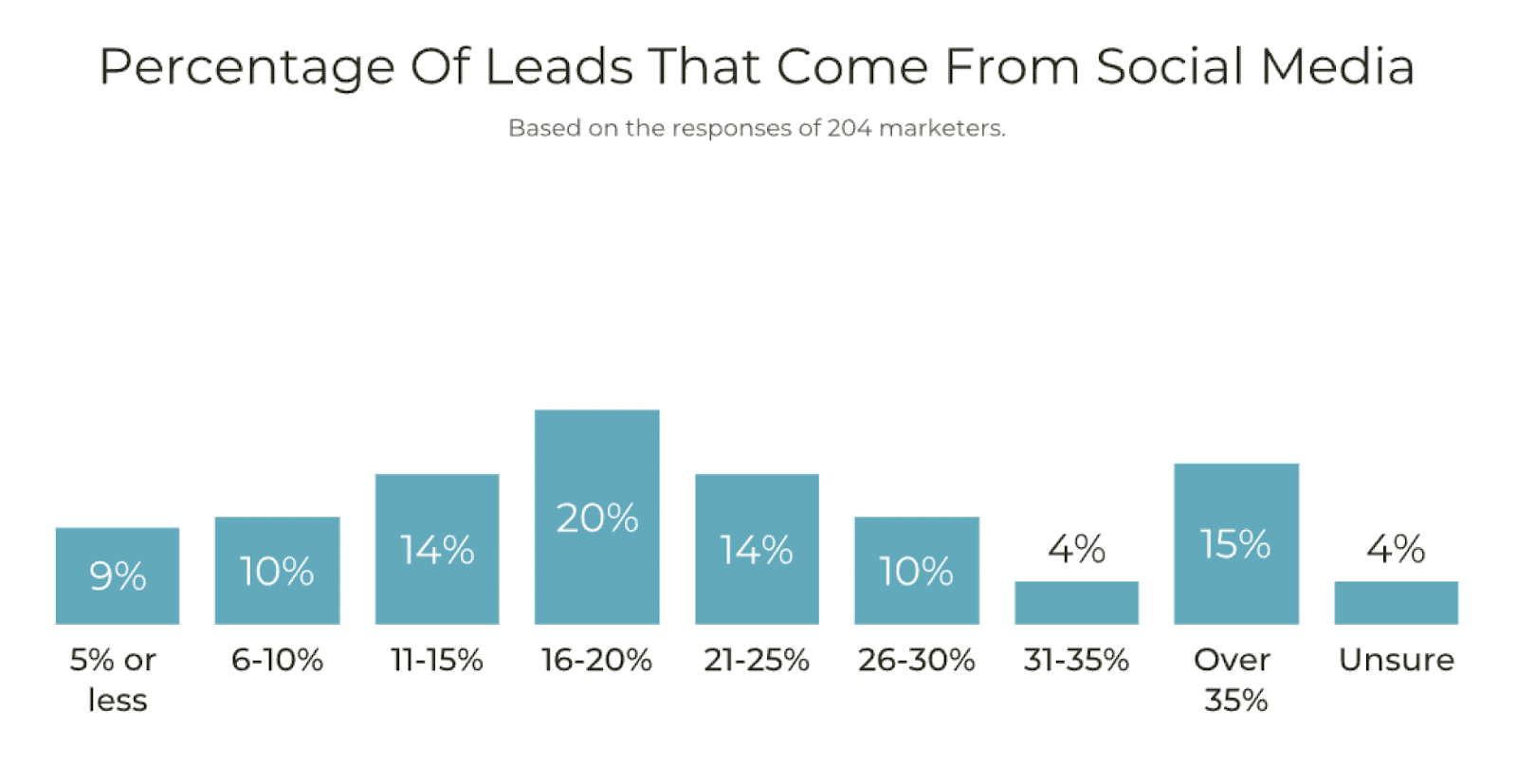 As Richard Clews of Pants and Socks told us, "We can directly attribute about 10-15% of our total sales to social media lead generation efforts, largely involving working with micro-influencers. The ROI for social channels, for us, is outstanding. Only email marketing delivers better results per dollar spent."
And as Cindy Walker of Moms Coupon Affair shares, "We are always working hard to figure out what resonates with our customers and helps us reach new ones. Social media lead generation is definitely time-consuming, but we think the value it brings to our business is incomparable."
Why is social media lead generation worth it?
Exactly why is social media worth the time? Let's dive into some of the detailed reasons marketers shared below:
Lets you learn about and connect with your audience
In the words of Patrick Smith of Fire Stick Tricks: "Social media lead generation efforts are totally worth it. Apps like Facebook, Twitter, Instagram, and TikTok have millions of users. So, targeting social media for lead generation means that companies can deliver their content to a massive audience pool.
"Social media also allows brands to identify their customer base and tailor content according to their likes and dislikes," notes Smith. This, in turn, helps increase leads and conversion rates.
PrimetimePokemon's Anders Rydholm shares similar thoughts: "I've found that one of the most effective ways to generate leads is through social media. Using analytics and surveys, I can learn a lot about my audience, and that helps me tailor my marketing efforts to target them more effectively.
"In addition to providing me with a wealth of information about my audience, social media also gives me a chance to demonstrate my relevant knowledge and expertise to that audience."
And as Chris Mitchell of Intelus Agency told us, "Social media lead generation gives companies a view of prospective customers like they've never had before. With platforms like LinkedIn, companies can leverage interests and shared experiences to connect with prospects and customers in a way that is simply not possible in other channels. Plus, social media allows companies to use data to improve marketing campaign performance."
Carter Reum of M13 adds, "Leads that are generated from social media are definitely worth the effort. In the digital marketing age, social platforms are right at the top of ways to interact and engage with potential customers. You have a captive audience when it comes time to announce a new feature or an offer. That can be essential when it comes to generating quality leads."
Builds valuable credibility
Equally important is the fact that your audience is less likely to trust you if you aren't on social media.
GoodHire's Mike Grossman explains this well: "Even if you have decades of experience, one thing is for certain: if leads can't find you when they search for your business, they're less likely to put their trust in you.
"When there are fewer touch points available throughout the lead nurturing process, leads won't be able to research your business and become familiar with what you do. As a result, a potential partnership can seem more risky."
The solution Grossman identifies? Consistent social media presence. "By refining your social media presence, leads can learn about your history, your products or services, and your people. All of this makes them more likely to get in touch."
Lets you foster relationships and show expertise
Most of all though, social media helps with lead generation by positioning you directly in front of your target audience.
It's as Ian Turner from Gentleman Haircuts says: "The beauty of social media lead generation is that it allows you to start a dialogue with your prospects, before they even become customers. You're able to engage with people who are interested in what you have to offer, and start building trust and a relationship.
"Social media also helps make your marketing much more authentic, by allowing you to show your personality online and establish yourself as an expert in your field. This helps build loyalty to your brand and encourages new customers to buy from you over a competitor."
Melanie Musson of HomeInsuranceReviews.com has also seen success with building relationships on social: "Even now, at the beginning of our social media effort, we've experienced results. Social media lets us interact with our audience personally. These relationships are different than ones we're able to build on other platforms. Relationships lead to familiarity, which has turned into conversions for many."
Stephen Light of Nolah Mattress asserts, "Building a unique, valuable, and authoritative brand voice on social media can help you reach millions of potential buyers with little upfront cost – the same can't be said of every channel.
"Social media is one of the strongest ways to directly connect with your audience, and is the single most cost-effective way to engage with consumers in a more intimate way, allowing for brands to build the authentic relationships that make for high-quality leads."
And as Nick Drewe of Wethrift shares, "If you truly understand your target audience, your lead generation efforts can come with pretty amazing returns. With social media, you can interact with your audience in a more authentic way than basically every other marketing channel, because social media can be less overtly promotional. Genuine engagement with your audience, while consistently providing value and highlighting your expertise, is a recipe for steady lead generation."
In short, social media delivers meaningful lead generation results because it:
Directly connects you with your audience, helping you engage them better.
Helps showcase your expertise and build authority in your field.
Helps you meet your audience's expectations, as they want to see you on social media. 
Invest your time in several lead generation methods, including social
So far, it's clear that social brings in leads.
But how about other lead generation tactics? Should you invest more time in channels other than social media?
Curious, we asked our respondents the same. And, it turns out that organic social media is almost shoulder to shoulder with other lead generation tactics, when it comes to generating high-quality leads. Here's what we learned:
Marketers gave content marketing a 4.25 out of 5 for high-quality lead generation, making it the most effective lead gen channel.
They gave organic SEO a 4.07 rating for lead generation, making it the second-most effective channel.
Website optimization scored an average rating of 4.05 for generating leads.
Referral marketing scored a 3.83 out of 5 for lead generation effectiveness. 
Organic social is almost equally as effective as referral marketing, coming in fifth with a rating of 3.82.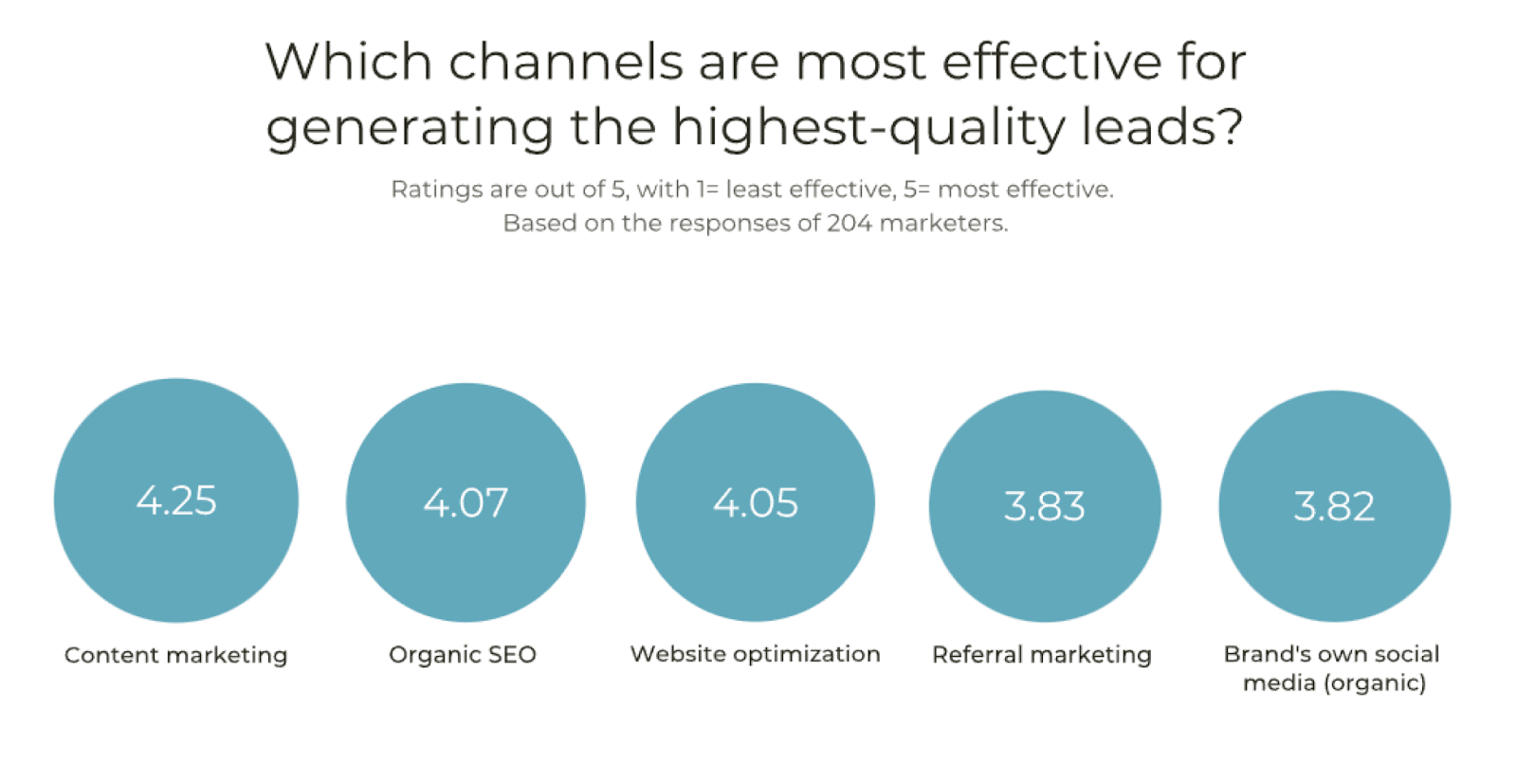 The consensus? Social media lead generation is worth the investment, assuming you concentrate on the organic aspect most.
But that doesn't mean you focus on organic social alone. Instead, be sure to improve other lead gen tactics too, especially the other four highlighted above (and invest in content marketing most).
As Brian Bram of Home Gym Strength asserts, "Social media can indeed drive leads, but remember that social is just one component of an effective overall marketing strategy. For best results, it should be used in conjunction with several other methods, such as search engine optimization and content marketing." 
Directly combining these channels can also be effective, especially for B2Bs.
As Colton De Vos of Resolute Technology Solutions shares, "In my experience with B2B marketing, social media works best when it accompanies a larger inbound marketing or lead generation strategy.
"By sharing blog posts on social media you can increase exposure to your content and potentially engage the visitor with call-to-actions on your site. Similarly, social media lead generation works well for soft offers such as webinar registrations, signing up for a free assessment, or downloading a guide or case study – as opposed to a direct sell of a service or product."
In short, social media works best as the thread that ties multiple lead generation methods together, rather than used in isolation. 
If using social, be prepared for the efforts needed
Of course, regardless of how you use it, there's a lot that goes into generating leads from social media. If you think that simply creating social media profiles and posting any content is the answer, think again.
From identifying your niche to encouraging engagement, there's a lot that you need to do.
For one, "You need the knowledge, tools and time to identify your target audience. You also must have a thorough understanding of what campaigns have worked before, and tools in place to measure metrics like engagement, follower growth, and page views," as Amelia Munday of Custom Neon asserts. 
"If you are targeting the wrong audience, using the wrong platform or posting content with no strategy or KPI in place, your campaign is likely to flop." 
Also, as Alon Cohen of code[RELIABLE] shares, "You need to have the right image and text combination, along with the right targeting, for social media lead generation to work. However, that is not enough. You need to have a good follow up system in place to interact with the leads that do not convert right away."
Most of all, "understand that social media is a tool, and like any tool, it's not going to be effective if you don't know how to use it," points out Ann Young of Fix The Photo.
"Social media lead generation is worth the time you put in if you're willing to learn about each platform and what makes it unique."
Young doesn't just talk the talk, but also walks the walk. At Fix The Photo, for example, Young writes, "we've seen our conversion and retention rates skyrocket since we began focusing on social media marketing.
"With every bit of effort we put in on social media, we're learning more about our target market — what they're looking for in a product like ours, how much they know about the industry, and how they like to communicate with brands.
"That kind of data is invaluable because it helps us continually improve our processes as well as develop new strategies for reaching potential customers."
With that, let's look at the tactics that can help you succeed with social media lead generation in the next section. 
17 proven tips to get more leads from social media
Now that you know that social media lead generation is worth the time, how can you maximize the time you spend? Our experts' advice can be divided into the following 17 tips. 
1. Pick the right channels
The right platform can bring you highly qualified leads. For our respondents, for instance, some of the favorites are Facebook, LinkedIn, and Instagram. Let's look at the numbers:
79% post on Facebook with the intent of generating leads
72% publish on LinkedIn for attracting leads
63% share on Instagram to source leads
56% post on Twitter for lead generation
16% post on TikTok for lead generation
12% focus on other platforms, such as YouTube, Pinterest, and/or Reddit