Leads are the lifeblood of local businesses. In order to sustain your business and fuel your growth, you need to generate leads consistently.
Before, word of mouth and other traditional methods were enough to kick start sales. However, we live in a digital world now more than ever, so online presence is vital.
To power up your game in lead generation, you need to tap into the online world. That said, you should also have a solid SEO strategy in place. Add in a smart website, a Google Maps Pack, an engaged and consistent presence, and you will be well on your way!
In this post, let's explore what you can to improve your lead generation strategy.
Optimize your website
Gearing up your business with a website is a smart move. With an array of user-friendly builders available, launching a new website is easier than ever. But unless your site is useful, it's not going to do you any good.
The straightforward way to approach this is always to verify the information you've posted, making sure all details are correct and up to date.
For example, if you change the phone number of your business, you'd also want to change it to your website. Otherwise, people may call the wrong number, which might immediately discourage them. So, make it as easy as possible for people to contact you!
Here are other things you can do to ensure you have a useful website:
Use a mobile-friendly design: As much as 70% of online traffic comes from mobile devices. If your website fails to load correctly for mobile users, you're making it difficult for people to reach you – and losing lots of potential leads!
Create smarter landing pages: Design them to score an A+ when it comes to user experience. Make sure they are informative, keyword-rich, and visually appealing. Doing this allows you to take the faster path to obtain potential leads and make a sale!
Prioritize security: You should install an SSL certificate to help protect sensitive information relayed to you. Otherwise, leads – and people in general – will feel unsafe visiting your website. In case you run an eCommerce store, choose an eCommerce hosting plan that comes with security features including SSL certificates to keep customer data secure.
Get serious about site speed: Site speed is an important component of overall web design. Potential customers won't stay on your website if it's slow –and they may never come back. Incorporate site speed as a primary design element of your website to increase lead generation.
Invest in Local SEO
If you're a small fish competing in a big pond, you probably won't make it. You're pitting yourself against the big ones. There is too much competition, and by the looks of it, it can crush you. But if you're swimming with other small fish, your fate is likely to go in the opposite direction. You'll have higher odds of rising to the top!
So be like a small fish, at least for now!
Don't overlook the power of the small group – in this case, the power of local SEO. This way, you can avoid making a common mistake!
Some local businesses assume they're in a good standing position, and that's because they're not competing against big companies. But that's not the right mindset. To make it big only in a little area, you still need to hustle.
Harnessing the power of long-tail and regional keywords is a great way to approach this. You can target a specific location, which gives you a much better shot at being the top dog in your area!
As you can see, putting in the resources to build your local SEO profile bolsters your chances of appearing in Google Maps Pack. And, showing up there means one thing: more customers for your business!
For example, if your search term "lawn service in Augusta, Maine," this would be your Maps Pack result: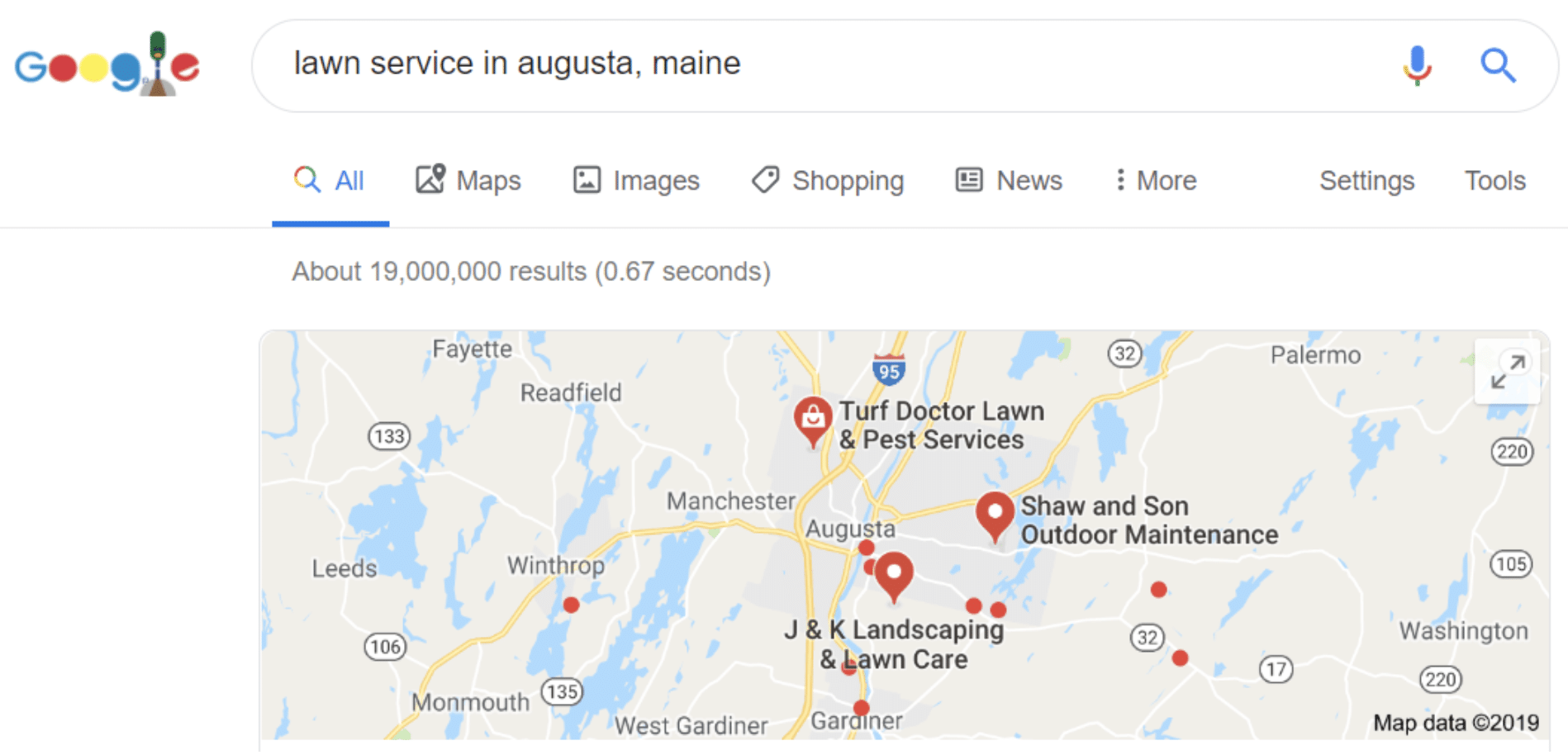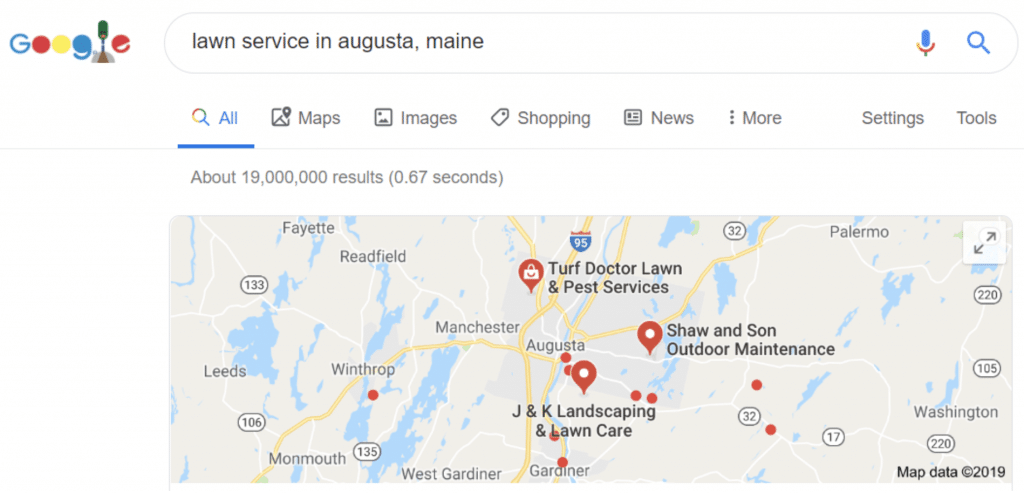 Underneath the display, this Maps Pack also features a list of the same local businesses displayed on the map. It comes with their NAP (name, address, and phone) information. This way, customers can easily reach out to those places.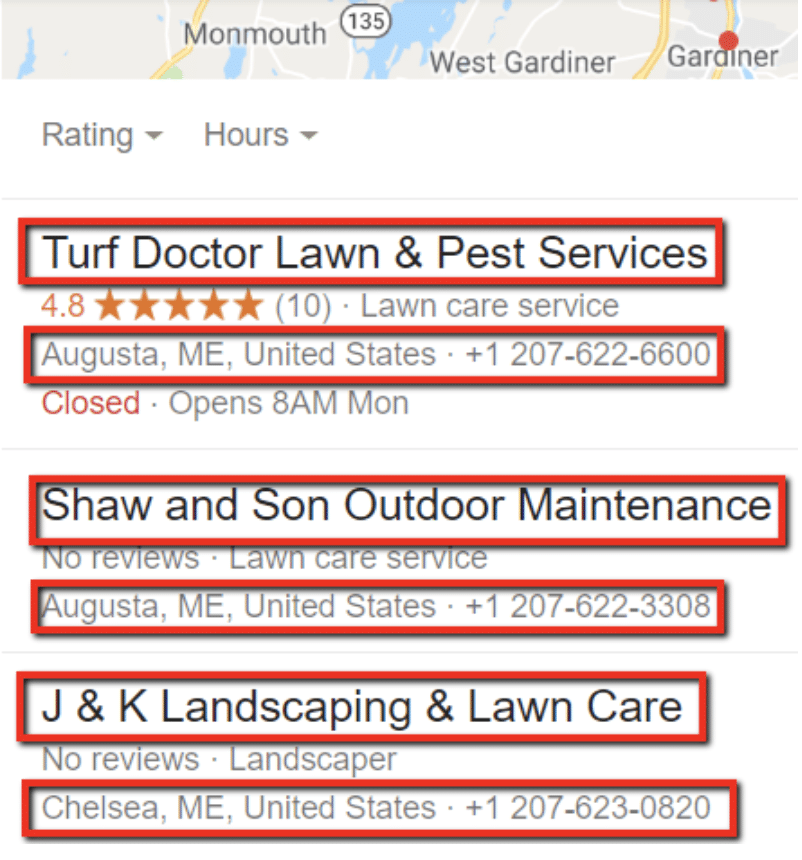 Invest in PPC
One common concern with paid clicks? They can get costly over time!
The problem is, some people think that PPC advertising campaigns are simple. The truth is, they can be very complicated. And because business owners seem to only wish – instead of actively doing something – for paid clicks to come to their rescue, they're doomed.
The result is the opposite of their desired outcome: wasted PPC campaigns. And wasted campaigns equal wasted money!
On the flip side, the expensive nature of PPC is only a threat if you don't know what you're really doing. If you target the right SEO keywords and regularly keep an eye on your PPC campaigns, you can ease your worries. It might not be long until you come to an obvious realization: paid clicks are the bread and butter of local businesses!
Thanks to this model, local businesses can showcase their specialties. Especially if you're thriving, PPC can propel you to a better place with more leads. If you didn't know before, then listen up: it's one of the best ways of establishing your online presence!
After all, you can't expect people to come to you if they have no idea who you are. But PPC can change that!
Sure, establishing your presence on the internet isn't an overnight feat. It could take weeks, months, or maybe even years. The bottom line is, it doesn't happen fast. But once you're there (and if you keep up), you're going to have an established presence for good. And if you play your cards right, you can even strengthen your presence!
Apart from helping you with your online presence, here are a few other advantages of PPC:
Leverage call tracking: Which of your ads are getting more clicks? Well, you can insert a tracking number into your ads, which means that you can measure their results!
Connect with a target audience: Using interests, keywords, time, and more, you can target specific audiences. With this, you can set your ads to show up only to interested parties.
Bid automation and data tools: Google makes them readily available to small businesses. That way, you can work better and faster.
Engage online
As we mentioned earlier, having an online presence for your business is vital. Interact with customers online and let them know that you exist and that you're worth checking out. Doing so will bolster your popularity and your ability to generate leads.
Start with social media networks. Drop by Twitter, Facebook, Instagram, and more as they provide great avenues for lead generation. Be active by responding to messages and dealing with different concerns. Also, make sure your profiles are complete and up-to-date.
After all, billions of people around the world use social media. And 95% of adults who are online are likely to follow brands through social media networks! If you're present and people can sense that they can count on you, they might connect with you.
Besides social networks, here are other online places that you should go to:
Q&A sites: Marketing through these sites can earn you a gold star. By answering questions, you can showcase your expertise! For example, here's a guide to marketing on Quora.
Reddit and online forums: Think of Quora and other Q&A sites, too. Find popular subreddits, create accounts, and respond to conversations. Also, you can search for forums related to your niche and build your reputation there. Mingle with other users, create compelling content, and professionally conduct yourself.
Mention.com: It's not really a place where you can engage with your audience. However, it's a tool that collects all mentions of your brand online, whether it's on forum boards or Q&A sites! Mention.com makes monitoring your brand mentions so much easier. Just edit the settings, and the tool will take care of the rest.
Provide some fun: Use an online quiz maker (like LeadQuizzes or ProProfs Quiz Maker) to help draw attention. It's a great way to increase your leads while learning about your audience.
Lead generation specialists can help
Generating leads for your business is no easy task. If you don't think you can do the job on your own, then don't burden yourself with it.
Instead, let a lead generation specialist step in. Pass on the challenges of acquiring leads to them. Lead generation specialists take care of the leads for your business so you won't have to!
And don't worry about the extra cost of hiring a professional. Just think of it this way: more sales will be heading your way. Plus, you'll have more time to focus on other essential aspects of running your business.
About the contributor
Sam Warren is the marketing director at
RankPay
, a pioneer in the digital marketing industry since 2007.