Qualifying leads the right way makes all the difference between a smooth sailing sales process and one that's stuck in the lead generation phase. It's a crucial job and can even prevent you from hitting your sales quota if you don't make the right moves.
 And yet, filtering for the best, most interested leads is easier said than done. 
The solution? Identifying the right B2B lead qualification metrics and having a solid process for determining the best leads to nurture.
Scratching your head wondering where to start? We asked 48 B2B lead generation experts about:
The most effective lead qualification metrics to keep an eye on
Proven processes to easily filter and identify perfect-fit leads
 Let's dig into what they had to say. 
Lead qualification metrics: Top 10 metrics to pay attention to
No matter what B2B lead generation strategies you employ, the reality is not every lead you get will be a good one. Some leads may also not be ready to buy just yet. Unfortunately, chasing these types of leads won't result in any immediate sales.
Instead, you should focus your efforts on warm leads, or leads who are already interested in buying from you. To identify warm leads, here are the most recommended metrics tracked by experts:
1. Company size
Company size is an important metric to look at, as it's a reliable way to determine how closely the lead matches your Ideal Customer Profile (ICP) or target persona.
An
Ideal Customer Profile (ICP)
describes both the type of buyer and type of business that are the best fit for your products and services, based on the needs you meet and the problems you help solve. It summarizes both their demographics and their needs. 
At Contract Hound, for example, Nicholas Holmes shares: "We use company size as our primary qualifier – we're looking for a 'goldilocks' size where they're not too small, but also not enterprise clients."
Similar to Holmes' company, you need to work out your ideal buyer (if you already haven't) in order to squeeze the most value from the company size metric when vetting leads.
Holmes explains further why they look at this metric. "We know that at a certain size, businesses tend to have complex legal teams composed of internal and external clients, and our software isn't currently designed to be used for this purpose."
17% of businesses say company size is the most important lead qualification metric
Interestingly, Holmes isn't the only person who thinks company size is an essential metric for qualifying leads. The largest group of our respondents, at 17%, think company size is the single most important metric for identifying high-value B2B leads, making this the most popular response.
Aside from company size, 13% and 10% say session duration on the site and having a good fit based on company needs, respectively, are the most important metrics to look at.
Following that, 8% of companies (each) think the number of website visits, company's revenue, and score based on a business's demographic are the most valuable metrics for qualifying leads.
The least important metrics in our survey, mentioned by only 6% of participants apiece, were the lead's position at their company and the market opportunities (the size of the company's market).
2. Customer behavior
Sure, you need to look at your leads' demographic details. But Sammy Belose from Sage Software says there's one metric that stands above all – customer behavior.
This metric captures the big picture of how leads interact with your business pre-purchase. For instance, how they consume your marketing content and what pages they visit on your site give you a peek into their behavior.
Think of it like this: A lead who's opening most of your emails is likely more interested in working with you than one who occasionally (or, dare I say, never) opens your emails.
In short, customer behavior gives you a clear idea of how interested a lead is in buying from you.
Another reason to look at this lead qualification metric: "All other parameters are static and don't change over time," Belose explains. "But customer behavior is dynamic and transforms drastically in short periods.
"It also allows us to dig deep into the customers' past purchasing behavior and buying patterns that help understand their needs, wants, desires, and aspirations. These points enable us to brainstorm an effective strategy while dealing with customers and substantially increase our win rate."
3. Website visits
Website visits are an important metric that helps you understand how customers interact with you online. The question is: How does it help you?
"It makes it easier for you to understand your target audience in terms of who they are, their actions after discovering your site, and their demography," Omnicore Agency's Lidia Hovhan notes.
"With this information, it is possible to determine what the visitors are looking for, therefore making it easier to anticipate the lead's needs."
4. Sessions
Another essential lead qualification metric is sessions, which goes hand in hand with website visits. 
At Test Prep Insight, John Ross shares, "without a doubt, the metric we give the most attention to when grading leads is the number of sessions and session duration on our site."
Here's why: "The more sessions a user racks up and the more time they spend on a page, the more likely they are to actually convert.
"It is a simple but strong correlation: More time on page, sessions and searches equals higher intent. A prospect with moderate interest who is higher up the funnel is not likely to spend much time on a page or return for repeated sessions. 
"That is why we give extra emphasis to leads who visit our site multiple times and spend more than 60 seconds on page."
5. Time on site
As Ross alluded to above, a closely related metric to both website visits and sessions is time on site. Of course, the greater time a lead spends on your site, the more open they are to working with you.
Allyson Langhoff from Online Optimism agrees: "High session numbers and more time on the site are a great way to illustrate our customers' investment in our services, which makes the chances of completing the sale more likely.
"If they're spending time reading every detail of an offering, we have a better chance at a sale. Once the transaction is complete, we can see the most successful sales stem from the customers who spent their valuable time familiarizing themselves with our business."
What's more, Langhoff shares their experience with  repeat customers. "If the customer is satisfied, they're more likely to return to us with their future needs, and this creates that essential customer loyalty."
Pro tip: Don't just look at website visits and time on site. Look at the pages a lead visits too. Someone who's visiting your pricing page, for instance, will always be more interested in buying from you than a lead who's reading your blog.
6. Lead engagement
How leads are interacting with your business is another metric to look at. Kevin Miller writes, "Our sales-qualified leads are the leads with the highest engagement. 
"We closely observe how each individual lead interacts with our marketing and content. When we zero in on a profile of a user who is spending an extended amount of time on our website, opens our emails, and downloads our lead magnets, we recognize the potential for conversion and jump at the opportunity."
Pro tip: Make sure your sales and marketing teams are aligned instead of working in silos. This way, your marketing team can create more sales-enabling and audience-relevant content. Whereas, the sales team can learn which leads are interacting with the content to understand how warm they are.
7. Lifetime value/Revenue potential
"The metric that's most important for identifying high-value prospects is lifetime value (LTV)," opines Jasper Juhl from Better Estimate.
"LTV is a measure of how much money customers will spend with your company over their lifetime and can vary depending on different factors like customer type or industry vertical.
"This metric is extremely helpful as it's not enough that the lead is high-value right now. If they are going to be worth a lot more money over time, then it makes sense for us to invest heavily in them. That investment might be as simple as sending them an email, or as much as  creating content and other resources just for them."
Webris' Ryan Stewart looks at a similar metric: revenue potential. "To identify high-value leads, we keep a close eye on the revenue potential of each of the leads.
"Revenue potential shows a lead's buying power and possible limitations. Good revenue means a bigger investment can be expected from the lead; therefore, it holds the highest value for us. This has helped us agree on terms with some huge leads by optimizing and crafting our plans according to their specific needs."
In short, taking the time to estimate a lead's lifetime value or revenue potential is a surefire way to nurture high-quality leads who will add significantly to your bottom line.
8. Lead's position in their company
"Based on our experience, the lead's position in the company (after factoring in the industry, company size, location, and revenue) determines their overall value to us during our lead generation and nurturing campaigns," comments Mobibi's Matthew Stormoen.
"This is helpful to us since this will tell us how much decision-making power they have over the procurement of software and services that we are selling.
"Even if they are just one person in the company, but if they are in the right position to decide whether our technology gets adopted in the organization, that matters to us a lot."
Pro tip: Revisit your ICP to pinpoint exactly what position your ideal buyer holds in their company. This way, you can drive the most value from tracking the lead's position in the company for vetting leads.
By tracking a lead's position in their company, you can save on the time you spend having to nurture them. After all, you'll be talking to the decision-maker who has all the power to call the shots in your favor.
67% of B2B businesses use lead's position as a lead qualification metric
In fact, when we asked our contributors which metrics their company uses most to qualify leads, the majority 67%, said the lead's position in the company.
A close 63% also said the lead's industry is important, with another 60% noting the company's size.
Following that, 50% of respondents pay attention to a company's revenue, 46% track website visits, and 44% look at the company's location. 
Another 31% (each) also look at the session duration on their site and their traffic per month.
At the tail end of our survey, 29%, 27%, 25%, and 23% keep tabs on product page visits, source of awareness, number of clients, and number of sessions in a given period on their site, respectively.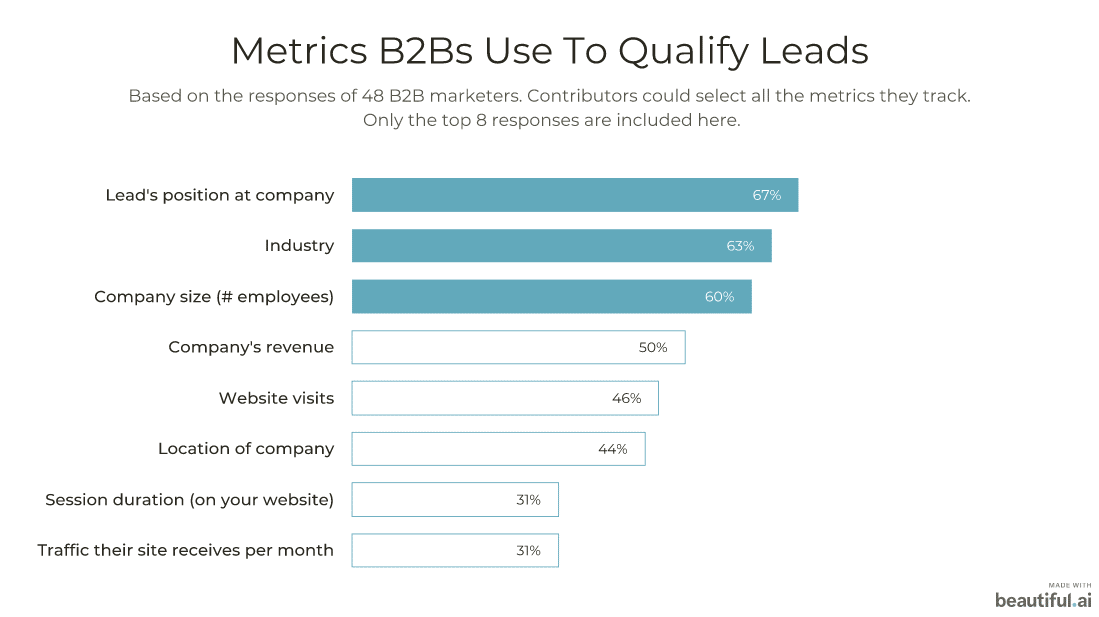 9. Budget
As expected, budget is another important lead qualification metric to track. If the lead doesn't have the budget to work with you, there's no point wasting both of your time and energy.
"Although company size and revenue do contribute to the qualification process, one of the most important questions we have to ask is what their budget is," says Cariad Marketing's Colette Cooper.
"Most people, when sourcing a marketing requirement, will have a budget in mind. Sometimes this will be well below our entry-level, in which case we can help them source the right help. And sometimes their budget will match our fees, which is when the next steps are taken in the sales process."
One good way to learn about a lead's budget? A website form. Every time a lead fills it in when reaching out to you, you can see how well their budget aligns with your ICP's budget.
You can also take to Crunchbase to get an idea of a lead's financial standing. But it's always best to ask a lead rather than basing metrics on assumptions. This brings us to our next important metric.
10. Form completion
Skye Khilji from Profit Partnerships explains: "The most important metric to identify our highest-value leads is the completion of the intake form we assign in our lead capture process. The form requires some effort and upfront disclosure, which helps us assess the lead's intent and engagement.
"It's in contrast to the conventional idea of a name and email only form, but we find our highest-value leads put in the work to complete our more comprehensive form. Prospects who are unwilling to complete the form tend to not be a good fit, and we rarely choose to work with them."
Pro tip: Use form completion as part of your lead qualification process. Only leads who are interested in working with you will take the time to fill out a detailed form, which will tell you who's worth jumping on a screening call with.
Lead qualification process: 5 tactics to try 
Now that the metrics are covered, let's look at how other businesses are vetting their leads.
1. Lead research
The first step to filtering leads is researching their legitimacy. 
Dima Suponau of 1800 Live Person outlines their process: "First, we check the legitimacy of the lead: where the company is registered and how long it's been running for. It prevents us from wasting time on nonexistent businesses and bots.
"Then, we try to find out a little bit more: what the company offers and what their client base is. Lastly, we evaluate if the company is marketable and contact the representatives to make a deal."
Pro tip: Use LinkedIn and Crunchbase to research leads and determine how legitimate the people reaching out to you are.
2. Lead scoring
Lead scoring is a system to mark how good a fit a particular lead is for your business. Omnicore Agency's Lidia Hovhan says, "using a lead scoring system makes it easy to know whether a lead is qualified and tells you when it is best to reach out."
So how does this system work? "A lead scoring method assigns different points for different actions, such as the web pages visited and whether they open an email.  
"Accumulating these points helps determine the sales cycle stage a lead is currently in. This makes it easy to determine the best time to reach out."
Ideally, a CRM can help you score leads automatically. Despite how helpful a CRM can be in lead scoring, however, only 31% of our respondents use artificial intelligence to qualify leads.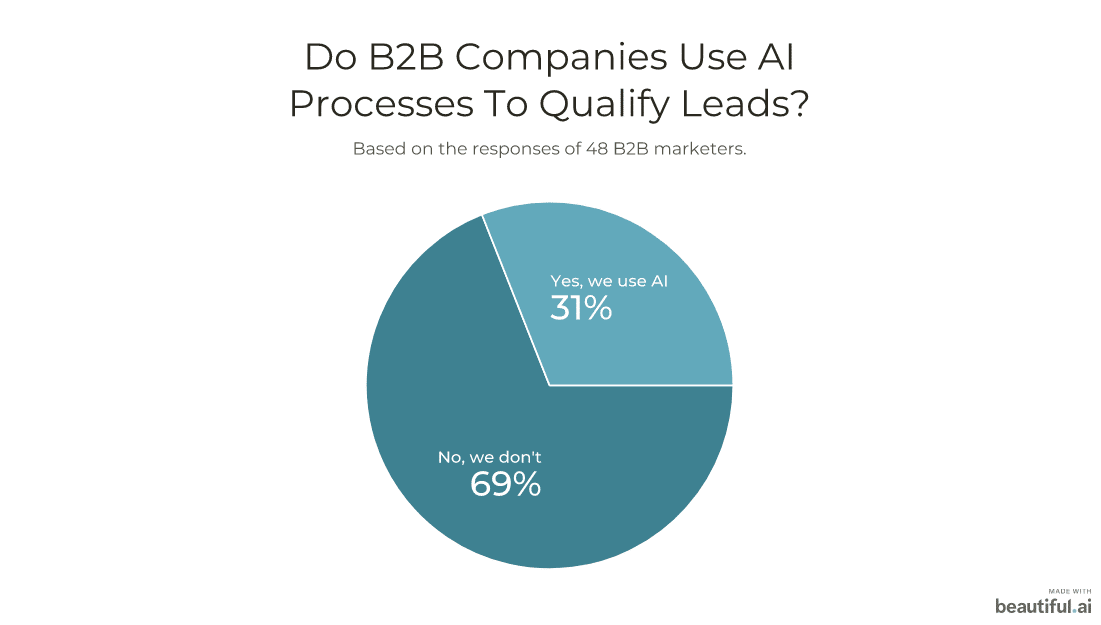 See our comprehensive list of B2B lead generation software you can use to speed up your sales process.
3. Lead screening calls
This is crucial for B2B teams. Allyson Langhoff at Online Optimism writes, "Our main process is centered around personal meetings with leads. Whether an in-person meeting or a Zoom call, we ask pointed questions to determine their marketing goals.
"We analyze these goals and make sure they line up with the wide variety of services we provide, and how easily we will be able to adapt these services to their industry.
"If we can help the lead meet their goals within the budget they seek, we can begin forming their individualized marketing strategy."
Jasper Juhl from Better Estimate explains screening calls help with "qualitative qualification techniques" where you "ask the client about their job, probe how they heard of the company, or even ask them what they want in a product.
"These questions can help determine if there is a need for the company and if it's worth reaching out to that lead. Qualitatively qualifying leads takes time but saves money in wasted advertising costs."
4. Use a lead-qualifying questionnaire
We've already established it's essential you ask lead-qualifying questions. However, which ones to ask is a question of its own. 
Ted Capwell from Safe Trade Binary Options has several answers. "Questions such as these will help make the process easy for both proceeding with and finalizing the lead:
Are you the right person to make a decision?
Is there any specific budget in your mind?
What are the problems and what do you need from me or us?
What is the deadline or timeline?
"These types of questions (among others) can help you better understand the prospect's needs, and help them decide whether to proceed with you or not based on their requirement."
Marcus Ho shares Brew Interactive's questions too. "We ask about the following:
Budget
Whether the contact is a decision-maker
Whether they have already determined their biggest need
Whether they have a timeline
Potential scope of work
Lead source
Whether we want to work with them
How much potential there is to expand the account over time
"Once our company asks these questions, we assign each lead a score of 0, 1, or 2 as part of the lead scoring process."
5. Study a lead's business model and goals
Finally, taking the time to understand the lead's business goals and models also helps. Take a page from Coalition Technologies. Jordan Brannon explains, "We try to understand a company's business model and their business goals.
"For web development leads, we look at:
Technical requirements and see if they match up with our line of expertise
Employees and business structure (i.e., do they have in-house developers? Who are the stakeholders involved? Who has the final say over the project?)
Timelines
Budget
"On the other hand, for marketing leads, we assess the lead's vertical and how competitive it is. We also gauge market size and potential revenue for the lead.
"If we think the upside is too small for the client or we don't see a clear way for us to achieve real results within the space or within their budget, we don't hesitate to let our leads know about it, even if it means lost business."
Ready to qualify leads? 
To recap, having a thoroughly planned lead qualification process helps you make the most of your B2B lead generation tactics and close more deals. 
Keep track of these ten metrics from marketing and sales experts to help you separate the warm leads from cold ones.