Without a well-defined Ideal Customer Profile (ICP), you're likely going to end up selling to anyone and everyone.
While that's a strategy that might bring you in an occasional sale, it's not sustainable in the long term. Why? Because you don't know who you're selling to, who your ideal buyer is, and how exactly you're solving their pain point.
As a result, your B2B lead generation and, subsequently, sales suffer. All this is a recipe for business disaster.
Instead, sharpen your marketing and sales efforts with a clear ICP. We'll show you how in this marketing roundup, where we dig into:
The best factors to include in an Ideal Customer Profile
The top 8 tips to build your ICP so you can better qualify leads
Let's go.   
What to include in your Ideal Customer Profile?
Let's kick this off with a quick refresh of what an ICP means:
An Ideal Customer Profile is a description of your target buyer, who would benefit the most from your product or service.
These are folks who have the budget to afford the solutions you provide, are in the market you serve, and have pain points you can solve.
Remember: This user profile can never be fully hypothetical. Even as you start with some basic assumptions, you'll need to dig into research to identify how correct your hypothesis is.
So what should an ICP include? Here's what the experts we surveyed said:
38% say you need to learn your ideal customers' needs and how you can meet them
This client-service fit is essential for identifying value for both sides. This way, you'll know who to work with, and potential clients will be able to solve their pain points with your service/products.
 23% suggest learning your audience's pain points/problems/challenges
This is critical information for identifying the perfect client-product fit. To add, knowing your customer's pain points will help you market and sell using the correct pain point-solving messaging.
19% each recommend budget and industry 
This is also essential information for ensuring your B2B lead generation tools are qualifying the right leads. Knowing your lead's industry, for example, helps you explain exactly how your product/service can help them grow in their industry.
17% and 15% recommend adding location and size of the company, respectively
This data helps you understand how good a match a company is with your product or service so you can create an effective buyer persona.
10% each say identify the maturity of company and their values
Again, this is essential raw material for determining where a company stands and what it stands for. In certain cases, some companies aren't ready for your services (yet), so including the company's maturity is crucial.
6% each recommend including the  buyer's position in their company, their goals/motivations, business income level, and where buyers get information
This is all fodder for marketing and selling well. By targeting people based on their position in their company, you can talk with the right person who makes decisions or significantly influences decision-making. This, in turn, shortens the sales cycle.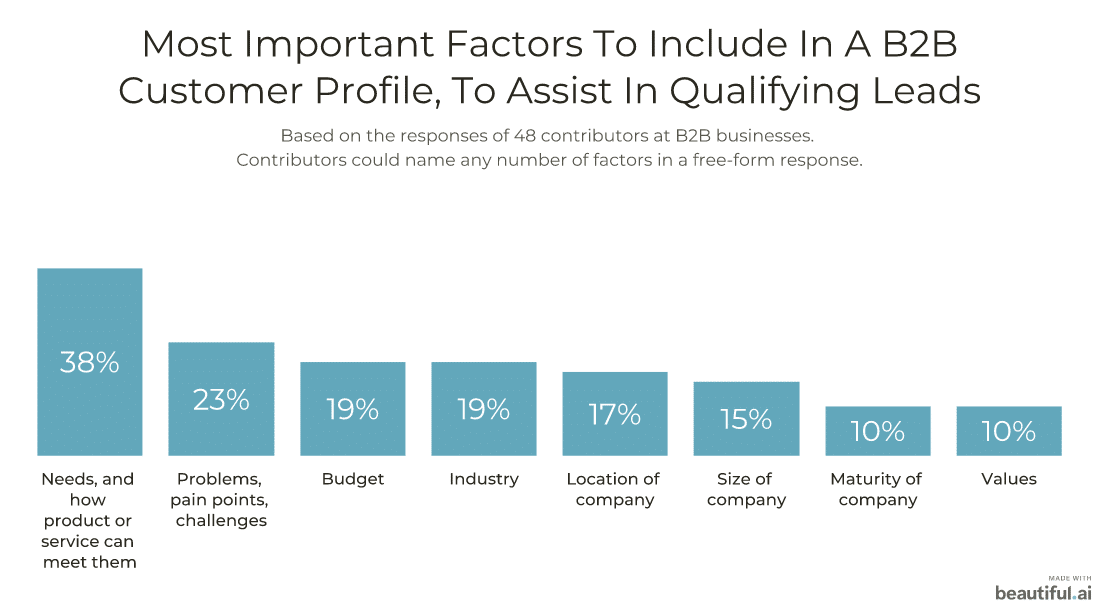 Sai Blackbyrn of Coach Foundation sums up the most essential factors to add to your ICP. Here's their list:
"Begin by defining who your ideal customer is and where they are most likely located.
Determine the main challenge the customer is currently facing and how your product/service can help solve this issue.
Determine when your prospective client is most likely to purchase your product
Determine the buying strategy the customer will most likely employ; is the point of contact the decision-maker? Who does the point of contact need to consult with before making a choice?
8 tips to identify your ICP so you can qualify leads better (and faster)
Now that you know what information to add to your ideal customer profile, let's walk through the best ways to source this information.
1. Review your current customers
"The place to start when identifying the best customer profile is by examining existing clients," opines Omnicore Agency's Lidia Hovhan.
"It makes it easy to identify your audience and the best-fit organizations for your product or service."
Here's what to do in two steps:
1. "List your current clients based on their value to your business and come up with the ten best companies.
2. Consider factors such as their budget, industry, common pain points, and company size to understand the type of clients your business appeals to."
By creating a list and filling in each client's details, such as their industry, struggles, company size, location, and more, you can gather enough content to create a basic ICP.
Pro tip: The key to a successful ICP is writing down your current customer details. Fleshing it all on paper will help you better identify their similarities.
2. Survey existing customers
While the above tactic is a broader-scope practice, this one goes a little more in-depth to identify similarities in your present customers.
Casey Preston of Stratosphere advises: "Use what you learn [from your existing clients] to identify and qualify your future prospects through an installed process."
The example he shares is to survey your current customer base. "Ask simple questions, like what do they like about your services, what do they not like, what are their expectations with your company at 6 months or 1 year of your services, etc."
CocoFinder's Harriet Chan shares more questions to ask in your customer survey:
What does a typical day look like for you?
Which online forums do you use?
Which influencers do you follow?
What problem(s) did we help you solve?
What is the fastest way for somebody to make you angry?
"Once you've got the answers from a relatively large sample size, dig through your data and find the common denominators," says Chan.
Pro tip: Ask open-ended questions so customers are encouraged to share and expand on their answers.
3. Interview current customers
Another way to learn about your customers is to host one-on-one interviews with them. 
You can't do this in bulk, but if you take the time to talk to 5-6 customers initially, and then two per month moving forward, you'll get a good grasp onlf your ideal audience.
Marcus Ho from Brew Interactive explains, "My best tip would be not to assume you know your customers just because you've spent some time working with them.
"I would encourage companies to conduct interviews with current and past customers on a regular basis and ask pointed questions about their motivations, challenges, and why they chose to work with you. This will help you create an accurate ideal customer profile."
Pro tip: Give your customers incentives to get on an interview call with you. For example, give them a monthly discount on their subscription or offer them a gift card. This is a way to thank customers for their time, and encourages them to share their thoughts in reciprocation.
4. Review successful client cases
Another good way to learn who your dream clients are is to "look at your successful cases and work backward from there," suggests Henrik Saetre of AdChina.io.
A good place to start, according to SP Home Run's Joshua Feinberg, is to look at your five most recent and significant sales and ask the following: "What did they all have in common? A certain industry? A certain decision-maker or influencer role? A certain location/region? A certain company size?"
You can also add more to your research with a larger group of customers:
Of your 10 most recently closed customers with the highest NPS score, what do they all have in common?
Of your 10 most profitable customers (loop in your CFO), what do they all have in common?
From there, you can then design a better lead qualification funnel for all potential customers.
Pro tip: Don't just stop after you create your ICP. Review successful client cases every quarter so you can polish your existing user profile.
"An additional tip is to make sure you gather the necessary data," continues Saetre. "A lot is written about how every question and every additional click reduces your signup rate, but I find the additional information is often more valuable to ensure we spend time on the right leads. 
"Finally, do A/B tests, and make sure you cover the basics and get the BANT (budget, authority, need and timeline)."
5. Understand current product/market fit
This is an important step to determine your audience's struggles, all the available solutions, and how you can stand out in solving your ideal customer's challenges.
Sardar Azimov of Skief Labs explains, "To identify the ideal customer profile, we leverage the existing product/market fit: What customers are already paying for your services and products and why?
"By understanding the nature of pain points and value propositions, we can create a look-alike audience and from there, identify all the companies that fit this description."
This helps Azimov's team significantly. "Our approach is very much focused on Account-Based Marketing. We move from companies to stakeholders within each of those companies. The goal is to identify all possible buying centers and engage with them properly."
Finding product/market fit helps you identify your best features so you can stand out and provide the most value to your ideal buyers. 
6. Create a pre-qualification process
Having a pre-qualification process helps you in the long term. In fact, if you set up a pre-qualification process today, you'll likely see its benefits soon after – say after a couple of weeks after prospects have shared their details.
You could either "have a pre-qualification process on your website contact form or on your follow-up sales call," suggests Cariad Marketing Limited's Colette Cooper.
"If you only work in certain areas, this could be asking a prospect to select their post code from a drop-down menu (limiting their choice to the area you work in), or if you have a minimum spend, have this as one of the first questions (What is your budget?) on a sales call."
Not only will a pre-qualification process help you identify the best B2B SaaS leads, it also assists with sharpening your ICP. 
By reviewing the answers from your pre-qualification process, and then drawing any similarities between your high-quality leads, you can create a better customer profile.
Pro tip: Once you have an idea of how much your target buyers are willing to pay for your services, set up a minimal budget benchmark to qualify leads who can afford to work with you. After all, there's no point in jumping on a sales call with someone who can't pay your fee.
7. Engage with your ideal audience
Once you have a rough idea of who your ideal buyer is, start networking with people who match the profile. 
"One of the biggest ways you can identify customer profiles is obvious and underutilized: To engage personally to the group you're selling to," writes Allyson Langhoff from Online Optimism.
"Listening to individuals in the group is one of the best ways to find nuggets of essential information for your success.
"You're selling to them. Figure out what they want. Create focus groups, surveys, take any opportunity to talk directly with your customer. Most people prefer brands that take an individualized approach to sales, so the act alone will advertise your services."
Langhoff adds: "Engaging with customers can also reveal ways to segment your group and create high-value leads."
"Provide perks to returning customers, or utilize a loyalty program to make it worth their time and money to come back for more."
You can also invite them to join a referral program so they can get rewards for recommending other folks like them to your business.
Pro tip: Engage with past and present clients, as well as your target buyers, on a human level. A non-salesy approach helps people trust you more so they end up choosing your business (if they're a lead) or working with you long-term (if they're a customer).
Langhoff also has an excellent tip for helping you tap into a wider audience base. "Take a look at the traffic you're already getting and look for demographic trends in past clients. You can find demographics you haven't engaged yet, or you could be appealing to a niche market without even knowing it."
8. Create a do-not-contact list
This is pretty much like creating a don't-do list as a counterpart to your standard to-do list. Why? To keep your focus on the best clients for your business.
As you work on a do-not-contact list, you'll also get a clearer understanding of who you don't serve as a business.
Michael Boudreaux of Ten Thousand Pots explains: "Create a do not contact list. This list should include duplicate requests, competitors, and unqualified leads, preferably organized and categorized. Making a habit of updating and checking the list regularly will help a large team of B2B salespeople stay informed.
"Overall, at Ten Thousand Pots, we try our best to create a real connection with our clients. Even though the wholesale pottery market isn't fraught with scammers, we get to know our leads personally before vetting."
A similar approach you can take is to analyze not just closed sales calls, but also lost ones. 
"By analyzing WON/LOST sales calls on a regular basis you'll develop trends and get new insights into not only why people buy from you, but also what their background is and even the specific terms they use to describe their problems," Hans Dekker of Growbots points out.
"This can all be used in each stage of the funnel or sales process. From website copy to Drift flows, to lead scoring."
Pro tip: Paying attention to a lead's language on a successful sales call helps you understand how these clients define their struggles. Use this information to position your product/service better by using your prospects' own words to resonate with others like them.
Create your ideal customer profile today
To recap, you need an ideal buyer profile to ensure you are targeting the right people and working with ones who are truly the best fit for your product/service.
Start with reviewing your successful customer stories and identifying what made them a good fit for your business. Also take the time to survey and interview as many of your customers as you can.
And while you're at it, talk to your customer-facing teams and keep engaging with your ideal leads and customers (present and past) to learn more about them.
[/su_note]