Buyer personas have become another document we create and put under the ignore tab.
One reason why most teams don't pay as much attention to their buyer personas – they aren't doing them right.
Ideally, buyer personas provide a complete customer profile explaining their pain points, motivations, online channels they hang out on, and a lot more.
All this is reference material used to create products and services, content, and campaigns to appeal to your audience. The end result? Improved conversion rates.
In this post, we go over how to make useful buyer personas that are worth referencing every time you make a business decision.
We break down the important factors in your customer profile, and conversely, the unhelpful ones you shouldn't be wasting time on. To help get you started, we put together 12 nifty tips you can immediately start using to build your buyer persona.
But first, we look at the current state of buyer personas.
What should a buyer persona include? 
When it comes to effective buyer persona, 89% of marketers across various industries say age is the most important piece of information. Following that, are:
Problems customers face (84%)
Customer motivations (78%)
Pain points and gender (tied at 73%)
Our survey also revealed 69% of marketers are concerned about adding data on how their target audience finds information. Another 69% compile information on how their product/service meets customer needs. 
Slightly lower, 67% of marketers dig into data around their target persona's income.
Tied at 65%, the majority of marketers highlight their persona's priorities (that lead to them making a purchase), as well as what obstacles might be keeping their target audience from purchasing. 
Another 59% look for job titles, and 57% track their audience's location. Only 27% aim to identify the size of the company their audience works in.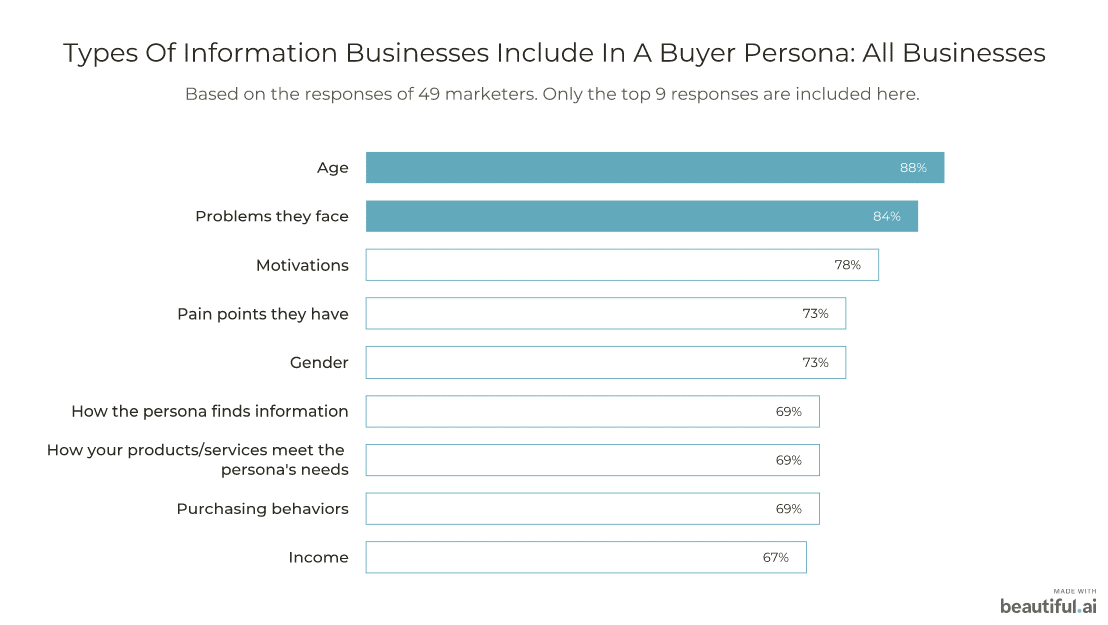 How to build a B2B buyer persona
As far as B2B buyer personas, our survey reveals the majority of B2Bs (87%) are concerned about learning more about the problems their target audience face. 
A three-way tie for 80%, marketers also look at pain points, their audience's age, and information on job title or position. 
Another 73% include information on their target customers' industry, the channels they use to find information, their motivations, and their purchasing behaviors. 
And finally, 67% of marketers study their persona's priorities when making a purchase and their gender.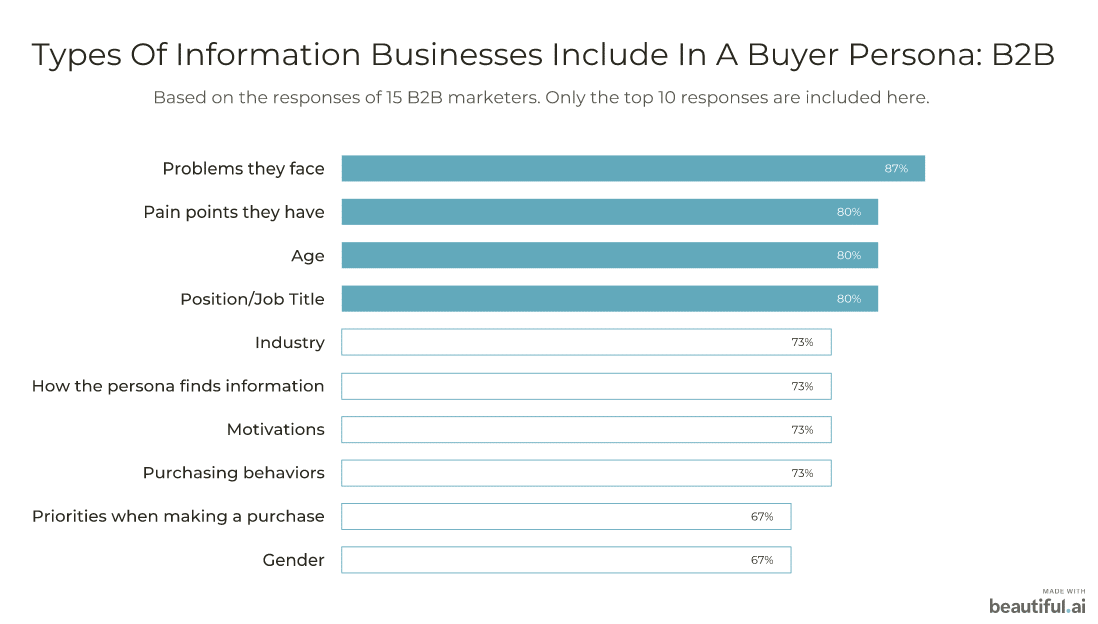 Some more details B2B marketers look at include: 
Obstacles that keep their persona from buying from them (60%)
How their product/service meets their intended audience's needs (60%)
Persona's income (60%)
Their values and location (53%)
Other factors, noted by less than 40% of marketers, the persona's goals, education, size of the company they work for, career needs, and family/marital status. 
How to build a B2B/B2C hybrid buyer persona
Marketers in B2B/B2C hybrid companies look at different factors when building a buyer persona. 
All respondents for this business model – that's 100% – look for problems and pain points felt by their persona.
Another 85% of marketers also focus on the buyer's purchasing priorities, motivations, age, and how they find information. 
Following that, 77% of marketers look for obstacles hindering a purchase, how their product/service meets their persona's needs, and their persona's income. 
About 69% also try to factor in their persona's gender.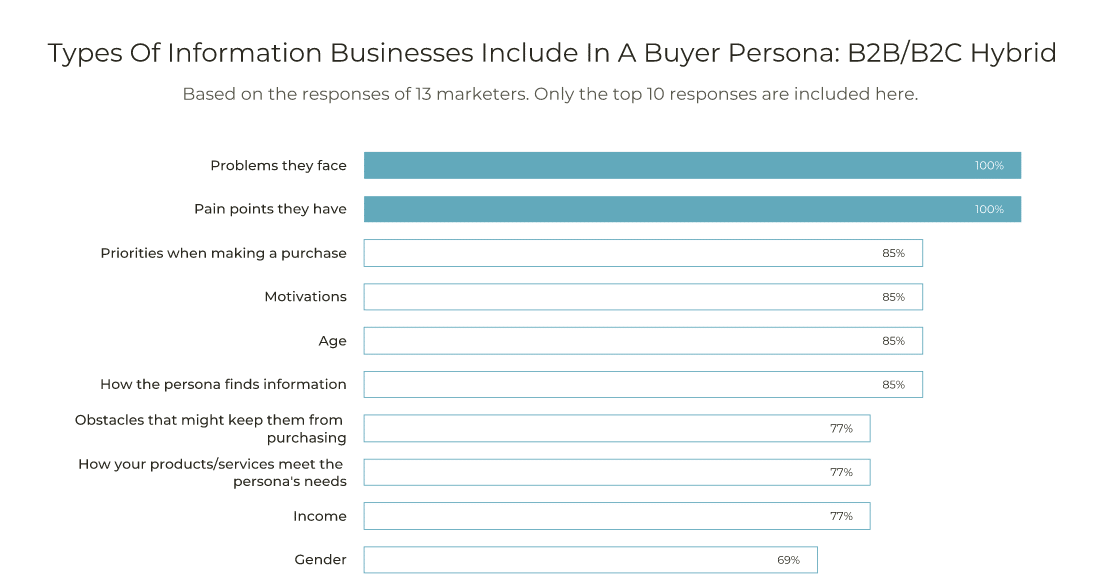 Other information that B2B/B2C hybrid companies add to their buyer personas: 
Position/job title (54%)
What they value (54%)
Purchasing behaviors (54%) 
Location (46%)
Personal/career goals (46%)
Marital status (38%)
Company size (38%)
Personal/career goals (38%)
Education (31%)
How to build a B2C buyer persona
As for B2C buyer personas, here's what we learned: 
The majority 95% prioritize their target customer's age, while 81% look at gender. Another 76% also decipher their motivations and purchasing behaviors. 
Following that, 71% of marketers try to identify their persona's problems and how the product/service helps meet their needs.
About 67% look at location and income, with 62% looking at any obstacles in purchase and the persona's values.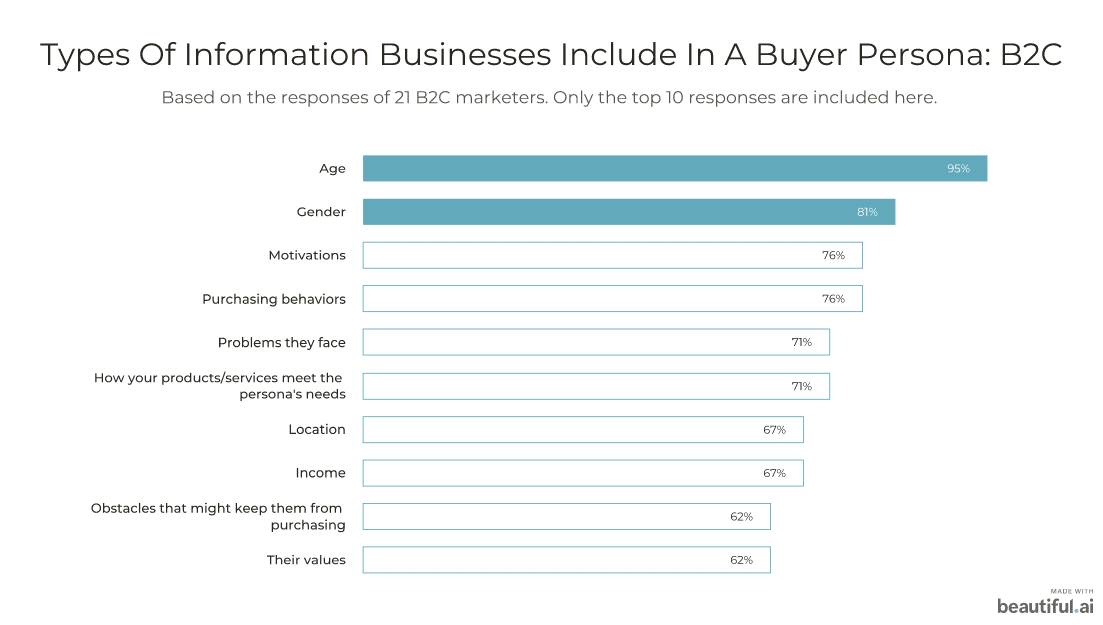 Other details B2C marketers often look for: 
How their persona finds information (57%)
Pain points and priorities when making a purchase (52%)
Job title (48%)
Education (43%)
Less than 40% of marketers look at their persona's family status, personal/career needs and goals, their employer's industry and size of the company. 
Why is a buyer persona important?
Before you dive into building your own buyer persona, you might be wondering: What's it all for?
We did too. So we posed the question to 49 marketers and asked for all the ways they actually make use of their buyer personas. 
The usage of buyer personas fall into three main buckets: 
Create better copy and content
Strengthen customer relationships and segmentation
Improve product offering
The most mentioned use of a buyer persona, according to 90% of marketers is to write more effective landing page copy. Following that, here are other great ways marketers put their buyer personas to work:
Use them to write effective blog content (84%)
Build stronger relationships with customers (76%)
To segment their audience (73%)
Write more effective website copy for other pages (71%)
To develop and/or refine their product (67%) 
As you can see, buyer personas can be used across your business and improve the way you reach your customers.
Below, we round up some of the top advice we collected from marketers and divided them into two categories: the best tips on what to add to your buyer persona, and the unhelpful ones you should skip.
Without further ado, let's dive in.
Important details to include in your buyer persona
What you should be adding to your buyer persona largely depends on your industry and the way you plan to use it after it's done. Iryna Kandrashova from UXPressia explains, "For instance, if you create a persona for your content marketing team, you will certainly need to include content-related information like preferred content formats (e.g., podcasts) and channels.
"We use a persona photo, name, and demographics to help the team develop empathy. From our experience, some of the most frequently used persona sections are name, photo, demographics, goals, background, motivations, and frustrations."
Pain points and motivations
"The most helpful piece of information to include in a buyer persona is their pain points or problems," opines Stephan Baldwin from Assisted Living Center. "Knowing their pain points lets us know how our service can take them from their pain point to their desired outcome or solution to the problem."
This info also helps you answer an important question, according to Baldwin: "What problems do customers need to solve, and how can my business help them? Finding the answers to this question and implementing the solutions are key to converting this type of customer time and again."
Several others share the same thought. Unstack's Ceillie Clark-Keane says, "Problems our buyer personas face is the most helpful info in the profile. When I'm brainstorming content ideas or writing copy, I need to know why someone would care in the first place.
"Not everyone with the same job title or education is going to care about a new feature or be looking for the same how-to blog post. But the problems our audience faces in their jobs, how they want to solve them, and why they're motivated to – that is a great starting place for writing copy and creating content with our audience in mind."
Donald Love from Freedom Pet Pass also agrees identifying buyers' pain points is critical, as it also helps understand their buying motivations. "With this knowledge, predicting their research and buying behaviors becomes far easier, and providing the information they need follows logically," he says.
Customer's level of awareness
After determining your customer's pain point, you need to figure out how aware they are of their own problem and a possible solution.
LeapVista's Steve Tan comments on this: "The most valuable thing to add to your buyer persona would be the persona's level of awareness – both of their problem and the solution that you offer.
"Gauge your ideal customers' awareness before you can effectively communicate with them. Otherwise, you might end up wasting time on creating marketing materials they don't see the value of."
Buyer language and engagement
Lauren Walter from Guardian Computer shares another helpful point to work into your customer profile: A comprehensive methodology for engagement.
"This includes establishing the tone, language, and selling points that should be used when marketing to potential buyers. A solid engagement plan should help marketing and sales teams make appropriate decisions regarding industry-specific jargon and keywords.
"Determining what communication tactics each buyer persona tends to respond to can help us sell ourselves more effectively by exuding relatability and professionalism."
Preferred content formats 
Closely related to this is identifying the content format your ideal audience prefers to consume.
If your target buyer loves watching videos, but you're trying to attract them using email marketing, your efforts are going down the drain. Why? Because you aren't creating content your ideal customer will readily consume. You're attempting to reach them the wrong way.
Mudassir Ahmed of Blogging Explained recommends asking yourself: "How do buyers like to consume your content? Blog posts, videos, infographic, audio, or other content formats?"
Buyers want comfort while they consume your content, and want to understand the value that you're offering. No point in pushing the content in the form you're good at if it doesn't resonate with the buyer. If you don't have the resources to present content in various formats they prefer, then start outsourcing."
Audience's online channels
"The most beneficial piece of customer data for building buyer personas is the audience's online presence, which devices they use, and for how long," explains EasyMerchant's Stacey Kane.
"Knowing this is a game-changer for the way you curate content and design formats. Once you know how your top visitors are accessing your site, you are more equipped in terms of the compatibility of all your channels and advertising with the technology they're using."
A day-in-the-life scenarios
Imagining real life scenarios your ideal customer may have can help to map your buyer's journey. Gilad Rom of Huan attests to this practice: "This allows our marketing team and content creators to step into the persona's shoes and see things from their perspective. We use this insight to inform our landing pages, blog posts, and social media content."
Insights from existing customer
Since the goal is to get into your target audience's shoes, adding quotes from existing customers helps to flesh out and add detail to your buyer persona. 
Art Iinuma of ISBX shares, "One of the ways we bring our personas to life is to collect quotes from our customer interactions that embody what they are thinking and feeling. This allows us to consider what the ideal buyer persona is thinking and feeling in their own words."
Buyer persona details to stop wasting your time on
Now let's look at things a buyer persona doesn't need. 
Before we start, however, it's important to note that the ideal buyer persona should always depend on your business model and industry.
As Alejandro Uriarte from 1800 Injured explains, "Certain pieces of information may not be very helpful in some industries, but more useful in another. In the legal industry, for example, our clients are people looking to make a personal injury claim, so purchasing behaviors may not be as relevant."
Demographics
"Though it may seem counterintuitive given the front-facing nature of a buyer persona, focusing exclusively on buyers' demographics is an easily avoidable mistake," highlights Lauren Walter from Guardian Computer.
"Excessive demographic information can be inundative and unproductive, as it relies on metrics and assumptions that may prove ultimately extraneous in the long run. This can divert attention away from generating both an awareness of the bigger picture, as well as strategies for addressing larger consumer concerns.
"When creating a buyer persona, start by focusing less on deep-diving into a potential customer's demographics, and instead begin to cultivate an intensive understanding of their psychographics as well."
Geographic location
"Location is the piece of information I find most unhelpful," opines Unstack's Ceillie Clark-Keane. "We're a SaaS business that serves customers all over the place, so this doesn't inform our marketing as much as it would for other companies."
Personal factors
Mudassir Ahmed of Blogging Explained adds: "I think you shouldn't include personal factors, like family status, responsibilities, and financial background in a buyer persona."
Although this can give you "a brief idea of the buyer's mindset and capability, [it feels a lot like] invading their personal space. At some point, the potential buyer might also think you've collected information you shouldn't have, and may not stick to you."
Blanket statements and assumptions
In fact, it's important to get rid of any assumptions from your customer profile.
LeapVista's Steve Tan says, "Unfortunately, this is a common mistake among many business owners. They make assumptions and design their marketing around these assumptions – with no real data to back them up. Any made-up information is irrelevant."
Mike Nemeroff from RushOrderTees agrees. "It's unhelpful to use blanket statements and stereotypes to define and build your buyer personas. The details and information about your persona should come from your real customer research; they shouldn't come from stereotypes and assumptions."
Tips to create useful buyer personas
And now, for the best tips for creating useful buyer personas:
1. Get into your customers' head
This is essen