Referral marketing is a powerful tool for increasing B2C customer bases, but can the same be said for B2B referral programs?  After all, B2B businesses operate differently than B2C. Before deciding whether to purchase a B2B product, businesses usually go through a long decision-making process and consult multiple stakeholders. Fortunately, we've got 61 B2B referral marketing statistics that help shine a lot of light on this subject.
And they're usually seeking a long-term deal — one that lasts for at least a few years. That's drastically different from B2C buying, where one consumer quickly makes a short-term decision.
So, will a referral program for your B2B really work?
How effective is B2B referral marketing?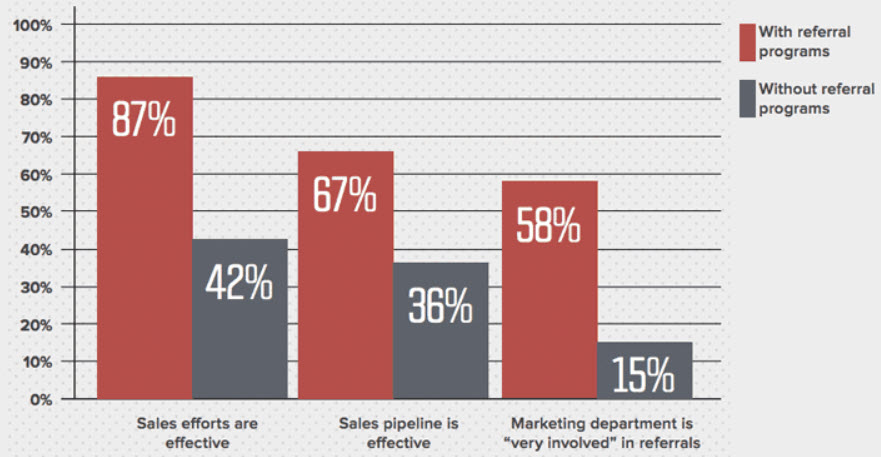 Source: SalesCamp
According to Small Biz Trends, almost 83% of B2B decision-makers would prefer B2B lead generation efforts to be more creative, in line with the creativity shown in B2C marketing.
Interestingly, though, 48% of B2B buyers are bored with most of the B2B ads they see right now and think that these marketing efforts are overly repetitive. Meanwhile, the other 52% think that B2B and B2C ads are equally interesting.
Taken together, these B2B referral marketing statistics show that many buyers are indifferent to ads and are tuning them out. Like most buyers (of both B2B and B2C products and services), they trust recommendations from peers far more than traditional ads.
And B2B marketers are realizing how ineffective their ads can be as well.
Meanwhile, though, starting a B2B referral program is a reliable marketing choice.
Why B2B referral marketing is powerful
B2B referral marketing harnesses the power of word-of-mouth by formalizing and simplifying the recommendation process. Referral programs make it easy for businesspeople to recommend your products or services to other companies, and often reward businesses for making these recommendations. And referred leads are the most valuable, because of the trust they place in their peers – they're easier to nurture and more likely to convert into sales.
Referrals provide valuable leads who are already nurtured through peer recommendation:
Referrals work better than direct pitches from your company's sales and marketing teams.
B2B employees trust referrals, both when buying and selling
B2B salespeople and marketers trust referral marketing's ability to source high-converting leads for their company.
And B2B executives, as well as other buyers, trust recommendations that come from referrals – good news for your B2B referral program.
How to create winning B2B referral marketing programs
So, what are some of the best practices for creating a B2B referral program? These stats provide the answers:
One of the best B2B marketing strategies is to develop a formal referral program using referral marketing tools.
Advertise your referral program in email marketing campaigns.
Actively ask for referrals from satisfied customers.
Your marketing department should run your referral program.
In this increasingly mobile world, it's also vital that you leverage mobile and social media as part of your B2B referral marketing. Let's dive into the statistics in the next section.
B2B referral marketing statistics: mobile and social media
Mobile marketing and social media marketing aren't just crucial in the B2C realm – they're equally important to B2B marketing. Just as consumers check out products on their phones, B2B buyers are investigating your company on their mobile devices.
B2B Referral marketing statistics for buyers
But B2B buyers are going mobile, and are using social media, regardless of their generation.
So, make sure your referral program page, as well as the rest of your website,  runs smoothly on both desktop and mobile.
Also, be sure to optimize referral emails (the emails sent through the referral program from your satisfied customers to their peers) for both desktop and mobile.
B2B influencers
Influencer marketing campaigns aren't just for B2C, either. The power of B2B marketing influencers can also work wonders for your business. Here are B2B referral marketing statistics involving influencers.
How should you go about choosing influencers to advocate for your products? There are important differences between the B2C influencer sourcing process.
Remember that the best B2B influencers aren't always those with a solid social media presence.
Make sure that you allot a reasonable amount of time for sourcing influencers – with B2B, this process is not instantaneous.
And don't expect the results of B2B influencer marketing to appear overnight. After all, B2B decisions are often made by multiple employees, using a variety of nuanced factors.
Notably, it's better to form influencer relationships on a yearly basis (unlike with B2C marketing, where most influencers are recruited for short-term relationships.)
Key takeaways
As you can see from the above B2B referral marketing statistics, referral marketing and word-of-mouth are powerful tools for your B2B business. B2B marketers, salespeople, decision-makers, and buyers trust referrals. Be sure to optimize your referral program for mobile, and consider recruiting influencers.
Hopefully, after reading these referral stats and referral quotes, you have an idea of how starting a referral program can benefit your business. Remember that a formalized referral program and referral tools are especially key to your business' success with B2B referral marketing. There are many options for referral marketing software on the market – let us know if we can help you start a B2B referral program.
Are there any compelling B2B referral stats or quotes that we missed? Let us know. We'd love to include them in this article.