Today's business world is hyper-competitive. Consumers have more choices than ever, with web tools that empower them to make educated decisions. So, how can your business separate itself from the pack?
Smart businesses use growth hacking strategies – innovative ways to drive growth without breaking the bank. Instead of only following traditional marketing methods and playbooks, they look for high-impact, quick fixes that will solve their problems and drive the most conversions.
This list of growth hacking strategies focuses on hacks that will work for almost any business. When you're finished, you'll have plenty of possible strategies to improve conversions, and you'll know how to implement the growth hacking strategies that work best for your business.
What is growth hacking?
Sean Ellis, CEO and founder of GrowthHackers, coined the term "growth hacking" in 2010. He defined it as a way for startups to drive growth through innovative methods, and with a smaller budget. People who dedicate themselves to growth hacking strategies focus on getting their business to scale. According to Ellis, "A growth hacker is a person whose true north is growth. Everything they do is scrutinized by its potential impact on scalable growth." Today, businesses of all sizes and stages use growth hacking strategies.
To a growth hacker, rapid growth and customer acquisition are always more important than driving brand awareness. Hackers want results, and want them quickly. Growth hackers come up with quick fixes, or experiments, to encourage conversions and help a business overcome obstacles to growth.
For example, they might figure out how to drive more email signups, encourage more people to fill out lead forms, prevent website abandonment, and ultimately acquire more customers.
What makes growth hacking different from growth marketing?
Some growth hacks are instant and only last for a short time, because growth hackers commit to finding solutions as quick as they can. And not all growth hacking strategies are focused on driving retention. This differentiates growth hacking from growth marketing, because growth marketing always focuses on long-term ways to encourage customers to stick with your brand.
Growth hacking strategies
Without further ado, let's dive into our list of more than 50 growth hacking strategies for any business. We've divided these strategies into 6 categories.
(Looking for retention-focused, long-term growth strategies? We focus on those in detail in our growth marketing strategies article.)
Growth hacking strategies for brand positioning
Growth hacking strategies are largely about out-innovating the competition. So, why not shrink your competition through strategic positioning?
But another innovative strategy that fewer people know about is the "pufferfish strategy" or "blowfish method." This growth hacking strategy is all about making yourself look bigger than you actually are.
Pipetop, a smaller startup in Denmark, used the pufferfish strategy by buying international phone numbers.
They didn't actually have a physical presence outside of their own country, but buying those available numbers and displaying them on their website made them look much larger than they were.
Investors were impressed with their supposed scale. So was the media, which resulted in lots of PR!
Like the pufferfish that fills itself with air, a pufferfish strategy like this sends out a signal that your business shouldn't be messed with.
Content creation growth hacking strategies
Content creation growth hacking strategies are all about building trust. Creating quality content under your name helps you improve your SEO prospects, so you'll be found before your competitors. And when your audience finds helpful information they need thanks to your content, it will be hard for them to forget you. So, they'll be more likely to choose your product over the competition. Try these content growth hacks:
Regularly create relevant content
This is one of the least expensive ways to get your name out there and build authority in your niche.
Write quality, informative articles on topics relevant to your audience.

Always research keywords relevant to your niche and audience, and optimize your articles for those keywords.
Tools like RankMath and Yoast can automatically call out fixes to help you optimize your site.

If it works for your niche, consider writing about other products to make yourself a hub for product info.

For example, a software company might write about other software programs.

Keep your content consistent. Once your audience is hooked on your content, they'll want to keep consuming it. And the more content they consume, the more they'll trust you—and the more likely they'll convert.
Take advantage of different content mediums
Don't rely on textual content alone. Create compelling images and videos! After 3 days, people remember only 10% of the information they read, but 65% of information that's presented visually.
Design engaging infographics with your brand name on them. Infographics are highly shareable – if you design a quality one, other people will share it on their own channels, and that will build your own reputation.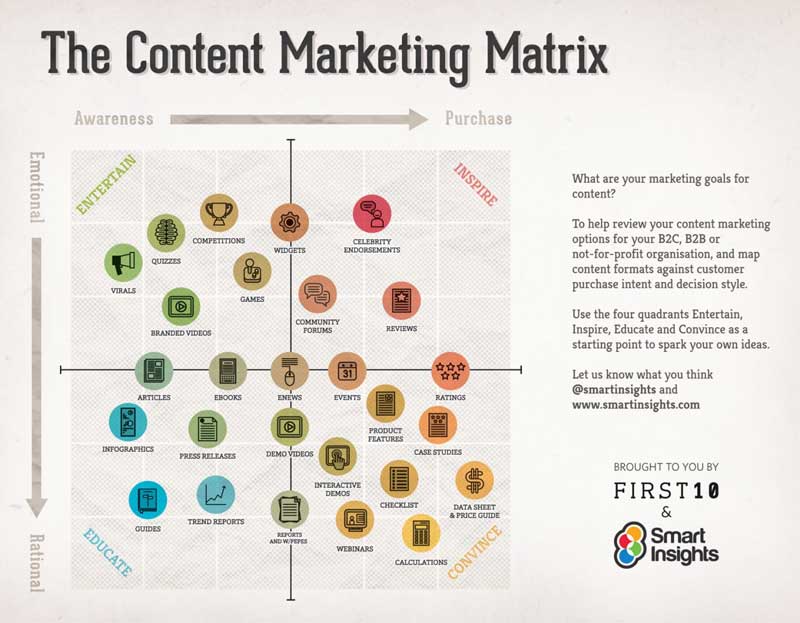 Tap into video marketing, and include videos within your other content. According to Hootsuite, nearly three-quarters of businesses who use video report that it increased their conversion rates.
Host webinars. They're an awesome way to drive email signups and find quality leads. (Check out this article for tips on using webinars to drive growth.)
Try different content formats (i.e., more text-heavy posts, more infographics, several videos in a blog post) to see which ones your audience prefers.
Establish a regular social media presence, as social media content is highly shareable. Any business could potentially go viral with a single post.

 Also, be sure to share links to the long-form content you create on social!
Keep checking the SEO stats on your content to look for ways you could improve, relative to your keyword competition.
Also, remix your content  in different mediums. For example, you could turn content from your best blog posts into infographics or YouTube videos.
Piggyback off of other channels
This will further increase the odds that your audience will find you, and build even more authority.
Ask for and write guest posts on authority sites in your niche that don't directly compete with you.

It may be intimidating to ask for a guest post on a particularly authoritative site, but the rewards are worth it. In addition to the free publicity, you'll be associated with the trusted brand or the known influencer who runs the site (this is called the "halo effect.")
Offer guest post "exchange" opportunities (and backlinking opportunities) on your own site. In the "exchange" model, you swap guest posts with another content creator. You'll upload their guest post to your own site, and they'll do the same for your guest post on theirs.

Write roundups for your own blog (posts where you collect insights from other professionals on a topic; see an example here). The contributors to your roundup will share the post on their own channels, and you'll collect their valuable backlinks that boost your reputation.
Contribute to others' roundups, to get your name out there on even more relevant websites.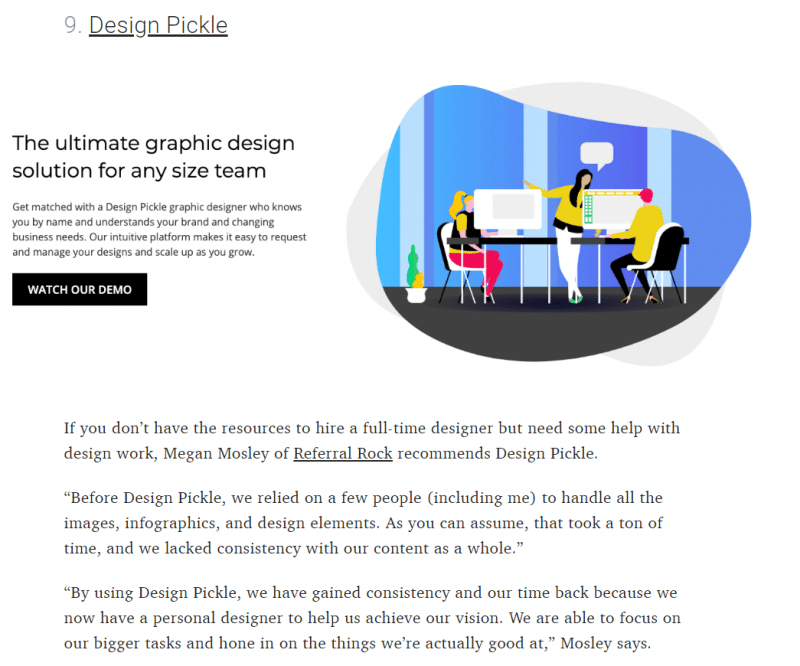 Our own Megan Mosley shares her insights in a Databox roundup. Source
Be a guest on others' podcasts.
Post helpful answers to relevant questions in Quora, and repurpose your blog posts for established curation sites like Medium. These avenues have already built a large audience – they're just waiting for you to tap into it.
Advocacy and community-building growth hacks
Your audience trusts the opinions of others more than they trust messaging that comes straight from your brand. Thus, encouraging brand advocates to promote you is a solid growth hacking strategy that will help you acquire plenty of new customers. So is securing strategic partnerships. What strategies can you use to mobilize advocates, strategically partner, and build community?
Get influencers, brand ambassadors, or affiliates to talk about your product in their own voice, and on their own channels.
Build a brand community and harness your brand's superfans.
Partner wisely with non-competing products or services. This will help you gain new customers from the referrals of your partner.
Integrate with social media platforms, if possible, to further build social proof. Think of how Spotify integrates with Facebook and Instagram to let you post your favorite songs and playlists to the platform. It's the perfect hack for Spotify to get potential customers' attention through their peers' tastes.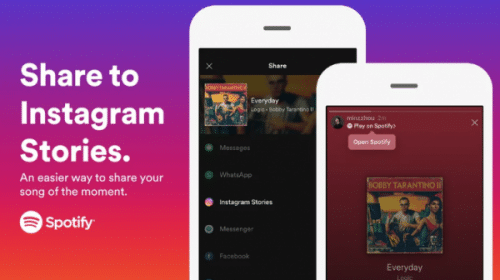 Advertise yourself in marketplaces like ProductHunt.
Make it easy for customers to share your website and content on social media, with a "click to tweet" button.
Drive positive reviews from your best customers on popular and relevant review sites. Since these sites collect the opinions of many people who have used your product/service all in one place, they're a particularly trusted source of information when potential customers research your brand.
Create a double-sided referral program (one that rewards both the referrer and friend) that encourages a viral loop.
Customer experience/user experience growth hacks
Delivering a stellar customer experience, or user experience, is the dirtiest secret to driving growth. Any business can take advantage of this growth hacking strategy! When consumers have a stellar experience with you, they're less likely to abandon you, and more likely to make a purchase. Plus, they're more likely to tell their friends about you (trust strikes again!)
Gamify your user experience with challenges, achievements, levels, and other elements that people associate with their favorite apps.

Remember, user experience also includes experiences with your website. After all, your website is your first brand representative—people use your website to research you long before they speak to a human.

Create a clean, on-brand website layout that's easy to navigate.
Reduce your website's loading speed. If a webpage takes over three seconds to load, 40% of buyers will outright leave the site before they've even seen the first page in full.
And make sure your site is optimized for mobile, because more and more users are researching your brand on their phones!.
Help users seamlessly switch from competitors to you. Could you offer a "switch discount"? Or, if you're a SaaS, could you help users seamlessly import their data from a competitor's program to yours?
Growth hacks for creating FOMO
Don't underestimate the power of insecurity and urgency – emotions are a powerful tool. By making on-the-fence prospects fear missing out on what you have to offer, you'll drive more conversions.
Use exit-intent pop-ups, that appear when a user tries to abandon your website, to encourage them to stay. Consider offering them a discount or freebie through the pop-up.
Create urgency with countdown offers (think "Your cart will expire in…" or "Your offer will expire in…" type notifications)
Use notifications like "last items in stock," "5 people are looking at this item now" and "14 people purchased this item in the last 24 hours" on item purchasing pages. This creates a sense of scarcity.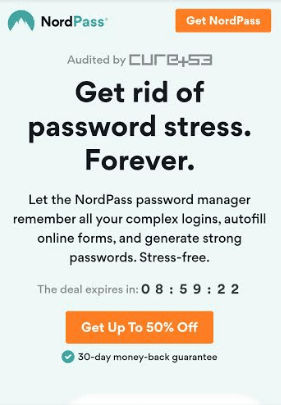 If you've collected a potential customer's email and they abandon their cart, send a cart abandonment email that indicates their items are selling out quickly.
Craft a sense of exclusivity with brand secrets, secret sales, or invitation-only signups. In-N-Out's secret menu is an awesome example!
Run contests where a purchase, email signup, or share gives people a chance to win a valuable prize. Your audience won't want to miss out on this!
Free offer growth hacks
Everyone loves getting something for nothing, so offering something for free is often an easy way to drive growth. Offering free trials and demos works well, but look beyond those options for other ways to drive growth:
Use free ebook/whitepaper offers, or free coupons, to drive email signups. As we mentioned above, you could combine an offer like this with an exit intent pop-up.
Give out unconditional free items (like coupons) via email: no strings attached. This excites people more than a typical product email, so they'll more readily read other emails from you in the  future.
Create free tools with basic functionality, to get your name out there and build trust. For example, some websites have built free calculators, free templates, or free SEO tools.
Testing and analytics
Keep testing and refining the strategies you use to maximize conversions. Don't just implement a strategy and leave it to do its work without proper evaluation.
A/B testing is often the best approach, since you can compare two different formats side by side and keep carrying over the most effective changes.
For example, you could A/B test landing pages with different free offers, or different numbers of form fields, to find the sweet spot that drives the most signups. Or, you could test different wordings for a call-to-action button, like Uber did.
Also, look for the low-hanging fruit. What little marketing elements could improve engagement, such as CTA button changes or improving meta descriptions? Where do leads leave the funnel, and what strategies can you use to patch up the funnel at that point?
And whatever growth hacking strategies you choose, set measurable goals and gather data so you know how successful they are. This way, you can apply what you learn to future growth hacks.
Wrapping things up
There are plenty of growth hacking strategies that your business can use to fix obstacles to growth. However, it's best to combine strategies like the ones above with strategies that focus on retention. After all, without customer retention, growth isn't sustainable. Also, don't just craft and implement a quick fix and then forget about it. Instead, keep retesting and refining any growth hacking strategies you use for the best results.