Only about two-thirds of businesses stay open for more than two years. Only half of businesses make it to their fifth year, and only a third make it to their tenth year. Sustaining growth is key to making sure your business stays around for the long haul.
If you want your business to thrive for years to come, you'll need to select the right growth marketing strategies for scaling your business. Today, we'll break down 12 growth marketing strategies you can use to sustain your business.
What are growth marketing strategies?
Growth marketing strategies are centered around retention and keep an eye on the long-term success of your business. After all, true growth also entails retaining your existing customer base. And when you select a growth marketing strategy, you'll probably use it for the long haul.
We go over 12 different growth marketing strategies, so you can choose the ones that will work best for your business.
Foundational growth marketing
We'll start with the foundational strategies you need even before selecting specific growth marketing strategies. First, you'll need to create buyer personas, understand the marketing funnel's mechanics, and set goals for your growth efforts.
1. Create buyer personas
To know which growth marketing strategies will work best, you need to know your target audience and what motivates them. The best way to start is by creating buyer personas. Buyer personas help you understand how to best tailor growth marketing strategies to satisfy your customers.
Remember each persona describes a very specific customer and their position, but you can still create multiple buyer personas to cover all your bases. The following is some information to help guide you in creating your buyer persona:
Relevant demographic information (age, gender, education, employment position, location, etc.)
Overall goals and values
Needs they seek to meet
Challenges, problems, and pain points
Sources of information buyers trust most (specific print or digital media outlets, influencers, peers)
Buyer's role in the purchase process (i.e., Are multiple stakeholders involved in purchasing your product?)
Any obstacles and objections that might keep them from buying (or that might lead to existing customer churn)
Now that you know what motivates your audience, you have a better idea of how to both gain and keep your customers.
2. Understand the buyer's funnel
Growth marketing strategies are largely focused on retention – but that's just one part of the marketing funnel. As a whole, growth marketing looks at all five stages of the buyer's journey:
Acquisition
Activation
Revenue
Retention
Referral
These are also known as the pirate metrics, or AARRR. It's vital to understand all five stages of the buyer's journey and how a customer moves from one stage to the other.
How does a buyer enter your funnel? What convinces them to move through it? While answering these questions, make sure to always keep your created buyer personas in mind.
3. Set SMART goals
You know your buyer personas and how they move through the funnel. Now, you have one step left to establish strategic foundations for growth – that step is setting the concrete goals you want to accomplish.
In most effective goal-setting, make sure your goals are SMART: specific, measurable, attainable, relevant, and timely.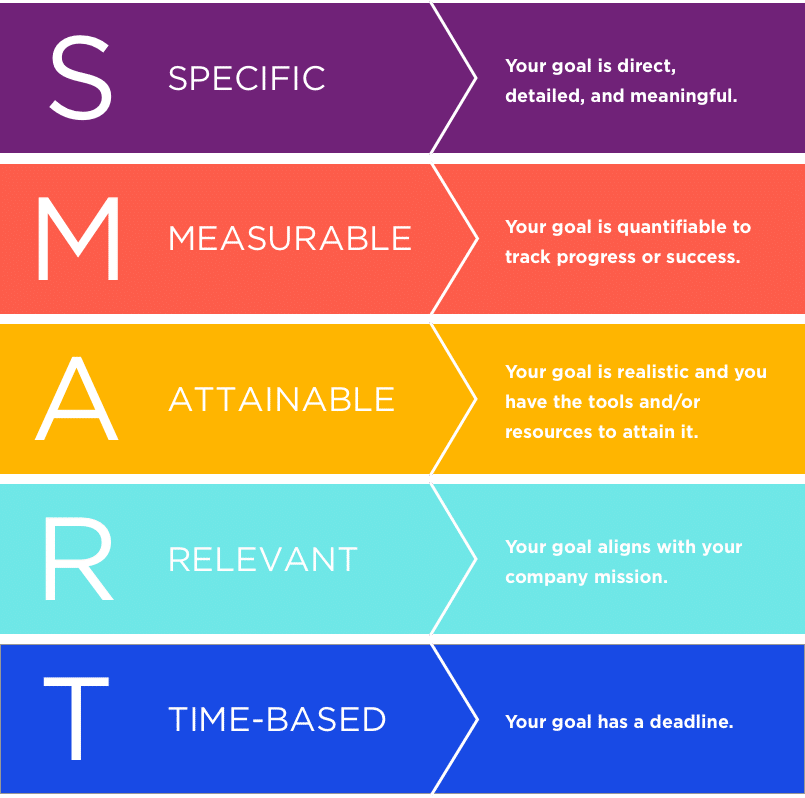 Specific: Your goals should not be vague. For example, growth marketing goals often  include increasing the customer retention rate or referral rate by a specific amount.
Measurable: It's best to use a set metric to track your success. A good metric for growth goals may be tracking customer retention rate or customer lifetime value, while referral goals can include the percentage of customers who refer friends, or the percentage of successful referrals.
Attainable: Ambition is awesome, but be sure the goals you set are ones you can realistically achieve. .
Relevant: To be effective, your goals must be truly worthwhile and applicable to your business.
Timely: In what timeframe do you need to achieve the goal – within the next quarter? The next year? Goals work best when they have a set date and can be realistically reached in the given timeframe.
To give you an example of how to turn a general goal into a SMART goal, say your growth goal is to simply increase customer retention. The SMART version of this goal would be to "Increase customer retention rate by 10% in the next quarter." The goal will also define the steps necessary to achieve the goal. And that's where the growth marketing strategies below come in!
Specific growth marketing
You've laid the foundations for successful growth marketing strategies. But which strategies will best help you meet your retention and referral goals? Let's dive into the different types of growth marketing strategies below:
4. Focus on customer retention
We can't say this enough: customer retention is vital for any business.
Retention-focused strategies aim to increasing a customer's lifetime value, and come into play during all aspects of a customer's journey and experience. Ultimately, they help increase the likelihood of a customer staying loyal to your business.
In this section, we cover data-driven growth marketing strategies for encouraging retention at every stage of a customer's journey.
5. Gamify onboarding and usage
After a customer buys something from you, onboarding is the first experience they will have with your product, especially if you offer a software, app, subscription, or other service.
It's important to make your onboarding process as seamless as possible. After all, one of the business benefits of having a customer who knows how to use your product are more likely to continue using it.
One smart growth marketing strategy is to gamify your onboarding process by breaking it down into steps. Consider the following:
The features you want your users to be acquainted with
The actions you want them to complete to encourage repeated use
The ways you want them to share your brand with friends (particularly via social media)
These will be the steps customers can complete to advance in your onboarding "game." In this game, you'll also need to give rewards for each step or milestone a customer completes. The rewards could be tangible (i.e., unlocking more features or time with the product), or they could be badges and achievements that mark the customers' progress. Or, you could use a bit of both!
Additionally, the best gamified onboarding process should extend well past the beginning of users' time with the product and encourage them to become a "pro user."
Integrating fun and familiar game elements into a non-game environment is a great way to keep users engaged.  Think about how Duolingo revolutionized the language-learning environment with addicting game elements, or how apps like LinkedIn use levels to encourage users to advance from "beginners" all the way to "pros."
Some apps, like Waze, even require continued usage for users to earn and keep higher ranks, as they have to compete against others for their ranks.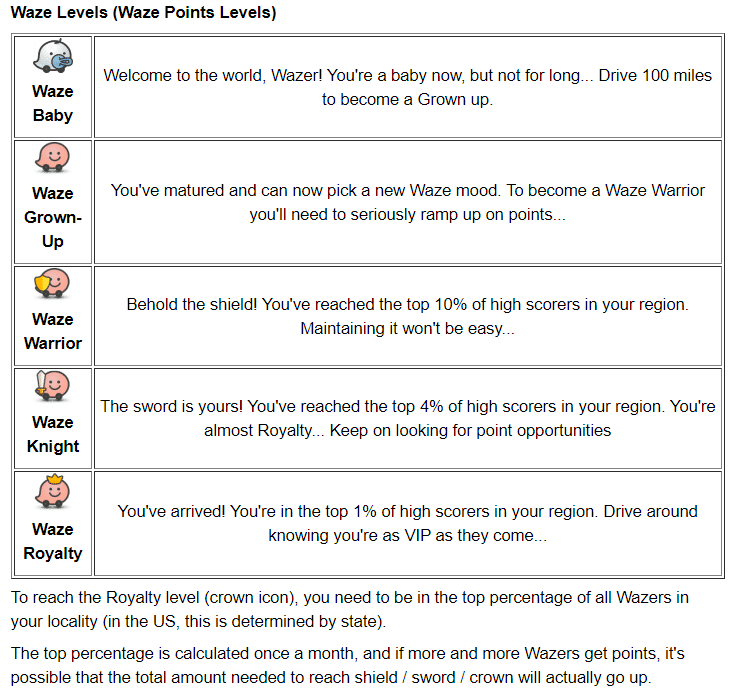 6. Provide quality educational resources
You already know content marketing works well for building trust and gaining new users. Well, the right content can also go a long way in encouraging retention.
A good way to do this is by creating a detailed knowledge base, with resources in varied mediums, so your customers can access the information they need for continued success.
Software marketing company HubSpot goes above and beyond, by encouraging retention through free detailed courses and certifications. The site produces over 50 pieces of content every week, providing its users with plenty of actionable and  educational insights to guide their marketing strategy. Not to mention their HubSpot Academy and countless inbound certifications they offer all for free!
Through their free content, podcasts, webinars, and events, HubSpot was able to grow a cult-like following. And they don't show any signs of slowing down, with their last valuation coming in at over $6 billion. So, take a cue from HubSpot, and don't be stingy with your educational resources to promote growth!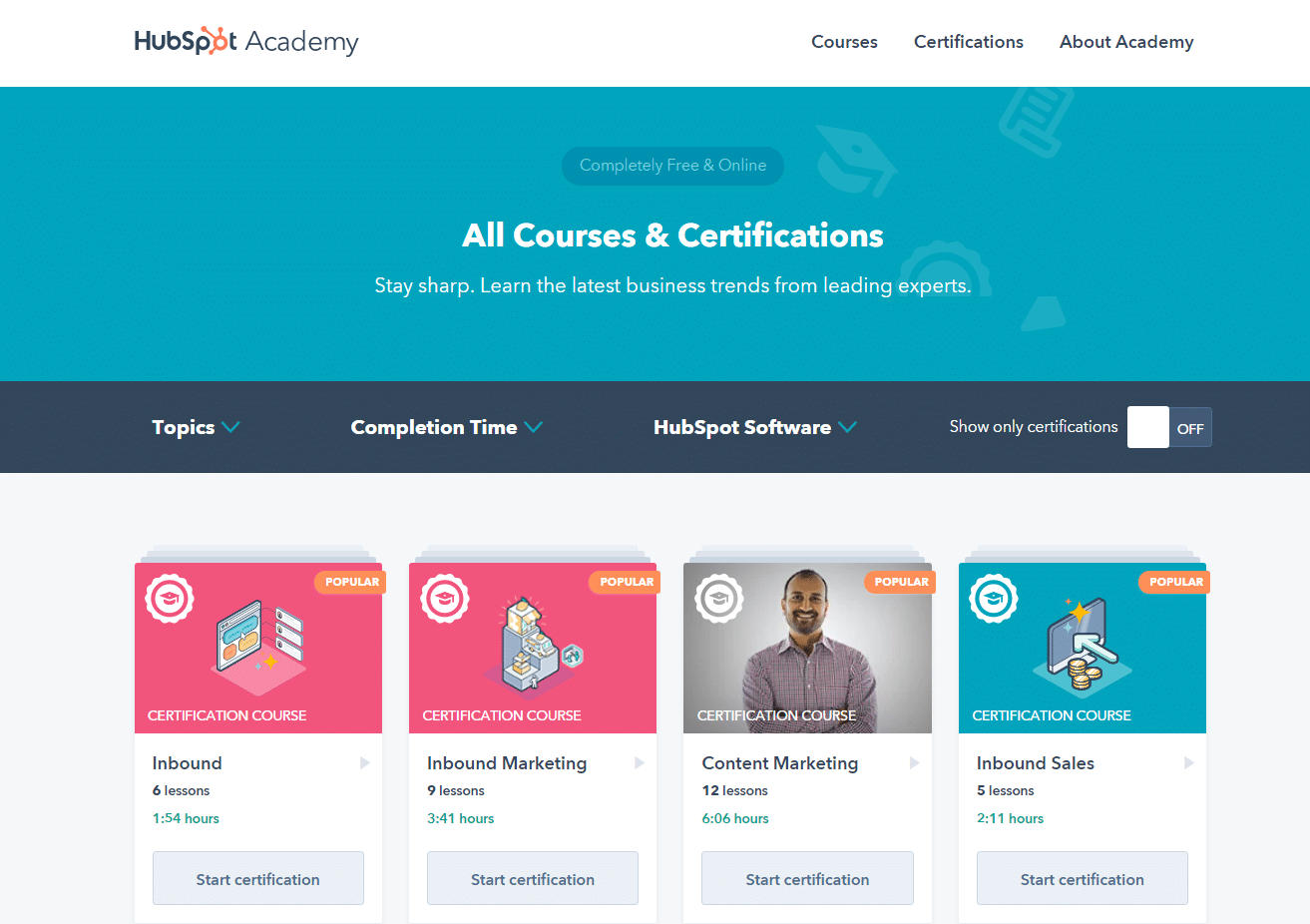 7. Create a brand community
When you create a community for your customers, they feel more connected and invested in your brand. This emotional bond formed with their peers and your brand can lead to more retention and referrals.
A brand community also adds value, as it encourages members to help and answer each other's questions. An additional strategy is integrating a community element into your product, as Github did.
Github lets coders come together to work on projects and solve problems in an open-source environment. The contribution-tracking feature and ability to follow projects adds elements of both team-building and competition – Appcues describes the platform as "a social network for coding."
Github grew to 100,000 users within its first year, mainly because people realized the product became better and better the more people were involved. What are they ways you can create this feeling with your own product?
Giving customers a chance to test your product or service before buying, and therefore using the product-led growth method will significantly help you gain customer loyalty.
8. Use behavioral analytics to reduce churn
Having a solid customer relationship management software (CRM) to collect and analyze customer behavior is key to retention.
A customer satisfaction survey, for example, can help you find out why customers stick with you and why they churn. Unfortunately, many customers won't tell you when they run into difficulties. And if they struggle for too long, they're likely to churn.
To counter customer churn, you have to carefully analyze your customers' behavior patterns to decipher the common behavior that lead to retention versus behavior that lead to churn.
Then, based on these types of behavior, you can send targeted messages to those at risk of churn to help them get past the snag. By being proactive, you'll be able to increase retention.
Customer support platform Groove really nails this customer retention strategy. The company used Kissmetrics to compare the behavior of loyal customers to those of customers who churned. It found that users who were able to create a support widget in just a few minutes were more likely to stick with the platform. But those who couldn't grasp how to complete this task quickly tended to churn.
Groove then sent targeted emails to those who were struggling, containing information that helped them along with widget creation and back to using the platform. With this strategy, the company successfully reduced their churn rate from 4.5% to 1.6%.
9. Encourage users to mirror the behavior of loyal customers
Just like it's vital to identify and stop behavior that leads to churn, it's crucial to encourage the prime behavior that creates customer retention.
Gamification is one way to encourage this behavior. But even better is to simply embed them into common use patterns. In other words, create habits.
Slack provides an example of how this works. They studied which types of behavior most often led to retention, and found that teams that sent over 2,000 messages were extremely likely to stick with Slack.
This narrowed the focus: How to get teams to send this many messages on their platform? The team came up with as many ways as they could to get people to send messages back and forth. They also used the Slackbot for onboarding, as a way to show new users how to start conversations, send files, and use shortcuts.
Slack's goal was to make messaging as easy as possible, and get users to replace processes such as sending emails with the quick messaging.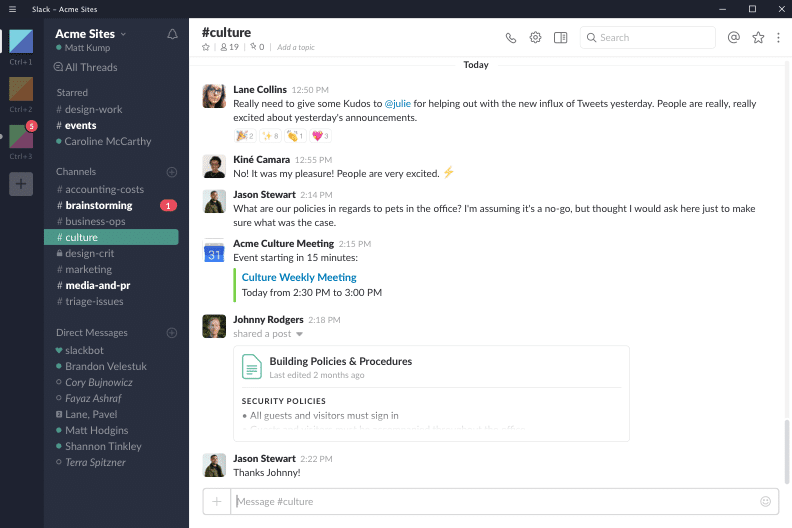 Referral-focused growth marketing
Referral strategies encourage existing customers to tell their friends about you, effectively turning the AARRR funnel into a loop of growth. Customers who find out about your business through a friend are more likely to remain your customers. In the long run, referrals drive growth through customer acquisition and customer retention!
10. Use social proof
What is social proof? Coined by Robert Cialdini in his book Influence, it's described as "informational social influence." People who aren't sure about how to act usually tend to follow the behavior of others in that situation. (Learn more about social proof marketing.)
In a business setting, social proof helps guide people when they aren't sure whether or not to make a purchase. Many times, they look to the opinions of others who have had experience with the product.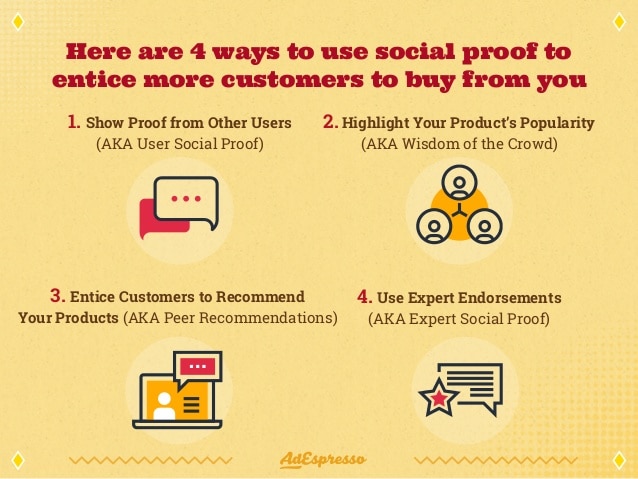 Social proof marketing strategies make it easier for people to find trusted, positive opinions about your product. These strategies include:
Airbnb knows reviews are key to driving customer trust, and in turn, driving their company growth. Around half the number of guests visit a host profile at least once before they finalize an Airbnb booking. "A host without reviews is about four times less likely to get a booking than a host that has at least one," and properties with more than ten reviews are ten times more likely to be booked.
Knowing this, Airbnb made leaving reviews both easier and more honest, as a way to encourage authentic social proof. Airbnb's review system is also double-blind. The traveler leaves a public review and star rating of a property for their host, and the host reviews how the guest treated the property. But, they can't view each other's feedback until both have written their reviews. The parties also must write a review within 14 days, so their experience is still fresh in mind.

11. Harness word of mouth as a channel
Word of mouth is a guaranteed way to drive growth, as people trust the word of their peers. Yes, word of mouth can be unpredictable, but there are some reliable ways to help drive it. Collectively, these ways are known as "word of mouth as a channel," and there are some key characteristics they must have:
Must be measurable: You must be able to track its success through data and prove its ROI.
Must be improvable: A marketer needs to be able to improve the results of a channel through tactics and strategies.
Thus, when we talk about word of mouth as a channel, we're talking about the word of mouth that you can orchestrate and measure. So while organic word of mouth isn't part of the channel, any measurable channel that influences word of mouth is.)
Strategies involved in word of mouth as a channel include referral programs, customer reviews, user-generated content, and creating brand ambassadors, influencers, and affiliates. (As you may notice, many of these strategies also fall under social proof strategies – and yes, social proof and word of mouth go hand in hand!)
All word of mouth is driven by four pillars: product, customer service, value, and story. To learn how these drivers work, and see stories of how companies have used them to their full advantage, check out Word of Mouth Uncovered and our roundup of B2B referral stories.
12. Create a viral loop
Start a referral program, configure it properly, and you're well on your way to creating a viral loop. A viral loop is a mechanism that drives continuous referrals for continuous growth. It's how you drive your existing customers to refer others to your brand, and in turn, get those newly referred customers to tell even more people about you. This creates a lasting loop that can lead to potentially exponential growth. (Get all the details on how to create successful viral loops here.)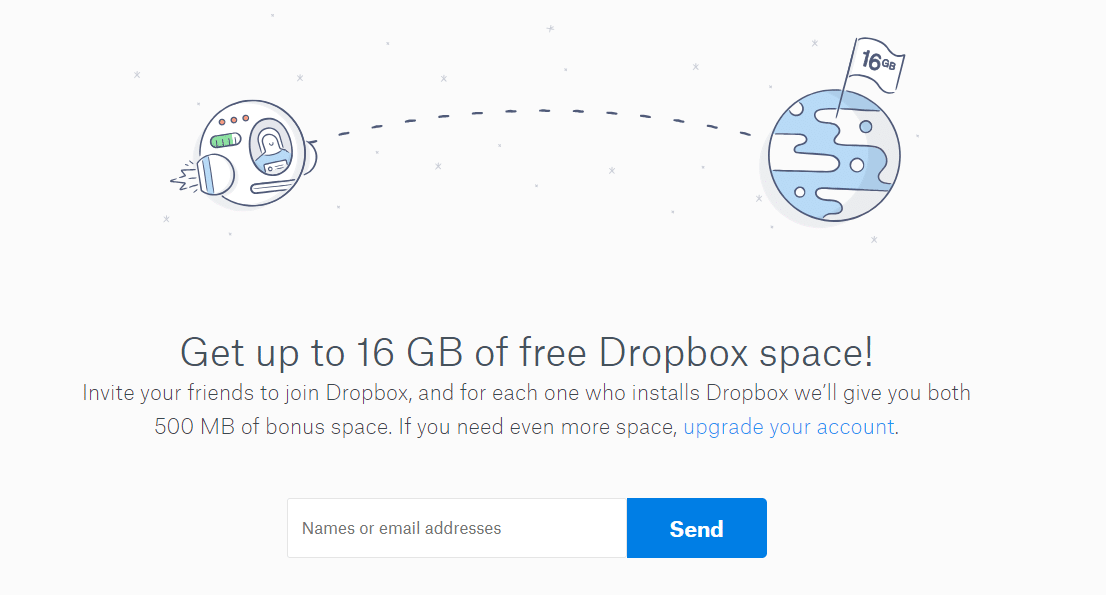 All referral programs have the goal of creating viral loops, but perhaps the most successful loop was the one Dropbox created through its referral program. They offered 500MB of free storage space to each referrer and their friend whenever the friend signed up for Dropbox. Within the first 30 days of their referral program, they generated close to 3 million new users.
While this type of growth doesn't happen every day, you can effectively apply the strategy to your company.
Create a two-sided referral program, which rewards both the referrer and friend
Allow customers to earn cumulative rewards for referring multiple friends
Tie the rewards back to your business (with discounts, store credits or free features) to give both new and existing customers a reason to stick around
Make your referral program easy to share
Viral loops and viral growth are closely connected. Be sure to check out our pieces on strategies to drive viral growth.
13. Create a growth team to generate growth marketing strategies throughout the funnel
A growth team is a group of employees with diverse disciplines who are dedicated to driving business growth. The team examines how to drive growth across all business departments, and runs growth experiments, or growth marketing strategy tests, to improve processes within all parts of the funnel.
Wrapping things up
Use these growth marketing strategies to focus on customer retention and referrals, and you'll lay solid foundations to sustain your business. Start by encouraging the customer behaviors that lead to retention, create a community, and then use the social proof to your advantage. And remember, growth marketing strategies are meant to last through the long term. All the best in implementing the strategies that are right for your business!