Sustainability in business is all about holding onto your assets – and customers are the biggest assets to any business. If you can retain your customers, you can assure yourself of a stable customer base and increased sales, conversions, and profits in the future.
In a nutshell, retention is growth. But even retaining customers is an art. What are the best ways to convince customers to stick with you? This article reveals 15 of the top customer retention strategies for your business.
Why have a customer retention strategy?
A lot of marketers focus on customer acquisition tactics these days. In their heads, more customers are better for business. However, one factor is missing from this equation. In reality, more loyal customers are better for the business. What use is acquisition if you can't maintain your existing customer pool?
A successful business in today's competitive era doesn't just bank on customer growth strategies. It also puts importance on customer retention. Fast-growing businesses see a rapidly growing user base, but successful customer retention makes a business sustainable.
To solidify the importance of customer retention, here are some quick statistics to munch on:
Convinced yet? Ready to implement a customer retention strategy for your business? Let's break down 15 easy-to-execute tactics for a great customer retention strategy.
1. Deliver robust onboarding
Onboarding entails the entire process customers go through while signing up for a service. This includes login, the initial setup procedure, and tutorials. Naturally, the majority of users prefer an onboarding experience that's quick and easy to use.
With that said, It's important to take guidance from customers on how they want to work with your company. Streamlining this process can help bring results that are easier to predict, which helps ensure your service remains consistent. This type of streamlining is also helpful for training your staff properly as your business continues to scale.
While creating a new service, you have the complete opportunity to engage customers and ensure their satisfaction from day one. If the signup procedure is a messy and time-consuming, the first impression your customer will have of your service is frustration.
Instead, offer your customers a robust onboarding program to engage them from the start. This typically includes:
An easy setup procedure
A tutorial to walk users through the basics
Further training on how to successfully use your product
You can further tailor the onboarding program to meet customers' distinct needs. This way, customers will have everything they need to use your product successfully, and be fully equipped to leverage your product to the fullest potential.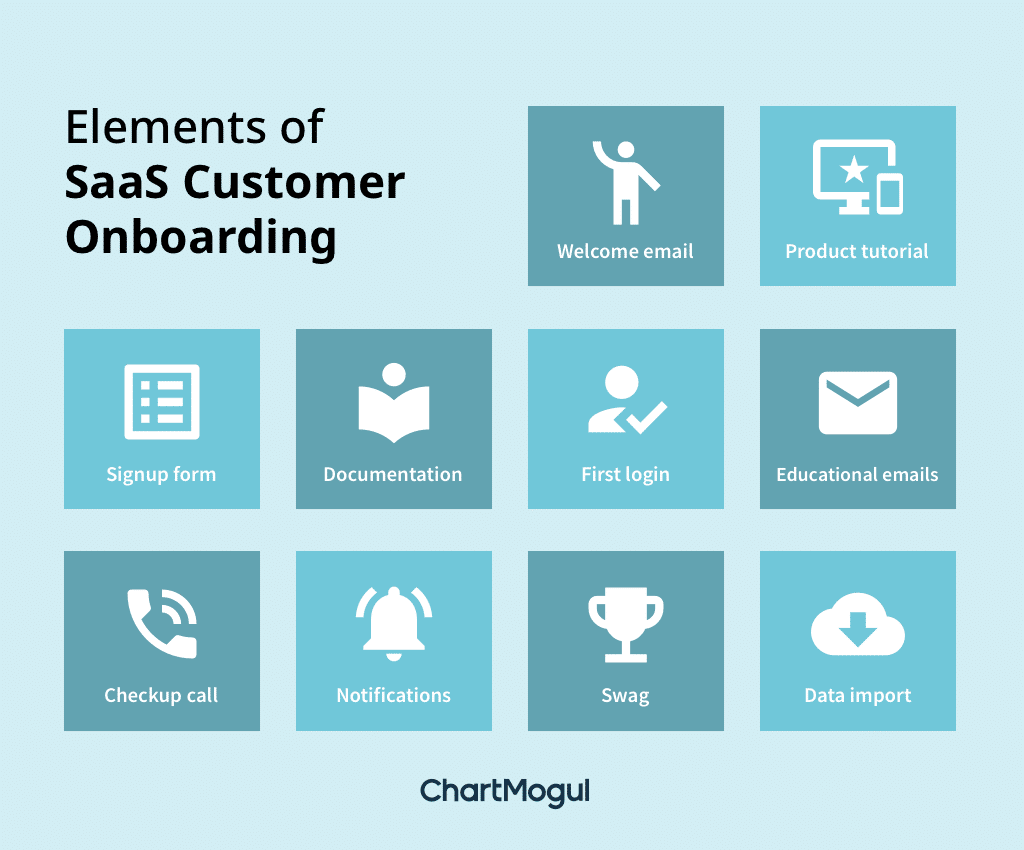 Source: ChartMogul
2. Consult with customers
Recognize when to color outside the lines and when to zone in to specific customer needs. This gives your team the autonomy to do what is best for the customers and can even help bring in rave reviews. It's great for the customer and awesome word of mouth for your business.
3. Make the experience positive
Positive experiences motivate customers to stay loyal to your business. Whether it's through amazing customer service or a memorable product feature, integrate moments of joy into your user experience.
Customers want to know they can be heard. Don't just use a template or sound robotic – be personal and positive. Show empathy to those who are having trouble with your product and you can effectively turn them into happy, loyal customers.
Furthermore, you can apply any constructive feedback to improve your products and services. If you put the customer first in everything you do (known as customer-centricity), it can go a long way for your business. We go into detail on amazing customer experiences in our article on customer service tips.
4. Reach out to customers
Forming strong relationships with your customers helps implement a highly-effective customer retention strategy. To do so, it's best to reach out to your customers on a regular basis.
This may sound like a lot of work, but communicating with customers is essential to customer service. Outreach can be as simple as an email or quick call to ask how things are going or if you can answer any questions they may have. Although every company differs, it's recommended to reach out at least once per quarter to build a healthy customer-brand relationship.
This simple effort shows customers you truly care about their experience and will do whatever it takes to better serve them. In the end, it enhances customer loyalty, increases your brand's customer engagement, and achieves a higher customer retention rate.
5. Send customer surveys
It's hard to know what challenges customers and subscribers are facing without proactively asking them. One way to find out is with an online customer survey. Asking the right questions will effectively reveal your customers' challenges and pain points. You'll gain insights into where you could improve, as well as where you're falling short in your service.
According to Bill Gates, "Your most unhappy customers are your greatest source of learning." Thousands of successful businesses around the world follow this advice.
A good practice is to conduct a customer survey at least once a year to hear any feedback and concerns. This also shows customers you truly care about providing the best possible product and service for their needs, which plays a major role in increasing customer retention.
For more details, check out our article on one popular type of customer satisfaction survey, the NPS survey.
6. Use automation tools
When running a business, a number of different processes get repeated daily. Things can get extremely time-consuming, especially when your business is growing at a rapid pace. In these cases, it makes sense to turn to marketing automation, and let applications, plugins, and software tools take care of some processes for you.
But how do you use automation to re-engage your customers? The most popular tips are to automate email newsletters and texts to customers twice or three times a week. You can also keep tabs on when and how customers mention your brand, and even track what competitors are doing with Facebook ads for retention purposes (and pick up any tips along the way!).
Tasks such as these can become really tedious if all done manually. If you want to take your customer relationship management to a new level, be sure to choose the right marketing or email automation tools.
7. Give the best customer service

Customer service can often make or break your customer relationship. In fact, 89% of customers changed to a competitor business all because of bad customer service.
In this digital world, it is easy to start any customer service effort, but hard to maintain it. But if you do it right, you'll be glad you started in the first place.
After-sale service (support after a purchase) is one of the key elements that determine the success and sustainability of any business.
Customers are the money behind every business, so they're entitled to a world-class experience. Customer service is at the heart of the customer experience – 80% of consumers are willing to pay more for a product or service if they receive above-and-beyond customer service.
What's the most important part of excellent customer service?  Valuing customers' time. Quality customer service must involve super responsive support service when the customers need support. No dissatisfied customer wants to wait days for a resolution to their issue.
Being reachable all the time, on many channels, is the key. Even if you can't reply immediately, a simple acknowledgment will work just as well. Just make sure to get back to them within the next 24 hours if possible.
How to accomplish this? Provide multiple channels for customers to submit help desk tickets via:
Phone
Email
Live chat
Automated chat (chatbots)
Social media
Help forums and brand communities
8. Watch your FCR rate
Pay attention to your first contact resolution (FCR) rate. FCR simply refers to resolving customer support issues on the first attempt without having to escalate the ticket.
In other words, your support team needs to be capable enough to handle, mitigate and possibly eliminate the customer's issue in the first communication itself, so the customer doesn't have to contact your support team again.
You can easily accomplish this through the use of dedicated help desk groups and if you are successful in doing so, then it enhances your credibility to tackle grievances and also builds brand loyalty.
9. Add a personal touch
Build trust among your existing customers by personalizing your engagement with them.  With personalized engagement, customers know that they can reach out to you any time they can, and that you have their best interest in mind.
Personalizing your interactions with your customers helps them feel more comfortable with you, allowing you to form closer, warmer relationships with them.
If you've invested in marketing automation, it's easy to personalize every interaction that you and your colleagues have with customers. Use the data stored in your customer relationship management (CRM) system to your advantage.
You can open your customer's contact record and view every interaction they have had with your company in the past before you speak to them. This can and should include all elements like pain points, products purchased, and interests. Many modern CRM modules include a 360-degree contact view. If your CRM includes this, then your work can become easier than ever.
Treating customers in a personalized way, and showing that your relationship with them is a partnership, will build brand loyalty and do wonders for customer retention rates.
With this kind of relationship, you're sure to build trust in no time. And trust leads to solid retention.
10. Set expectations with SLAs
A service level agreement (SLA) is another way to strengthen the customer-brand relationship and also increase customer retention. It's a contract that defines the service you commit to providing to your customers.
SLAs lay out the basic terms and conditions of your partnership with customers. This usually involves aspects like the maximum amount of time a customer has to wait for a resolution to a support ticket.
An SLA, in a way, works like a disclaimer or a trailer to the customer. It shows what they can expect from the company, thus giving them a peace of mind. Plus, you have committed to meet those expectations, which makes customers feel more comfortable doing business with you.
Also, an SLA lends accountability to your operating processes. You will know if a team member is breaking SLAs because your CRM solution can track SLAs and their outcomes. In other words, it provides valuable insights into who needs to improve their performance and who are consistently meeting expectations.
11. Be active in the community
Another crucial aspect for strengthening the customer-brand relationship is corporate social responsibility (CSR).  CSR refers to the efforts your company makes to give back to the community it serves. When making a purchase decision today, consumers are increasingly considering a company's CSR activities. So, being consistently socially responsible encourages customers to stick with you.
Several market reports and case studies have stated that Fortune Global 500 companies shell out around $20 billion (US) each year on CSR activities because they believe maintaining a positive CSR presence does wonders for a company's reputation.
What's even more amazing is that CSR programs are easy to develop and coordinate. Your company could:
Organize employee volunteer events at local nonprofits
Create a matching gifts program in which your company matches employees' donations to charities
Create an environmental sustainability plan
Make consistent donations to nonprofits of your choice
Incorporate a charity element into your loyalty program or referral program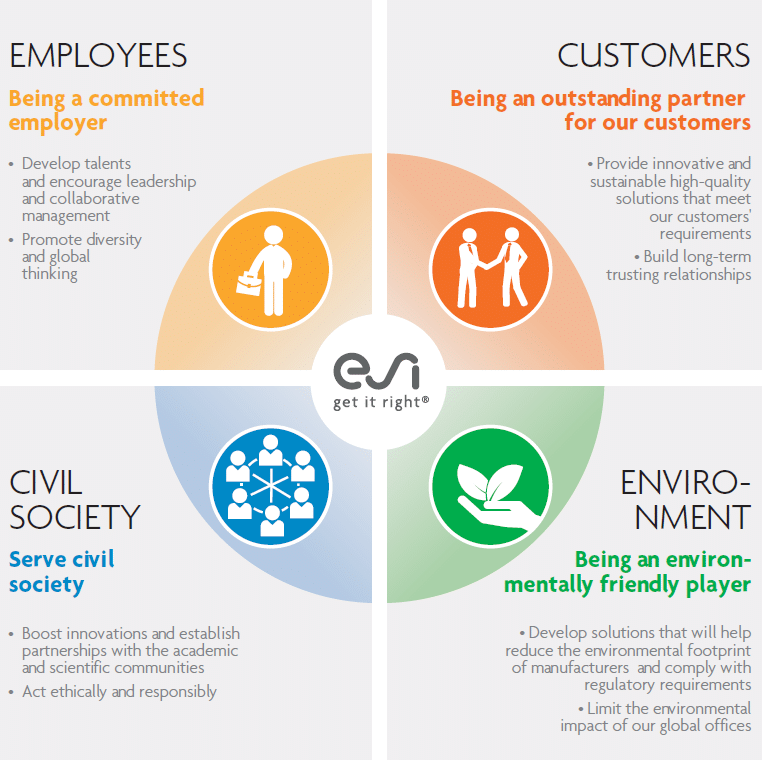 ESI Group's CSR pledge
12. Use email to build relationships
It's good to treat your customers nicely to earn higher revenues in return. But it's even better to make them feel like they are part of your team by treating them like partners rather than revenue generators.
Constantly keep customers informed about what's going on at your company, because those new developments affect customers directly.
Keep existing customers in the loop by sending periodic email newsletters to share new developments. This can be any major or minor update, whether it's a change in executive leadership, the development of new products, upcoming product updates, sales and promotions, events you're part of, or new partnerships you have with other companies. Crafting visually stunning and well-thought-out email campaigns can be a great way to keep people interested in your business.
But these aren't the only means to build a relationship. It's a two-way street. You can also email a feedback form to know what they currently think about your business. This way, they'll know you care about their experience and want to improve.
Spice up your campaigns by checking out the templates of your own email marketing automation software.
13. Create educational resources
Educating your customers doesn't end with the onboarding program. Customers need to stay up to date on the latest market trends, and the evolutions and upgrades you make in your product, so that they can remain competitive.
Publish a separate blog section on your product's official website. Publishing articles on a regular basis helps to continually educate customers on emerging trends.
Also, develop a knowledge base of how-to guides and free training videos, especially if you're in the software or technology field. These resources will help customers continue their education, and ensure they are always able to use your product successfully.
Developing a knowledge base is a great tactic to ensure customers can easily find answers to common questions, which furthers their education and limits their frustration.
Consistently create and add new educational resources as time passes by, and keep updating existing ones. This will improve customers' ability to use your product like a pro. As a result, your business will experience increased customer satisfaction levels and boosted customer retention rates.
14. Offer loyalty programs
Loyalty programs and referral programs are great ways to hook customers to your business.
Quality rewards programs are good for the business in different ways – satisfied customers can help grow the business and they can boost business revenue. Time and again, we've stated how important relationships are and loyalty programs are one way to further establish it. In fact, 75% of customers believe that loyalty programs are part of their relationship with the business. So, put thought and heart into this tactic if you decide to push through.
For those that have yet to be part of the program, send out a witty campaign with the help of your email marketing automation software to lure them in.
15. Offer referral programs
Referral programs both work to boost customer retention, and help you acquire new customers through exitsing customers' recommendations.
They reward existing customers for referring friends (giving them another reason to stick with you), and reward the friends they refer for making their first purchase. Retaining customers pays off even more when you have a referral program, because your loyal customers help you bring in new customers for free!
More importantly, referral programs use the power of social proof to drive even more customer retention and acquisition. Referred friends trust the personal recommendations of their peers that were sent through the referral program. Because of this trust, these referred friends are both more likely to become your customers, and they are easier to retain than non-referred customers. Boom!
Conclusion
Loyalty pays well for any business who is wise enough to conduct customer retention strategies. Retention doesn't have to be complex. Keep it true to your brand, and always remember that your goal is to improve relationships with your customers with every move you make.
—
Content in this articlwas contributed by Jitendra Vaswani and Kimberly Maceda.
Jitendra Vaswani is the founder of SchemaNinja WordPress Plugin. Prior to SchemaNinja he founded big internet marketing blog BloggersIdeas.com. Find him on Twitter & Facebook.
Kimberly Maceda is a Content Writer for ActiveTrail. She writes for some top online marketing sites and blogging advice on email marketing and marketing automation. ActiveTrail is a leading provider of professional-grade email marketing and automation software for growing businesses.