Research shows that 86% of consumers read reviews for local businesses (including 95% of people aged 18-34). 84 percent trust online reviews as much as a personal recommendation and 68 percent form an opinion after reading 10 online reviews. And finally, 89% of consumers read businesses' responses to reviews.
Now that you've seen how a review can affect you, it's easy to see that your online reputation is important. We'll take a look at how online reputation plays in different parts of marketing, the tools you will need and strategies to help you achieve a better online reputation for your business. But before we get into it, let's understand what it is.
What is online reputation management (ORM) marketing?
It's not shocking news that everyone uses the internet to access and share information. People order products and services through websites and mobile apps, etc. You get the point.
So it's important to note that if you sell any product or service, people are going to look for reviews, and do their due diligence before they purchase.
Most people first search a product, service, company, brand or professional through a search engine. However, the rise of Youtube and other social media influencers also is an indicator that reviews do matter and what people say about your product, services, brand, does too.
How does online reputation management impact your business?
If you fail to handle your online reputation management properly, it will affect your business severely. Maybe this is why 90% of our experts who contributed to our survey showed that they rather do online reputation management themselves, instead of hiring someone: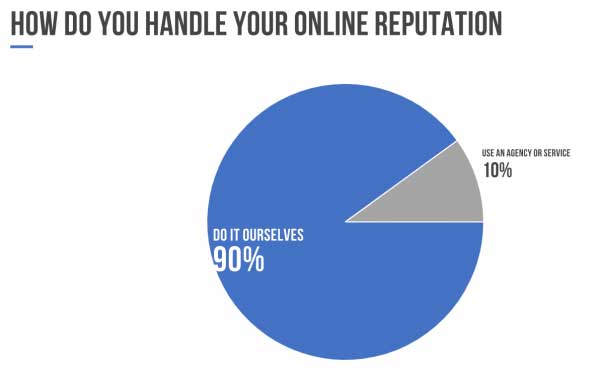 You may suffer heavy losses in your business if negative content or a bad customer experience goes viral. It may be only an occasional one-off incident but if you do not counter these reports properly, you will have a big problem in your hand. People will assume most of your products are bad or you may become known for poor service.
Negative reviews stop 40% of consumers wanting to use business, and you will fail to receive these prospective customers. People will look for more information to confirm their buying decision. So if you have good ratings, you'll stand a better chance at making it as someone's final choice.
Whether you sell products, offer services, or treat patients, you must manage your online reputation properly. Do not let an occasional mistake affect your business. And do not allow your competitors, disgruntled employees, or a once in a blue moon angry customer affect your business negatively.
Importance of online reputation management
The worst thing you can say is that you are the only products or services out there in the market. There are 1,673,535,333 websites on the web according to Netcraft's October 2018 Web Server Survey and approximately 380 new websites are created every minute. Meaning at any moment, someone might create a brand new company (just like yours) and do a better job.
So to stand out you have to be great all around. Your online reputation should reflect this via reviews and word of mouth. As this is what will help you cut through the noise of all the competition.
It's the wild, wild internet
57% of consumers won't use a business that has fewer than four stars (up from 48% in 2017) Bright Local.
Some of your customers might talk negatively about your company and you might not know when that took place, hurting your overall sales. Even the smallest mistake can cause catastrophes, things like, not responding to your customers within seconds after they requested a live chat.
There is no doubt that there are those who simply want to avoid any communication and express their opinions online. Some of it may be genuine criticism but many times the negative views might be due to black hat SEO techniques used by your competition.
A whopping 89% of consumers read local businesses' responses to reviews. So you'll want to avoid any unsatisfied endings with your customers by asking them what their experiences were like and how you can help make it better. Being proactive with your online reputation can make a huge difference. We'll get into the strategies in a moment.
Moreover, there are some websites that focus on reviewing goods and services like CNET or TechReview or smaller ones like BeatTheCPA that is solely dedicated to reviewing CPA exam preparation courses
What is ORM in SEO?
Search engine optimization plays an important role in determining your online reputation. If negative posts about your business gain higher ranking in the search engine results, you are more than likely to have a reduction in sales.
How can you make sure these posts do not get so much prominence in the search results?
You can counter these posts and allegations by improving your SEO. Optimize your website for the search engines. Improve your technical SEO, on-page optimization and content on your webpages. Get backlinks to build authority and increase the trust flow of your site. Also, reach out to different sites for guest post opportunities so you can have content distributed all over with specific keywords you're targeting.
You can also work on improving your social media popularity to increase traffic to your website. Regularly post useful and valuable content on your website, and remember to share on your social sites.  All of these SEO strategies will improve your ranking in search results. These improvements force search engine bots to give primacy to your website's links and can push down the links of web pages that contain negative comments about you.
Ranking number one with 4.5 stars compared to ranking number 7 with 5.0 stars can make a difference in the number of people going to your site. The amount of potential customers going to your site and creating a higher probability of getting more reviews is one of the SEO benefits when it comes to reputation management.
Black hat strategies used by SEO agencies
Yes, some competitors will discredit you and there are still black hat methods being used today. If you fail to manage it properly, there is a possibility that some of these negative posts will rank higher in the search results. We probably don't have to say it, but this will affect your reputation, business, and profits.
This is why you need to do an online reputation audit. You should form strategies and use techniques that help influence the perception of the public. It's about defending your brand, the purpose is to mold public opinion about you in such a way that they view you objectively. We also wrote an article on how you can improve your online reviews to provide you the voice you need to hold onto your reputation.
Whether it's your competitors or your customers that are speaking about your brand, they do have the power to speak their voice, but it's up to you to explain, help your unsatisfied customers, and guide others to know who you really are.
You can turn on your aggressive marketing campaign mode to attract more clients. To fulfill this, you need the support of online reputation management services (though you can try without one). It is very difficult for an online business to survive these days. There are just too many channels where people can mention you. Here is some online reputation management software you can review.
Using reputation management services is an investment
It takes time, monitoring, reaching out, and implementing, but is it worth it? Absolutely. One review can refrain hundreds or thousands of people from purchasing your product or services.
Using online management services will help in protecting your company's reputation from being destroyed by business competitors, personal enemies, or unhappy employees.
In case there are false reviews concerning your company and they are the reason of ruining your business, the professionals and experts use these services to regain the lost reputation of your company immediately. Online reputation management services begin with getting rid of negative feedback if there is any and end with the promotional techniques which are effective to make your company successful and famous.
How online reputation management services work
Many tools like this allow you to track your name and review anything said about you. These tools can help you work on content creation, content management, link building, enhancing keywords, online banner promotion, pay per click advertisements, and other strategies.
Basically, anything that has your name tied to it, can be tracked and managed accordingly.
Benefits of online reputation management services
Here are some benefits to using a service:
Trust: Many people trust business or brand with a good online reputation. Customers usually seek opinions by reading online reviews before they make any investment. They put full trust in your brand or business if they have positive online reviews, therefore you will want to make sure your online reputation is perfect.
Profitability: A good online reputation draws more business to your company. With greater online visibility of positive postings, you will easily draw your target market, therefore, improving your business's profitability.
Conflict resolution: With this, you are given the ability to respond to negative reviews in real-time. You can partake in conflict resolution which is a step that is admirable in the eyes of customers. Watching for inconsistencies in the way that the company is represented by the various data aggregators can help you isolate and flag it. If a customer finds an old phone number online, calls and gets the new owner or a message that says the line is disconnected, that can create reputation damage before an interaction ever starts. Clean data is key.
How can your business improve its reputation? 10 strategies
What are some online reputation management strategies? A variety of techniques are used to manage online reputation. The following are some of the popular techniques used for this purpose.
Tracking and monitoring your online reputation
Monitoring your business and handling negative content
Replying to online reviews
Making your goals attainable with metrics
Paving the way to become influential in your niche
Getting employee insights
Efficiently managing acquisition
Aside from those mentioned above, there are even better ways of improving your reputation. Let's dive into those now.
1. Focus on SEO
Invest in SEO. Optimizing each SEO factor can help increase search engines to crawl your site better and understand where to rank you. It's no longer about keyword stuffing, I call it human assisting machine.
Sure, search engine algorithms are constantly being updated and defining user intents so that they can provide the most relevant information to those who are searching for answers. Whether it is technical issues, on-page optimization, or off the page, each part of SEO can help.
2. Deliver on your promises
Make only those promises that you can keep. If occasionally you fail to deliver 100%, try to manage the negative fallout by offering a discount, refund or some free offer. There are several things you can do to give reasons for people to talk about your business. Delivering on promises is one of them. Take absolute pride in your service and make it resonate throughout your brand.
3. Regularly post positive contents
Search engines keep looking for updated and latest contents. If you regularly post new content about you, search engines will take into account all these content when indexing things related to you. When most of the contents are positive, the search engines have to rank these contents higher compared to the older and negative contents.
It also builds credibility and authority. Content creation is the most important parts of online reputation management. Whether it's blog content, videos, tutorials, or any other form of content, it will help increase interaction with customers and spread the good name of your brand. While people buy from who they like, people also want to go to experts to learn and content helps people understand that you are here to help. Content is also an excellent place to request reviews from customers.
4. Ask your customers or clients to rate you
The biggest problem that most companies and professionals face is that only people who feel dissatisfied with their product or service post online reviews and comments. People who receive satisfactory services rarely post reviews. Encourage your customers and clients to post reviews about you. Let them know how they can rate you on consumer rating websites. Educate your customers and encourage them to post online reviews about you and your company.
Pro tip: Hunt down unsatisfied customers and do anything you can to appease them within reason. Make it a policy to make them happy and then once they're happy to encourage them to share their experience.
5. Do not ignore negative reviews
Take time to read even negative reviews, and know how to handle bad reviews. Treat all your customers in the same way and respond professionally even to negative comments. Avoid using a negative tone in your replies to these reviews. Explain how you provided better products and services.
Apologize for the mistakes you made. Sometimes customers do not understand the process properly and face difficulty. Tell them what really happened and how to avoid such problems next time. You can offer a refund of the paid money or discount on the next purchase. Highlight your company's positive aspects when replying to these reviews. Be responsive to avoid being seen aloof and arrogant.
6. Encourage other people to respond to the criticism of your business
New customers look for opinions and reviews of earlier customers. Provide good quality services and your satisfied customers will counter negative posts of others without any incentive. Building a relationship and creating customer advocates can help create proactive customers.
7. Referral programs and word of mouth
Use the power of word of mouth. If your customers are referring others to your business with your referral program, more than likely, they will also provide reviews. If they can share a link with their friends, they can share a referral, and they can share a review. While this is a simple concept, you'll want to integrate with few different platforms to identify these situations that will have the most effect when it comes to them saying yes. Maybe sending a quick link after they inquire through your customer support, or once they sent a referral link to their friends.
8. Remove the negative search results
Sometimes you can ask the website hosting the negative review to remove the review. Usually, they will comply if the comment is obviously malicious.
Let your voice be heard, in fact, write an article to explain the situation, post it on your blog and send that over to the review site so it can help clarify and open it to the public.
9. Social media
Use social media, as part of your customer support. Be active on social media so you can share your talks and content and your followers can help spread the word. Social media helps build trust and rapport. It also helps with transparency.
Be on hand to answer questions, handle complaints and keep your audience updated with deals and company news. Attempt to replace social media comments as a place where potential customers can see your interaction and see how you're treating individuals.
10. Ask for professional help
Seek professional help if you are unable to handle your online reputation management on your own. There are ORM companies that offer services in this field. The advantage of this option is that you can focus on your core business and leave the reputation management tasks to the professionals. These experts know how to handle this problem. They have devised various strategies for this purpose. For example, they post lots of positive contents. They counter negative contents through positive reviews, blogs, press releases, and comments.
How long does online reputation management take to work?
Sorry for not giving you a black and white answer, but it depends on what types of techniques are used. It can take a few days to a few weeks or months for the ORM techniques to work.
News content and press releases are indexed quickly but other types of content take time to show up in the search results of the search engines. At the same time, news content is updated constantly and do not rank high for long in the search results. Other types of content take time to show up in the search results but remain there for long, like a blog post.
85% of consumers think that online reviews older than 3 months aren't relevant, so how do you stay relevant and continue to gain new customers? The short answer, get people to leave you reviews as many you can get.
Online reputation management does not require lots of investment. You just need to spend a few hours a week managing your online reputation. Review top main sites on a daily basis and small review sites on a weekly basis. If there has been some incident like an accident, delivery of a poor quality product, or deficiency in service, then get active in managing your online reputation.
Take the help of an ORM agency to counter the negative contents. This type of agency has ORM experts who know how to handle this job and can help you to improve and manage your online reputation.